Best rooftop pools at hotels in Los Angeles
Best rooftop pools at hotels in Los Angeles
Published: January 19, 2020
A mix of relaxation and parties
Los Angeles is one of the most visited cities in the world. And what better way to spend your time here than at a hotel with a lovely LA rooftop pool. The Los Angeles rooftop pools are often located at hotels and with either sweeping city views or right next to the skyscrapers in downtown.
A typical LA rooftop pool often host great weekend parties, but offer a more relaxed vibe during the weekdays. We have summoned this list of the best rooftop pools in Los Angeles, so that you can choose your hotel or party wisely.
If you rather just want to chill with a drink and views, check out our full guide to the best rooftop bars in Los Angeles.
Mondrian Los Angeles | Photo: www.morganshotelgroup.com
This rooftop pool in Los Angeles can boast of one of the best views in all of LA. Part of SkyBar, set on the 14th floor of Mondrian Los Angeles in West Hollywood, here you get sweeping skyline views as far as the eye can see.
Sky Bar is a rooftop oasis, and also a true hotspot for the LA nightlife and bar scene. During daytime the atmosphere is more relaxed and calm, then from late afternoon the tempo and party feeling starts to take over.
Fancy cocktails, Hollywood glamour and live DJs makes this rooftop one of the most popular and frequently visited rooftop pools in Los Angeles. The pool area is exclusive for gusets staying at the hotel from early morning until 1pm. After that, outside guest are welcome.
Dress your poolside-best during the day and neatly during the night, and you will feel right at home at this top class LA rooftop.
Adress: 8440 Sunset Boulevard, West Hollywood, CA 90069
Availability: For everyone
Hours: Hotel guests: 7am - 2am / Non guests: 1pm - 10pm
Towels included: Yes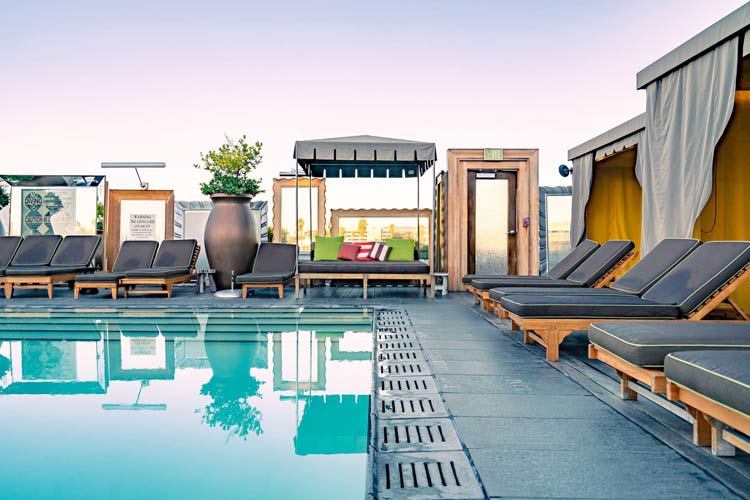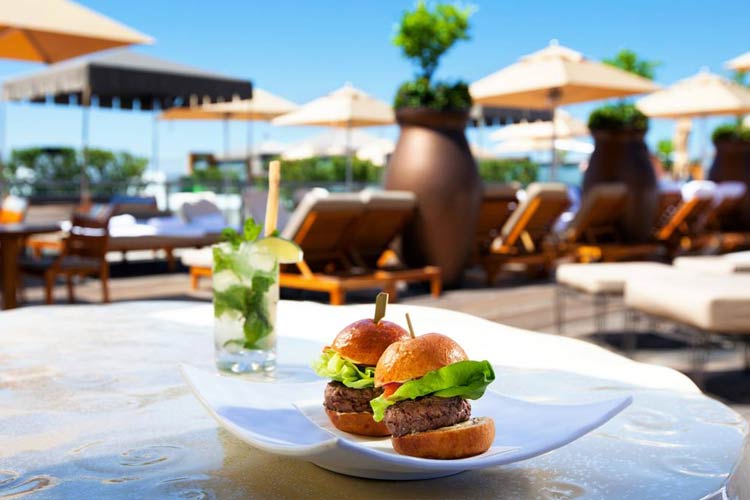 SLS Hotel Beverly Hills | Photo: www.slshotels.com/
Glamour and luxury are two words that fits this LA rooftop pool really well. This, along with breathtaking city views and attentive poolside service, makes the Altitude Pool Deck on top of the SLS Hotel Beverly Hills one of the best rooftop pools in Los Angeles.
Surrounded with comfy sun loungers and swanky cabanas, the pool deck and rooftop pool is usually a chic oasis for hours of relaxation, dips and poolside drinks & bites. During the weekends between 2pm–6pm, the pool area turns into a vibrant lounge, with live DJs playing soft tunes in a party friendly atmosphere.
The rooftop pool and sun loungers are reserved (and free) for guests staying at the SLS Hotel. However, everyone, both outside visitor and hotel guests, can make reservations for one of the cabans (small for up to 6 guests and large for up to 10 guests).
Adress: 465 S. La Cienega Boulevard, Los Angeles, CA 90048
Availability: Hotel guests / Cabana rentals
Hours: Daily 7am - 9pm
Towels included: Yes
Collaboration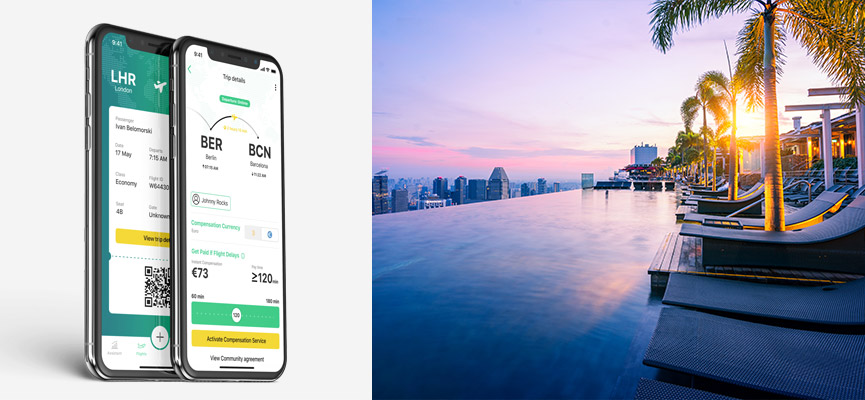 Smart travel
Colibra is a new app that gives you compensation EVERY time.
Kimpton Hotel Wilshire | Photo: http://theroofonwilshire.com/
Set on top of the Kimpton Hotel Wilshire, you find bot a fantastic LA rooftop pool, and a lovely rooftop bar called The Roof on Wilshire. The terrace is equipped with comfy cabanas, sun loungers and regular tables with chairs.
Except beautiful view over Beverly Hills and Hollywood Hills, one of the best things about this LA rooftop pool and terrace is the delicious food and drinks. Burgers, salads, mimosas and much much more.
The rooftop pool, which is heated and open year round, is exclusive to guests staying at the hotel. But anyone can visit the terrace for relaxing drinks and bites during the day, or a for a weekend pre-party. If you want most out of your visit, you should try to book one of the cabanas.
The food, 360-view, lovely rooftop swimming pool and superb atmosphere makes The Roof on Kimpton Hotel Wilshire very popular, and also one of the best hotels with a rooftop pool in LA.
Adress: 6317 Wilshire Blvd, Los Angeles, CA 90048
Availability: Pool: Hotel guests only / Rooftop bar: Open to all
Hours: Daily 7am - 11pm
Towels included: Yes
Ace Hotel Downtown Los Angeles | Photo: www.acehotel.com
The Ace Hotel is a super modern hotel in downtown LA, with a fantastic décor and art. This also applies to the pool area located on the rooftop. The rooftop pool is open to the public, which makes it very popular and well visited.
Equipped with two terraces, Upstairs (as the rooftop is called) has one 'bar-terrace', perfect for fresh cocktails, bar bites and lounge vibes. The 'pool-terrace' is open and sunny, and a prefect spot to mix those fresh cocktails with refreshing swims and fantastic views over the LA skyline.
To grab a good seat, preferably in one of the comfy sun loungers, you need to get here in good time. The terrace is quite small and the number of seats are limited.
Ace Hotel offers a relaxed poolside lounge during the day, but come night and the rooftop bar turns vibrant, with an energetic crowd mingling into the late hours. Enjoy everything from DJs and live bands to pop up shops.
Adress: 929 S Broadway, Los Angeles, CA 90015
Availability: Open for everyone
Hours: Daily 11am - 2pm
Towels included: Yes
The London West Hollywood | Photo: www.thelondonwesthollywood.com
With sweeping city views and a sophisticated vibe, The London West Hollywood offers a perfect oasis for fresco swimming, dining and mingling. The newly renovated rooftop pool and garden is a true oasis above Beverly Hills.
Equipped with poolside cabanas, comfy loungers and cozy firepits, this rooftop pool LA has most of the things you can desire from a perfect rooftop venue.
Exclusive to guests staying at the hotel, this is a fantastic spot for long hours of relaxation in the California sun. Order some drinks and bites from the all day pool menu, dive in the pool and be amazed by the LA and Beverly Hills views.
Adress: 1020 North San Vicente Boulevard, West Hollywood, CA 90069-3802
Availability: Hotel guests only
Fun facts: Cabanas available for rent
Towels included: Yes
Collaboration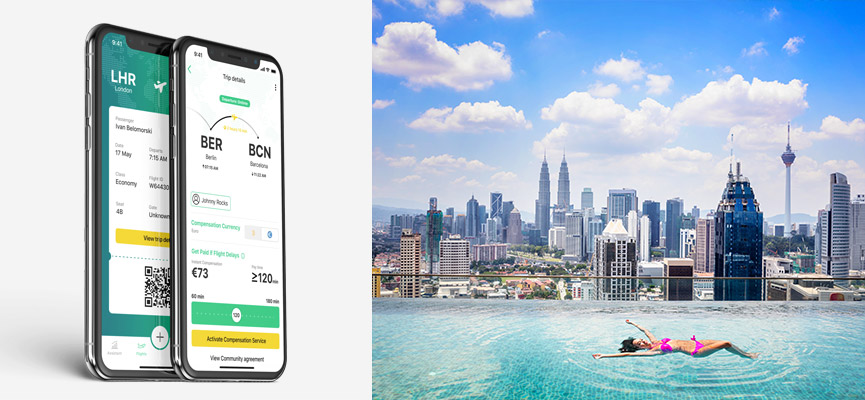 Smart travel
This app offers instant and 100% guaranteed compensation on flight delays
Colibra is a new app that gives you compensation EVERY time.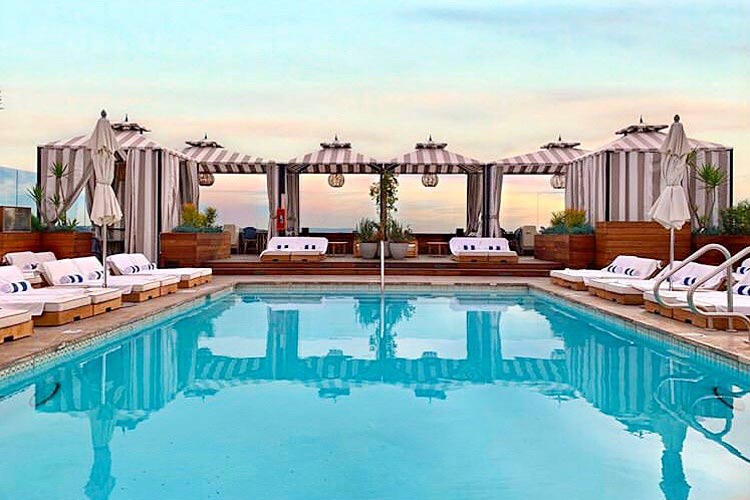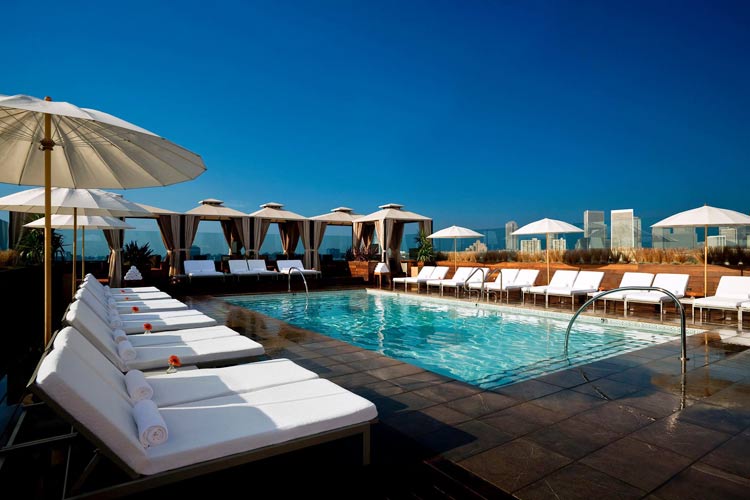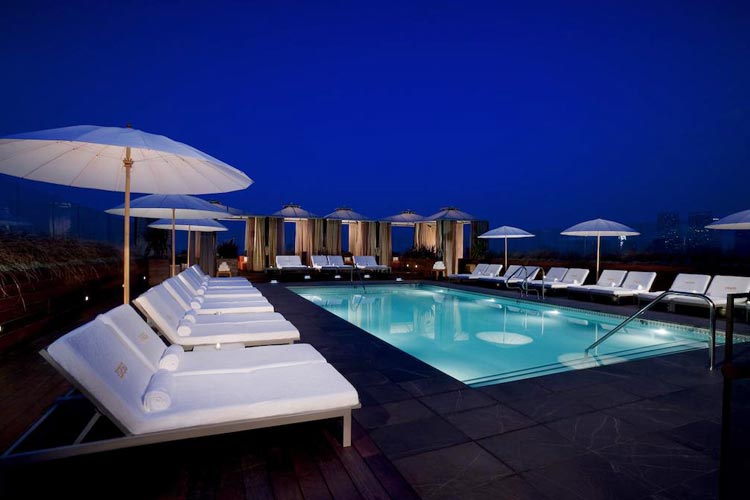 SIXTY Beverly Hills | Photo: www.caulfieldsbeverlyhills.com
SIXTY Beverly Hills comes with a fantastic rooftop pool, poolside lounge and rooftop bar, called Above SIXTY. Located in Beverly Hills, up here you get an amazing 360-view over Los Angeles and its surroundings.
The upper pool terrace is equipped with luxurious poolside cabanas and sun loungers, while the lower terrace offers more 'regular' tables and bar seats.
While the rooftop bar is open to all, the rooftop pool is usually restricted to guests staying at the hotel, or to anyone who rent a cabana. You should also keep an eye out for the pool parties held at the terrace every now and then.
The Sixty Beverly Hills rooftop pool is very popular among celebrities. So, if you are lucky, you will bump into a movie star while sipping your poolside cocktails.
Expect top notch food, drinks, atmosphere and service, and make sure to dress for success to blend among the trendy crowd. The Above SIXTY dress code is smart casual for those who do not swim in the rooftop pool.
Adress: 9360 Wilshire Boulevard, Beverly Hills, CA 90212
Availability: Rooftop pool: Hotel guests & cabana rental / Rooftop bar: Open to all
Fun facts: Great party-atmosphere
Towels included: Yes