Does higher mean better? Well, not always, but there sure is something dazzling about having a drink with a view stretching far, far away in the horizon.
Here's a list of some of the highest rooftop bars around the world. Enjoy breathtaking views, rooftop parties, gourmet dinners and much more, at these truly sky-high venues.
1.

Ozone at The Ritz Carlton

/ Hong Kong
Ozone at The Ritz Carlton | Photo: www.ritzcarlton.com
The world's highest bar and rooftop bar, Ozone, is found on top of the luxurious The Ritz Carlton in Hong Kong. At an altitude of 480 meters, perched on the 118th floor, the rooftop offers one of the most amazing city views you can find.
The Sunday Brunch here is one the best you can find in Hong Kong (and most likely in the world). Free flow of Dom Perignon, super tasty food and great service. The perfect rooftop experience.
But much more than just Sundays and brunch, Ozone also offers a great lounge atmosphere pretty much any evening. Dress for success and show up in your most social mood, and you'll fell right at home here.
The Ritz Carlton Hong Kong is also the highest hotel in the world. To get the full experience, book your stay here, and you can also enjoy the sky-high (interior) swimming pool.
Adress: The Ritz-Carlton, Level 118, International Commerce Ctr., 1 Austin Road West, Kowloon, Hong Kong
Height: 480 meters
Floor: 118th
2.

Blank Lounge

/ Ho Chi Minh City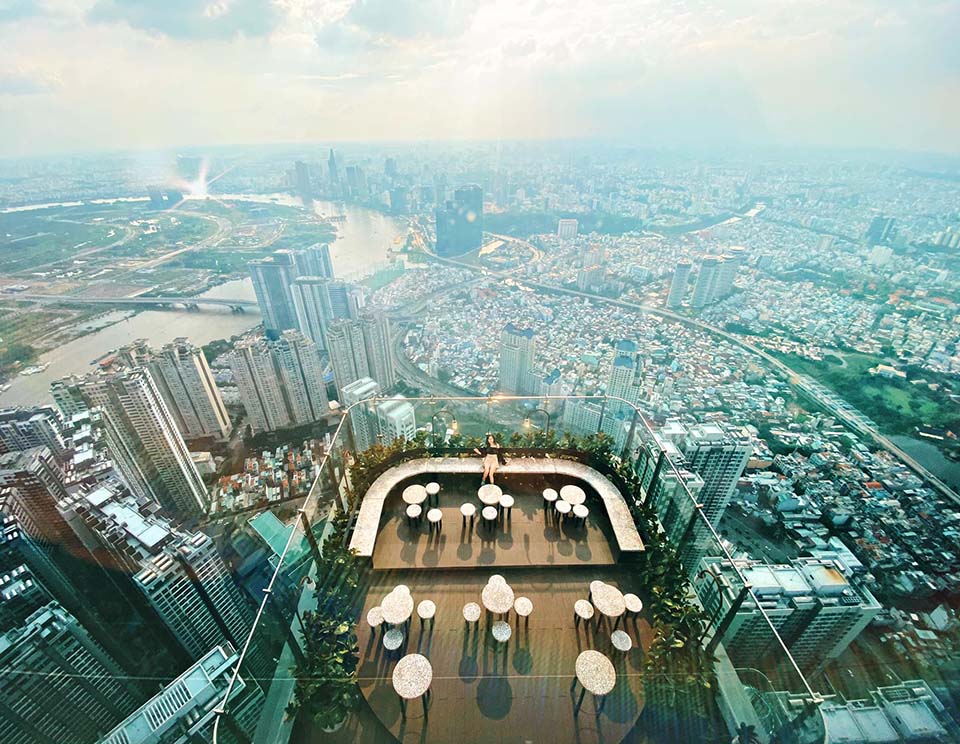 Blank Lounge | Photo: https://blank-lounge.com/
Located on the 75th and 76th floor of the impressive and 472 metres tall Landmark 81 skyscraper in Ho Chi Minh City, Bank Lounge is the highest lounge in South East Asia.
Operated by The Lab Concepts, Blank is not one venue, but a thoughtful collection of lounges and refreshment bars. Most seating is inside, but there is also a smaller outside terrace.
While not as high as the 81st floor Skyview observation deck at 382 meter, the Blank terrace is pretty close, and comes surrounded with truly breathtaking and panoramic views over Saigon.
Open from morning to late night, here you can enjoy everything from local coffee and tea, to crafted cocktails and beer, wine, canapés, and pastries.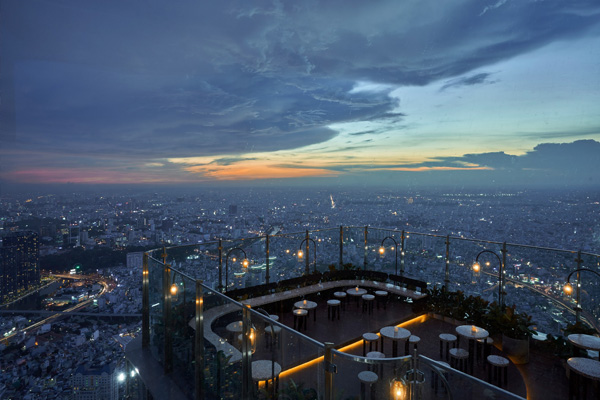 Adress: 208 Nguyen Huu Canh, Ward 22, Binh Thanh District, Landmark 81, Ho Chi Minh City
Height: ~340 meters
Floor: 75-76th
3.

Sky Beach

/ Bangkok
Sky Beach | Photo: www.standardhotels.com/
Perched on top of the King Power Mahanakhon, one of the tallest buildings in South East Asia, is is no surprise that the fantastic Sky Beach rooftop bar makes this list.
Entering the Bangkok skyline together with the superb The Standard, Bangkok Mahanakhon, this retro-chic, tropical and airy playground for days and nights above the city.
This is Thailand's highest rooftop bar, offering American-style bites and a creative cocktail selection, as well as some breathtaking 360-views over the Bangkok skyline.
Working on a first come, first served basis, you can visit Sky Beach for sunny & sunset sessions, or a nightly lounge and DJ atmosphere.
Adress: 114 Naradhiwat Rajanagarindra Rd, Khwaeng Silom, Khet Bang Rak, Krung Thep Maha Nakhon 10500
Height: 314 meters
Floor: 78th
4.

ZETA Seventy Seven

/ Dubai
ZETA Seventy Seven | Photo: www.addresshotels.com/
Towering high, high above the Arabian Gulf, ZETA Seventy Seven offers culinary Asian fusion treats and expertly crafted mixed drinks, surrounded with breathtaking panoramics over the ocean, Palm Jumeirah and the Dubai skyline.
As the name hints, the rooftop holds and impressive 77th floor location at the fabulous Address Beach Resort, and it is a modern and stylish rooftop oasis for dining and frinking with a view.
Open for lunch, dinner and late night vibes, reservations before visiting ZETA Seventy Seven is a must.
Next to the rooftop bar you also find the world's highest outdoor infinity pool. Exclusive to guests staying at the hotel, here you can swim 293.906 meter up in the air, which is an official Guinness World Record.
Adress: Address Beach Resort, The Walk Jumeirah Beach Residences, Dubai
Height: 300 meters
Floor: 77th
5.

Spire 73

/ Los Angeles
Spire 73 | Photo: www.spire73.com
Spire 73 rooftop bar and lounge is perched on the 73rd floor on top of the fabulous hotel called InterContinental Los Angeles Downtown. This is actually the highest rooftop bar in the Western Hemisphere, and also one of the highest in the world.
The views are fantastic over the city of Los Angeles. All the way from Hollywood to the beautiful beaches. The terrace is luxurious decorated and up here you can find cozy fire pits, lounge sofas and dinner tables.
Make sure to dress for success when enter this place. A smart casual dress code is applied, which means no baseball caps, flip flops, swim wear or oversized bags.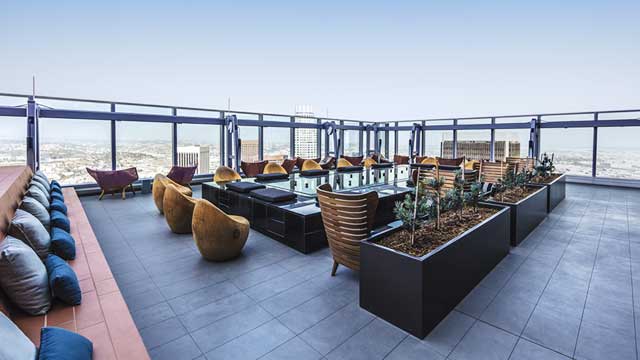 Adress: 900 Wilshire Boulevard, Los Angeles, CA 90017
View: 360° over Los Angeles
Floor: 73rd
6.

HENSHIN

/ Jakarta
HENSHIN | Photo: www.henshinjakarta.com/
The amazing The Westin Jakarta holds the top 20 floors of the 304 meter high Gama Tower in Jakarta. On the very top, from level 67-69, you find the equally amazing Henshin rooftop bar, restaurant and lounge.
This is the highest rooftop in Indonesia, and while most of the breathtaking 360° views over Jakarta are enjoyed through panoramic windows at the interior restaurant and lounge, there is also a dramatic and sleek outdoor terrace.
High above Jakarta, here you can indulge in tasty Nikkei cuisine, a combination of Peruvian and Japanese culinary traditions, as well as creative mixology cocktails with Pervuian and Japanese influences.
Visit the rooftop for a special dinner or a nightly set of great lounge vibes.
Adress: Jl. HR Rasuna said Kav C-22, 12940 Jakarta
Height: ~275 meters
Floor: 67-69th
7.

Top of Hanoi

/ Hanoi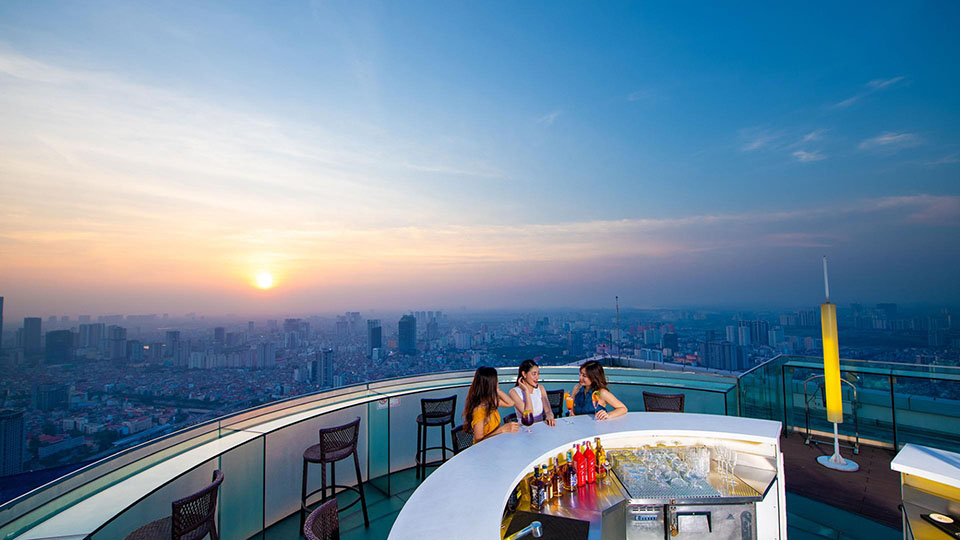 Top of Hanoi | Photo: https://www.lottehotel.com
The highest open-air restaurant and bar in Hanoi, and also one of the highest in the world. Top of Hanoi is perched on the 65th floor of the superb Lotte Hotel Hanoi, and offers a truly amazing 360° views of the city skyline. And beyond.
Recently renovated, the rooftop terrace is very open and airy, and it also has an open kitchen. Here you can watch as the chefs prepare classic bistro-style cuisine, perfect to combine with some signature and classic cocktails.
Sophisticated and modern in vibe, Top of Hanoi is open for sky-high views every night. The best time to visit is probably at 'golden hour', aka sunset hour. For views of all of Hanoi turning golden, this is most likely the number one spot.
Make sure to clear up some space in your phone, for all the Instagram-worthy photo opportunities.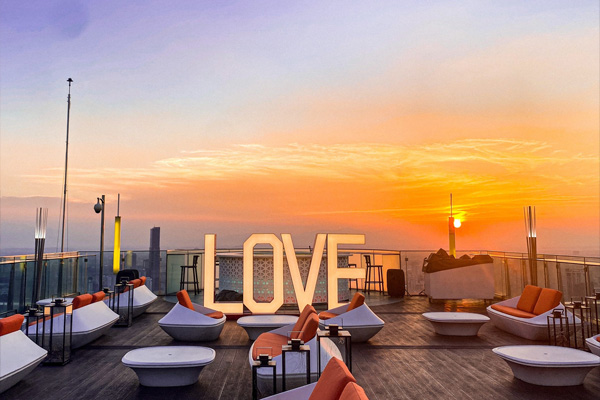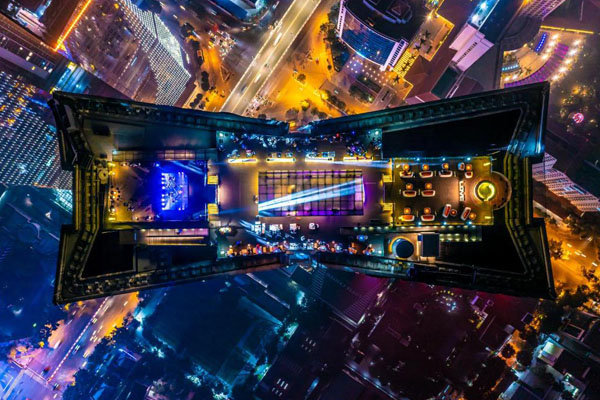 Adress: 54 Lieu Giai Street, Ba Dinh, Hanoi, Vietnam
View: 272 meters
Floor: 65th
8.

Overstory

/ New York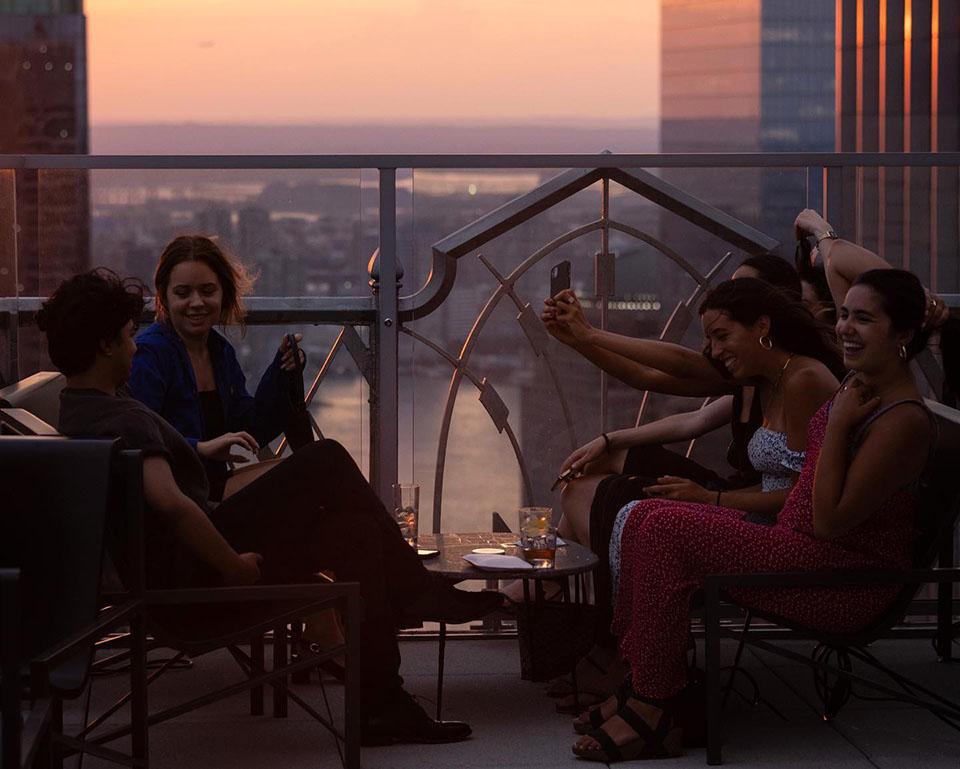 Overstory | Photo: www.overstory-nyc.com/
Located on the 64th floor of 70 Pine Street, high above Manhattan's Financial District, the contemporary and elegant Overstory is a fantastic addition to the NYC rooftop scene.
With a speakeasy-style, plush and art deco interior lounge and a wrap-around outdoor terrace, here you get breathtaking 360° views over the New York City skyline and beyond.
Praised as one of the best cocktail bars in New York, Overstory offers much more than height and amazing vistas.
Expect plenty of artistic cocktails, crafted to perfection by the mixologists, as well a fine selection of wine, beer, and savory bar bites.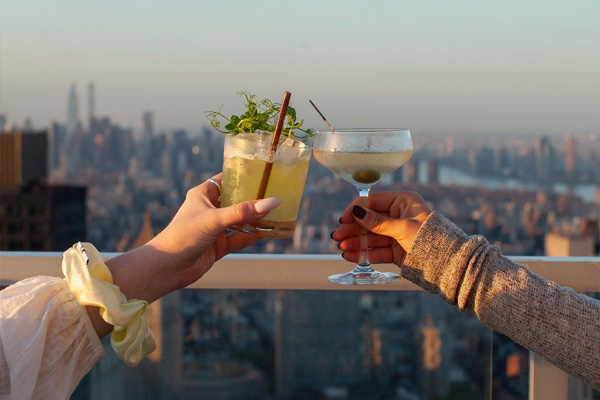 Adress: 70 Pine St, New York, NY 10005
View: 360° over NYC
Floor: 64th
9.

Vertigo & Moon Bar

/ Bangkok
Vertigo & Moon Bar | Photo: www.banyantree.com
The city of Bangkok invites you to experience the beauty of Thailand through a breathtaking view from the roof deck of one of the highest rooftop bars and restaurants in the world.
Vertigo & Moon Bar is situated atop the 61th floor of the luxurious Banyan Tree Bangkok, exposing a magnificent view of the Thai capital.
Dual in setting, the restaurant and bar offers both great food and fantastic cocktails. Book your table in advance (especially for visits at the Vertigo restaurant), as this is a very popular venue among tourists.
The very best thing about Vertigo and Moon Bar is the amazing view. Breathtaking 360-degree views over all of Bangkok. All in all, Vertigo & Moon rooftop bar at Banyan Tree Bangkok is a must to visit.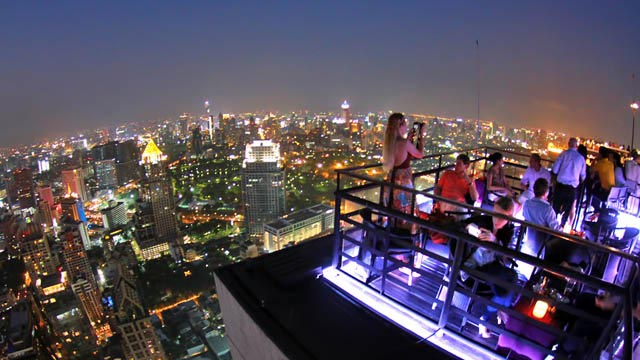 Adress: Banyan Tree Bangkok - 21/100 South Sathorn Road – Sathorn
View: 360° over Bangkok
Floor: 61st
10.

Flair at Ritz-Carlton

/ Shanghai
Flair | Photo: www.ritzcarlton.com
Being top of the top, Flair is amongst the tallest and most luxurious rooftop bars in the world. This gem is the crown of The Ritz-Carlton Shanghai, Pudong and resides atop the 58th floor and the hotel's rooftop deck. The terrace exposes a breathtaking, overwhelming and absolutely fantastic view of the Chinese city.
The vibrant colors of the skyline, combined with the restaurant's impeccable culinary choices turn the visit into an exotic exploration of highest standard. The owners of the famous hotel chain offer a wide range of exclusive and luxurious services to treat yourself while staying at the Ritz-Carlton in Shanghai.
Visit the Flair rooftop bar for daily dinner and drinks, or come during the weekend for Afternoon Tea or a rooftop brunch.
Adress: Shanghai ifc, 8 Century Avenue, Shanghai
View: Dazzling skyline views
Floor: 58th