Why we are
The Rooftop Guide was founded in Stockholm, Sweden, in 2015. The lack of a complete and transparent guide to the world's best rooftop bars brought the idea which is now the world's largest website and guide about rooftop venues.
The site has 3 main objectives:
Help visitors find the best and most suitable rooftop venue
Help the rooftop venues attract more visitors
Act as an inspiration for anyone about to book a trip
Since the start in 2015, the number of rooftop venues around the world has just kept on growing. Drinking/dining/swimming with a view is more popular than ever, and it is easy to understand why. This also means that The Rooftop Guide keeps on growing, giving our visitors an up-to-date experience about rooftops around the world.
"Our aim is to help everyone find the ultimate rooftop for the ultimate experience"
How it works
The Rooftop Guide works on several platforms, but the main one is this website, www.therooftopguide.com. Not associated with any specific brand or organization, here you find a complete and transparent guide to all the best rooftop venues around the world.
The website is divided into four (4) major sections:
Rooftop Bars
This is the largets and main area of the website. By browsing continents or using the search tool, you find listings to the best rooftop bars in over 100 of the world's most popular cities and areas. Click on a specific rooftop bar and you get the full info about that venue, from pictures and opening hours to maps and dress code.
Rooftop Pools
Here you find complete listings to the best rooftop pools in many of the world's major cities. Not as vast as our section on rooftop bars, but ever growing. While rooftop pools and rooftop bars often are connected, the rooftop pools are usually more exclusive. Here you find full info about which ones you can visit as an outside guest, or which hotel you need to book to gain access to a specific rooftop pool.
Rooftop Reviews
To learn everything about rooftops, and to stay up-to-date, we travel to new places every month and have visited over 800 rooftops (and many associated hotels) during the last couple of years. Here you can read our full and personal reviews from these visits.
Inspiration
Under this section you find a large collection of inspiring articles written by The Rooftop Guide, all focusing on rooftop venues. From global ones like "40+ amazing rooftops for a fantastic New Year's Eve party", to more specific ones like "Rooftop brunch NYC".
If you like what you see here at the website, you can also follow us on Instagram, Facebook, YouTube and Pinterest for more daily inspiration from the grand world of rooftop venues.
Or sign up to get the latest straight to your inbox.
Who we are
The founders behind the The Rooftop Guide is Hans Ebenman and Rikard Fredricson, two old childhood friends from the small Swedish town of Mjölby, now living in Stockholm since about 10 years.
Our interest in rooftop bars and traveling has always been big, but especially the rooftop-part really exploded around 2014, when the idea of The Rooftop Guide started to take form. We now frequently travel around the world every year to visit the coolest rooftop bars. Near, far and everywhere.
As a consequence (and a lot of hard work), we now proudly see ourselves as 'rooftop experts'.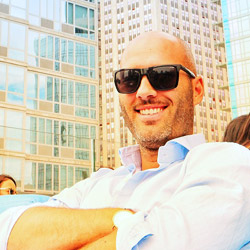 Hans Ebenman
CEO & Co-founder
Full profile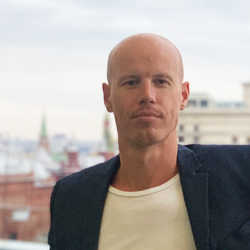 Rikard Fredricson
Creative & Co-founder
Full profile
WATCH: THIS IS THE ROOFTOP GUIDE
The site is run by the company TRG International AB, corporate identity number 559044-1167.