The Los Angeles coastline have some of the best and most beautiful sunsets in the world. And what better place to enjoy these spectacular daily events than at a rooftop bar.
The rooftops around Santa Monica and Venice Beach are the perfect location for some top class sunset-watching. And while no skyscrapers are available here, instead you can expect a little lower but very charming rooftops with ocean views.
Here's our list of the best rooftop bars in Venice Beach and Santa Monica. Check it out!
1.

LouLou Rooftop Restaurant & Lounge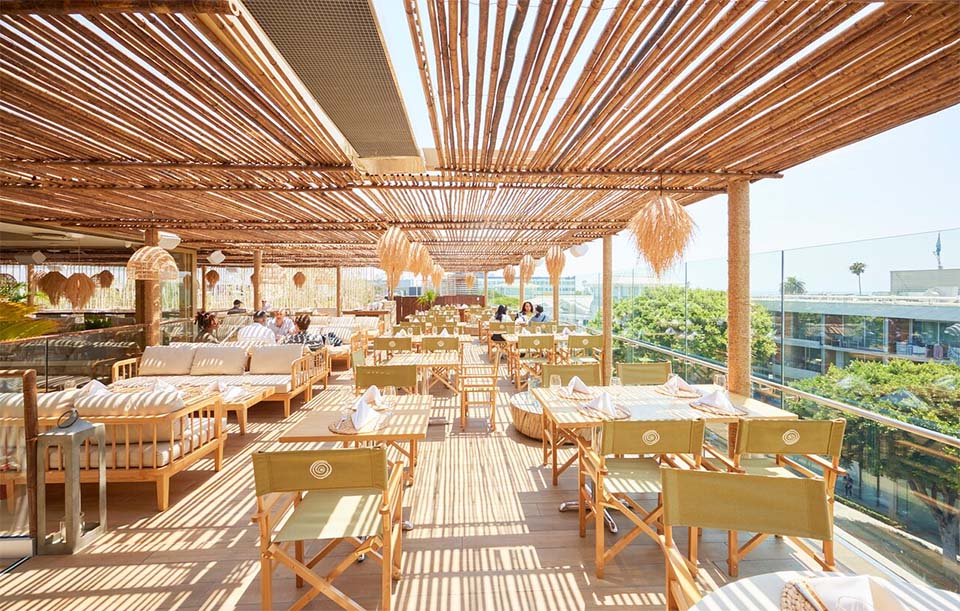 LouLou Rooftop Restaurant & Lounge - Photo: www.loulousantamonica.com/
To experience the 'Joie de Vivre', and travel from the heart of Santa Monica to the French Riviera, head up to LouLou Rooftop Restaurant & Lounge.
Perched on top of Santa Monica Place, the modern and cosmopolitan rooftop is breezy, bright, lush and natural, surrounded with the amazing California sunsets and ocean views.
Here you can sip colorful and crafted specialty cocktails and classics, and indulge in a menu that showcase French Mediterranean flavors with a classic California twist.
The food is complemented with a carefully selected array of wines from both France and California.
Open daily from around noon to midnight, LouLou Rooftop invites to sunny lunches and vibrant weekend brunches, as well as after works and elegant dinners in an intimate atmosphere with subdued lighting.
LOULOU
395 Santa Monica Pl #300, Santa Monica, CA 90401
2.

High Rooftop Lounge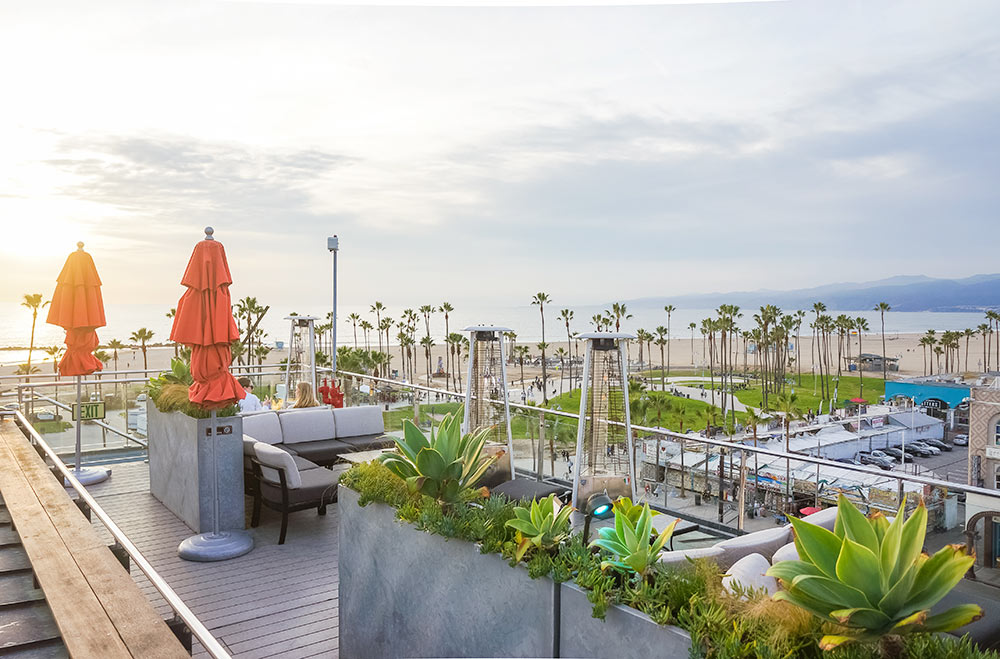 High Rooftop Lounge - Photo: www.hotelerwin.com
Though the open-air High Rooftop Lounge is one of a kind in Venice Beach, it doesn't rest on its laurels and, instead, focuses on providing incredible service and unforgettable experiences.
Located on the rooftop of Hotel Erwin, High provides visitors with jaw-dropping views of the Pacific Ocean and a private atmosphere where you can enjoy Venice Beach without the crowds.
Up here, you can find an excellent selection of signature cocktails, a variety of Californian beers, delicious bar bites, and even a locally beloved weekend brunch.
There's even free sunscreen if you want to protect yourself from the sun.
With its lovely lounge vibe, fantastic drinks, and live DJ shows, High is one of the best destinations for rooftop lovers in this area of the city.
While the rooftop operates on a first-come, first-served basis, you'll want to make a reservation if you want to sit at one of the lounge sofas, particularly if you're looking to visit at sunset or during the weekends.
HIGH ROOFTOP LOUNGE
1697 Pacific Avenue, Venice, LA
3.

Calabra Rooftop at Santa Monica Proper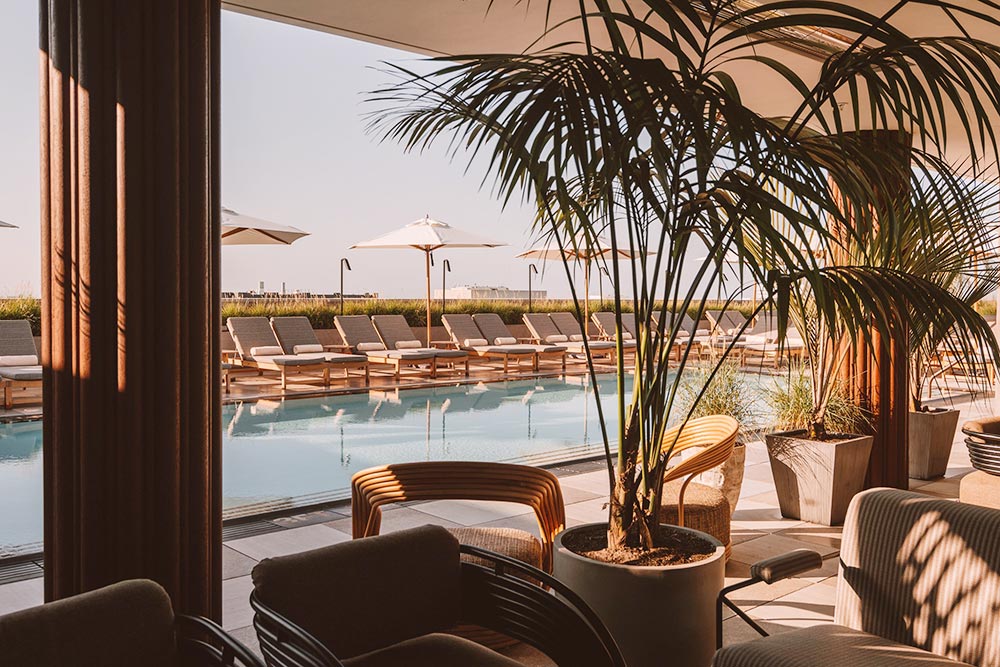 Calabra Rooftop at Santa Monica Proper - Photo: www.properhotel.com
Equipped with a rooftop pool and a tastefully decorated pool-deck, this smashing rooftop venue features a well-known restaurant, a well-stocked bar, and comfortable poolside cabanas.
Called Calabra Rooftop, this elevated outdoor rooftop restaurant and bar features Mediterranean and California fusion cuisine, made with sustainability and freshness in mind.
It also has a tasteful collection of boutique wines, delicious signature cocktails, artisanal beers, and small-batch spirits.
If the food isn't enough to convince you to visit, the atmosphere certainly will. Exclusive, laid-back, and unique, this venue is the kind of place where you can relax and enjoy other people's company with style.
The pool, a refreshing oasis in the middle of Santa Monica, is open to guests only and comes with sun loungers and large umbrellas to ensure your comfort.
Santa Monica Proper also is home to Olea Garden, a second floor lush oasis, where you can enjoy fresh sushi rolls and sake during the weekends.
There's also an on-site eastern-inspired Spa, which features all kinds of ayurvedic treatments and custom-designed programs.
CALABRA ROOFTOP
700 Wilshire Blvd, Santa Monica, LA
4.

The Venice Whaler
The Venice Whaler - Photo: www.venicewhaler.com/
A popular haunt amongst locals and visitors alike, The Venice Whaler has been a part of Venice's nightlife since 1944.
Located only on a second story, the Whaler may not be Venice's highest rooftop bar, but it sure has history.
This historic locale was the watering hole of groups such as The Beatles, The Doors, and The Beach Boys, and though the exterior is rather simple, once you step inside, it's quite easy to see why.
With a straightforward and laid-back atmosphere and decoration, it's clear that the Whaler cares about delicious drinks rather than bling and luxury, which reflects quite clearly in the bar's famous margaritas.
That, coupled with world-famous fish tacos, killer sunset views, and a philosophy that takes you back to classic pubs, The Venice Whaler is a must-visit for both music and bar lovers alike!
THE VENICE WHALER
10 Washington Blvd, Venice, LA
5.

ONYX Rooftop Lounge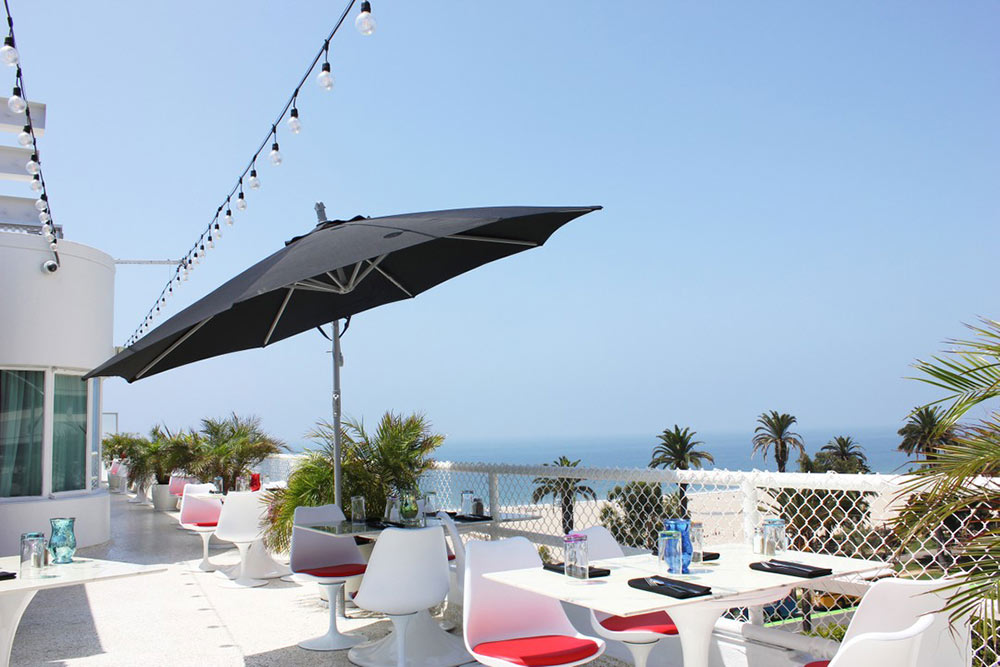 ONYX Rooftop Lounge - Photo: www.shangrila-hotel.com
Located on Santa Monica's Shangri-La Hotel, this luxurious rooftop bar offers both indoor and outdoor seating, stunning views, and the kind of service only Shangri-La can provide.
Up here, you can enjoy a carefully curated drink menu, a vast and delicious selection of bar bites, chill music, and exclusive atmosphere, and a dynamic environment that lets you relax and party depending on the time of the day.
Though ONYX Rooftop Lounge opens quite early, the true party starts during the night, where live DJs and other musical shows take the stage as a livelier crowd gathers to enjoy the best party spot near Santa Monica pier.
ONYX is a little pricier than other options in this list, but in exchange, you get an exclusive atmosphere, terrific views over the Pacific Ocean, and a smart casual dress code that ensures everyone is looking their best.
If you're looking to impress, ONYX Rooftop Lounge is the place to go.
ONYX
1301 Ocean Avenue, Santa Monica, LA
6.

Cabo Cantina Venice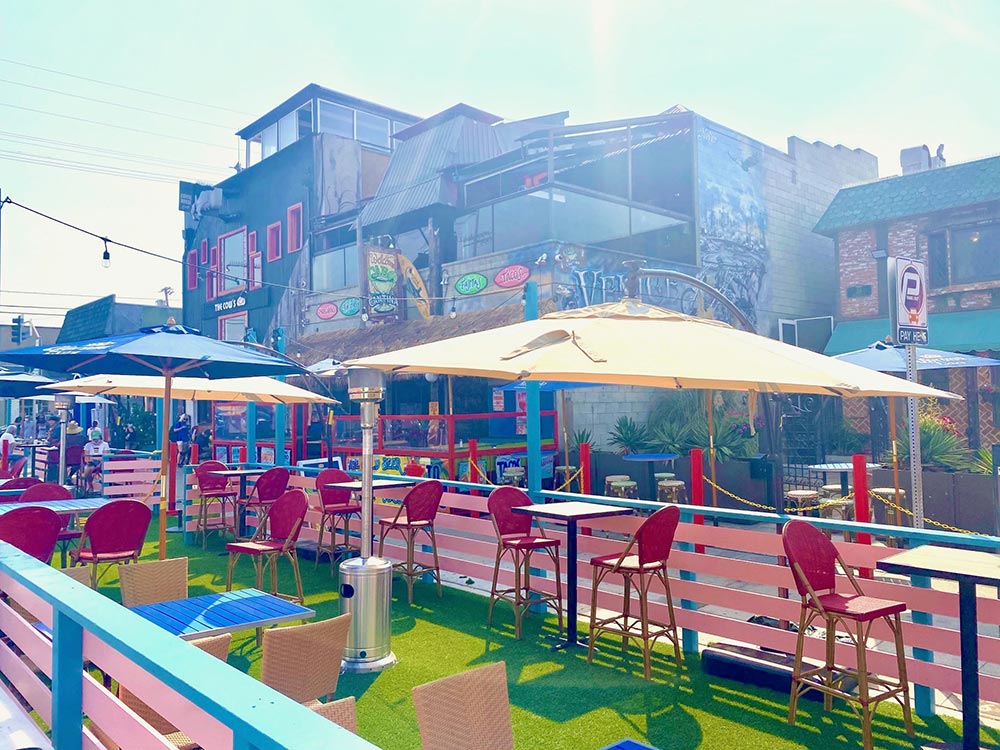 Cabo Cantina Venice - Photo: www.facebook.com/CaboCantinaVenice
With seven locations across Southern California, it's easy to assume Cabo Cantina is doing something right.
While the Cabo Cantina Venice most prominent al-fresco spot is the new and spacious street side patio, there is also a charming second floor terrace.
Known for serving good drinks and good food at excellent prices, this upbeat party destination is the perfect venue for when all you're looking for is a fun night with friends.
Thanks to its generous happy hours, enormous margaritas, ice-cold beers, tequila shots, and party atmosphere, Cabo Cantina has become an obligated stop for spring breakers and people looking to get their fun on.
For food, you can find fajita platters, nachos, enormous burritos, fish tacos, and more!
Cabo Cantina is also a fantastic location from which to enjoy sports, particularly football and soccer, which are both featured prominently across the venue's 50 flat screens.
If you're looking to party at reasonable prices, there's probably no better place than Cabo Cantina.
CABO CANTINA VENICE
30 Washington Blvd, Marina del Rey, Venice, LA