Hollywood is one of the most famous neighborhoods on earth. And being located in the heart of one of the biggest and most vibrants cities in the US, you can expect a lot of great rooftop bars in the Hollywood area.
The warm and pleasant year-round climate is ideal for rooftop bars. So is the trendy atmosphere and people frequenting these elevated spots. So, expect many glamorous rooftops with grand views over the city of Los Angeles and the Hollywood Hills.
The Rooftop Guide have visited over 700 rooftop bars worldwide, among them some of the best in Hollywood.
The Rooftop Guide's list of the 5 best Hollywood rooftop bars
1.

Mama Shelter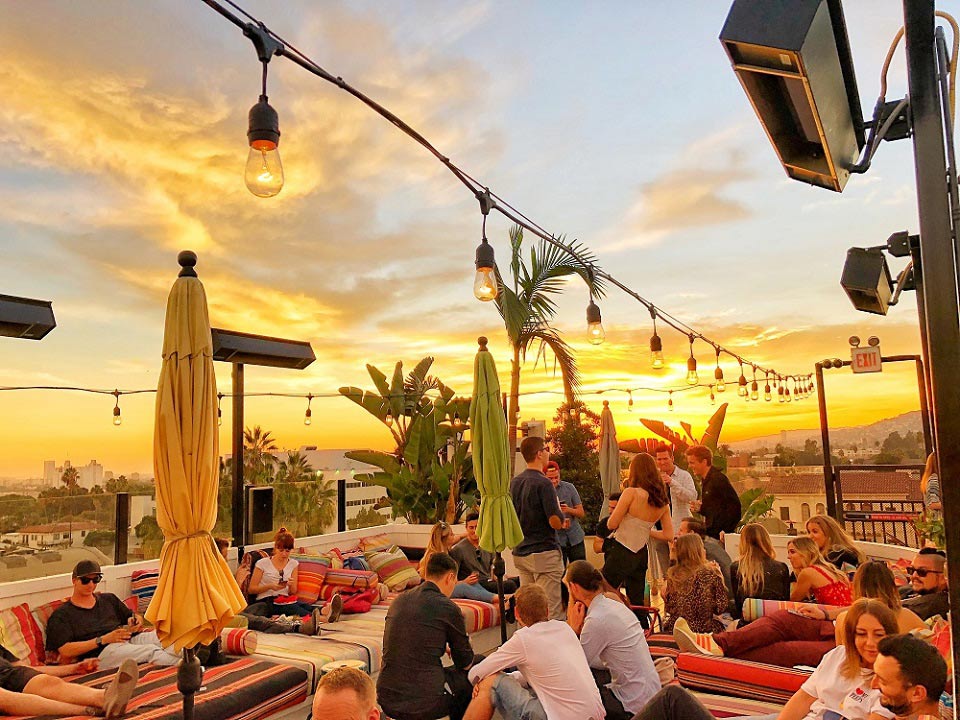 Mama Shelter - Photo: www.therooftopguide.com/
Marketing itself as "so much more than just a simple rooftop", this rooftop bar offers stunning views to the iconic Hollywood sign, as well as the rest of the city.
With a fun and colorful decor and a relaxed atmosphere, complemented by its extra-large lounge sofas, this is the place to visit in the late afternoon or the early evening.
You may not spend the entire night here, but nights are better when you start them at Mama Shelter.
Operating with a first-come, first-served policy, Mama Shelter doesn't worry too much about exclusivity, which results in a fun and relaxed atmosphere, perfect for meeting new people.
There's no shortage of options when it comes to drinks, but we encourage you to try their signature cocktails, as they're to die for.
Mama Shelter also stands out thanks to its food, which are homemade dishes meant for sharing, rather than your typical bar bites.
Come early, take in the views and relax. You're in the perfect place to do it.
MAMA SHELTER LA
6500 Selma Ave, Los Angeles, CA 90028
2.

L.P. Rooftop Bar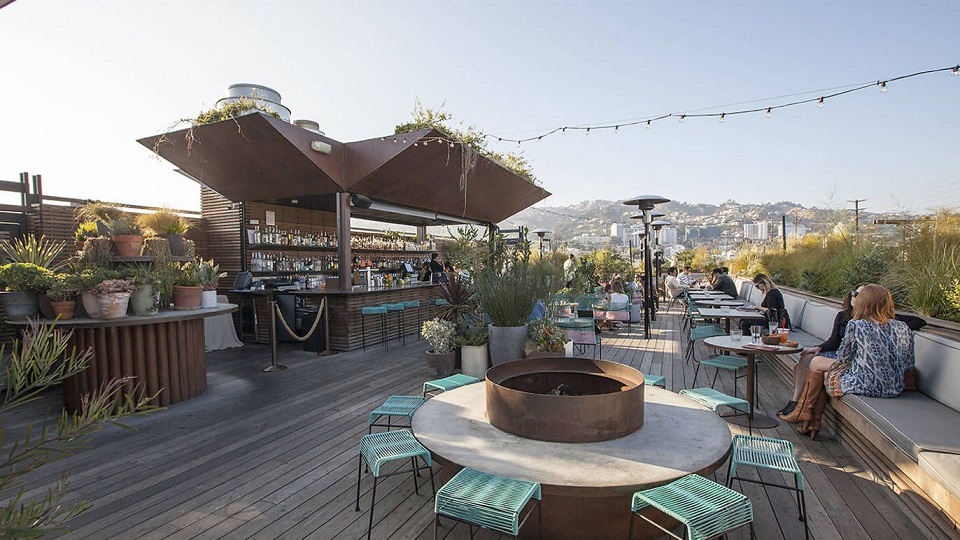 L.P. Rooftop Bar - Photo: www.eplosangeles.com
One of the largest rooftop bars in the entirety of Los Angeles, the L.P. has a relaxed, yet modern ambiance with a touch of tropical.
With wooden accents and floors, plenty of greenery, and soft nighttime lighting, this is the perfect place for a romantic date or a low-key gathering with your friends.
The panoramic view of the Hollywood Hills adds to the enchanting experience, and the bar's cocktails, both signature, and classic elevate the experience.
The L.P. also has a smaller street food inspired menu to go with your drinks, but if you're truly hungry, all you need to do is go down one floor to the restaurant, where you'll find equally delicious, but considerably larger options.
In the same building, you'll be able to find a small rooftop theater, which shows both cult classics and new releases from Sunday to Thursday.
The range of activities and the creativity in their drinks makes the L.P. Rooftop Bar the perfect choice for when you want to do multiple things, but don't feel like traveling around the city.
PS: If you're looking for a fun drink, we recommend the 'Rock n' Roll Mouthwash,' which has bourbon, lemongrass, palm sugar, lime, and ginger. It's quite the combination!
L.P. ROOFTOP BAR
603 N La Cienega Blvd, West Hollywood, CA 90069
3.

I|O Rooftop at The Godfrey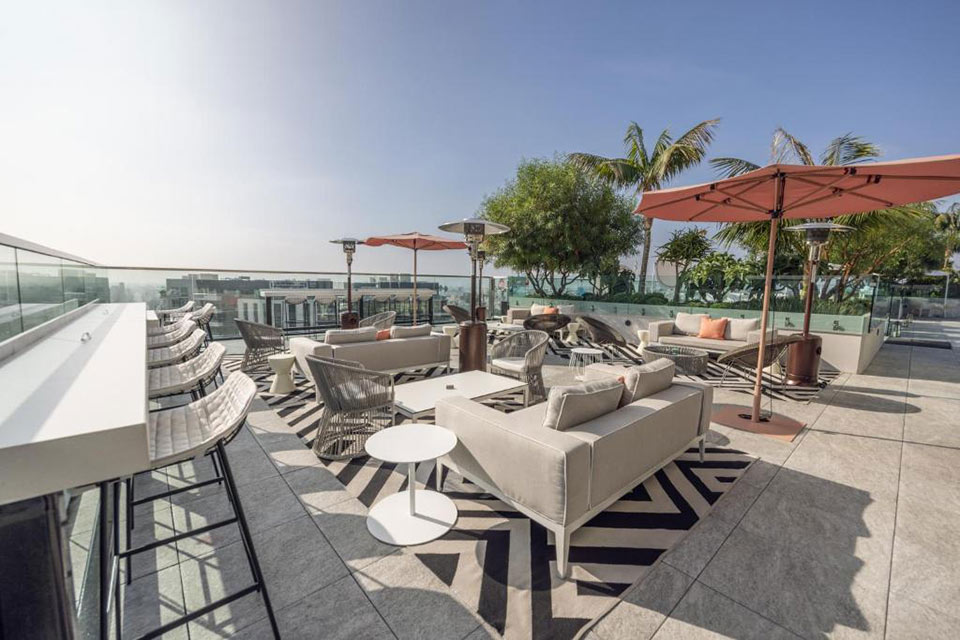 I|O Rooftop at The Godfrey - Photo: www.godfreyhotelhollywood.com/
Perched on top of the lovely The Godfrey Hotel in the heart of Hollywood, I|O Rooftop is one of the most impressive rooftop bars in all of Los Angeles.
Covering 12,000 square feet of indoor and outdoor space, the 7th floor terrace includes a sun-deck, two bars, a glittering rooftop pool and al fresco dining.
Recalling the glamour and beauty of Hollywood, here you can enjoy fantastic 360-degree views over Hollywood and Los Angeles, as well as a menu filled with specialty cocktails, a few grapes and cans, as well as light and tasty bites.
A sophisticated oasis in the middle of the L.A. buzz, I|O Rooftop invites you to relax by the pool and listen to soothing music under the sun, or mingle, sip, laugh and dance by night.
I|O ROOFTOP
1400 Cahuenga Blvd, Los Angeles, CA 90028
4.

Skybar at Mondrian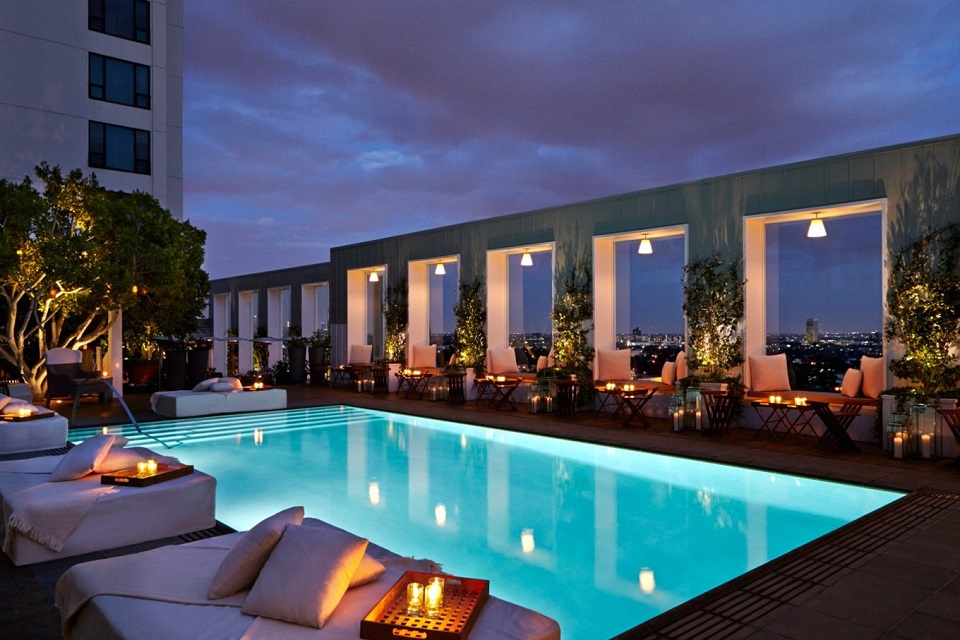 Skybar at Mondrian - Photo: www.morganshotelgroup.com
If what you're looking for is to experience the glamour of Hollywood, then head out to the Mondrian and start to mingle.
Designed to offer fantastic views of Los Angeles from every corner of the terrace, this beautiful rooftop bar also has a pool, which has been featured in more than one TV show thanks to its unique design.
By day, the atmosphere is relaxed yet playful, with people looking to enjoy the pool and the fresh drinks. At night, live DJs liven up the place and dancing and partying take over, though swimming is still allowed.
Pool parties are commonplace, dare we say expected, and alongside the bar's stylish hacienda-like decor, it's one of the Mondrial's signature characteristics.
This bar has several lounge hangouts for you to relax in, as well as an extensive drink menu that includes champagne, frozen and signature cocktails, and even punch bowls.
Food-wise, you can find flatbreads, burgers, and street tacos are delicious, so we can't recommend them enough.
This is a trendy spot, so be prepared for some crowds and a long waiting list, no matter the time or the season.
SKYBAR AT MONDRIAN
8440 Sunset Boulevard, West Hollywood, CA 90069
5.

Harriet's Rooftop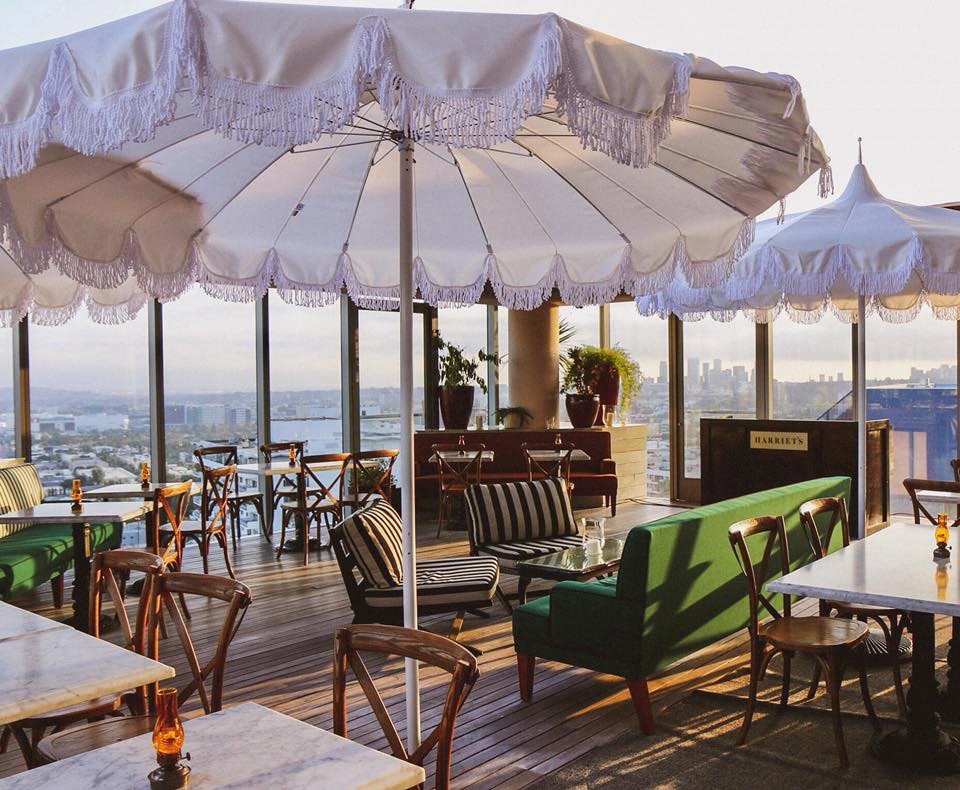 Harriet's Rooftop - Photo: www.harrietsrooftop.com/
Perched on top of the fantastic 1 Hotel West Hollywood you find Harriet's Rooftop, a charming and chic rooftop bar opened in 2018.
Up here, comfy lounge furniture and dining tables offers and escape above the bustling Sunset Boulevard, and you can enjoy fantastic views over both Hollywood Hills and the LA skyline.
Aiming to give the feeling of an old-fashioned cocktail lounge, Harriet's is both vibrant and stylish.
The rooftop bar offers seasonal and crafted cocktails and light bites, served with a side of cool lounge tunes.
Open nightly, this Hollywood rooftop terrace works on a first-come, first served basis. So grab some friends and head on up, ypu will not be disappointed.
HARRIET'S ROOFTOP
8490 Sunset Blvd, West Hollywood, CA 90069