Sometimes you just want to relax at a chill rooftop lounge, watching the sunset. But sometimes you also just want to put your dancing shoes on, and enjoy rooftop party vibes while 'the ordinary' life continues down below.
This complete listing of the Top 10 party rooftop bars in the world will take you to venues mixing elevated vibes with elevated views. From NYC to Singapore, from vibrant day party's to DJ sessions and live entertainment long into the night.
1.

TaKeT

/ Gothenburg
TaKeT - Photo: www.facebook.com/TaKeT
Located on the 7th floor of the Comfort Hotel Gotheburg, TaKeT is going on its seventh season in 2022, and it continues to be one of the best spots in the city for casual drinks, fun vibes and live entertainment.
With wooden floors, greenery, comfy loungers, a large retractable roof, jaw-dropping views over the Göta Älv river, along with a laid-back and casual atmosphere, TaKeT is a must-visit for anyone looking for a place where they can relax, make new friends and live in the moment.
While the setting at TaKeT is pretty vibrant whenever you visit, the rooftop is known for its weekly DJ-sessions and takeover party's, when the atmosphere really turns sky-high.
A favorite amongst locals and visitors alike, serving a wide variety of finely crafted cocktails, on-tap beers, bubbles and world spirits.
TAKET
Skeppsbroplatsen 1, 41121 Gothenburg, Sweden
2.

SPINE

/ Beirut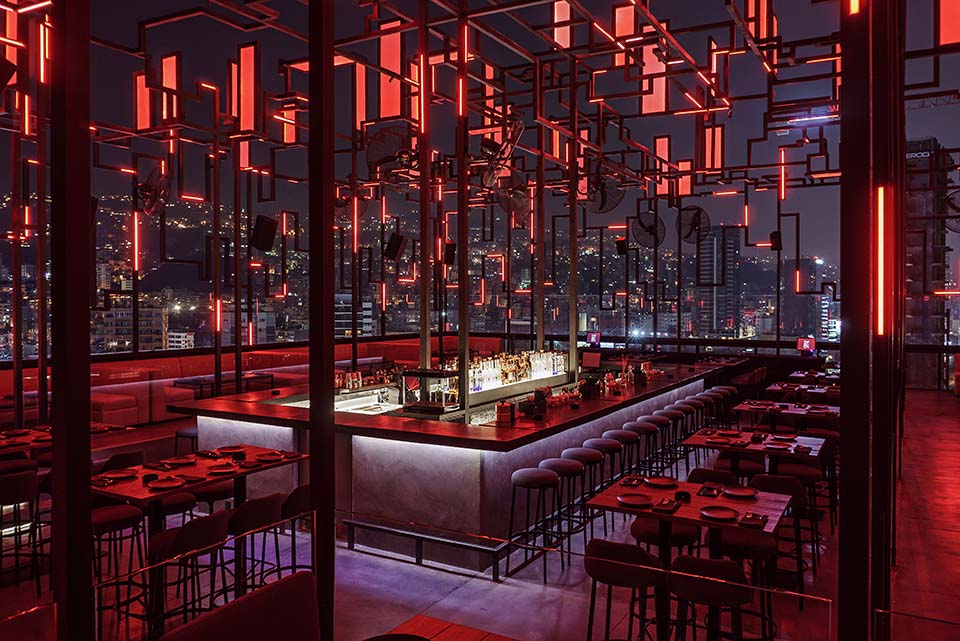 SPINE - Photo: facebook.com/spinebeirut
SPINE is an unparalleled rooftop lounge bar, perched on the 12th floor of the G1 Building, just north of central Beirut.
Awarded several times, this truly unique venue offers a visual experience few rooftops in the world can match.
With no visual boundaries - no walls nor ceiling - the terrace mixes the minimalistic with the elegant, using an aesthetic lighting structure that discretely blends into the night sky.
Together with amazing 360° views over the Beirut skyline and the Mediterranean, evenings at SPINE are something out of the ordinary.
Staring with a static dinner setup, where a variety of fusion dishes perfect to share are complemented with award-winning mixology drinks, developing into a dynamic and vibrant lounge.
Then, the lighting installations turn on the most explosive 'dynamic mode', with hundreds of color variations, and upbeat music from live DJs keep the crowd and atmosphere roaring into the late hours.
SPINE BEIRUT
12th floor, G1 (Rodeo Drive) Building Naccache Seaside Road, Beirut, Lebanon
3.

The DL

/ New York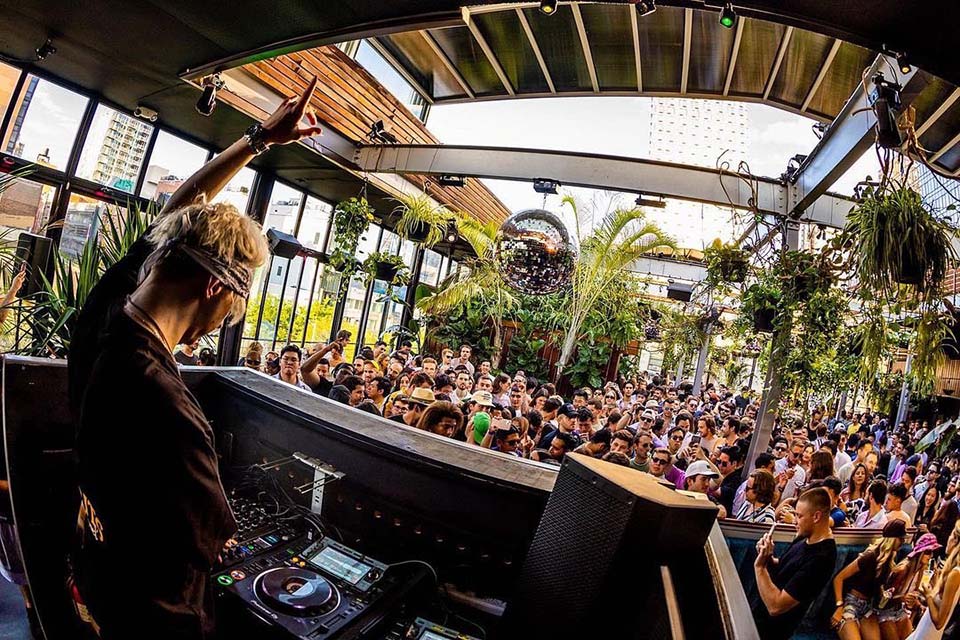 The DL - Photo: www.thedl-nyc.com/
The DL is a multi-level lounge, restaurant, and event space, found in Manhattan's Lower East Side, and named after its location on the corner of Delancey Street & Ludlow.
At the chandelier-lit restaurant Dinner on Ludlow on the first floor you can enjoy a modern adaptation of classic American comfort food, but to mix vibes with views, head up to the lush and South Beach–esque rooftop.
This is one of the largest retractable all-weather rooftops in New York City, and also one of the most buzzing, offering an extraordinary nightlife experience all year round, where bottle service and DJs are part of the daily routine.
Surrounded with fantastic views over the Lower East Side skyline and the Williamsburg Bridge, here you can let loose during daytime events under the sun, or join in on the lively evenings continuing well into the night.
The DL NYC is also a popular and versatile spot for private events, from intimate to large functions.
THE DL
95 Delancey St, New York, NY 10002, US
4.

El Purgatorio Roof

/ Medellín
El Purgatorio Roof - Photo: https://elpurgatorioroof.com/
Perched on top of the Hotel TRYP Medellin Estadio, El Purgatorio Roof is the prime spot to go for when you want to pair your drinks with hot vibes and smashing views.
With a prime location in the center of Medellín, the 14th floor rooftop comes with both a sleek interior lounge and an airy outdoor terrace. All surrounded with fantastic 360° views over the city.
With both table and bar services, the rooftop offers a select menu of spirits, wines and crafted signature cocktails, as well as a varied array of fast food.
Expect fun-filled and happening events and DJ fiestas, in an atmosphere where you can free yourself from the ties of the earthly world and fill your soul with life, peace and music.
EL PURGATORIO ROOF
Cl. 50 #70-124, Laureles - Estadio, Medellín, Laureles, Medellín, Antioquia, Colombia
5.

Highwater Rooftop

/ New York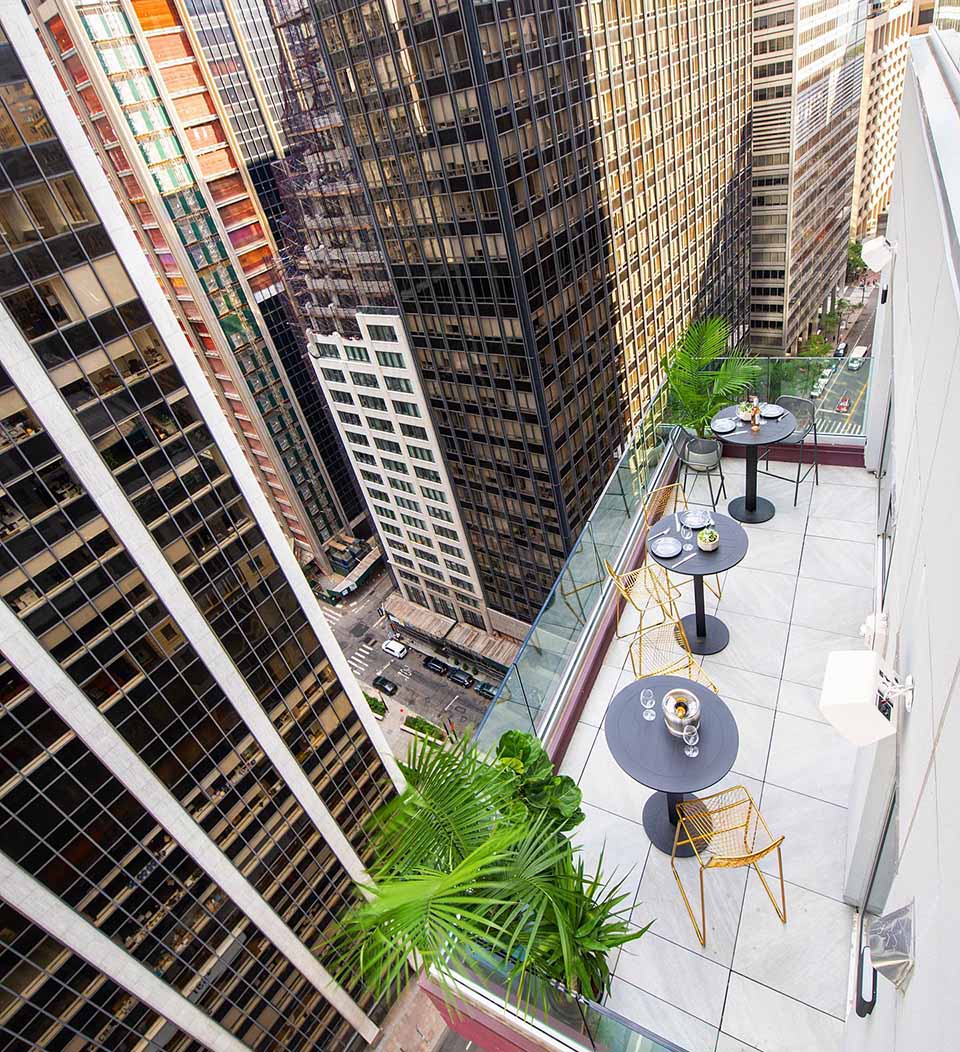 Highwater Rooftop - Photo: www.highwaterrooftop.com/
For an elevated and vibrant atmosphere with a slice of luxe, escape up to Highwater Rooftop, perched on the 25th of the modern Hotel Indigo - NYC Downtown - Wall Street.
Floating above the Financial District, this bi-level rooftop lounge is one of the most attractive bars in the city, where a stylish interior is complemented with several outdoor terraces.
The rooftop bar offers a masterfully curated cocktail menu, a local craft beer program, a fine selection of wines and bottle service. Complemented with elevated lite bites, you have all you need for a great night out.
Visit for stylish and more intimate after work / happy hour drinks, or weekend nights filled with a lounge-vibrant atmosphere and dramatic city views.
Highwater Rooftop is a versatile space that can accommodate all party sizes, and the rooftop also host happening public events. Or you can reserve the venue for your own private event.
HIGHWATER ROOFTOP
120 Water St, New York, NY 10005
6.

Joy District

/ Chicago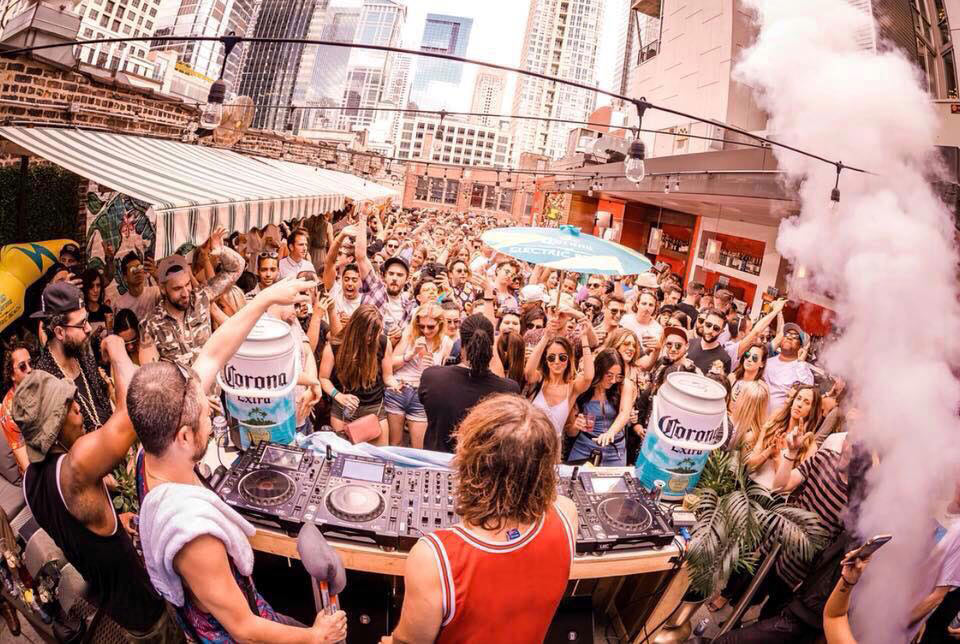 Joy District - Photo: www.joychicago.com/
Located in Chicago's River North, Joy District offers several floors of (different) fun, sure to attract an exciting crowd.
While the first floor modern sports parlor Parlay comes with plenty of energy, it is the floors above that are really buzzing with atmosphere.
Starting with the second floor Club, which is a dance party hotspot, offering the hottest local DJs, themed parties, and bottle service.
The Club is all indoors, and you have to climb antoher floor to get the ultimate mix of alfresco vibes and a buzzing atmosphere.
Simply called The Roof, this trendy rooftop lounge comes surrounded with plenty of greenery and impeccable views of Chicago's cityscape.
The Joy District rooftop is usually available as a covered and heated escape during winter, but it's during the warmer months that the party atmosphere is really sky-high, and served on a daily basis.
JOY DISTRICT
112 W Hubbard St, Chicago, IL 60654, US
7.

WHITE Dubai

/ Dubai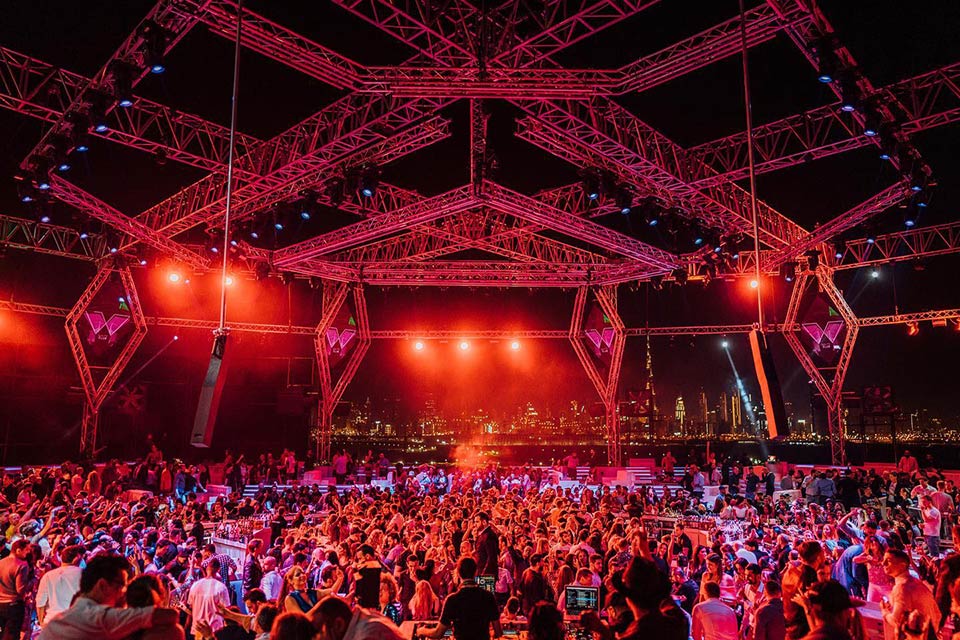 WHITE Dubai - Photo: www.facebook.com/whitedubai/
Since opening in Dubai 2013, WHITE has been awarded best club, music & nightlife pretty much every year. And with a 2021 revamp, this ultramodern rooftop club show no signs of slowing down.
Found at the Meydan Racecourse Grandstand rooftop, the spacious and stylish terrace comes surrounded with some really impressive and uninterrupted views of the Dubai skyline and the majestic Burj Khalifa.
Offering all you need for a sky-high and elevated night out in Dubai, WHITE offers recurring weekly events, like Ladie's Night and URBN Saturday's with hip-hop and r&b, as well as the best of DJs and entertainment from around the world.
From the enormous circular bar in the middle you can order crafted signature cocktails, or you relax at a table with some bottles of bubbly and a restaurant menu filled with international delicacies.
WHITE
Meydan Racecourse Grandstand Rooftop, Adjacent To The Ticket Sales Office, Dubai, UAE
8.

lebua No.3

/ Bangkok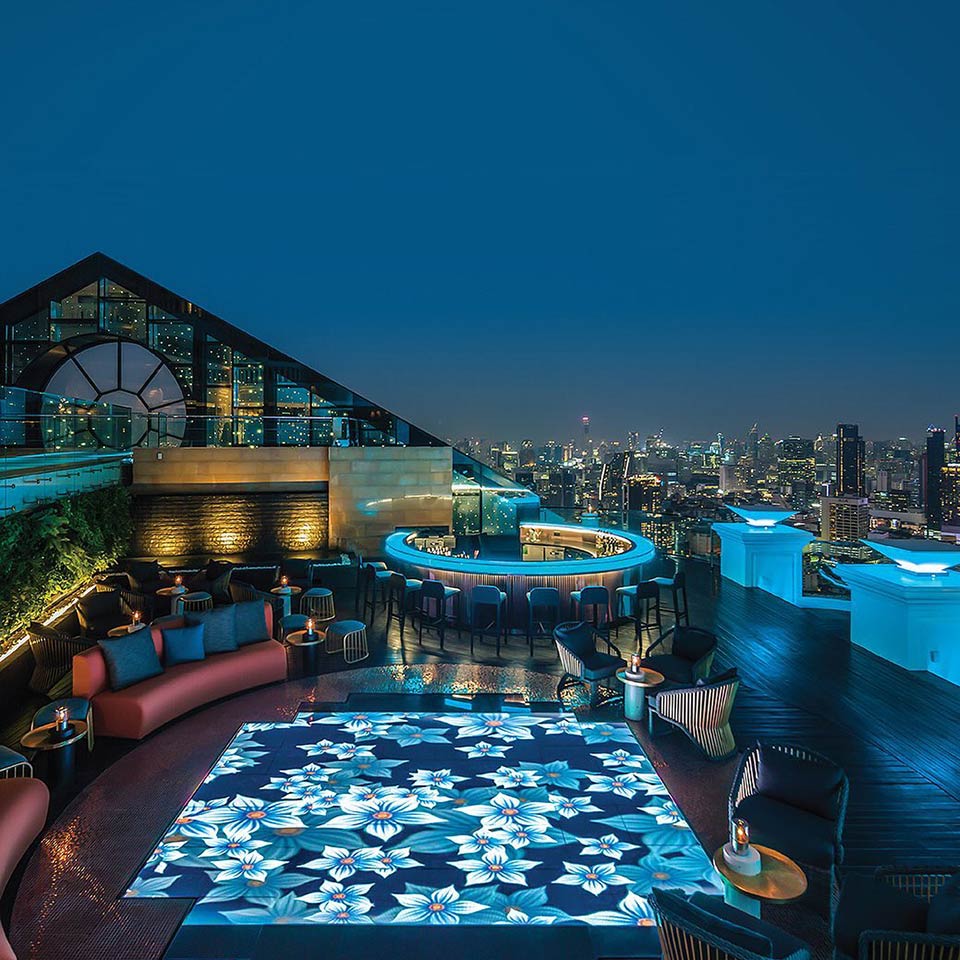 lebua No.3 - Photo: https://lebua.com/
Part of the impressive vertical experience found at the fabulous lebua at State Tower in the heart of Bangkok, lebua No.3 might not be the most elevated of the rooftop destinations, but it sure comes with the highest vibes.
Equipped with a digital-graphic dance floor, comfy lounge spots and an illuminated bar, the multi-level rooftops sits comfortably on the 52nd floor, surrounded with amazing and panoramic views over the Bangkok skyline.
Branded as a 'hedonist's haven', this is a place to enjoy premier gin, vodka, caviar and crafted mixology cocktails, as well as thumping beats from the live DJs.
Offering low-key luxury for the young and young-at-heart, lebua No.3 is made for sky-high nights that feels both exclusive and vibrant.
LEBUA NO.3
State Tower Bangkok, 1055 Si Lom, Silom, Bang Rak, Bangkok, Thailand
9.

CÈ LA VI

/ Singapore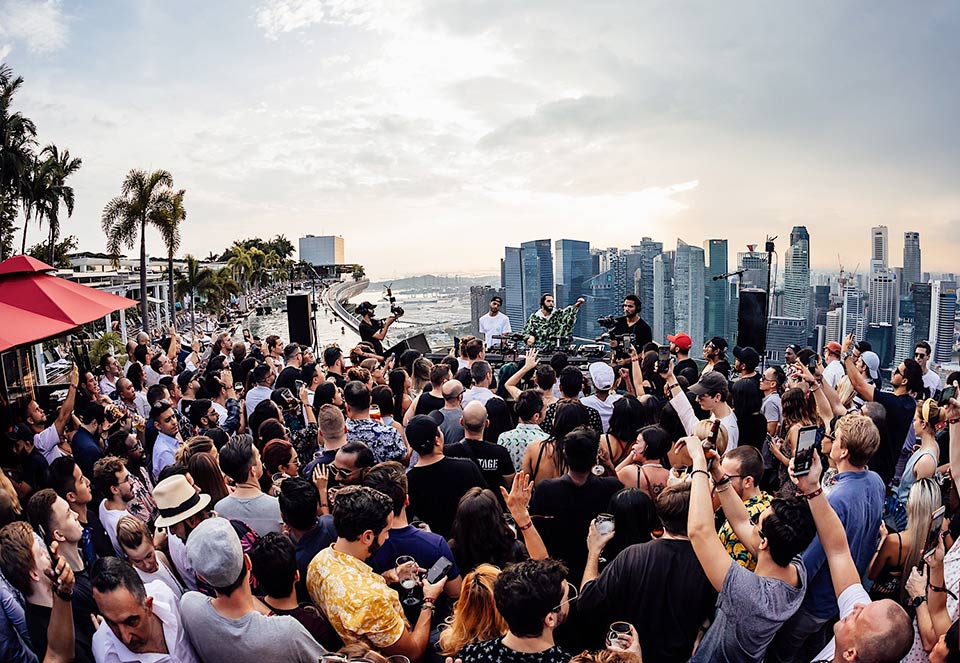 CÈ LA VI - Photo: www.facebook.com/celavisingapore/
Located on top of the world famous Marina Bay Sands in Singapore, CÈ LA VI showcases some jaw-dropping views over the city and the ocean, along with a fresh take on modern Asian cuisine.
Furnished with colorful umbrellas, loungers and dining tables, CÉ LA VI boasts an undeniably chic style that goes hand in hand with the venue's high-end atmosphere.
Offering both indoor and outdoor seating, a sky deck equipped with its own bar, as well as a club lounge, CÉ LA VI is as much for eating as it is for parties, with the latter being the thing most visitors are interested in.
Open daily from noon till late at night and packed with events, you can drop by any time you want. Be it for a Sky High Brunch, a sunset cocktail or a night out partying, as this is one of Singapore's hottest spots for DJ concerts.
That said, you can't miss the restaurant's mouthwatering Asian cuisine, which features freshly caught seafood, that pairs wonderfully with CÉ LA VI's creative hand-crafted cocktails.
CÈ LA VI
1 Bayfront Ave, Singapore 018971
10.

Level 27

/ Warsaw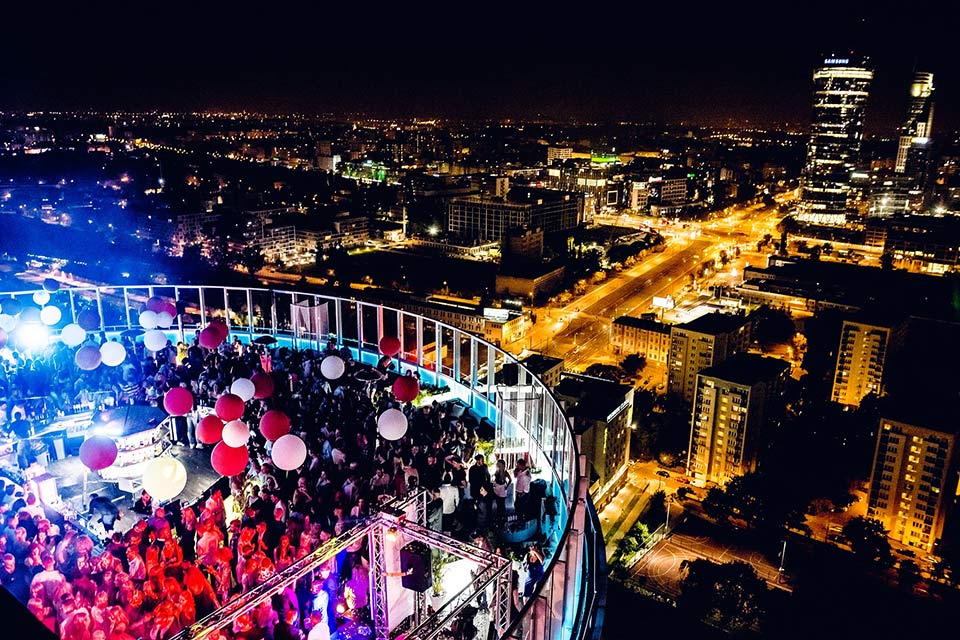 Level 27 - Photo: http://level27.pl/
A large, open-air venue located 27 floors above ground, Level 27 is known mostly for its parties, which are widely regarded as some of the best in Warsaw.
While there's a small indoor lounge where you can enjoy delicious drinks during rainy and cold days, the real appeal of Level 27 is its 450 square meters outdoor terrace, where you can enjoy not only jaw-dropping views of Warsaw but also a phenomenal party atmosphere.
Level 27 has been featured in The World's Finest Clubs at place 92. It offers finely crafted cocktails, a large variety of drinks, premium spirits, champagne, and bottle service and private lounges when you want to party with a little more exclusivity.
Level 27's party atmosphere is complemented by firework shows, affordable drinks, generous happy hours, and an energetic crowd that makes this venue one of Poland's best when you want to go clubbing.
LEVEL 27
Poland, al. Jerozolimskie 123A, Warsaw, Poland