Los Angeles is a great rooftop city, a lot thanks to the climate being warm and pleasant all year round. This means you can find plenty of great rooftop restaurants LA, for some really elevated dinners.
The Los Angeles rooftop restaurants can be found all over the city, from Venice Beach and Santa Monica to Downtown and Hollywood.
The style of the restaurants vary a lot as well. Fine dining, relaxed atmosphere and sunset dinners. Los Angeles have it all.
Here's our list of the 5 best rooftop restaurants in LA. A list made by the world's leading rooftop experts. Enjoy!
1.

Mama Shelter's Rooftop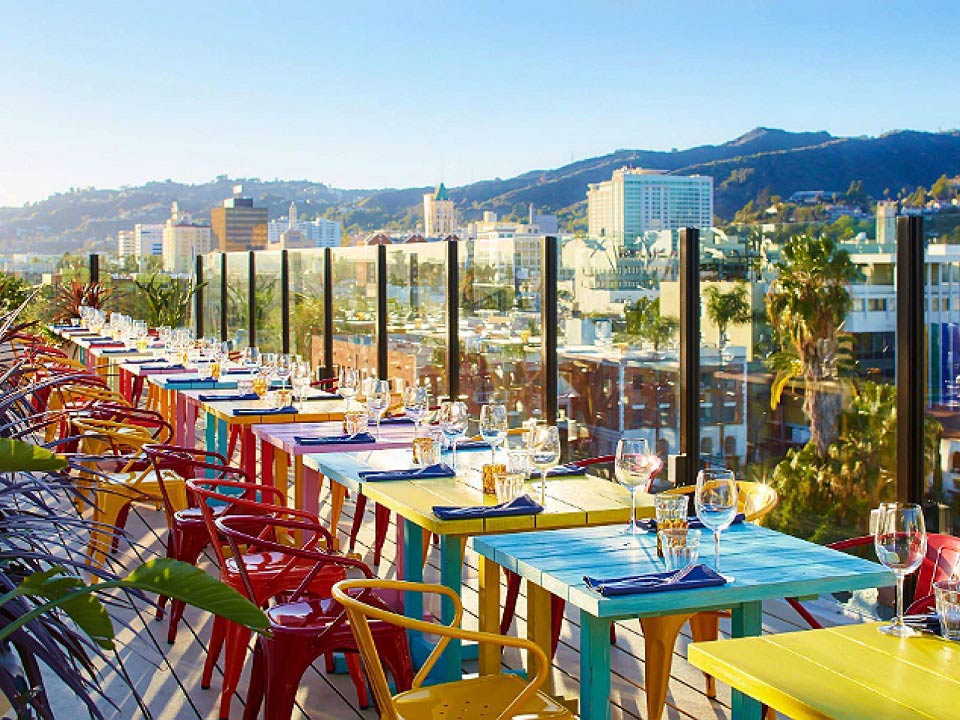 Rooftop restaurants Los Angeles - Mama Shelter | Photocredit: www.mamashelter.com
Considered "much more than just a simple rooftop," Mama Shelter is an ideal location for those looking for delicious food and a vibrant atmosphere.
Overlooking the Hollywood sign and the Los Angeles skyline, Mama Shelter is known for its Californian cuisine, homemade dishes, and top-notch lunches.
The decor is fun and colorful, with large lounge sofas, regular tables, and a general patio ambiance that makes a visit to this restaurant one to remember.
As for drinks, you can enjoy a variety of beers and wines –both international and Californian– as well as creative signature cocktails, like "Mama's Own Mule Bar".
Most dishes served are large enough to share, which makes Mama Shelter a fantastic choice for an extended visit with friends or after-work drinks.
MAMA SHELTER'S ROOFTOP
6500 Selma Ave, Los Angeles, CA 90028
Daily lunch / dinner & weekend brunch
Classic American
A la carte: $16 - $24 per dish
2.

Catch LA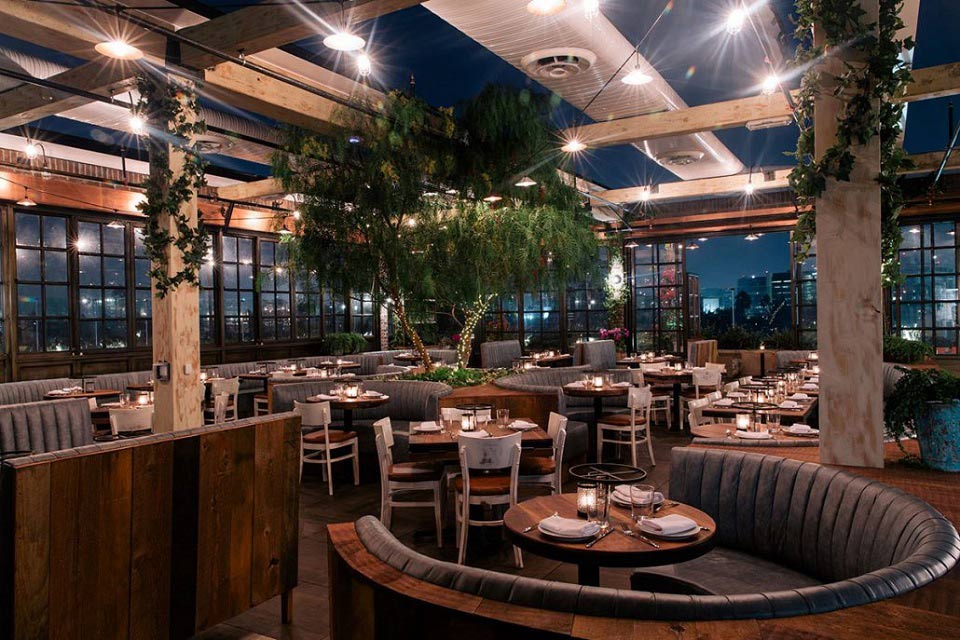 Rooftop restaurants Los Angeles - Catch LA | Photocredit: www.catchrestaurants.com
Located above the buzzing streets of the West Hollywood design district, on the corner of Melrose & San Vicente, CATCH LA is the west coast outpost of the famous New York restaurant with the same name - CATCH.
A well known and globally influenced seafood restaurant, with locations in New York, Dubai and Playa del Carmen, CATCH is a popular shop for food and beverage experiences, providing something for everyone both during daytime to dining, nightlife and events.
With its signature open kitchen and breathtaking views of downtown Los Angeles and the Hollywood Hills, CATCH is one of the best rooftops in California when speaking of food, service and atmoshpere. This 340 seat retractable rooftop haven invites all guests with great seafood like sushi and Asian influences of most dishes.
With a focus on the food CATCH LA keeps it fresh, incorporating local and sustainable ingredients wherever possible as it cultivates a menu mix of Catch classics like the Catch Roll, Truffle Sashimi, Wagyu on a Rock and Cantonese Lobster with inspired renditions of Vegan and Gluten Free additions.
CATCH LA
8715 Melrose Avenue West Hollywood CA 90069
Dinner: Daily 5.30pm–11pm / Brunch: Sat & Sun 11am–2:30pm /
Asian / Sustainability / Fresh
Main: ~$30 / Sushi: $8-22
3.

The Rooftop by JG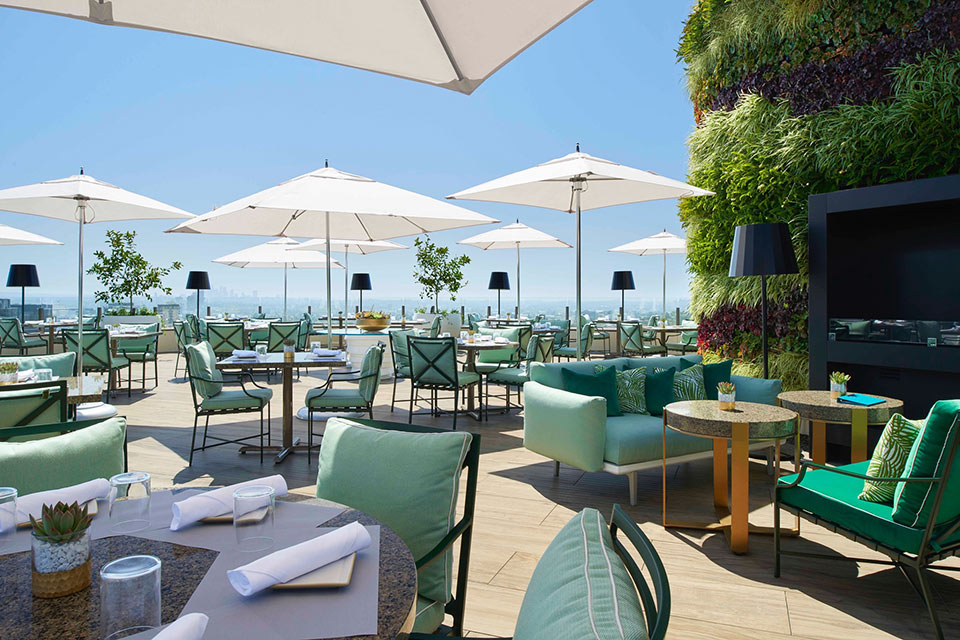 Rooftop restaurants Los Angeles - The Rooftop by JG | Photocredit: www.waldorfastoriabeverlyhills.com/
The Rooftop by JG offers one of the largest terraces in LA. And not at all only about size, it also serves a beautiful garden setting and some amazing views over Beverly Hills and Hollywood.
Set on top of the luxurious Waldorf Astoria Beverly Hills, the rooftop restaurant comes with an equally upscale and stylish vibe.
Settle down in one of the comfy lounge sofas or by a dining table and enjoy contemporary American and Asian dishes created by chef Jean-Georges Vongerichten.
The food is served daily as breakfats, lunch and dinner, and on weekends also as rooftop brunch. Apart from top class food, the rooftop bar also serves a wide selection of crafted signature cocktails, crafted brews, champagne and wines.
Equipped with heaters and blankets, the rooftop restaurant is available year round. A bit on the pricey side, so a perfect destination to celebrate a special occasion or to really impress a date.
THE ROOFTOP BY JG
9850 Wilshire Blvd, Beverly Hills, CA 90210
Mon-Sun: 8am-midnight
American / Asian
Main: ~$35
Collaboration
4.

Perch
Rooftop restaurants Los Angeles - Perch | Photocredit: www.perchla.com
Perch is one of LA's most popular bar and bistro, and with good reason.
Offering magical views of downtown LA, as well as a relaxing atmosphere and delicious French-inspired food, Perch is an ideal choice for those looking to enjoy a filling brunch, dinner and refreshing drinks with a view.
Perch is split into two different floors, with the restaurant, bar, and lounge located on the lower level, and the rooftop terrace one floor up.
The restaurant has a French bistro atmosphere to it, with classic furniture, lush plants, and both inside and outside seating.
Here you can enjoy an everyday dinner menu between 5-11pm, including Steak Frites, Bouillabaisse and Pan Roasted Salmon. On weekends between 10am-4pm, tasty food is also served as rooftop brunch.
The rooftop terrace is a drink-only area and offers sweeping views of downtown Los Angeles, and access to Californian beers and wines, as well as expertly mixed cocktails.
Prices are reasonable, the dress code is upscale casual, and while walk-ins are welcome, reservations are encouraged.
PERCH
448 S Hill St, Los Angeles, CA 90013
Daily for dinner, weekends also brunch
French / Small bites
Main: ~$28
5.

Terra at Eataly L.A.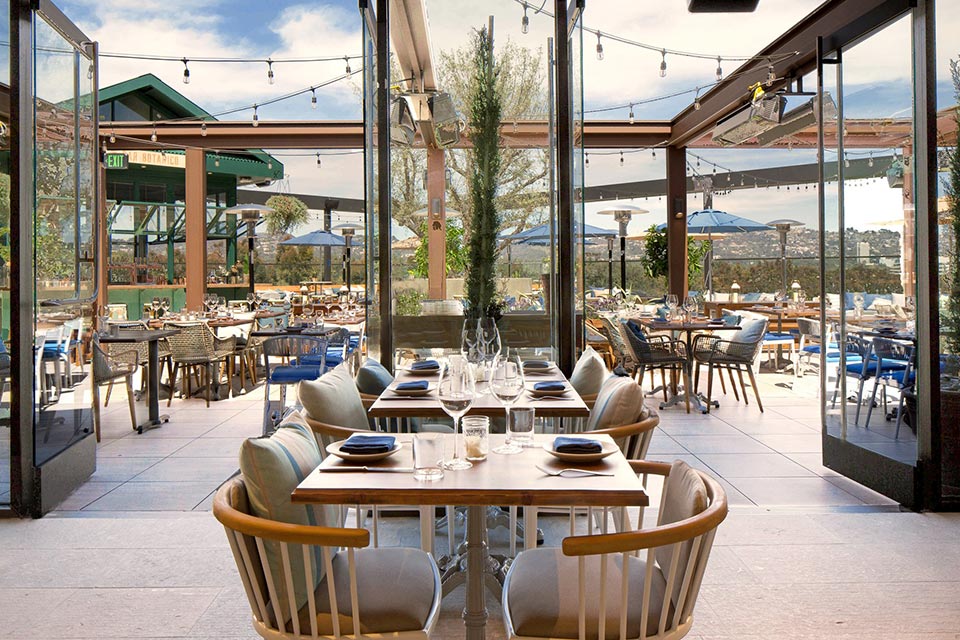 Rooftop restaurants Los Angeles - Terra at Eataly L.A. | Photocredit: www.eataly.com/
Found on top of the Century City Westfield Mall, pretty much in between Hollywood and Santa Monica, Terra is the rooftop of the Italian market and eatery called Eataly.
Eataly can be found at several US cities, and is also home to several restaurants. But the lush and charming Terra rooftop restaurant might very well be the best of them all.
Inspired by earth, gin, and fire, the indoor / outdoor venue centers around a wood-burning Italian grill. Up here you can enjoy Italian flavours as both lunch, dinner and weekend brunch.
Pasta, Insalate, small things, dishes to share and more filling grills, the Terra menu is truly impressive. It also includes refreshing botanical cocktails, premium Italian wines and American craft brews.
The bright rooftop terrace offers panoramic views over the Hollywood Hills, and with a friendly and relaxing it is a great LA rooftop restaurant for both a sunny lunch and a romantic evening.
TERRA
Eataly Westfield 10250 Santa Monica Boulevard, Roof, Los Angeles, CA 90067
Mon-Fri: Lunch & Dinner / Sat-Sun: Brunch & Dinner
Italian
Pasta: ~$25 / Grill: ~$35
Collaboration