Some of the best rooftop bars in California and Los Angeles can be found in the famous and luxurious area Beverly Hills.
The views over Hollywood Hills and the LA skyline are beautiful from the Beverly Hills rooftop bars. Most of them are located at 5-star hotels, so you can imagine that the rooftops here are very sophisticated and luxurious.
Here's our 5 favourites among the Beverly Hills rooftop bars. Made by the world's leading experts on rooftop bars – The Rooftop Guide. Enjoy!
1.

The Rooftop at Kimpton Hotel Wilshire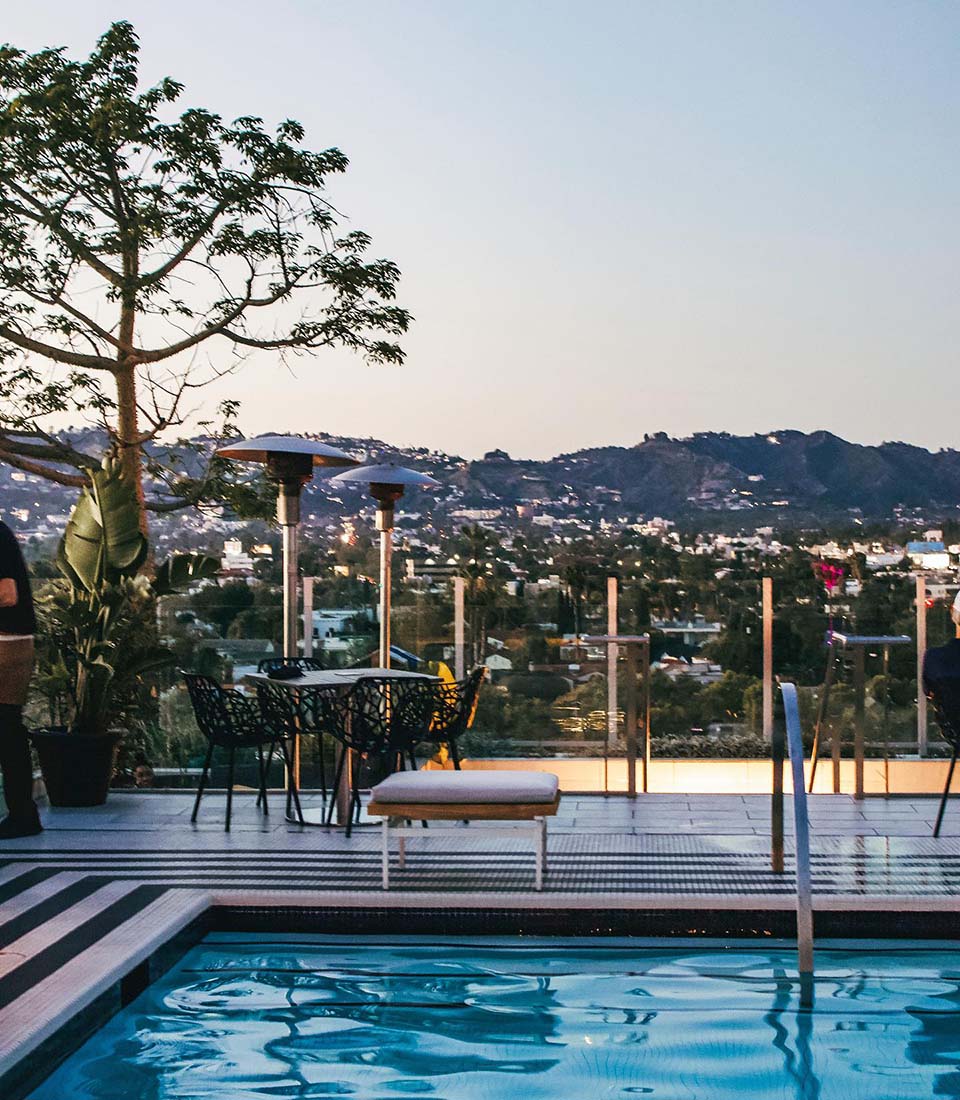 The Rooftop at Kimpton Hotel Wilshire - Photo: www.hotelwilshire.com/
Located between downtown Los Angeles and Beverly Hills, The Rooftop is one of the best-positioned rooftop bars in the city, as well as one of the most relaxing.
Providing guests with stunning 360-degree views, a small but incredible swimming pool, large and comfortable lounge chairs, and private cabanas, this is an excellent choice for visitors looking to kick back and relax.
The Rooftop is usually open daily for breakfast, lunch, and dinner, serving creative dishes inspired by the diversity of LA, with a lean towards the California Mediterranean. Drinks cover traditional cocktails, like Mimosas and Bloody Mary, signature wines, tap beer, bubbles, and creative signature drinks.
While the rooftop pool is open only to guests of the Kimpton Hotel Wilshire, where this bar is located, the terrace is open to the public and provides guests and visitors alike with a laid-back yet fashionable atmosphere.
Because of its small size and popularity, The Rooftop can be quite crowded, so reservations are encouraged, particularly if you're thinking about visiting at night.
THE ROOFTOP AT KIMPTON HOTEL WILSHIRE
6317 Wilshire Blvd, Los Angeles, CA 90048
2.

The Rooftop by JG
The Rooftop by JG - Photo: www.slshotels.com
If you're looking for panoramic views over Beverly Hills, Hollywood and the LA skyline, The Rooftop by JG is the choice for you.
Set on top of the fantastic Waldorf Astoria Beverly Hills, the spacious and stylish rooftop comes with a beautiful and garden-like setting.
With a mix of comfy lounge spots, dining tables and bar stools, there are plenty of spots to settle down and enjoy the amazing vistas.
A rooftop restaurant and bar, The Rooftop by JG serves contemporary American and Asian dishes, as well as crafted signature cocktails, and a selection of craft brews, sparkling and wines.
As for drinks, Altitude offers traditional cocktails, fine spirits, delicious wines, and champagne, but what makes visitors order a second round are its fantastic signature cocktails.
Open daily for lunch, dinner, weekend brunch and drinks in between, this is a prime spot to celebrate a special occasion or to really impress a date.
THE ROOFTOP BY JG
9850 Wilshire Blvd, Beverly Hills, CA 90210
3.

Umbrella Club at SIXTY Beverly Hills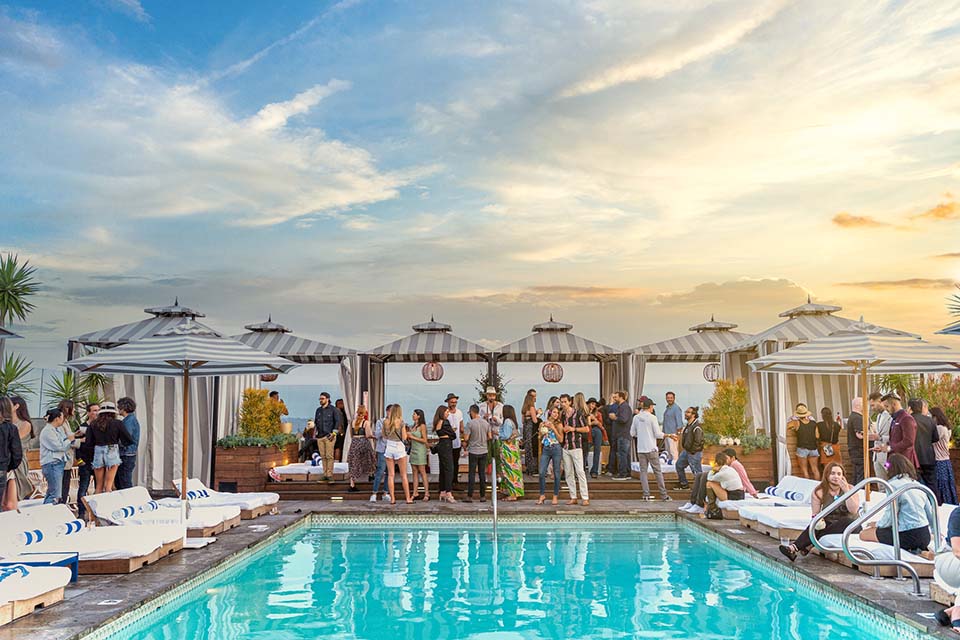 Umbrella Club at SIXTY Beverly Hills - Photo: www.sixtyhotels.com/
Located just a short walk away from Rodeo Drive, the Umbrella Club at SIXTY Beverly Hills is a multi-level venue for LA fun.
Starting on street level with a lively café, wine shop and restaurant, the more elevated action is found on the 7th floor.
Up here, the Umbrella Social Club invites to a lush and beautiful setting, where you are surrounded with one of the best 360-views of Beverly Hills available.
Open 7 days a week, you can expect a fun, vibrant and social atmosphere, along with a menu including crafted cocktails and fresh takes on Southern Californian fusion.
The rooftop also holds the Umbrella Swim Club, where you can soak in the sun right by the lovely rooftop pool.
ABOVE SIXTY
9360 Wilshire Boulevard, Beverly Hills, CA 90212
4.

The Private Rooftop at Petit Hermitage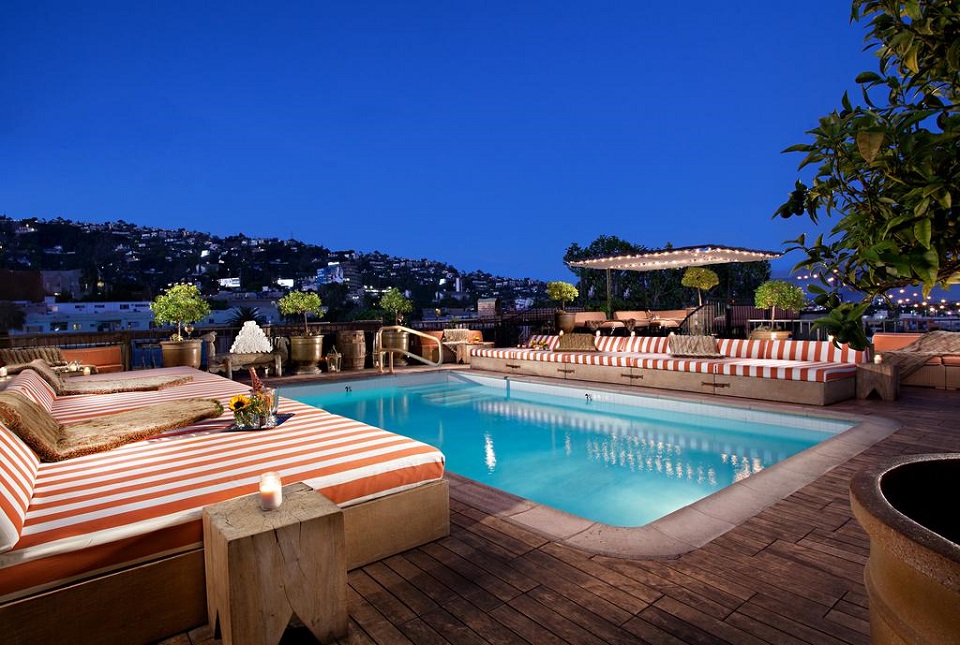 The Private Rooftop at Petit Hermitage - Photo: www.petitermitage.com
As the name implies, The Private Rooftop is a small and exclusive rooftop bar that's not only exclusive for guests of the Petit Hermitage but also cleverly hidden from sight.
These characteristics make The Private Rooftop one of the most relaxing and exclusive places in Beverly Hills, as well as one of the best places to visit when you're looking to get away from the hustle and bustle of the city.
Despite its hidden nature, The Private Rooftop is still capable of providing amazing 360 views of the Hollywood Hills, which makes it a must-visit destination for those who love rooftop bars but don't adore crowds.
The Private Rooftop is furnished with comfortable lounge furniture, sun loungers, plush couches, and has a fantastic saltwater rooftop pool, which transforms even a short visit into something revitalizing.
Offering movie nights each Monday, as well as morning rooftop yoga, all while accompanied with a sense of peace and expertly crafted drinks, this is the place to go.
PETIT HERMITAGE
8822 Cynthia St. in West Hollywood, CA 90069
5.

The Roof Garden at the Peninsula Beverly Hills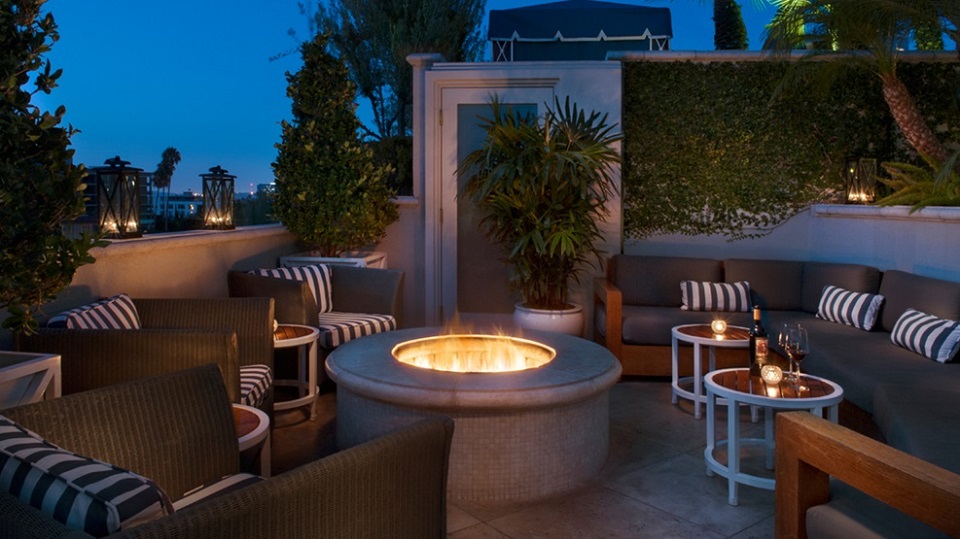 The Roof Garden at the Peninsula Beverly Hills - Photo: www.peninsula.com
An oasis located in the heart of Los Angeles, this beautiful rooftop bar is located just a short trip of the famous Rodeo Drive, yet far away enough to provide visitors with a place to relax.
The Peninsula Hotel is known for its quality and incredible service, and those characteristics carry to the rooftop bar as well, which focuses on providing guests with fantastic drinks and even better experiences.
This garden-like lounge is the spot to go for rooftop yoga, as well as for delicious breakfasts and dinners, not to mention fantastic drinks and a casual but exclusive atmosphere.
With Californian food a la carte, signature cocktails, champagne by the glass, and a truly outstanding Angus Beef Burger, The Roof Garden is a popular choice for visitors and locals alike.
If you're planning to visit, booking reservations in advance is encouraged, particularly during the summers, where the rooftop grill is at its most popular.
PENINSULA BEVERLY HILLS
9882 S. Santa Monica Blvd. Beverly Hills, CA 90212