The world is (as most of us travelers know) filled with both great hotels and amazing rooftop bars. Sure, there are some bad ones as well, but let's not focus on them.
This list offers 11 true gems around the globe, from Singapore to New York, where top-class hotel and rooftop bar go hand in hand. Places that offer both amazing accommodation, as well as the luxury of having views and drinks just an elevator ride away. Places that you should most definitely bookmark for your upcoming travels.
1.

Marina Bay Sands

/ Singapore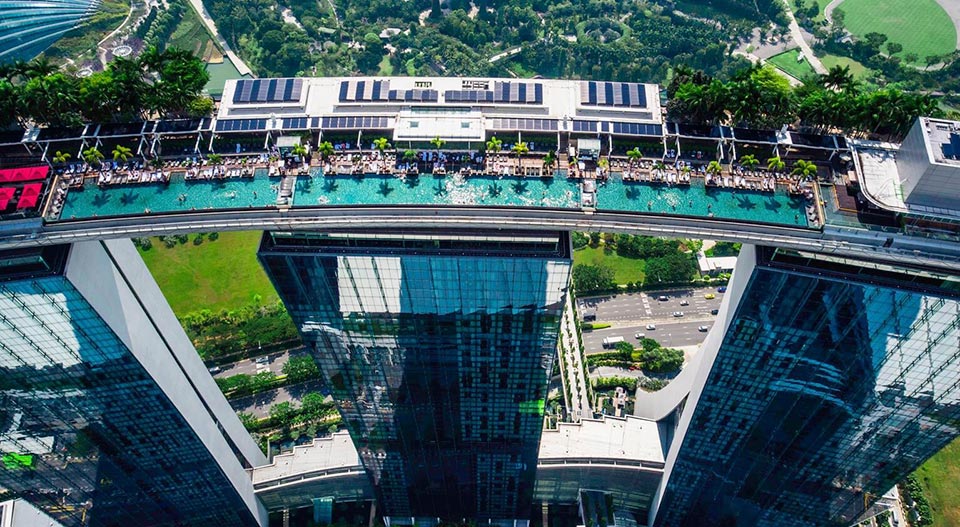 Marina Bay Sands | Photo: https://www.marinabaysands.com
The iconic Marina Bay Sands in Singapore is one of the world's largest and most famous hotels. The hotel is 5-star and has a range of facilities and activities to exploit.
Here you find a giant shopping mall with all the brand stores you can imagine, the world's largest atrium casino, as well as quality restaurants and bars from top to bottom.
The hotel is also neighbour with the beautiful Gardens by the Bay, a must visit when in Singapore.
To claim that Marina Bay Sands has a rooftop is clearly an understatement. The long, ship / surf board-like roof spaning across the three towers of the hotel is probably the coolest rooftop venue in the world.
Up on the 57th floor you find one of the world's highest and largest rooftop infinity pools. This one, and the complementing rooftop jacuzzis, are exclusive to guests staying at Marina Bay Sands.
Available for both in-house guests and the public are the fantastic rooftop bars, lounges and restaurants: CÈ LA VI Singapore, Spago and LAVO Italian Restaurant & Rooftop Bar. And of course, the absolutely magical views across Singapore and the ocean.
2.

Kimpton St Honoré Paris

/ Paris
Kimpton St Honoré Paris | Photo: https://kimptonsthonoreparis.com/
The luxurious Kimpton St Honoré brings a creative flair and ultra-chic vibes to the heart of Paris, just moments away from Opera, Faubourg St Honoré and the Tuileries Gardens.
Inspired by minimalist Art Déco aesthetics and a light-hearted sense of Parisian chic, the hotel holds 123 stylish guest rooms and 26 beautifully designed suites.
Hotel ameneties includes wellness facilities with a spa, a heated indoor pool and boutique gymnasium. There is also a relaxed brasserie called Montecito, influenced by the multicultural cuisine of America's Pacific West Coast.
But, the very best feature of Kimpton St Honoré Paris is found on top of the hotel, with the seasonal and beautiful Sequoia Rooftop Bar.
When the warmer months hit Paris, this is truly an elevated garden escape, where you can indulge in a fine selection of wine and champagne, crafted signature cocktails, and panoramic and iconic 360° views over central Paris and its famous monuments.
3.

Majestic Hotel & Spa

/ Barcelona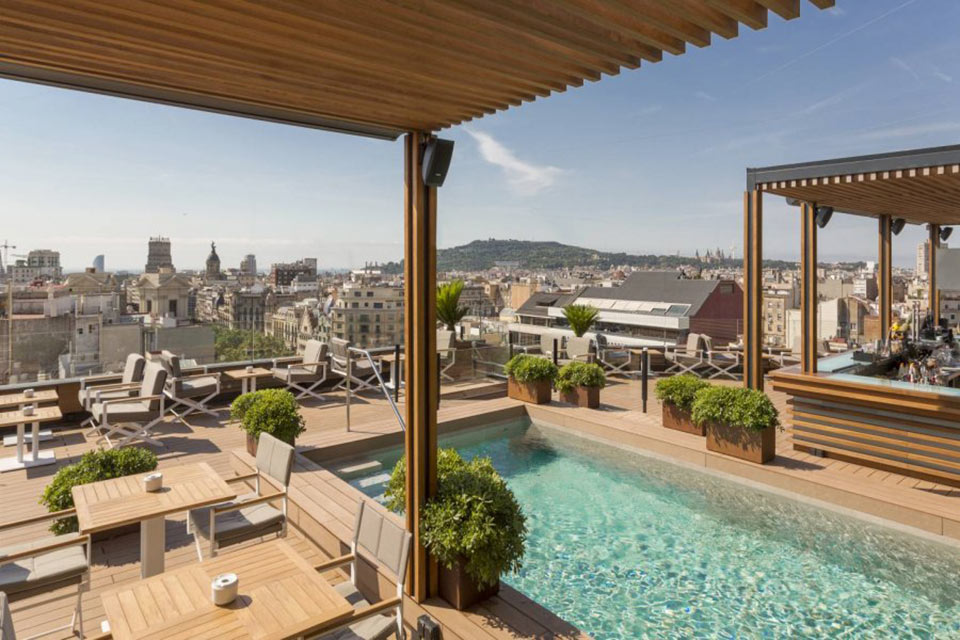 Majestic Hotel & Spa | Photo: https://majestichotelgroup.com
The elegant and 5-star Majestic Hotel & Spa is one of Barcelona's best hotels, centrally located in the Exiample area.
While old-school on the outside, set in a neoclassical building, the inside of Majestic offers stylish, modern and luxurious accommodation. Apart for high-class service, the hotel also offers (as the name might tell you), a very relaxing spa.
On the 10th and top floor of the hotel you find some amazing views over Barcelona, including icons like the Sagrada Familia, Casa Batlló and the Agbar Tower. The newly revamped rooftop is also home to a lovely rooftop pool and the La Dolce Vitae rooftop bar.
The rooftop pool is exclusive for hotel guests, to enjoy a dip and hours of lounging under the Barcelona sun. The rooftop bar is for all to indulge in fantastic cocktails, tasty bites and towards sunset: live DJs and a vibrant atmosphere.
4.

Anantara Seminyak Bali Resort

/ Bali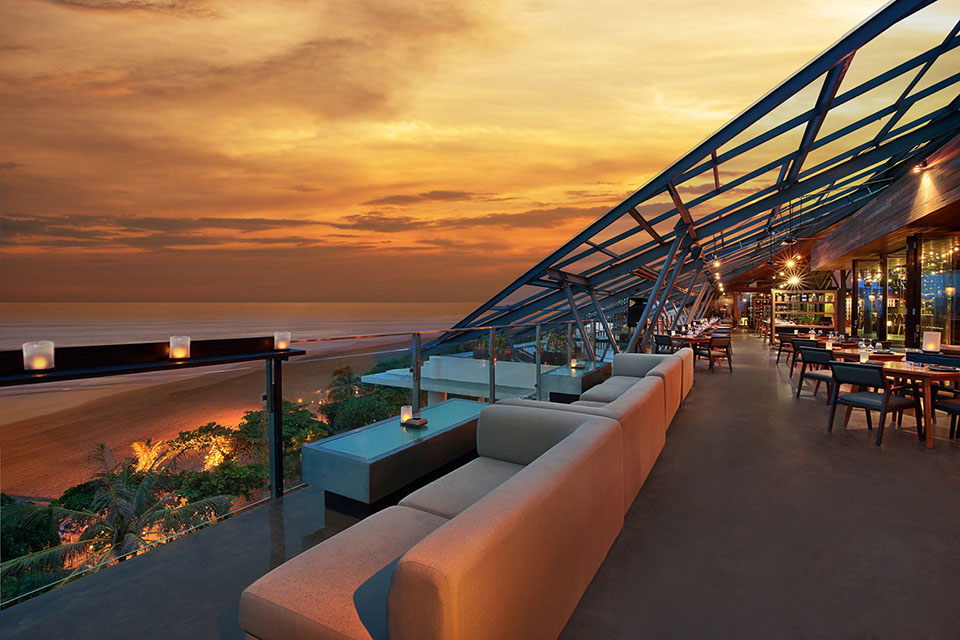 Anantara Seminyak Bali Resort | Photo: www.anantara.com/
Nestled amid tropical gardens and offering sweeping views of the Indian Ocean, Anantara Seminyak Bali Resort offers Balinese-inspired luxury all around.
Featuring 59 spacious suites, a beachfront infinity pool and beachfront dining, there is also more elevated spaces, with both a rooftop spa and a rooftop restaurant & bar.
At MoonLite Kitchen & Bar, you can indulge in a a trendy and comfy rooftop experience, filled with flavours, views and music.
Overlooking Seminyak Beach and the Indian Ocean, each morning at MoonLite begins with a breakfast buffet of freshly baked pastries, tropical fruits, hot dishes, and live cooking stations with eggs and breakfast burritos.
During afternoon and evenings, amazing sunset views are complemented with flavours of modern Asian cuisine created in the restaurant open kitchen, as well as an extensive selection of traditional, classic and modern beverages, including seductive cocktails and a well-stocked wine list.
5.

1 Hotel Brooklyn Bridge

/ New York
1 Hotel Brooklyn Bridge | Photo: https://www.1hotels.com
Industrial and rustic chic, the superb 1 Hotel Brooklyn Bridge is found right by the Brooklyn Bridge. On the Brooklyn side, which means amazing and panoramic views over Manhattan and the East River.
Designed with native greenery and reclaimed materials, the hotel is a true urban oasis in the world's most buzzing city. As a guest you can enjoy the Bamford Haybarn Spa, or stay active in the 24/7 fitness centre.
The real gem on the hotel is however found up top. Rooftop pool, rooftop garden, rooftop bar and rooftop lounge, the 10th and 11th floor at 1 Hotel Brooklyn Bridge has something for everyone.
As a guest you can take a dip in the rooftop plunge pool or relax in one of the loungers, all while taking in some of the best views New York has to offer.
Up on the lush rooftop you also find Harriet's Rooftop, which is both an open-air rooftop bar and a chic indoor lounge. Craft cocktails, tasty bites and a vibrant setting is on the daily menu, as well as amazing sunsets.
6.

Grand Hotel Timeo

/ Taormina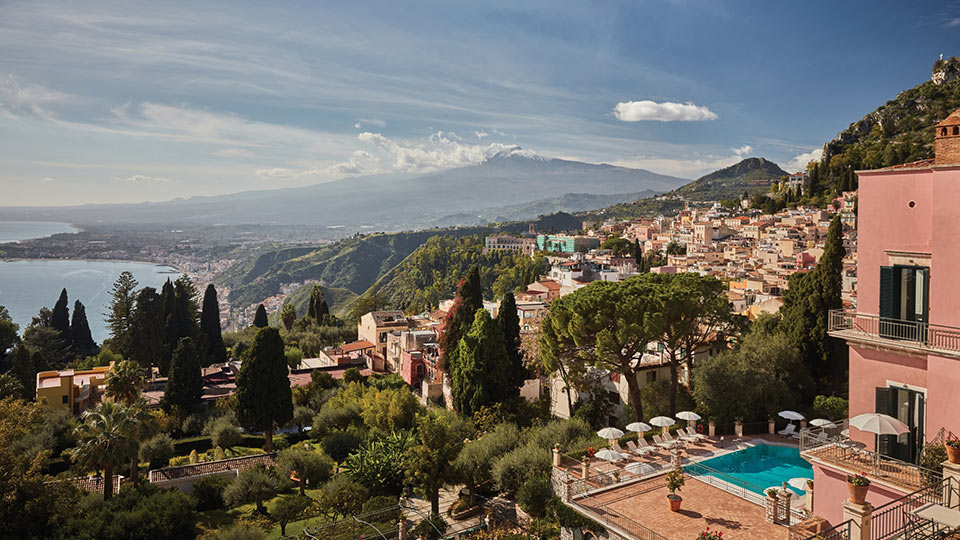 Grand Hotel Timeo | Photo: https://www.belmond.com/
Located right next to the famous Teatro Antico di Taormina, the lovely Grand Hotel Timeo, A Belmond Hotel holds a prime position in one of Europe's most charming and beautiful cities.
While the elevated Taormina offers great Sicily views pretty much all around, it is har to find a better spot to take it all in than the rooftop at Grand Hotel Timeo. Not only overlooking the hotel´s lush gardens, but also offering breathaking panoramics over the the Bay of Taormina and the majestic Mount Etna.
The hotel rooftop terrace is divided between three venues: The Literary Terrace & Bar in the middle, offering expertly crafted signature cocktails and aperitivos to sunset views. On one side is Ristorante Timeo, serving locally sourced Sicilian favourites as lunch and dinner, and on the other is Otto Geleng, serving a Michelin-star menu Friday & Saturday evenings.
The rooftop is open to all, but guests staying at the hotel can enjoy an exclusive breakfast on the terrace. And speaking of exclusive features, while the Grand Hotel Timeo pool is not on the rooftop, it is still an amazing spot to enjoy refreshing dips, surrounded by lush greenery and amazing views.
7.

The Westin Excelsior

/ Florence
The Westin Excelsior | Photo: https://www.sestoonarno.com/
The iconic Westin Excelsior is a luxury hotel located right by the beautiful Arno River, which flows through Florence. It is not unusual for celebrities and football teams to live here when they are visiting.
Stylish in a very classic way, Carrara-marble bathrooms and a fantastic breakfast buffet are some of the perks with staying at this central located hotel.
But there is more. On top of the hotel, there is a rooftop bar and restaurant called SE·STO on Arno, offering an absolutely magical view across Florence in all directions.
With both inside lounge and outdoor terrace, the rooftop is open all year round. Here you can enjoy a Mediterranean gastronomic tradition and a precious wine cellar, probably best served as a long wine lunch while enjoying the views and the great service.
For the top-notch experience, book one of the suites at the hotel, which includes your very own roof terrace, equipped with jacuzzi and sun loungers. A stay in Florence does not get much better than this.
8.

Banyan Tree KL

/ Kuala Lumpur
Banyan Tree KL | Photo: https://www.banyantree.com/
Opened in 2018, Banyan Tree Kuala Lumpur is an urban oasis right in the heart of the bustling city. As a guest you can enjoy big and modern rooms, fantastic service, 24-hours fitness and the sky-high Banyan Tree Spa.
Almost up on the rooftop, there is a fantastic and exclusive rooftop swimming pool. Covered, but still open-air, it is a great spot for relaxing hours and amazing views over the Twin Towers and the KL skyline.
For even more dramatic views, and more food and drinks, head all the way up to the rooftop. On the 58 & 59th floor you find the Horizon Grill restaurant and the Vertigo rooftop bar.
Vertigo is the highest venue, and a great spot for al-fresco cocktails and amazing sunset views. The Horizon Grill restaurant has seating inside, but also out on a smaller and very cosy terrace.
Banyan Tree really offers a full afternoon and night in Kuala Lumpur: start with some laps in the pool, head up top for dinner at Horizon and a couple o vibrant drinks at Vertigo, before stumbling down to your hotel room.
9.

Hotel Antigua Palma

/ Palma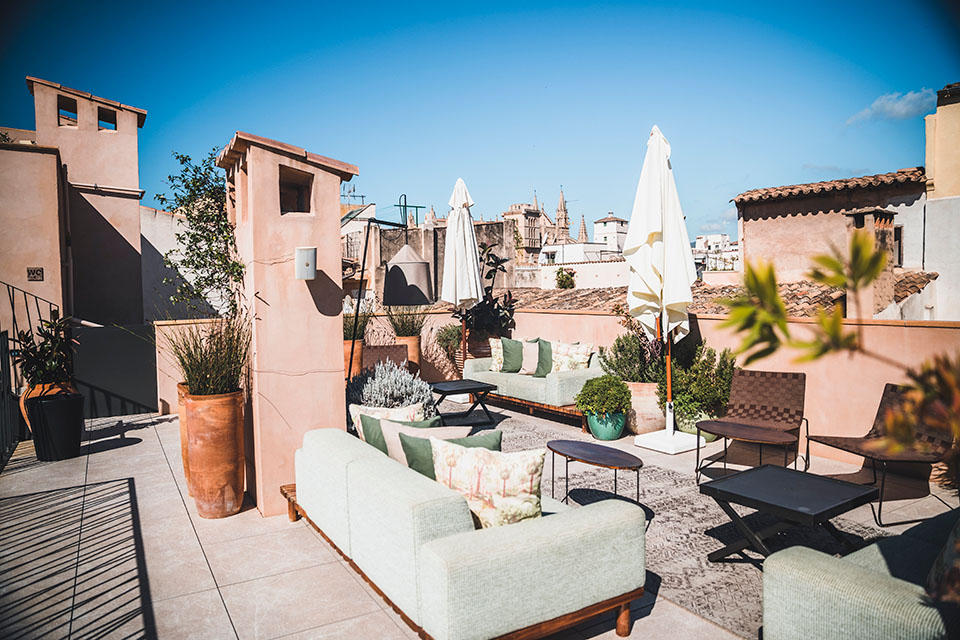 Hotel Antigua Palma | Photo: www.hotelantiguapalma.com/
Described as 'an authentic Mallorcan house', the beautiful Hotel Antigua Palma is an oasis in the historic center of Palma, and one of the city's best hotels. It is also home to a both charming and stunning rooftop.
Very tasteful and elegant, the hotel is full of secrets corners and courtyards that will make you travel through time. There is also plenty of amenities, including a spa inspired by the Arab baths.
Lovely throughout, the most idyllic spot of the hotel is the rooftop terrace, a 180 sqm open space overlooking the city.
Divided into three main areas, the terrace holds a rooftop bar and restaurant, a chillout zone full of plants, sofas, tables and a brazier, and an exclusive plunge pool with loungers, made for some truly elevated relaxation.
Above the most historic part of Palma, here you can indulge in a gastronomic selection adapted at any time of the day, wine selection, vermouths and tapas or a cocktail at sunset.
10.

Hotel Des Arts Saigon

/ Ho Chi Minh City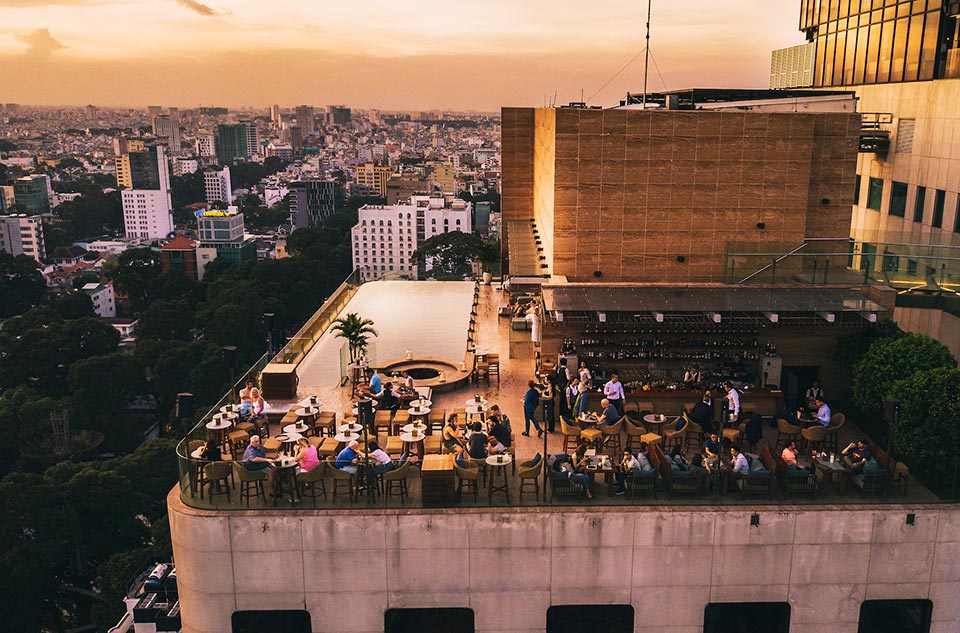 Hotel Des Arts Saigon | Photo: www.hoteldesartssaigon.com
Mixing all the comforts of the 21st century with the classical charm of French Indochina and Vietnam in the 1930s, the luxurious and 5-star Hotel Des Arts Saigon Mgallery Collection is truly a top spot for accommodation in Ho Chi Minh City.
Filled with paintings and antiques, it is as much an art museum as a fantastic hotel, located in the most vibrant district of Saigon.
On the lower levels of the hotel you find both a sophisticated art-café and a vibrant open-kitchen restaurant, serving a fine selection of genuine Indochina and Western cuisine. But the true gems are found on top.
Starting at the 23rd floor, the stylish indoor Social Club Restaurant serves gourmet European cuisine and panoramic window-views over the city skyline. For even better (and much more open-air) views, take the stairs up to the 24th floor Social Club Rooftop Bar. With a beautiful tropical-chic decor, here you can enjoy well-crafted and fine looking signature cocktails, either at sunset or during the vibrant nights with live DJ performances.
Next to the rooftop bar you also find one of the world's most amazing rooftop infinity pools. Exclusive to guests staying at the hotel, the pool is the cherry on top to this fantastic rooftop hotel.
11.

Art Deco Hotel Montana

/ Lucerne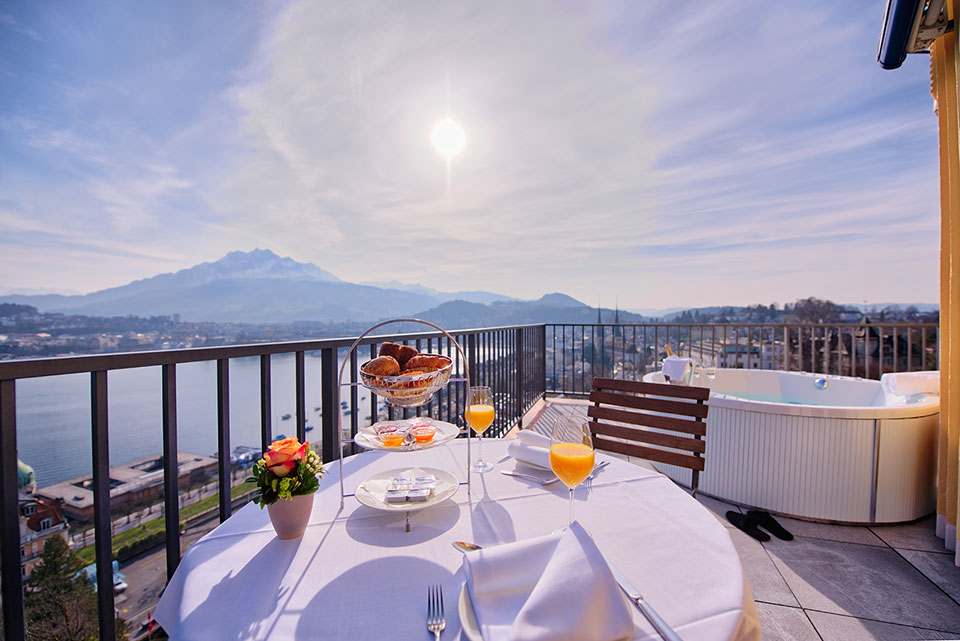 Art Deco Hotel Montana | Photo: www.hotel-montana.ch/
Found in the heart of Switzerland, the beautiful Art Deco Hotel Montana has been awarded several times. Built in 1909-1910, on a unique hillside location, the hotel is surrounded with panoramic views over the crystal clear Lake Lucerne and the surrounding Alps.
Mixing history with a modern Art Deco style, here you can really stay in style. And there is plenty to enjoy in between sleeps, from bottom to top.
Scala Restaurant & Terrace offers Mediterranean fine-dining in a stylish setting, both indoors and at the 'outdoor living room', while the Hemingway Rum Lounge offers Switzerland's most exquisite range of rums and a selective choice of precious cigars.
Moving upwards, the setting and the views get even better, with the summer hot-spot Montana Beach Club. Serving a large slice of Cote D'Azur, this rooftop bar and beach club comes with everything you need to enjoy hours under the sun: comfy lounges and cushions, sand and palm trees, refreshing drinks and light snacks, as well as a whirlpool and a rainsforest shower.
While the views at the Montana Beach Club are truly amazing, they are actually not best ones available at Art Deco Hotel Montana. Up on the very top floors you find 10 five star level suites, all equipped with a private rooftop terrace, complete with your own jaccuzzi and views.