Article
Rooftop brunch NYC
Brunch with a view
Published: January 11, 2020
7 fantastic places in NYC for a lovely rooftop brunch
Ever wondered how to spend the weekend afternoon while in New York City? Well, probably not. But in between all other things to see and do, you have to eat. And the very best option then is: a NYC rooftop brunch!
Not only will you silence the little hungry fella in your stomach, but at the same time you can soak in panoramic views over the Big Apple. Brunch with a view is a win-win in all ways possible.
To help you out we have put together the ultimate guide to the best spots for a rooftop brunch New York. From Hell's Kitchen to Lower East Side. Looking for a bottomless brunch? We got you covered.
Here's our list of the best rooftop brunch NYC
WATCH: BEST NYC ROOFTOP BRUNCH IN 1 MINUTE
1.

Cantina Rooftop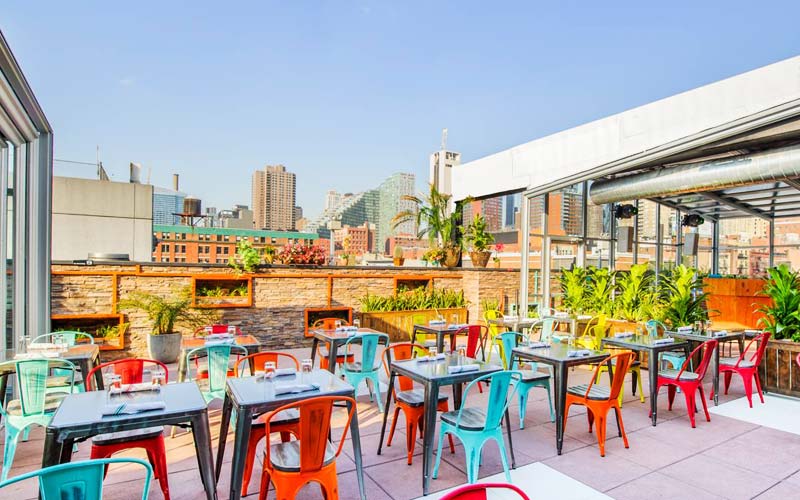 Cantina Rooftop - Photo: cantinarooftop.com
Set on top of the Stage 48-building in the Hell's Kitchen area of Manhattan, Cantina Rooftop is a colorful year-round rooftop restauarant and lounge. Up here, authentic Mexican food is combined with panoramic views over the Big Apple all days of the week. And on weekends: one of the best rooftop brunches in NYC.
Or as Cantina put it: "New York's most important meal of the weekend". The menu (of course) include lots of spicy Mexican selections, like Huevos Rancheros, Breakfast Burrito, Quesadillas and the Mexican Double Smash Burger. But there are also more "American" options, like Steak & Eggs or some Mac & Cheese Carbonara.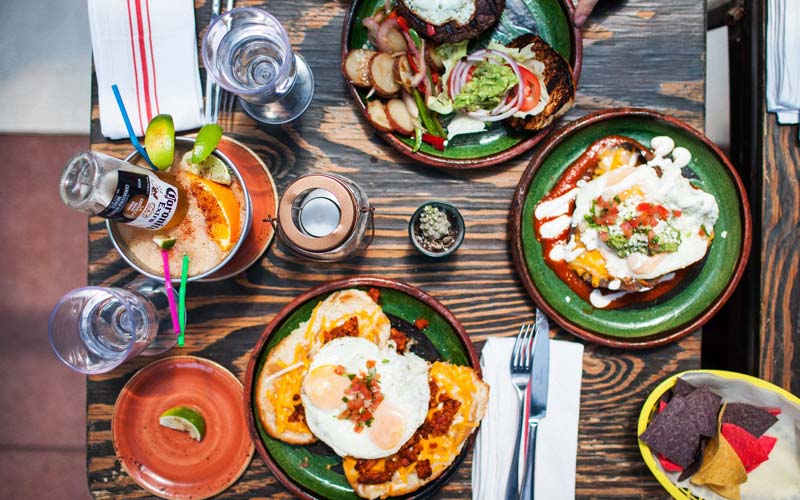 Cantina Rooftop - Photo: cantinarooftop.com
Not full yet? That's more than ok, since you should definitely check out the brunch dessert menu. Maybe a Pastel De Queso (brownie cheese cake) or a Cantina's Parfait? Or just go all in with a Birthday Dessert Platter.
Cantina Rooftop also offers a special brunch cocktail menu. Here you find everything from Fruit Forward Margarita's, frozen cocktails, Sangria and Micheladas. Or if you wanna go bottomless, 90 minutes of unlimited Sangria, Bellinis or Mimosas cost $25.
Fun, friendly and vibrant atmosphere means that every Saturday and Sunday is a great time to stop by Cantina for a rooftop brunch. As mentioned, it is year round thanks to a climate-controlled retractable glass roof. And it is also popular, so make your reservations here.
2.

Haven Rooftop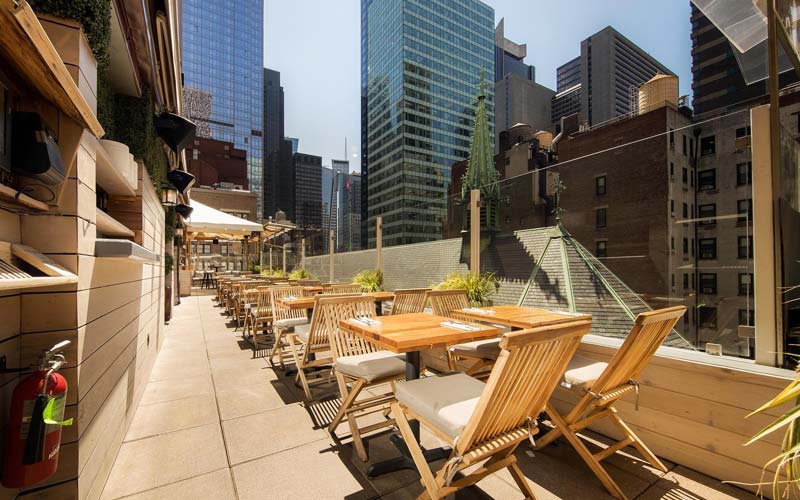 Haven Rooftop - Photo: www.havenrooftop.com
Haven Rooftop NYC is found smack in the middle of things. Perched on top of the luxury boutique Sancturay Hotel, you are just about one minute away from both Times Square and Rockefeller Center.
The light and airy rooftop bar offers great views over Midtown Manhattan, along with modern American cuisine. And on weekends, this cuisine is served as a fantastic rooftop brunch. The generous brunch menu includes a wide selection of Eggs & Things (with a brunch pizza), Salads, Haven Sliders and a lovely Lobster Roll.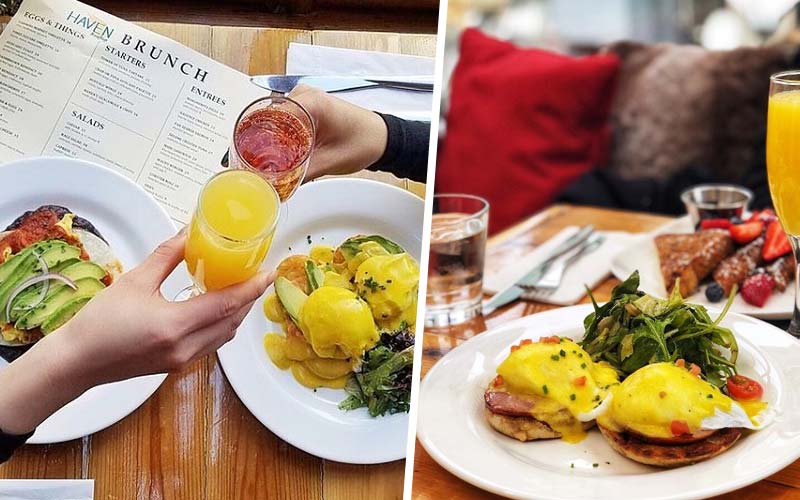 Haven Rooftop - Photo: www.havenrooftop.com
To keep the brunch-mode on top, the regular drinks and cocktails can be replaced with Bottomless Mimosas. 1 hour of free flow cost $24 per person.
Set over several levels, and with dining areas both out on the terrace and inside panoramic glass walls, Haven Rooftop is both spacious, vibrant and beautiful. And popular, so it's not a bad idea to make reservations for your Saturday and / or Sunday rooftop brunch.
Note that the Have Rooftop dress code is business casual, which means no gym gear, hats, denim shorts, sneakers or flip flops. So dress for a rooftop brunch success.
3.

Gallow Green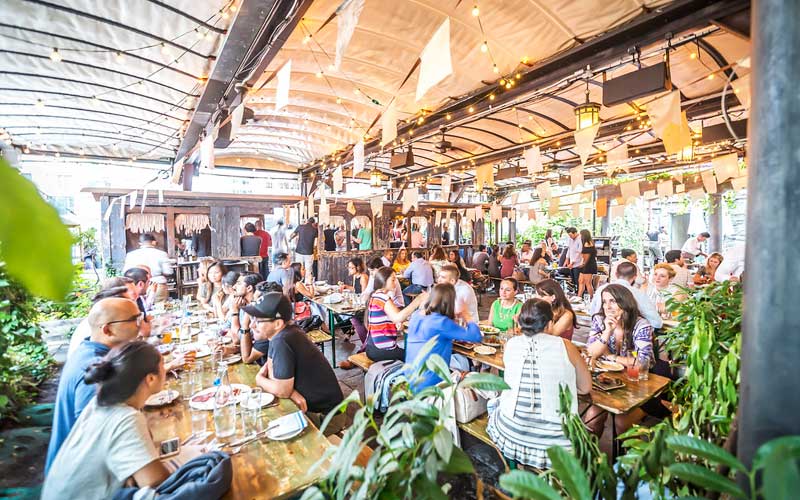 Gallow Green - Photo: mckittrickhotel.com/gallow-green/
If you feel like playing with words, you could say that the Gallow Green rooftop really puts the green in green. Cozy, rustic and lush in an almost overgrown way, this rooftop bar and restaurant is truly a garden oasis above the concrete jungle.
Found above the McKaittrick Hotel (which is not a hotel but an on-site theatrical experience) in Chelsea, the park-like rooftop serves dinner and cocktails every day of the week. And on weekends, one of New York's best and most popular rooftop brunch.
The brunch is served buffet-style, and for $50 you can enjoy a wide array of goodies, along with live entertainment. The buffet includes and Omelet Station, Cold and Hot Buffet with stuff like Yellow Tomato & Mozzarella and Suckling Pig. There is also a section of Pastries & Sweets.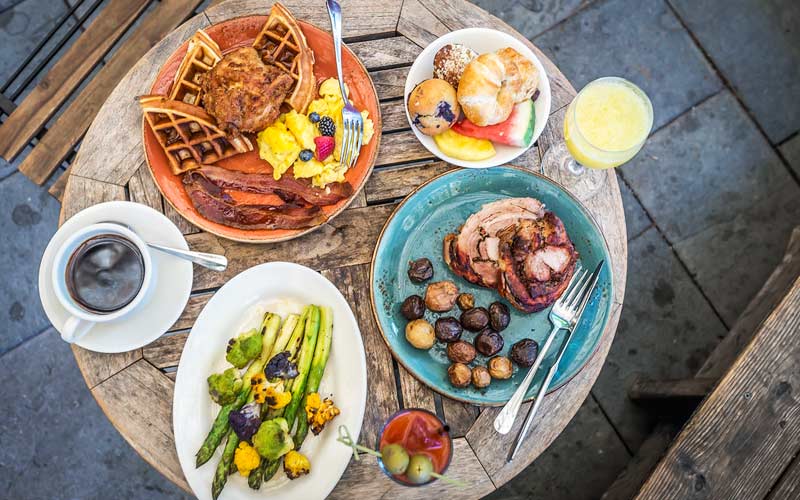 Gallow Green - Photo: mckittrickhotel.com/gallow-green/
To go with all the food you can order lots of specialty craft cocktails, including a large selection of Bloody Mary cocktails. Seating at the rooftop come as a mix of regular dining tables and more community picnic benches, so if you are lucky you might get some new friends.
The rooftop brunch at Gallow Green is highly popular, so reservations are recommended. You can get your tickets right here.
Collaboration
4.

230 Fifth
230 Fifth - Photo: www.230-fifth.com/
230 Fifth rooftop bar is one of the largest and most famous rooftop bars in NYC, named after its location at 230 5th Ave. Home of some truly magical views of the Manhattan skyline, with the Empire State Building bang in the middle. And also home of one of New York's most famous rooftop brunch.
Every weekend, the large brunch-buffet is served. Here you can indulge in Eggs Benedict or something from the Omelette Station, pancakes, lots of salads and sandwiches. Or maybe something from the grill?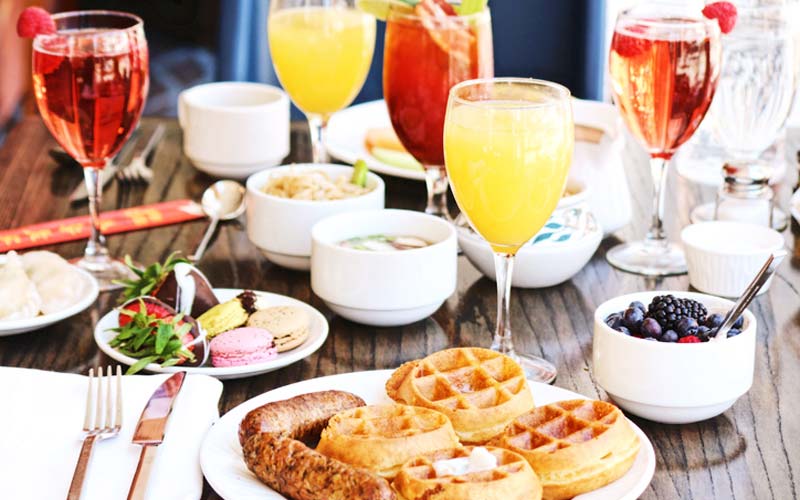 230 Fifth - Photo: www.230-fifth.com/
The 230 Fifth brunch buffet cost $29 for adults and $15 for children 12 years and under. So while it is usually a great rooftop bar for high vibes and late nights, during daytime weekends it is a spot perfect for the whole family.
Reservations for the rooftop brunch are not mandatory, and quite opposite, 230 Fifth encourage walk-ins. The terrace is as said spacious, so there is usually space for everyone.
5.

Empire Hotel Rooftop
Empire Hotel Rooftop - Photo: www.hospitalityholdings.com
The Empire Hotel Rooftop is located rigth by Lincoln Center for Performing Arts, and just a 150 meter stroll from Central Park. Perched on the 12th floor, the rooftop has both an indoor lounge along with East and West terraces, offering adorable views over Lincoln Center, Brodway and Central Park.
While it is a great night spot, the rooftop also serves breakfast every weekday and on weekends, a lovely rooftop brunch. The food menu is not huge, but includes enough treats to keep most happy. You can go for Empire Benedict, Avocado Toast, Lobster Club Sandwich, fresh fruits and finish of with some Cinnamon Sugar Churros from the dessert section.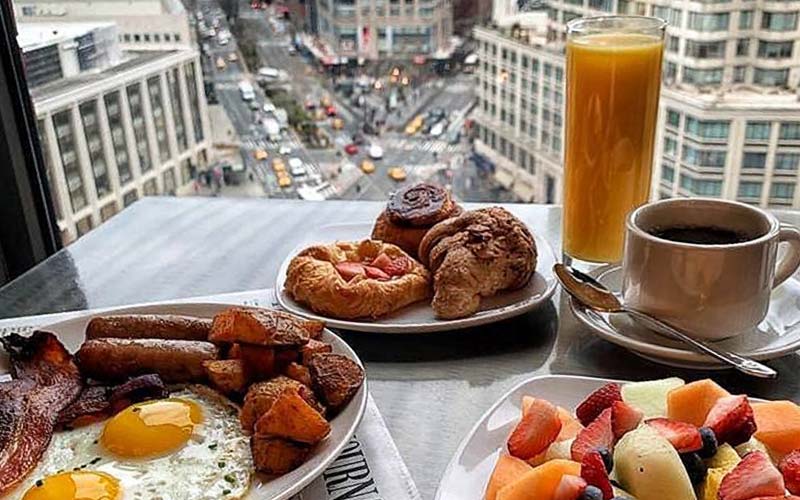 Empire Hotel Rooftop - Photo: www.hospitalityholdings.com
If the food menu is on the smaller side, the drink menu is more filling. Along with the rooftop 'regulars' of specialty cocktails, wine, beer and coffe, there are also brunch cocktails. You can order Mimosa, Bloody Mary and Bellini, either by the glass ($15) or by the carafe ($50) and share with your friends.
Cool and stylish in vibe and setting, and the Empire Rooftop dress code is business casual. So dress up a bit to match the beautiful views.
6.

Upstairs at the Kimberly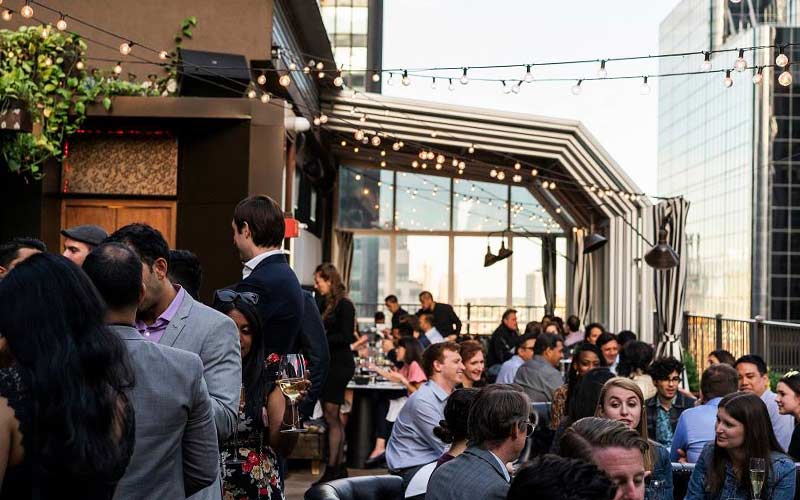 Upstairs at the Kimberly - Photo: www.upstairsnyc.com
A luxurious cocktail bar, located on the 30th floor of the fantastic Kimberly Hotel & Suites, in the east part of Midtown Manhattan. So usually a spot for fancy drinks and great views of many of New York's skyscrapers. But on weekends also for a lovely rooftop brunch.
Served between 12 noon - 4pm, the brunch menu is quite impressive. Here you find starters like Greek Yogurt & Maple Granola Fresh Berries, salads, different type of eggs, some sweets like Blueberry Pancakes and Maple French Toast, and more filling stuff like the Kobe Burger or Rib Sandwich. There are also some healthy and fruity Wake Up & Re.fresh smoothies.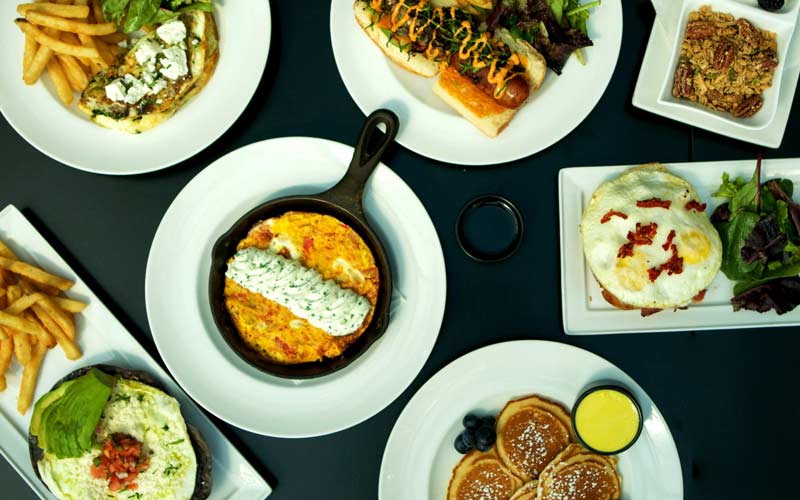 Upstairs at the Kimberly - Photo: www.upstairsnyc.com
No brunch is complete without some drinks, and Upstairs at the Kimberly have you covered. Apart from the fantastic signature cocktails and wines by the glass, you can also get 'the usual' brunch cocktails Bloody Mary, Mimosa and Bellin for $10-12.
Stylish and sophisticated rooftop terrace, that also comes with a retractable glass roof. This means you can visit for wekkend rooftop brunch all year round.
7.

Mr. Purple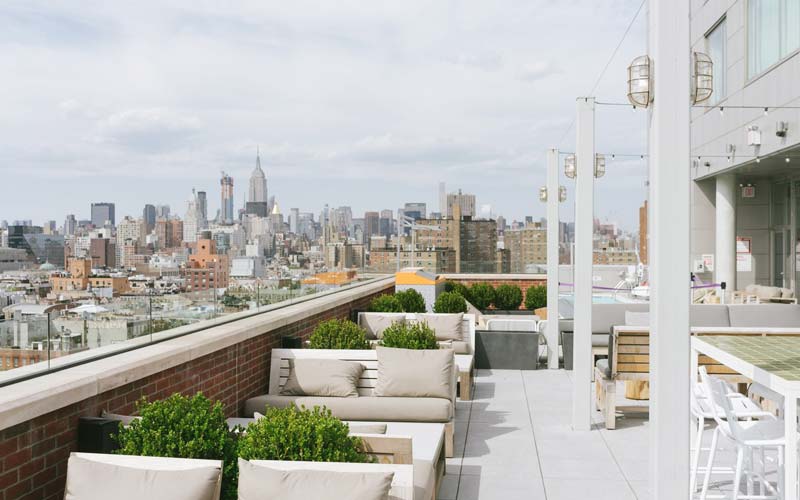 Mr. Purple - Photo: www.mrpurplenyc.com
Set on top of the luxurious Hotel Indigo Lower East Side, Mr. Purple is a trendy and urban rooftop bar with two terraces. A smaller one for private parties and with a bit calmer atmosphere, and a large terrace with a more vibrant feel and a lovely rooftop pool.
Up here you can enjoy a wide range of cocktails and an all day food menu with American dishes. But best of all, there is also a special weekend brunch menu. This one includes stuff like Blackberry Yogurt Bowl, Cage Free Eggs Any Way, Smoked Salmon & Bagel, Sliders and a fantastic Smashed Avocado Toast.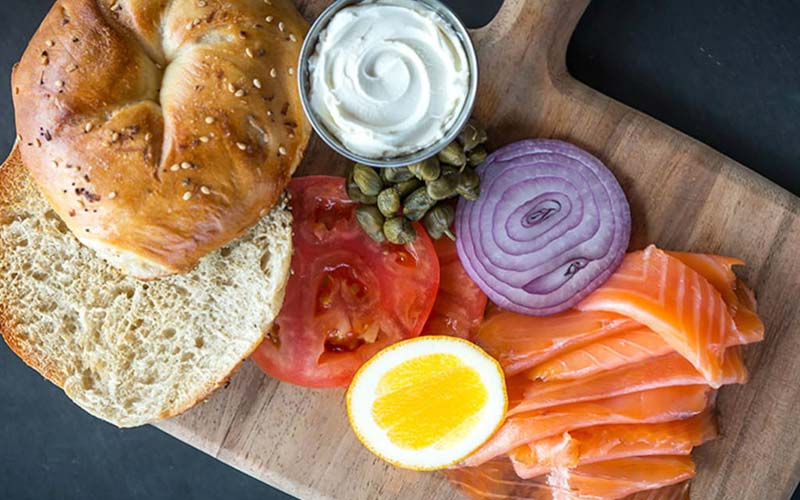 Mr. Purple - Photo: www.mrpurplenyc.com
There is also a selection of special brunch cocktails, with classics like Mimosa and Bloody Mary. But also some more unique ones, like the Lucy's Diamond (domaine chandon sparkling, combier pamplemousse rose, orange blossom water, lemon bitters). Apart from cocktails you can also sip on fresh cold-pressed juices and handcrafted coffee.
With an urban and trendy vibe, Mr. Purple is a popular spot, especially among the young and beautiful crowd.
Find out more about the best rooftop bars NYC here, with booking links, opening hours and much more.
And here is a list of the best rooftop pools in NYC, and how to visit them.
Other fun things to do in NYC