Rooftop brunch NYC
Published: June 23, 2018
Fantastic places in NYC for a nice rooftop brunch.
Ever wondered where to spend the afternoon while in New York city? That's hardly possible, but if you feel hungry and it's brunch time, then these few spots are probably the perfect rooftop brunch NYC to crash at. Here's our list of the best rooftop brunch NYC: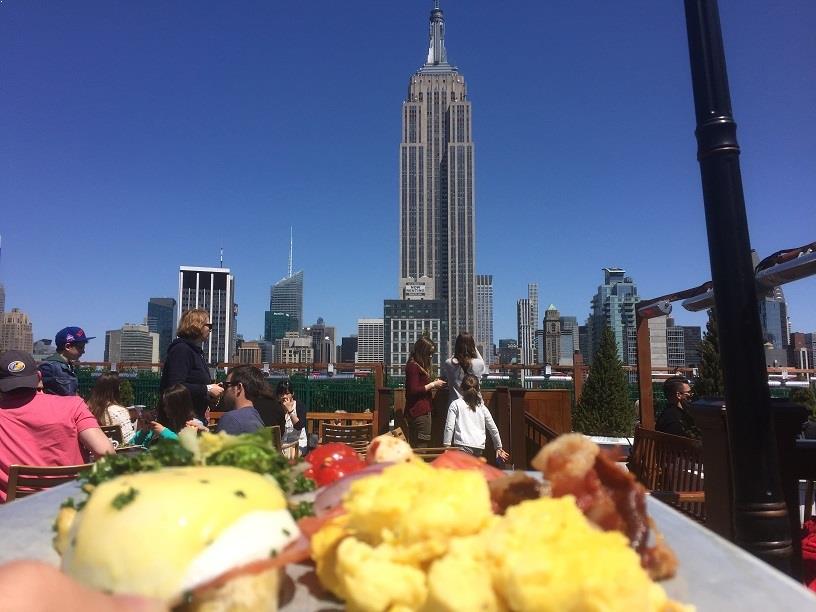 Rooftop brunch in NYC
1. Cantina Rooftop
Spicy Mexican food, lounge area and endless cityscape overlooking the Big Apple. That's what you get when you stop by Cantina Rooftop. It's located in the Hell's Kitchen area of Manhattan, close to Hudson River and nearby you can find a numerous attractions, stores, museums and galleries. Fantastic place to visit when searching for "rooftop brunch NYC" and one of the best rooftop brunches in NYC.
Visit website: http://cantinarooftop.com/
2. Catch
This beautiful and peaceful place offers great seafood and occasionally - a celebrity moment. Often chosen by movie stars and popular musicians, their quality of service and variety of dishes can both feed your cravings and relax your senses. The brunch menu includes cold, rolled, hot and sweet options. A three level restaurant located in a landmark building at the heart of Manhattan's Meatpacking District.
Visit website: https://catchrestaurants.com/catchnyc/
3. Alma
Your New York brunch at a rooftop bar routine won't be the same after you visit Alma. This Mexican restaurant in Brooklyn is one of the biggest attractions for young foodies around. Its reasonable price list attracts the young crowd all year round, so in case you're on a budget, but still want to treat yourself with a good dish and a glass of wine, give Alma a try.
Visit website: http://www.almarestaurant.com/
4. 230 Fifth
One of the biggest and most well known rooftops in NYC also has one of the most talked about rooftop brunches. At 230 Fifth, every Saturday and Sunday means it's time for the large rooftop brunch buffet. For $29 you can endulge in classic brunch dishes (including a grill station during summer), while enjoying great views of the Manhattan skyline and Empire State Building.
Visit website: http://www.230-fifth.com/
5. The View Restaurant & Lounge
This babe here is the typical American bar & grill. The View is known for their great burgers and relaxing casual atmosphere. It's a great choice for both a little more special date or simply a great night out with your family and friends. And even more so for their Sunday Mimosa Brunch. Be sure to make your reservation ahead, as it usually get's quite busy.
Visit website: https://www.theviewnyc.com/
6. Salvation Taco
Again, straight from the heart of Manhattan, Salvation Taco shall take care of your gastronomical needs. Mexican spicy and American hip is what mixes up in both the menu and the interior. Located at Pod 39 Hotel, the outdoor terrace makes your New York rooftop brunch an experience of its own. If you enjoy the surrounding of majestic skyscrapers, that's the right spot for you.
Visit website: https://www.salvationtaco.com/
7. Rosemary's
A typical Italian menu with a variety of fresh and seasonal pastas and antipastas. All of their wonderful traditional dishes are best served with fine quality wine at affordable and reasonable price. Casual atmosphere, great desserts and a view to take your breath away. So New Yorkish. Located in the West Village of Downtown Manhattan, and when searching for "brunch new york rooftop" you will most probably bump in to Rosemary's.
Visit website: https://www.rosemarysnyc.com/
Find out more about rooftop bars in New York with booking links, opening hours and much more.
And here is a list of the best rooftop pools in NYC, and how to visit them.