New York is probably the rooftop capital in the world. So it's a pity that many rooftops here are closed during about 6 months of the year. But that's about to change.
More and more rooftop bars in NYC have find a solution to keep their terraces open even during the colder months and rainy days. Rooftop igloos and heaters make it possible for people to enjoy their rooftops drinks while gazing out over the Manhattan skyline.
Here's our list of the best rooftop bars in NYC for an elevated winter experience.
1.

Elsie Rooftop Bar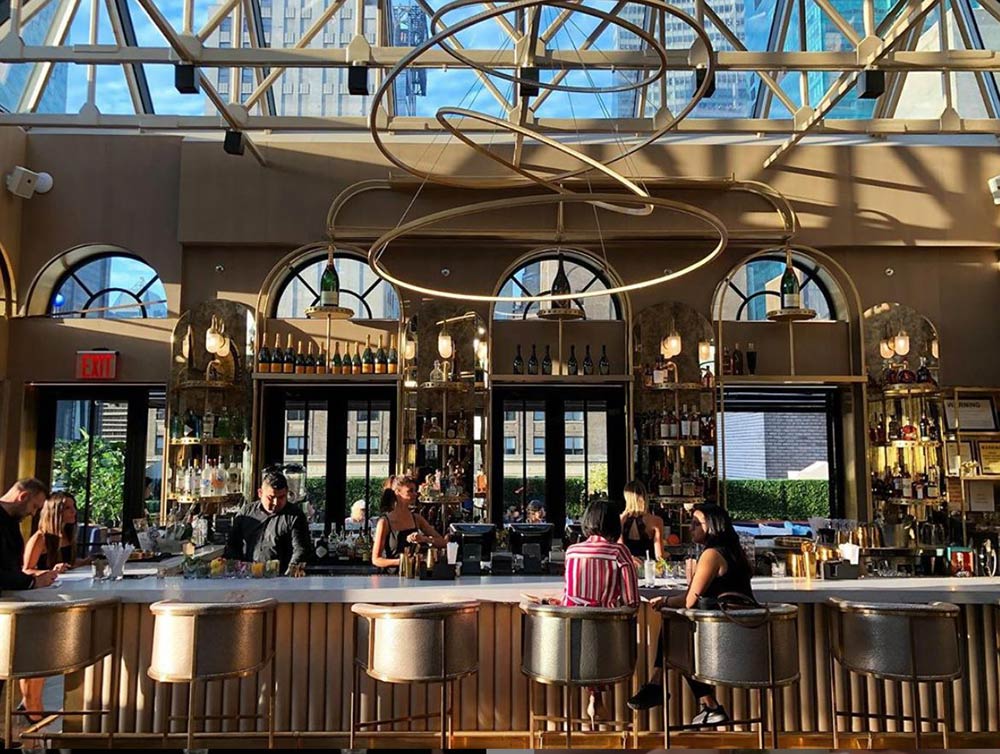 Elsie Rooftop Bar | Photo: https://elsierooftop.com
If what you're looking for is a magical night, then head out to Elsie Rooftop Bar and bask in its incredible decorations, jaw-dropping views, and delicious drinks.
Located on a 25th floor, Elsie is well known for its lavish parties, tasteful decorations, progressive mixology, and upscale atmosphere.
The bar has a spacious roofed area and a smaller, but no less comfortable terrace, which makes it a year-long destination for people with good taste and deep pockets.
Reservations are recommended, though not required, as there's a large communal bar area that everyone's allowed to visit.
Other than the relaxed, yet luxurious ambiance, Elsie Rooftop Bar is well-known for its seasonal approach to drinks and bar bites, making it a great place to visit year-round.
ELSIE
1412 Broadway, New York
2.

Highwater Rooftop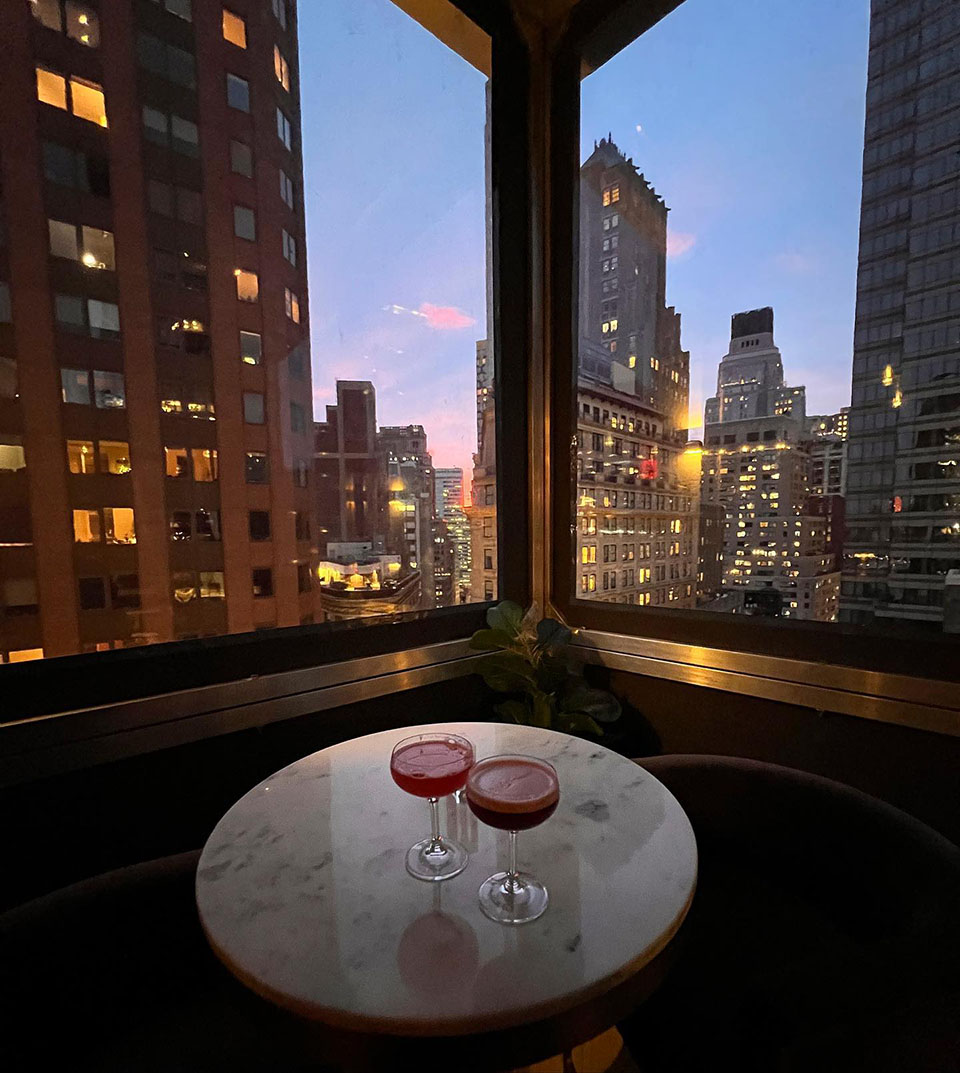 Highwater Rooftop | Photo: https://www.highwaterrooftop.com/
Set 25 floors above the Financial District, on top of the modern Hotel Indigo - NYC Downtown - Wall Street, Highwater Rooftop offers a luxurious and versatile rooftop experience.
Mixing a stylish interior lounge with four outdoor terrace, the bi-level Highwater is one of the most attractive bars in the city.
Surrounded with dramatic and impressive views over the inner city skyscrapers, here you can enjoy a masterfully curated cocktail menu, a local craft beer program, as well as elevated lite bites.
Found right where the New York Stock Exchange was founded, the year-round rooftop can accommodate all party sizes, and is pretty much the perfect spot for anything from a sky-high after work to trendy nights with drinks and views.
Highwater is also a great event space, and you can host pretty much any type of elevated gathering here.
HIGHWATER ROOFTOP
120 Water St, New York, NY 10005
3.

230 Fifth Rooftop Bar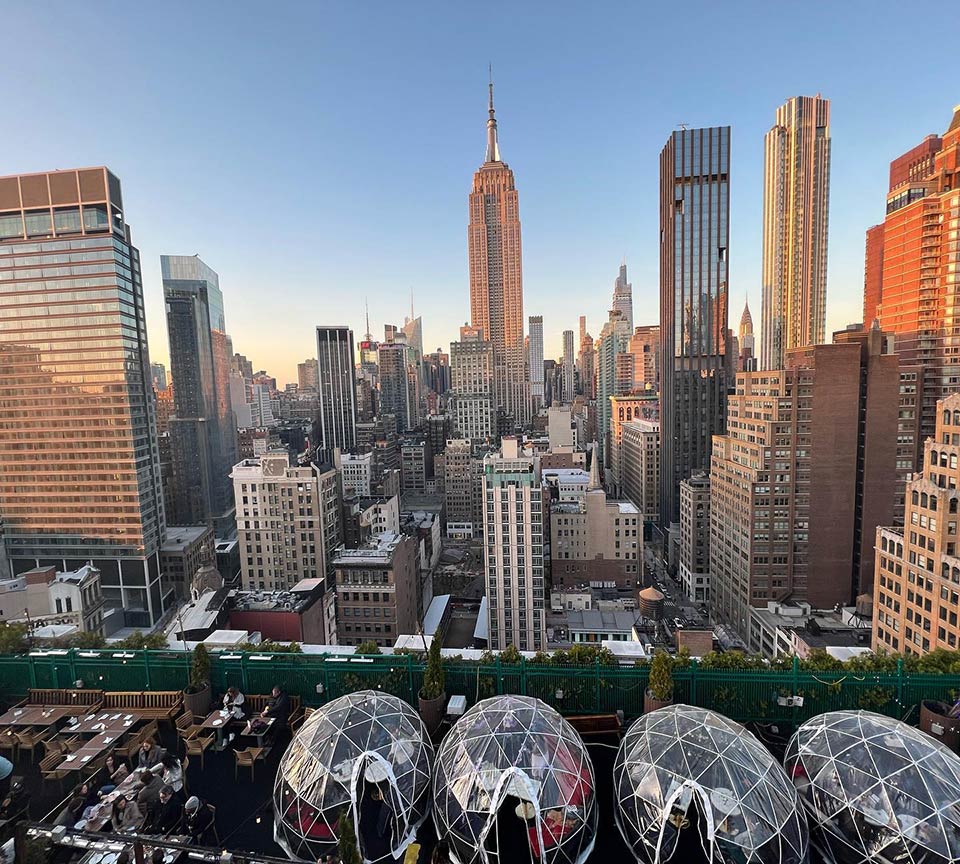 230 Fifth | Photo: www.230-fifth.com
One of the largest, if not the largest rooftop bar in the city, the 230 is named after its location on New York's famous 5th Avenue.
With an ability to seat over 1000 people, this is the place to go when you're looking for activity.
Covering two floors, and mixing indoor and outdoor seating, the spacious and open-air terrace is equipped with large umbrellas to protect customers from the sun during summer, and with transparent rooftop igloos and heaters to keep them warm during the winters.
Thanks to this versatility, the 230 is open year-round.
The drinks and food offered at the 230 Fifth work seasonally, with fresh, fruity cocktails for the hot days and warm, chocolatey drinks being provided during winter.
Overall, the 230 Fifth is not only one of NYC's largest rooftop bars but also one of the most versatile, as it's always in a state of reinventing itself to provide new experiences to its guests.
230 FIFTH
230 Fifth Avenue, New York
4.

Magic Hour Rooftop Bar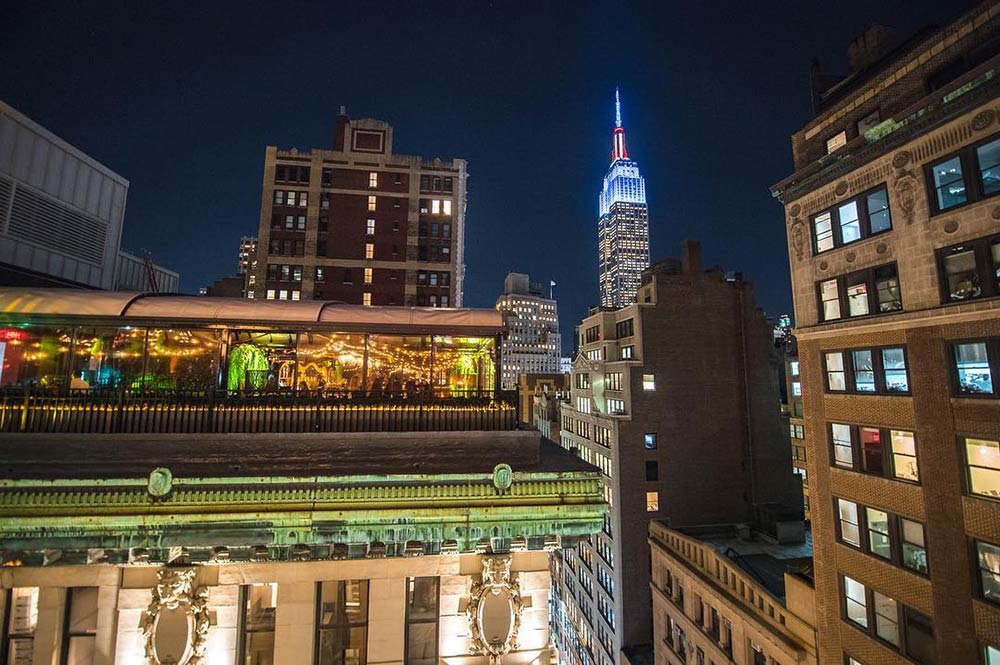 Magic Hour Rooftop Bar | Photo: http://moxy-hotels.marriott.com
The Magic Hour is the kind of rooftop bar that charms from the moment you first lay eyes on it.
It's fun, charming, and unique without ever turning gimmicky, which makes it a popular haunt for the party-loving scene.
There are five different areas for you to enjoy, each with its own distinctive feel and theme, so there's always something different to do whenever visiting this bar. And it is all available year round.
Equipped with an outdoor seating area, retractable roof, stylish indoor lounge, a mini-golf, and different decorating styles across the entire place, the Magic Hour Rooftop Bar more than lives up to its self-proclaimed title of an "urban amusement park".
Drink-wise, the Magic Hour offers the traditional fare, as well as an extensive collection of fun and innovative signature cocktails that we can't recommend enough.
MAGIC HOUR
485 7th Avenue, New York
5.

Refinery Rooftop
Refinery Rooftop | Photo: https://refineryrooftop.com/
The crowning jewel of one of New York's most famous hotels, the Refinery Rooftop, offers jaw-dropping views of the Manhattan Skyline and first-row seats to the Empire State.
Set on top of Refinery Hotel, this is one of NYC's most dynamic scenes, with a "restaurant by day, lounge bar by night" atmosphere that makes it a popular spot all day and all year long.
Chef Jeff Haskell is in charge of the lunch menu, creating delectable dishes like the Little Gem Ceasar Salad and the Grilled Hanger Steak Flatbread.
At night, the party crowd gathers looking for the Refinery's casual, and its ten signature cocktails, which we can't recommend enough.
Thanks to its vast, glass ceiling –which gives the Refinery a sort of steampunk look– you can enjoy this bar no matter the weather and temperature.
REFINERY ROOFTOP
63 W 38th St, New York
6.

Bar 54
Bar 54 | Photo: www.hyatt.com/
Located in one of the tallest buildings of Times Square, as well as the entire city, the Bar54 offers completely unmatched views of the heart of the town and, indeed, New York's entire skyline.
Watch the Chrysler Building and lower Manhattan from your vantage spot while you enjoy the delicious drinks this bar has to offer.
From an extensive collection of beers, classic cocktails, fine wines, and world-inspired spirits, to the Bar 54's selection of signature cocktails, there's something for every taste out there.
Better yet, most ingredients used for the cocktails are organic and local, letting you experience a truly fresh taste no matter the season!
This is a rather trendy place, so reservations are encouraged, especially for the inside lounge. The outdoor terrace usually works on a first-come, first-served basis.
BAR 54
135 W 45th St, New York