NYC has an abundance of areas and places to visit, from south to north and west to east. But is is rare spending a couple of days here without at least passing by the famous Times Square.
It feels a lot like the hub of New York, and the streets are always filled with people. To get above and away from the worst hustle and bustle, there is one simple solution: visit one of the Times Square rootop bars.
Not only a great opportunity to have some tasty food and drinks, but the rooftop terraces also offers fantastic views over Times Square. And, in most cases, all over the NYC skyline.
Below is The Rooftop Guide's list to the top 6 rooftops around Times Square. For a more covering listing, check out our guide to all the best NYC rooftop bars.
1.

Bar 54 at Hyatt Centric Times Square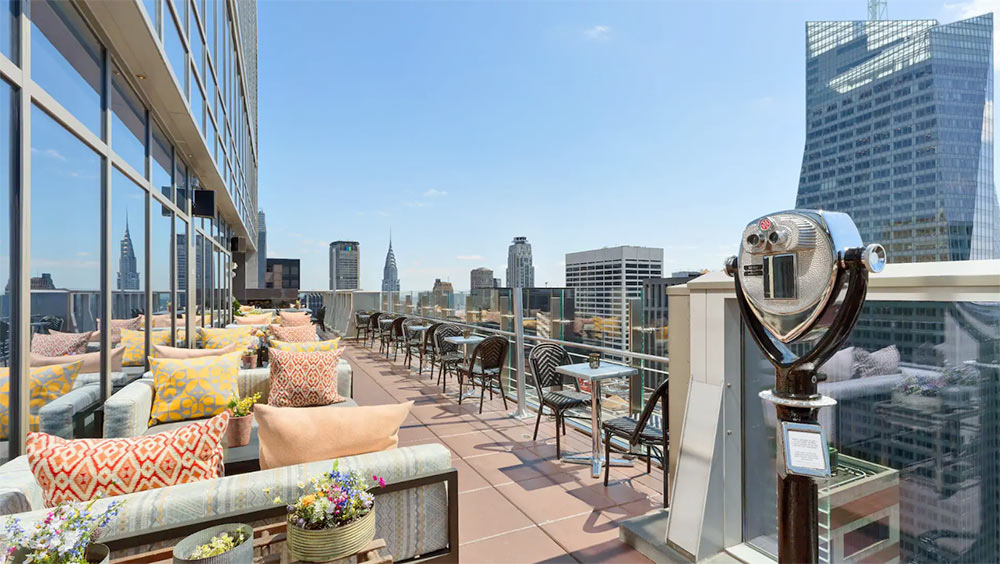 Bar 54 - Photo: https://www.hyatt.com
In case the words "Centric Times Square" haven't tipped you off, this rooftop bar is smack in the heart of New York City, and happens to also be one of the highest bars in town.
The superb view it offers of New York's skyline, coupled with its delightful drink menu, makes Bar 54 an obligated stop for those looking for a night to remember!
Alongside the expected wine, beer, and liquor selection, the Bar 54 also offers signature cocktails crafted with skill and fresh ingredients. Some of which you won't be able to find elsewhere.
Set on the 54th floor of Hyatt Centric Times Square, the rooftop bar comes with indoor and outdoor seating, both offering great views of the city, and a comfortable lounge area that you're sure to love.
If you're planning to sit indoors, make a reservation beforehand, as the place can get packed; if you're planning to party outside, though, no reservation is needed. Just make sure to arrive on time, as the terrace operates on a first-come, first-served model.
If you're in NYC during winter, make sure to drop by and check out the rooftop igloos covering the terrace. Both cool, cozy and amazing!
Finally, keep in mind that as the to-go spot in NYC, prices can be quite high, so be prepared to spend.
BAR 54
135 W 45th St, New York
2.

Castell Rooftop Lounge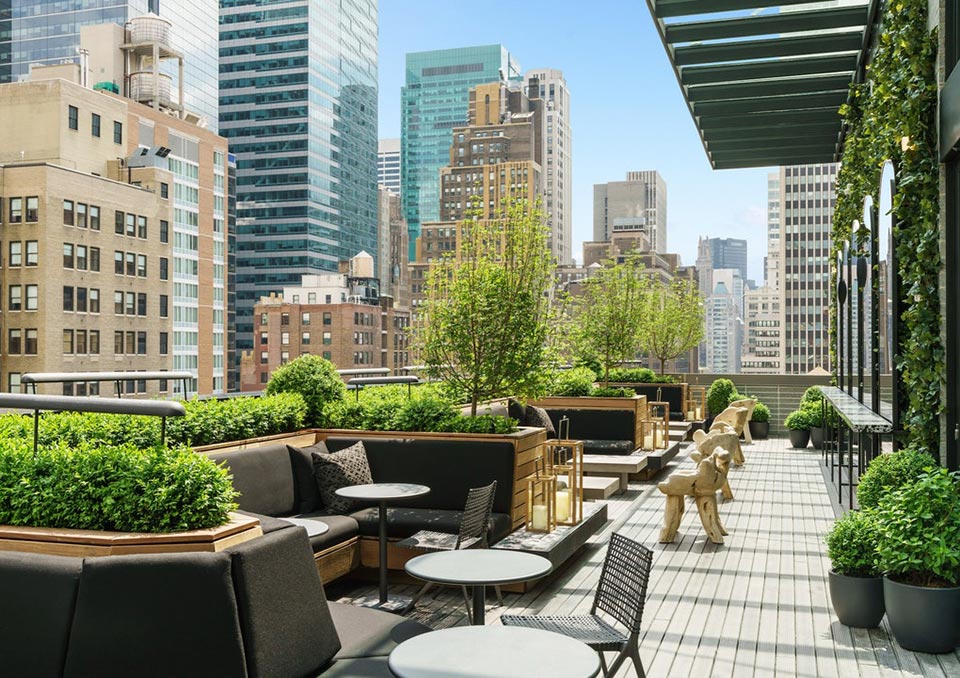 Castell Rooftop Lounge - Photo: www.castellnyc.com/
Castell NYC is a cozy rooftop bar that recaptures the spirit of the classic cocktail lounge, from a 21st floor position at the AC Hotel by Marriott New York Times Square.
With a stylish indoor lounge, where you find both a fireplace and a luxe granite bar, as well as a lush open-air terrace, Castell is a year-round destination to enjoy top drinks with top NYC views.
The rooftop menu comes with a bit of a Mad Men vibe, where the main focus is on celebrating the iconic Martini and its various incarnations. But there is also a fine selection of craft beer, wine and reimagined tapas
Sophisticated yet comfortable, Castell rooftop is a great spot to gather with coworkers for a stylish after work, or with friends and family to enjoy some classic lounge vibes. During weekend, also mixed with live DJ tunes.
CASTELL
AC Hotel, 260 W 40th St, New York, NY 10018
3.

St. Cloud Rooftop at Knickerbocker Hotel
St. Cloud Rooftop - Photo: https://www.hyatt.com
A place full of personality, the St. Cloud Rooftop is a great place to visit at any point during the afternoon and night.
Located at the five star Knickerbocker Hotel, it offers excellent views to Times Square while simultaneously providing you with a relaxed and comfortable place to rest and enjoy the sights.
An exclusive and well-known bar, the St. Cloud has both indoor and outdoor seating, which makes a great place to visit no matter the season (though summers are particularly fun).
Signature cocktails, fine wines, craft beers, and even champagne, the St. Cloud rooftop bar has great drinks alongside the views, and the food doesn't fall behind, as it has a small but delicious menu that changes according to the season.
If that isn't enough, the St. Cloud also has a private cigar lounge, stylish decorations, comfortable lounge sofas, and one of the best ambiances you can find in New York.
The St. Cloud thematic parties are legendary, so make sure to attend if you have the chance!
ST CLOUD ROOFTOP
6 Times Square, New York
4.

Haven Rooftop at Sanctuary Hotel
Haven Rooftop - Photo: http://www.havenrooftop.com
'Haven: a safe or peaceful place'. Well there you go, sounds like a rooftop well worth a visit, right?
Located on Sancturay Hotel, one of NYC's favorite boutique hotels, this Time Square rooftop bar offers a private and comfortable location from which to enjoy the views of the city.
Though it's only located on a 9th floor, the rooftop terrace(s) comes with fantastic views of the city, which pair wonderfully with the bar's expertly crafted cocktails and a wide selection of beers and wines.
As cherry on top, Haven Rooftop also offers a menu of modern American cuisine, weekday happy hour (4-6 pm), and a weekend rooftop brunch with bottomless Mimosas.
This is a versatile place that operates both as a bar and a restaurant, with a casual yet modern ambiance that's bound to satisfy most guests.
HAVEN ROOFTOP
132 W 47th St, New York
5.

The Skylark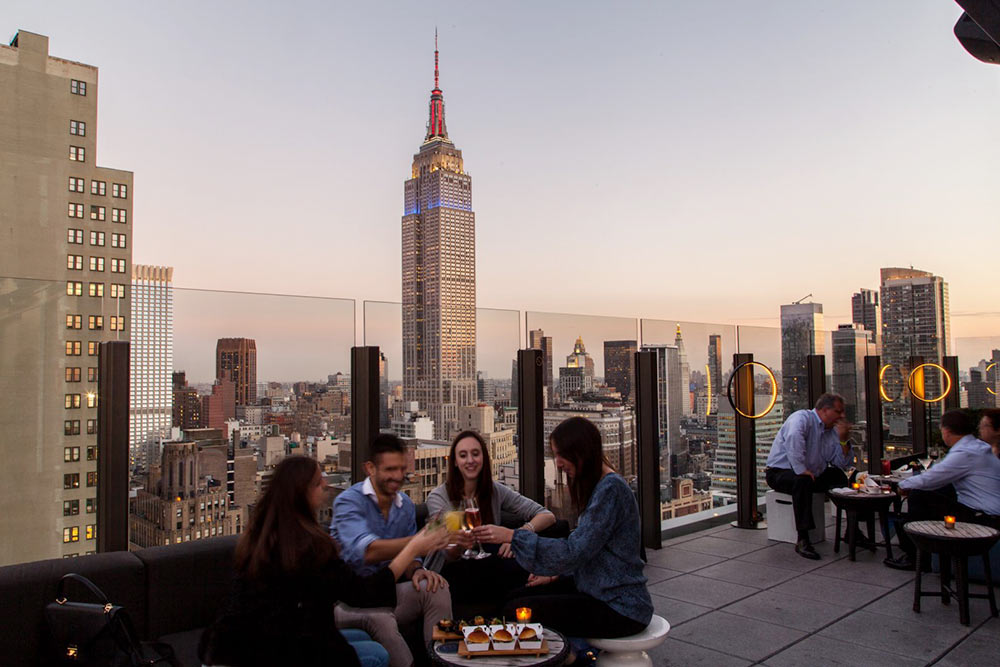 The Skylark - Photo: https://theskylarknyc.com
This classic cocktail lounge can be found near Times Square, and thanks to its location on the 30th floor, it provides stunning views of the entire city, with the Empire State, Hudson River and Times Square standing at the forefront.
Skylark rooftop is open only during the weekdays, which makes it a preferred spot for office workers and partiers alike, so make sure to come in early or make reservations.
What happens during the weekends? You may ask. Well, it's reserved for private events.
Whether you're lucky enough to be invited to said private events or you're just visiting for the night, rest assured that you'll enjoy an extensive collection of drinks, including the rooftop bar's signature cocktails, all of them made with fresh ingredients.
Though not known for its food, the Skylark does offer high-quality bar bites, so don't worry about going hungry. Chances are you'll find something you like.
The ambiance is comfortable and cozy without falling into hominess. In fact, the modern furniture and tasteful decorations give this place an undeniably luxurious appeal.
Because of its clientele and general mood, the Skylark does have a dress code, so come dressed for an upscale setting and enjoy some of the most luxurious views of New York!
THE SKYLARK
200 W 39th St, New York
6.

Magic Hour Rooftop Bar & Lounge
Magic Hour - Photo: http://moxy-hotels.marriott.com
Magic Hour Rooftop, set 18 floor up on the MOXY NYC Times Square, offers a year-round experience of adult fun and amazing NYC views.
Set over several different spaces, here you find both indoor lounge, open-air terraces with fantastic views, and the 'Foreplay' area, where you can challange your friends in a game of putt-putt.
So fun is setting, and also fun in vibe, the Magic Hour rooftop bar is open daily and late into the night. Visit for afternoon cocktails while strolling around Times Square, or come for a full night out dancing under the stars.
From the rooftop bar you can order creative cocktails in all forms and shapes, as well as bottle service of bubbles and wines. While the food menu is usually only lighter bites, weekends is another story. The you can indulge in the Magic Hour rooftop brunch.
With a vibrant atmosphere and great location right at Times Square, Magic Hour Rooftop is a popular place, so reservations are recommended. Especially for visits at night or during the rooftop brunch.
MAGIC HOUR
485 7th Avenue, New York