Lower East Side has become one of the most popular and trendy neighborhoods on Manhattan and in New York. New hotels are popping up each month, and with them a lot of good rooftop bars.
In this listing of the best rooftop bars at Lower East Side NYC, you can find both super popular and vibrant spots, as well as more relaxed and calm venues. Some rooftops require a booking in advance (which is always advisable for all rooftops, if you want to grab the best seats).
Elevate yourself with our list of 7 of the very best rooftop bars at Lower East Side NYC. Made by the world's leading experts on just roof bars.
1.

The DL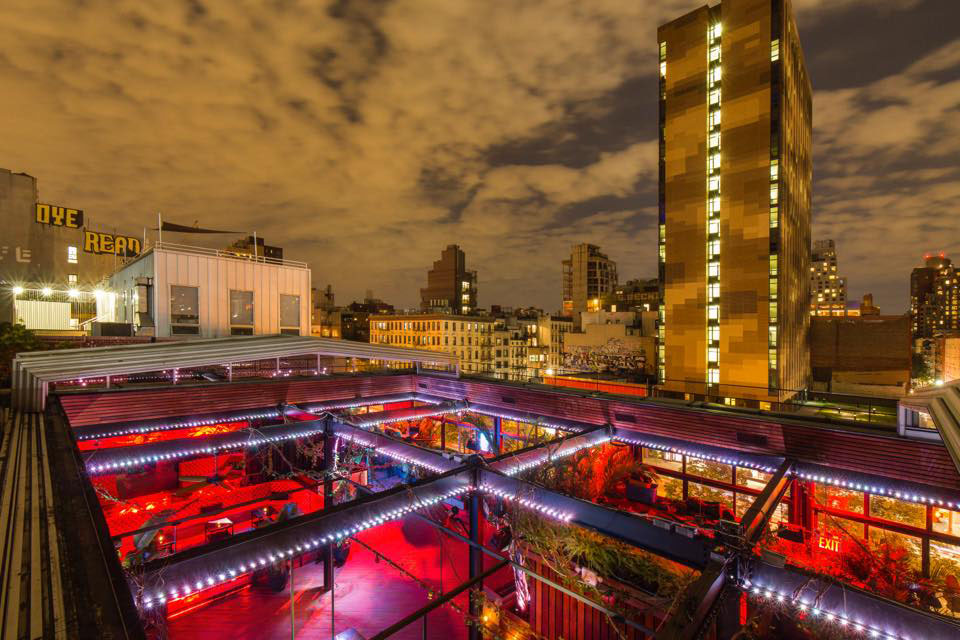 The DL - Photo: www.thedl-nyc.com/
Set on the corner of Delancey Street & Ludlow, one block away from The Lower East Side Tenement Museum, The DL is the place to go for an elevated and extraordinary nightlife or after work experience.
Spanning 7,500 square-feet over three unique floors, here you find the chandelier-lit restaurant Dinner on Ludlow on the first floor, and the sexy and sultry Red Room on the second floor.
The prime and most popular spot is however the third floor and South Beach–esque rooftop, which is one of the largest retractable all-weather rooftops in New York City.
Among lush greenery and sleek lounge furniture, here you are surrounded with great views of the Lower East Side skyline and the Williamsburg Bridge.
Filled with a dynamic energy and lively ambiance, The DL NYC offers everything from happening day party's under the sun, to sky-high evenings under the starts, filled with great music and a buzzing crowd.
THE DL
95 Delancey St, New York, NY 10002
2.

The Roof at PUBLIC Hotel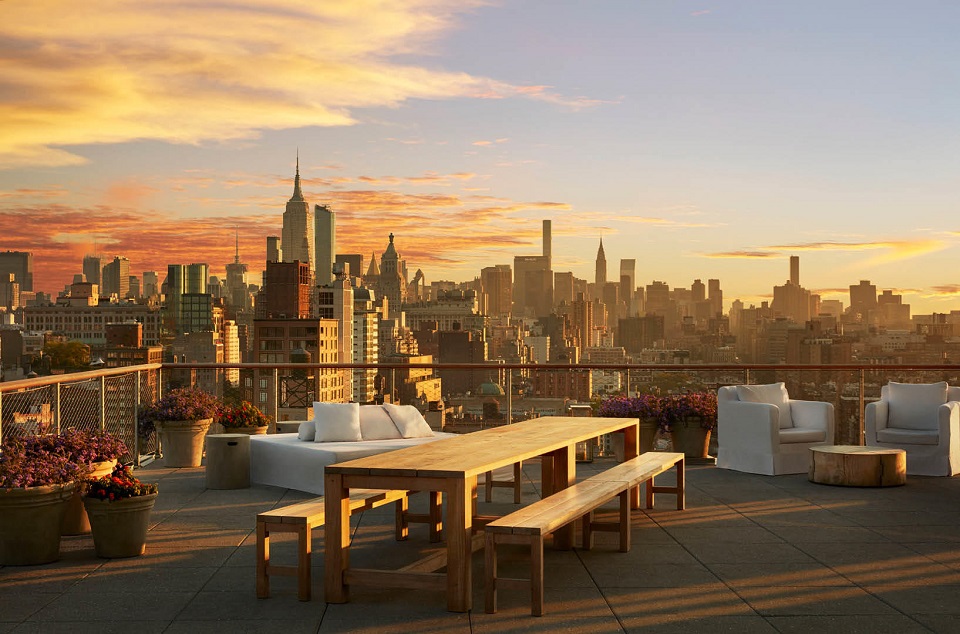 The Roof at PUBLIC Hotel - Photo: www.publichotels.com
Equipped with floor-to-ceiling windows and a sizeable open terrace, PUBLIC Hotel's rooftop bar has some of the best views in the city, as well as one of the best atmospheres.
The bar offers an extensive and varied menu full of delicious and creative cocktails, craft and commercial beers, as well as wines and popular spirits.
Though the PUBLIC Hotel's bar isn't known or frequented for its food, it does offer weekend BBQ'S, making it a fun, if eclectic choice for a night out with friends.
As of lately, the PUBLIC Hotel has been a very trendy spot amongst Instagram personalities, thanks not only to its stunning views but also to the bar's unique decoration; nonetheless, the PUBLIC offers a relaxed atmosphere during the early morning, so it has something for everyone.
Thanks to its large size, comfortable ambiance, a wide variety of drinks and moderate prices, the PUBLIC hotel's bar is the perfect choice to kick off a night on the town.
THE ROOF
215 Chrystie St, New York, NY 10002, USA
3.

The Crown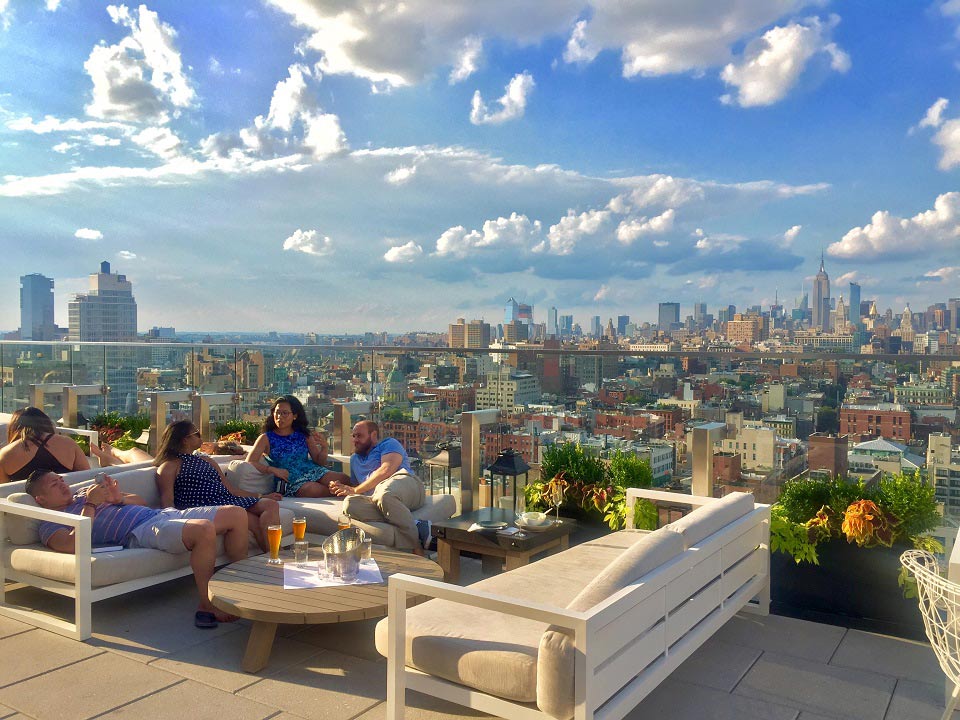 The Crown - Photo: www.thecrownnyc.com
Located on top of the famous Hotel 50 Bowery, right in the middle of Chinatown, this beautiful rooftop hotel has personality and views to spare.
With floor to ceiling window, two sizeable rooftop terrace and comfortable lounge furniture, The Crown is the perfect spot for admiring both Brooklyn and Manhattan's skyline while nursing a stiff drink.
Modern, blindingly bright, and minimalistic, The Crown offers comfortable seating in the shape of lounge sofas, stools, and plush chairs, as well as a relaxed lounge vibe and live music.
Draft beers, a wide selection of wines, and creative and delicious signature cocktails from The Crown's drink menu, but this rooftop bar also offers tasty bar-bites and delicious desserts meant for sharing or indulging.
While The Crown can be a little intimidating at first glance, it boasts a casual and laid-back atmosphere during the early afternoon, it gets livelier as the night progresses, with live DJ shows, art installations, an energetic atmosphere, and a wonderful community spirit.
THE CROWN
50 Bowery, New York, NY 10013
4.

The Delancey
The Delancey - Photo: http://thedelancey.com/
Opened in 2004, The Delancey is somewhat a classic venue, and also one of the very best nightlife places in NYC.
Found right at the start of the Williamsburg Bridge Path, the three level venue holds a basement music venue, a dark-ish main level interior bar, and a much more airy and lush rooftop garden.
An oasis above the hustle and bustle of the Lower East Side, the tropical terrace comes with a retractable roof, and is open for rooftop fun rain or shine, summer or winter.
While peering out onto the Manhattan side of the Williamsburg Bridge, you can order cocktails, beer and bottle service from the full service rooftop bar, as well as bites from pop-up food trucks.
A great spot for a night out above LES, with regular DJ sessions and a vibrant lounge atmosphere.
THE DELANCEY
168 Delancey St, New York, NY 10002
5.

Rooftop 93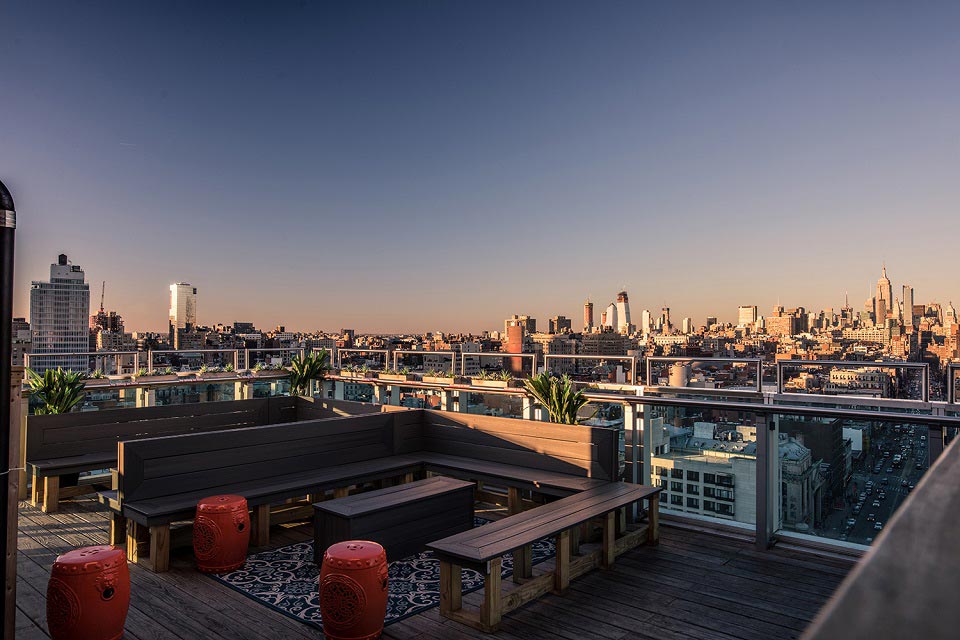 Rooftop 93 - Photo: www.rooftop93.com
Rooftop 93 Bar & Lounge is one of the Lower East Side's most popular bars, and with good reason.
Perched on the top two floors of the Wyndham Garden Chinatown, and offering stunning views of New York's Skyline, Rooftop 93 is the perfect choice for those looking to party with a backdrop.
Floor to ceiling windows, an open-air rooftop, a welcoming rustic atmosphere, and excellent service make this place a favorite for locals and visitors alike, a feeling that only grows once they get to try the bar's signature drinks.
Rooftop 93's specialty drinks go hand in hand with the bar bites, as well as an upbeat atmosphere that's both fun and cozy at the same time.
Despite its well-earned popularity attracting large crowds throughout the year, Rooftop 93 is still large enough to allow guests to enjoy their intimacy, making it a fantastic choice for those looking for a lively atmosphere, but not looking forward to rubbing elbows with strangers.
ROOFTOP 93
93 Bowery, New York, NY 10002
6.

CloudM Rooftop Bar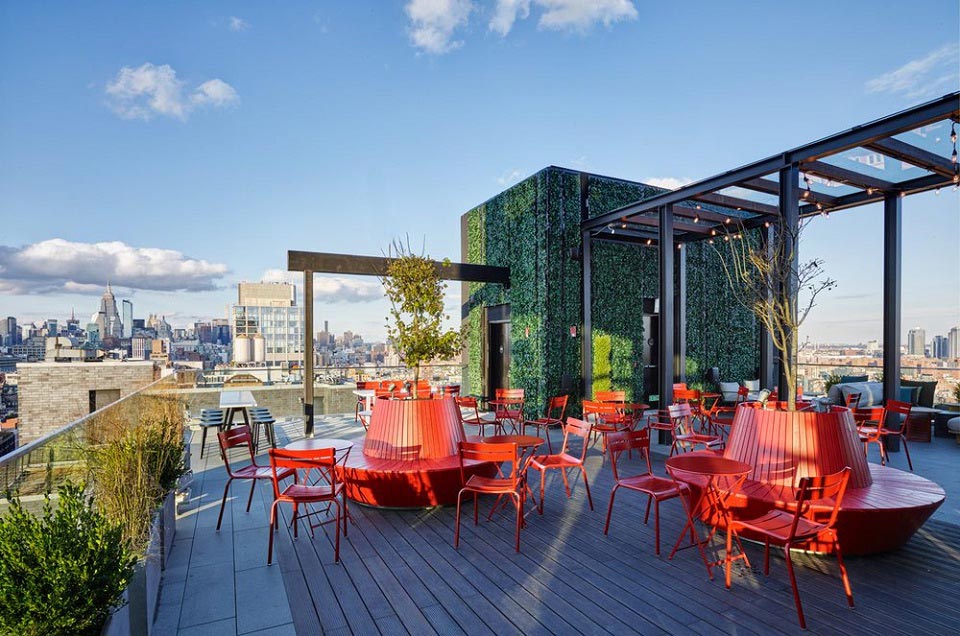 CloudM Rooftop Bar - Photo: www.citizenm.com
Located in the heart of the Lower East Side, stands an unasuming, almost easy to overlook building known as the CitizenM Hotel.
The hotel's simple exterior hides one of the most colorful and creative hotels in the entirety of New York, with eclectic furniture, a one-of-a-kind style, and so many art pieces stacked on the walls it'd put a small museum to shame.
This powerful personality carries just as strongly to the hotel's bar, the CloudM, which is not only decorated with the same eye-catching style but also boasts the best views of the entire hotel.
Furnished with colorful lounge couches, lounge chairs, and benches, equipped with both indoor and outdoor seating and offering not only a rooftop bar but also a rooftop coffee shop, CloudM embrace's Manhattan's unique spirit wholeheartedly.
The bar's drink menu is as extensive as it's creative, offering all kinds of draft beers, a colorful signature cocktail collection, as well as more traditional drinks.
The outdoor terrace is spacious and patio-like, giving the whole place a modern yet laid-back atmosphere and the indoor seating area is flanked on most sides by floor-to-ceiling windows, meaning you'll enjoy the views no matter what.
As part of the bar's –and the hotel's– "everyone's welcome" policy, no reservations are required for groups smaller than 10. Just get in the elevator and head up to the bar. There'll always be a table waiting for you.
CLOUD M ROOFTOP
189 Bowery, New York, NY 10002
7.

Mr. Purple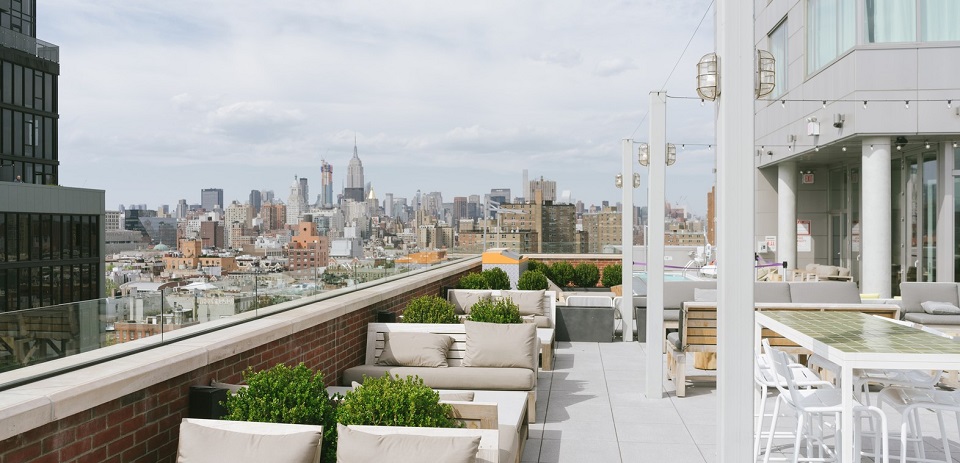 Mr. Purple - Photo: www.mrpurplenyc.com
Operating both as a bar and a restaurant, Mr. Purple is the kind of rooftop venue that can be enjoyed by all.
Offering beautiful views of the city's skyline, one of New York's coolest rooftop pools, a daring yet charming industrial style, and a contemporary atmosphere, Mr. Purple is a must-visit whenever traveling through the Lower East Side.
Both the drink and food menus are impressive. Still, if you're looking for recommendations, anything coming out of Mr. Purple's signature cocktail menu is a must-try, particularly for those who enjoy mixing the old with the new.
Craft beers, delicious wines, and more traditional drinks are also available for those looking to enjoy something familiar. As far as food goes, you can find classic American cuisine with a fun, innovative twist.
Offering two terraces –one open to the public, one available for private parties– Mr. Purple is a vibrant yet relaxed choice for those looking to enjoy good food and a comfortable atmosphere.
This trendy restaurant/bar gets especially crowded during the evenings, so reservations are encouraged, as well as dressing to impress.
MR PURPLE
Hotel Indigo, 180 Orchard St, New York, NY 10002