Downtown New York is full of businesspeople every day of the week. So, rooftop bars around here are a popular place to escape after working hours.
In Downtown NYC and close to Wallstreet you can find some great rooftop bars. Most of them located at the luxurious hotels close by. But also, some more relaxed terraces with not only suits and stilettos.
Here's our listing of the 5 best rooftop bars in Downtown New York and close to Wallstreet.
1.

Overstory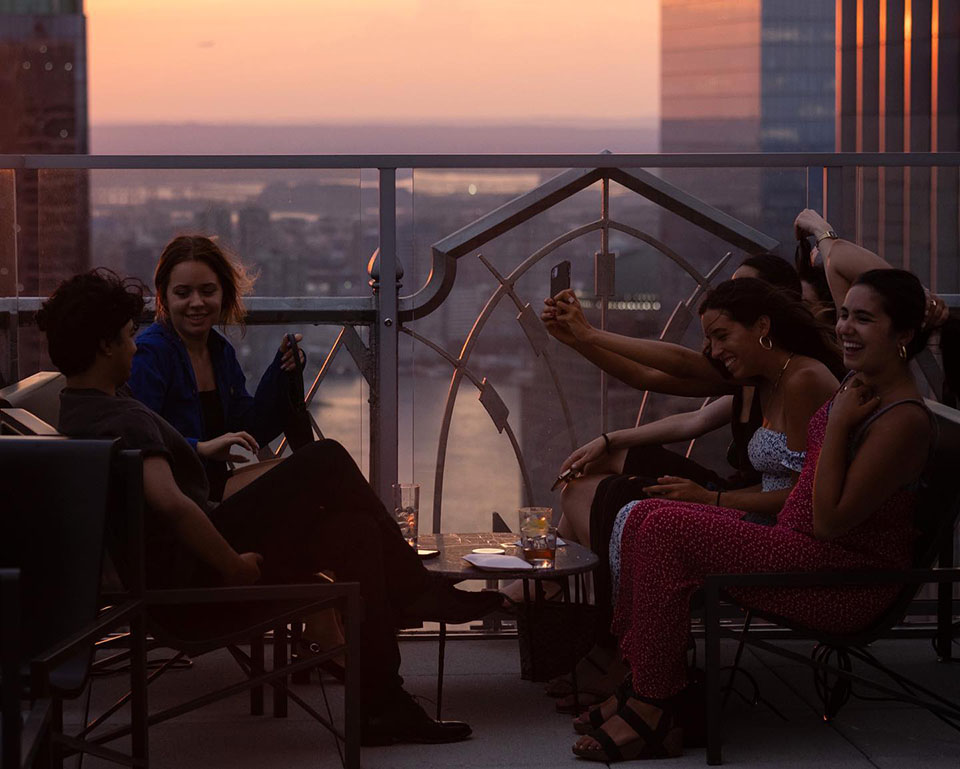 Overstory - Photo: www.overstory-nyc.com/
Opened during 2021, Overstory really takes you high above Manhattan's Financial District.
Set on the 64th floor of 70 Pine Street, this elegant and elevated rooftop cocktail bar mixes an art deco interior lounge with a wrap-around outdoor terrace.
Out here, you are surrounded with breathtaking and panoramic 360° views over the NYC skyline, and far beyond.
Not only offering amazing vistas, Overstory has also been praised as one of the best cocktail bars in New York (and in the world). So you can expect plenty of artistic cocktails, crafted to perfection by the mixologists.
Make reservations and go for an elevated after work out the ordinary.
OVERSTORY
70 Pine St, New York, NY 10005
2.

Highwater Rooftop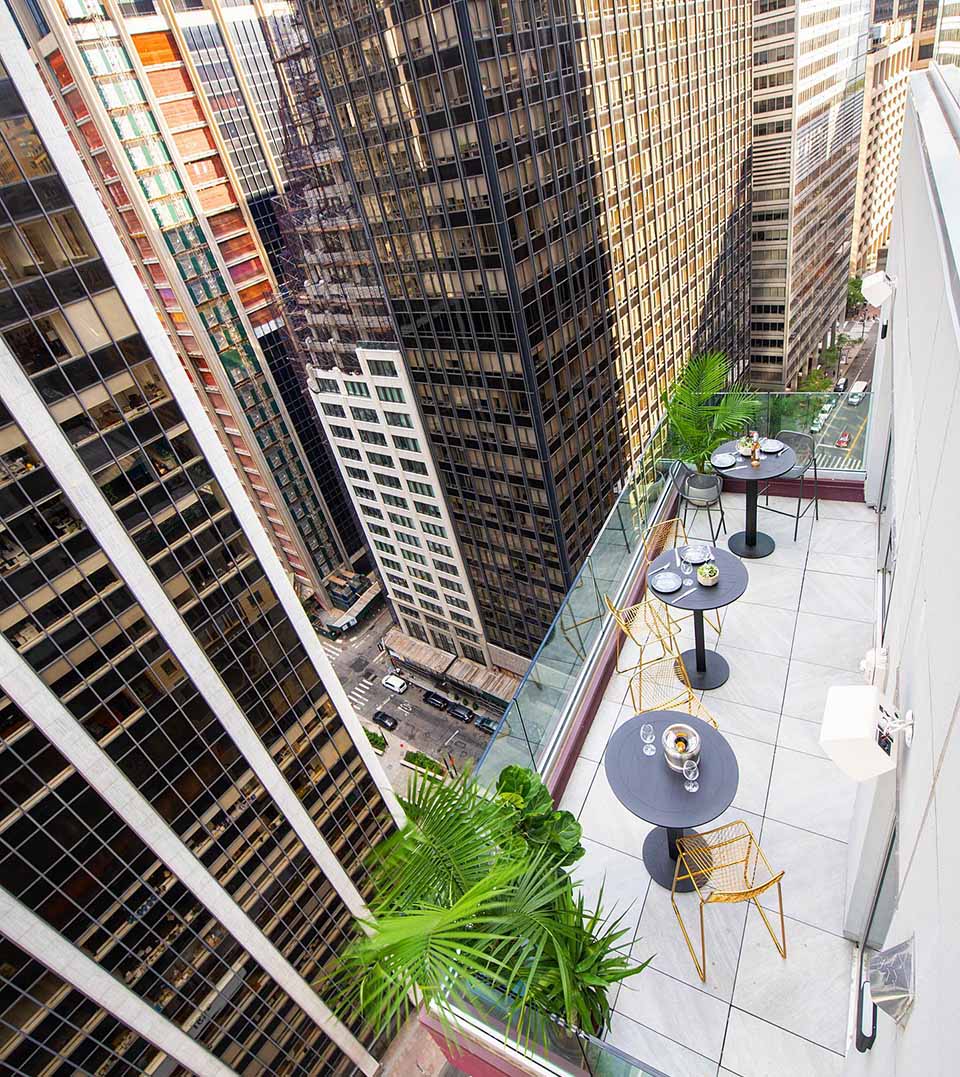 Highwater Rooftop - Photo: www.highwaterrooftop.com/
Located right where the New York Stock Exchange was founded, it is hard to get more 'Wall Street' than Highwater Rooftop.
Perched on the 25th the modern Hotel Indigo - NYC Downtown - Wall Street, this versitale and bi-level rooftop lounge and event space is a prime spot to enjoy the Financial District from above.
Part stylish interior lounge, here you also find four outdoor terraces, where you are face to face with the majestic skyscrapers of Downtown NYC.
Open nightly, the rooftop bar serves a masterfully curated cocktail menu with twists on classic Old Fashions, complemented by a local craft beer program, a fine selection of wines, as well as elevated lite bites.
Highwater Rooftop is a great spot for anything from a sky-high after work, to a special event for all party sizes.
HIGHWATER ROOFTOP
120 Water St, New York, NY 10005
3.

View of the World
View of the World - Photo: https://clubquartershotels.com
What can you expect from a place with such a name?
Located on the 20th floor of the Club Quarters Hotel, View of the World provides some of the best views in New York, not by showing you the entire city but by surrounding you by it.
View of the World operates both as a bar and as a restaurant, making it one of the few family-friendly options in this list, and an ideal choice for those traveling with minors.
Small plates, large family dishes, and delicious desserts grace this restaurant's menu. For those looking only to drink, you can also find a fantastic collection of wines and specialty cocktails.
View of the World offers both indoor and outdoor seating, but since it's located in one of New York's busiest streets, it's usually crowded, so be prepared to wait.
THE VIEW OF THE WORLD
140 Washington St, New York, NY 10006
4.

The Crown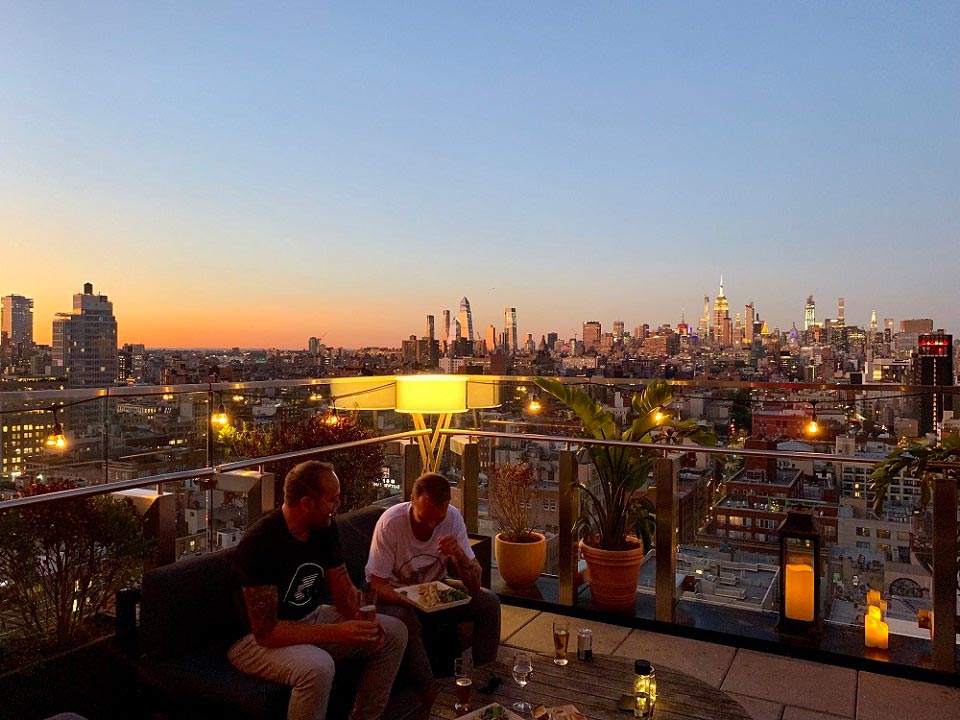 The Crown - Photo: www.thecrownnyc.com
Located in Chinatown, just a few minutes away from the Financial District, The Crown offers delicious drinks, a great atmosphere, and jaw-dropping views.
Modern, bright, minimalistic, and chic, this indoor bar is known for its well-crafted drinks –including creative signature cocktails like the refreshing 'Mint to be Majestic'–, draft beers and comprehensive selection of wines.
While this rooftop bar doesn't have an open terrace, its floor to ceiling windows gives guests unobstructed views of the Brooklyn Bridge, the Empire Estate, and other landmarks.
In fact, if you sit in the right spot, you can see both Brooklyn and Manhattan, and if that wasn't enough, The Crown's closed location means it's always open, even when the weather is less than ideal.
With comfortable lounge sofas, a stylish bar, and convenient opening hours, The Crown is the perfect place to relax with early afternoon drinks, or to party once the evening arrives.
The Crown also features a small menu of bar bites and delicious desserts, all perfect for sharing.
THE CROWN
50 Bowery, New York, NY 10013
5.

Loopy Doopy Rooftop Bar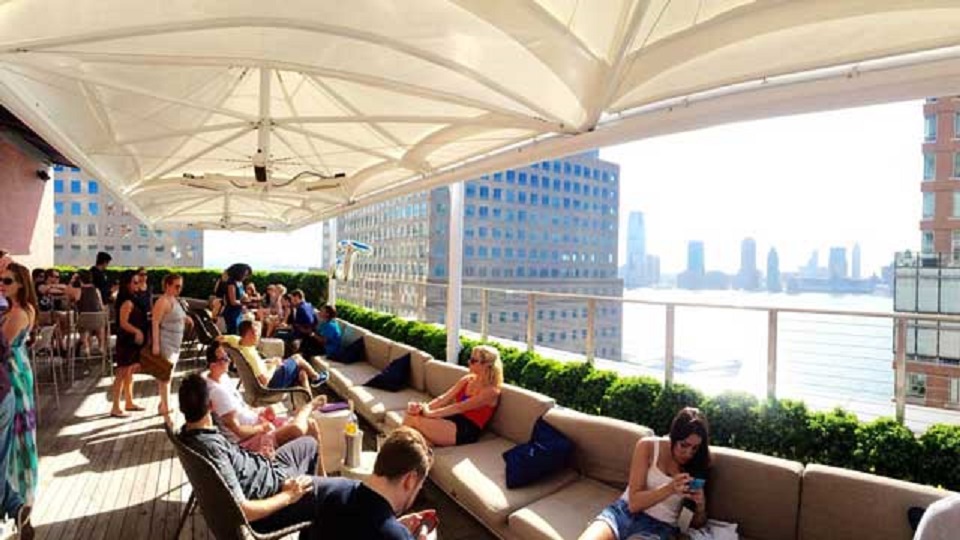 Loopy Doopy Rooftop Bar - Photo: www.conradnewyork.com
With a name as unique as 'Loopy Doopy', you know you're in for a treat.
Located on a 16th floor, and giving guests jaw-dropping views of New York and New Jersey, as well as famous landmarks like the Statue of Liberty, the Loopy Doopy is an excellent place for eating and an even better place for drinking.
The terrace isn't particularly large, but it is cozy, with comfortable lounge sofas, stylish décor, and casual atmosphere.
So what makes the Loopy Doopy special? It's cocktails! Each adorned with a delicious, specially crafted ice pop.
It might sound weird, but it works, mixing Prosecco with strawberry lemongrass, Rosé with blueberry peach, and so on.
The Loopy Doopy is a seasonal bar, so it's open only during the summers, but it's a place you can't miss if you like innovative drinks, so if you're visiting New York during the summer, make sure to drop by.
LOOPY DOOPY ROOFTOP
02 North End Ave, New York, NY 10282
6.

Ketch Brewhouse & Restaurant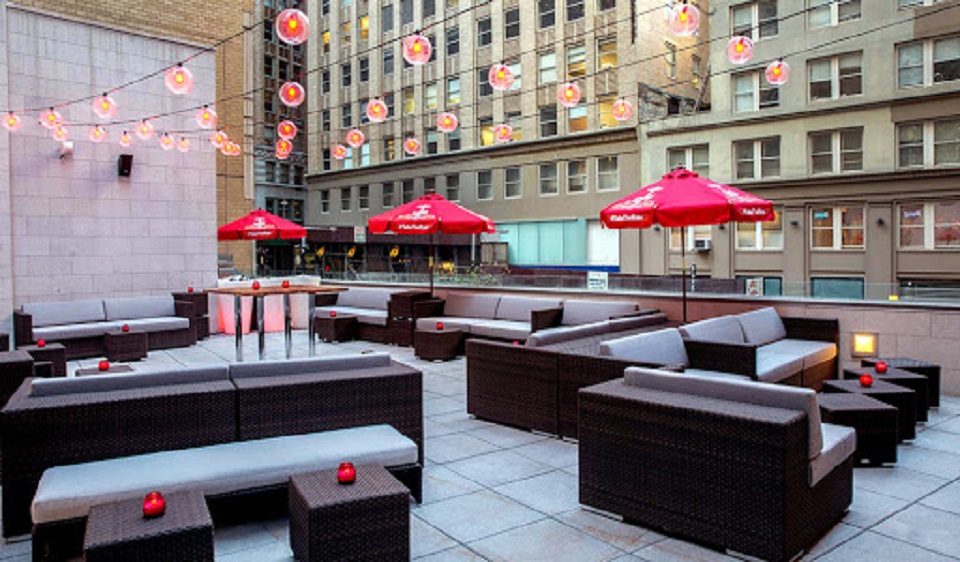 Ketch Brewhouse & Restaurant - Photo: www.ketchrestaurant.com
Aiming to provide a unique culinary experience, Ketch Brewhouse is a must-visit for those looking to eat and drink.
Featuring New American cuisine and a fantastic collection of artisanal beers, Ketch Brewhouse offers seating both indoor and at the spacious rooftop and terrace. Add a convenient location and a casual atmosphere that's perfect for large groups, and you have a hit.
Crab cakes, salmon, prawns, french toasts, martinis, wine, Mimosas, and even coffee. Here, you'll be able to drink and eat to your heart's content, all while enjoying beautiful views of the city, and watching the big game on the large TV screens.
Ketch Brewhouse looks to stand out without being pretentious, and so far, it has succeeded.
KETCH BREWHOUSE & RESTAURANT
6 Platt St, New York, NY 10038