Welcome to Midtown Manhattan, the busiest part of the city that never sleeps. Whether you're strolling around Time Square or near the Empire State Building you'll be surrounded by some of the world's largest buildings. And with that comes some perfect locations for rooftop bars with the most idyllic NYC views.
1.

Roof at Park South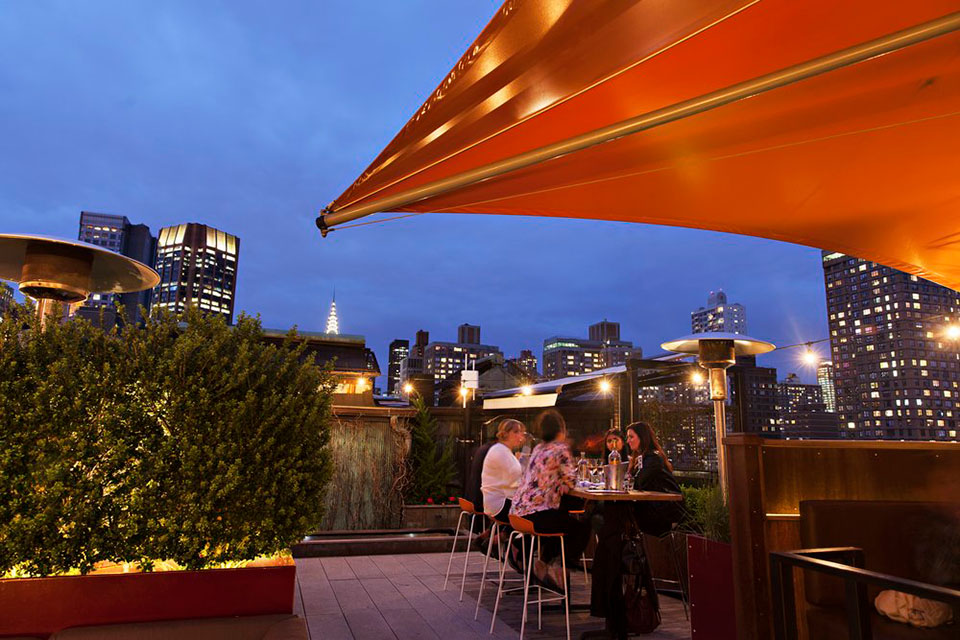 Roof at Park South - Photo: www.roofatparksouth.com
From mid-April to November, the best idea to enjoy Midtown Manhattan from above is to head up to the Roof at Park South, where you can enjoy a fantastic mix of handcrafted cocktails, refreshing bites and amazing city views.
Perched on top of the Park South Hotel in Rose Hill, the beautiful and lush terrace comes surrounded with spectacular and unobstructed vistas over the NYC skyline.
Grab a seat by the impressive rooftop bar or at the hightop tables right by the edge, and sip on fun, creative and crafted cocktails created by Ivan Papicor.
Or get more comfy in the Fireside Lounge or Umbrella Lounge, and mix some refreshing frozen drinks with an equally refreshing selection of globally inspired bites by award-winning chef Bryce Shuman.
The Roof at Park South is a truly a summer hot-spot to escape above Midtown East for drinks with a view, served in a stylish yet unpretentious and friendly atmosphere.
ROOF AT PARK SOUTH
125 E 27th St, New York, NY 10016
2.

The Sentry Penthouse Lounge & Bar
The Sentry Penthouse Lounge & Bar - Photo: www.thesentrynyc.com/
Perched on top of Hotel Henri in the Flatiron District, The Sentry NYC is a chic and crafted Midtown rooftop oasis.
18 floors above the hustle and bustle of Manhattans streets, the rooftop bar serves a large selection of perfectly crafted cocktails, an extensive liquor offering, as well as tasty bites perfect to share.
Evoking the allure of a sensuous penthouse loft and a discreet speakeasy spirit, the rooftop blends a retro-inspired interior with a breezy outdoor terrace, and you can enjoy drinks with first-row seats to the Midtown skyline.
Open to the public from 5pm most evenings of the week, The Sentry is a prime spot to gather with colleagues and friends, lounge out and sip prime drinks in an intimate setting.
THE SENTRY
37 W 24th St 18th floor, New York, NY 10010
3.

Spyglass Rooftop Bar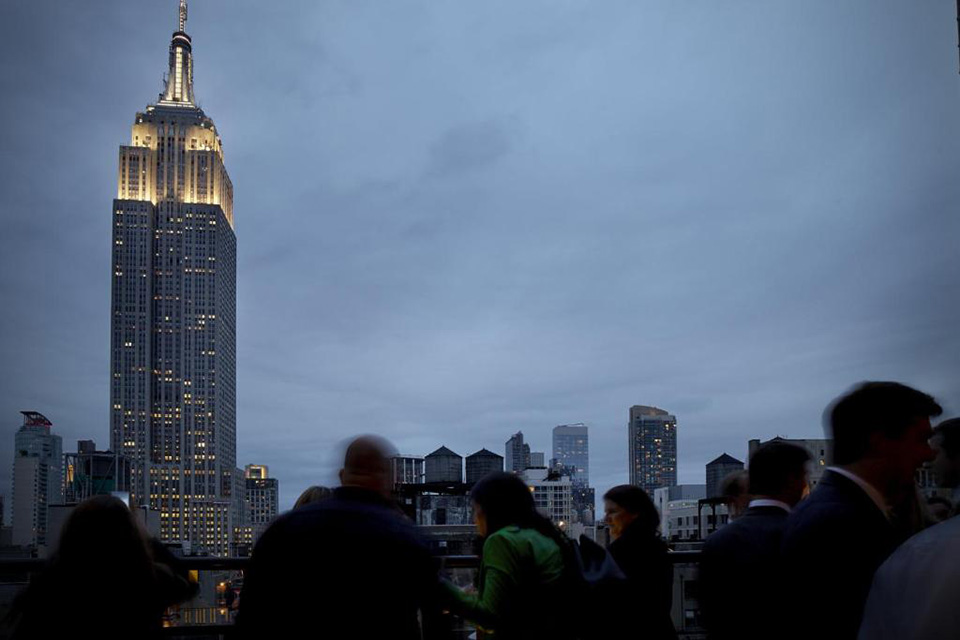 Spyglass Rooftop Bar - Photo: www.spyglassnyc.com/
Located at the 22nd floor at the Archer Hotel New York, you'll find the sophisticated blend of industrial and chic interior.
This rooftop bar is inspired by the iconic scenes portrayed in one of the Alfred Hitchcock's top films "Rear Window" (1954): A mysterious thriller starring Grace Kelly and James Stewart which creates an authentic feeling when sitting among the skyscrapers while looking down at the streets of Midtown Manhattan, and straight at the majestic Empire State Building.
Spyglass Rooftop Bar offers a 360° panoramic view whic you may enjoy while sipping on one of their craft cocktails and a fairly priced menu inspired by the European cuisine.
SPYGLASS
45 West 38th Street, New York, NY 10018
4.

The Skylark
The Skylark - Photo: www.theskylarknyc.com/
This elegant and all-seasons rooftop bar is located a few blocks from Times Square.
Here you'll enjoy the combination of classic cocktails, small bites, modern interiors and breathtaking Midtown views from the 30th floor.
The concept of this weekday only rooftop bar was developed by David Rabin, a name well connected to the NYC hospitality industry, mostly for some of his past ventures such as Lotus and Rex.
Currently, he's a partner in several NYC venues such as The Skylark, Veranda, and JIMMY together with Abigail Kirsch who has a long background in gastronomy with a special focus on catering and events.
THE SKYLARK
200 W 39th St, New York, NY 10018
5.

Ophelia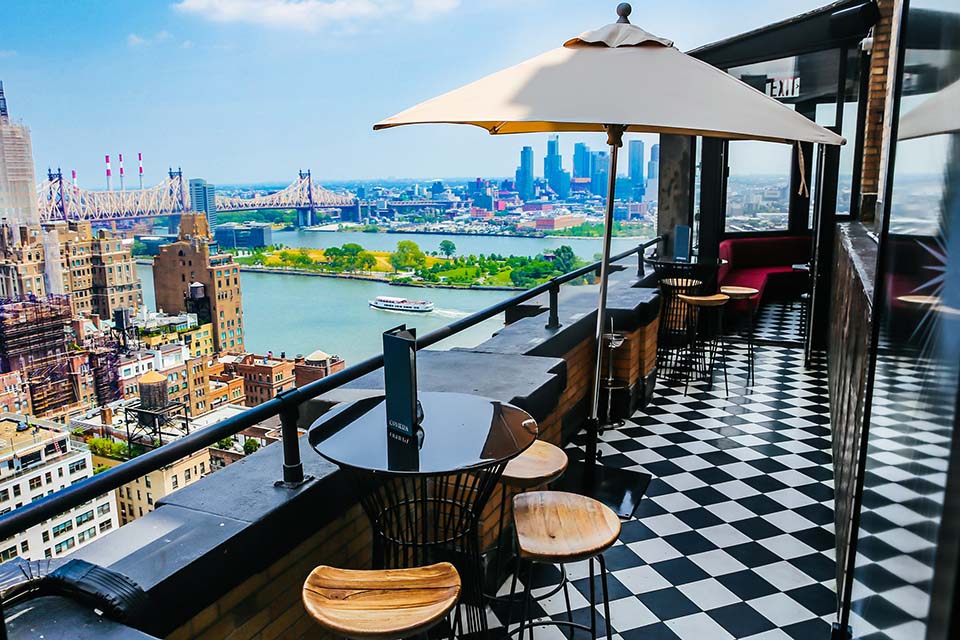 Ophelia - Photo: www.opheliany.com/
Located at the very top of the Beekman Tower, this rooftop bar will not disappoint with its 360° view of Midtown NYC.
Enjoy a 5-star menu from the 26th floor, with a a wraparound terrace allowing you to admire some of the most iconic Manhattan vistas, continuing all the way to Brooklyn.
Built in 1928, this building is saturated by history, which in the beginning only figured as a women-club. In 1934 it opened to all, and since then it has housed some big names on their regulars-list, Frank Sinatra among others.
OPHELIA
3 Mitchell Pl 26th floor, New York, NY 10017
6.

Daintree Rooftop & Lounge
Daintree Rooftop & Lounge - Photo: www.daintreenyc.com/
Located at the 29th floor of the Hendricks Hotel, and surrounded with amazing views over the Manhattan skyline, you'll meet a well crafted combination of metropolitan and bohemian interior in the southern part of Midtown.
Daintree opened in autumn 2021 as a part of Parched Hospitality Group in NYC, with a prominent focus on innovation and excellent customer experience.
Step into a playful green garden inspired oasis and have a seat in one of the pink plush seatings while sipping on one of their crafted martinis paired with some of the Australian-Asian fusion snacks.
DAINTREE
25 W 38th St 29th Floor, New York, NY 10018
7.

Nubeluz by José Andrés
Nubeluz by José Andrés - Photo: www.nubeluzbyjose.com/
Located on the 50th floor of Nomad's fabulous Ritz-Carlton, this gem opened in October 2022, yet has already become one of the hottest rooftop bars in Midtown NYC.
The name "Nubeluz" derives from the Spanish words "nube" (cloud) and "luz" (light), and surely catches the true essence of a rooftop bar. As much as the contemporary modern interior combines with glamor and legendary history of NYC, the menu consists of cheese boards and charcuteries and modern takes on classic cocktails.
If you're looking for a venue where modern meets historic, and where amazing 270-degree views over the NYC skyline is part of the decor, Nubeluz is just the right place.
NUBELUZ
25 W 28th St, New York, NY 10001
8.

Bookmarks Rooftop Lounge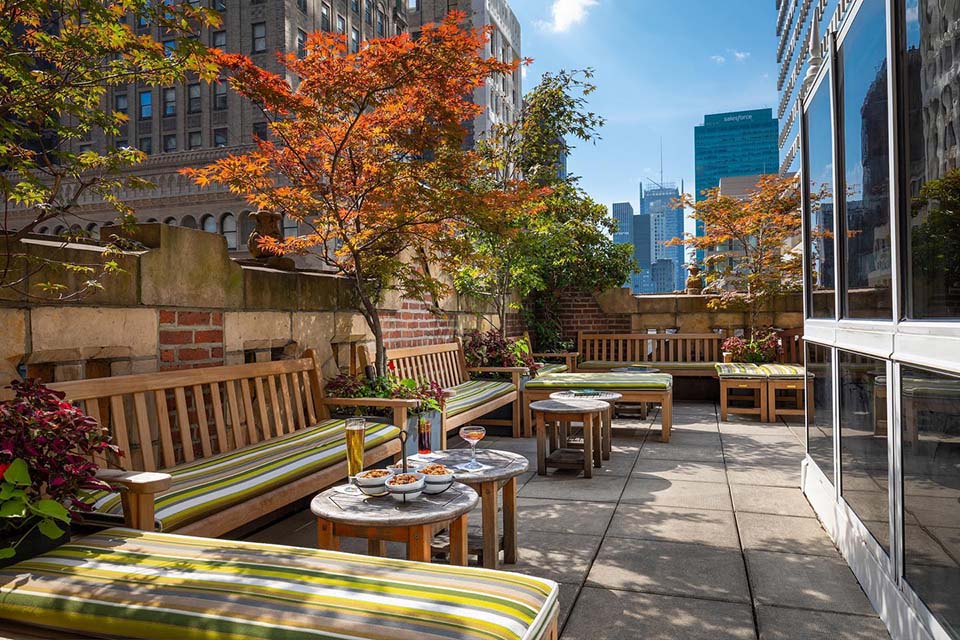 Bookmarks Rooftop Lounge - Photo: www.bookmarkslounge.com/
Brought a book for those small pauses of relaxation during vacation? Or would you like to enjoy some literary inspired cocktails? Great! Then this rooftop bar oasis at the fantastic Library Hotel offers the perfect spot for you.
Located at the 14th floor on Madison Ave, with a gorgeous view of the Public Library you'll feel like a character in one of F. Scott Fitzgerald's novels. Enjoy their specialty cocktails such as The Pulitzer or Bookmark's Hemingway while surrounded by some of the most iconic buildings in Midtown NYC.
Open year-round, thanks to both an interior lounge and heat lamps on the outdoor terrace, Bookmarks Rooftop Lounge is pretty much always a great spot for comfy yet upbeat drinks with a view.
BOOKMARKS
299 Madison Ave, 14th floor, New York
9.

Gallow Green
Gallow Green - Photo: https://mckittrickhotel.com/
Located atop of The McKittrick Hotel in Midtown NYC, you'll find the rooftop version of a speak easy bar, built just a couple of weeks after the outbreak of WWII in 1939.
Offering different experiences depending on the season, this rooftop bar is truly a hidden gem, worth visiting several times.
During the warmer months, it is a lush oasis for food and drinks with a view, and pretty much as close to nature as you will get on a rooftop in the middle of New York.
In winter, The Hideout at Gallow Green will take you all the way to the French Alps. Enjoy seasonal cocktails inspired by the mysterious theme of the hotel filled with magic, illusions and theatrical experience, preferably followed by a Boeuf Bourguignon paired with a bottle of pinot noir.
GALLOW GREEN
530 W 27th, St New York, 10001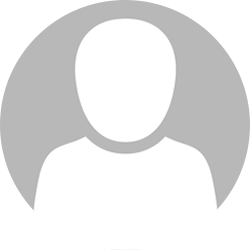 Written by:
Karolina Eugenes