Brooklyn has turned into one of the hippest and most popular neighborhoods in New York during the last couple of years. And along with this newfound popularity comes a lot of great Brooklyn rooftop bars.
Fact is, the best Brooklyn rooftop bars offer views that any of the more central NYC terraces have a hard time beating. Moving outside Manhattan, across the East River, means complete and amazing skyline views.
You can check out our complete listing of all the best rooftop bars NYC here. But to find your Brooklyn rooftop oasis, just keep scrooling.
The Rooftop Guide's list of the 7 best Brooklyn rooftop bars
1.

Westlight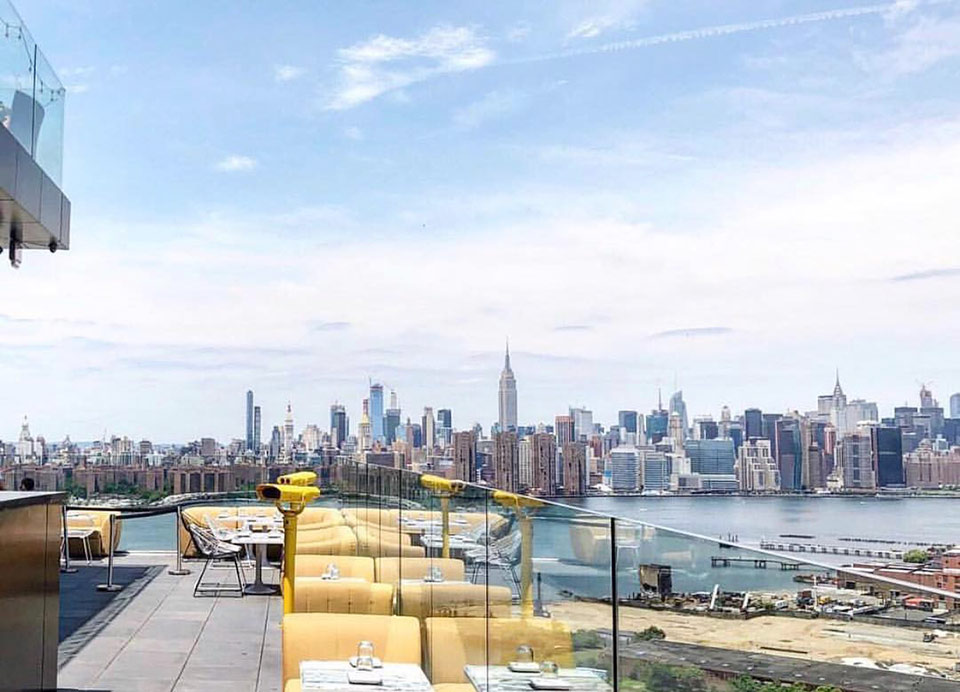 Brooklyn rooftop bar - Westlight | Photo: www.westlightnyc.com/
Located on the 22nd floor of the trendy William Vale, this chic and modern rooftop bar offers unparalleled views of Williamsburg and the Manhattan skyline, and a drink and food menu to die for.
The creation of Chef Andrew Carmellini, every drink and bar bite offered in this place, comes not only with a story but also with the quality the NoHo hospitality group is known for.
All this comes at a price, of course, but rest assured that every penny spent at the Westlight is a penny well spent.
Considered not only one of the best bars in Brooklyn but also in New York, having a reservation is a must, at least if you want to sit at some point through the night.
Even while standing, though, the atmosphere is relaxed and enjoyable, with views that pair wonderfully with the bar's signature drinks.
WESTLIGHT
111 N 12th St, Brooklyn
2.

Greenpoint Beer & Ale Co.
Brooklyn rooftop bar - Greenpoint Beer & Ale Co. | Photo: www.greenpointbeer.com/
Located in Greenpoint, the northernmost neighborhood in Brooklyn, Greenpoint Beer & Ale Co. holds both a lower floor Beer Market and indoor dining room, as well as an upper floor, open-air rooftop terrace.
Colorful and industrial-chic in setting, the rooftop and its 'easy-to-notice' green stained glass water tower is a fantastic spot to enjoy some sunny drinks and charming views over the Greenpoint neighborhood.
Being a brewery, the menu of course comes packed with a wide selection of craft beer. From flavorful small batch of ales, lagers and brett beers made in-house, to selections from other local breweries, vineyards and cideries.
To go with the food, you can nibble on tasty comfort food from the open kitchen, including items like Giant Bavarian Pretzel with housemade beer cheese and a Nashville Hot Chicken Sandwich.
Open daily, Greenpoint Beer & Ale Co. comes with a laid back and relaxing atmosphere. Visit for afternoon beers and bites in the sun, or come enjoy the fantastic sunset.
GREENPOINT BEER & ALE CO.
1150 Manhattan Ave, Brooklyn
3.

Slate Rooftop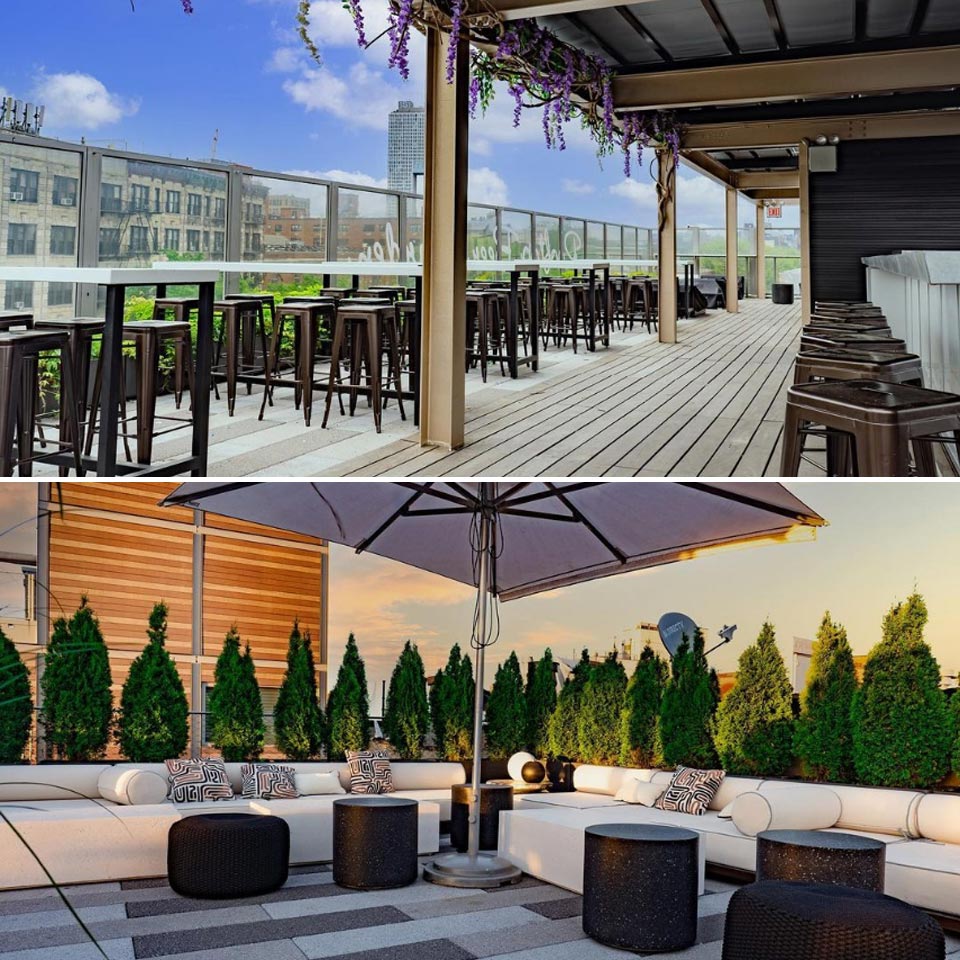 Brooklyn rooftop bar - Harriet's Rooftop | Photo: www.instagram.com/slaterooftop/
Found on Metropolitan Avenue in Williamsburg, perched on top of the Pod Brooklyn, Slate Rooftop is a new summer hot-spot to enjoy drinks, bites and views.
Overlooking Williamsburg and the Manhattan skyline, the open-air and spacious terrace mixes laid-back lounge spot with tables and bar seating.
Open most afternoons and nights, you can visit for relaxing and sunny afternoon bites and drinks, as well as vibrant alfresco evenings.
The rooftop menu includes a large set of shareable dishes, like Korean Spicy Cauliflower and Cheeseburger Sliders, as well as specialty cocktails from Liquid Lab NYC and a rotating selection of beers on tap.
SLATE ROOFTOP
247 Metropolitan Ave, Brooklyn, NY 11211
4.

Harriet's Rooftop
Brooklyn rooftop bar - Harriet's Rooftop | Photo: www.therooftopguide.com
If you're looking for something a little bit more classic, try Harriet's Rooftop and its old-fashioned, yet contemporary, cocktail lounge atmosphere.
Located at 1 Hotel Brooklyn Bridge and blessed with beautiful views of the famous bridge and the Manhattan skyline, this relaxed bar offers a wide arrange of liquors, beers, and a whole lot of cocktails, all made with fresh ingredients.
Live DJs and the occasional live band enrich the ambiance and fill this place with life, so it's highly recommended to make a reservation before arriving.
Reservations can also earn you a spot in the pool area, where you can enjoy beautiful views of the Statue of Liberty, the Brooklyn Bridge, and Manhattan.
While this Brooklyn rooftop tends to get jam-packed during the nice summer days and nights, it's still one of Dumbo's best, so make sure to attend when you have the chance!
HARRIET'S ROOFTOP
60 Furman St, Brooklyn
5.

Berry Park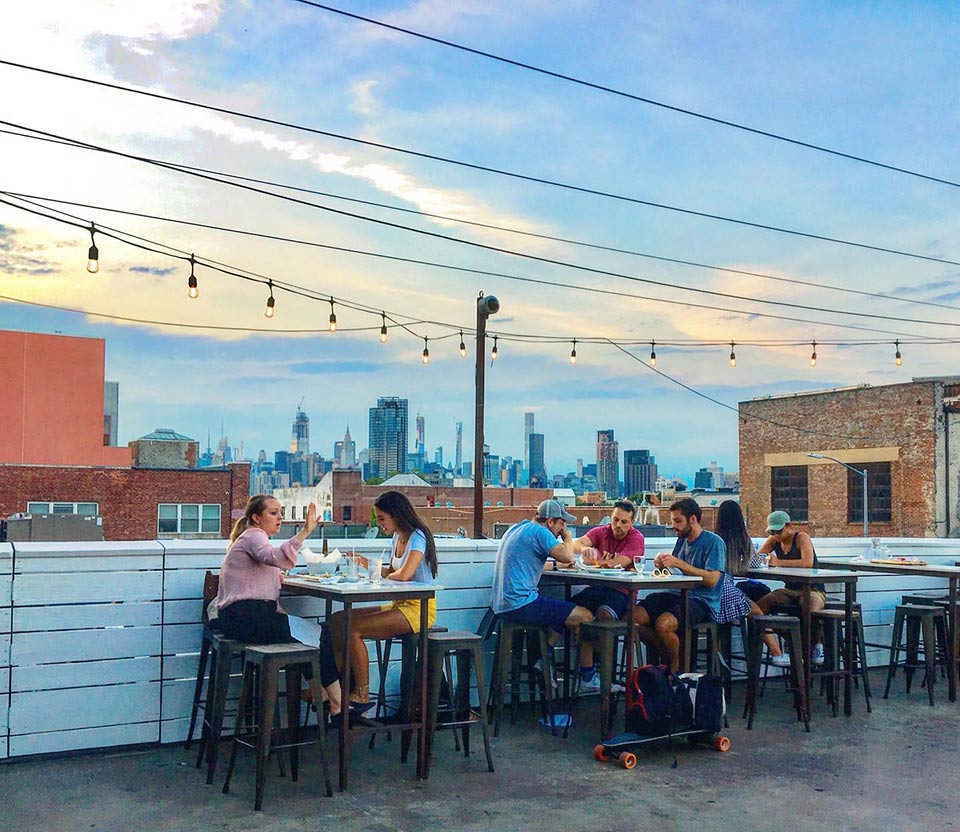 Brooklyn rooftop bar - Berry Park | Photo: www.berryparkbk.com/
Located at a spacious rooftop terrace and overlooking the McCarren Park and the Manhattan skyline, this rooftop bar is the place to go if you're looking for casual sporty fun.
Equipped with a foosball table, large projector screens that show soccer matches all day long, and occasional live music, the Berry Park knows what it is: A lot of fun.
Though the food offerings are signature American bar bites, the beers available are anything, but; Belgian, German, and other European beers dominate the menu, though you can still find the occasional signature cocktail.
Open year-round, this is the perfect place to visit with friends for a fun and casual night out, particularly if those friends are soccer fans.
BERRY PARK
4 Berry St, Brooklyn
6.

Bar Blondeau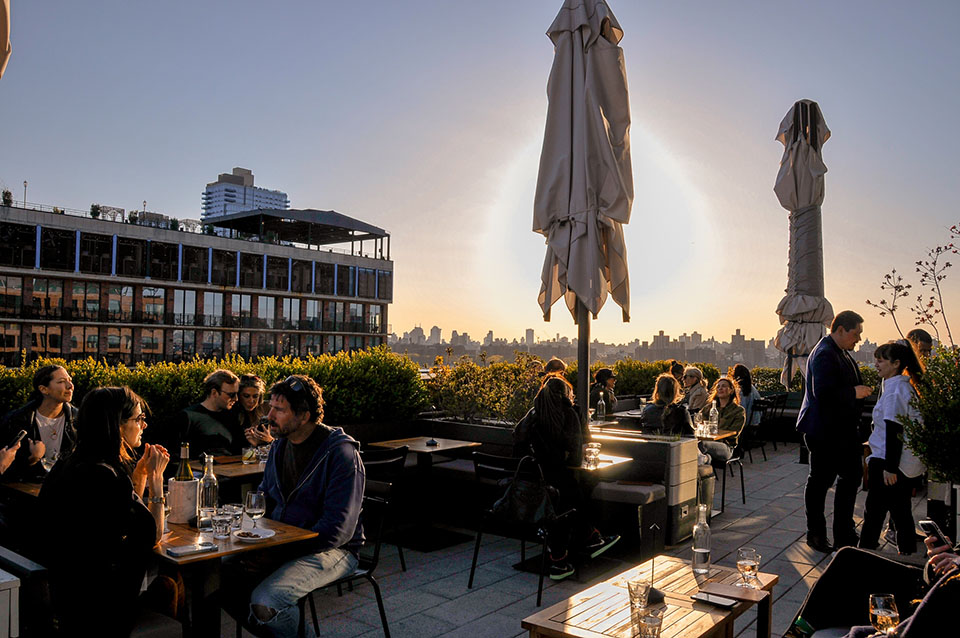 Brooklyn rooftop bar - Bar Blondeau | Photo: www.barblondeau.com/
Found on the 6th floor of the fabulous Wythe Hotel in the heart of Williamsburg, Bar Blondeau offers a French-inspired setting and unobstructed Manhattan views.
Highly chic and stylish, the rooftop blends a panoramic interior lounge with a spacious outdoor terrace, all surrounded with amazing vistas over East River and the skyline on the other side of the water.
The Bar Blondeau features small bites with French, Spanish and Portuguese influences, along with an international selection of natural wines from up-and-coming wine regions, as well as signature cocktails, frozen drinks and zero proof beverages.
For trendy and elevated evenings in Brooklyn, Bar Blondeau is hard to beat.
BAR BLONDEAU
80 Wythe Ave, Brooklyn
7.

The Rooftop at The Williamsburg Hotel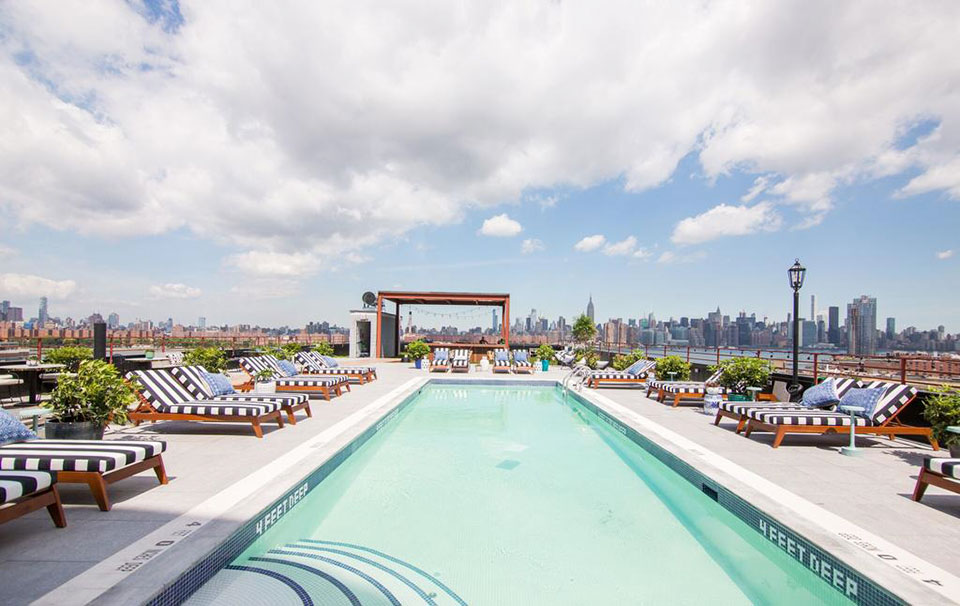 Brooklyn rooftop bar - The Rooftop at The Williamsburg Hotel | Photo: www.thewilliamsburghotel.com/
Located in one of Brooklyn's newest hotels, this incredible rooftop bar is an oasis in the middle of one of the world's trendiest neighborhoods.
Equipped with a spacious lounge, rooftop pool, comfortable daybeds, and small private cabanas overlooking the Manhattan skyline, The Rooftop is an obligated stop for those looking for some summer fun.
Designed by Michaelis Boyd Studio, the bar reflects the unique Williamsburg Hotel style with a mix of neutral colors and bright accents that are both eclectic and stylish.
The rooftop bar enjoys a hearty selection of drinks and a creative array of cocktails, but what catches people's attention is the bar's delectable food offerings.
Crafted specially for The Rooftop, the menu includes fresh shrimp, salads, lobster rolls, and more; all made with fresh ideas and commitment Chef Nic Caicedo is known for.
As you can imagine, prices can be on the high side, but they change from day to day and depending on occupancy, so you may score a nice discount if you visit during workdays and hours.
If you're looking for a vibrant oasis in the middle of Brooklyn, this is where you want to go. Just remember to make reservations if want to snatch one of the poolside cabanas.
THE ROOFTOP AT THE WILLIAMSBURG HOTEL
96 Wythe Ave, Brooklyn