Manhattan is truly one of the top spots around the globe for anyone looking for a great variety of rooftop bars. Here you can find all kinds of rooftops – everything from super luxurios rooftop lounges, to more relaxed poolside terraces.
There are literally hundreds of great rooftop bars on Manhattan, which makes it hard to find the very best ones. Therefore, we have assembled this list of the best of the best among the Manhattan rooftops.
A list made by the world's leading experts on rooftop bars – The Rooftop Guide.
1.

The Press Lounge at Kimpton Hotel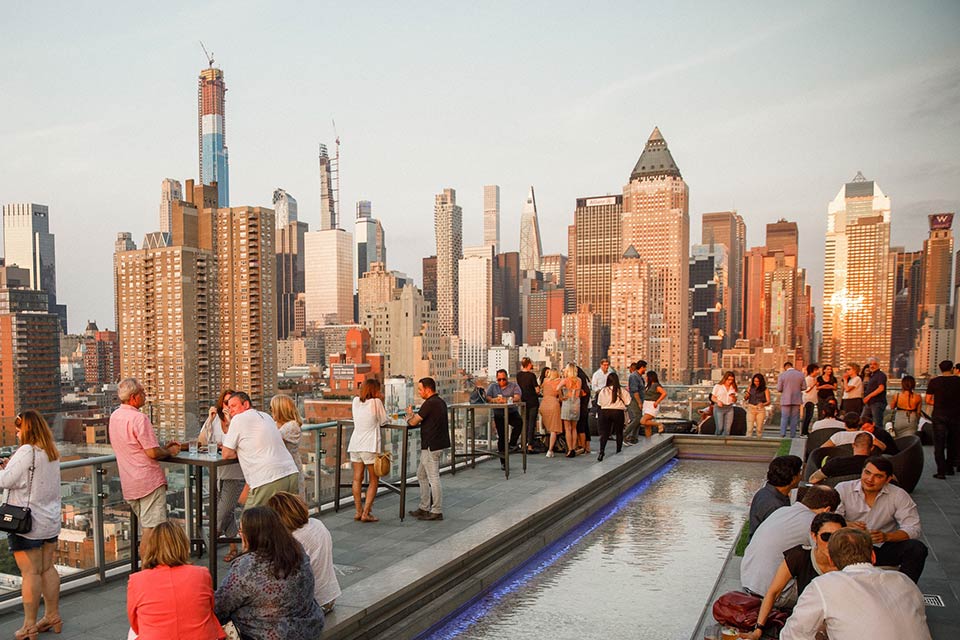 The Press Lounge - Photo: www.thepresslounge.com
One of New York's most popular rooftop bars, The Press Lounge, offers both stunning views and fantastic services.
Admire the Hudson River and the Manhattan skyline from the comfort of this bar's large lounge chairs, while enjoying one of its trademark original cocktails.
Quality over quantity is the name of the game when it comes to The Press, as its food and drink menu is relatively small but well worth the visit.
Large enough to accommodate up to 100 guests, this rooftop bar is open year-long but is often reserved for events, so make sure to give them a call to inquire about availability.
The dress code is smart casual, and many people frequent The Press straight after work, so leave the shorts and sandals at home before visiting this place.
THE PRESS LOUNGE
Ink 48 Hotel, 653 11th Avenue, New York, NY 10036
2.

BLU33 Rooftop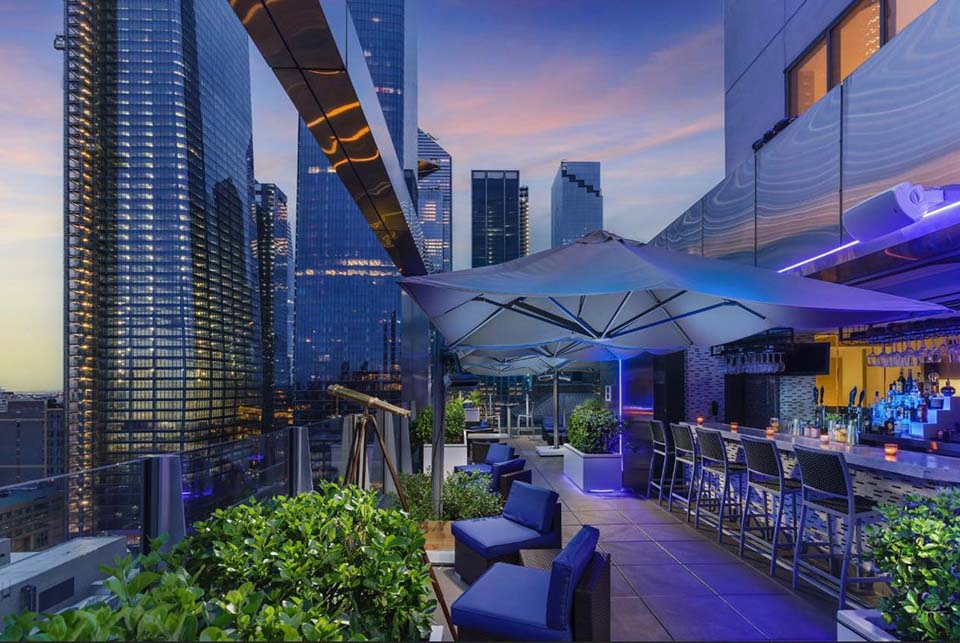 BLU33 Rooftop - Photo: www.blu33.com/
Named after its location on West 33rd Street, and the bold blue neon and cascading blue flood lighting that illuminates the space, BLU33 Rooftop is a prime spot to soak up the Midtown Manhattan scene.
Set on the top floor of the Fairfield by Marriott Midtown Penn Station, right next to Madison Square Garden, the clean and sleek rooftop is reminiscent of the Greek Isles.
Part beacuase of the rich blue seat coverings and white planters glowing with soft blue lighting, and part beacuase of the amazing and sweeping views, stretching from midtown to lower Manhattan, Madison Square Garden, Hudson Yards, and the iconic Penn Station.
Open from early afternoon to late evening, BLU33 Rooftop serves light fare and a fully stocked bar, filled with everything from a signature cocktails, local beers, and a nice selection of wine and bubbles.
BLU33
325 W 33rd St, New York, NY 10001
3.

Castell Rooftop Lounge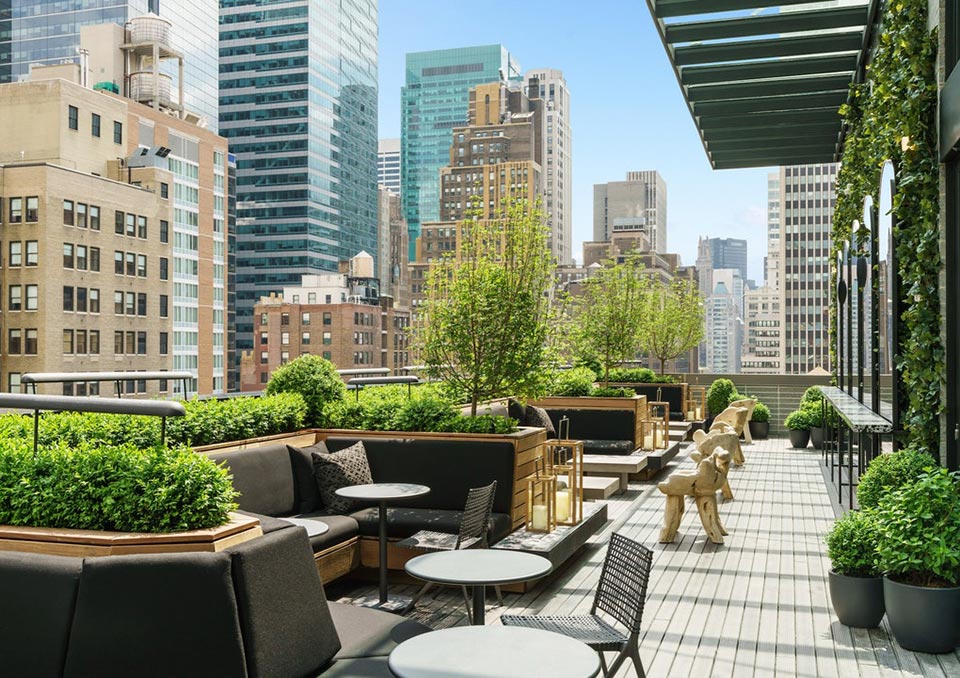 Castell Rooftop Lounge - Photo: www.castellnyc.com/
Elevated above the bustling streets of the Garment District, Castell Rooftop Lounge recaptures the spirit of a classic cocktail lounge, sprinkled with amazing views.
From the 21st floor of the AC Hotel by Marriott New York Times Square, you can enjoy panoramics over the city, both from the lush outdoor terrace and from the stylish indoor lounge, aslo showcasing abstract art.
Serving craft beers, wine, non-alcoholic spirits and shareable plates, the Castell menu's main focus is on the iconic Martini. Shaken, stirred, dry, twisted or neat, it is up to you.
Open nightly during weekdays for fine drinks and bites in a sophisticated but comfortable atmosphere, and form mid day during weekends, when live DJs also picks up the vibe a few notches.
CASTELL
AC Hotel, 260 W 40th St, New York, NY 10018
4.

Bar 54 at Hyatt Centric Times Square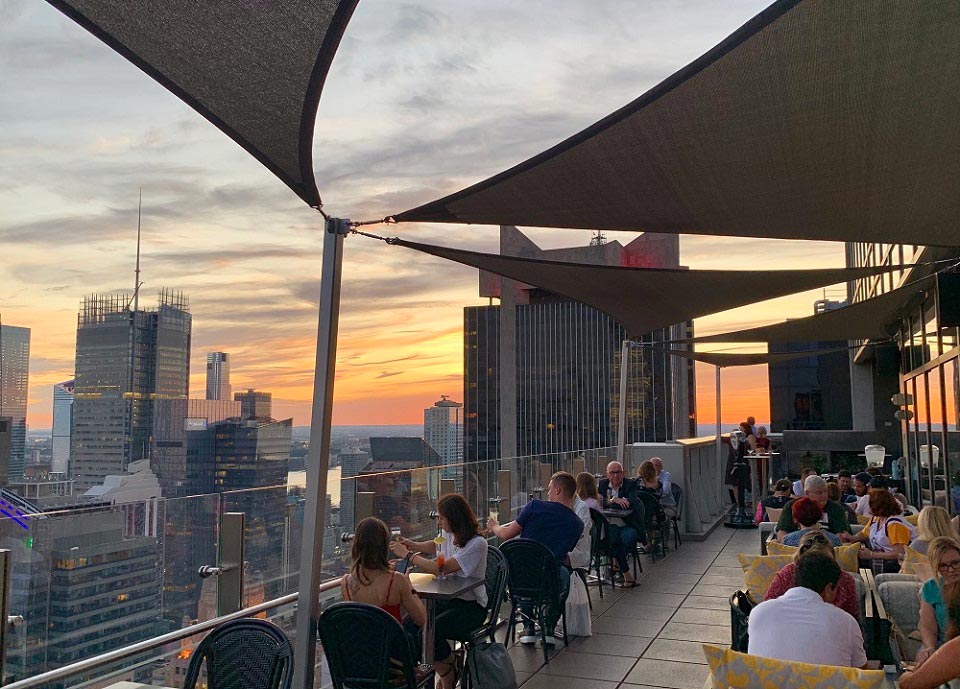 Bar 54 at Hyatt Centric Times Square - Photo: www.therooftopguide.com
The tallest sky lounge in Times Square, the Bar 54 offers unbeatable views of Times Square, the Chrysler Building, and the entirety of lower Manhattan.
Amazing views aren't the only thing the Bar 54 has to offer, as its impressive drink menu, which includes a collection of farm-to-table cocktails and a wide section of whiskey, complemented with light gourmet fare.
Prices are expensive, even for New York, but worth it.
Only the indoor area works with reservations. The open terrace works on a first-come, first-served basis, and since it is not huge, try to be in real good time.
BAR 54
135 W 45th St, New York, NY 10036
5.

230 Fifth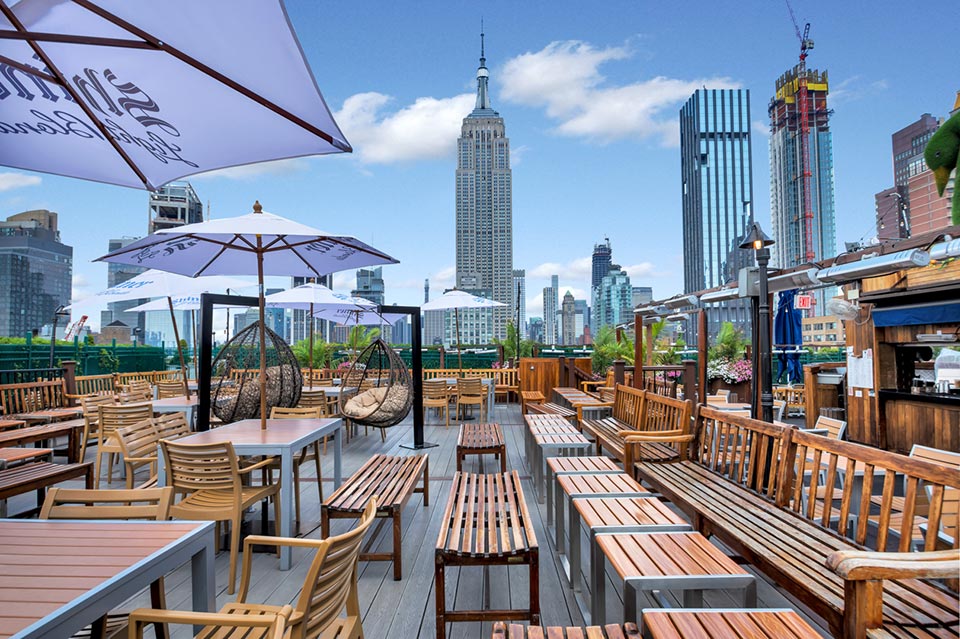 230 Fifth - Photo: www.230-fifth.com/
230 Fifth is not only Manhattan's largest indoor-outdoor rooftop bar & lounge, it is also one of the most happening.
Set high above 5th Avenue and open daily all year long, here you can enjoy relaxing afternoon drinks, vibrant nights with live DJs, as well as tempting and bottomless weekend brunch sessions.
Covering two floors, with 30,000 square foot indoor and outdoor bar, the upper and open-air terrace comes surrounded with magical views of the Manhattan skyline, with the Empire State Building as a mighty focal point.
The 230 Fifth rooftop bar serves a wide selection of both food and drinks. From pizza, burgers and sushi, to specialty cocktails, seasonal drinks, beers, wines and a full bottle menu.
All you need for a full and fun day or night, perched above Manhattan.
230 FIFTH
230 Fifth Avenue, New York, NY 10001
6.

Loopy Doopy Rooftop Bar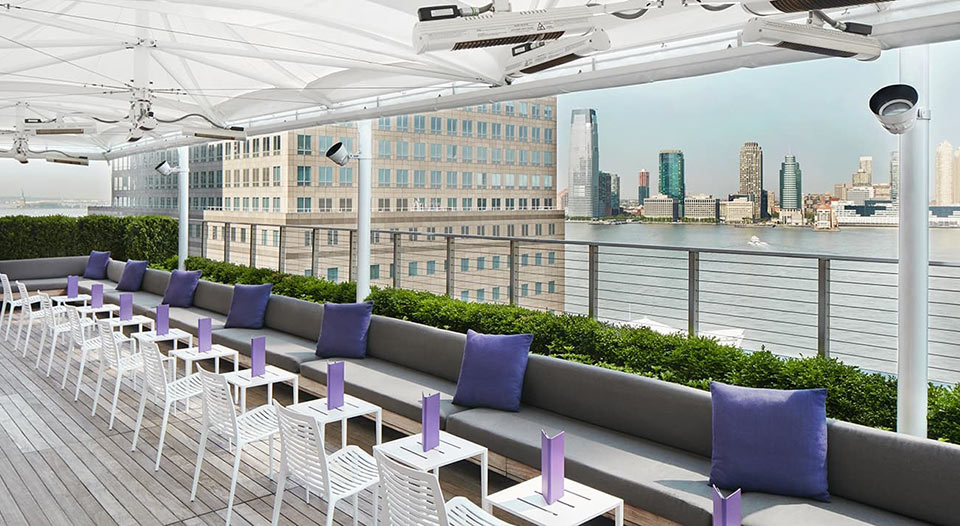 Loopy Doopy Rooftop Bar - Photo: www.conradnewyork.com
Found right by the Hudson River, the five star Conrad New York Hotel offers an equally five star rooftop experience, with the Loopy Doopy Rooftop Bar.
Open during spring and summer, there is a sense of exclusiveness to the 16th floor terrace, where you can enjoy fantastic views of both the NYC and New Jersey skyline's, as well as the Hudson River, the Statue of Liberty and New York Harbor.
Known for their refreshing signature Poptail drink, Loopy Doopy also serves plenty of other creative coktails, along with spirits, wines, beers and a fresh and seasonal menu of small plates.
Stylish and modern in décor, the quite intimate Loopy Doopy Rooftop Bar is a perfect spot for elevated and memorable summer afternoon and evenings.
LOOPY DOOPY
102 North End Ave, New York, NY 10282
7.

Somewhere Nowhere NYC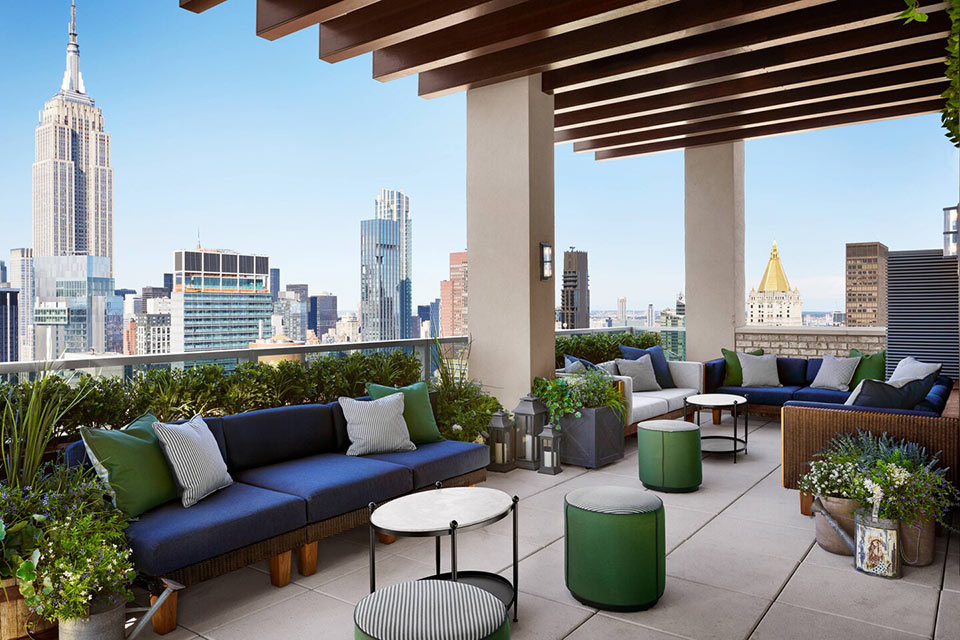 Somewhere Nowhere NYC - Photo: https://somewherenowherenyc.com/
Perched on top of the Renaissance New York Chelsea Hotel, Somewhere Nowhere NYC invites you to an enchanted, wanderlust getaway from Manhattan's busy city streets.
Covering both the 38th and 39th floor, the rooftop mixes lounge and nightclub with a luxurious rooftop pool.
The main indoor garden lounge is both magical and whimsical, with custom art pieces of gnomes and fireflies and plenty of neon signs. The open-air top floor is more sleek, where the pool and comfy lounge furniture is surrounded with smashing 360° views over Manhattan.
Aiming to provide a unique all-day escape, you can visit Somewhere Nowhere for fine after work cocktails and light bites, or come later at night for elevated vibes with international and local live DJs
SOMEWHERE NOWHERE
112 W 25th St, New York, NY 10001
8.

The Skylark NYC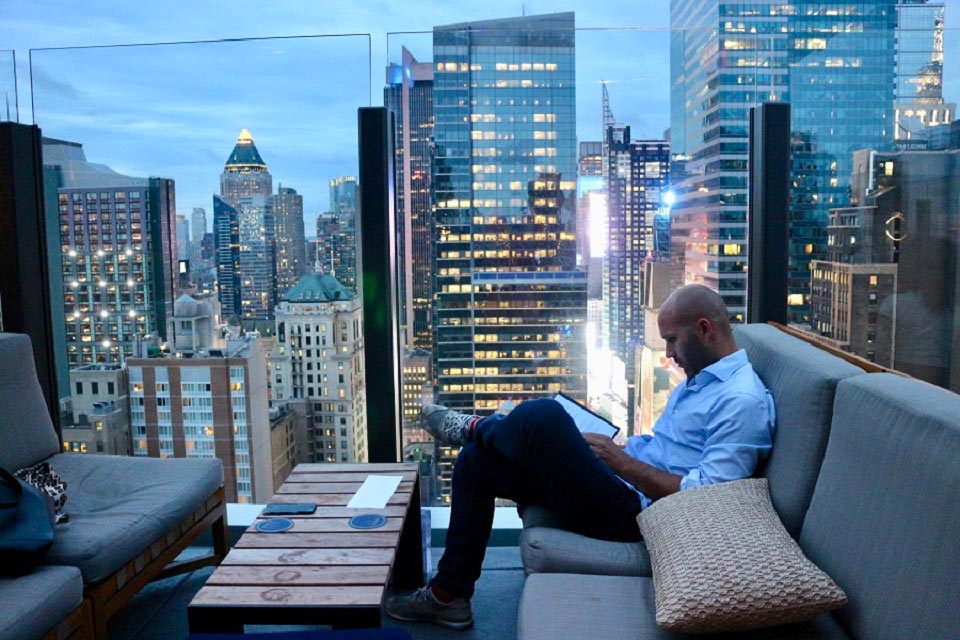 The Skylark NYC - Photo: www.theskylarknyc.com
A classic in the NYC rooftop bar scene, this Times Square wonder is located on a 30th floor and has views to spare.
Open to the public during the weekdays; the Skylark is a favorite amongst NYC's white-collar crowd, who enjoy visiting this rooftop bar straight after work.
Fine wines, artisanal beers, and a creative collection of signature go hand in hand with small bud delicious bar foods of high quality.
While this bar has a relaxed, almost casual atmosphere during the afternoon, the nights get a lot livelier thanks to the private shows and live DJ music.
Reservations are encouraged.
THE SKYLARK
200 W 39th St, New York, NY 10018
9.

The Crown at Hotel 50 Bowery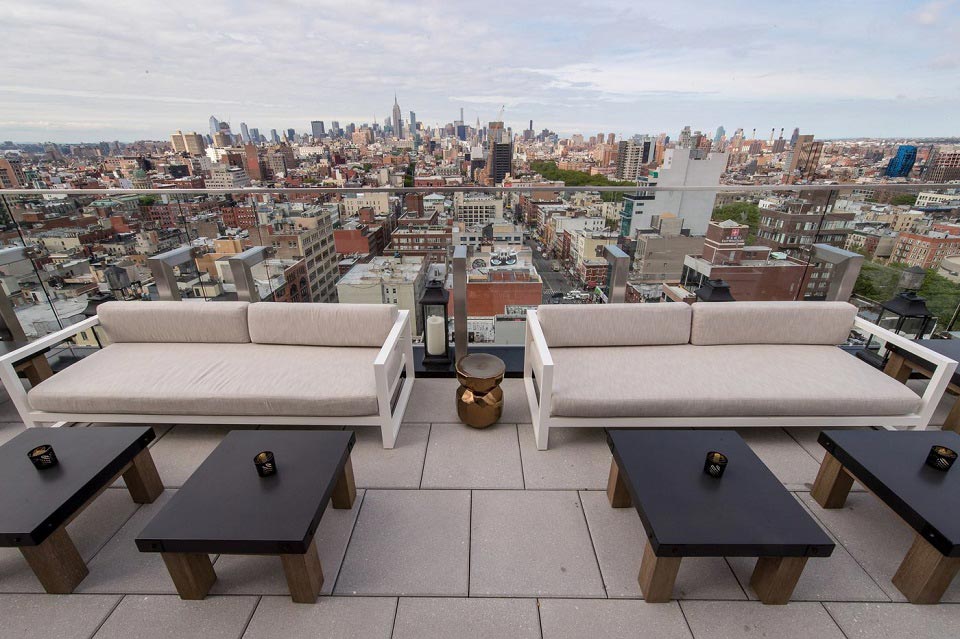 The Crown at Hotel 50 Bowery - Photo: www.thecrownnyc.com
You can find this exclusive yet minimalistic rooftop bar in Chinatown, just by the Lower East Side.
The Crown offers both indoor and outdoor seating options, as well as unmatched 360-degree views of Manhattan and Brooklyn.
Decorated with a Scandinavian minimalistic approach, The Crown may not charm you at first sight, but its drinks certainly will.
Draft beers and organic wines are accompanied by an extensive collection of cocktails, some exclusively seasonal.
Though this is a very relaxed spot during the early afternoon, it does get loud at night when people come to enjoy live music and drinks.
The Crown hosts all kinds of music events and art installations, so don't be surprised if your visit turns into a cultural night out.
THE CROWN
50 Bowery, New York, NY 10013
10.

The Roof at PUBLIC Hotel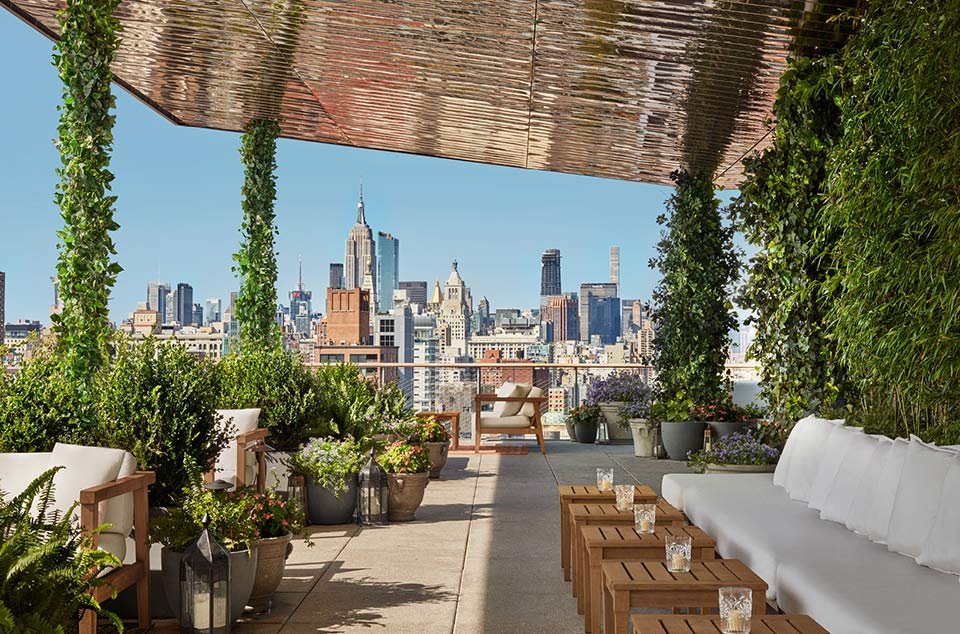 The Roof at PUBLIC Hotel - Photo: www.publichotels.com/
This vibrant and energetic rooftop bar is set on top of the affordable luxury PUBLIC Hotel, floating above Lower East Side Manhattan.
Part stylish indoor lounge with floor-to-ceiling windows, and part beautiful and lush outdoor terrace, the rooftop comes surrounded with panoramic 360° views over the Manhattan skyline.
Open nightly, The Roof is a great spot for some fine sunset cocktails, or more late night vibes, with some best local and international DJ's from around the world creating the soundtrack.
Indulge in an extensive and varied menu, filled with everything from delicious and creative cocktails, to craft beers, wines and popular spirits.
THE ROOF
215 Chrystie St, New York, NY 10002