Manhattan is truly one of the top spots around the globe for anyone looking for a great variety of rooftop bars. Here you can find all kinds of rooftops – everything from super luxurios rooftop lounges, to more relaxed poolside terraces.
There are literally hundreds of great rooftop bars on Manhattan, which makes it hard to find the very best ones. Therefore, we have assembled this list of the best of the best among the Manhattan rooftops.
A list made by the world's leading experts on rooftop bars – The Rooftop Guide.
1.

Castell Rooftop Lounge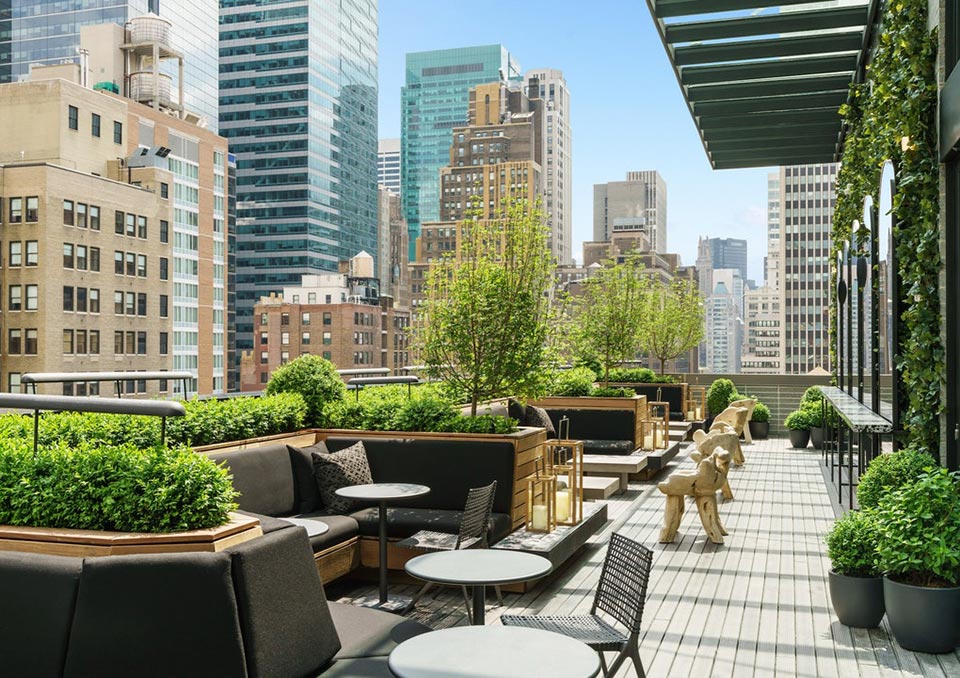 Castell Rooftop Lounge - Photo: www.castellnyc.com/
Elevated above the bustling streets of the Garment District, Castell Rooftop Lounge recaptures the spirit of a classic cocktail lounge, sprinkled with amazing views.
From the 21st floor of the AC Hotel by Marriott New York Times Square, you can enjoy panoramics over the city, both from the lush outdoor terrace and from the stylish indoor lounge, aslo showcasing abstract art.
Serving craft beers, wine, non-alcoholic spirits and shareable plates, the Castell menu's main focus is on the iconic Martini. Shaken, stirred, dry, twisted or neat, it is up to you.
Open nightly during weekdays for fine drinks and bites in a sophisticated but comfortable atmosphere, and from mid day during weekends, when live DJs also picks up the vibe a few notches.
CASTELL
AC Hotel, 260 W 40th St, New York, NY 10018
2.

Elsie Rooftop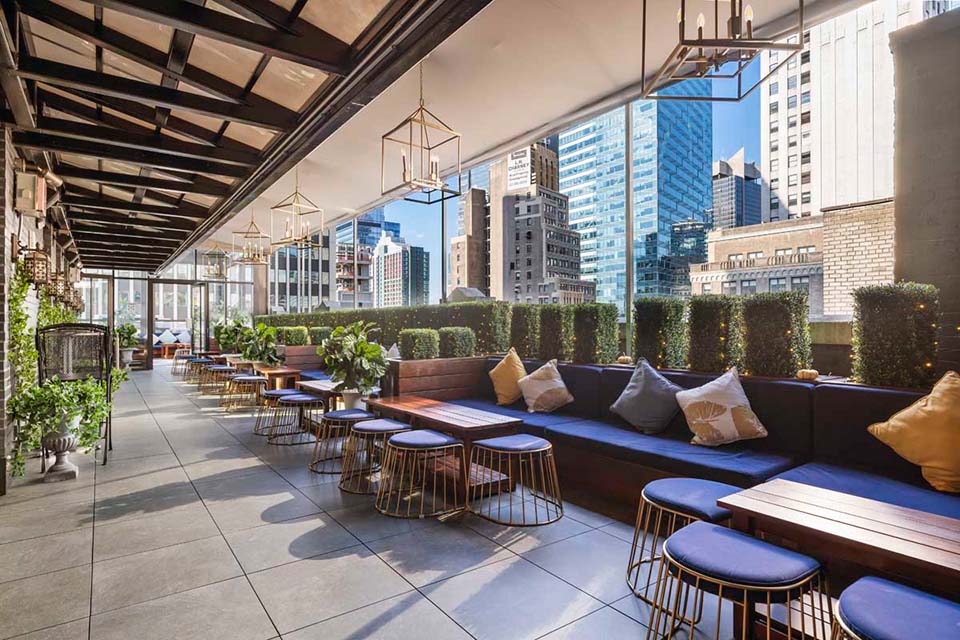 Elsie Rooftop - Photo: https://elsierooftop.com/
Twenty-five stories up, near Bryant Park, you find the lavish Elsie Rooftop, an all-season destination with sophisticated indoor and outdoor seating options.
Paying homage to Elsie de Wolfe, the world's most famous decorator and one of society's most renowned doyennes, this rooftop really brings a slice of fashionable 1920s cocktail bar to the heart of Midtown Manhattan.
Upscale and glamorous all around, surrounded with majestic views over the Manhattan skyscrapers, here you can indulge in bespoke cocktails, a fine selection of wine and champagne, complemented with a seasonally-focused light fare menu.
Visit Elsie Rooftop for elevated after-work drinks with a view, weekly special events, or a bottomless brunch to really start the weekend right.
ELSIE ROOFTOP
1412 Broadway, New York, NY 10018
3.

Roof at Park South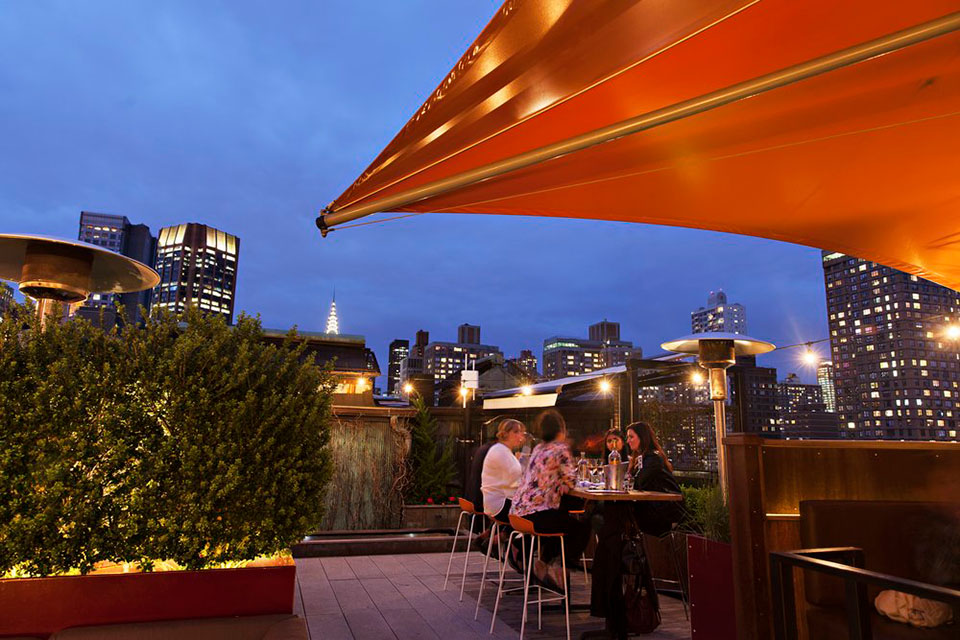 Roof at Park South - Photo: www.roofatparksouth.com
From mid-April to November, Roof at Park South offers a fantastic mix of handcrafted cocktails, refreshing bites and amazing city views.
Perched on top of the Park South Hotel in NoMad, the beautiful and lush terrace comes surrounded with spectacular and unobstructed vistas over the NYC skyline.
Grab a seat by the impressive rooftop bar or at the hightop tables right by the edge, or get more comfy in the Fireside Lounge or Umbrella Lounge. Roof at Park South offers several unique spaces.
The rooftop menu includes fun, creative and crafted cocktails created by Ivan Papic, as well as refreshing and globally inspired selection of bar bites by award-winning chef Bryce Shuman.
The Roof at Park South is a truly a summer hot-spot to escape above Manhattan for drinks with a view.
ROOF AT PARK SOUTH
125 E 27th St, New York, NY 10016
4.

Vue 180 Rooftop
Vue 180 Rooftop - Photo: www.vue180nyc.com/
Vue 180 Rooftop is a refreshingly unique rooftop bar and lounge, perched on top of the DoubleTree by Hilton New York Times Square South in the heart of Midtown Manhattan.
The modern space is aptly named for its amazing and panoramic views of NYC's most iconic landmarks, including the Empire State Building as impressive focal point.
Open daily to everyone, the Vue 180 rooftop menu includes a curated selection of refreshing shareables, classic and specialty cocktails, and a local and rotating selection of beer and wine.
Working on a first come first served basis, Vue 180 Rooftop is pretty much the perfect spot to stop by for a great and elevated night out.
VUE 180 ROOFTOP
525 8th Ave, New York, NY 10018
5.

Highwater Rooftop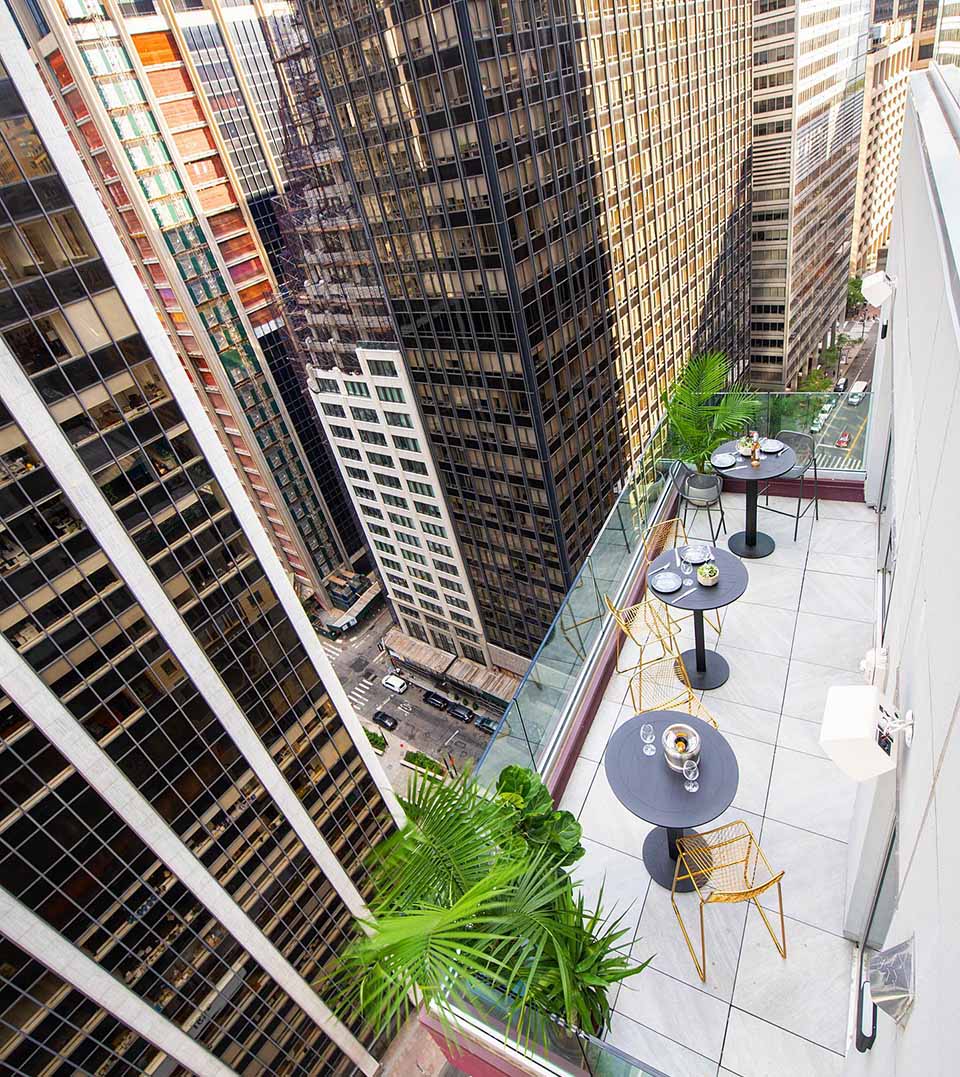 Highwater Rooftop - Photo: www.highwaterrooftop.com/
A hot and trendy addition to the NYC rooftop scene, Highwater Rooftop is found on the 25th floor of the Hotel Indigo - NYC Downtown - Wall Street.
Floating above the Financial District, this versitale and bi-level rooftop lounge and event space is one of the most attractive bars in NYC.
With a stylish interior, the rooftop also houses four outside terraces, where you get dramatic and really cool view over the Manhattan skyscrapers.
The Highwater Rooftop can accommodate all party sizes, and it is a prime spot for a special event, or a fun-filled evening in the heart of NYC.
The rooftop menu includes a great selection of curated cocktails with twists on classic Old Fashions, complemented by local craft beers, wines, and elevated lite bites.
HIGHWATER ROOFTOP
120 Water St, New York, NY 10005
6.

The DL
The DL - Photo: www.thedl-nyc.com/
Want to add a large dose lively and energetic vibes to your Manhattan rooftop experience? Then The DL Rooftop & Lounge is just the place for you.
Located on the corner of Delancey Street & Ludlow in Lower East Side, this luxe and impressive 7,500 square-feet venue offers rooftop, restaurant and event space over three unique levels.
Enjoy a modern adaptation of classic American comfort food at the first floor Dinner on Ludlow, or head straight upstairs to the South Beach–esque third floor rooftop lounge.
Surrounded with lovely vies over the Lower East Side skyline and Williamsburg Bridge, this is one of the largest retractable all-weather rooftops in New York City.
So the elevated fun is available year round, and ranges from happening day party's under the sun, to extraordinary nightlife and after work experiences with DJ tunes and an energetic atmosphere.
THE DL
95 Delancey St, New York, NY 10002
7.

The Press Lounge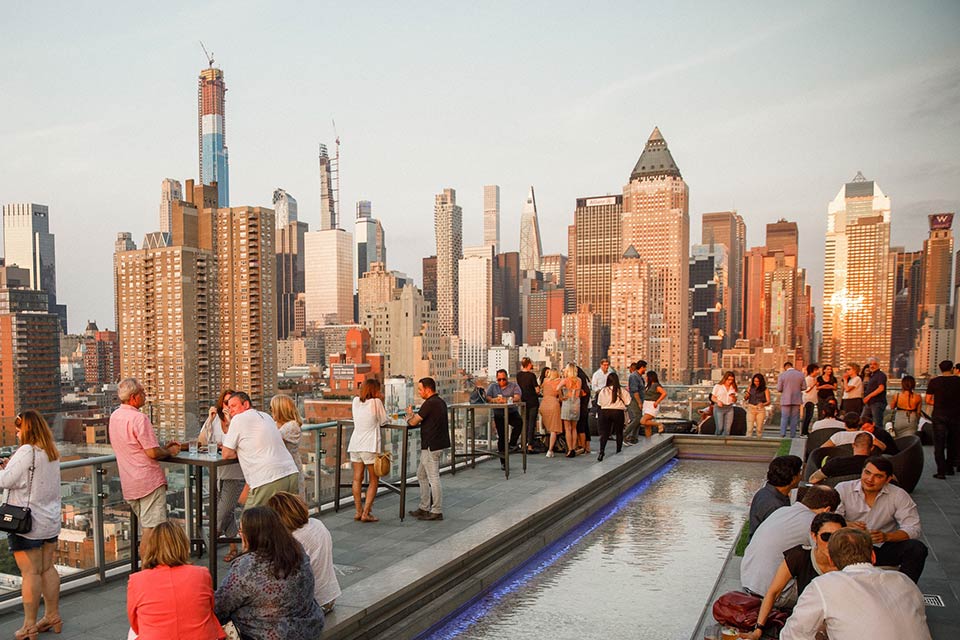 The Press Lounge - Photo: www.thepresslounge.com
One of New York's most popular rooftop bars, The Press Lounge, offers both stunning views and fantastic services.
Admire the Hudson River and the Manhattan skyline from the comfort of this bar's large lounge chairs, while enjoying one of its trademark original cocktails.
Quality over quantity is the name of the game when it comes to The Press, as its food and drink menu is relatively small but well worth the visit.
Large enough to accommodate up to 100 guests, this rooftop bar is open year-long but is often reserved for events, so make sure to give them a call to inquire about availability.
The dress code is smart casual, and many people frequent The Press straight after work, so leave the shorts and sandals at home before visiting this place.
THE PRESS LOUNGE
Ink 48 Hotel, 653 11th Avenue, New York, NY 10036
8.

BLU33 Rooftop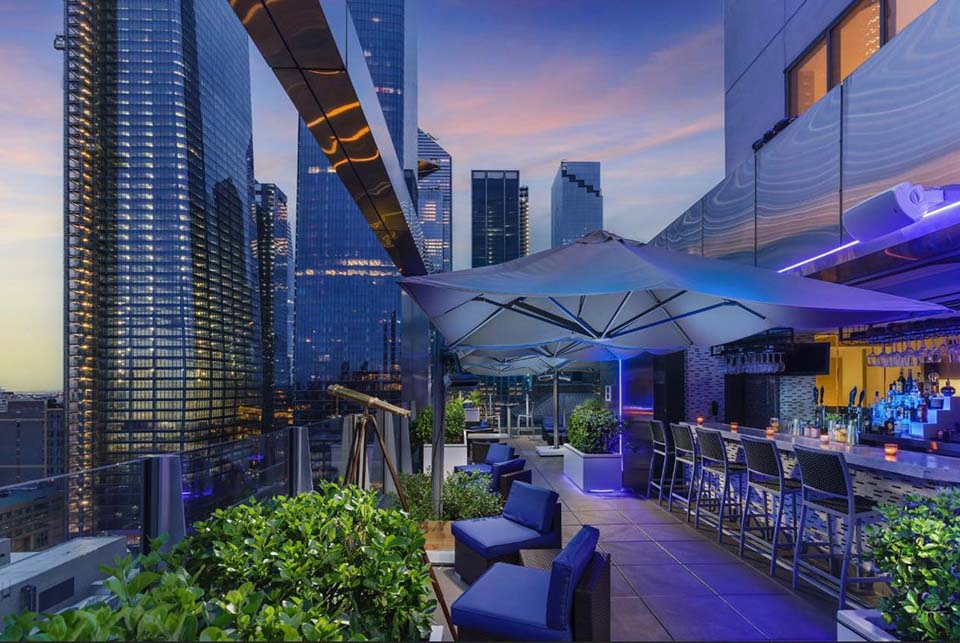 BLU33 Rooftop - Photo: www.blu33.com/
Named after its location on West 33rd Street, and the bold blue neon and cascading blue flood lighting that illuminates the space, BLU33 Rooftop is a prime spot to soak up the Midtown Manhattan scene.
Set on the top floor of the Fairfield by Marriott Midtown Penn Station, right next to Madison Square Garden, the clean and sleek rooftop is reminiscent of the Greek Isles.
Part beacuase of the rich blue seat coverings and white planters glowing with soft blue lighting, and part beacuase of the amazing and sweeping views, stretching from midtown to lower Manhattan, Madison Square Garden, Hudson Yards, and the iconic Penn Station.
Open from early afternoon to late evening, BLU33 Rooftop serves light fare and a fully stocked bar, filled with everything from a signature cocktails, local beers, and a nice selection of wine and bubbles.
BLU33
325 W 33rd St, New York, NY 10001
9.

Bar 54 at Hyatt Centric Times Square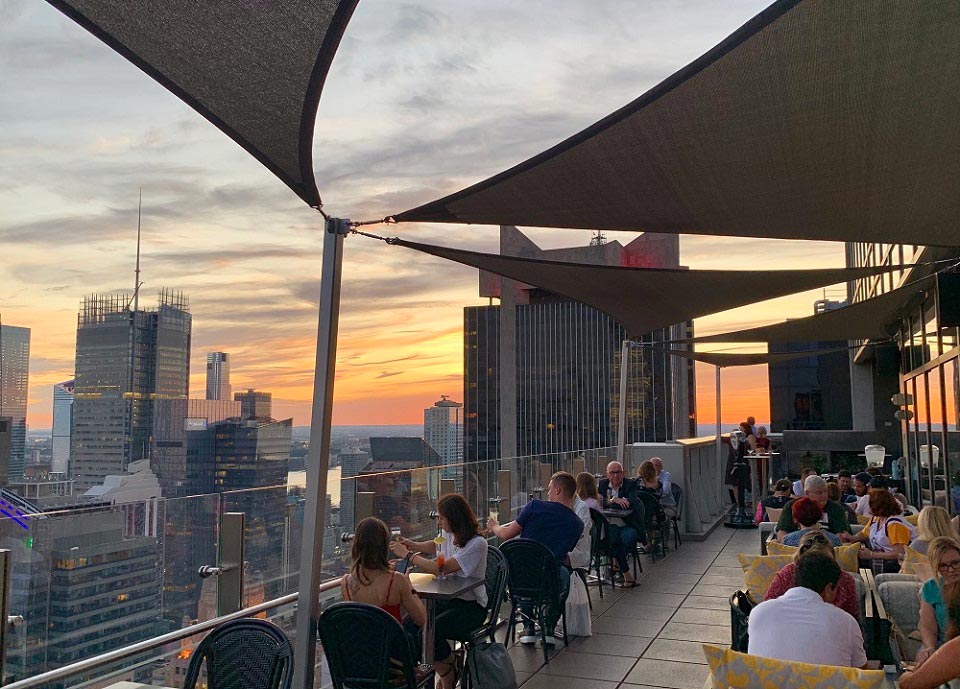 Bar 54 at Hyatt Centric Times Square - Photo: www.therooftopguide.com
The tallest sky lounge in Times Square, the Bar 54 offers unbeatable views of Times Square, the Chrysler Building, and the entirety of lower Manhattan.
Amazing views aren't the only thing the Bar 54 has to offer, as its impressive drink menu, which includes a collection of farm-to-table cocktails and a wide section of whiskey, complemented with light gourmet fare.
Prices are expensive, even for New York, but worth it.
Only the indoor area works with reservations. The open terrace works on a first-come, first-served basis, and since it is not huge, try to be in real good time.
BAR 54
135 W 45th St, New York, NY 10036
10.

The Delancey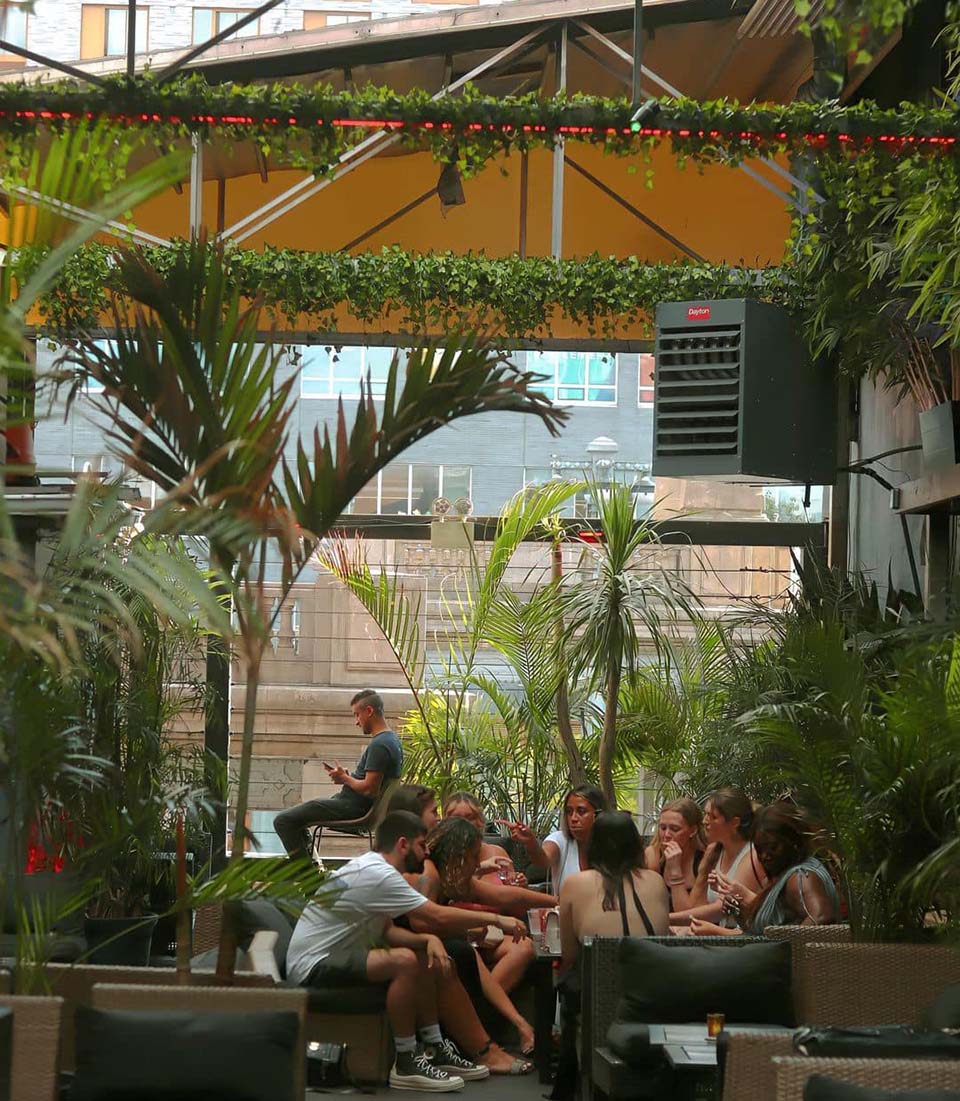 The Delancey - Photo: http://thedelancey.com/
Located in Lower East Side, The Delancey is a music venue, a night club and a rooftop bar all in one, offering a prime NYC nightlife experience.
Set over three levels, the venue holds a basement music venue, a vibrant main level interior bar, and an airy and lush rooftop garden.
The tropical terrace comes with a retractable roof, and is open for rooftop fun rain or shine, summer or winter.
While peering out onto the Manhattan side of the Williamsburg Bridge, you can order cocktails, beer and bottle service from the full service rooftop bar, as well as bites from pop-up food trucks.
An oasis above the hustle and bustle of Manhattan, The Delancey rooftop is a great spot for a night out, with regular DJ sessions and a vibrant lounge atmosphere.
THE DELANCEY
168 Delancey St, New York, NY 10002
11.

230 Fifth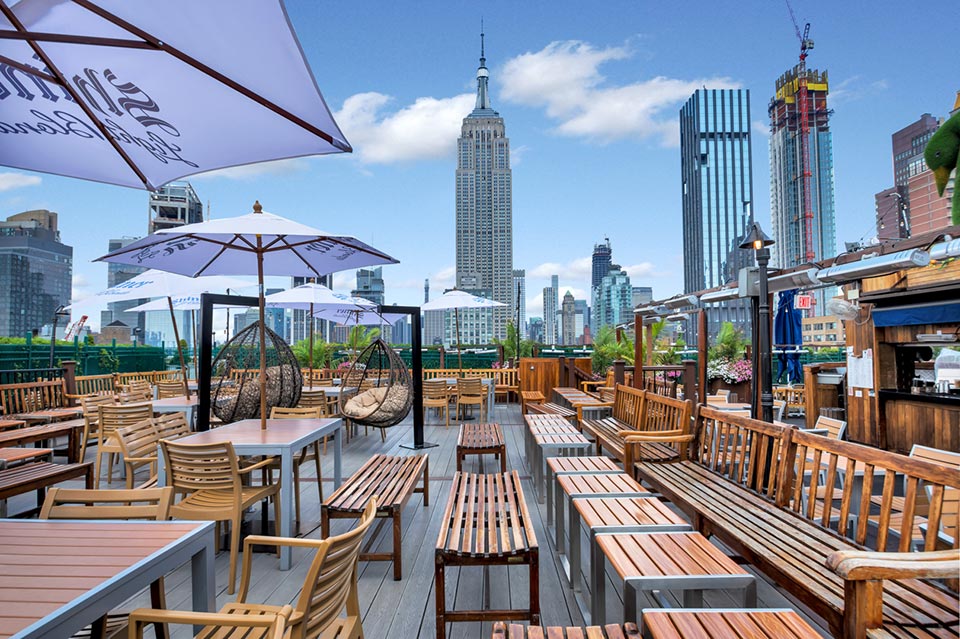 230 Fifth - Photo: www.230-fifth.com/
230 Fifth is not only Manhattan's largest indoor-outdoor rooftop bar & lounge, it is also one of the most happening.
Set high above 5th Avenue and open daily all year long, here you can enjoy relaxing afternoon drinks, vibrant nights with live DJs, as well as tempting and bottomless weekend brunch sessions.
Covering two floors, with 30,000 square foot indoor and outdoor bar, the upper and open-air terrace comes surrounded with magical views of the Manhattan skyline, with the Empire State Building as a mighty focal point.
The 230 Fifth rooftop bar serves a wide selection of both food and drinks. From pizza, burgers and sushi, to specialty cocktails, seasonal drinks, beers, wines and a full bottle menu.
All you need for a full and fun day or night, perched above Manhattan.
230 FIFTH
230 Fifth Avenue, New York, NY 10001
12.

Skylawn Rooftop Bar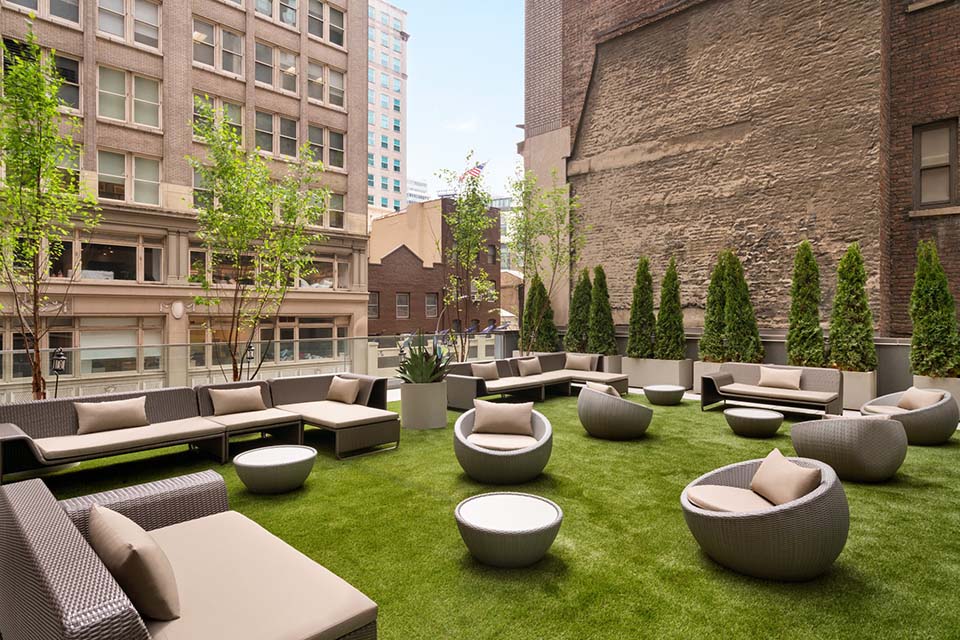 Skylawn Rooftop Bar - Photo: www.nycskylawn.com/
Tucked inside of the bustling Fashion District, SkyLawn Rooftop Bar & Social Space is a great spot to enjoy al fresco fun, dining and drinks.
Offering a small interior lounge, the prime spot here is the expansive and lush outdoor terrace, filled with comfy loungers and dining tables.
Open seasonally, the Skylawn menu includes fresh bites, as well as fun and crafted cocktails, refreshing brews and wines, and large seasonal cocktail pitchers.
A great spot for happy hour drinks and relaxing NYC summer evenings, Skylawn Rooftop also host plenty of fun events.
This includes 'Movies on the Roof' together with Rooftop Cinema Club, where you can enjoy some of your favorite cult classic or brand new movies under the NYC sky.
SKYLAWN
60 W 37th St, New York, NY 10018
13.

Loopy Doopy Rooftop Bar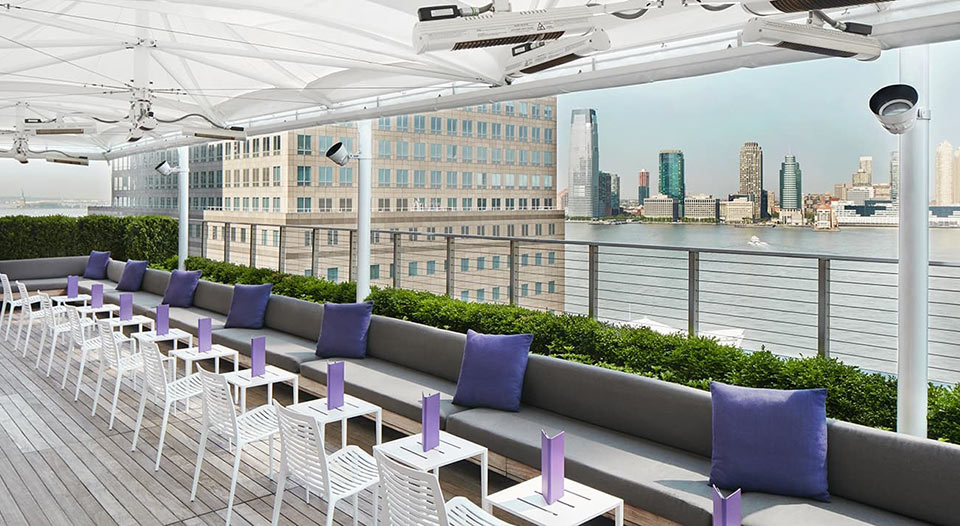 Loopy Doopy Rooftop Bar - Photo: www.conradnewyork.com
Found right by the Hudson River, the five star Conrad New York Hotel offers an equally five star rooftop experience, with the Loopy Doopy Rooftop Bar.
Open during spring and summer, there is a sense of exclusiveness to the 16th floor terrace, where you can enjoy fantastic views of both the NYC and New Jersey skyline's, as well as the Hudson River, the Statue of Liberty and New York Harbor.
Known for their refreshing signature Poptail drink, Loopy Doopy also serves plenty of other creative coktails, along with spirits, wines, beers and a fresh and seasonal menu of small plates.
Stylish and modern in décor, the quite intimate Loopy Doopy Rooftop Bar is a perfect spot for elevated and memorable summer afternoon and evenings.
LOOPY DOOPY
102 North End Ave, New York, NY 10282