Best rooftop restaurants NYC
Published: December 7, 2016
Skyscrapers, night lights, endless cityscape – New York has it all
Many people go or move to New York to find love, start a new life or simply find themselves while enjoying the diversity the Big Apple offers. But when it comes to nightlife, NYC I probably the best place to be. At any given time. That also applies rooftop restaurants NYC.
Skyscrapers, night lights, endless cityscape – New York has it all. And while there is a hand full of wonderful restaurants to spend a nice night out over a glass of wine, a breathtaking view might seal the deal. If you live in or near the NYC area or you are simply visiting the city that never sleeps, probably this list might help you while choosing from the best rooftop restaurants in New York.
New York city has it all. And the three words "rooftop restaurants nyc" is a very popular phrase here. If you rather swim with a view, you should check out our list of the NY rooftop pools.
The Top of the Standard
Social Drink and Food
We can't really avoid this catchy yet very realistic name. The Top of the Standard is the top of the standard indeed. Located in the heart of the city, the opulent penthouse lodge offers both amazing cuisine and a picturesque view. The venue successfully combines a small-plate menu with a great and yet very sophisticated list of drinks.
Website: www.standardhotels.com
Social Drink and Food
Social Drink and Food
Social Drink and Food is indeed a very social place to grab a drink and have a proper bite. It is known with its terrace, being the largest one in NYC. The Mediterranean influence evolves around a list of fine wines, cocktails and very tasty meals, served with a pinch of casualty.
Website: www.greenfignyc.com/social
The Loopy Doopy
The Loopy Doopy
If a classic restaurant with an exquisite view is not enough, the Loopy Doopy shall surprise you with delicious alcoholic-infused ice pops. The panoramic scape of lower Manhattan and the famous landmark – the Statue of Liberty, is just the added bonus to this little "Disneyland" of rooftop bars experience.
Website: www.conradnewyork.com
230 FIFTH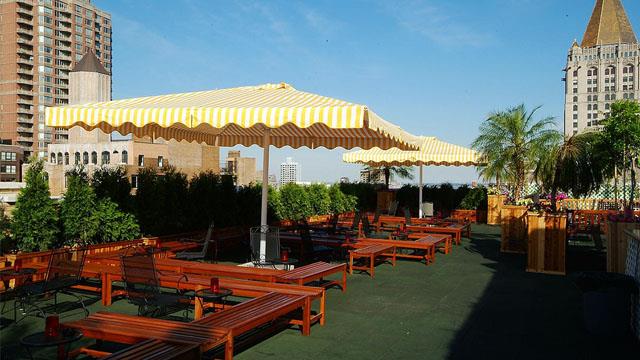 230 FIFTH
Ranking first in the New York's largest outdoors, 230 FIFTH is indeed large, spacious enough and has plenty to offer to its visitors. It is designed to be suitable for all seasons, letting guests indulge on the magical view of the night New York skyline. Absolute trademarks are its winter igloos that are quickly transferred into large umbrellas during summer season.
Website: www.230-fifth.com