Article
Best rooftop restaurants NYC
Dine high above the Big Apple
Published: December 10, 2019
Enjoy fantastic NYC rooftop restaurants
Skyscrapers, night lights, endless cityscape – New York City has it all. And while there are endless of wonderful restaurants to spend a nice night out over dinner and a glass of wine, a breathtaking view might seal the deal.
To help along the way, this guide presents that NYC rooftop restaurant not to miss. It doesn't matter if you are a visitor or a homegrown New Yorker, we are sure you'll find something you like.
For the best places to have pre- or post dinner cocktails with a view, check out our full guide to the best rooftop bars NYC.
The Rooftop Guide's listing of the 6 best rooftop restaurants NYC
1.

Westlight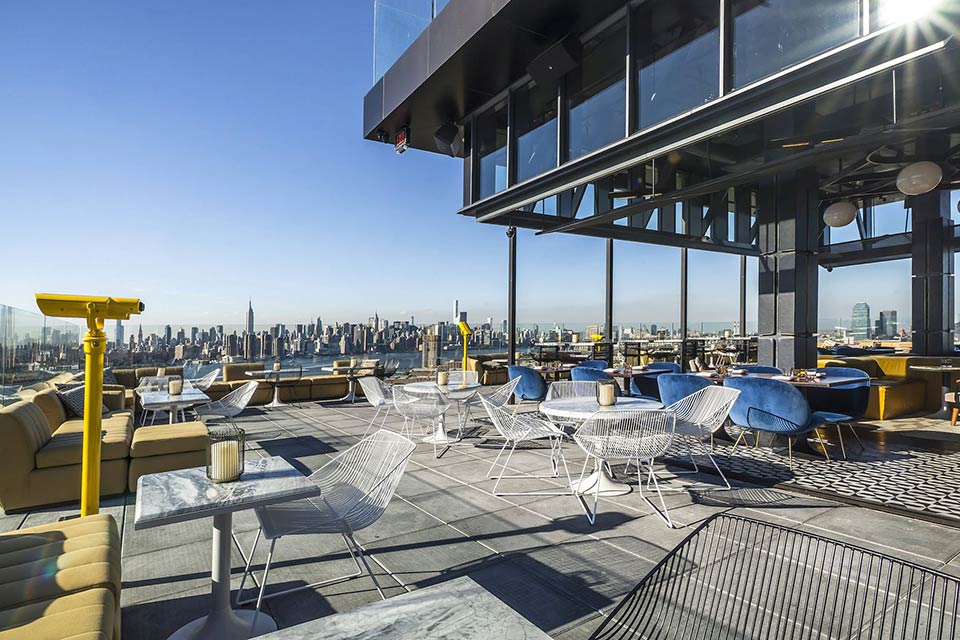 Westlight | Photo: www.westlightnyc.com/
Westlight NYC is found in Brooklyn, on top of the trendy hotel William Vale. With location outside Manhattan, this 22nd floor venue comes with an amazing and complete panoramic view over the skyline.
The rooftop restaurant and bar offers seating both in the stylish indoor lounge (with floor-to-ceiling windows), and out on the wrap-around terrace.
With an impressive and dynamic selection of classic and original cocktails, craft beer and rare spirits, Westlight might be a bit more towards a rooftop bar serving food than a full-blown rooftop restaurant. But the small plates served come in large numbers, and they are so good you would probably not mind making a full dinner out of them.
Westlight | Photo: www.westlightnyc.com/
Made by Chef Andrew Carmellini, the rooftop food menu takes inspiration from global street food. Here you can enjoy everything from Tuna Tartare Puff and Shrimp Cocktail Dumplings, to Spiced Chicken Empanadas and the Westlight Burger. Topped of with some sweet bites.
The bites are perfect to share, either as two-on-one or a larger group filling up the table. Together with the amazing views, stylish decoration and great atmosphere, Westlight is NYC rooftop restaurant perfect for most occasions.
Open nightly on weekdays and from early afternoon on weekends, Westlight is a popular spot, so reservations are recommended to make sure you get a table.
WESTLIGHT
111 N 12th St, Brooklyn, NY 11249
Mon-Thu: 4pm-midnight / Fri: 4pm-2am / Sat: 2pm-2am / Sun: 2pm-midnight
Global street food
Bites: $9-19
2.

Gallow Green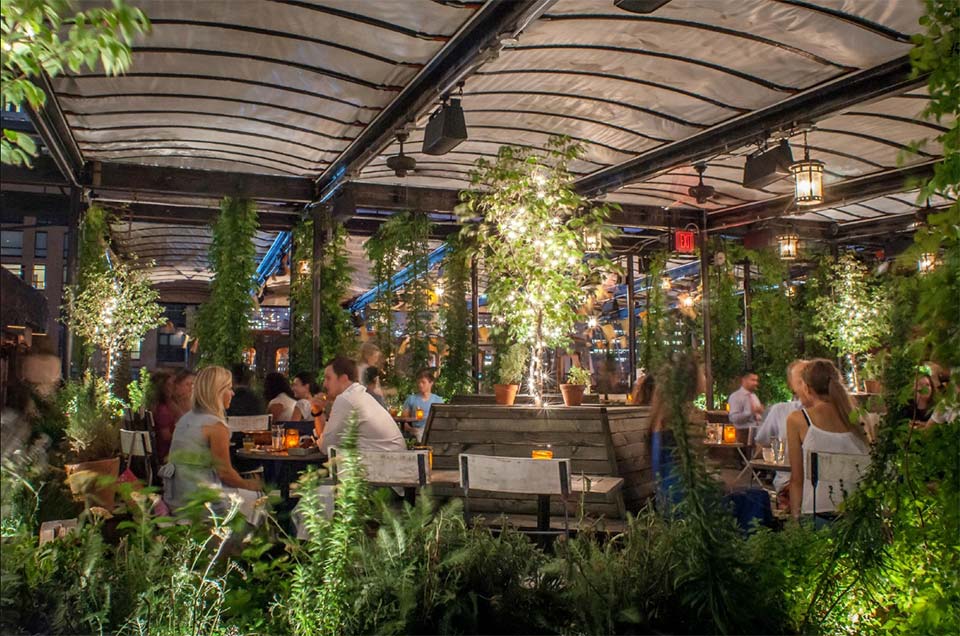 Gallow Green | Photo: https://mckittrickhotel.com/
Set on top of the McKittrick Hotel in Chelsea, NYC, Gallow Green is truly a green oasis above the concrete jungle. The epithet 'rooftop garden' is oh so fitting for this rooftop restaurant.
Surrounded by plants and greenery, the rooftop terrace still offers an open and airy feel, and you can catch cool glimpses of the Manhattan skyline. Even though there are venues with more dramatic views, Gallow Green is still very well worth a visit.
Especially thanks to the lovely ambience. Fun, casual, vibrant, and as many of the seats are at community benches, so you should be prepared to make some new friends.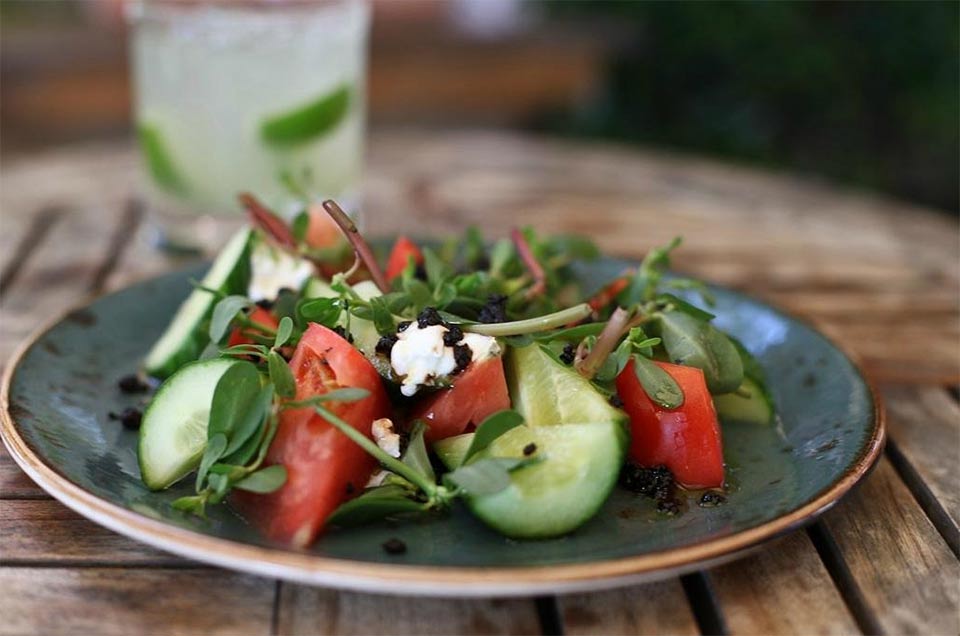 Gallow Green | Photo: https://mckittrickhotel.com/
The dinner menu at Gallow Green rooftop restaurant is fresh, but pretty simple, with a selection of Salads, Pizzas and some Sandwiches (ranging from Burger and Cubano to Lobster Roll). There is also a Raw Bar with Oysters and Shrimp Cocktail.
To go with the food, there is a nice selection of NYC area brews, a few choices of wine and a really nice list of specialty cocktails.
The McKittrick Hotel is also home to the popular show 'Sleep No More', so Gallow Green is the obvious choice for a rooftop dinner / cocktails before or after a show. Or forget about dinner and visit for the famous weekend brunch buffet. One of the best rooftop brunches in NYC, mixing tasty food and live entertainment.
The rooftop garden at Gallow Green is seasonal, so it's only available during the warmer months. But part of the winter, the rooftop transform into The Lodge, where you can enjoy food and drinks inside a mountainside ski cabin.
GALLOW GREEN
530 W 27th St, New York, 1000
Mon-Wed: 5pm-midnight / Thu-Fri: 5pm-1am / Sat: 10am-1am / Sun: 10am-midnight
Salad / Pizzas / Sandwiches
Main: ~$22
3.

SERRA by Birreria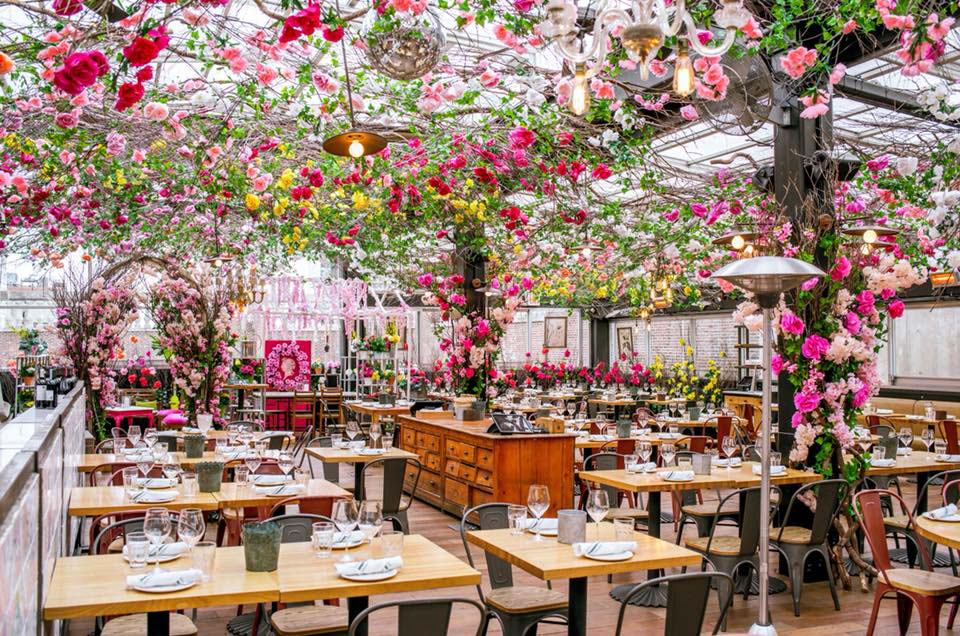 SERRA by Birreria | Photo: www.eataly.com/
On top of the Italian megastore Eataly in the Flatiron district, you find the rooftop garden La Birreria. The last couple of years it has been "taken over" by the pop-up restaurant SERRA, hence the name: SERRA by Birreria.
Serra means 'greenhouse' in Italian, and this is indeed a very lush venue. It is almost like leaving New York City and stepping into the Italian countryside.
Thanks to a retractable roof, the rooftop restaurant is open year round. Colorful during the warmer months, and with a cozy, snow-covered atmosphere in winter.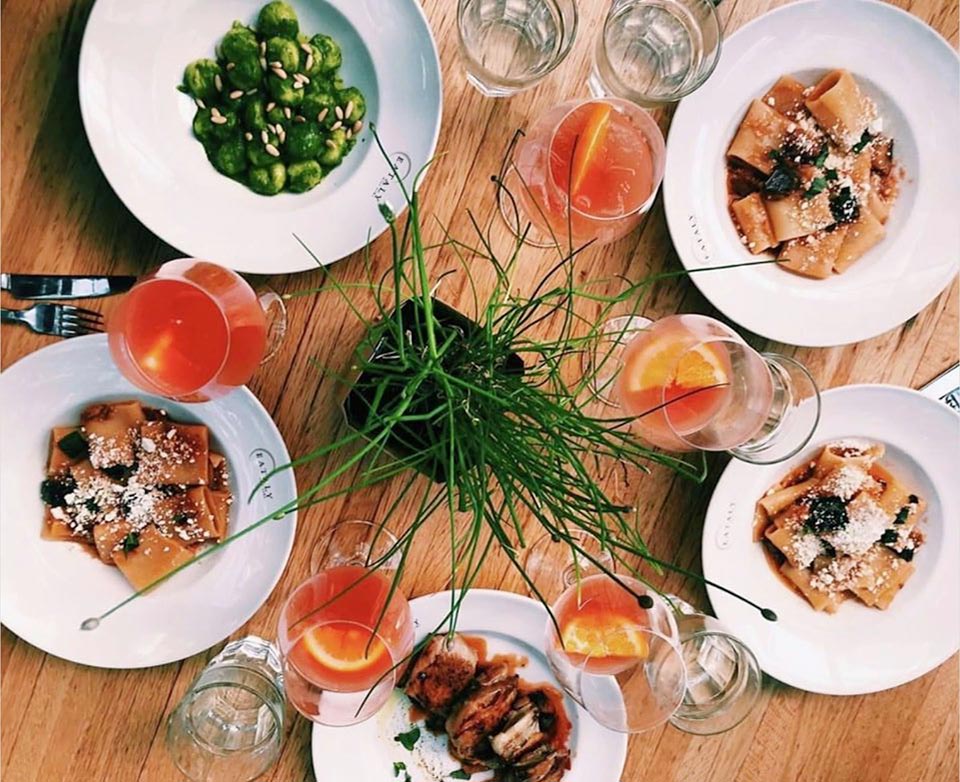 SERRA by Birreria | Photo: www.eataly.com/
The SERRA menu also changes by the season, but always has firm roots in the rustic and Italian, as well as products from local and regional producers.
As you would expect from an Italian menu, it ranges from antipasti (starters) through insalate (salads) to piatti (plates). 'Calamari Fritti', 'Prosciutto e Mozzarella di Bufala', 'Risotto alla Barbietola' or a 'NY Strip Steak', it's all up to you.
To go with the food, there is a large selection of wines (you are almost in Italy), a large selection of beer (it is La Birreria), but also an impressive range of creative cocktails, also changing by the season.
SERRA by Birreria is open for both lunch and dinner, and as it is a popular NYC rooftop restaurant, reservations are recommended. Especially for dinner. Expect a fun and vibrant atmosphere in a large crowd.
SERRA BY BIRRERIA
200 Fifth Ave, New York, 10010
Mon-Thu: 11.30am-10pm / Fri-Sat: 11.30am-11pm / Sun: 11.30am-10pm
Italian
Main: ~$30
Collaboration
4.

VERSA NYC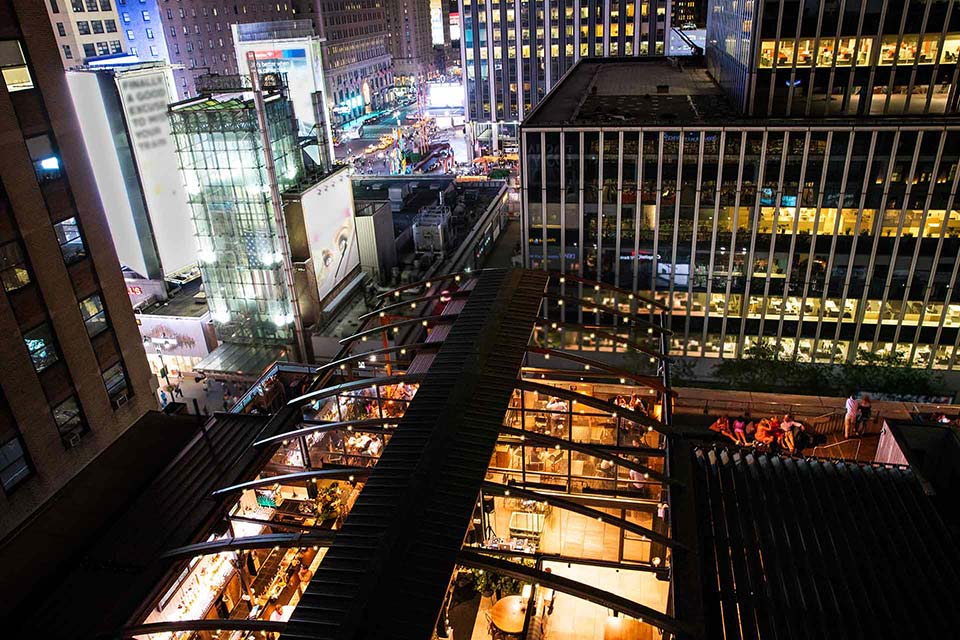 VERSA NYC | Photo: www.versanyc.com/
With a prime location, just around the corner from Madison Square Garden in Midtown Manhattan, VERSA NYC is a modern rooftop restaurant with generous opening hours.
Available from early breakfast to late dinner, this trendy and spacious venue offers seating both indoors and out on the rooftop terrace. A retractable roof makes sure the terrace can be used for both open and airy summer days, as well as cosy winter nights.
Set five floors up at the Renaissance New York Midtown Hotel, VERSA is not sky-high, but still comes with impressive views of the Empire State Building and the Midtown skyline.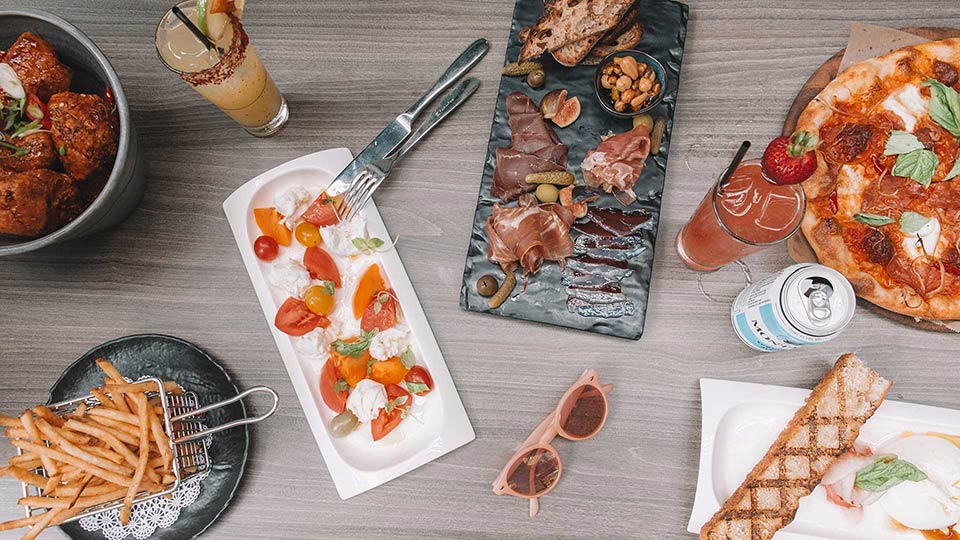 VERSA NYC | Photo: www.versanyc.com/
With the generous opening ours comes several menus, and VERSA has seperate ones for breakfast, weekend brunch, lunch and dinner. But they all take inspiration from modern American gastro food.
Choose between pasta, salads, flatbreads, burgers and sliders. The VERSA rooftop restaurant menu will most likely hold something suitable for everyone.
Visit for a sunny lunch, a fun dinner or start the weekend with a great NYC rooftop brunch. Walk-ins are welcome and the rooftop is spacious, but reservations are still recommended, especially for larger parties.
VERSA NYC
218 W 35th St, New York, NY 10001
Mon-Sun: 7am-midnight
American gastro food
Main: ~$23
5.

Social Drink & Food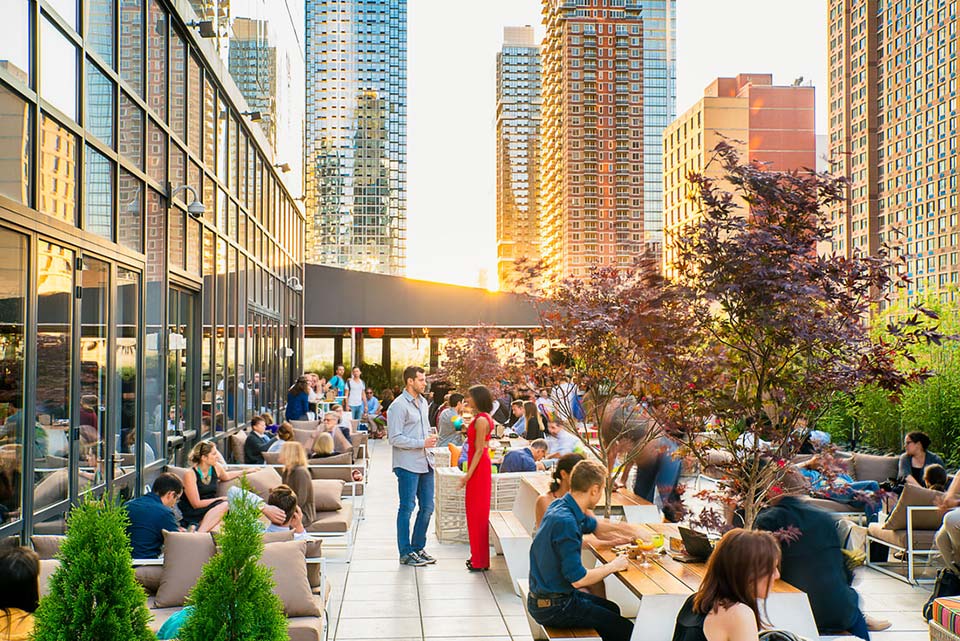 Social Drink & Food | Photo: www.onfournyc.com/
Social Drink & Food is located on the 4th floor of YOTEL, and the al-fresco terrace is NYC's largest outdoor hotel space.
With room for about 400 people, it is not only spacious, but also offers great views over Times Square and the surrounding skyscrapers.
Open daily for both lunch and dinner, and a popular after work-spot, the Social Drink & Food rooftop is also used for other activities from time to time. Like NYC rooftop cinema, miniature golf and other events.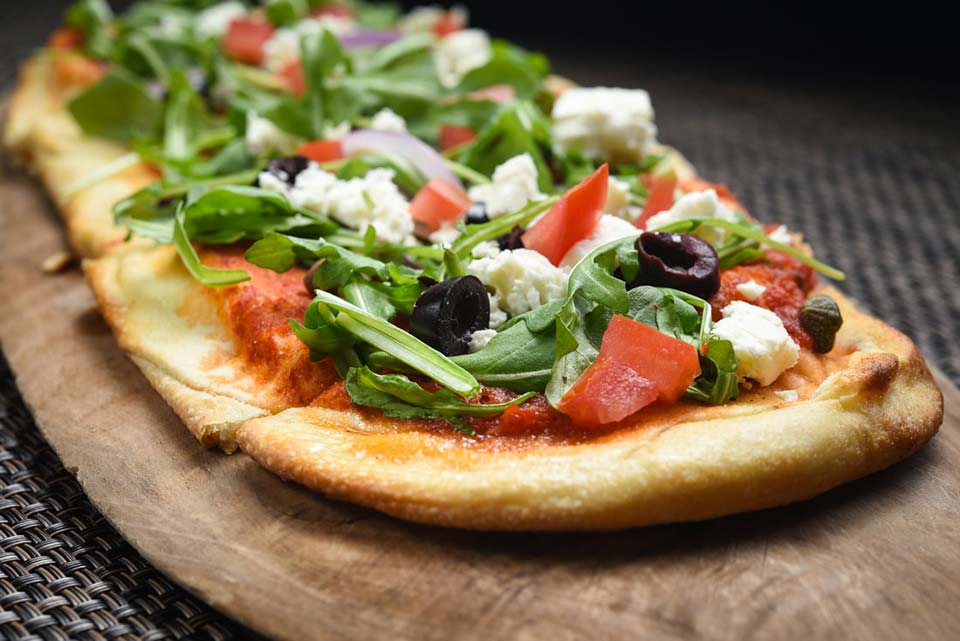 Social Drink & Food | Photo: www.onfournyc.com/
The Social Drink and Food rooftop menu offers delicious, global-inspired street food. Here you can enjoy stuff like 'Falafel Sandwich, 'Labanese Burrito', 'Laffa Kebab' or a 'Chicken Schnitzel'.
Relaxed and "loungy" in setting and atmosphere, most seating on the rooftop terrace is either comfy sofas or community benches. So it is not your NYC rooftop restaurant for a fancy dinner, but rather a great place to grab some food and drinks with a view.
The Social Drink & Food terrace is open during the warmer season, but the rooftop bar and restaurant also share floor with the indoor venue Green Fig. Here you can indulge in New American cuisine from breakfast to late-night, year round.
SOCIAL DRINK & FOOD
570 10th Ave. New York, NY 10036
Sun-Fri: 11am-midnight / Sat: 11am-1am
Global street food
Main: ~$18
6.

230 Fifth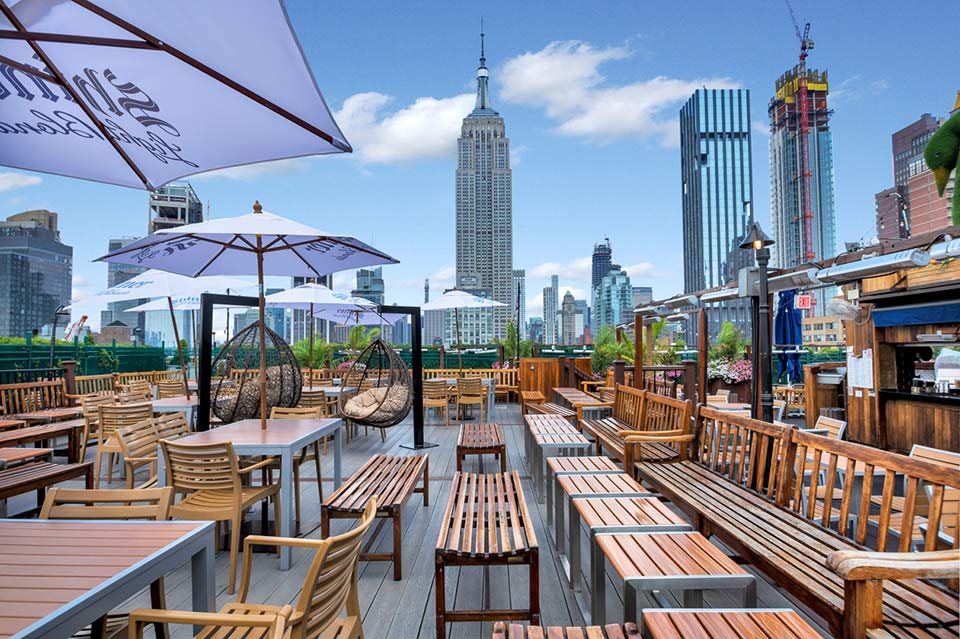 230 Fifth | Photo: www.230-fifth.com/
New York's largest outdoor rooftop garden, and one of the most famous rooftops in NYC. Mostly for the nightlife vibe, weekend brunch and winter igloos. But 230 Fifth also serves a pretty impressive food menu throughout the day.
While they state: "We are primarily a bar that serves food, not a rooftop restaurant", you can definitely visit 230 Fifth for a late lunch or dinner, without fear of walking away hungry.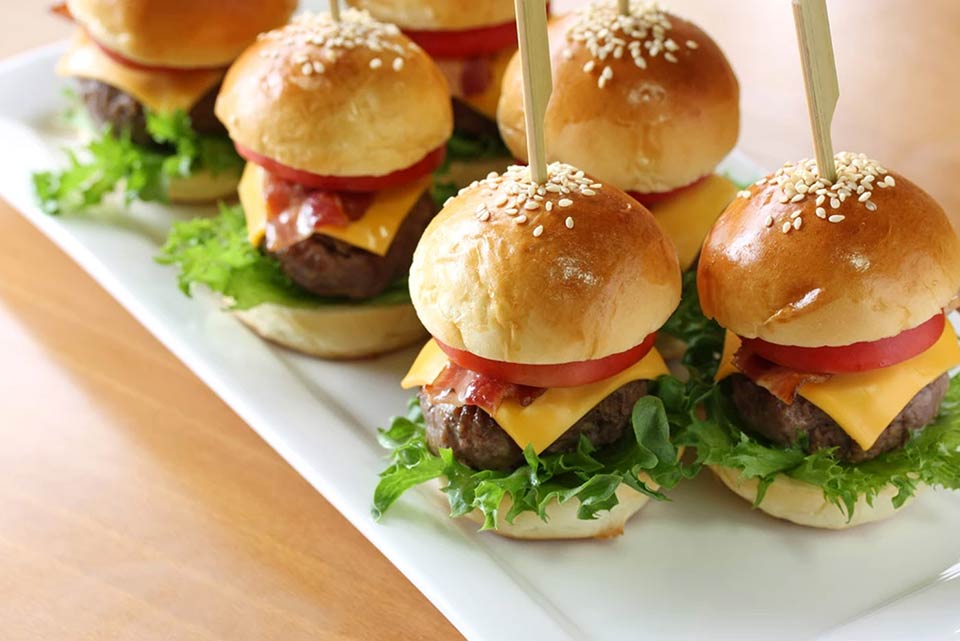 230 Fifth | Photo: www.230-fifth.com/
To some really magical views of the Manhattan skyline, with the Empire State Building as a mighty focal point, you can indulge in a varied menu. There are appetizers great to share, like 'Beef Sliders' and 'Mini Chicken Tacos', along with more filling entrees, like 'Miso Glazed Salmon' and 'Burger'.
There is also a sushi-menu, with a large selection of different rolls.
230 Fifth rooftop is a year-round venue, not only thanks to the fully enclosed indoor lounge with panoramic windows. The outdoor terrace is also equipped with heaters and rooftop igloos, so it's even an outdoor/indoor venue year-round.
230 FIFTH
230 Fifth Avenue, New York, NY 10001
Mon-Fri: 14pm-late / Sat-Sun: 10am-late
American / Sushi
Main: ~$20 / Sushi Roll: ~$18