Meatpacking is probably the best area in New York for nightclubs, lounges and trendy bars. There's also a great range of rooftop bars in Meatpacking for those who like their bites and drinks with a view.
Many of the Meatpacking rooftops offer smashing views over both the Manhattan skyline and Hudson River. As the area is quite trendy, you can expect the same vibe on the rooftops. So, make sure to dress to impress to feel right at home.
The Rooftop Guide has visited many of the best rooftop bars in Meatpacking, and here's our list of the 5 top ones. Enjoy!
1.

PH-D Rooftop Lounge
PH-D Rooftop Lounge - Photo: www.phdlounge.com
Located in one of NYC's hippest hotels (Dream Downtown), and offering jaw-dropping views of the Meatpacking District, the PH-D rooftop bar is the place to be when you want to submerge yourself in New York.
Both the indoor lounge and the roof terrace offer wide, comfortable seating, though the former is a lot more spacious.
Signature cocktails, beer, and champagne are readily available, including a 30 liter Midas Armand De Brignac that you need to see to believe.
There's a small made-to-share menu that offers typical bar-bites, but what really attracts people are the drinks and the relaxed but exclusive atmosphere. This is an expensive and popular bar, so you'll need to arrive early if you want to get a spot.
Once you're here, though, get ready to spend the entire night partying, as the vibrant atmosphere and live music shows will keep the party going until it's time to close.
PH-D ROOFTOP LOUNGE
Dream Downtown, 355 W 16th St, New York, NY 10011
2.

Gansevoort Rooftop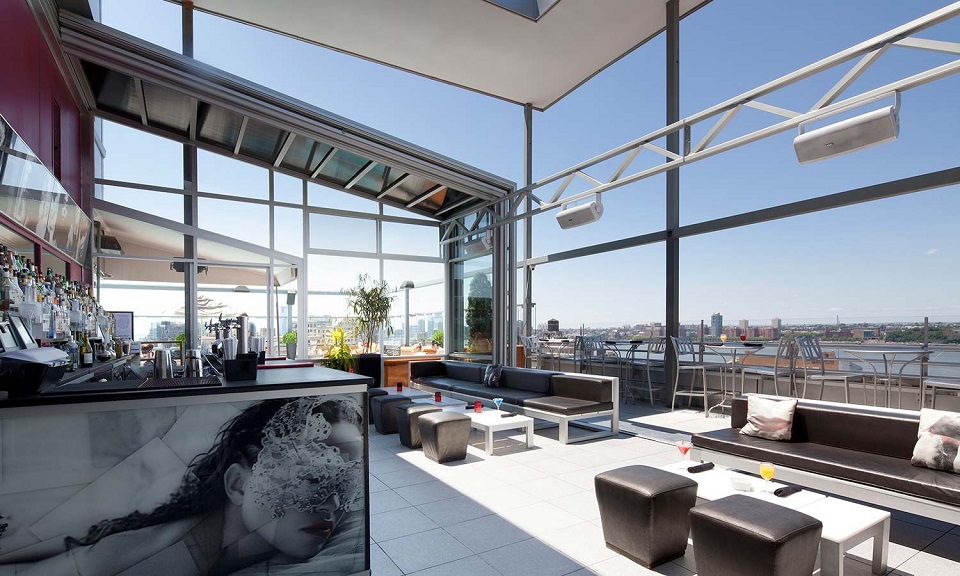 Gansevoort Rooftop - Photo: www.gansevoorthotelgroup.com/
Located in the heart of the Meatpacking district, Gansevoort Rooftop offers a modern setting and amazing 360-degree views of the Manhattan skyline and the Hudson River.
Renovated in 2021, it's an escape for hotel guests and downtown locals to enjoy innovative, refreshing cocktails paired with fresh light bites.
Offering both indoor and outdoor seating, as well as a heated pool available only to guests staying at Gansevoort Meatpacking, this rooftop is a great spot no matter the season and is also one of the Meatpacking District's most popular bars.
While you should expect a line during the weekends, weekdays tend to be more relaxed.
GANSEVOORT ROOFTOP
18 9th Ave, New York, NY 10014
3.

Le Bain & The Rooftop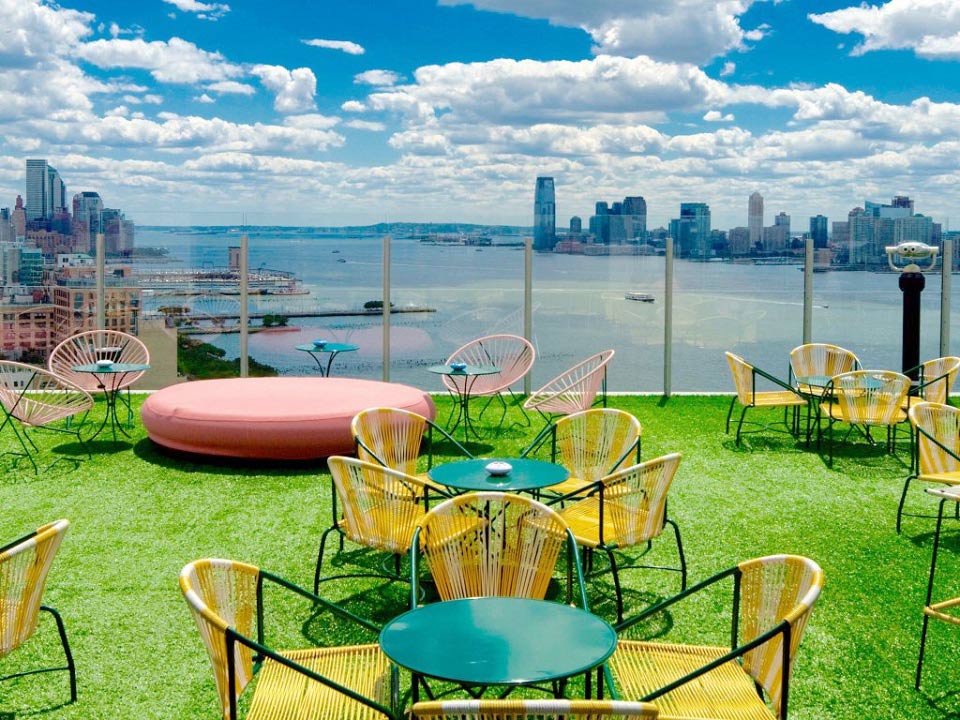 Le Bain & The Rooftop - Photo: www.standardhotels.com
Located on the roof of The Standard High Line, this roof terrace aims to offer both relaxation and the opportunity to party.
With stunning views of downtown New York, and a decoration that resembles a lawn party, the Le Bain & The Rooftop is a well-known selfie spot, so make sure to take yours.
With an astroturf decorated ground, floor seatings, and hand-crafted furniture, it's obvious Le Bain is going for a relaxed, casual atmosphere.
That's exactly what the bar delivers during the early afternoon, but come night, live DJs and a more vibrant crowd turn this rooftop bar into party central.
The rooftop also has an indoor area, where you can find a small jacuzzi and even a disco-ball. It's hard to get a spot in it, though, so make sure you get there early.
Despite its casual decorations, Le Bain & The Rooftop does have a dress code, at least at night, so dress to impress and show up on time.
LE BAIN & THE ROOFTOP
848 Washington St, New York, NY 10014
4.

The Brass Monkey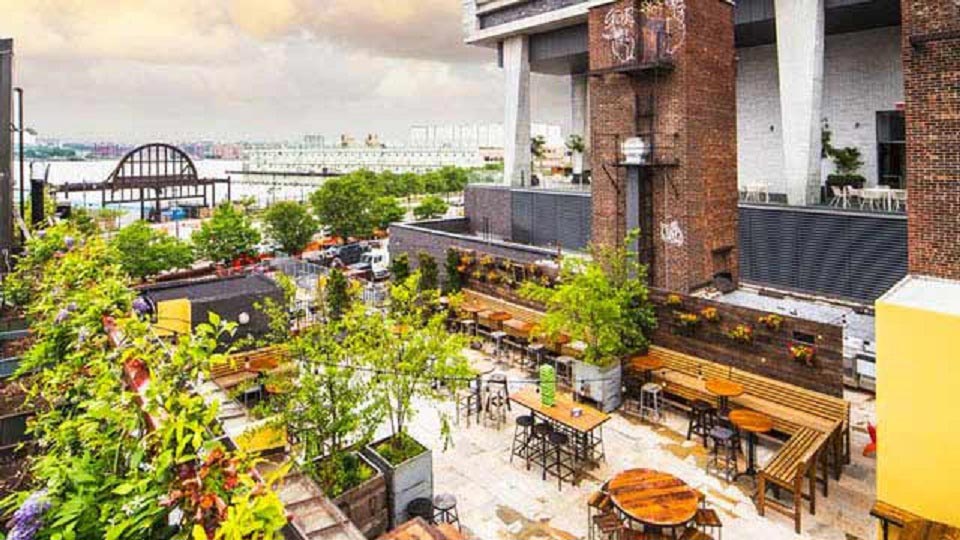 The Brass Monkey - Photo: hwww.brassmonkeynyc.com
This classic American bar is known for three things: Its prices, its beers, and its views.
The bar's open terrace, which delivers a casual atmosphere and industrial-chic decorations, offers terrific views to the Hudson River; No looming skyscrapers or grey buildings in sight.
Self-described as a "neighborhood bar," The Brass Monkey is a wonderful choice for those looking for a relaxing place to spend time with their friends, thanks not only to the casual atmosphere but also the friendly staff.
The Brass Monkey's extensive collection of beers from around the world is its crown jewel, but they also offer wine and signature cocktails meant to evoke the spirit of the Meat Packing District.
As for food, The Brass Monkey has a small but delectable menu that includes fish tacos, burgers, and sweet potato wedges.
There's no need to dress your best nor make reservations, as this bar operates on a first-come, first-served basis.
The only exception to this "rule" is the weekend, as there's a special brunch menu from 11am to 1pm.
THE BRASS MONKEY
55 Little West 12th Street, New York, NY 10014
5.

The Beach at the Dream Downtown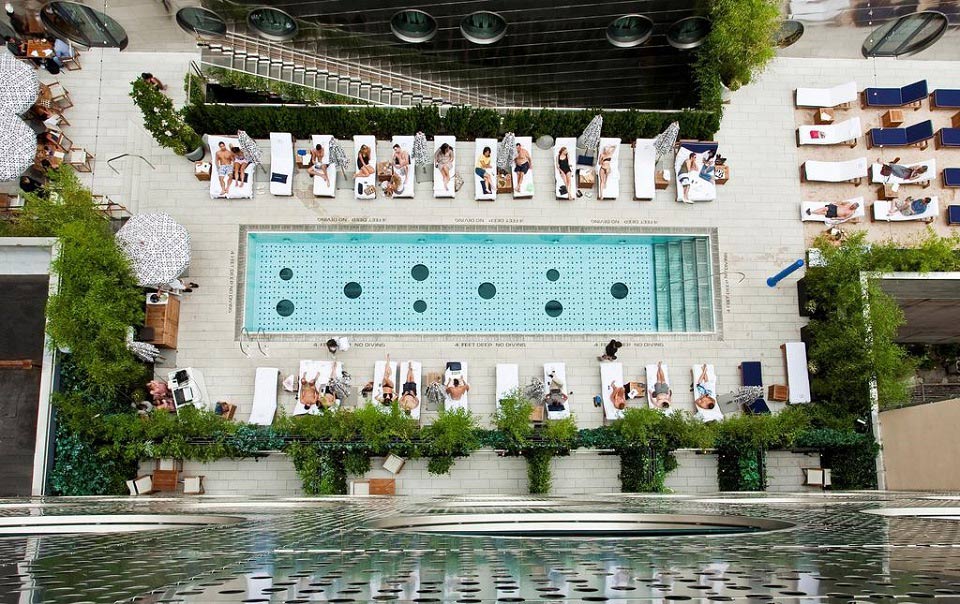 The Beach at the Dream Downtown - Photo: www.dreamhotels.com/
Though this bar doesn't have the best views in town, it sure has some of the most enchanting decor.
Heavily inspired by the south of France, this pool lounge has a one-of-a-kind pool that has windows that lets you peer into the interior of the building. The rest of the place is just as creative.
With extensive and comfortable seating options, both for those visiting the pool and those only interested in the bar, and comfortable pool-side seating for those looking to swim, this place is perfect for spending an entire afternoon relaxing.
Though the pool is only free for hotel guests, visitors can purchase a pass that lets them swim in it during the weekdays.
The Beach also has a Bar & Grill restaurant –with indoor and outdoor seating– that serves seasonal cocktails, an all-day menu and a small selection of beers.
Dress well and arrive on time, as this high-end bar tends to get crowded no matter the day.
THE BEACH AT THE DREAM DOWNTOWN
Dream Downtown, 355 W 16th St, New York, NY 10011