The Dallas weather is pretty much made for alfresco dining, and to get that extra elevated experience you should look up. Up to the Dallas rooftop restaurants.
To help you find the best spots to wine and dine with a views, this guide presents those very best rooftop restaurants in Dallas not to miss.
For the venues to enjoy pre- or post dinner cocktails with a view, check out our full guide to the best rooftop bars Dallas.
Here is The Rooftop Guide's listing of the 6 best rooftop restaurants Dallas
1.

Vidorra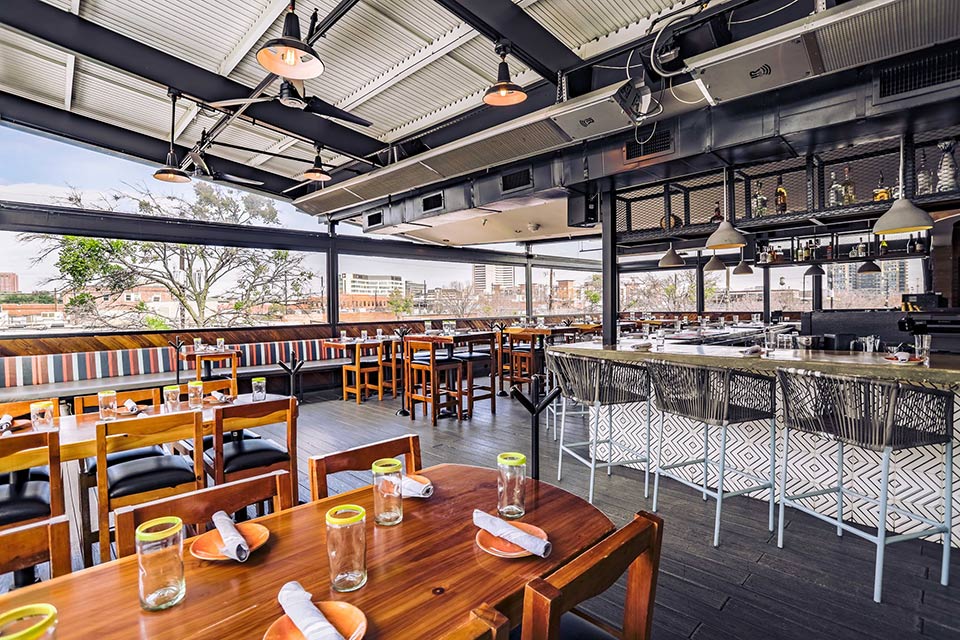 Rooftop restaurants Dallas - Vidorra | Photo: https://vidorrarestaurants.com/
Vidorra in Deep Ellum comes with the byline 'Cocina de Mexico', so can pretty much guess what to expect.
The bi-level Dallas rooftop restaurant and bar celebrates Mexican food, drink and culture, in a lively social atmosphere.
Modern, stylish, and surrounded with potted plants, the rooftop terrace offers both comfy lounge seating and plenty of dining tables at the edge.
The restaurant offers bold and exciting Mexican flavors as both lunch and dinner, served as everything from apperitivos, soup and salads to tacos, burritos and quesadilas.
The food is complemented with a large tequila selection and a unique cocktail program, so you can easily turn a dinner into a full night.
VIDORRA
2642 Main, Dallas, TX 75226
Mexican
Tacos/Burritos/Quesadillas: ~$13
2.

Sundown at Granada
Rooftop restaurants Dallas - Sundown at Granada | Photo: www.sundownatgranada.com/
Sundown at Granada is a neighborhood farm-to-table restaurant and multi-level entertainment complex, located next door to the historic Granada Theater on Lower Greenville.
So the perfect spot for pre- or post bites and drinks after a concert at the theatre, but Sundown at Granada is also well worth a visit on its own.
With indoor dining room and a downstairs patio, the venue also holds a scenic and wood covered rooftop terrace, overlooking Greenville Ave.
The restautant menu focuses on local, fresh and seasonal dishes, including a wide variety of vegetarian, vegan, and gluten-free fare. A few examples: Smoked Brisket Tacos, Spicy Southwestern Quinoa, and Turkey Meatloaf.
Open daily for light lunch, dinner and weekend brunch, there is alos plenty of cocktails and brews to enjoy between all the munching.
SUNDOWN AT GRANADA
3520 Greenville Ave, Dallas, TX 75206
Contemporary American
Main: ~$15
3.

Terilli's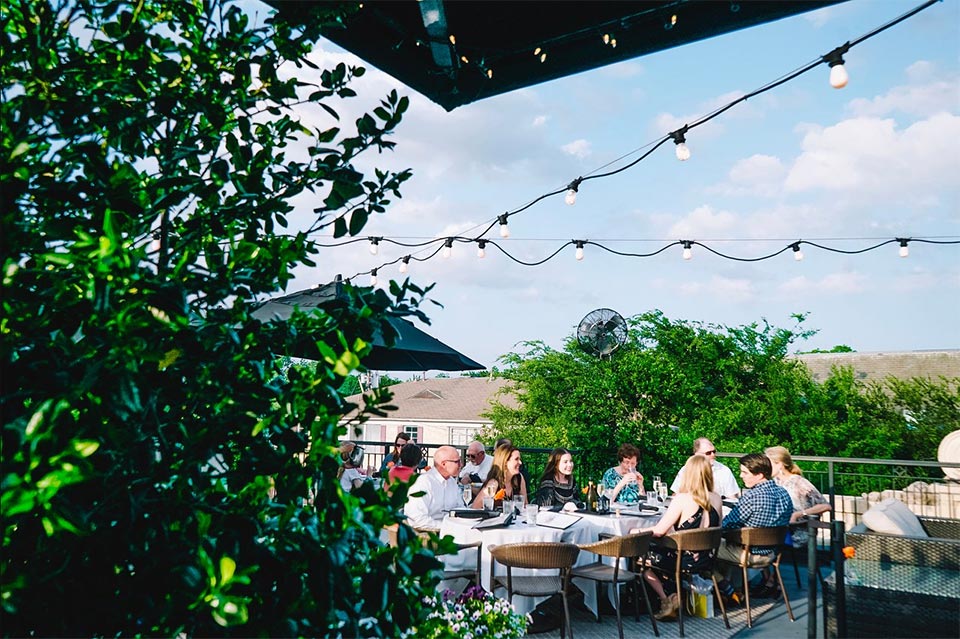 Rooftop restaurants Dallas - Terilli's | Photo: www.terillis.com/
Terilli's has been awarded as the best Italian restaurant Dallas has to offer, and as it comes with a lovely roof terrace, it is also one of the best Dallas rooftop restaurants.
Located in the heart of Lower Greenville, this family-owned restaurant serves fantastic Italian cuisine. From the famous 'Italchos', which are crispy handmade pizza chips, to pasta specialties like Lobster Fettucini and Terilli's Picattas.
With a stylish indoor dining room, the best place to enjoy all these delicacies is up on the open-air rooftop terrace. Decorated with both dining tables and lounge sofas, the rooftop also has heaters and cosy fire-pits for the chilly nights.
Open Tuesday to Sunday for dinner, and usually also Sunday brunch, Terilli's rooftop restaurant is a great spot for a long session of food and drinks with friends, enjoying the lovely ambience.
TERILLI'S
2815 Greenville Ave, Dallas, TX 75206
Italian
Main: ~$22
4.

RH Rooftop Restaurant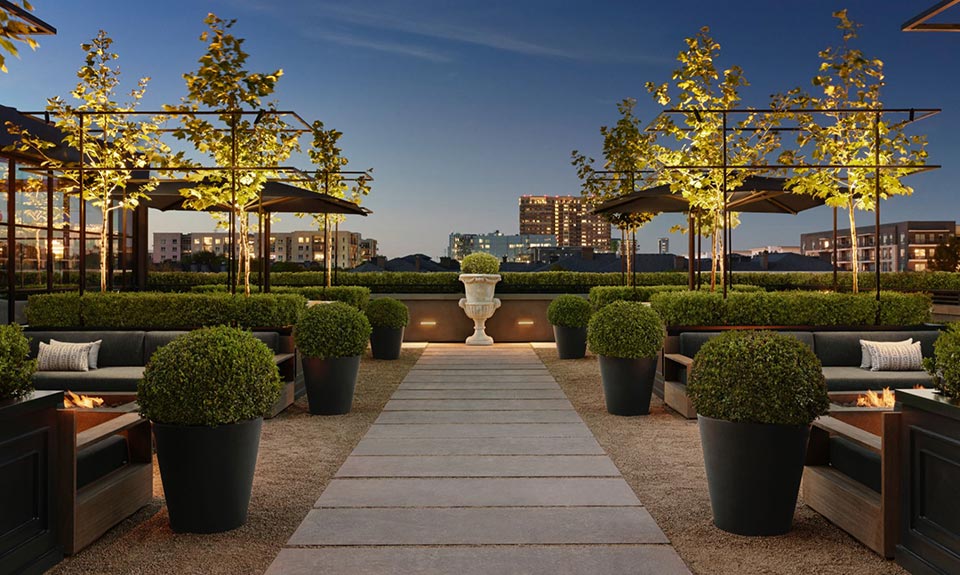 Rooftop restaurants Dallas - RH Rooftop Restaurant | Photo: https://rh.com/
Perched on top of the impressive and 70,000-square-foot RH Gallery on Knox Street, RH Rooftop Restaurant is the place to go if you want to dine elevated and in style.
The third floor restaurant comes with a gorgeous glass-and-steel atrium with retractable glass walls, opening out onto a lush outdoor terrace. Here you are surrounded with trickling fountains, heritage olive trees and glimmering chandeliers.
Open daily for lunch and dinner, as well as weekend brunch, the rooftop offers an ingredient driven menu, including Lobster Rolls and Charred Ribeye Steak. Complementing the food is plenty of artisanal wines and craft beers.
Trendy and elegant, RH Rooftop Restaurant is always a great idea for some fine rooftop dining. Just remeber to make reservations.
RH ROOFTOP RESTAURANT
3133 Knox St, Dallas, TX 75205
American
Main: ~$35
5.

Stackhouse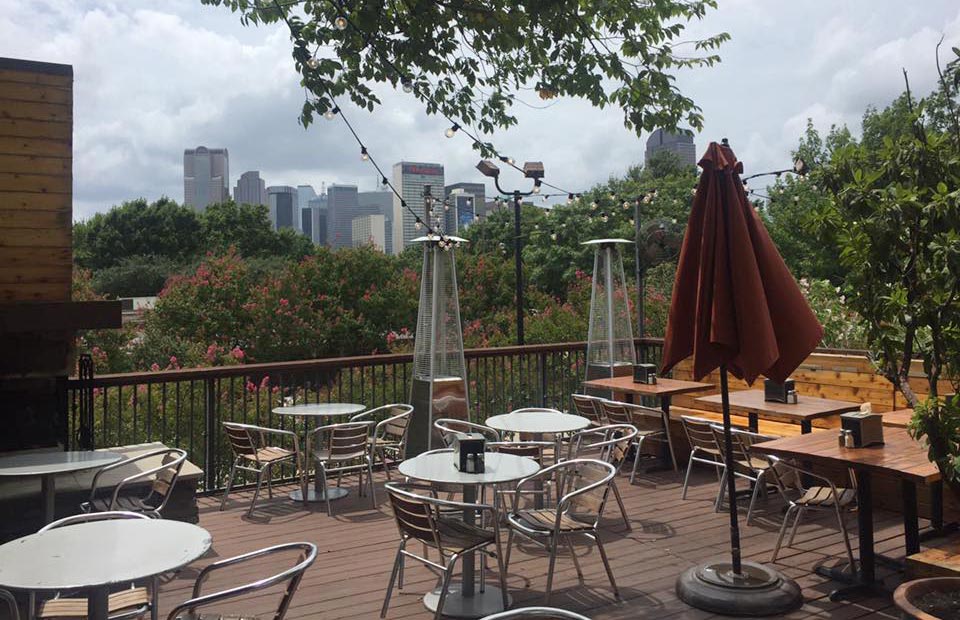 Rooftop restaurants Dallas - Stackhouse | Photo: www.stackhouseburgers.com/
Stackhouse is the Dallas rooftop restaurant to visit if you want to mix great homemade burgers with fantastic skyline views.
Located just east of downtown Dallas, this classic American burger / beer place has been voted 'best burger in the city' at several times.
While great on the inside, the best spot at Stackhouse is the wooden decked rooftop terrace, that comes with several cozy little sitting areas. Looking extra sharp and night, with stylish lanterns giving just the right lighting.
The munu at Stackhouse is all about burgers. Well almost, there are some other choices like salads and sandwiches, but is the burgers they are famous for. The idea is to "make fresh homemade burgers cooked to order, fresh cut fries, and don't take any short cuts".
To go with the food you can choose between a good selection of beers on both bottle and tap, a few cocktails and some wines.
STACKHOUSE
2917 Gaston Avenue, Dallas, Texas 75204
Burgers
Burger: ~$8
6.

Tei-An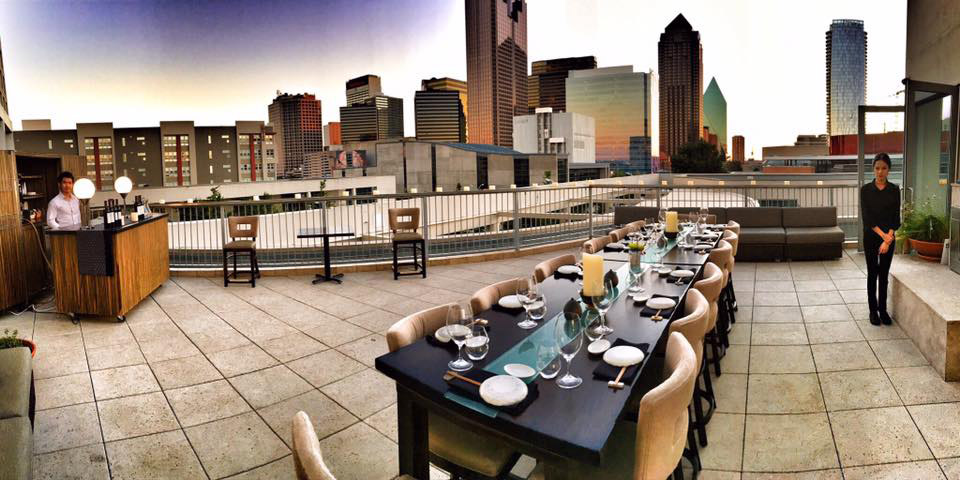 Rooftop restaurants Dallas - Tei-An | Photo: https://tei-an.com/
Tei-An is one of the very best Japanese restaurants in Dallas, located in the Arts District of downtown. And while the restaurant is well known, its rooftop terrace is a bit more secret.
And for good reason, as it is foremost a memebers only rooftop, and only from time to time open to the public. So either you get lucky, or you apply for a membership at Tei-An.
If you do, you can enjoy crafted cocktails and amazing Japanese cuisine to the awesome views of the Dallas skyline.
The kitchen specializes in freshly made soba noodle dishes, served hot or cold in soups or with dipping sauces. Or you try Chef Teiichi Sakurai's omakase.
TEI-AN
1722 Routh Street, Dallas, Texas 75201
Japanese