The 'Downtown' area in cities around the world is often synonymous with rooftop bars. And Los Angeles is no exception.
In Downtown LA you can find a bunch of great rooftop bars. Most of them located at high altitude with amazing views over the whole city or among the skyscrapers. The area is also home to the highest rooftop bar in the Western Hemisphere.
Enjoy our list of the 5 best rooftop bars in Downtown LA. Made by the leading experts on rooftop bars and rooftop pools – The Rooftop Guide.
You can also find our complete guide to all the best rooftop bars in LA right here.
1.

Perch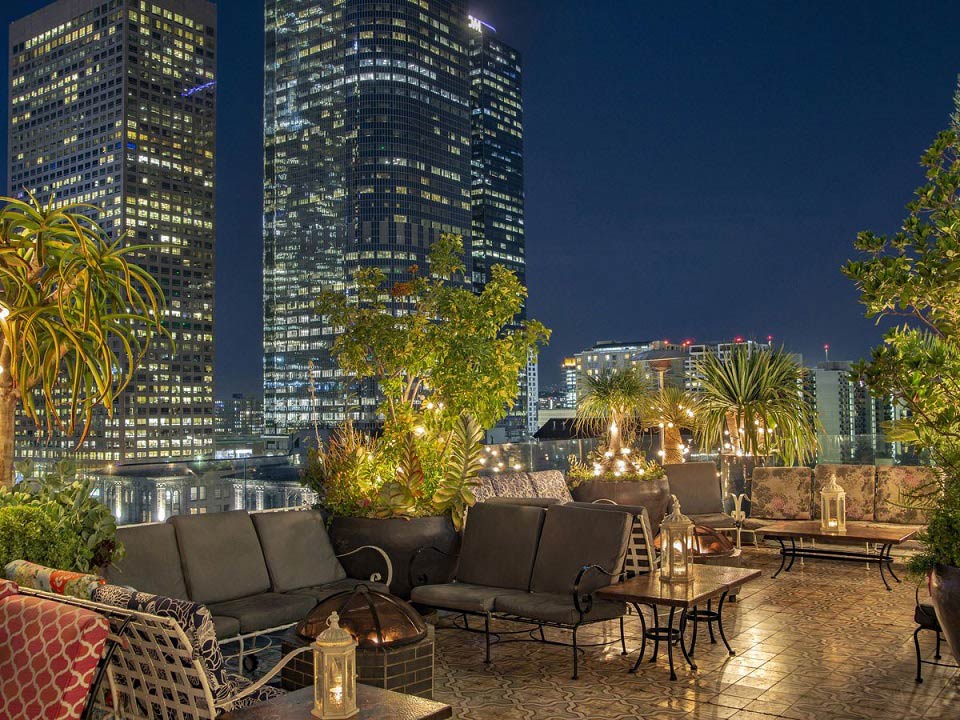 Perch - Photo: www.perchla.com
Located in downtown LA, and offering fantastic views of the entire city Perch operates both as a bar and a bistro, making it an excellent choice for those looking for a place to eat and drink.
Offering both indoor and outdoor seating options as well as comfortable lounge furniture and a relaxed ambience, you'll be hard-pressed to find a more welcoming spot to watch the sunset while enjoying some drinks.
With classy furniture, lush plants, fire pits and fireplaces, and stylish decor that transports you straight to the French Riviera, Perch stands out in more ways than one; Here, you'll be able to shed your worries and the hustle and bustle of the city and enjoy the moment.
The food menu is small, though still delectable, and the drinks are inspired, with well-crafted signature cocktails coexisting with more traditional offerings.
The ambiance is set not only by the decoration but also by the music with live jazz bands and the occasional D.J. sharing their talents with the music-loving crowd.
With reasonable prices, a welcoming atmosphere, fantastic music, delicious drinks, and a large open-air terrace one roof above, Perch is a frequented spot in L.A., so make sure to arrive on time.
PERCH
448 S Hill St, Los Angeles, CA 90013
2.

The Rooftop at The Standard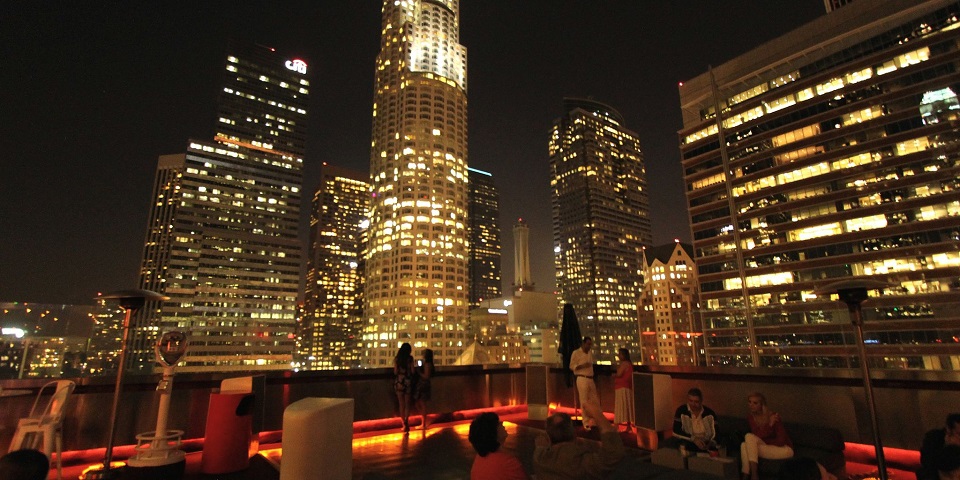 The Rooftop at The Standard - Photo: www.standardhotels.com
The Rooftop at The Standard offers stunning 360-degree views of downtown Los Angeles and the nearby mountains, making it the perfect location for romantic nights out or a night out with friends.
As if the views weren't convincing enough, The Standard also comes equipped with a heated swimming pool –one of the best in Los Angeles– and a knowledgeable and professional staff that'll make any visit worth your time.
One of the city's favorite venues for rooftop and pool parties, The Rooftop is known for its party atmosphere, live music acts, lively crowds and amazing, and reasonably priced drinks.
Lounge sofas, waterbed pods, regular chairs, sun loungers, and stools make for comfortable and varied seating options, while the pool refreshes clients during hot nights, and the bar's fireplaces keep them warm during the colder months.
The drink menu runs the gamut between the expected and the unexpected with traditional cocktails, world spirits, beers, and wines sharing space with creative and fun signature cocktails.
Due to its popularity, The Standard attracts large crowds, so if you're thinking about visiting during the night or you're visiting with a group, reservations are encouraged. At least if you don't want to wait.
THE ROOFTOP AT THE STANDARD
550 South Flower Street, Los Angeles, CA 90017
3.

Spire 73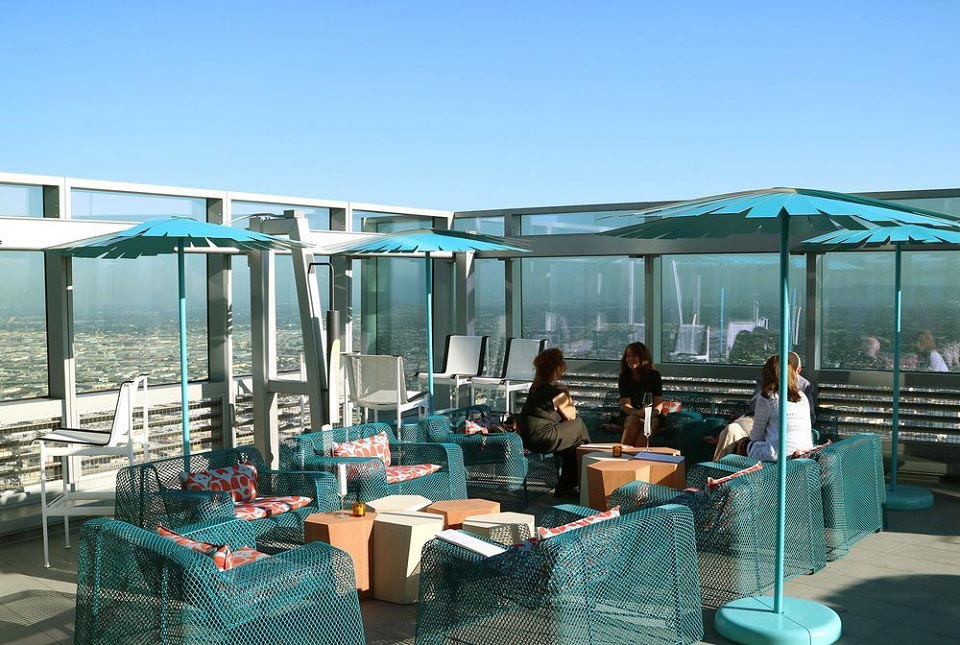 Spire 73 - Photo: www.spire73.com
Perched on a 73th floor, Spire 73 is easily the highest rooftop bar in the entire Western Hemisphere, and, as such, it provides views that no other bar in the city can match.
Offering spectacular views of the entirety of Los Angeles –from downtown, where it's located, to the Hollywood Hills and the nearby beaches–, Spire 73 is the kind of place you visit when you want to impress and be impressed.
Up here, the weather tends to be colder than in the rest of Los Angeles, so the terrace comes equipped with fire pits and an array of comfortable seating options that give the bar a welcoming atmosphere despite its unique location.
Spire 73 doesn't coast by using its views as the only attraction, as this beautiful bar has a fantastic drinks menu that includes delicious signature cocktails, a wide selection of whiskeys, local wines, and beers, as well as more traditional drinks.
There's also a small menu of bar-bites, which you can order if you're feeling peckish. Despite its welcoming atmosphere, Spire 73 can be quite exclusive and comes with a rather strict dress code: No backpacks, no oversized bags, no swimwear, no flip-flops, no shorts.
Everything about Spire 73 is impressive, including the guests.
SPIRE 73
900 Wilshire Boulevard, Los Angeles, CA 90017
4.

The Ritz-Carlton Los Angeles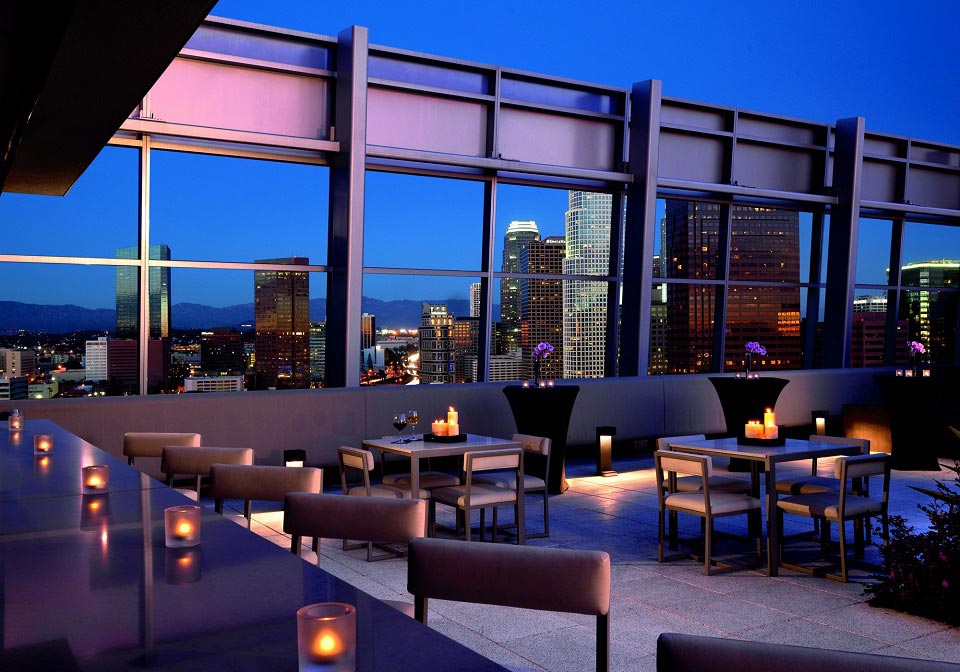 The Ritz-Carlton Los Angeles - Photo: www.ritzcarlton.com
The Ritz is synonymous with quality, and its fantastic rooftop bar, which offers beautiful views of downtown L.A., is no different.
Located right next to the Microsoft Theater and the Staples Center, The Ritz is not only a fantastically centrical location from which to jump-start your adventures but a wonderful bar in its own right.
The tastefully furnished terrace comes with a heated rooftop pool and a jacuzzi, both open only to guests, as well as sun loungers private cabanas, comfortable lounge seating, and the kind of high-quality service The Ritz is known for.
Drink-wise, you'll be able to enjoy world-spirits, high-quality wines, craft beers, and traditional cocktails. If you're looking to experience something new, however, make sure to order one of the bar's signature cocktails, as they all have Asian inspiration that gives them a unique twist.
Nest at WP24, the local restaurant, offers Chinese cuisine of the greatest quality and is an obligated visit whenever you're in The Ritz.
THE RITZ CARLTON LOS ANGELES
900 W Olympic Blvd, Los Angeles, CA 90015
5.

Upstairs Bar at Ace Hotel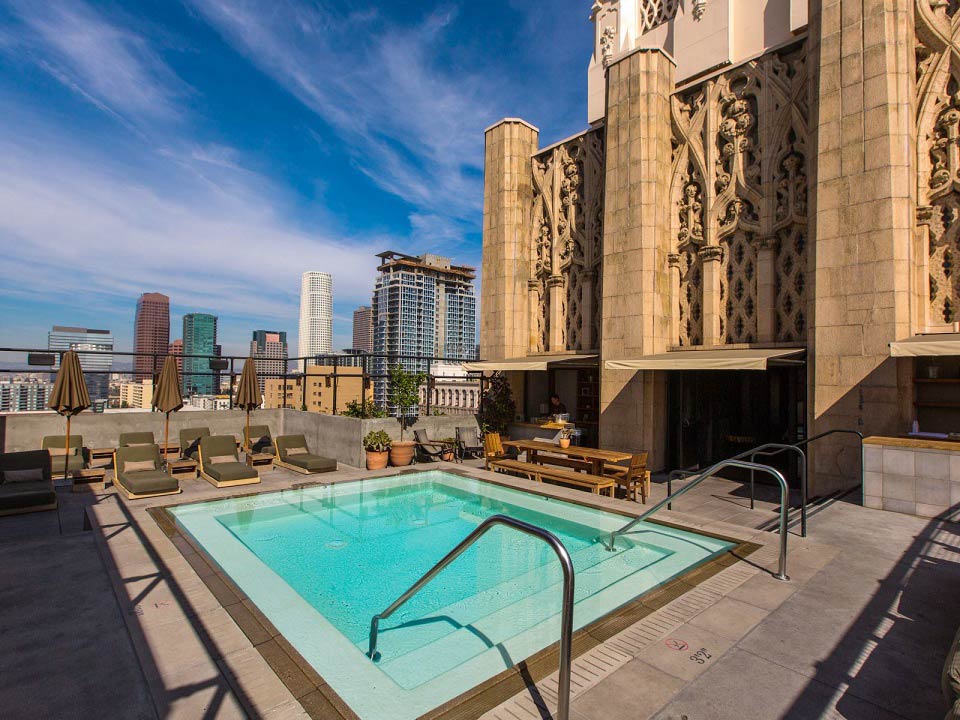 Upstairs Bar at Ace Hotel - Photo: www.acehotel.com
If what you're looking for is a modern bar with a trendy and vibrant atmosphere, then head to the Upstairs Bar and get ready to start the party.
This fantastic urban oasis offers stunning views of downtown L.A., two large terraces for you to enjoy, a heated rooftop pool, comfortable seating options, large umbrellas to protect you from the scorching sun, and a fantastic bar-bite menu.
Offering a collection of fresh signature cocktails, tropical drinks, canned beers, and small but delicious bar-bites, Upstairs is a fantastic place to visit no matter the time of the day.
During the daytime, Upstairs offers a relaxed and laid-back atmosphere, with its large pool, comfortable sun loungers, healthy bar-bites, and fresh drinks.
At night, Upstairs acquires a night-club like atmosphere, with a lively crowd, live music, pop up shops, and all kinds of community-oriented events.
If you want to feel like you're part of Los Angeles, a visit to the Upstairs Bar is a must.
UPSTAIRS BAR AT ACE HOTEL
929 S Broadway, Los Angeles, CA 90015