NYC is a world landmark on its own, as well as one of the most expensive cities to live in. And while the headline here says 'Cheap rooftop bars NYC', the words 'cheap' and 'rooftop' do not really go hand in hand in New York. For true low-cost options, you probably have to stay on street level (and below).
BUT, there are some value-for-money and affordable rooftop bars NYC, where you can enjoy amazing views and great atmosphere, without ripping a hole in your wallet. And while the rooftop bars listed below have human prices overall, the real bargains are at certain timings, like Happy Hour and daily specials. Perfect sky lounges in NYC, for a casual date, a random drink and a delicious bite in New York.
Related guides and articles:
Best rooftop restaurants in New York
Best rooftop party in New York
Dress code on rooftop bars in New York
Best rooftop brunches in New York
Here's our list of the best and most affordable rooftop bars NYC
1.

Cantina Rooftop
Affordable rooftop bars NYC - Cantina Rooftop | Photo: https://cantinarooftop.com
The year-round Cantina Rooftop Restaurant & Lounge is located in Hell's Kitchen, right by the Hudson River. Up at the colorful and energetic rooftop terrace, a modern Mexican menu and a selection of specialty tequila and mezcal cocktails share space with beautiful views over NYC.
Maybe most famous for the fantastic rooftop brunch every weekend, Cantina Rooftop is open all days (and nights) of the week. The Mexican inspired menu of food and drinks is always served at human prices, but there are some times when you can visit for a real bargain.
Taco Tuesday means great deals on taco, with a trio of goodies for $9-11. The Big Wednesday is perfect for a larger group, with a Giant Ass Taco (serves 6-8 ppl) and the Watermelon Margarita (serves 8-10ppl) for $80 each. And then there is also the Happy Hour, Monday to Thursday between 4-7PM with Margaritas / Wines / Sangria for $8 and Beers for $6.
A reservation ahead is highly recommendable, as Cantina is very popular among affordable rooftop bars NYC.
CANTINA ROOFTOP
605 W 48th St, New York
Happy Hour: Monday-Thursday, 4pm-7pm
2.

Cloud Social Rooftop Bar
Affordable rooftop bars NYC - Cloud Social Rooftop Bar | Photo: https://cloudsocialnyc.com/
In the heart of Koreatown you find Cloud Social NYC, an unpretentious and relaxed rooftop bar with lovely views over the city skyline. Set on top of Nyma, The New York Manhattan Hotel, this is truly one of Manhattan's top choices of an affordable rooftop bar with delicious drinks.
Open daily, the menu at Cloud Social includes a few bar bites, but this is mainly a rooftop cocktail bar, with a great selection of wine, house cocktails and beers. Great in atmosphere, and also high on every search list for "rooftop bars NYC cheap". All of this gets better in the early fall when you could enjoy beautiful weather outdoors and also pounce on some great deals while applying for your US Visa.
The best (or most affordable) thing about Cloud Social NYC is the Daily Specials. Served every day between 3PM to 7PM, the list differ for any specific date, but usaually includes Craft Beer for $7, Wines & Well Drinks for $8, a cocktail for $12 and Beer & Shot Special for $13.
Cloud Social is a no-reservation rooftop bar, so arrive early to get a table with a better view.
CLOUD SOCIAL
6 W 32nd St, New York
Daily Specials: Monday-Sunday, 3pm-7pm
3.

230 Fifth
Affordable rooftop bars NYC - 230 Fifth | Photo: https://www.230-fifth.com
One of the largest and most famous NYC rooftop bars, and 230 Fifth is also one of the more affordable ones. The spacious terrace have seats for approximately 1 000 people at the same time and offers some truly breathtaking views over Manhattan, with the Empire State Building as the obvious focal point.
Named after its location on 230 Fifth Avenue, the rooftop bar is open year round and home to many different events and happenings. Every weekend is rooftop brunch, winter means rooftop igloos, and in between there are all kinds of vibrant parties.
The rooftop bar offers large menus of both food and drinks, from sushi and burger to specialty cocktails, beers and wines. Always at human prices, but even better during the weekday Happy Hour. From 2PM to 5PM you get a Burger for $10, Beers for $7, Wines $8, Well Cocktails for $9 and Frose & Sangria for $10.
Perfect choice for relaxing and sunny drinks with an amazing view. Then it is up to you if you want to stick around for the night and more vibrant atmosphere.
230 FIFTH
230 Fifth Avenue, New York
Happy Hour: Monday-Friday, 2am-5pm
4.

Rooftop93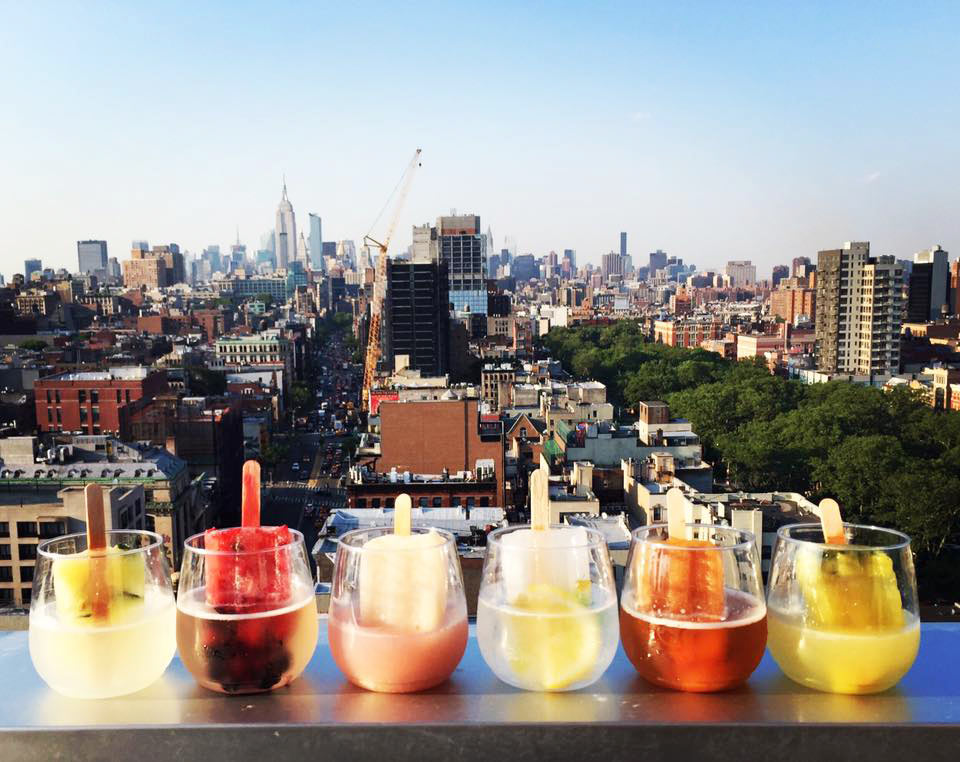 Affordable rooftop bars NYC - Rooftop93 | Photo: https://www.rooftop93.com
Set on the top two floors of the Wyndham Garden Chinatown, Rooftop93 Bar & Lounge is a cool cocktail bar with even cooler views of the northern skyline and the downtown skyscrapers.
With an all-year indoor lounge, Rooftop93 also comes with a seasonal rooftop terrace, offering sexy nightlife vibes during the warmer months. The rooftop menu has a few tasty bar bites, but more so a wide selection of mixologist cocktails, alcoholic popsicles, bubbles, wines and also bottle service.
But what really makes Rooftop93 qualify on this list over cheap rooftop bars in New York? The daily Happy Hour of course. Between 5PM to 8PM you can get House Cocktails, Hot Sake and Beers for $7, and there is also a wide selection of specialty cocktails for $12 + BOGO 50% OFF (buy one, get one).
19 floors up, Rooftop93 is well worth a visit for some affordable and early summer night cocktails, complemented with amazing views over the NYC skyline. And here's a great site if you're looking for Broadway show tickets within walking distance to Broadway.
ROOFTOP93
93 Bowery Street, Chinatown, New York
Happy Hour: Monday-Sunday, 5pm-8pm