Cheap rooftop bars NYC
Published: March 16, 2017
New York is a city of endless possibilities, galleries to explore, streets to wonder at and most definitely – places to eat and drink.
It is a world landmark on its own, as well as one of the most expensive cities to live at. New York has another side of a hip, modern, free-spirited and laid-back city, despite the busyness of the streets. Here are some suggestions of cheap lounges in NYC, for a casual date, a random drink and a delicious bite in New York.
Before checking out the cheap rooftop bars, also check out this:
Best NY rooftop bars
Best rooftop restaurants in New York
Rooftop pools in NYC
Best sky bars and sky lounges in New York
Best rooftop party in New York
Dress code on rooftop bars in New York
Best rooftop brunches in New York
Rooftop yoga in New York
Rooftop cinema in NYC
Here's the list of the best cheap rooftop bars NYC and most affordable rooftop bars NYC:
1. Rare View Rooftop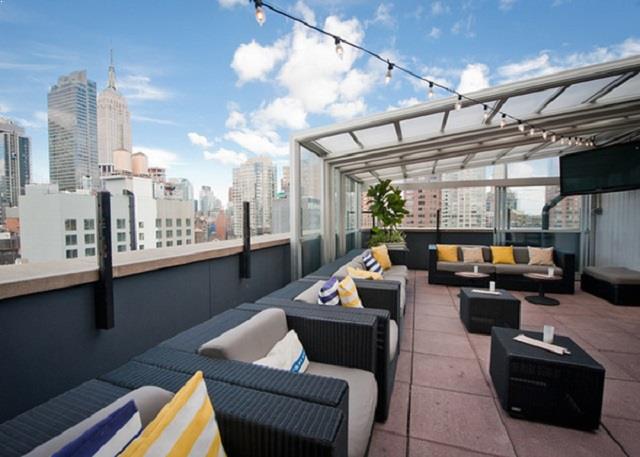 Photo: http://www.rarebarandgrill.com
Rare View Rooftop bar is a top suggestion when it comes to cheap NYC rooftop bars. The casual atmosphere and the superb selection of drinks turn the place into a frequent choice of both locals and guests of the city. The perfect location on 152 West 26th St. opens up a world of endless city lights, bright sunsets and unforgettable nights at the rooftop terrace.
This bar & grill has a list of themed events. The original interior design separates the space to a terrace with a few different areas – themed Private Captain's room, a meeting room and of course – the terrace with the majestic views overlooking the signature New York's skyscrapers. A prefect choice among cheap rooftops NYC.
Website: http://www.rarebarandgrill.com
2. VU Rooftop Bar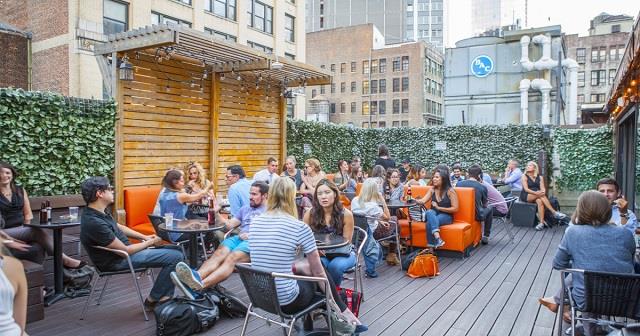 Photo: http://www.vunyc.com/
The heart of the city, or to be concrete – 17 W 32nd St., is where the VU Rooftop Bar is situated. A casual rooftop bar NYC. What's attracting most visitors, are without doubt the view and the cheap happy hour drinks. Arrive early to get a table with a better view.
Manhattan's top choice of a cheap rooftop bar with delicious drinks. Search for "rooftop bars NYC cheap" or "cheap rooftop restaurants NYC" and you will find this place on most of the lists. A perfect choice among casual rooftop bars NYC.
Website: http://www.vunyc.com/
3. Cantina Rooftop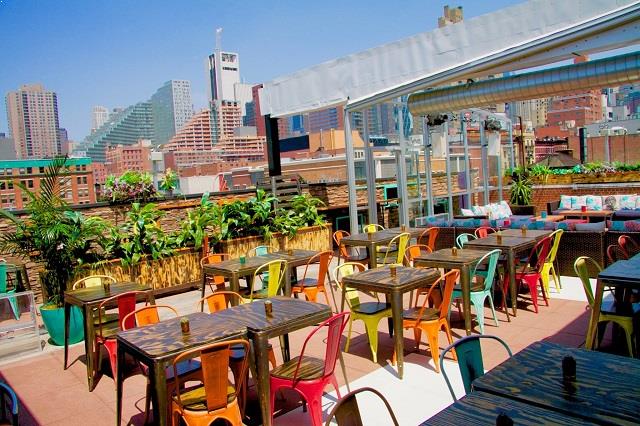 Photo: http://cantinarooftop.com
Happy hour turns to be New York's locals and guests an absolute favorite. The relaxed and casual atmosphere is great for an after work meet up with friends or a Sunday brunch with a view. A reservation ahead is highly recommendable. Very popular among affordable rooftop bars NYC.
Website: http://cantinarooftop.com
4. Latitude Bar Lounge
Photo: http://www.latitudebarnyc.com
Latitude is known for its drinks. This cheap rooftop bar NYC offers a great menu selection of affordable beverages, that most certainly come with a magnificent landscape, overlooking the Big Apple. Try a Lychee Martini and book ahead your table. Casual dress code will do the work.
Website: http://www.latitudebarnyc.com