Rooftop restaurants in London
Published: June 5, 2018
London is the European city that never sleeps.
Endless parties, countless art shows, exhibitions, concerts and festivals - London has it all. The British capital also has a rich list of rooftop restaurants. London is also probably the best choice to spend a vacation week off, if you're passionate about nightlife and cultural events all at once. But you have to eat between all the events, so let's check out the top 5 spots to do so with a fantastic view.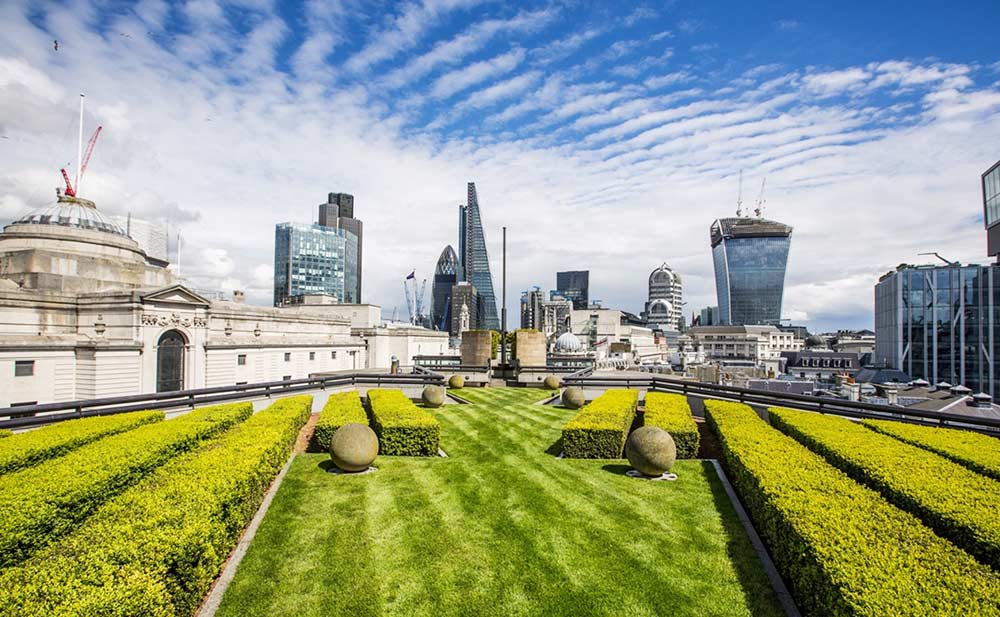 Cog d'Argent | Photocredit: Coq d'Argent
1. SushiSamba
To start our list, we have chosen the highest rooftop bar and restaurant in all of Europe, the fantastic SushiSamba. The panoramic glass elevator ride up to the 38th floor is in itself worth the visit.
Up here you can relish in a fusion of Japanes, Brazilian and Peruvian food, created by Executive Chef Cláudio Cardoso. Let him take you on a Omakase menu experience, while you take in London through the floor-to-ceiling glass windows. After the meal, make sure to enjoy a beverage out on the terrace and try to count how many of the city landmarks you can see.
Visit website: https://sushisamba.com/london/
2. Madison, St. Paul's Restaurant
Yep, it's located right across St.Paul, exposing a breathtaking view to the old landmark. The rooftop's ceiling is creating a great illusion of space, because of its glass material. A dinner is mandatory, especially while the weather outside is being friendly, providing the nightlife of London with a clear skyline view of all the little spots that are being sleepless and more alive than ever.
Enjoy grills from a wood fired Josper oven or a selection of slow cooked classics.
Visit website: https://www.madisonlondon.net/
3. Cog d'Argent
80ft above the ground and a drink away from the pure happiness. Cog d'Argent is the place to spend a lovely night out if you have a special someone to treat. The fantastic terrace lets you explore the city of London from above, while their great service simply makes you feel special.
Cog d'Argent is a great choice to get a proper, but slightly expensive meal if you're in the neighbourhood area, but if you want to simply enjoy an afternoon with a great view, there are some wonderful snacks available for a lot cheaper than expected. Ranks in our top 5 for the best rooftop restaurants in London.
Visit website: https://www.coqdargent.co.uk/
4. Selfridege Roof Terrace
Location wise, this rooftop restaurant is hard to beat. Right on Oxford Street, and more so, right in top of the classic and famous Selfridge department store. So shoppers, relax, you don't even have to leave the mall to enjoy a great rooftop restaurant.
The terrace works as a pop-up place for different restaurants, so during 2018 it is a chic Italian restaurant called 'alto by San Carlo', but who knows what it will be in 2019? The views are however always the same, lovely across the London rooftops. And a cover also makes sure it is open in all weathers.
Visit website: http://www.selfridges.com/
5. The Trafalgar St. James
The Rooftop at The Trafalgar St. James has recently been refurbished, and while this modern and elegant space is always a good idea to visit for smaller bites and some cocktails, it is the private dining space ROOM that really stands out. A glass enclosed 'box' for up to 14 people, with spectacular views over Trafalgar Square.
Really an experience if you are in London and looking to celebrate a special occasion.
Visit website: https://trafalgarstjames.com/the-rooftop
Find out more about rooftop bars London with booking links, opening hours and much more.