NYE in London is something special. Europe's biggest city has a unique buzz, and to make the last evening of 2022 even more extraordinary, make it a rooftop New Year's Eve in London.
To find the best venues to enjoy firework displays, elevated cocktails and sky-high vibes, we have gathered the top London rooftop bars throwing a grand NYE rooftop party, where you can ring in 2023 among the stars.
1.

The Lucky Club Camden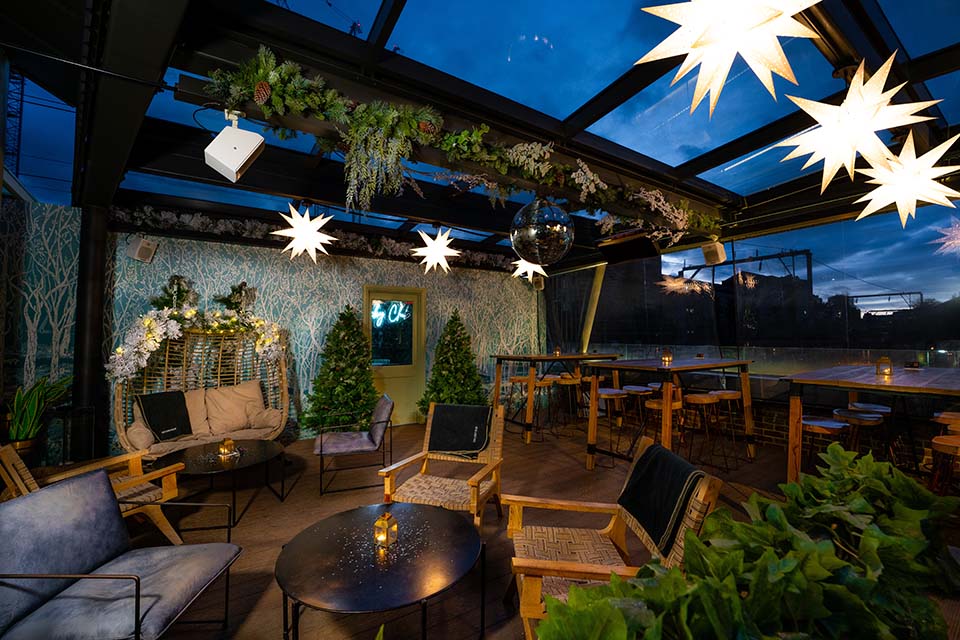 The Lucky Club Camden - Photo: https://theluckyclub.com/
Set above the iconic Camden Market, The Lucky Club is a modern and beautiful year-round rooftop destination. Taking inspiration from Mexico City, the venue mixes great food and amazing cocktails, with an inclusive and vibrant atmosphere.
All the vibes (and more), will be on full display during the The Lucky Club's NYE Disco Ball. See in 2023 under the sparkle of giant disco balls, immersed in a winter rooftop garden.
Overlooking Camden Market, the night will include DJs keeping the party going with the best disco & house edits, mixologists shaking up limited edition Glitter Margaritas, whilst the kitchen serves up street food style tacos, quesadillas and churros with smokey mez-chocolate sauce.
There'll also be an impressive ice carved mezcal-luge to enjoy some of the finest tequila and mezcal and a Get Lucky Dip, for prizes such as free cocktails all night, date night dinner for two, tickets to immersive theatre performances and more.
Tickets from £15 includes entry from 7pm, glass of bubbles at midnight at The Lucky Club Goodie bag, and can be found here.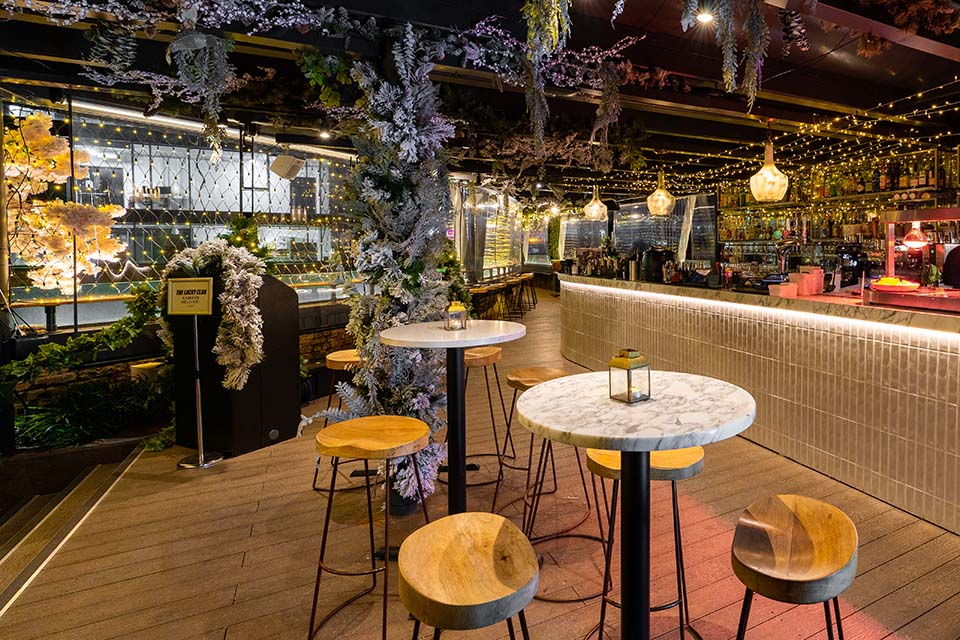 The Lucky Club Camden - Photo: https://theluckyclub.com/
THE LUCKY CLUB CAMDEN
The Terrace, Horse Hospital, North Stables Yard, London NW1 8AH
2.

12th Knot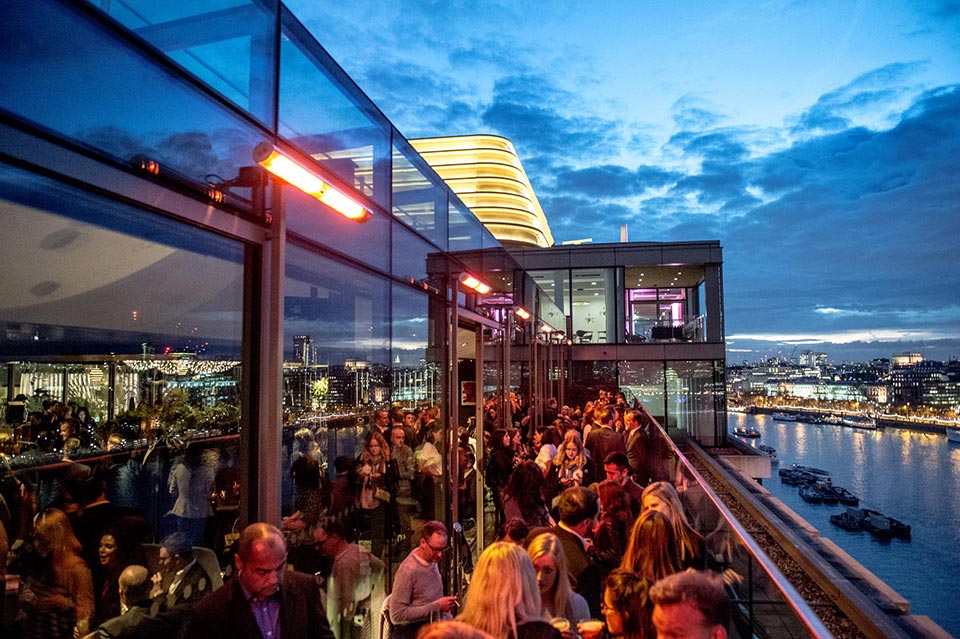 12th Knot - Photo: www.seacontainerslondon.com/
Situated 12 floors up at the fantastic Sea Containers, 12th Knot is an eclectic rooftop bar and terrace, overlooking the River Thames and the London skyline.
To end 2022 with a bang, 12th Knot is ready to throw a New Year's Eve celebration like no other, where you can party the night (and the year) away.
The evening will include an open bar with bottomless house drinks, a limited food menu, music from live band and the resident DJ, as well as a top atmosphere.
Starting at 7pm, you can either buy an Entry Only ticket, or one with open bar/reserve a table. All the options can be found here.
12TH KNOT
20 Upper Ground, South Bank, London SE1 9PD
3.

LSQ Rooftop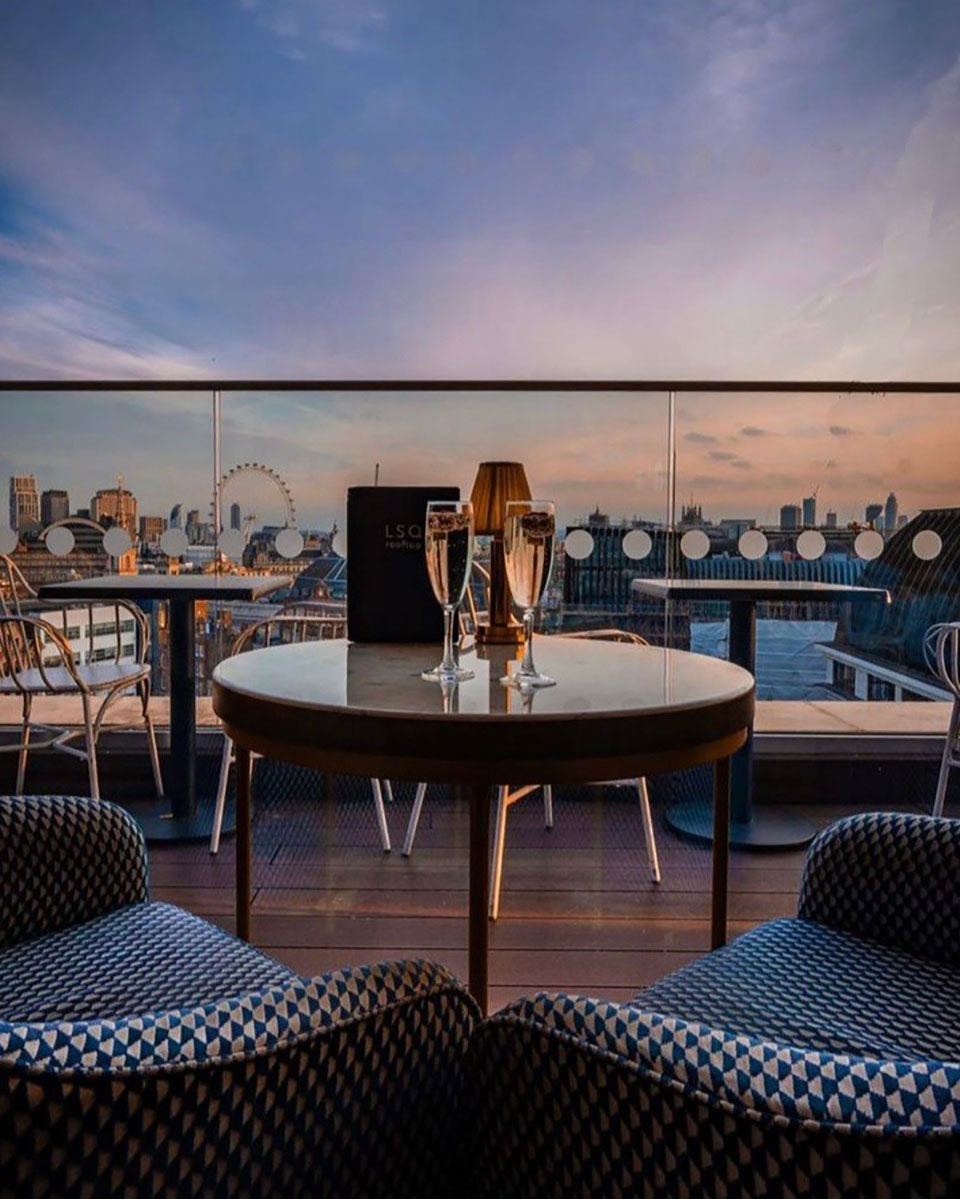 LSQ Rooftop - Photo: www.lsqrooftop.com/
Located at one of London's most iconic address – 1 Leicester Square - the LSQ Rooftop is a day-to-night venue, offering indoor and outdoor seating, and equally iconic views.
From morning to night, here you can admire some of the most famous buildings of the London skyline in a fantastic lounge-bar atmosphere.
To welcome 2023 in style, LSQ Rooftop inivtes you to celebrate 9 floors above the vibrant streets of the buzzing West End, with the promise of some of the best views of the London fireworks the city has to offer.
Start of with a glass of bubbly on arrival, a selection of delicious canapés, and a 3 course dinner accompanied with unlimited house drinks. There will aslo be DJs and live entertainment keeping the atmosphere high all night long.
Tickets, standard packages and pemium packages can be found here.
LSQ ROOFTOP
1 Leicester Square, London WC2H 7NA
4.

Skylight Tobacco Dock
Skylight Tobacco Dock - Photo: www.skylightbars.com/
Skylight Tobacco Dock is ine of London's biggest and most happening rooftop bars, and pretty much an adult playground with great views of the London skyline. Best of all: the rooftop fun is available year round.
So of course, Skylight will offer a late night extravaganza to to celebrate New Year's Eve, where you can ring in 2023 under the stars.
From 8pm to 2.30am, the night will include special guest DJ's bringing in the New Year, party favours, fireworks on 12 screens, Ice Skating, delicious Alpine food and winter cocktails.
Larger groups can also reserve a covered hut or one of the rooftop igloos, with mulled gin and ice skating vouchers as part of the package.
Party tickets and all other options for a NYE at Skylight can be found here.
SKYLIGHT
Tobacco Dock, Pennington St entrance, St Katharine's & Wapping, London E1W 2SF
5.

Madison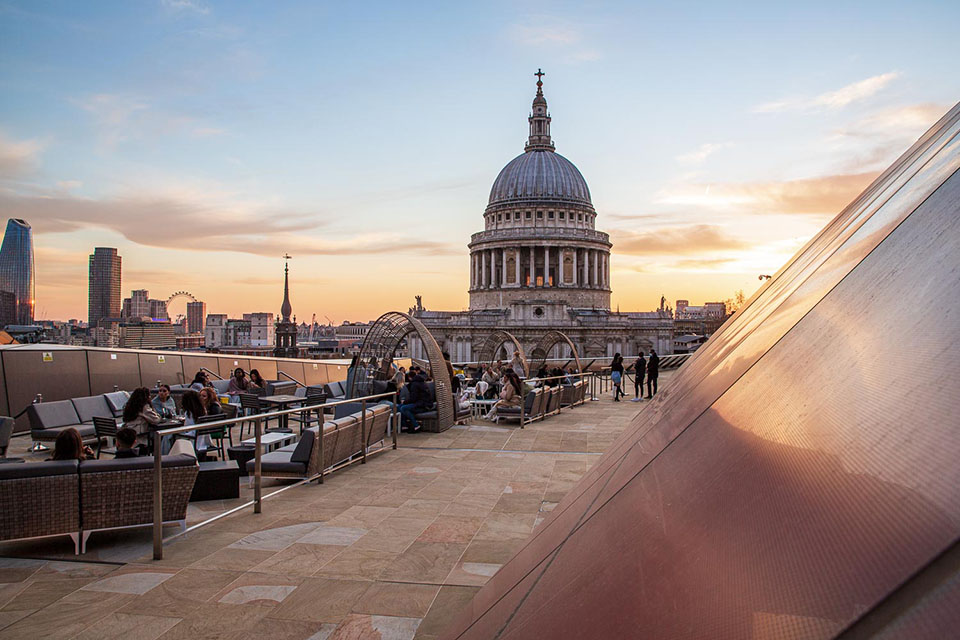 Madison - Photo: www.madisonlondon.net/
Set on top of the One New Exchange building, Madison is a spacious restaurant and a rooftop bar, with great views over the London skyline, and some really cool close-up view of St. Paul's Cathedral.
The vistas are often complemented with entertainment from DJs and live musicians, and the atmosphere at Madison is usually buzzing.
This will most certainly be true on the last night of the year, when you can see out 2022 with a bang and say hello to 2023 in true Madison style.
Expect a night filled with electric performances from London's hottest entertainment, and party against London's most delicious view point. To get you going, canapes and a glass of bubbles is served on arrival.
There are Standard tickets, VIP tickets and VIP tables, which you can book right here.
MADISON
One New Change, London EC4M 9AF
6.

Mercer Roof Terrace
Mercer Roof Terrace - Photo: www.vintryandmercer.com/
Mercer Roof Terrace is found in the heart of the City, on top of the fantastic hotel Vintry & Mercer, offering a beautiful spot to wine and dine above London.
The rooftop restaurant and bar blends a cosy interior dining room with an open-air terrace, where you get some amazing views over the London skyline.
To enjoy the vistas during the last evening of the year, Mercer Roof Terrace offers a special New Year's Eve menu during two dinner seatings (5pm and 9pm). Indulge in a 5-course menu, with dishes like Pan roasted Gressingham duck, Maldon smoked salmon rillette and Blackberry & Champagne sorbet.
Before or after dinner, you can also visit the Do Not Disturb speakeasy bar at the hotel, which will be open for drinks from 5pm to 2am on New Years Eve. And if you already have plans for the evening, go for a regular á la carte lunch at the rooftop.
Book your table for NYE at Mercer Roof Terrace right here.
MERCER ROOF TERRACE
20 Garlick Hill, City of London, London, EC4V 2AU
7.

The Rooftop St. James
The Rooftop St. James - Photo: https://trafalgarstjames.com/
The elegant and stylish The Rooftop St. James is an oasis set high in the sky, overlooking Trafalgar Square and London's spectacular skyline.
Found on the 7th floor of the fantastic The Trafalgar St. James, this is a perfect spot to enjoy summer alfresco crafted cocktails, but complete with blankets and heaters, along with a retractable roof, it provides a year-round experience.
To also make the year-round experience a last-night-off-the-year experience, head to the The Rooftop on December 31 for a celebration with altitude that will literally take the roof off this New Year's Eve.
Dressed for a special winter rooftop extravaganza, NYE at The Rooftop will include an array of delicious dishes a selection of free-flowing drinks, live entertainment playing the smoothest sounds, along with great views overt the fireworks.
Get ready to dress to impress, and book your tickets right here.
THE ROOFTOP ST. JAMES
2 Spring Gardens, St. James's, London SW1A 2TS
8.

Bar Elba
Bar Elba - Photo: https://bar-elba.co.uk/
The colorful and highly vibrant Bar Elba rooftop cocktail bar in Waterloo is always a good idea for "good vibes only", sprinkled with great views over Waterloo and the London skyline.
From themed brunches and festive events to roof-raising live music, there is pretty much always something happening at the rooftop, and New Year's Eve is no different.
So get ready to dance the night away as you welcome 2023, with Bar Elba hosting a Midnight Island party, the ultimate end of year extravaganza.
Enjoy unlimited drinks all night, incredible canapés, and a live band and DJs providing the best backing track whilst you watch the city light up with its annual midnight fireworks.
Tickets, or maybe a party pod for the group, can be found here.
BAR ELBA
109-117 Waterloo Rd, London SE1 8UL
9.

Bōkan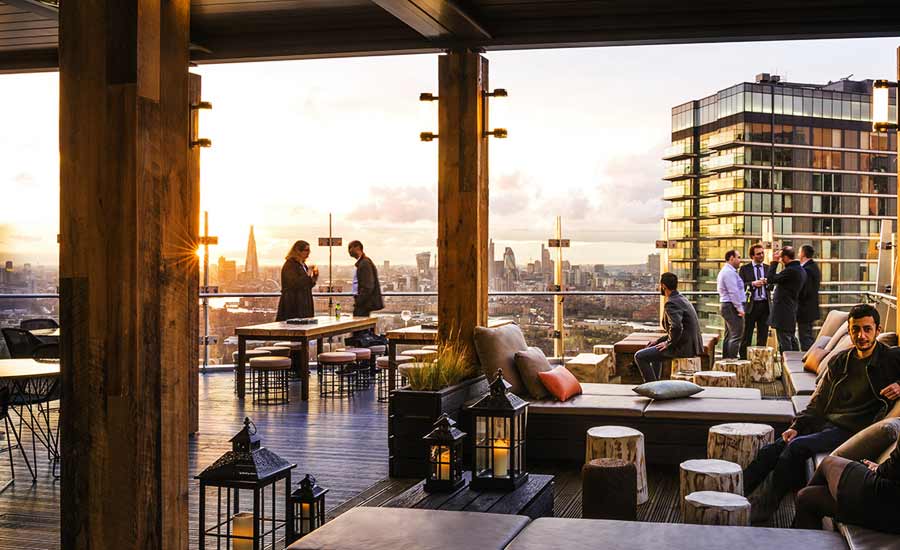 Bōkan - Photo: http://bokanlondon.co.uk/
Bokan is an easy-going and sophisticated hideaway, that transports you far from the city buzz of the busy streets below.
Covering the 37th to the 39th floor of Novotel London Canary Wharf, here you find a different setting on each level. But always present are the striking views of the London skyline.
To say goodbye to 2022 in style, Bōkan offers three different options for New Year's Eve.
You can go for a dinner package at Bokan 37, and either enjoy a 5-course menu at the first seating (6-8pm), or a 6-course menu at the second seating (8.30pm-1pm).
The premium package at Bokan 38 will guarantee you a table by the window from 8pm, as well as 1 bottle of champagne and a premium platter, including lobster, oysters and caviar.
The top vibes are found at the top floor Bokan 39, where a party package includes one drink and plenty of fun. Both the second seating at Bokan 37 and the premium package at Bokan 38 include access to Bokan 39 as well.
Book and get all the info you need right here.
BOKAN
40 Marsh Wall, Isle of Dogs, London E14 9TP
10.

Laurel's On The Roof
Laurel's On The Roof - Photo: www.sbe.com/
Laurel's On The Roof is one of London's hottest rooftops, perched on top of the fabulous Mondrian London Shoreditch.
Inspired by 1970s LA, this rooftop restaurant and bar mixes a bright and stylish interior with a semi-covered and charming outdoor terrace, bringing a touch of retro glamour to East London.
Offering a rooftop feast bask in the magic of the season pretty much all of December, Laurel's On The Roof will also serve a extra special NYE set menu.
While enjoying the last night of the year and winter views across the city, you can indulge in Oysters, Scallops, Venison, Langoustine, Raspberry Soufflé and more.
See the full NYE menu here, and book your table here.
LAUREL'S ON THE ROOF
45 Curtain Rd, London EC2A 3PT