During recent yeras, Shoreditch has turned into one of the most popular and trendy areas in London. And there's no sign of the trend going down.
On the contrary, the feeling is that Shoreditch is just getting more and more popular by each day. And more elevated, as this London area has some really nice rooftop bars.
Shoreditch is a great area to enjoy the very best of vibes, food and drinks. If you head up to the rooftops you can also add lovely views to the equation.
Check out our list of the 5 best rooftop bars in Shoreditch, London.
1.

Aviary London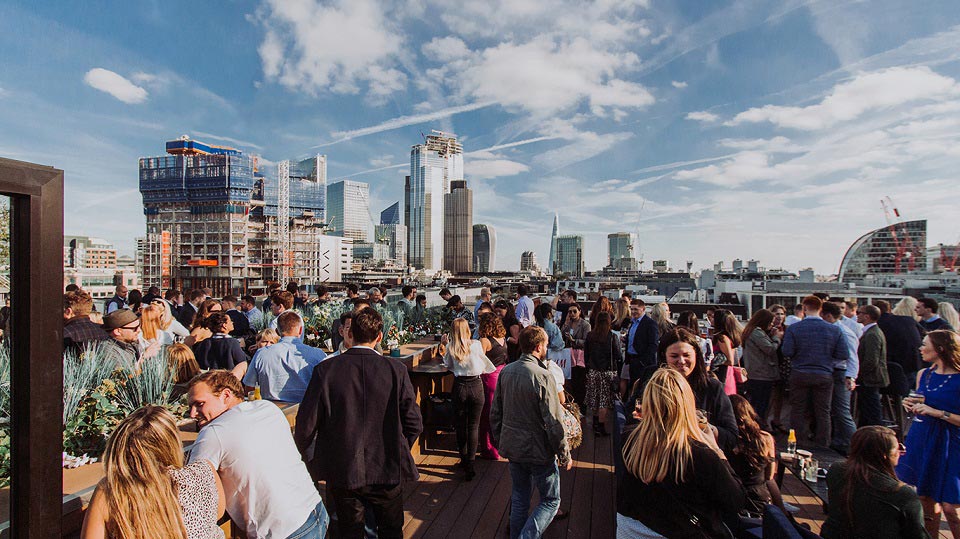 Aviary London - Photo: www.aviarylondon.com
Located on top of the luxurious Montcalm Royal London House, Aviary is known for its exclusive atmosphere, top-notch service, and outstanding views of the city.
Offering both indoor and outdoor seating, with floor to ceiling windows and a large terrace, Aviary is the perfect spot for relaxing afternoon cocktails or after-work drinks.
The decor is elegant and chic, as is most of the crowd, so dressing upscale casual is recommended.
For drinks, expect beers, wines, and bubbles, as well as a creative offering of botanical cocktails; there's not much in the way of food, except for bar bites, but brunch is served in Sundays, making Aviary a fun venue to visit during the weekend.
Aviary is open year-round, and it even has rooftop igloos during the winter, alongside a small menu of delicious hot drinks.
Reservations are only allowed for large groups, so arrive early if you want to score a spot.
AVIARY LONDON
22-25 Finsbury Square, London EC2A 1DX
2.

Boundary Rooftop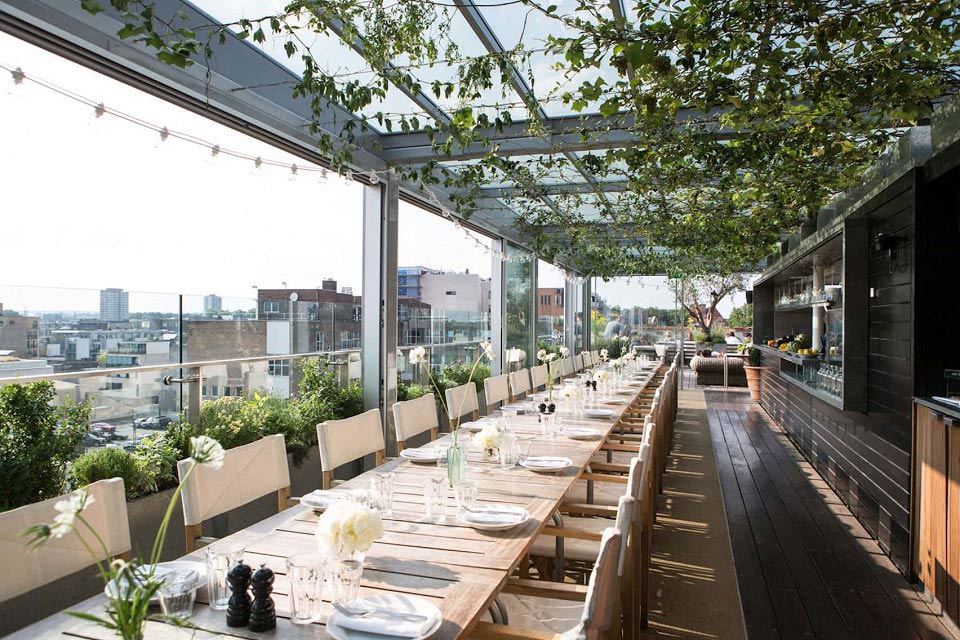 Boundary Rooftop - Photo: www.boundary.london
Located in the heart of Shoreditch, Boundary is a stylish and lush rooftop bar & grill known for its impressive panoramic views and laid-back, yet upscale atmosphere.
Shoreditch offers both indoor and outdoor terrace, with the restaurant occupying the indoor area and the bar the green outdoor patio.
The abundant shrubbery and the casual setting give Boundary a unique atmosphere, enhanced by the restaurant's delicious French-inspired seasonal cuisine and the bar's fantastic signature drinks.
Both the food and the drinks change according to the seasons, with fresh flavors and salads dominating during the summer and hot drinks and cheese-based dishes taking front stage during the winter.
Wines, champagne, spirits, beers, and classic cocktails are available year-round.
Reservations are allowed only for the restaurant, as the outdoor terrace works on a first-come, first-served basis.
BOUNDARY ROOFTOP
2-4 Boundary Street, London, E2 7DD
3.

Queen of Hoxton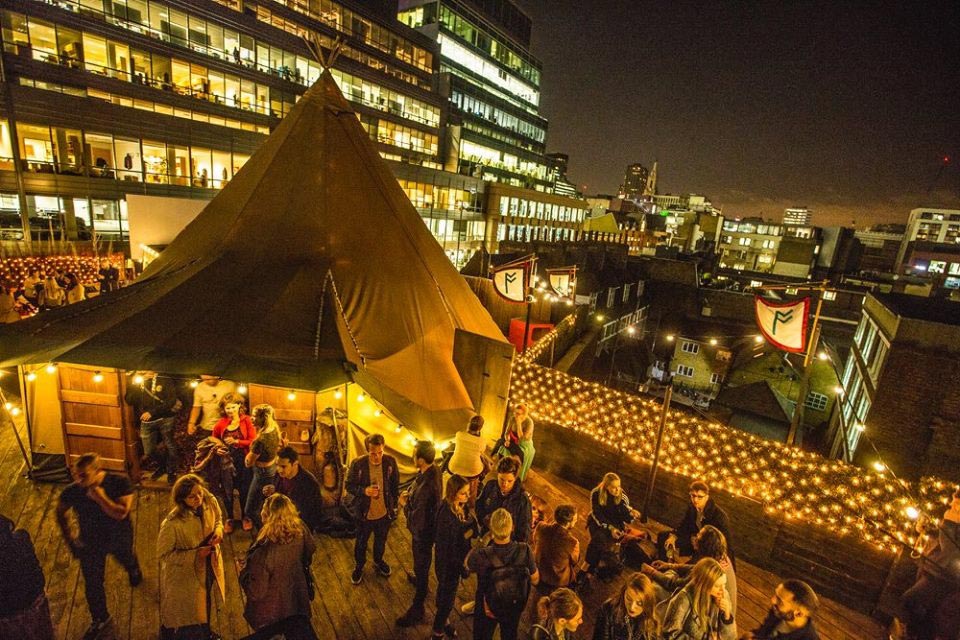 Queen of Hoxton - Photo: www.queenofhoxton.com
A multilayered and multifaceted venue, Queen of Hoxton, has earned its crowned by delivering a bar, a nightclub, an art gallery, a performance space, and a roof terrace all at the same time.
Split into three different floors, and offering both indoor and outdoor seating, as well as a variety of ambiance, Queen of Hoxton is the kind of place you can visit several times and still get a brand new experience.
Offering drinks from all over the world and a handful of signature drinks that you can't miss, a fantastic hot and cold menu that features things like boozy hot chocolate and prosecco with sea salt caramel.
There's also a rooftop cinema and outstanding views of London, as well as space to sit about 200 people, so boredom isn't a word known in this venue.
Queen of Hoxton works on a first-come, first-served basis, and is open year-round.
QUEEN OF HOXTON
1 Curtain Rd, London EC2A 3JX
4.

Upper 5th Shoreditch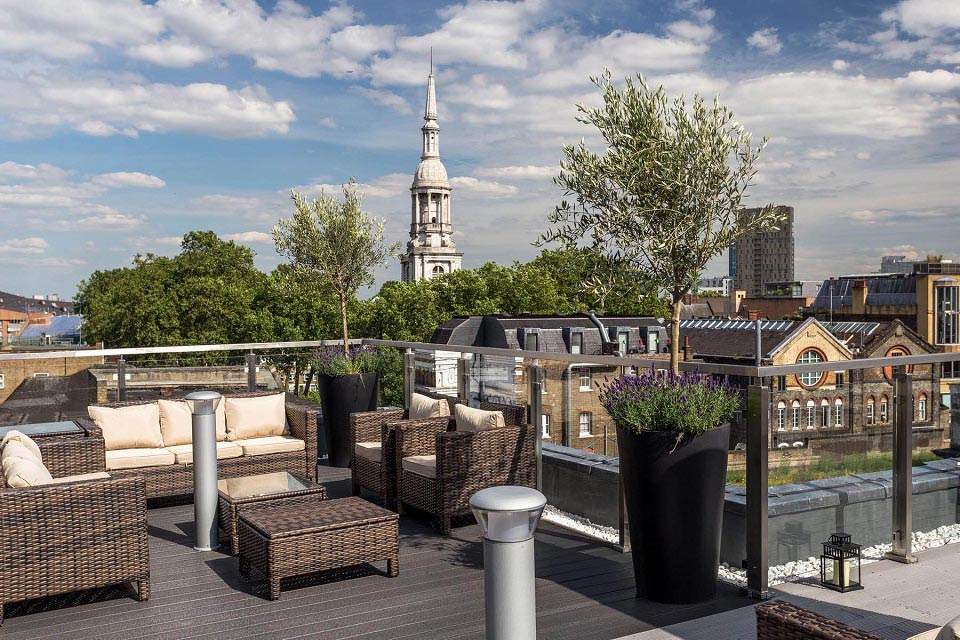 Upper 5th Shoreditch - Photo: www.shoreditch.courthouse-hotel.com
Located on top of the fantastic Courthouse Hotel, the Upper 5th Shoreditch is a beautiful and spacious rooftop terrace known for its classic atmosphere and breathtaking views.
During the weekdays, you can find a relaxed and laid-back atmosphere, perfect for private conversations and afternoon cocktails.
The weekends are another beast altogether, with live DJ shows, large crowds, and an undeniable party spirit.
Upper 5th Shoreditch is particularly popular during the summers, thanks to its summer classics like the Aperol Spritz and Bellini, and for its signature BBQ kitchen.
Reservations are possible for parties of 6 or more. For everyone else, Upper 5th Shoreditch works on a first-come, first-served basis.
UPPER 5TH SHOREDITCH
335-337 Old St, London EC1V 9AU
5.

Golden Bee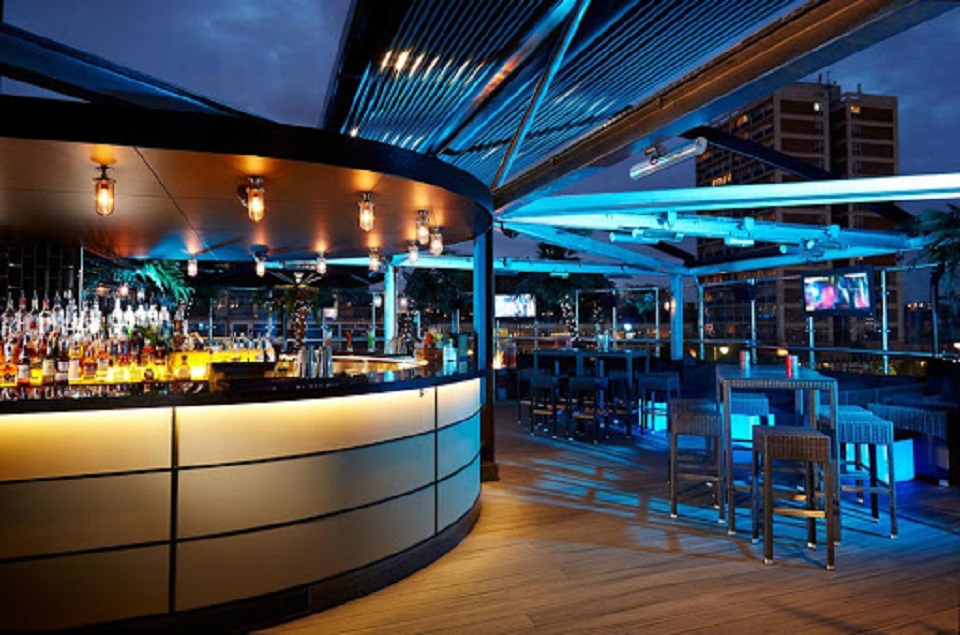 Golden Bee - Photo: www.goldenbee.co.uk
Located in the heart of Shoreditch, the Golden Bee is a stylish cocktail lounge known for its relaxing atmosphere and swanky rooftop terrace.
Split into three levels, all elegantly furnished and with great views of the city, the Golden Bee is an ideal venue for after-work drinks, afternoon cocktails, and fun parties.
The rooftop terrace, the crowning jewel of the Golden Bee, comes with a retractable canopy and, during the weekends, is the scenario for live DJ shows and fantastic rooftop parties.
Drinkwise, expect beer, wines, world spirits, and a wide range of delicious cocktails.
For food, expect only traditional bar bites and snacks, though more substantial fare is available in the form of sushi or canapes, provided you request them 48 hours in advance.
Golden Bee is free to enter during the weekdays, with a £7-10 fee during the weekends; while walk-ins are welcome, the entire venue can be booked for parties and private events, so make sure to call to ensure availability.
GOLDEN BEE
Singer St, London EC1V 9DD