Rooftop pools and London is maybe not the perfect match, mainly because of the sometimes grey and cold weather in the United Kingdom.
But, London is a great rooftop city and during recent years, some rooftop pools has popped up as well. So when the weather is in the right mood, you can find a refreshing oasis high above the bustling city streets.
You should however know that most of the London rooftop pools are located at member hotels, which means you have to be a member (for example Soho House) or a guest to be able to use some of these swimming pools.
Anyway, here's a list of 5 fabolous rooftop swimming pools located in London. Enjoy!
1.

The Ned
Rooftop pool London at The Ned | Photo: www.thened.com/
A true London classic, The Ned has been an important presence in the city since 1924, and its upstairs club is one of the best in the city.
The Ned's Club Upstairs have two striking terraces, a large rooftop bar decked with London glamour, and a fantastic rooftop pool that has more than earned it a place in this list.
The pool is 20 meters long and heated and overlooks the St. Paul's Cathedral and a sizeable portion of London's skyline.
Available only to hotel guests and Ned Club members, the pool is also complemented by the hotel's spa and the gym, making it a fantastic choice for those looking to relax in style.
2.

Mondrian Shoreditch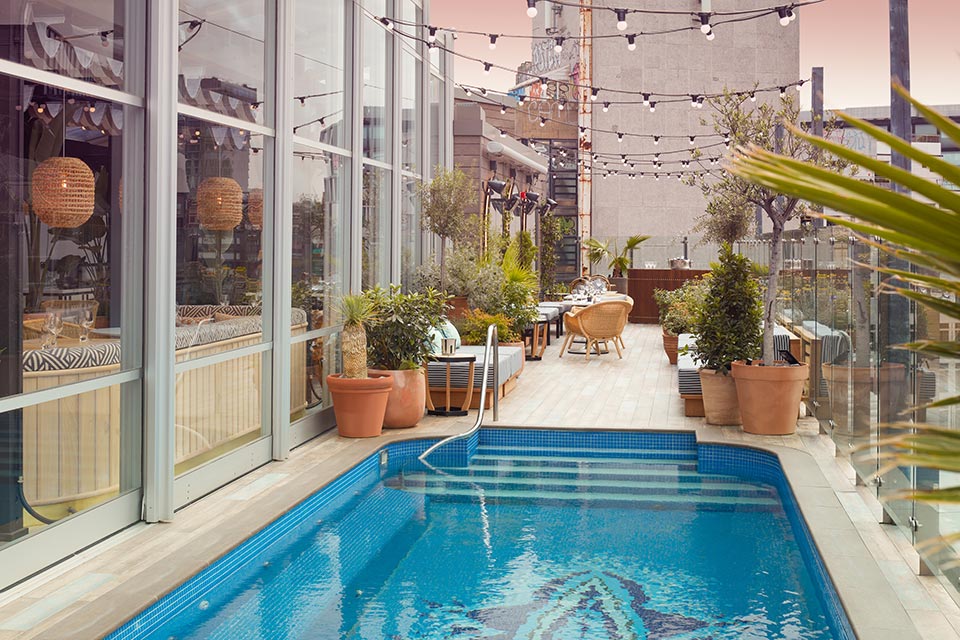 Rooftop pool London at Mondrian Shoreditch | Photo: https://www.sbe.com/
Located in Shoreditch, what used to be LIDO at The Curtain was during summer 2021 turned into the Mondrian London Shoreditch. The fabolous rooftop pool and terrace is (luckily) pretty much the same.
Sharing space with the modern rooftop restaurant and bar Laurel's On The Roof, the terrace is inspired by 1970s LA, and fabulous pool parties in the Hollywood Hills.
The glittering pool is a sight by itself, with heated deep blue waters surrounded by majestic views over the East London skyline.
The pool's unique look is complemented by wooden terraces, lush shrubbery, wooden deckchairs, ample sun loungers, raffia bistro chairs, beautiful wicker lampshades, and a pergola-style ceiling.
While everyone are welcome to visit the rooftop restaurant and bar, the rooftop pool is strictly exclusive for Mondrian Shoreditch hotel guests and members of The Curtain Club.
"Being in the East End of London, it's easy to get to from pretty much wherever you are in the city," comments Ruban Selvanayagam, an Essex-focused auctioneer.
3.

Sky Pool at Embassy Gardens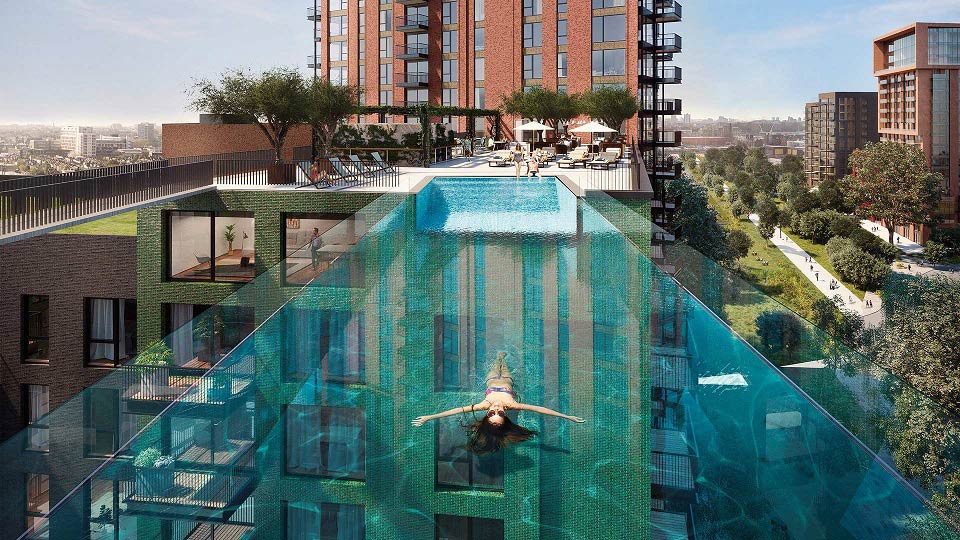 Rooftop pool London at Sky Pool at Embassy Gardens | Photo: www.embassygardens.com/
Considered the world's very first 'sky pool', and opened with a band in May 2021, this entry is truly a sight to behold!
Suspended ten stories in the air between two buildings, the Sky Pool offers a unique swimming experience, albeit not one for the faint of heart, as you'll be swimming from one building to the other with each lap.
The pool's jaw-dropping design doesn't exist only for the novelty either, as it allows guests to explore the full spectrum of the terraces, which include a rooftop bar, a spa, and a roof garden.
Unlike most entries in this list, the Sky Pool is exclusive to residents of the Embassy Garden's Buildings, so to swim in this amazing pool, you'll have to move there, or befriend someone who lives there.
4.

Shoreditch House
Rooftop pool London at Shoreditch House | Photo: www.sohohouse.com/
An exclusive and hip destination located in East London, the Shoreditch House combines work and play in a unique way.
Surrounded by lush shrubbery, comfortable lounge areas, poolside loungers, and daybeds, this is a fantastic destination for those looking for some peace in the middle of one of the world's busiest cities.
Open year-round from 7:00 am to 10:00 pm, the Shoreditch House rooftop pool offers impressive views of the East End, the Gherkin, and the Heron Tower, as well as a fantastic rooftop bar and delicious food options.
The pool itself is 16 meters long, fully heated, and decorated with beautiful blue tiles, and it's located right next to the 'lazy lawn': an open-air terrace perfect for sunbathing, eating, and drinking.
The Shoreditch House is exclusive to club members and hotel guests. It is also an adult-only venue, so you'll be able to enjoy the pool (probably) without to much splashing.
5.

White City House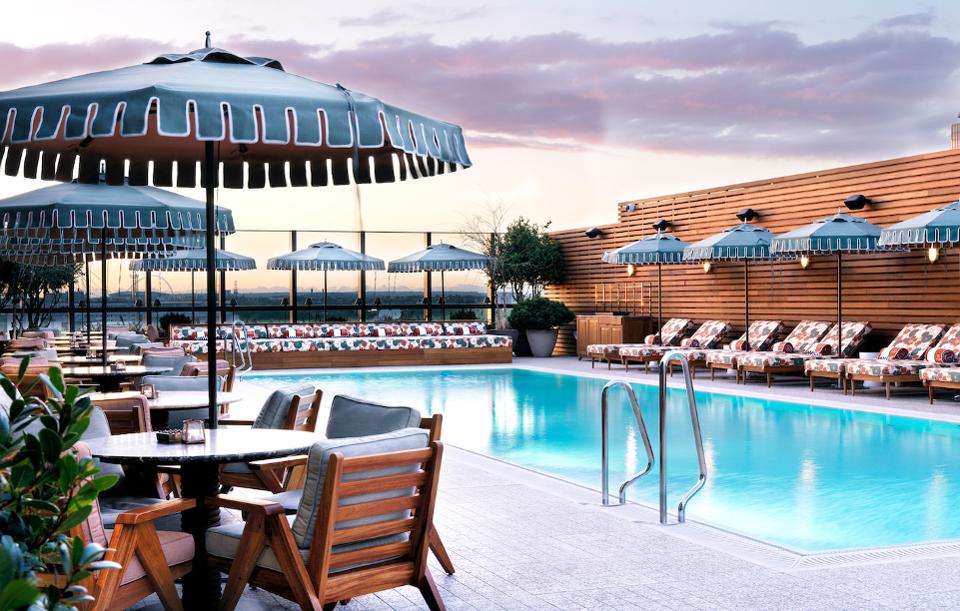 Rooftop pool London at White City House | Photo: www.sohohouse.com/
Occupying part of the former BBC Television Centre, the White City House offers a large rooftop pool and terrace, designed to evoke an exotic yet relaxing atmosphere.
The pool is spacious, and surrounded by comfortable sun loungers and beautiful greenery.
The entire terrace is large enough to avoid overcrowding during the summer days, and thanks to its two rooftop bars, chances are you won't have to wait long for a drink either.
Since this terrace is located a bit away from downtown London, it doesn't have the best views around, but considering the extra space to stretch your legs and move around, the trade-off is more than worth it.
Adress: 2, Television Centre, 101 Wood Ln, Shepherd's Bush, London
Availability: Hotel guests / Members