London is one of the most visited cities in the world. And also, a city filled with many grand rooftop bars.
A bit surprisingly maybe, but plenty of the London rooftop bars are open also during winter. Some are all-weather venues with both indoor and outdoor seating, but some also turn the alfresco terraces into warm-ish and comfy places for elevated fun.
You can find everything from luxurious winter terraces, rooftop ice rinks, igloos and alp huts, to simply heated rooftops perfect to chill out during the holiday season. Why not make the joyful days extra amazing, with a visit to one of the Christmas rooftop bars London has to offer?
Here's a list of the 11 best winter rooftops in London. A list made by the world's leading experts on rooftop bars – The Rooftop Guide.
1.

The Lucky Club Camden
The Lucky Club Camden | Photos: Harry Johnson
The Lucky Club Camden, the brand new destination roof terrace that launched in May 2022, is to undergo a magical transformation ahead of the festive season.
Launching on 11th November, the rooftop cocktail and taco bar concept overlooking London's iconic Camden Market, will be transformed into a cosy Winter Rooftop Garden. Complete with open fire pit, heaters, festive foliage and twinkling fairy lights, the North London newcomer hopes to become an essential part of the Festive London Hot List.
The extensive Margarita menu will enjoy a yuletide makeover, featuring creations such as the Hibiscus Margarita (Blanco Tequila, Hibiscus syrup, Lime, Agave), Pica Chocolate (Blanco Tequila, chocolate, lime, agave, chilli) and the Mezcal Penicillin (Mezcal, Lime, Ginger syrup, Agave), whilst the kitchen will be serving quirky takes on the Christmas classics, such as the Roast Turkey Quesadillas (roast turkey, gravy, monterey jack cheese and cranberry sauce) and Pigs in Blankets Tacos (sausages wrapped in bacon, garlic roast potatoes, cranberry sauce, gravy).
To ensure guests remain toastie on the terrace, wool blankets and hot water bottles will be available on request for those chillier afternoons and nights, and the introduction of a seriously indulgent and boozy Lucky Hot Chocolate, a mezcal and chilli spiked Oaxacan hot chocolate topped with whipped cream, chocolate shards and a giant Lucky Club marshmallow.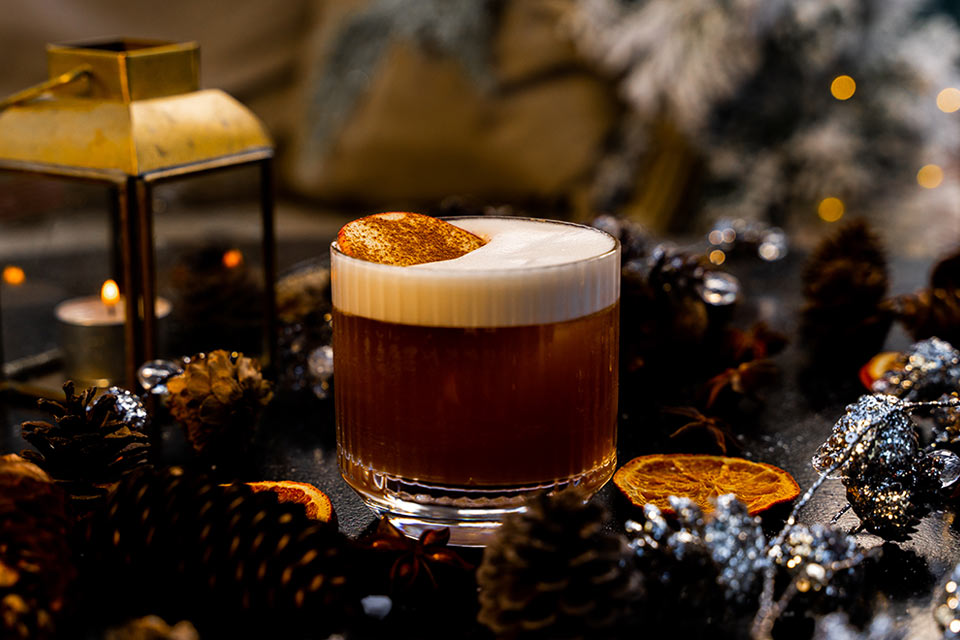 The rooftop will also introduce a new weekend brunch menu for those lazy winter mornings. Think dishes such as Huevos Rancheros (Flour tortilla, Mexican BBQ beans, Avocado, Salsa Verde, Chorizo, Feta and Fried Egg), Taco Al Pastor (BBQ Pulled Pork, Avocado Crema, Pineapple, Coriander) and Loaded Green Nachos (Guacamole, Monterey Jack Cheese, Sour cream, Salsa Verde, Pico de Gallo), served alongside Bloody Marias (a tequila Bloody Mary) and Espresso Martinis with a Mezcal twist.
Open Wednesday to Sunday, the venue will be supporting the drive to keep 'going out' an option this winter, offering 30% off food all day each Thursday, and running its ever popular Lucky Hour (5-6pm), whereby guests are invited to roll the dice before each round. Roll a lucky number 7 and your cocktail is on the house! On Wednesdays, all cocktails will be available for £9.50.
THE LUCKY CLUB
The Terrace, Horse Hospital, North Stables Yard, London
2.

The Rooftop at The Trafalgar St. James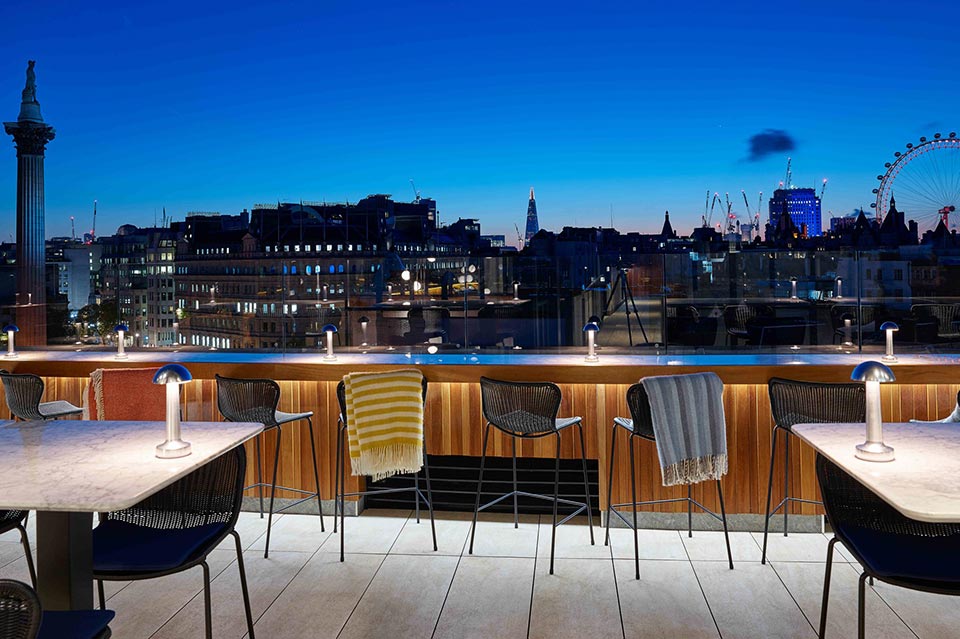 The Rooftop | Photo: https://trafalgarstjames.com
Found on the 7th floor of the fantastic The Trafalgar St. James, this is one of the best wining-and-dining locales in all of London.
Elegant, charming, and luxurious; this is the perfect place to enjoy a finely crafted cocktail or a fine wine.
Equipped with a retractable roof and outdoor blankets and heaters, The Rooftop is open year-round, even during the cold winter months.
The made-to-share food served in this restaurant is better described as pan-Asian, so make sure to visit with friends.
Thanks to its location, The Rooftop offers awe-worthy panoramic views of London's downtown. So much so that you won't want to leave.
Reservations are encouraged but not necessary.
If you're looking for seclusion, The Rooftop also has a small, private glass box called ROOM, that seats 14 people and boasts the best views in the house.
THE ROOFTOP
Trafalgar Square, Cross Street:2 Spring Gardens, London
3.

Radio Rooftop Bar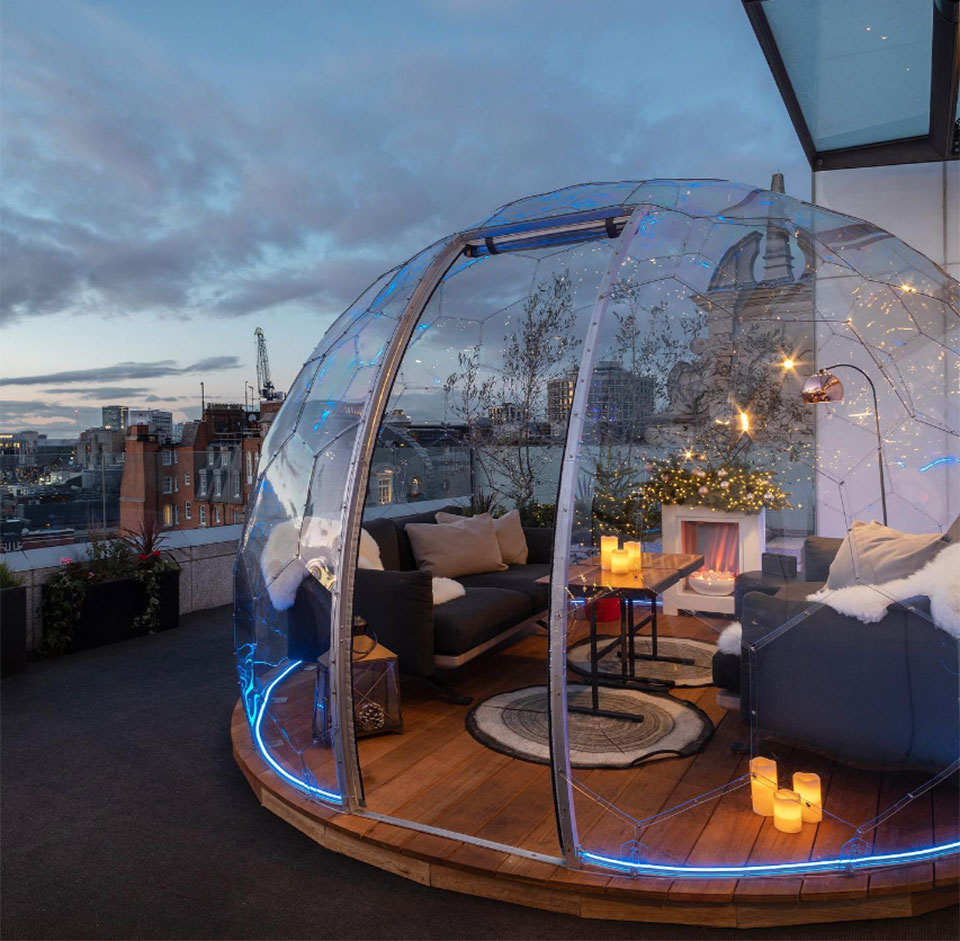 Radio Rooftop Bar | Photo: http://radiorooftop.com
Located at the excellent ME London, this beautiful rooftop bar and lounge is as trendy as it is fun.
Offering awe-worthy views of London's landmarks –from Big Ben to the London Eye– this is the kind of place that aims to impress.
Live DJs, small plates, lunches and brunches, as well as a collection of both classic and signature cocktails, have earned this spot the title as one of London's most iconic rooftop bars.
Because of this, prices are quite high, and reservations are a must, but the Radio Rooftop is more than worth it.
Set 10 floors above the hustle and bustle of Covent Garden, the rooftop has both indoor and outdoor seating, including two immersive terraces. What's more, retractable roof, vertical blinds and cosy rooftop igloos make this an ideal spot for winter rooftop visits as well. The igloos, or Winter Bubbles, are luxurious winter hideaways, decked out with faux-fur throws, cosy blankets and mini fireplaces.
The Radio Rooftop is open to the public from early morning until late night, and offers an atmosphere that is both lively and classy, so make sure to dress your best.
RADIO ROOFTOP BAR
ME London, 336-337 The Strand, London
4.

Aviary London
Aviary | Photo: https://aviarylondon.com/
Located on top of one of London's most luxurious hotels, right in the heart of Finsbury Square, the Aviary aims to please.
This rooftop restaurant and bar combination offers both indoor and outdoor seating, magnificent views of the city, and a relaxed yet sumptuous ambiance that you're sure to enjoy.
The restaurant focuses on internationally inspired food made with seasonal ingredients; the bar is well known for its botanical cocktails and a wide selection of beers and wine.
Winters are particularly enjoyable at the Aviary, as rooftop igloos are set up all over the terrace to protect you from the winter chill. The 2022 igloo-season starts in October.
Woolen blankets and sheepskin rugs, plus a faux fern dome adds to the rooftop winter-wonderland illusion, and, if that wasn't enough, hot drinks are also available.
This is a trendy place, so make sure to arrive on time if you want to get a table. And if you want an igloo, make reservations.
AVIARY
22-25 Finsbury Square, London
5.

Skylight Tobacco Dock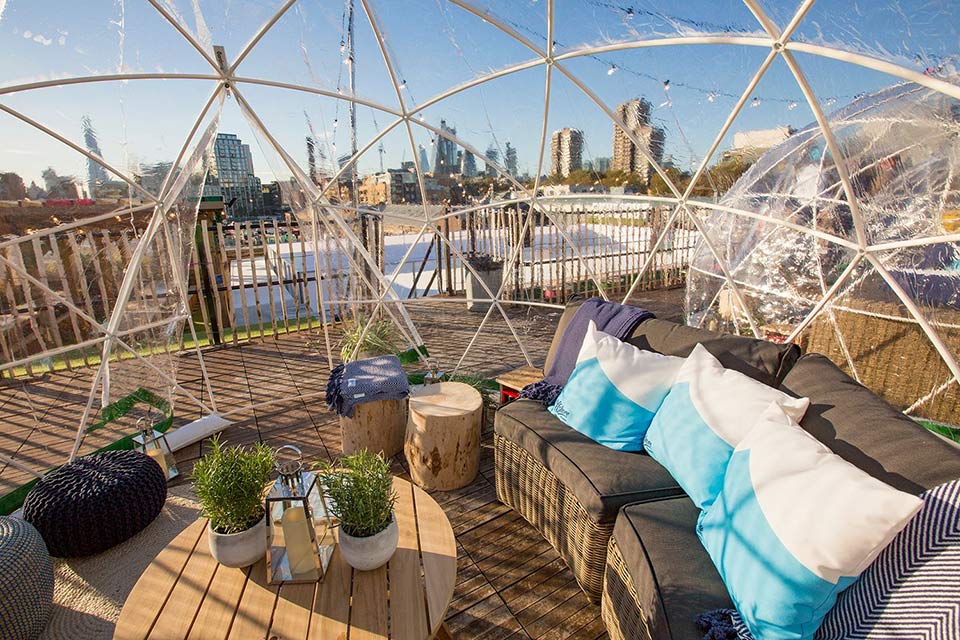 Skylight | Photo: www.tobaccodocklondon.com
The impressive and three-level Skylight Tobacco Dock rooftop bar is often described as an 'adult playground', and with good reason!
Equipped with a croquet field, a péntaque area, table tennis, multiple screens from which to watch sports, and offering plenty of food and drinks, Skylight was designed with fun in mind.
While the above mostly is fun for the summer season, this is a happening rooftop venue in winter as well. From October until the end of March, the 'Winter at Skylight' means Europe's only rooftop ice rink (skate rentals provided), along with cosy rooftop igloos and Alpine huts. There is also an indoor bar with games on the 9th floor.
Rooftop parties are the norm for this bar, and you can expect anything from summer BBQs to Christmas sing-a-longs and award-winning DJ's to entertain guests.
The food served veers on the side of street-food, and the drinks tend to be seasonal, with fresh, fruity cocktails during summer and warming wintery cocktails and ciders during the colder months.
SKYLIGHT
Tobacco Dock, Pennington St entrance, St Katharine's & Wapping, London
6.

Willows On The Roof
Willows On The Roof | Photo: www.willowsontheroof.co.uk/
Covering the top floor of the retail store John Lewis on Oxford Street, Willows On The Roof is an urban rooftop, providing the ultimate sanctuary from the mayhem of the city.
With the look and feel of an urban jungle, this is one of the biggest roof gardens in London, surrounded by panoramic views across the UK capital.
Perfect for sunny summer sesions, but also a great option during the colder season, with both heated chalet inspired cabins and private winter pods out in the terrace.
The 4 cosy and luxurious rooftop igloos are available from 14th October 2022, with each seating 6 people, offering an immersive experience while dining under the stars.
The rooftop menu includes a seasonal selection of both food and drinks, including crafted cocktails and contemporary dishes.
WILLOWS ON THE ROOF
300 Oxford St, Marylebone, London W1C 1DX
7.

London Bridge Rooftop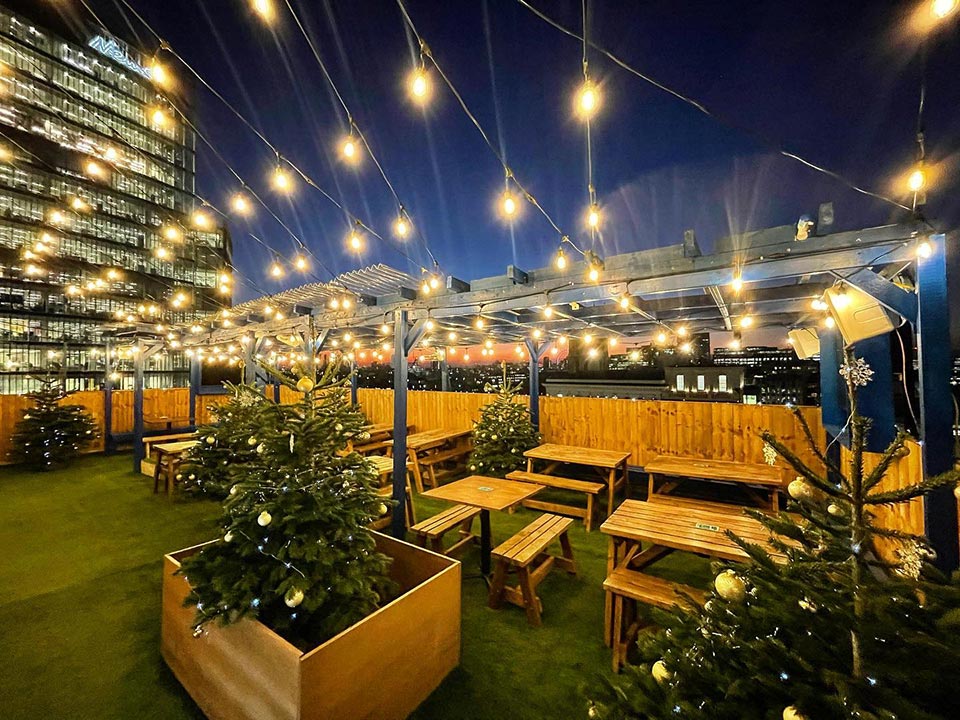 London Bridge Rooftop | Photo: www.londonbridgerooftop.com/
Located in Colechurch House on London Bridge Walk, the casual urban London Bridge Rooftop started as pop-up, but has quickly turned into one of the more popular and always present options on the London rooftop scene.
Up here, the grey concrete of the rooftop mingles with mint green pergolas, fairy lights and green plants to create a cool urban summer hang out in the city. But, there is also blankets, flexible shutter coverings and heaters across the 220 capacity venue, keeping everyone warm and cosy no matter the weather and season.
Apart form panoramic 360° over the London skyline, the rooftop offers a menu filled with pints, delicious house cocktails, seasonal drinks and banging burgers.
Expect a fun-filled and vibrant atmosphere, with DJs keeping the energy high on pretty much a daily basis.
LONDON BRIDGE ROOFTOP
Colechurch House, Bridge Walk, London SE1 2SX
8.

Bar Elba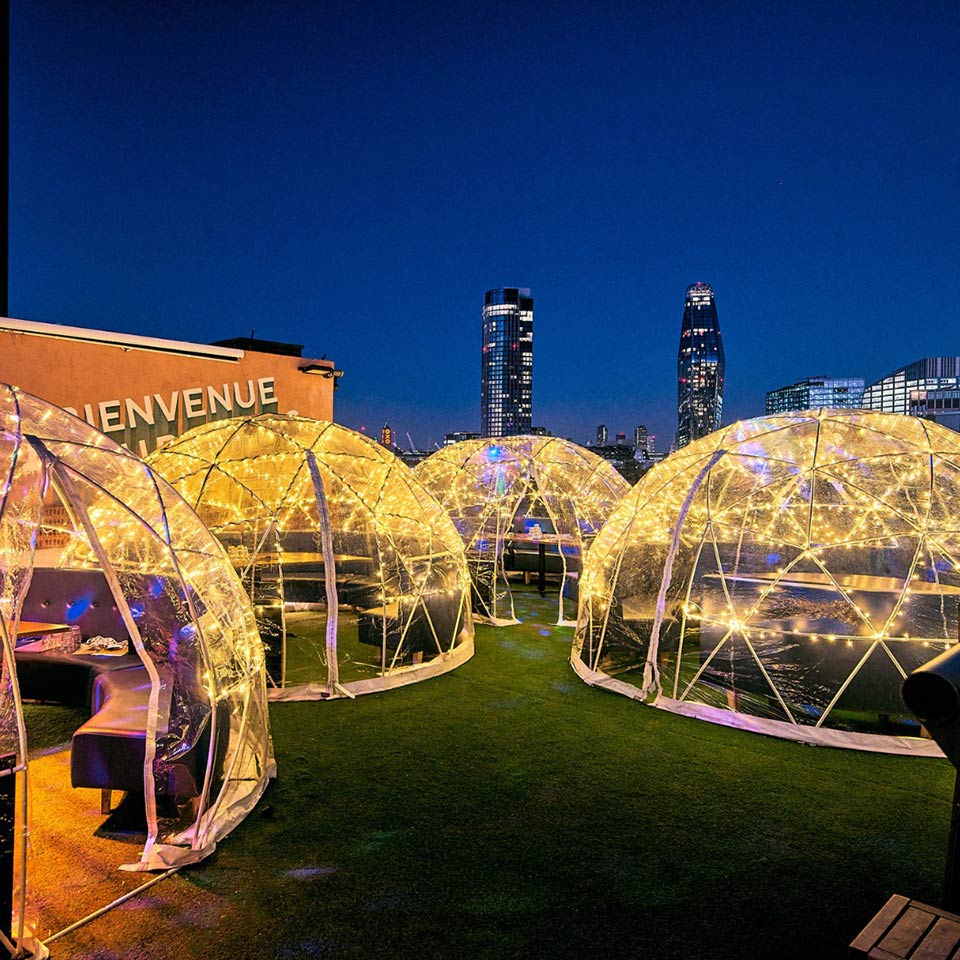 Bar Elba | Photo: www.bar-elba.co.uk/
Named after the Mediterranean island where Napoleon was exiled, Bar Elba is one of Waterloo's most desired destinations. Year round!
Covered and cosy during the colder months before, winter also means the return of the highly popular Rooftop Party Pods.
The Party Pods (or rooftop igloos) seat up to 12 guests, and here you can enjoy a designated server offering cocktails, wine and everything from chrome-griddled burgers to honey-soaked halloumi fries.
To really raise the vibe, every igloo is kitted with its very own speaker where you can create the playlist. Just book one for up to 3-hours and dance the night away.
If the igloos are unavailable, there are plenty of festive packages and Christmas drinks to be enjoyed at the rooftop bar.
BAR ELBA
109-117 Waterloo Rd, London
9.

Netil360
Netil360 | Photo: https://netil360.com/
Netil360 is East London's hidden secret garden in the sky, with panoramic views over city skyline
Charmingly 'home-crafted', the spacious and relaxing terrace is a perfect spot to enjoy locally sourced drinks and food im the sun every day in summer. But the rooftop is also available for weekend fun during the colder months.
With indoor booth seating and covered outdoor seating with heaters, every Friday and Saturday means DJs, an all are welcome atmosphere, mulled wine and spiced cider, and all the London views you could ask for.
NETIL360
1 Westgate St, Hackney, London E8 3RL
10.

Queen of Hoxton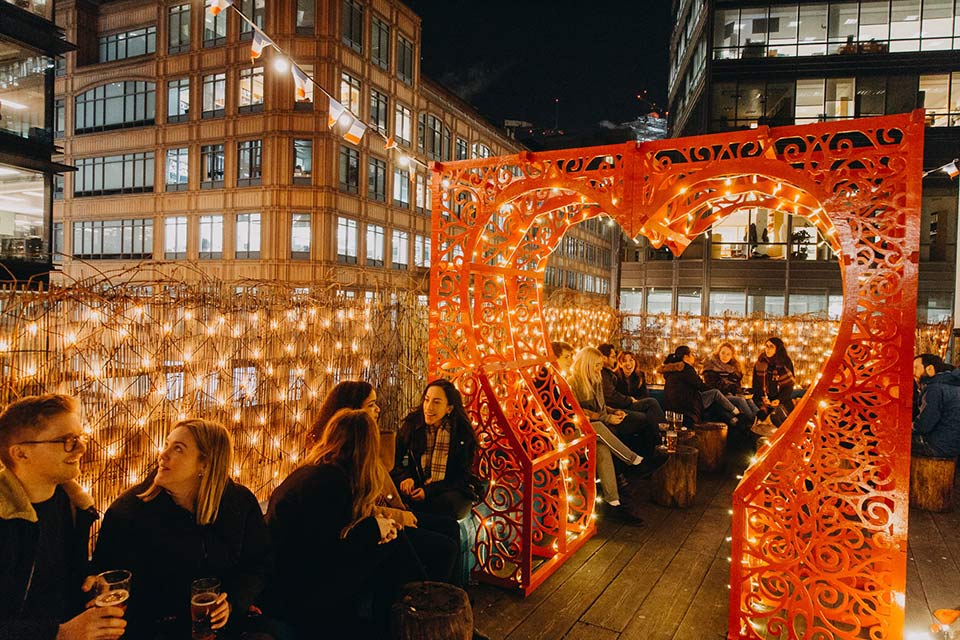 Queen of Hoxton | Photo: http://queenofhoxton.com/
Set in the heart of Shoreditch, Queen of Hoxton is really an eventful place. Here you find three floors of bar, nightclub, performance space, art gallery and rooftop terrace.
With a new theme every season, Queen of Hoxton is a rooftop you can visit again, and again, and again, and again...
During 2021, the theme of the winter was 'Alice in Winterland', inviting guests to travel through the rabbit hole and into a magical wigwam for boozy hot drinks, juicy burgers, 'Drink Me' potion shots and shisha.
Fire pits makes sure everyone stays warm, and the winterland decor comes complemented with plenty of happening events.
QUEEN OF HOXTON
1 Curtain Rd, London
11.

Savage Garden
Savage Garden | Photo: www.savagegarden.co.uk/
Located at the 12th floor of DoubleTree by Hilton Hotel London in Tower Hill, Savage Garden is a really cool and modern rooftop bar that opened its doors in 2018.
From two seperate terraces you can enjoy amazing 360-views over the London skyline, while sipping creative and exciting cocktails in the sun. In summer, that is...
But don't despair. During winter season the rooftop usually turn into Savage Schloss, offering all the fun of a ski lodge in the Austrian Alps, right in central London.
Available during the colder months, the retractable roof-hut comes with Christmas trees, wooden community benches, skies on the wall and red & white table cloths. All you need to get into the alp- and winterish mood.
There is a special rooftop winter-menu, offering food and drinks suitable for the setting, like 'Baked Pretzel', 'BBQ Bratwurst', 'French Mule' and all the glühwein you could want.
SAVAGE GARDEN
DoubleTree by Hilton London, 7 Pepys St, London