London is one of the most visited cities in the world. And also, a city with many grand rooftop bars.
A bit surprisingly maybe, but most rooftop bars are open also during winter. It might be due to the fact that there are many rainy days in London every year, so the best bet is to build all-weather venues.
You can find both luxurious winter terraces, rooftop ice rinks, alp huts or just a place to chill out during the holiday season. Why not make the joyful days extra amazing, with a visit to one of the Christmas rooftop bars London has to offer?
Here's a list of the 8 best winter rooftops in London. A list made by the world's leading experts on rooftop bars – The Rooftop Guide.
1.

The Lucky Club Camden
The Lucky Club Camden | Photo: https://theluckyclub.com/
An exciting new addition to North London's skyline, The Lucky Club Camden launched in May 2022, elevated above the iconic Camden Market.
The 5,600 sq foot roof terrace has received a £2 million facelift, and through the use of pared back materials, natural planting, foliage and a neutral colour palette, The Lucky Club Camden is set to be a rooftop oasis in the centre of Camden.
Sensitive to the building's history and heritage, the timeless design will allow for the architecture to be the focal point of the space. And thanks to a retractable roof and state of the art gas heaters, alfresco drinking and dining will be available throughout the seasons.
The rooftop offers a food menu that revolve around contemporary Tacos and Quesadillas, taking inspiration from Mexico City, a true melting pot of all the regions in the country.
The drink menu specialises in Margaritas and Mezcal cocktails, and promises no less than 7 Margarita serves. Every Monday to Thursday between 5-6pm you can also try your luck during 'Lucky Hours'. Roll the dice before each round, and if you get the lucky number 7, your cocktail is on the house.
With an inclusive atmosphere, great music, good food and amazing cocktails, The Lucky Club rooftop is a club that's open to everyone, all year round, and you just need to bring the good vibes.
THE LUCKY CLUB
The Terrace, Horse Hospital, North Stables Yard, London
2.

Radio Rooftop Bar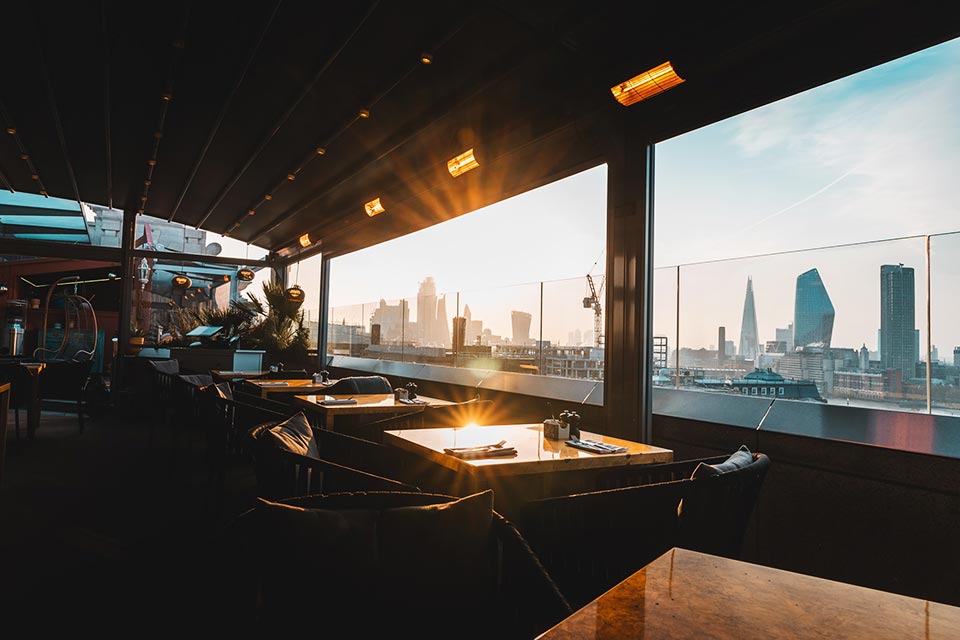 Radio Rooftop Bar | Photo: http://radiorooftop.com
Located at the ME London, this beautiful rooftop bar is as trendy as it is fun.
Offering awe-worthy views of London's landmarks –from Big Ben to the London Eye– this is the kind of place that aims to impress.
Live DJs, delicious snacks, and a collection of both classic and signature cocktails have earned this spot the title of one of London's best rooftop bars, if not the best.
Because of this, prices are quite high, and reservations are a must, but the Radio is more than worth it.
The Radio rooftop has both indoor and outdoor seating, as well as two immersive terraces; what's more, retractable roof, vertical blinds and cosy rooftop igloos make this an ideal spot for winter rooftop visits as well.
The Radio Rooftop is open to the public from early morning until late night, and offers an atmosphere that is both lively and classy, so make sure to dress your best.
RADIO ROOFTOP BAR
ME London, 336-337 The Strand, London
3.

Aviary London
Aviary | Photo: https://aviarylondon.com/
Located on top of one of London's most luxurious hotels, right in the heart of Finsbury Square, the Aviary aims to please.
This restaurant and bar combination offers both indoor and outdoor seating, great views of the city, and a relaxed yet sumptuous ambiance that you're sure to enjoy.
The restaurant focuses on internationally inspired food made with seasonal ingredients; the bar is well known for its botanical cocktails and a wide selection of beers and wine.
Reservations for the lounge area are only available for groups larger than 8, which makes Aviary an ideal place to visit when traveling with a group.
Winters are particularly enjoyable at the Aviary, as rooftop igloos are set up all over the terrace to protect you from the winter chill.
Woolen blankets and sheepskin rugs, plus a faux fern dome adds to the rooftop winter-wonderland illusion, and, if that wasn't enough, hot drinks are also available.
This is a trendy place, so make sure to arrive on time if you want to get a table. And if you want an igloo, make reservations.
AVIARY
22-25 Finsbury Square, London
4.

Skylight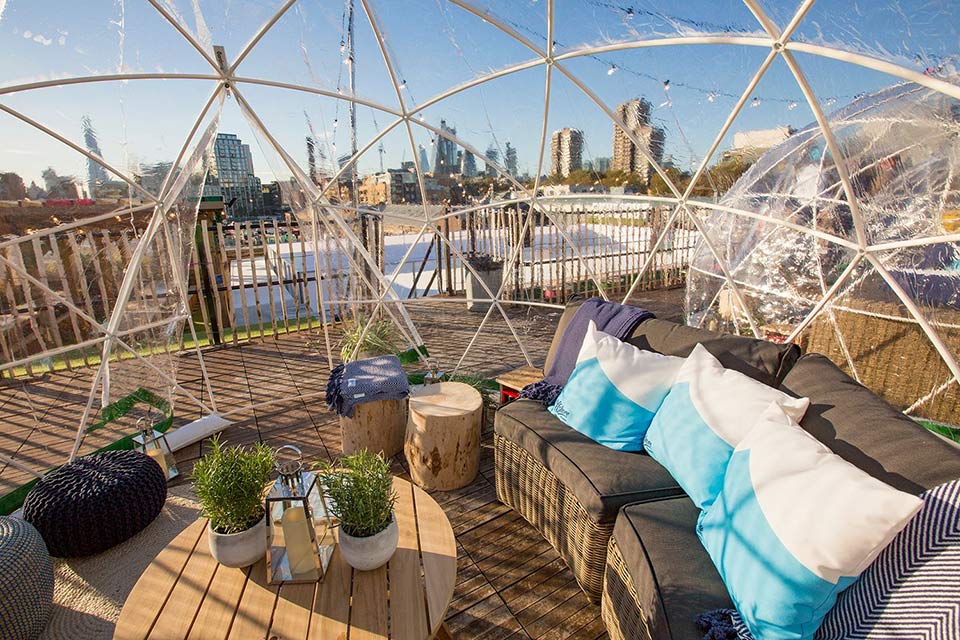 Skylight | Photo: www.tobaccodocklondon.com
This three-level rooftop bar has been described as an "adult playground" and with good reason!
Equipped with a croquet field, a péntaque area, multiple screens from which to watch sports, and both food and drinks, Skylight was designed with fun in mind.
While the above is fun for the summer season, this is a happening rooftop venue in winter as well. From November to January, the 'Winter at Skylight' means a rooftop ice rink (so make sure to bring your skates), along with cosy rooftop igloos and mountain huts.
Rooftop parties are the norm for this bar, and you can expect anything from summer BBQs to Christmas sing-a-longs to entertain guests.
The food served veers on the side of street-food, and the drinks tend to be seasonal, with fresh, fruity cocktails during summer and warming wintery cocktails and ciders during the colder months.
SKYLIGHT
Tobacco Dock, Pennington St entrance, St Katharine's & Wapping, London
5.

The Rooftop at The Trafalgar St. James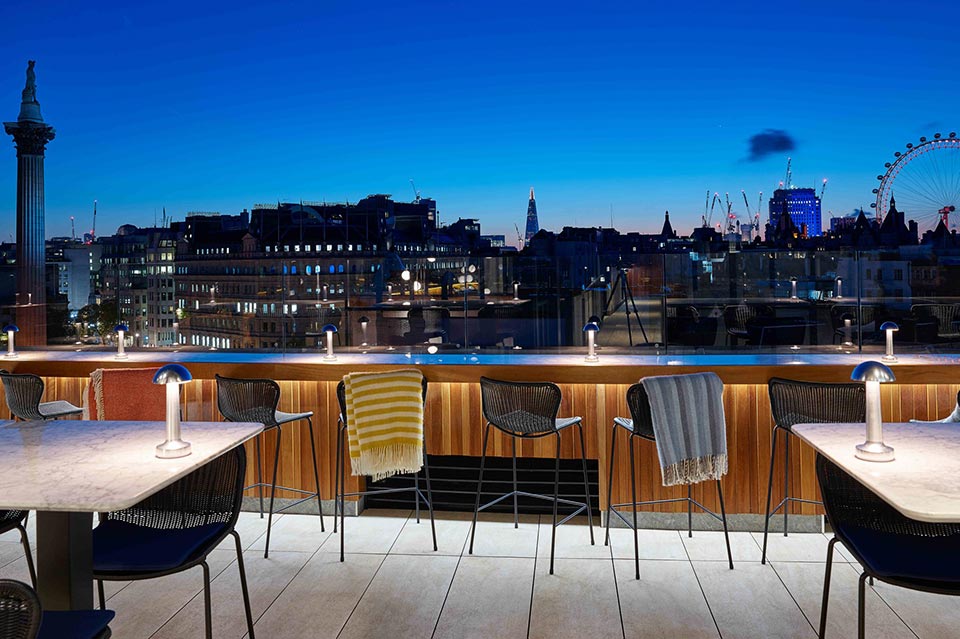 The Rooftop | Photo: https://trafalgarstjames.com
Found on the 7th floor of The Trafalgar St. James, this is one of the best wining-and-dining locales in all of London.
Elegant, charming, and luxurious; this is the perfect place to enjoy a finely crafted cocktail or a fine wine.
Equipped with a retractable roof and outdoor blankets and heaters, The Rooftop is open year-round, even during the cold winter months.
The made-to-share food served in this restaurant is better described as pan-Asian, so make sure to visit with friends.
Thanks to its location, The Rooftop offers awe-worthy panoramic views of London's downtown. So much so that you won't want to leave.
Reservations are encouraged but not necessary.
If you're looking for seclusion, The Rooftop also has a small, private glass box that seats 14 people and boasts the best views in the house.
THE ROOFTOP
Trafalgar Square, Cross Street:2 Spring Gardens, London
6.

Queen of Hoxton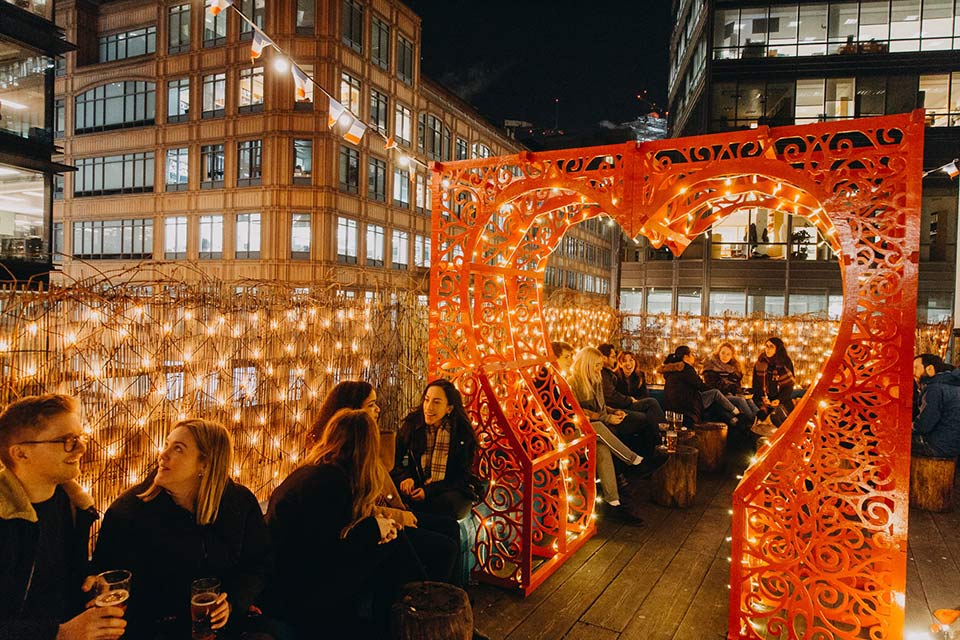 Queen of Hoxton | Photo: http://queenofhoxton.com/
Set in the heart of Shoreditch, Queen of Hoxton is really an eventful place. Here you find three floors of bar, nightclub, performance space, art gallery and rooftop terrace.
With a new theme every season, Queen of Hoxton is a rooftop you can visit again, and again, and again, and again...
The theme of the winter is 'Emerald City'. A place where "nothing is quite what it seems and even the beer runs green".
Fire pits and a cosy WigWam makes sure everyone stays warm, and events run from workshops on how to make Christmas gifts from kitchen scraps to learning the art of Pxssy magic and how to cast spells.
If casting spells is not your cup of tea, head up to the bar and just enjoy some mulled wine, hot and cold green cocktails, hearty Kansas style food and a vibrant atmosphere. All you need for a great London winter rooftop experience.
QUEEN OF HOXTON
1 Curtain Rd, London
7.

Savage Garden
Savage Garden | Photo: www.savagegarden.co.uk/
Located at the 12th floor of DoubleTree by Hilton Hotel London in Tower Hill, Savage Garden is a really cool and modern rooftop bar that opened its doors in 2018.
From two seperate terraces you can enjoy amazing 360-views over the London skyline, while sipping creative and exciting cocktails in the sun. In summer, that is...
But don't despair. This winter season the rooftop will turn into Savage Schloss, offering all the fun of a ski lodge in the Austrian Alps, right in central London.
Available during the colder months, the retractable roof-hut comes with Christmas trees, wooden community benches, skies on the wall and red & white table cloths. All you need to get into the alp- and winterish mood.
There is a special rooftop winter-menu, offering food and drinks suitable for the setting, like 'Baked Pretzel', 'BBQ Bratwurst', 'French Mule' and all the glühwein you could want.
Open to the public on weekends from 4pm to midnight (reservations recommended), anyone longing for some cheesy Europop and views over the London skyline instead of the Alps should visit. Other times, Savage Schloss is a great venue for a private rooftop winter party (up to 120 guests).
SAVAGE GARDEN
DoubleTree by Hilton London, 7 Pepys St, London
8.

Bar Elba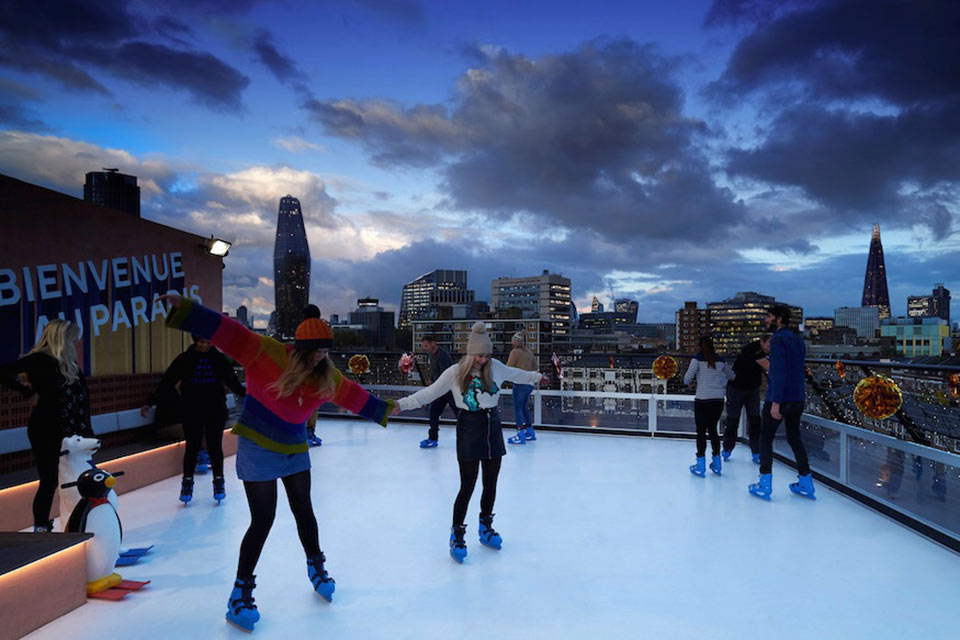 Bar Elba | Photo: www.bar-elba.co.uk/
Named after the Mediterranean island where Napoleon was exiled, Bar Elba is one of Waterloo's most desired destinations. Year round!
The rooftop bar has been covered and cosy during the colder months before, but a new and exciting feature for 2019 is the rooftop ice rink.
Combined with a curling lane, you can skate and compete with friends, all while enjoying fantastic views over London and sipping mugs of hot gin cocktails & mulled wine.
The ice rink is available from 4pm everyday until the end of February, and if you manage to squeeze in a visit in November, skating is even free of charge.
If ice-related fun is not your cup of tea, just settle for a table at the rooftop bar, where you can enjoy good vibes, sharable jugs of cocktails and juicy burgers from Dip & Flip.
BAR ELBA
109-117 Waterloo Rd, London