Rooftop igloos on rooftop bars around the world - 2018/19 edition
Published: November 6, 2018
The rooftop mania continues
It's no longer a question of season or weather when it comes to visiting rooftop bars around the world. 230 Fifth in New York was the first rooftop bar to install rooftop igloos on their terrace, back in 2014. Heated igloos with plastic windows, that makes it possible to enjoy drinks on rooftop bars even during the winter.
Rooftop igloos is the latest trend in the rooftop scene. Other popular things to do except drinking and eating is, rooftop yoga, rooftop cinema and rooftop ice skating.
Now a days you can see rooftop igloos in a couple of places. But we think that it will become more and more common. Here's a list of 6 rooftop bars that can boost with really cool and popular rooftop igloos: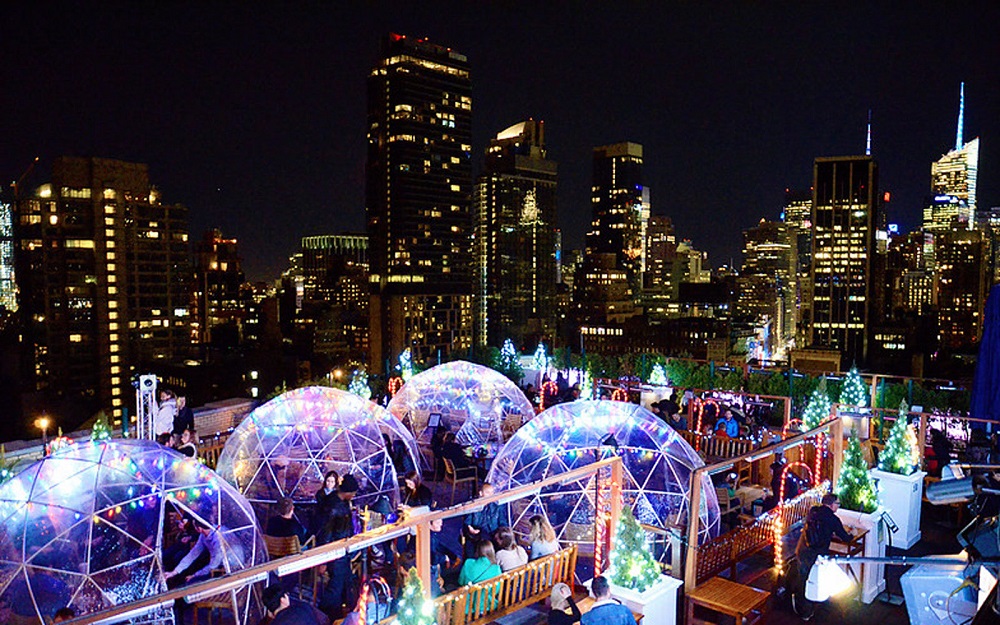 Photo: www.230-fifth.com
As mentioned, 230 Fifth was the first place to offer the rooftop igloos. Sense 2014 people can enjoy cocktails in the center of Manhattan, right in the middle of winter.
The Igloo Bar is open from November - May, offering hot drinks like a 'Bailey's Boozy Hot Chocolate'. During Christmas you can even spot rooftop Santa's up here and people – both locals and tourists – flock around these popular igloos.
Website: www.230-fifth.com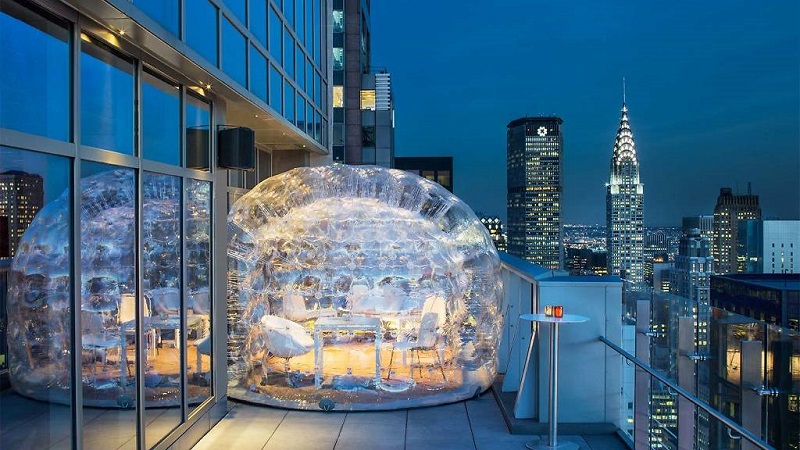 Photo: www.timessquare.centric.hyatt.com
Bar 54 NYC is the highest rooftop bar in New York and the world with a rooftop igloo. At the 54st floor of the Hyatt Times Square, you can find two bubbles/igloos on the roof terrace. A true party bubble with expensive cocktails (around $26) and smaller bar bites.
It's advisable to make reservations in advance. You can privately book a rooftop igloo for up to 10 persons.
Website: www.timessquare.centric.hyatt.com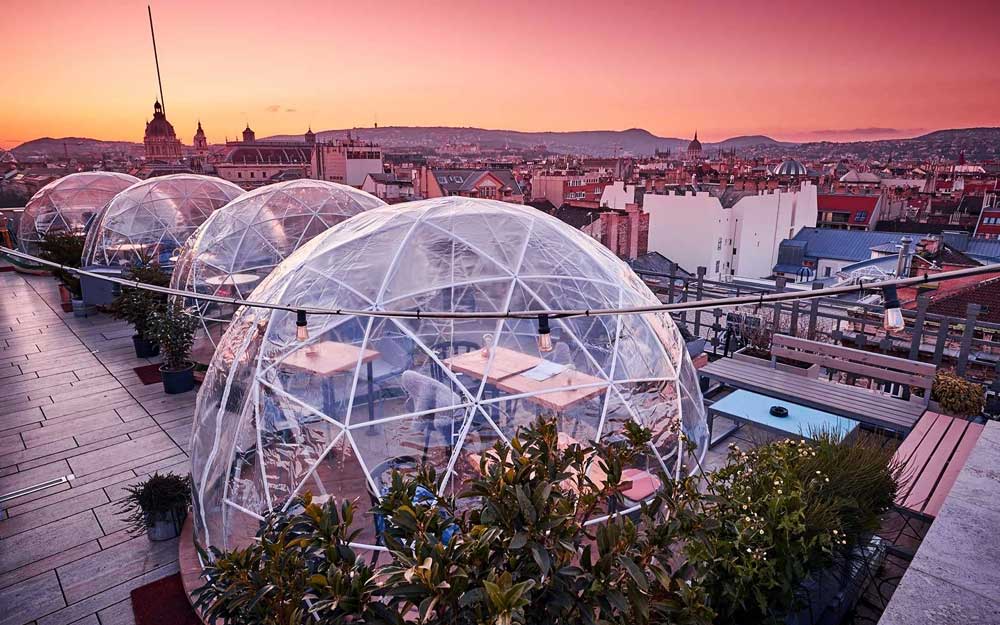 Photo: www.360bar.hu
A great place for sun, drinks and views in summer, 360 Bar in Budapest is now also a fantastic destination for the winter days and nights. The Igloo Garden comes with 8 rooftop igloos that are heated, very cosy and offering (almost) the same grand views as always. Inside you can ejoy both special hot drinks and chilled winter cocktails.
Website: www.360bar.hu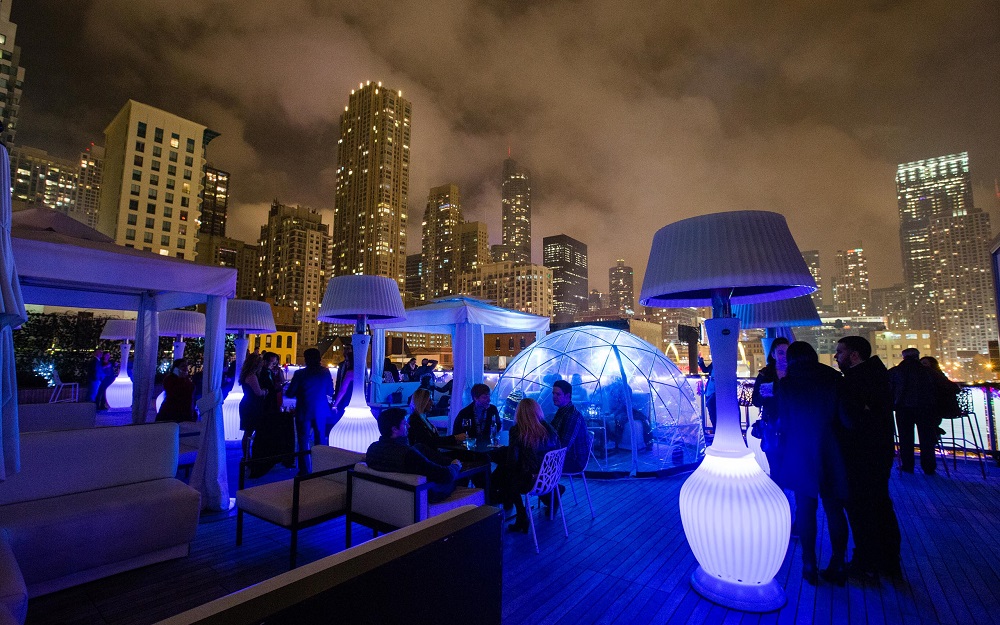 Photo: www.outlookkitchenandbar.com
The rooftop igloos at this popular place among the Boston rooftop bars will open up its doors for the second year runing at November 10th, 2018 and will run throughout spring 2019. Enjoy refreshing and well-made cocktails to the skyline views that Boston has to offer.
But make sure to be here in good time, as the rooftop igloos are available on a first serve basis. There are 6 igloos with seating's for 8-10 persons in every igloo.
Website: www.outlookkitchenandbar.com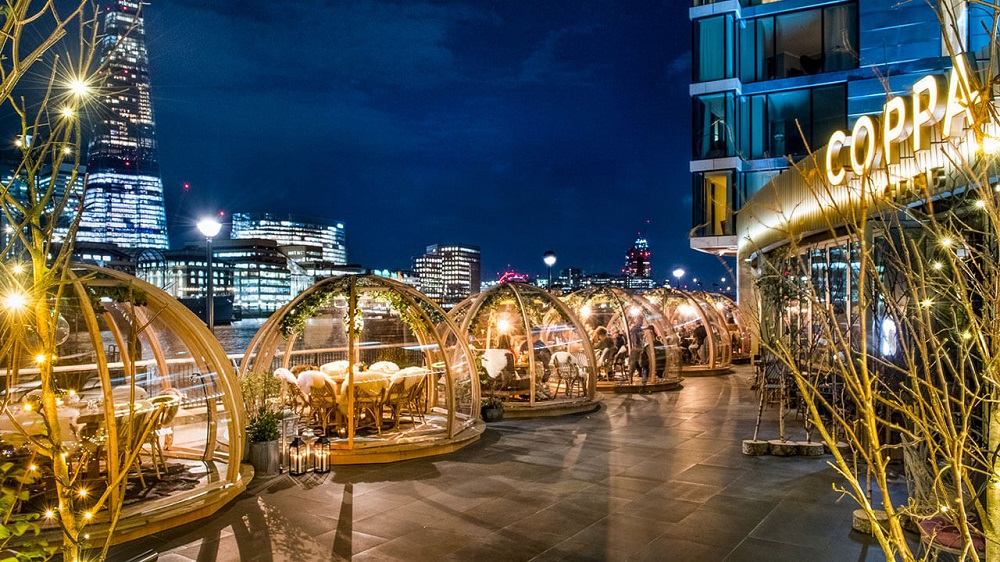 Photo: www.coppaclub.co.uk
Coppa Club right next to the Thames, had some pop up igloos already in 2016 and will continue with the great invention 2018/19. A huge success for two years, which means that this will be a very popular thing in 2018/19 also.
The London rooftop igloos are available for private hire and they are all furnished, lit and equipped with blankets and speakers to keep you entertained and warm. The views of the Tower Bridge also make this place worth a visit. The only terrace in London with rooftop igloos.
Website: www.coppaclub.co.uk
Photo: @robert.bauer.leipzig
Located on top of the INNSIDE by Melia hotel in the heart of Leipzig, Bar Cabana will have a brand new setting for the 2018/19 winter season. Starting 14th of November, the brand new rooftop igloos will be open, complemented with mulled wine, punch, Pulled Goose burger, radiant heaters, fire bowls and ski events. This will continue every Wednesday to Saturday from 6-10pm until February 2nd 2019.
Website: www.syndeo-leipzig.de/bar-cabana