Article
Rooftop igloos on rooftop bars around the world - 2019/20 edition
The rooftop mania continues
Published: October 17, 2019
It's no longer a question of season or weather when it comes to visiting rooftop bars around the world. 230 Fifth in NYC was the first rooftop bar to install rooftop igloos on their terrace, back in 2014. Heated igloos with plastic windows, that makes it possible to enjoy drinks on rooftop bars even during the winter.
Rooftop igloos is the latest trend in the rooftop scene. Other popular things to do except drinking and eating is, rooftop yoga, rooftop cinema and rooftop ice skating.
Now a days you can see rooftop igloos in quite a few places, and we think that it will only become more and more common. Here's our list of 10 rooftop bars that can boost with really cool and popular rooftop igloos:
1.

230 Fifth Rooftop Bar

/ NYC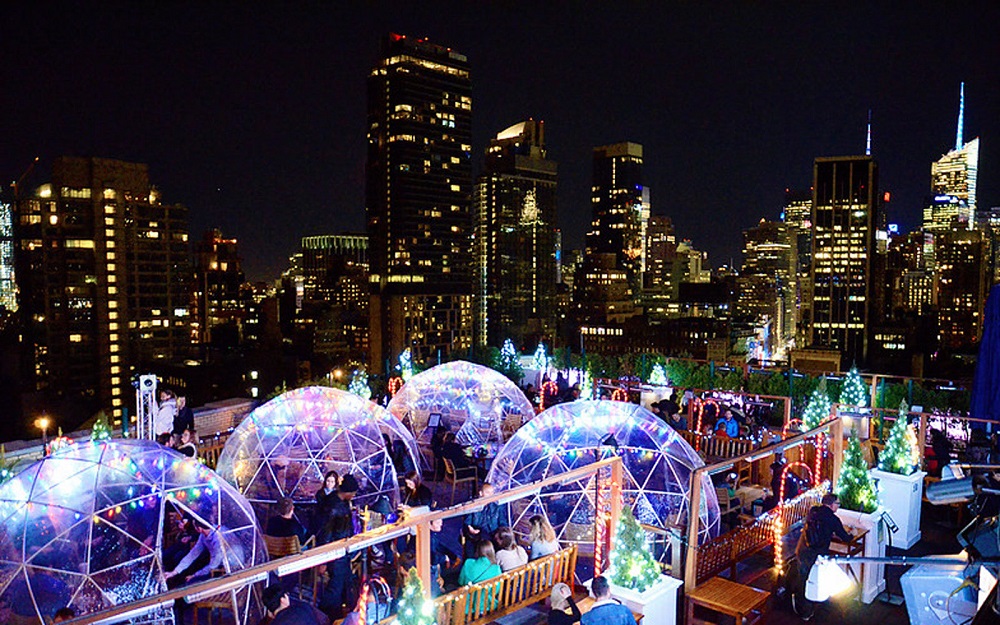 Photo: www.230-fifth.com
As mentioned, 230 Fifth (New York's largest outdoor rooftop garden) was the first place to offer the rooftop igloos. Since 2014, people can enjoy cocktails in the center of Manhattan, right in the middle of winter.
The Igloo Bar is open from November 2019 to May 2020, offering food and hot drinks like an 'Irish Cream Boozy Hot Chocolate' and Hot Ciders. During Christmas you can even spot rooftop Santa's up here and people – both locals and tourists – flock around these popular igloos.
There are Winter Igloo Packages (from silver to platinum) available for reservations, but most of the igloos at 230 Fifth works on a first-come, first-served basis, and you should expect to share it with others and make new friends. If you have to wait on an igloo-spot opening up, you can slip into a warming and complimentary red robe.
While any day or night is great for an igloo-visit at 230 Fifth rooftop, we would highly recommend going for a rooftop igloo brunch. Available every weekend from 10am-4pm.
230 FIFTH
230 Fifth Avenue, New York, NY
Mon–Fri: 2pm–late / Sat-Sun: 10am–late
2.

Aviary

/ London
Photo: https://aviarylondon.com
Found 10 floors up on the fantastic hotel Montcalm Royal London House, Aviary London is a chic rooftop bar, restaurant and terrace. And starting October 2019, the very stylish rooftop igloos at Aviary are back.
This means you can stay warm and cosy all winter long, while still enjoying grand views of the London skyline, crafted and botanical cocktails and tasty bites.
The rooftop igloos at Aviary are highly popular, and reservations are actually mandatory. There are Bronze, Silver and Gold packages available, which comes with a minimum spend but gives you 1,5 hours of pure and comfy relaxation. Bookings are available until April 12th 2020.
AVIARY
22-25 Finsbury Square, London
Daily: 12 noon-9.30pm
3.

360 Bar

/ Budapest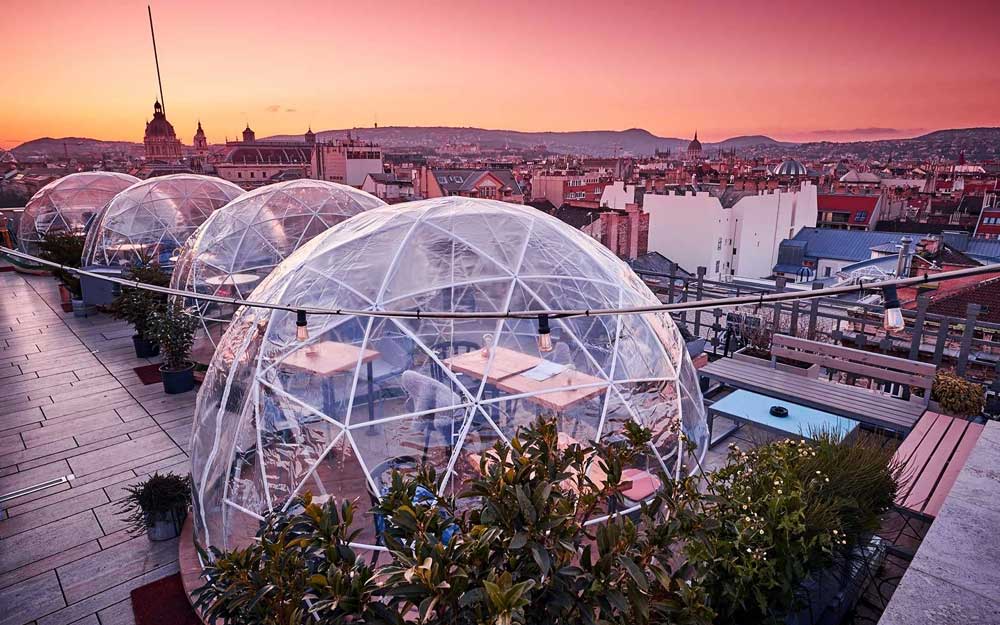 Photo: www.360bar.hu
A great place for sun, drinks, vibes and views during summer, 360 Bar in the heart of Budapest is also a fantastic destination for the colder winter days and nights.
From November 2019 to April 2020, the spacious terrace once again turn into the Rooftop Igloo Garden. This means 8 giant rooftop igloos that are heated, very cosy and offering (almost) the same grand views as always.
Inside the rooftop igloos you can enjoy a seasonal menu, offering both special hot drinks and chilled winter cocktails, along with a smaller food menu. Want another cocktail? Just buzz the bell and your waiter will be right out.
Reservations for the igloos at 360 Bar are recommended, but you can also just pop up and try your luck. If the sun is shining, you can also spend some time on the outside terrace while waiting for an igloo-spot to open up.
360 BAR
1061 Budapest, Andrássy út 39
Sun-Thu: 2pm-midnight / Fri-Sat: 2pm-2am
Collaboration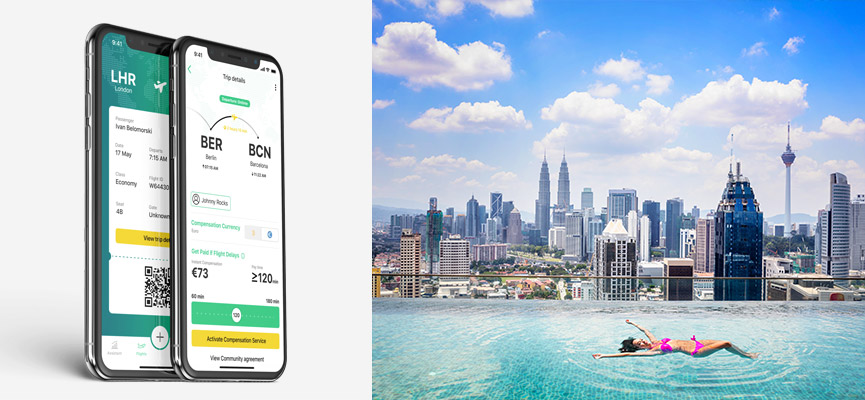 Smart travel
This app offers instant and 100% guaranteed compensation on flight delays
Colibra is a new app that gives you compensation EVERY time.
4.

I|O Godfrey

/ Chicago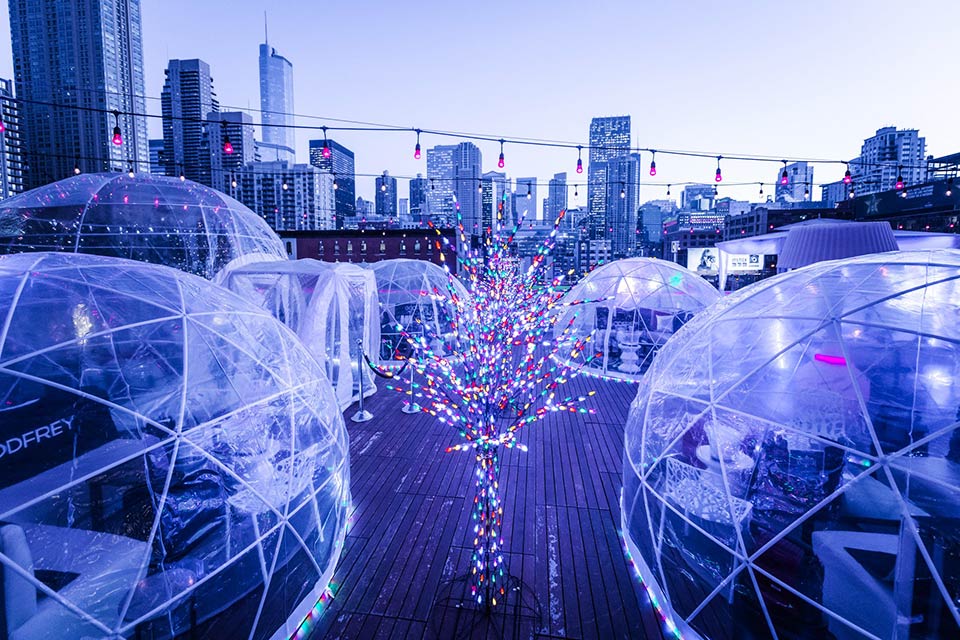 Photo: http://iogodfrey.com
The I|O stands for Indoor | Outdoor, so it is no surprise that the sapcious rooftop at the fabulous Godfrey Hotel Chicago is open year round. But the colder months does not only offer visits at the indoor lounge, but also at the outdoor terrace, dressed as a Winter Wonderland
While the heat lamps, fire pits and plush robes are very cosy and might keep you warm enough, the best part is still the heated, clear-domed rooftop igloos. In here you can enjoy skyline views of the Windy City, no matter how chilly (or windy) it gets.
Available from November through about half of March, the rooftop igloos can be reserved for groups between two to ten people. They are very popular and do come with a minimum spend (1 or 2 bottles depending on size). But it is well worth it to lean back and indulge in hot cocktails and s'mores to grill over the open fire.
I|O GODFREY
127 W Huron St, Chicago
Mon-Thu: 2pm-midnight / Fri: 12am-midnight / Sat-Sun: 11am-midnight
5.

Bar 54

/ NYC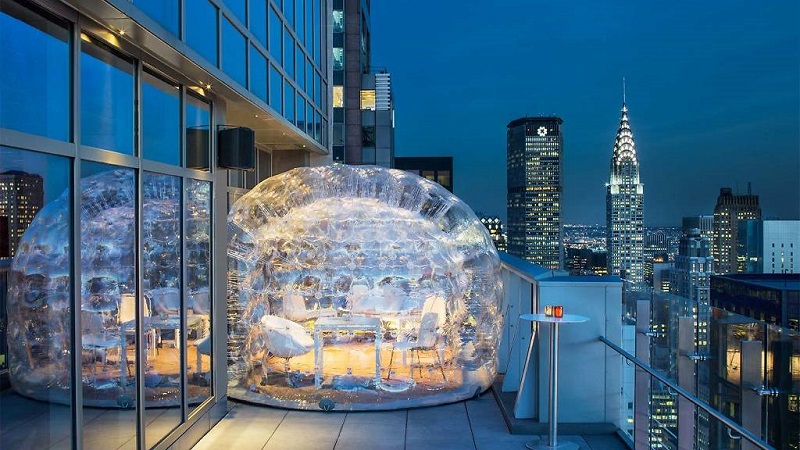 Photo: www.timessquare.centric.hyatt.com
Bar 54 NYC is the highest rooftop bar in New York and the world with a rooftop igloo. Or two actually, at the 54st floor of the Hyatt Centric Times Square, you can find two 'bubbles' on the roof terrace, often called Bubble East and Bubble West.
The see-through rooftop igloos are true party bubbles, where you can enjoy awesome Time Square views, expensive cocktails (around $26) and smaller bar bites.
It's highly advisable to make reservations in advance. You can either just reserve a table, or privately book a complete rooftop igloo for up to 10 persons.
BAR 54
135 W 45th St, New York
Sun-Wed: 4pm-1am / Thu-Sat: 4pm-2am
6.

Lookout Rooftop & Bar

/ Boston
Photo: www.outlookkitchenandbar.com
The rooftop igloos at the popular Boston rooftop bar Lookout will open up its doors for the third year runing at November 7th, 2019 and will run throughout spring 2019. Here you can enjoy well-made speciality cocktails and light fare, all to one of the best skyline views Boston has to offer.
Located at the Envoy Hotel, there are 6 heated igloos with seating's for 8-10 persons in every igloo. Thery are available on a first come, first serve basis or by reservation (reservations come with a minimum beverage spend). And while you should hope to get a spot in one of the igloos, fleece blankets and a rooftop enclosure of the main bar means you can visit the winter terrace even without.
The rooftop igloos at Lookout Rooftop & Bar are well worth a visit, just remember to dress a bit warm, but most of all a bit classy.
LOOKOUT
70 Sleeper Street, Boston
Tue-Thu: 4pm-11pm / Fri-Sat: 3pm-close
7.

Bar Cabana

/ Leipzig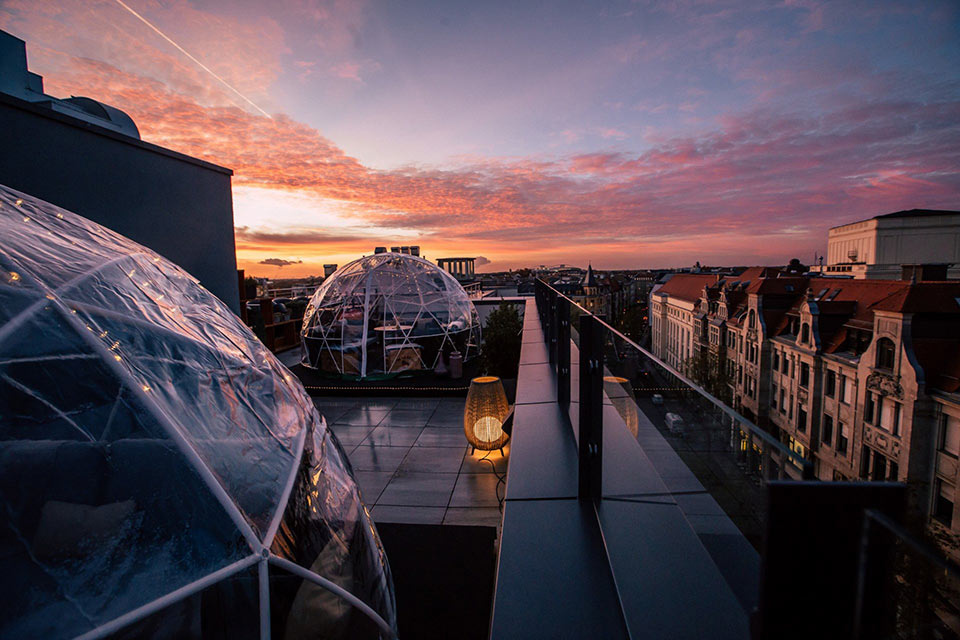 Photo: www.syndeo-leipzig.de
Located on top of the INNSIDE by Melia hotel in the heart of Leipzig, Bar Cabana will offer winter season on the rooftop for the second year running, open from November 2019 to March 2020. On the terrace you will find 7 beautiful and heated rooftop igloos, fitting up to 12 people each.
From inside the igloos you can enjoy fantastic views over Leipzig, complemented with mulled wine, winter cocktails, punch and maybe a Pulled Goose burger. Or you try the new option for 2019, called 'Igloo with Fondue'. Dip your meat and veggies in bouillon, perfect experience for a family.
Radiant heaters, fire bowls, blankets and the associated 6th floor indoor bar, means you can visit Bar Cabana even if you do not have an igloo reservation.
BAR CABAN
Gottschedstrasse, Leipzig
Tue-Sun: 5.30pm-11pm
8.

The Ice Cube Bar

/ Paris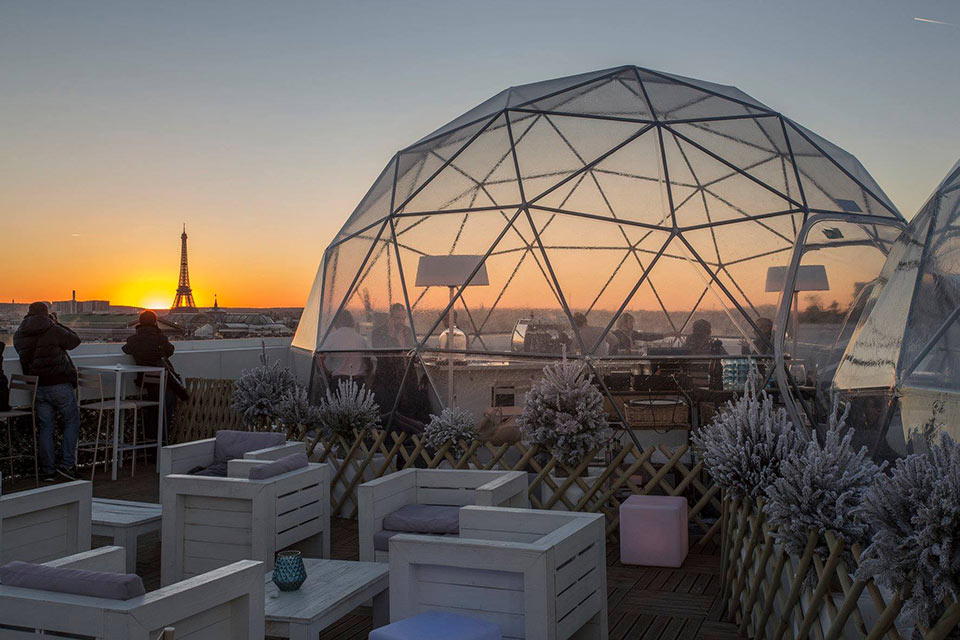 Photo: www.facebook.com/GaleriesLafayetteEnglish/
On top of the Galeries Lafayette department store you get some of the very best views in Paris. Up here you find the rooftop bar The Cube Bar, in winter (reasonably) turning into The Ice Cube Bar.
In two large and beautiful rooftop igloos you can enjoy hot chocolate, a glass of wine, a cocktail or some delicatessen & cheese boards, all while gazing out over Paris in a winter suit.
With location on the 7th floor of a department store, this is of course the perfect rooftop igloo break during a day of shopping.
THE ICE CUBE BAR
40 Boulevard Haussmann, 9e, Paris
Mon-Sat: 11am-8pm / Sun: 12am-6pm
9.

Coppa Club

/ London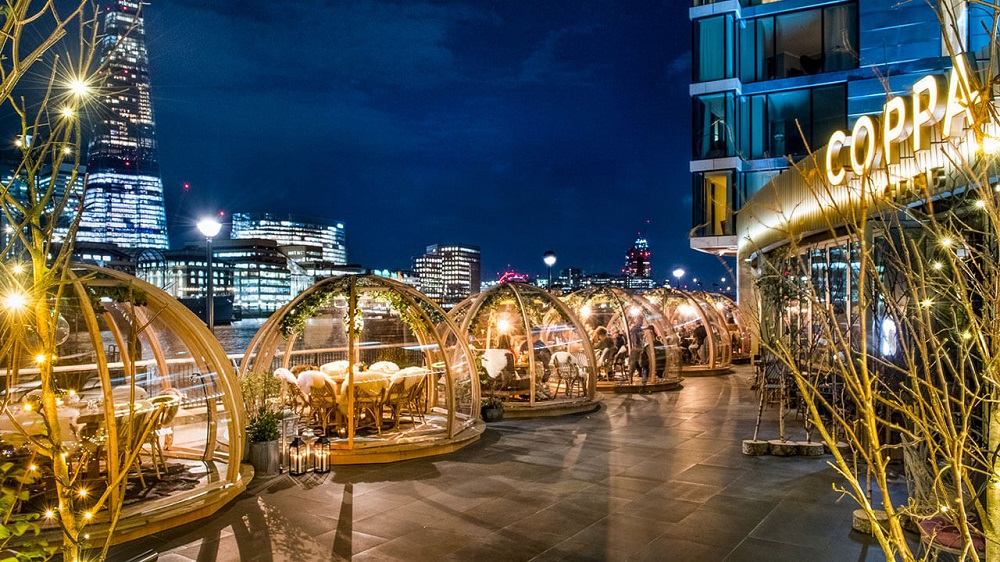 Photo: www.coppaclub.co.uk
Coppa Club, right next to the Thames, had some pop-up igloos already in 2016 and will continue with the great invention during the 2019/20 season. A huge success for three years, which means that this will be a very popular thing this year as well, so reservations are highly recommended.
This year, Coppa Club is bringing the woodlands to the heart of London. The smashing looking igloos are equipped with candles and cosy blankets, evergreen trees, sheepskin rugs and wool blankets. Cosy indeed.
If the igloos themselves don't convince you for a visit, maybe the fantastic views of the Tower Bridge do. This is also one of few rooftop igloos you can visit as early as a winter breakfast.
COPPA CLUB
3 Three Quays Walk, Lower Thames Street, London
Mon-Thu: 7.30am-11pm / Fri: 7.30am-midnight / Sat: 9am-midnight / Sun: 9am-10.30pm