How to spend a weekend in Chicago? Well, the options and possibilities are almost endless. But to get off to a good start you need energy, so a brunch is always a good idea. An even better is to mix it up with amazing views, with a Chicago rooftop brunch.
To help you find the top venues for happy food and tasty views, we have put together the ultimate guide to the best spots for a rooftop brunch Chicago. From The Loop to Motor Row District, get ready for greasy waffles and bottomless brunch!
Here's our list of the best rooftop brunch Chicago
1.

I|O Godfrey Rooftop Lounge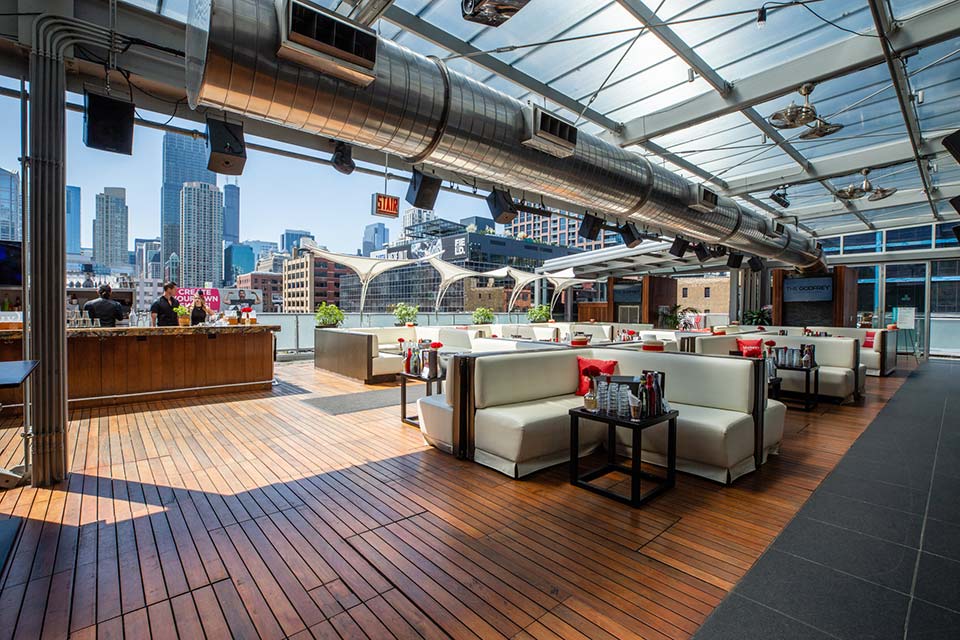 Rooftop brunch Chicago at I|O Godfrey - Photo: http://iogodfrey.com/
The rooftop with the slightly weird name immediately receives a 5-star rating. Let's just say: great staff, great menu, great setting and great view. What else could one possibly want for a great weekend brunch?
Set on the 4th floor of the Godfrey Hotel Chicago, just a short walk from the Magnificent Mile, the I|O stands for Indoor|Outdoor, and the Godfrey rooftop lounge offers plenty of modern seating both covered and al-fresco. Year round.
Serving New American cuisine as lunch and dinner all week, early weekends means a vibrant rooftop brunch.
Choose between a fresh start, like the 'Acai Bowl', more recovering dishes, like a 'Steak & Eggs' or some 'Wagyu Beef Sliders'. All served with special brunch cocktails, also available as 'Mimosa / Bellini / Bloody Mary Kit' for anyone who feels like celebrating.
2.

Streeterville Social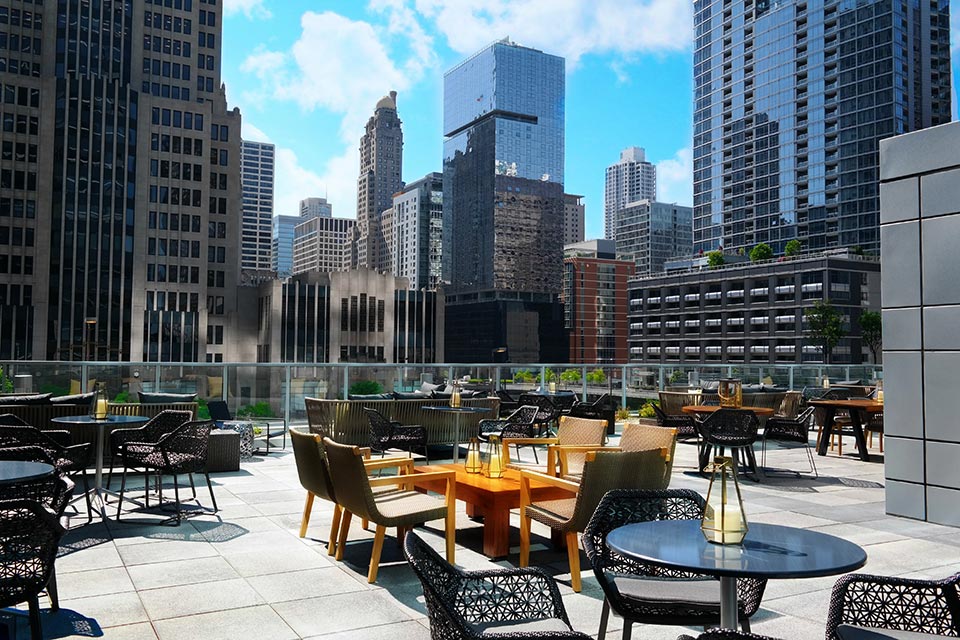 Rooftop brunch Chicago at Streeterville Social - Photo: www.loewshotels.com/
With one of the largest al fresco terraces in Chicago, Streeterville Social offers all the summer vibes and city views you need for a hot and elevated downtown experience.
Found at the luxurious Loews Chicago Hotel, this is a prime spot for daytime dazing, after-work affairs, and late-night lounging, all overlooking the majestic downtown skyscrapers. Come weekend afternoons, and it is an equally prime spot for a Chicago rooftop brunch.
The brunch menu includes everything from Churro Doughnuts, House Made Scones, Avocado Toast and Breakfast Four Cheese Pizza, to different smoothies, Vegetarian Breakfast Bowl and Social Burger. There are also classic brunch drinks, like Bloody Mary, Belini and Mimosa.
Filled with a friendly and and relaxing summer atmosphere, Streeterville Social is bound to make a great weekend even better.
3.

Cindy's Rooftop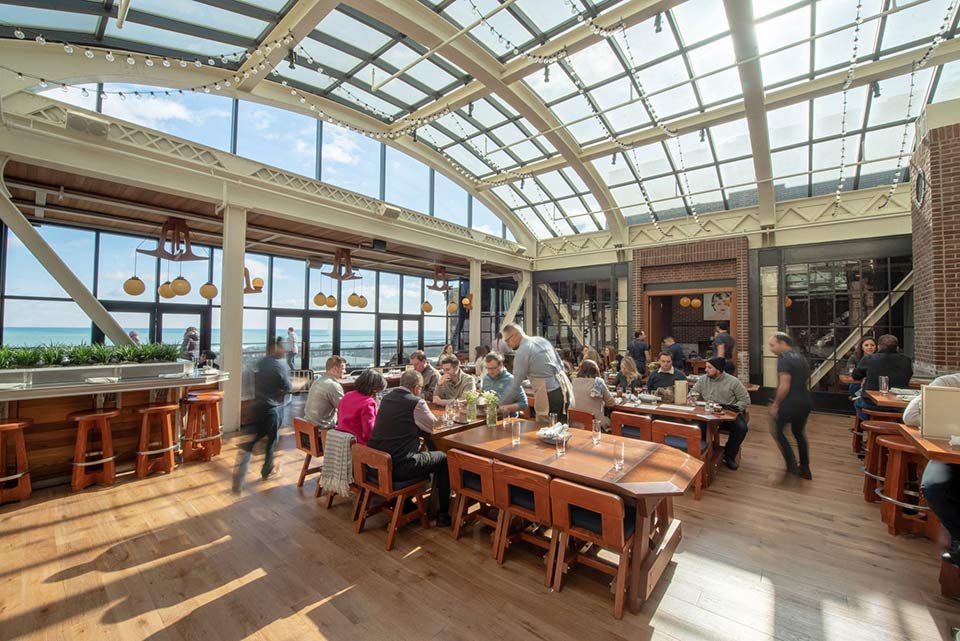 Rooftop brunch Chicago at Cindy's Rooftop - Photo: www.cindysrooftop.com/
Cindy's Rooftop is a year-round venue, set on top of the Chicago Athletic Association hotel. With a great vibe, tasty cocktails and generous opening hours, it is pretty much always a good idea to visit Cindy's. Need more reasons? Try the fantastic Chicago rooftop brunch, available all week long.
Enjoy it inside the stylish and cool glass atrium, or out on the open-air terrace, where you will be surrounded by panoramic views over Millenium Park and Lake Michigan.
The brunch menu includes a large selection of Plates & Platters, like 'Chia Bowl', 'Steak & Eggs' and 'Buttermilk Pancakes'. There is also a Cast Iron section with 'Chilaquiles' and 'Quiche', and if there is still some room left, finish off with a 'Pumpkin Cinnamon Roll'.
Add Cindy's Rooftop to your Chicago weekend plans, but just remember to make reservations as the rooftop is highly popular.
4.

Upstairs at the Gwen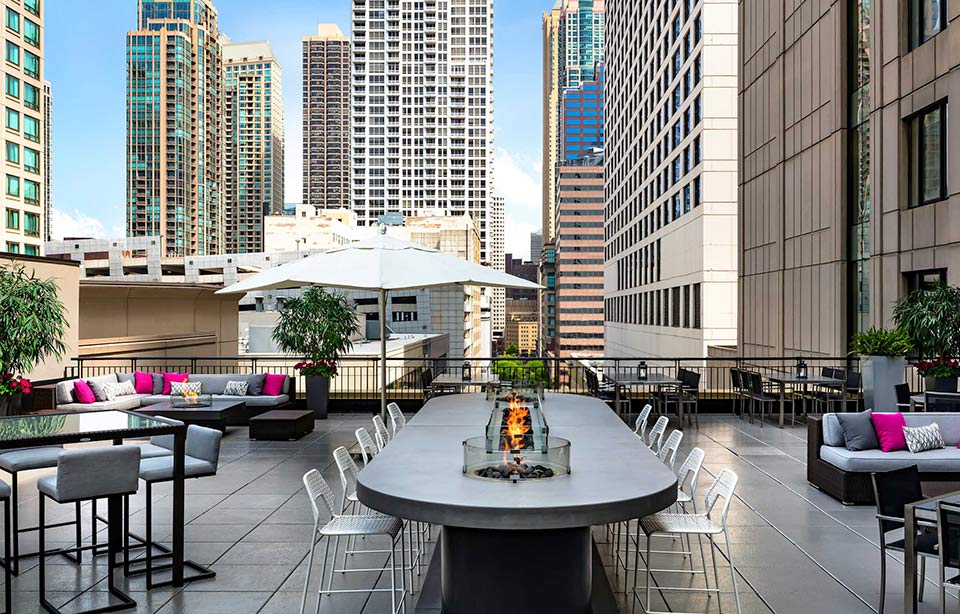 Rooftop brunch Chicago at Upstairs at the Gwen - Photo: www.thegwenchicago.com/
A swanky and stylish rooftop cocktail bar, found on the 5th floor of the fantastic hotel The Gwen in the heart of Chicago.
A year-round destination, not only because it mixes indoor lounge with a lovely outdoor terrace, but also beacause the rooftop turns into a winter wonderland during the colder months, with fire-pits, curling rink and a cosy cabin. And also an all-day destination, open from breakfast to late night cocktails, and during weekends for a fantastic rooftop brunch Chicago.
The brunch menu includes many of the regular 'goodies', like Belgian Waffle, Breakfast Burger, Smoked Salmon Bagel and Duck Confit Hash. Known for serving inventive and well-crafted cocktails, it is no surprise that early weekends at The Gewn also means a great selection of brunch cocktails, as well as specials of Bottomless Mimosas and Rose Sangria Pitcher.
5.

Twisted Spoke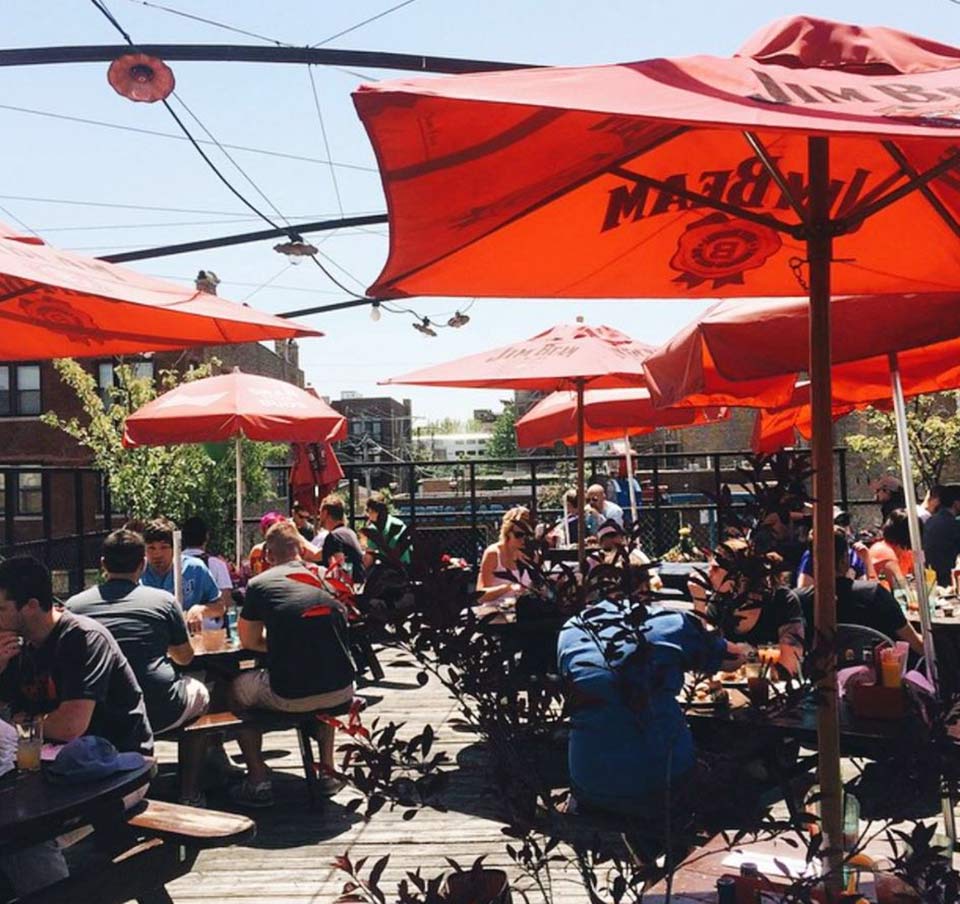 Rooftop brunch Chicago at Twisted Spoke - Photo: http://twistedspoke.com/
If you are a foodie and an urban explorer, Twisted Spoke is the place that shall give you everything you need. It has a large list of delicious food and is a great place for a rooftop brunch in Chicago.
Located in River West, this casual rooftop offers a weekend brunch menu called Hangover Hospital, which may sound well and good, but given all the quality beers and cocktails by master cocktologist available, you might need to return for another treatment (read Bloody Maria).
The great selection of drinks aside, Twisted Spoke's brunc menu also includes plenty of mouthwatering dishes. Or how about a 'Corned Beef Hash & Poached Eggs' or some 'Breakfast Tacos'. Or maybe a 'Biscuits and Heart Attack Gravy'?
Whatever you go for, this Chicago rooftop is a great place to and spend a relaxing weekend day, surrounded by the unique biker vibe that the interior designers have successfully mixed up.
6.

Tanta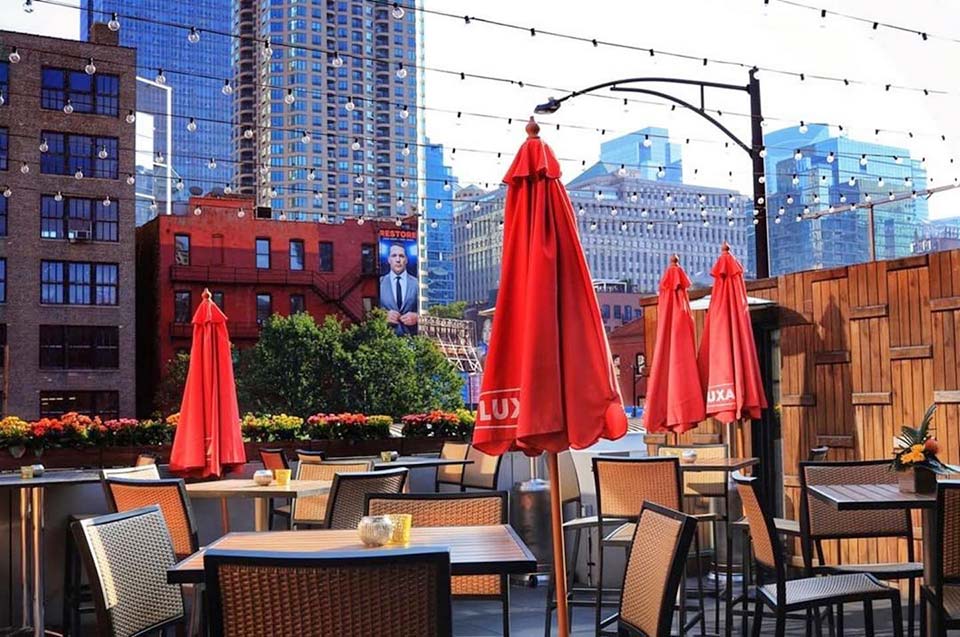 Rooftop brunch Chicago at Tanta - Photo: www.tantachicago.com/
Tanta brings a large slice of the flavors and culture of Peru to the heart of Chicago. This amazing and full of character place is located on 118 W. Grand Ave, and comes with a second floor rooftop terrace with cool skyline views.
Open daily for lunch and dinner, Tanta Chicago also offers a 'Bottomless Mimosa Brunch' on weekends. Here you can indulge in the best traditional Leche De Tigre Clasico, accompanied by an impeccable selection of Chef Gastón Acurio, including picarones, choloquiles and choclo. And of course, 90 minutes of sparkling wine with your choice of orange juice or chicha morada.
With a lively, fun and friendly atmosphere, complemented with inventive and tasty food and drinks, Tanta is for sure set to offer you a Chicago rooftop brunch to remember.
7.

VU Rooftop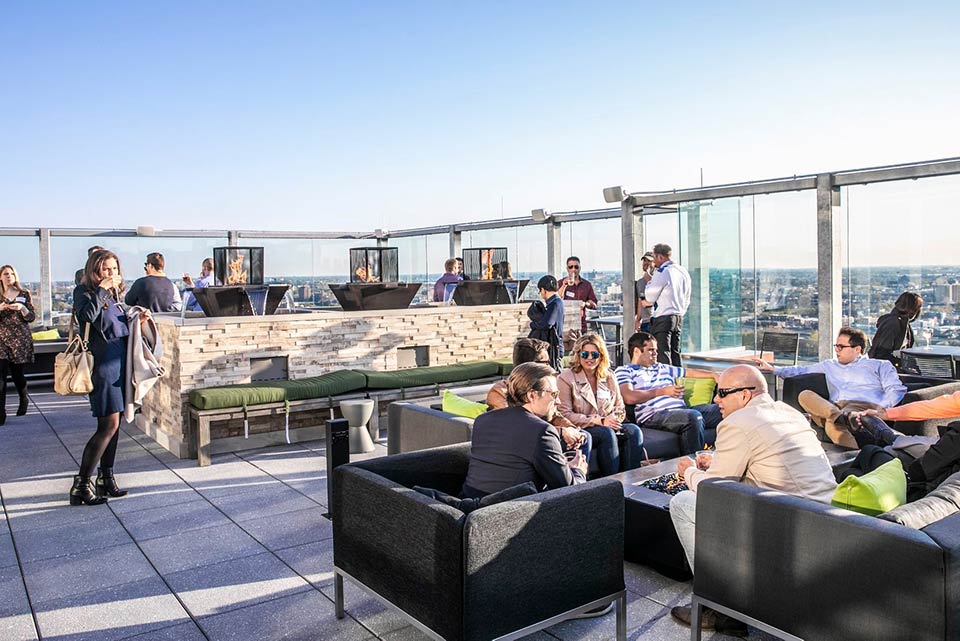 Rooftop brunch Chicago at VU Rooftop - Photo: www.vurooftop.com/
Opened in 2018, VU Rooftop is a spacious and modern indoor / outdoor lounge, set high above he bustling McCormick Place.
Offering two rooftop terraces, here you can enjoy panoramic views over both the Chicago skyline and Lake Michigan. And while it is a swanky spot, perfect for nightly cocktails, the rooftop also serves a great weekend brunch. Truly a Chicago brunch with a view.
The brunch menu is quite slim, but it does offer goodies to keep most stomachs very happy. From 'Buttermilk Fried Chicken & Belgian Waffle' to 'Lobster Chilaquiles' and the 'VU Brunch Sandwich'.
To keep the brunch-vibes high, you can also make tasty selections from the locally driven beverage program.
VU Rooftop is open for business year-round, both thanks to the indoor lounge, but also because of some cool rooftop igloos covering the terrace during the colder months.