5 Best rooftop pools Chicago
5 Best rooftop pools Chicago
Published: March 7, 2020
5 great places for a swim combined with great views of the Windy City
When summer finally hits Chicago, you want to stay outdoors, you want to enjoy the sun and you want to dip your feet in the water. If a trip to Lake Michigan feels a bit to grounded, look up, towards the Chicago rooftop pools.
Even though this is the 3rd largest city in the US, packed with sky-high buildings, finding a rooftop pool Chicago is not the easiest task. Which makes the ones available even more exclusive, and this complete guide very handy.
We will take you to the top venues to enjoy the sun and swim with a view, from a luxurious Chicago hotel with rooftop pool to an all-in-one fitness club. When the daytime relaxation is over, don't forget to check out our complete guide to the finest rooftop bars in Chicago.
1.

Soho House Chicago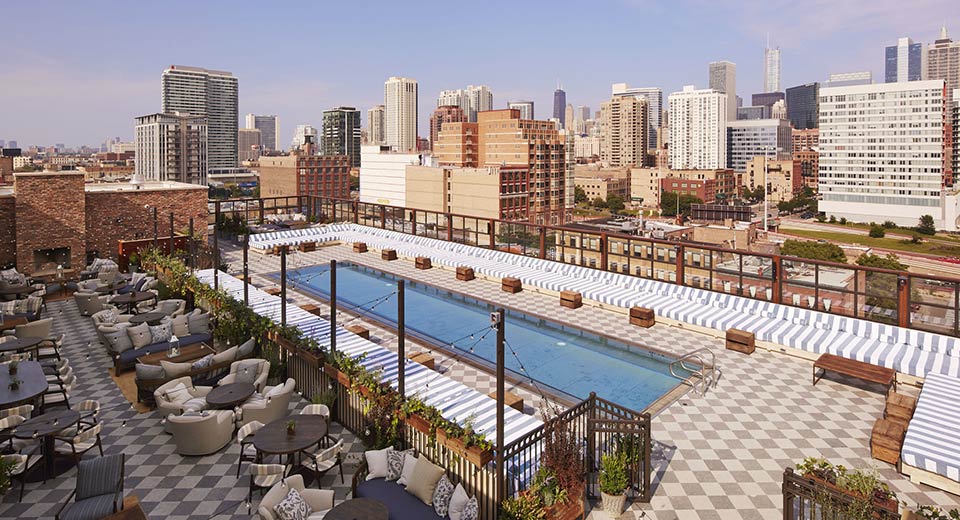 Soho House Chicago | Photo: www.sohohousechicago.com/
This Chicago rooftop pool really breathes exclusivity! To have full access you must be a guest at the hotel or a Soho House member. It is definitely worth staying a night at the hotel just to enjoy this rooftop pool.
With the great Chicago skyline in front of you, the large, steel-rimmed swimming pool is surrounded by comfy sun loungers. A spot easy to spend hour upon hour, just relaxing.
Next to the rooftop pool you also find a bar where you can enjoy well made cocktails, refreshing beers and bites with flavors and spices of the Middle East.
Adress: 113 N Green St, Chicago, IL 60607
Availability: Only guests at the hotel / Soho House members
Hours: Daily 7am - 12am
Towels included: Yes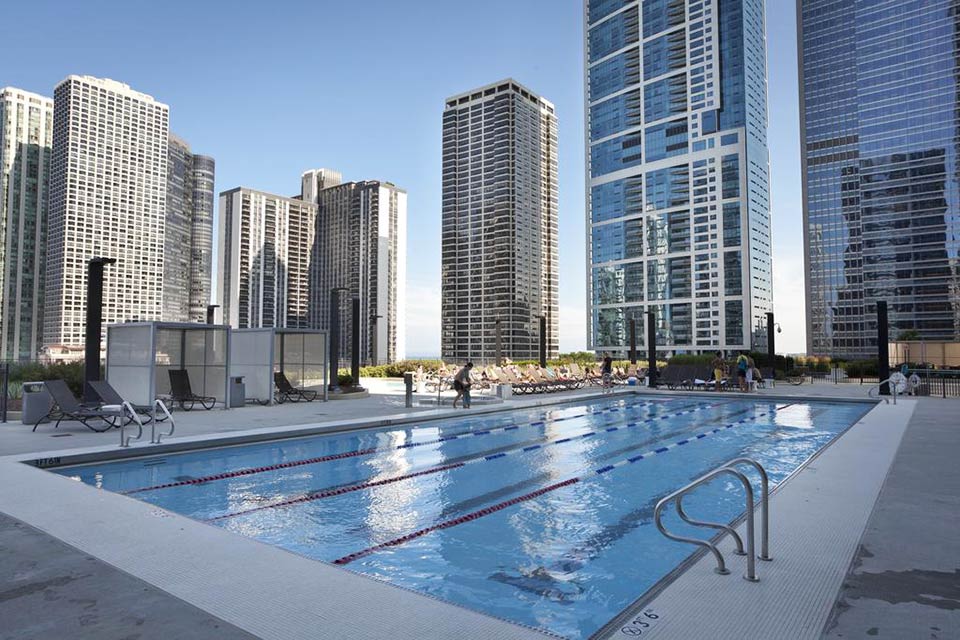 Radisson Blu Aqua Hotel | Photo: www.radissonblu.com
Need a large rooftop pool in Chicago? Close to downtown and other attractions? Well, you will find this at Radisson Blu Aqua Hotel!
This rooftop pool is very convenient if you want to combine cooling off, tough strokes, close to green areas and some shopping. Here you will find all kind of amenities.
The sun deck is large, and with a 25-meter lap rooftop swinning pool it makes a perfect place to start your visit in Chicago. Radisson is a well-known brand and since they can offer the largest rooftop pool in Chicago, it is on the to-visit-list.
Apart from the rooftop pool, there is also a running track, hot tub, cabanas, fire pits, wading pool, sauna and sun decks. And some cool views of the Chicago sky scrapers.
Adress: 221 N Columbus Dr, Chicago, IL 60601
Availability: Only guests at the hotel
Towels included: Yes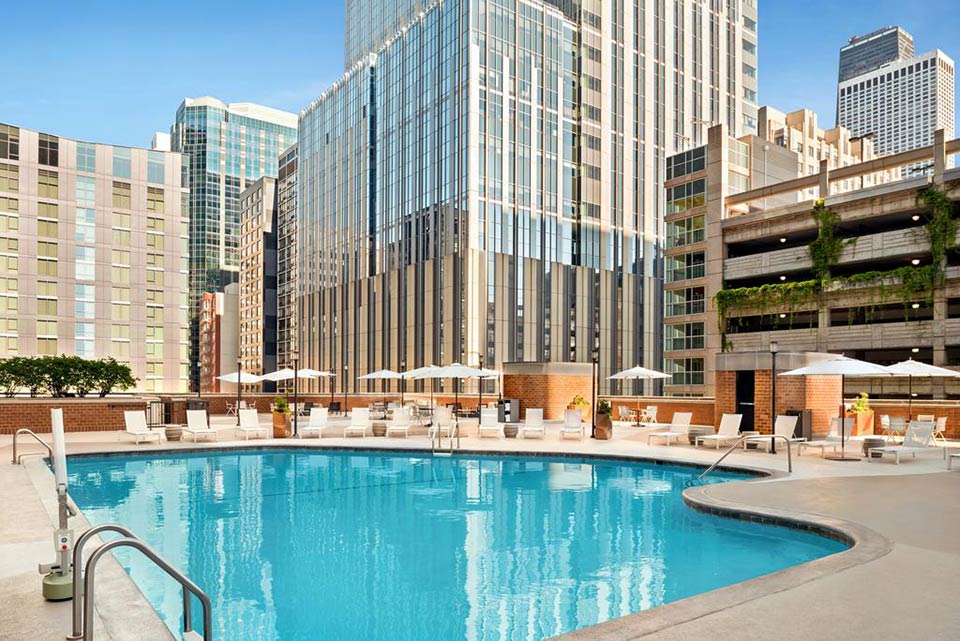 DoubleTree MagMile | Photo: www.hilton.com/
DoubleTree by Hilton Magnificent Mile comes with a great location in the heart of Chicago, just a short walk from the Magnificent Mile, Chicago's #1 shopping street.
After a sticky, hot day and you can just put down your shopping bags and cool off in the hotel's newly renovated Chicago rooftop pool.
Spacious and refreshing, the rooftop pool is surrounded by skyscrapers and you really get the feeling of swiming right in (or above) the bustling city.
Equipped with comfy sun loungers and umbrellas, this Chicago rooftop pool and terrace is a fantastic spot to mix the city vibe with long and relaxing hours under the sun.
Adress: 300 East Ohio Street, Streeterville, Chicago, IL 60611
Availability: Only guests at the hotel
Towels included: Yes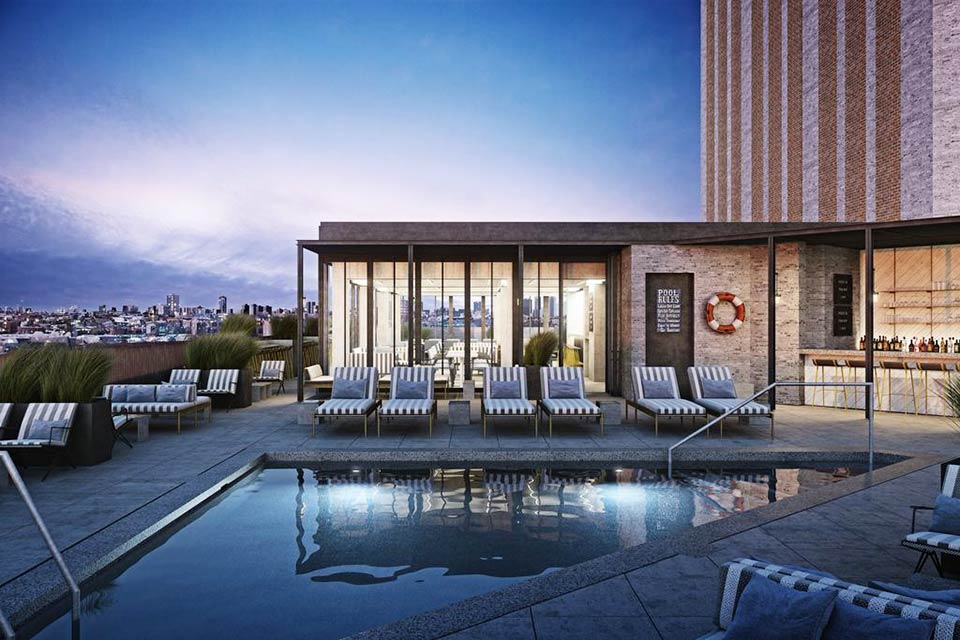 The Robey | Photo: www.therobey.com/
The Robey is beautiful art-deco hotel, situated in the northwest part of the town, close to Wicker Park. Up on the 6th floor of the hotel you find a lovely, seasonal Chicago rooftop pool.
This stylish rooftop oasis is a little slice of summer vacation in the heart of the Windy City, where you can combine refreshing swims and fantastic 180-degree views of the Chicago skyline.
The rooftop pool is only available to hotel gusets, but it does share space with the rooftop bar Cabana Club. So for an extra relaxing poolside hangout, head up early, before the rooftop bar opens.
Adress: 2018 W North Avenue, Wicker Park, Chicago, IL 60647
Availability: Only guests at the hotel / Rooftop bar open to all
Hours: Pool opens daily at 9am / Rooftop bar opens daily at 11am
5.

East Bank Club
East Bank Club | Photo: www.eastbankclub.com
All in one package! Well, these two rooftop pools is just one thing you can find at the East Bank Club close to the Chicago River.
Here you can work out, catch some sun, drink & dine, shoot some golf swings and of course, enjoy the large rooftop pool area and the fantastic skyline views.
There is both a North Outdoor Pool, used primarily for lap swimming and adult programs, and a South Outdoor Pool, used primarily for children's swim lessons, open family swim and water aerobics classes.
Primarily available for EBC Members, but outside visitors can also buy a daily guest pass to enjoy the rooftop pool.
Chicago is a sport town and East Bank Club answer up perfect with all kind of recreation services...and a great rooftop pool in Chicago!
Adress: 500 North Kingsbury Street, Chicago, IL 60654
Availability: Members / Day pass
Hours: Mon-Thu: 5am-11.30pm / Fri: 5am-11pm / Sat-Sun: 6am-9pm