Rooftop restaurants Chicago
Published: December 16, 2016
The city of Chicago hides a lot of wonderful spots to visit and enjoy
While it might be a great cultural hub where artists and people of craft gather annually for a variety of events and festivals, it is also a sleepless megapolis, where people are exposed to a constant bar and restaurant crawling. A typical Chicago rooftop restaurant serves fine food with a view among the citys skyscrapers.
If you're looking for a place in Chicago to only drink at or to swim with a view, you should read about the best rooftop bars in Chicago and the best rooftop pools in Chicago. Here's a list of the best rooftop restaurants Chicago: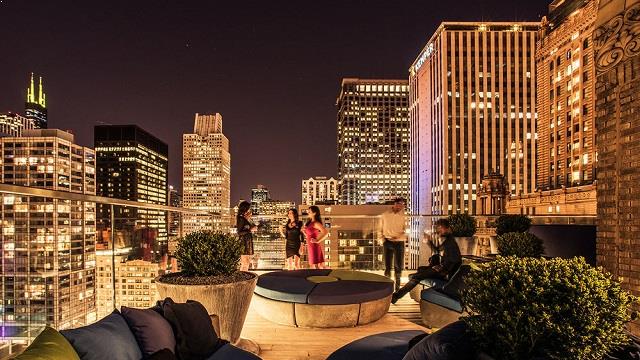 Virgin Hotels Chicago
1. Cindy's
A very popular location amongst locals, Cindy's is also a favorite spot for dozens of visitors, ranking the bar at top 5 of our choices for the best rooftop restaurants in Chicago. Located a meters across the sea, Cindy's offering a breathtaking and vivid skyline view of the city of Chicago, focusing on the modern architecture of the urban area.
2. Hyatt Centric Loop Rooftop
Located atop of the Hyatt Hotel on Monroe, the Loop Rooftop bar takes your breath away at night and lets you enjoy a nice skyscraper surrounding from above the ground. The restaurant doesn't have a large menu, but it sure does compensate with great drinks and wonderful central location.
3. Mahalo
If you are feeling carefree and you only need a place to crash for a dose of relaxation, then Mahalo is probably the best choice for that. The bar is themed as a Hawaiian place, where the dress code is casual, nothing fancy. The bar is known for its great atmosphere and wonderful and tasty cocktails and meatballs. Which also makes it a great choice from the list of rooftop restaurants Chicago.
4. Taxim
In the same area as Hyatt, Taxim is possibly the best choice for a casual romantic date or a night out in town with friends. Its great outdoor space is combined with a mixture of modern European spirit and is served with the finest Green wine in Chicago.
5. Virgin Hotels Chicago
If you are a fan of DJ sets, wonderful views and an urban feel of the places you visit, Sir Richard Branson's Virgin hotels have it all. Modernly designed, with amazing and sassy menus, his rooftop restaurants are amongst the most popular spots in Chicago area.