Article
5 Best Rooftop restaurants in Chicago
Take your Chicago rooftop dining to the next level
Published: March 7, 2020
Amazing views over the impressive Chicago skyline and Lake Michigan are best served with a fine meal. Step in: Chicago rooftop restaurants. Here you can indulge in some of the city's finest cooking, all while getting a new perspective on the Windy City.
From upscale downtown venues to charming rooftop gardens, the best rooftop restaurants Chicago offers something for everyone. Perfect for al-fresco wining and dining when the (long) Chicago winter is finally over.
While these Chicago rooftop restaurants are perfect for a filling rooftop lunch or dinner, you should also check out our complete guide to the best rooftop bars in Chicago, where the food menus might not always be as impressive, but the views and drinks for sure are.
Here's our list of the best rooftop restaurants Chicago
1.

Cindy's Rooftop
Cindy's Rooftop | Photocredit: http://www.cindysrooftop.com/
For a Chicago rooftop meal with the very best views over Millenium Park and Lake Michigan, Cindy's Rooftop is undoubtedly the place to visit.
Perched 13 floors up at the Chicago Athletic Association hotel, this vibrant rooftop restaurant and bar is open for both lunch, dinner and rooftop weekend brunch.
With a stylish and spacious glass atrium lounge, complemented with an open-air rooftop terrace, Cindy's is at your service year round.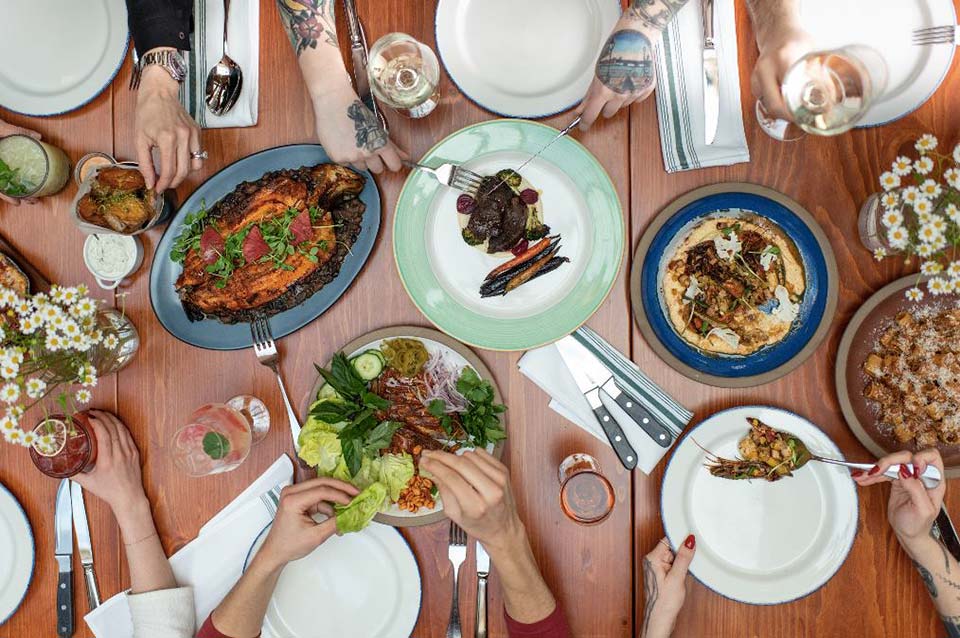 Cindy's Rooftop | Photocredit: http://www.cindysrooftop.com/
Here you can enjoy a wide selection of American and International classic comfort food, presented by executive Chef Christian Ragano.
The menu ranges from Cindy's House Salad and Mushromm Risotto to Saddle of Lamb and Island Creek Oysters. Served family style, the dishes are best enjoyed in company, and with the motto: sharing is caring.
To go with the food, Cindy's Rooftop also offers perfectly crafted cocktails, local brews and an impressive selection of wines.
The rooftop restaurant is usually buzzing in atmosphere, and it is higly popular both among locals and outside visitors. So reservations are highly recommended.
CINDY'S ROOFTOP
12 South Michigan Avenue, Chicago Loop, Chicago
Mon-Fri: 11am-1am / Sat: 10am-2am / Sun: 10am-midnight
International
Main: ~$40
2.

Homestead On The Roof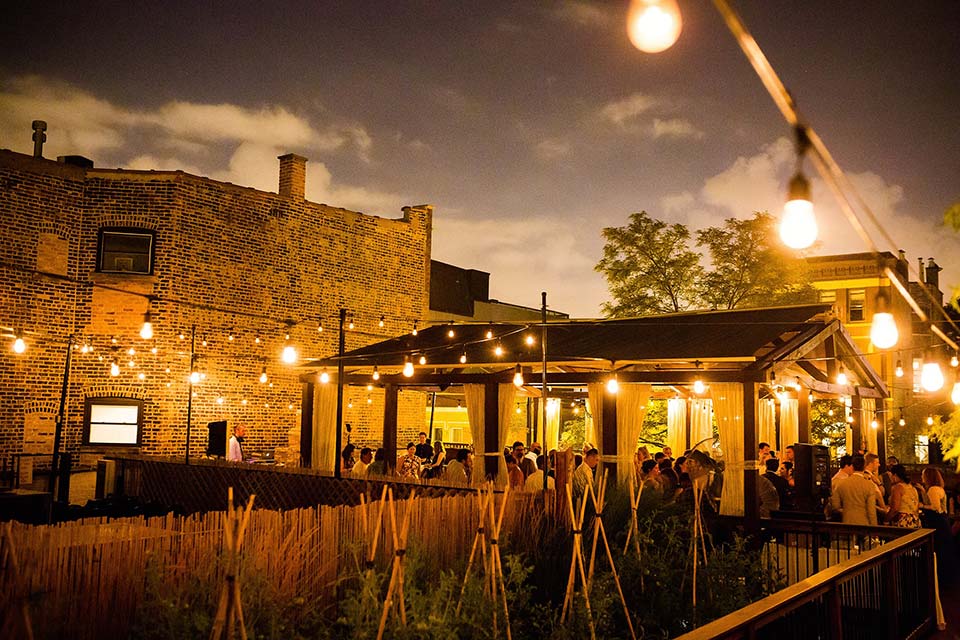 Homestead on the Roof | Photocredit: www.homesteadontheroof.com/
Homestead On The Roof is 'a literal farm-to-table restaurant', set on top of Roots Handmade Pizza in the heart of West Town Chicago.
Truly an urban rooftop garden oasis, this charming and rustic rooftop restaurant might not offer the most dazzling skyline views, but instead comes with a 3,000 square foot organic rooftop garden and two massive, vertical hanging gardens.
Thanks to a cosy indoor restaurant, Homestead can stay open year round. But the green season is when this venue really flourish, and the 85-seat outdoor terrace is in full swing.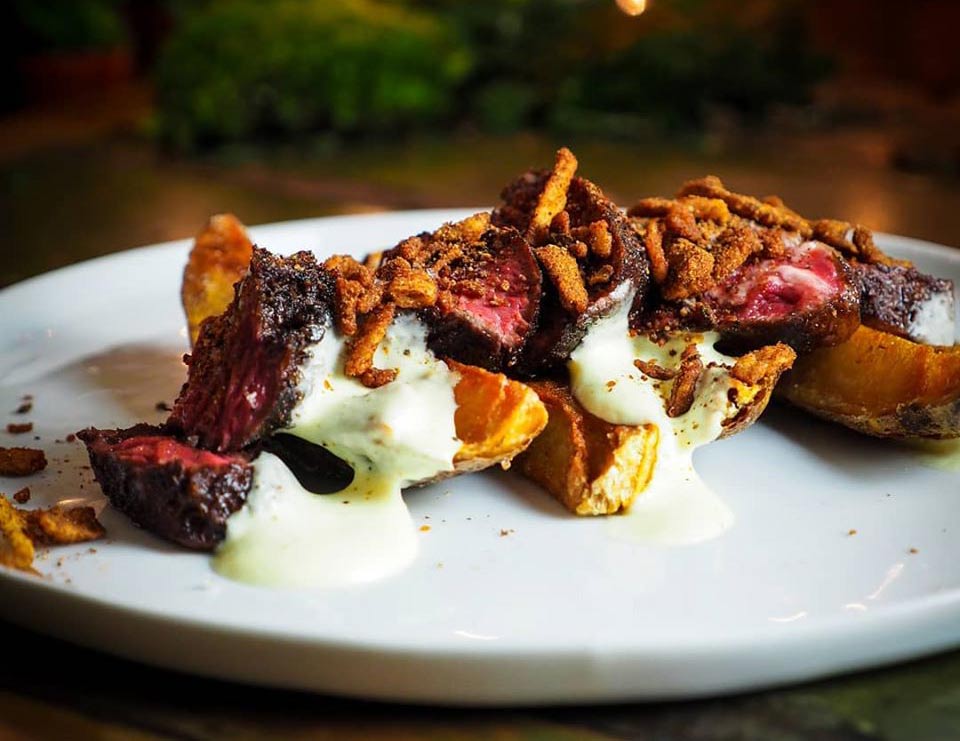 Homestead on the Roof | Photocredit: www.homesteadontheroof.com/
Open for dinner Tuesday to Saturday, Homestead on the Roof serves a seasonal menu based around the planting schedule.
The menu includes dishes to share, as well as smaller and larger selections. Like a Rooftop Garden Salad or a Grass-Fed Steak Frites.
With a lovely and intimate setting, Homestead on the Roof is pretty much the perfect venue for a romantic rooftop dinner in Chicago.
HOMESTEAD ON THE ROOF
1924 W. Chicago Ave. Chicago
Tue-Sat: 5pm-10pm
Farm-to-table
Main: ~$25
Collaboration
3.

Shanghai Terrace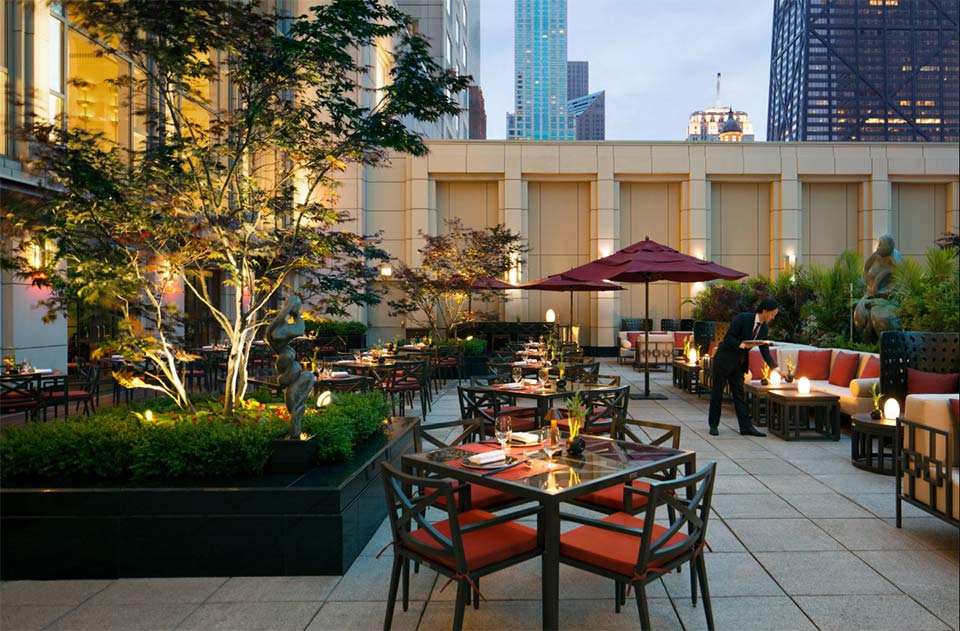 Shanghai Terrace | Photocredit: www.peninsula.com/
Set 4 floors up at the five star hotel The Peninsula Chicago, Shanghai Terrace is a offers both a lovely rooftop terrace and a great Chinese restaurant.
>Here you find an indoor restaurant with a 1930s supper club décor, and a stylish decorated terrace with dining tables, cabanas and comfy lounge sofas along with cool views of the downtown sky scrapers.
A visit at Shanghai Terrace is really something for the taste buds. Voted "The Best Chinese Restaurant in Chicago", you can enjoy a wide range of fantastic dishes, from Dim Sum and Asian Salad to Peking Duck and Dong Po Pork Belly.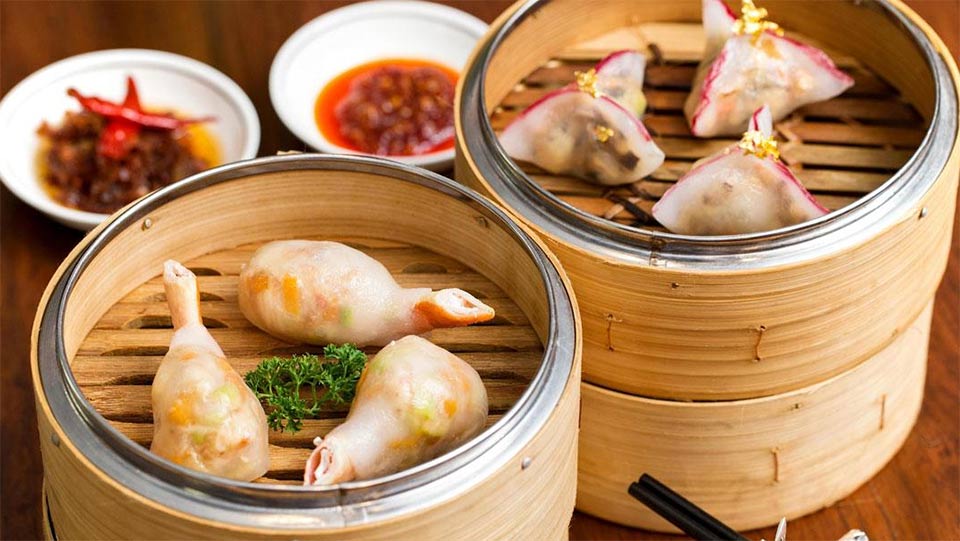 Shanghai Terrace | Photocredit: www.peninsula.com/
Apart from the Cantonese and Shanghainese goodies, the rooftop offers a drink list just as impressing, with Asian beers, premium sake and beautiful specialty cocktails.
With great service and a pleasant, upscale atmosphere, it is not surprising that the price tag is quite high. But, it is well worth it.
Reservations can be made for the indoor restaurant, but the outdoor roof terrace works on a first come, first served basis.
HOMESTEAD ON THE ROOF
108 East Superior Street Chicago
Daily: 5pm-10.30pm
Cantonese & Shanghainese
Main: ~$45
4.

III Forks Steakhouse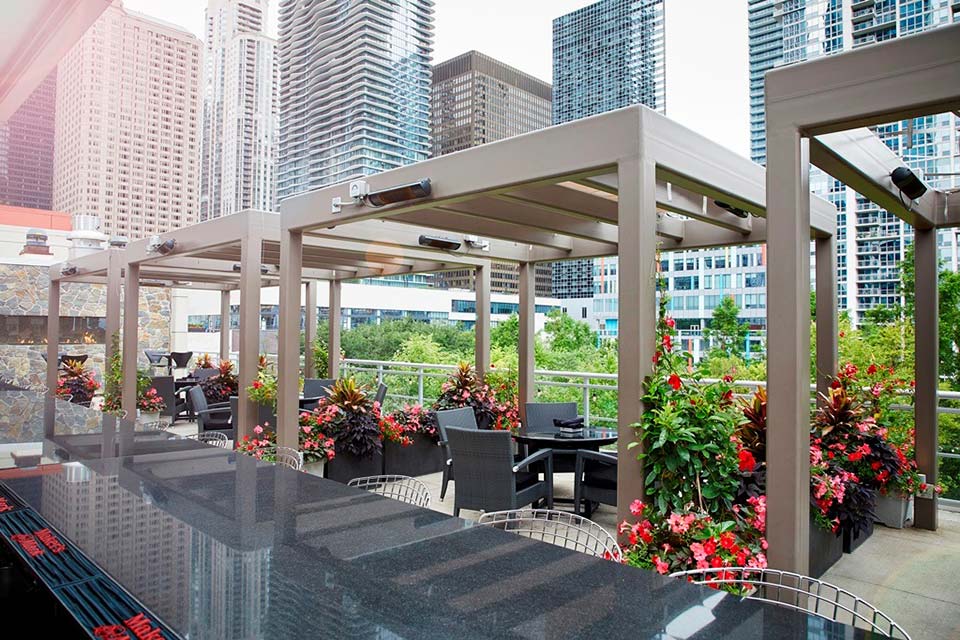 III Forks Steakhouse | Photocredit: www.3forks.com/
The multi-level and modern III Forks Steakhouse in Chicago's Lakeshore East comes with several indoor dining rooms, but also a very spacious and chic rooftop terrace.
With space for over 100 guests, this rooftop is somewhat a hidden gem, equipped with both a cool wooden bar in the middle, fire places and stylish dining seats.
The views are beatiful over Lakeshore East Park and the surrounding skyscrapers, and while you can visit the rooftop for just some drinks, you can also enjoy full dinner al-fresco style.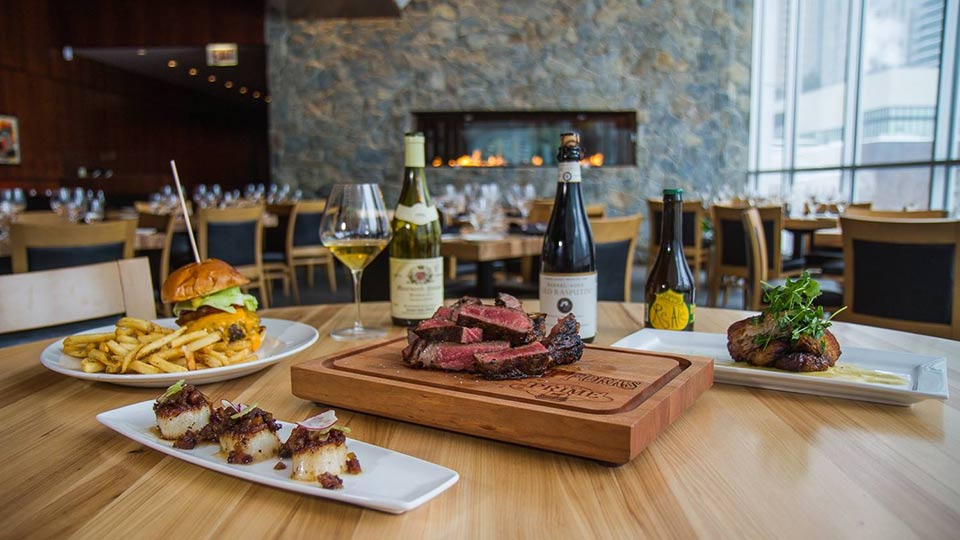 III Forks Steakhouse | Photocredit: www.3forks.com/
Since 'Steakhouse' is in the name, it is of course recommended to try one of the fine USDA Prime steaks available. If meat is not your cup of tea, there is also buttery lobster and ocean-fresh seafood.
Serving upscale dining in a warm and intimate atmosphere, III Forks Steakhouse Chicago is a great venue for a nice family night out, or a romantic rooftop dinner.
III FORKS STEAKHOUSE
180 N Field Blvd, Chicago
Sun-Thu: 5pm-10pm / Fri-Sat: 5pm-11pm
Steakhouse
Main: ~$45
5.

Terzo Piano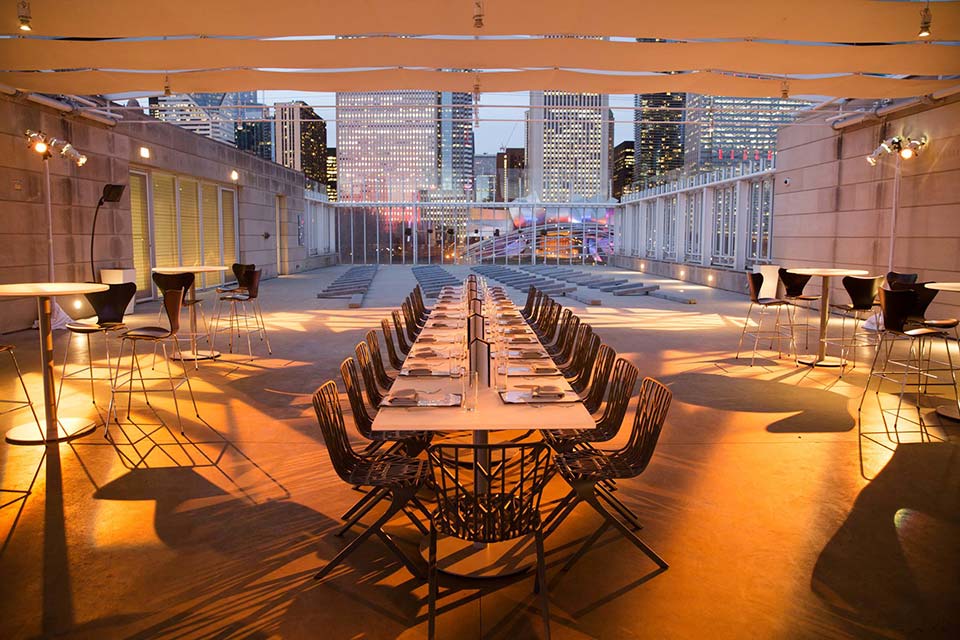 Terzo Piano | Photocredit: http://www.terzopianochicago.com/
Located on top of the Modern Wing of the Art Institute of Chicago, the Terzo Piano rooftop restaurant is a given lunch destination for anyone visiting the museum. Or anyone else for that matter, as it is open to all, museum-visitor or not.
While open to all, the restaurant comes with quite limited opening hours, and apart from lunch it is only open for Thursday dinner and Sunday brunch.
The spacious, minimalistic and modern indoor restaurant is open year round, and during the warmer months you can also enjoy your food out on the half covered terrace, serving some really cool views of the skyscrapers in downtown Chicago.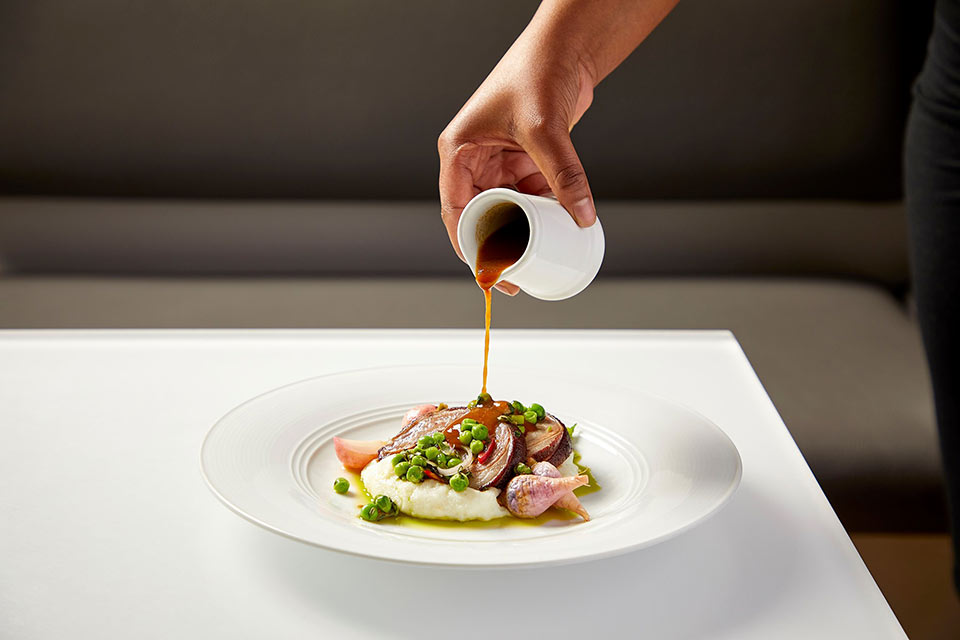 Terzo Piano | Photocredit: http://www.terzopianochicago.com/
Created by Chef Tony Mantuano adn Chef di Cucina Carolina Diaz, Terzo Piano offers a seasonal and uncluttered menu with fresh, local, organic, and sustainably produced ingredients and a Modern American flair.
The food is paired with Cathy Mantuano's wine list, featuring top American producers alongside Old World favorites.
TERZO PIANO
159 East Monroe Street, Chicago
Mon-Sun: 11am-3pm & Thu: 5pm-8pm
Modern American
Main: ~$25