Best rooftop pools Madrid
Best rooftop pools in Madrid
Published: January 9, 2020
5 amazing Madrid hotel terraces with refreshing pools and lovely views
The capital of Spain is a little bit different compared to other south European cities. It´s altitude is above standard and that makes sure two things; cold winters and very hot summers. The spring and autumn is somwhere in between.
Madrid as a rooftop pool city is good. Remember that Madrid is an old city with a long history with old buildings which makes the scenery and view from the rooftop pools very beautiful and photogenic.
The city is full of tapas joints and the nightlife is excellent. Here you can check out all the best Madrid rooftop bars for fun and drinks.
But after a joyful night you need to take your strength back, and the very best way to do that is with some chill out by a Madrid rooftop swimming pool.
Here's our list of the best rooftop pools Madrid. Enjoy!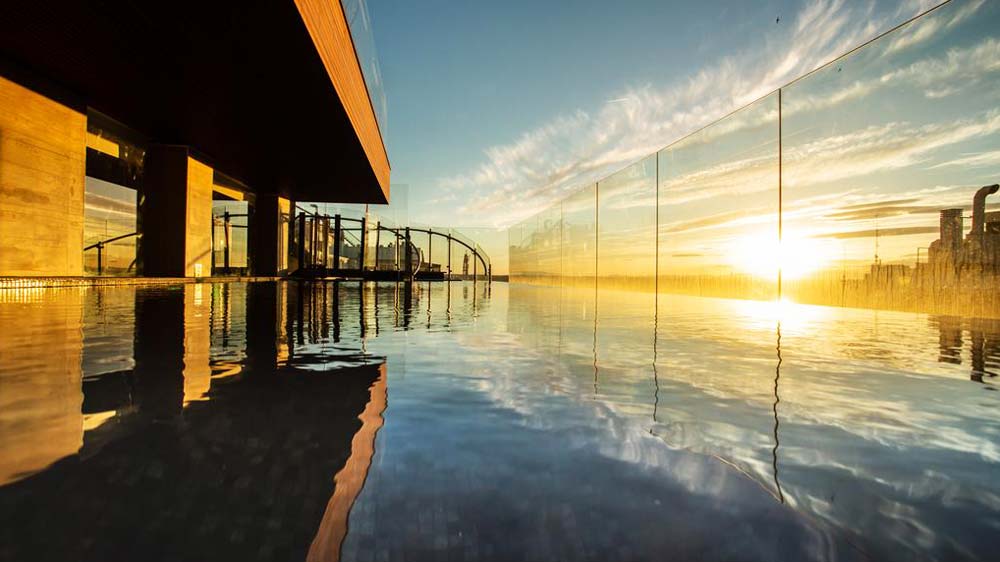 Photo: www.indigomadrid.com
The name of the hotel gives you the location, but it does not tell you that the infinity pool at Hotel Indigo Madrid - Gran Via is one of the city's absolut coolest rooftop pools. Neither that the hotel is facing west, meaning it is also a fantastic place to mix dips with beautiful sunsets.
The unique and exclusive rooftop pool is set on its own level, so you can really swim with the feeling of just you and the panoramic views of Madrid. Open daily during the summer season (10am-8.30pm), hotel guests can enjoy free towel service and snacks by the rooftop pool.
So while outside guests may not swim, everyone can enjoy the view and a mix of Madrid and Mexico at the Terrace of Indigo & Bar.
Website: www.indigomadrid.com/en/terrace
Photo: www.dearhotelmadrid.com
Dear lord what a view! Wow! This rooftop pool in Madrid maybe has the most spectacular view of them all. From the Sky Pool at Dear Hotel you can catch the city with a 360-degree view and at the same time take a dip in the rooftop pool.
The location of this hotel is downtown and close to Plaza Espana. In between the refreshing plunges you can head over to the panoramic solarium for a tasty cocktail. Or maybe have lunch in the adjacent Nice to meet you Restaurant & Lounge.
The rooftop pool is open from June to September between 12pm to 8pm. And to enjoy it, you have to book your stay at the boutique Dear Hotell, since the pool is exclusive to in-house guests. Anyone can however enjoy the vies and food at Nice to meet you Restaurant & Lounge.
Website: www.dearhotelmadrid.com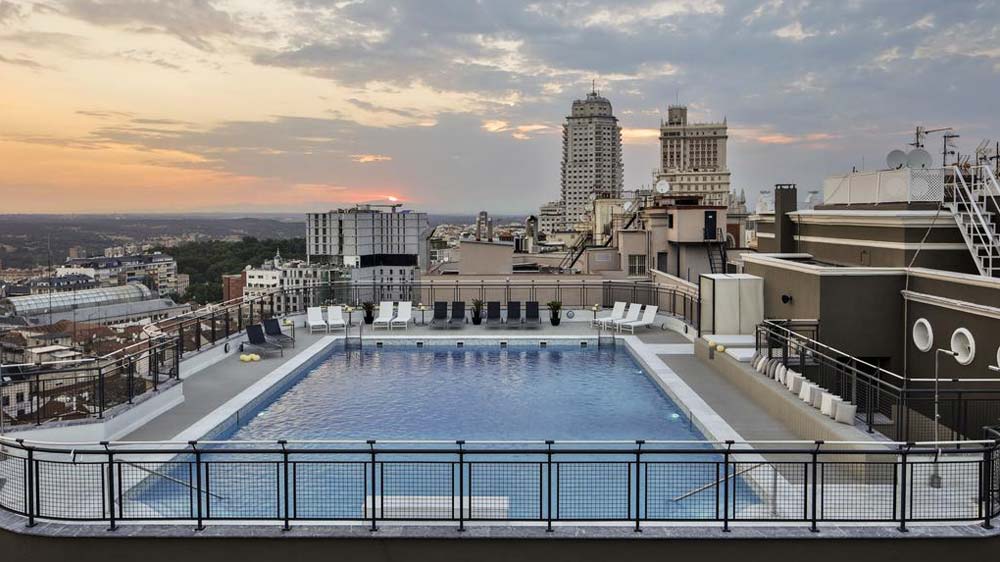 Photo: www.emperadorhotel.com
Located in the heart of the city, on the famous Gran Via, Hotel Meperador claim to have "the most exclusive terrace in Madrid". And it really is hard to disagree.
The spacious 10th floor terrace does not only offer amazing views over the city and a year-round Sky Bar. Up here you also find a fantastic rooftop swimming pool, which is both Madrid's largest and oldest.
During May to September, the Emperador rooftop turns into a beach club, reminiscent of summers in Ibiza. Probably as close to the beach as you can get in the non-coastal Madrid.
The rooftop pool is free for gusets staying at the hotel, but also avilable to the public with different packages. Entry is between €50-63 depending on day (including towels and 1 glass of Moët Ice), or you can buy a 5-day pass for €210. If you are a group of 2-4 people, an even better option might reserving one of the luxurious Balinese Beds (between €170-320).
Enjoy vibes, views, fantastic cocktails and a stunning Madrid rooftop pool.
Website: www.emperadorhotel.com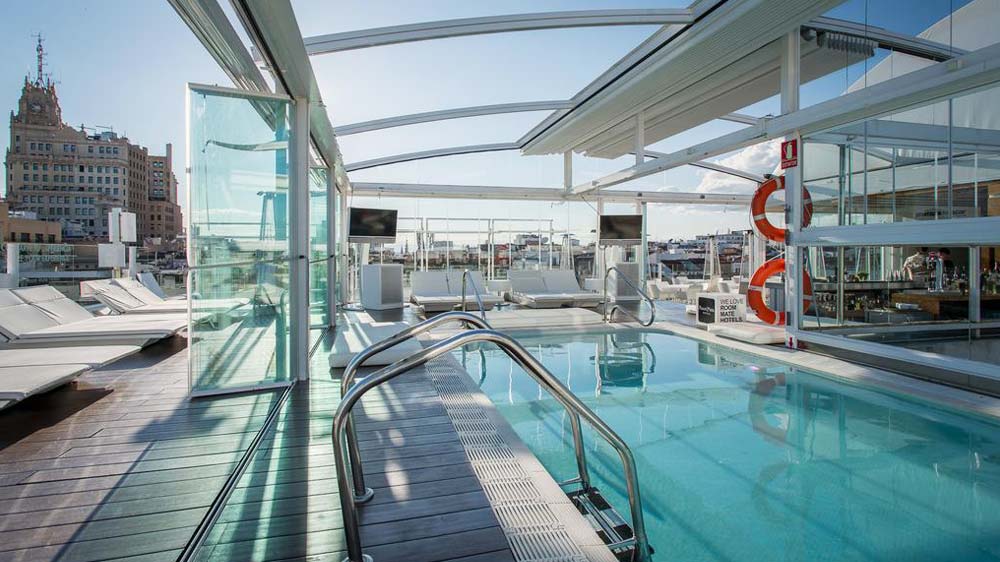 Photo: https://room-matehotels.com/en/oscar/terrace/
This rooftop pool is situated at Plaza Zerelo, at the top of the fantastic Room Mate Oscar Hotel. Since this is literary downtown you could think that it is a busy rooftop pool? Yes, it is.
The 8th floor terrace holds one of the city's best rooftop bars (La Terraza de Oscar), open to all both summer and winter thanks to a retractable roof. The rooftop pool is however a bit more seasonal and exclusive.
Open during the warmer summer months (10.30am to 7pm), the refreshing swimming pool and adjacent sun loungers are free to guests staying at the hotel. But outside visitors can also reserve a spot by the pool for €25 (book here).
Since this will give you sun almost all day, a wonderful view of the surrounding of Madrid and a fantastic rooftop pool, we would say it is money well spent. This rooftop pool in Madrid is a perfect start of some joyful days in this vibrant and real Spanish city.
Website: www.room-matehotels.com/en/oscar
Photo: www.blesscollectionhotels.com/en/madrid/bless-hotel-madrid
Located in the Salamanca district, the fabolous and five star Bless Hotel Madrid also comes with an equally fantastic rooftop pool. This emerald creation is probably the most beautiful rooftop pool Madrid has to offer.
And the pool is not alone, as the rooftop terrace (called Picos Pardos Sky Lounge) is amazing all around. A natural, stylish and exotic oasis, with grand views over Madrid as a cherry on top.
The rooftop pool is open daily from 11am to 8pm, free for guests staying at the hotel. But also available to the public with a reservation of one of the luxurious Balinese beds.
And while the rooftop pool might be the main attraction during daytime, anyone can visit the rooftop bar and terrace for well-made signature cocktails and an exciting food menu created by a 10 time Michelin-awarded chef. Both during the day and well into the night.
Website: www.blesscollectionhotels.com/en/madrid/bless-hotel-madrid/venue
Other fun things to do in Madrid