Madrid is pretty much synonymous with bars and restaurants. Probably one of the best cities in the world for those who love the good life of eating and drinking.
Delicious dinner is great, but a delicious dinner with exceptional wine and a breathtaking view is even better. And luckily there are plenty of Madrid restaurants with view to choose from, which can be found in this listing of the 5 best rooftop restaurants in Madrid.
A list made by the world's leading experts on rooftops. The list contains both more upscale restaurants, and also classic relaxed venues with the genuine Spanish feel to them.
1.

Azotea del Circulo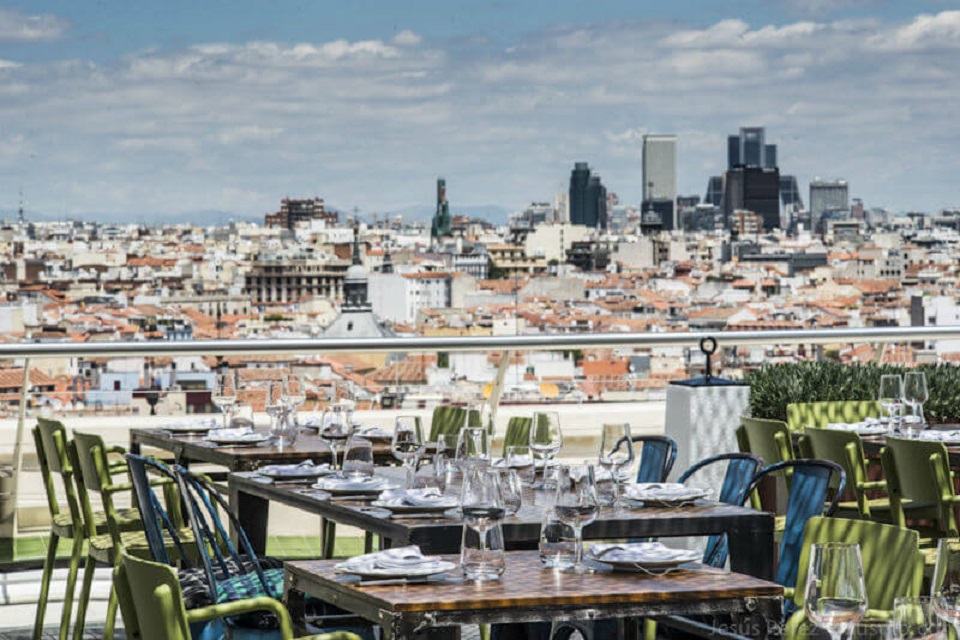 Rooftop restaurant Madrid - Azotea del Circulo | Photocredit: www.azoteadelcirculo.com
Offering central locations, fantastic views, and generous open hours, Azotea del Circulo has become a cornerstone of Madrid's restaurant scene.
From up here, you can enjoy stunning 360-degree views of Madrid's skyline, as well as fantastic Spanish and Mediterranean cuisine, all served at a reasonable price and prepared with true skill.
Open for breakfast, lunch, and dinner, as well as offering weekend brunch, Azotea is the perfect central hub for your adventures in Madrid.
Azotea also has a bar where you can find wine, beer, sangría, champagne, and cocktails. If you plan to visit the bar and not the restaurant, there's a small 4€ in place, but the views are more than worth it.
AZOTEA DEL CIRCULO
Calle del Marqués de Casa Riera, 2, 28014 Madrid
Daily: Breakfast / Lunch / Dinner
Spanish tapas
2.

Nice To Meet You at Dear Hotel Madrid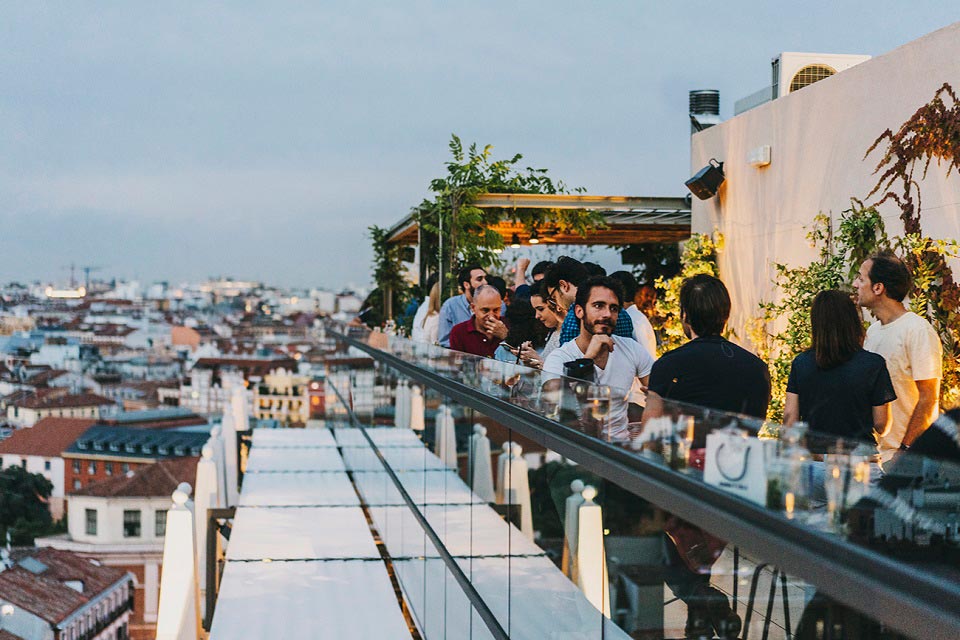 Rooftop restaurant Madrid - Nice To Meet You | Photocredit: www.dearhotelmadrid.com
Boasting a very centric location, stunning views of Madrid and its surroundings, and one of the best rooftop pools in the city, Dear Hotel is an ideal choice for tourists looking to explore the city in style.
Located on a 14h floor and open exclusively to guests, the rooftop pool is the perfect spot for relaxation and privacy.
If you're looking to meet new people, though, you can always head out to Nice to Meet You, the hotel's restaurant and lounge.
Nice To Meet You is a fantastic rooftop restaurant and bar where you can enjoy a sunny lunch, early afternoon cocktails, delicious dinners, and stunning views.
The kitchen serves contemporary Mediterranean cuisine and a collection of signature and classic cocktails that you're sure to enjoy.
During the weekends, Nice To Meet You hosts live music and DJ shows, so if you're visiting this restaurant, reservations are encouraged.
NICE TO MEET YOU
Calle Gran Vía, 80, 28013 Madrid
Daily: Breakfast / Lunch / Dinner
Spanish tapas and mains
Main: ~€17
3.

Gourmet Experience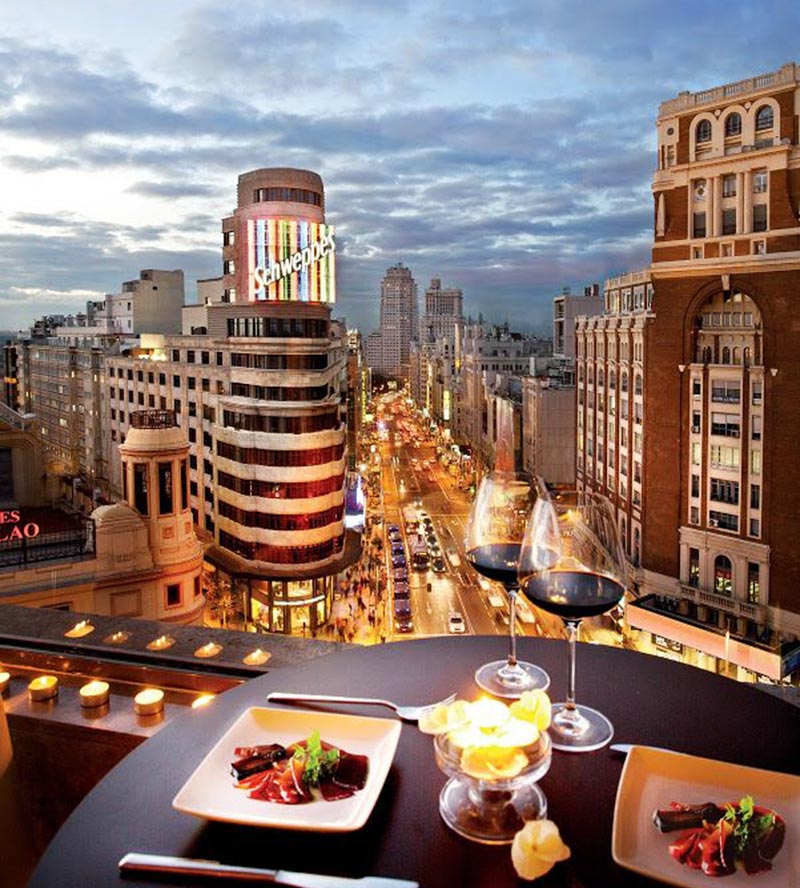 Rooftop restaurant Madrid - Gourmet Experience | Photocredit: www.elcorteingles.es/
The large shopping center El Corte Inglés is definitely no Madrid secret, but its 9th floor rooftop restaurant and bar is much more of a hidden gem.
High above the bustling streets around Gran Via, this oasis offer both some relaxation and some fantastic views over the Capitol Building and the Madrid skyline.
The Gourmet Experience is not one rooftop restaurant, but instead a collection of small gourmet restaurants. Order your food and drinks and bring it to your table, either inside or on the open air rooftop terrace.
Selection of food and drinks ranges from Mexican and Japanes to classic Spanish and other international tastes. If you find something you really like, chances are you can buy it to bring from the food market.
While the Gourmet Experience might not be all that well known among visitors, it is a popular venue among the locals. And since the shopping center is well visited pretty much always, you should aim to arrive early to grab the top seats.
GOURMET EXPERIENCE
Centro Comercial El Corte Inglés, Plaza del Callao, 2, Madrid
Daily: Lunch / Dinner
Food market
4.

The Hat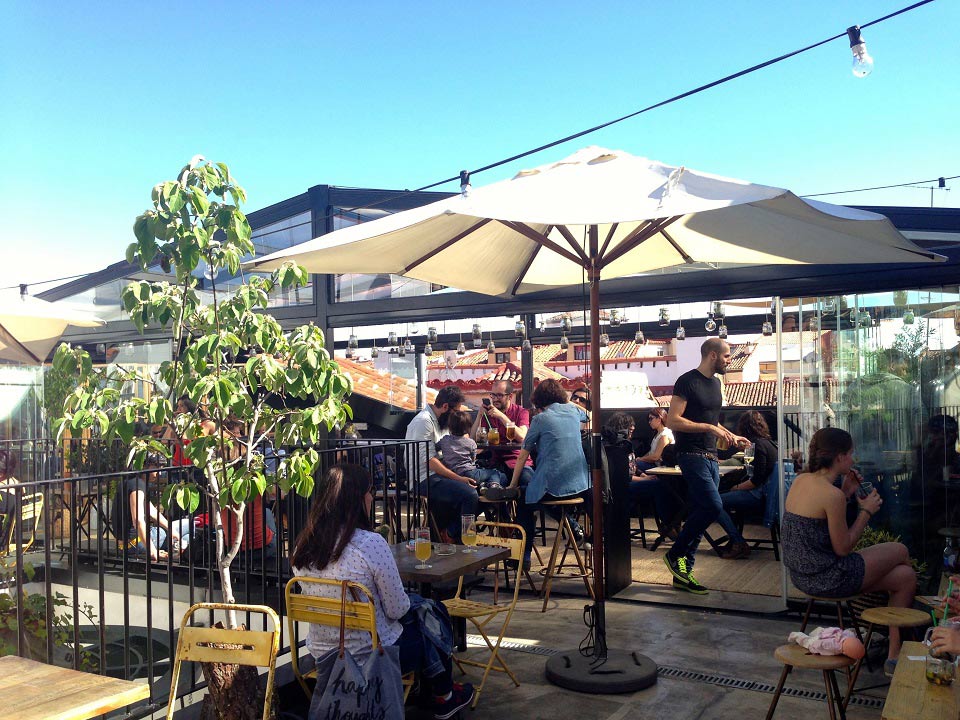 Rooftop restaurant Madrid - The Hat | Photocredit: The Hat Facebook
Just a few steps away from Plaza Mayor stands The Hat, a building you won't be able to look away from.
This creative hotel/hostel concept, created with smart travelers in mind, runs entirely on biomass energy, boasts a stunning ultra-modern design, and houses one of the coolest rooftop restaurants in the entire city.
Up on the charming rooftop, you can enjoy quaint views of Madrid's old buildings while sunbathing and enjoying an ice-cold drink and tasty bites.
The rooftop restaurant and bar was designed to be the heart of the hotel, offering indoor and outdoor seating options, heating for the cold days, semi-covered areas, tables, lounge sofas, couches, and more to weary and energetic travelers alike.
Day or night, you can find delicious coffee, well-crafted cocktails, ice-cold beers, and amazing conversations from travelers from all over. The food menu is not huge, but includes a nice set of tapas that is friendly both to the taste buds and the wallet.
THE HAT
Calle Imperial 9 Madrid
Daily: Dinner
Spanish / South American
Tapas ~€10
5.

El Viajero
Rooftop restaurant Madrid - El Viajero | Photocredit: www.elviajeromadrid.com
"The Traveler," or El Viajero, is a fantastic restaurant bar located on a historic building, where you can not only submerge yourself in the past but also gaze at Madrid's Latina area.
Occupying the entirety of a three-story building, El Viajero has a full-sized restaurant on the ground floor, a fantastic bar on the second floor, and the best of both worlds on the third.
El Viajero's rooftop boasts a small kitchen that prepares light bar bites and tapas, and a bar that serves fantastic cocktails, delicious wines, and a wide variety of beers.
Reservations are only available for the restaurant, so if you want to score a good table at the rooftop, make sure to arrive early.
EL VIAJERO
Plaza de la Cebada, 11, 28005 Madrid
Tue - Sun: Lunch / Dinner
Tapas