Without a doubt, Miami is a major party destination for anyone spending time in the sunny state of Florida. With a bright nightlife and numerous options to explore and experience the city, we guarantee you, you won't get bored.
But why wait until evining to get the fun going? To get the most out of any weekend, one of the best things to do in Miami starts the day with a rooftop brunch. You just can't go wrong mixing orange juice and champagne, bagels and burgers, sunshine and views. To help you find the top spots, this list takes you to 5 amazing places where brunch is served with a side of vistas.
1.

Juvia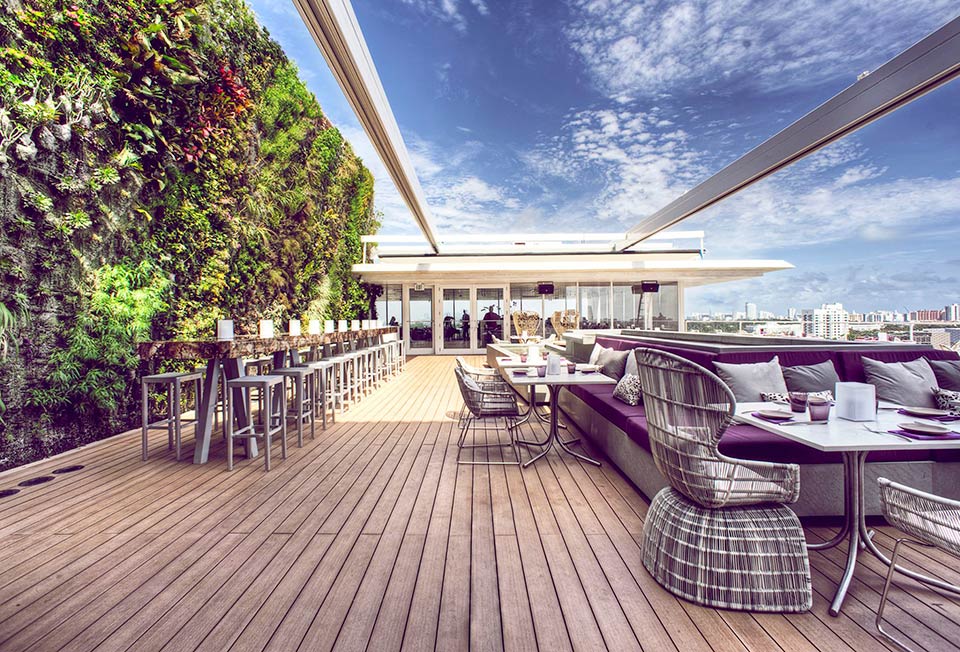 Rooftop brunch Miami at Juvia - Photo: www.juviamiami.com/
Located in the central parts of Miami Beach, Juvia is a hip and modern rooftop bar and restaurant. Its simplicity, great atmosphere and eclectic menu options make it a major hub for young creatives and foodie enthusiasts on a busy day.
Perched nine floors above Lincoln Rd, this stylish and beautiful venue comes with both an indoor sky restaurant with floor-to-ceiling window, and a large wooden decked rooftop terrace, surrounded with magnificent panoramic views of Miami Harbor and the city skyline.
Open nightly for refreshing speacialty cocktails and innovative French, Japanese and Peruvian dishes, Juvia also offers a fantastic Sunday rooftop brunch. The á la carte menu includes appetizers like 'Ceviche Carretillero' and 'Wagyu Beef Gyoza', as well as mains like 'Smoked Salmon Egg Benedict' and 'Perigord Truffle Risotto'. For an extra festive touch, gor for the 'Bottomless Brunch', which gives you 2 hours of flowing Mimosa, Bellini, Prosecco or Avion tequila Margarita.
2.

Area 31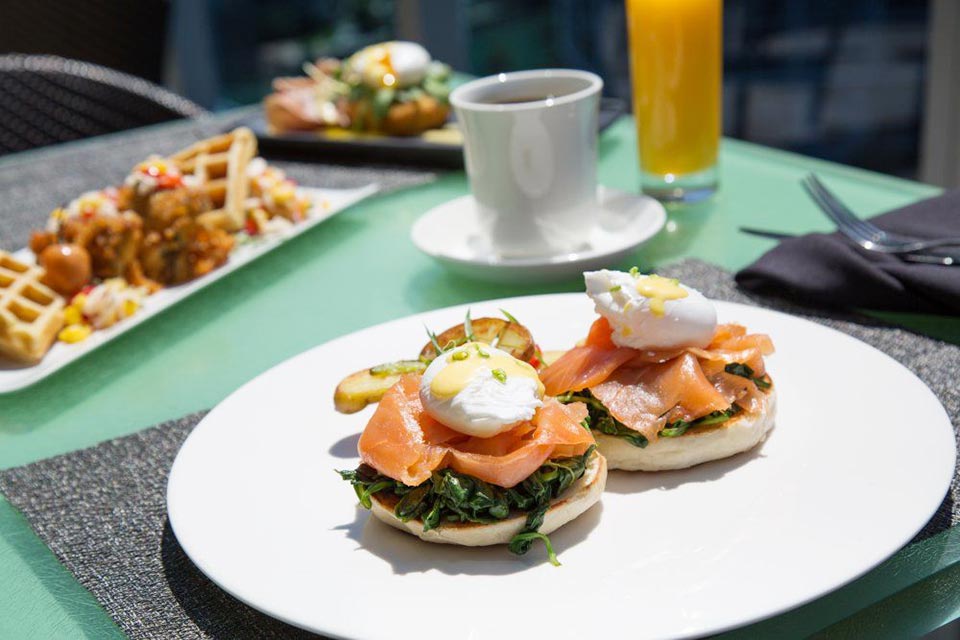 Rooftop brunch Miami at Area 31 - Photo: https://area31restaurant.com/
Perched on the 16th floor of the great Kimpton EPIC Hotel in downtown Miami, Area 31 is a rooftop bar and rooftop restaurant, offering fantastic views over Miami's skyscrapers and the Miami River, as well as great food created by Executive Chef Wolfgang Birk.
Focusing mainly on innovative seafood, the rooftop is open from early morning to late evening for food an drinks, and during weekends also for a Miami rooftop brunch.
Starting already at 8am, this is heaven for the early birds, where you can indulge in more classics brunch-dishes like 'Buttermilk Pancakes' and 'Main Lobster and Crab Benedict', as well as more unusual items like 'Korean BBQ Short Ribtaco' and 'Fresh Whole Fish'. To complete the menu, Mimosas, Bellinis, Aperol Spritz and Bloddy Mary's are (of course) also available.
3.

Astra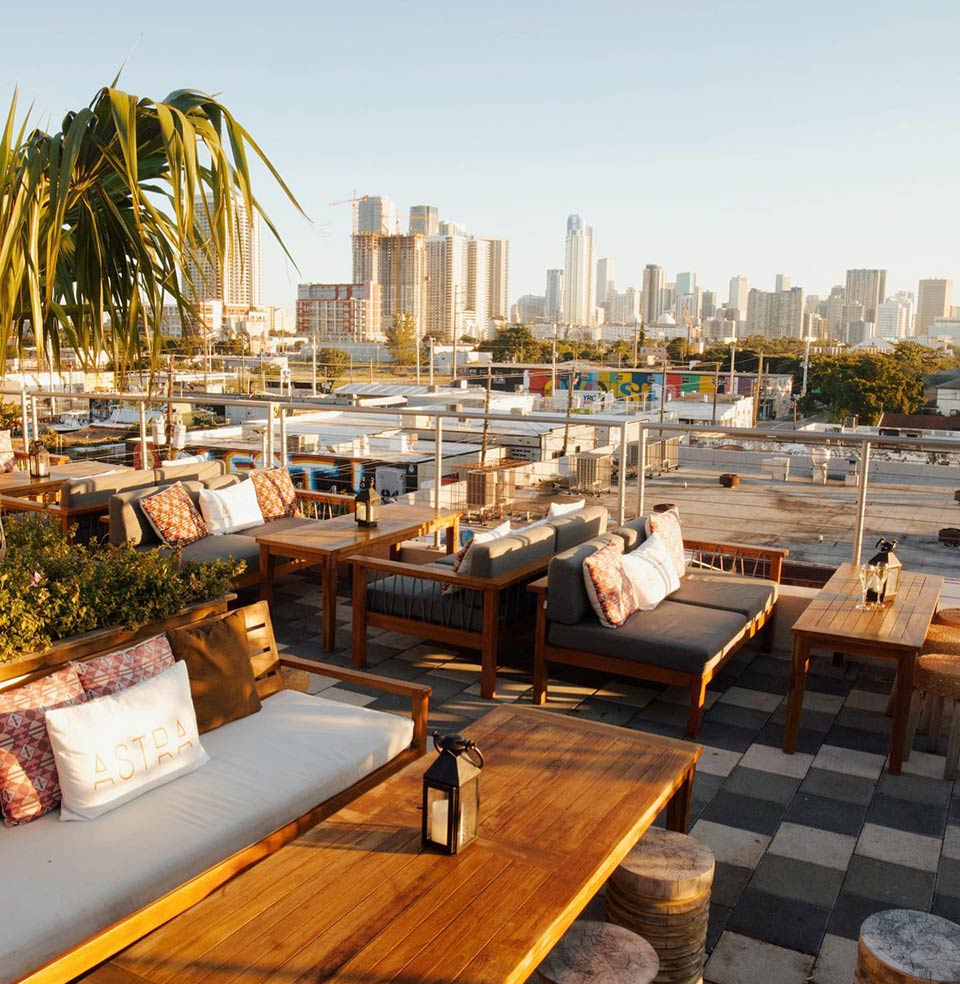 Rooftop brunch Miami at Astra - Photo: https://astramiami.com/
Spanning over 10,000-square-feet, the Astra Roof Garden in Wynwood is spacious and impressive, and just about as close to the Greek Islands as you can get in Miami.
Equipped with both dining tables and more comfy lounge sofas, here you are surrounded with lush Mediterranean plants and some fantastic and unobstructed views over the Miami skyline.
Open nightly for Greek and Mediterranean inspired F&B and a vibrant atmosphere, during Sunday's the vibes start early with a bottomless Miami rooftop brunch. Expect a mix of Oysters, Fried Calamari, Eggs Benedict, Mojito Pitchers and live DJs/entertainment. And try to stick around until sunset, as it is something special from the Astra rooftop.
4.

Vista Restaurant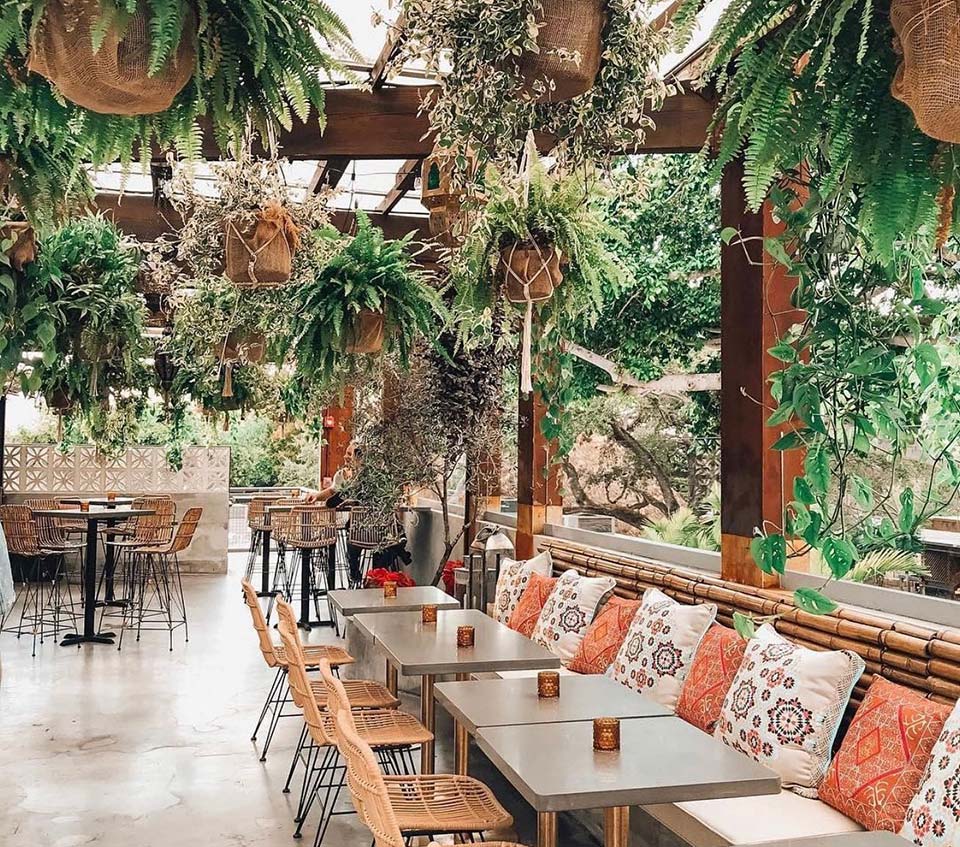 Rooftop brunch Miami at Vista Restaurant - Photo: https://vistamiamirestaurant.com/
The cosy, rustic and charming Vista Restaurant in Buena Vista comes with an equally cosy rooftop patio. While it is not the highest, nor the largest rooftop terrace in Miami, the lush and industrial-chic setting, combined with cool views over the Buena Vista rooftops, makes it a great destination on any sunny day.
Preferably a weekend day, when you usually can indulge in the Vista rooftop brunch. Focusing on well-made and authentic farm-to-table dishes, the menu includes 'European Breakfast', 'Salmon Benedict', 'Steak Omelette' and $26 unlimited mimosas. Among other things. Add a friendly atmosphere and frequent live entertainment, an you understand Vista is a hidden gem well worth a visit.
5.

Dolores But You Can Call Me Lolita
Rooftop brunch Miami at Dolores But You Can Call Me Lolita - Photo: http://doloreslolita.com/
Located in the heart of Brickell's Financial District, the long-named Dolores but you Can Call Me Lolita is divided into two areas. The downstairs 'Lolita' hosts a café delicatessen and an executive lunch on weekdays, transforming into a trendy night lounge, while the upstairs 'Dolores' has an indoor dining area and a rooftop dining terrace with plush couches and a panoramic view of the Miami skyline.
Situated in a former firehouse building built in 1923, the venue comes packed with old charm, serving international fusion cuisine from lunch to late night, and during weekends also as rooftop brunch.
Grab a spot on the rooftop garden-like terrace and indulge in 'Argentinian Churrasco Steak & Eggs', 'Pulled Pork Quesadilla', 'Chicken & Waffles' and/or 'Hawaiian Tuna Poke Bowl'. And keep refreshed with some Frozen Sangria.