Article
Rooftop brunch Miami
Yummy food and yummy views
Published: January 11, 2017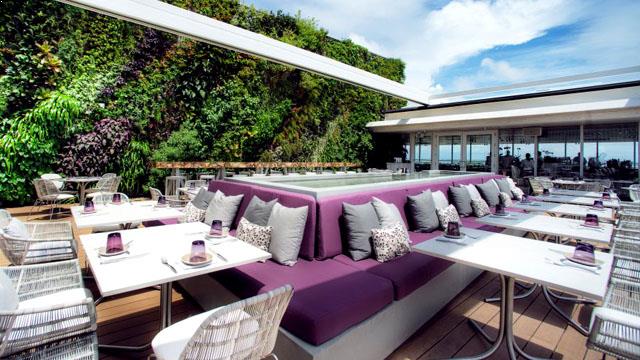 Rooftop brunch in Miami
Fantastic places in Miami for a nice rooftop brunch.
Without a doubt, Miami is a major party destination when visiting the sunny state of Florida. With bright nightlife and numerous options to explore and experience the city, we guarantee you, you won't get bored.
Here's a list about rooftop brunch Miami and the best places for a brunch with a view.
Area 31 is the local seafood place, that has it all - great menu, great service and a great view. If you are wondering where to have your rooftop brunch while in Miami, that's the place for you.
Located on the top of EPIC hotel, this place shall help you enjoy the little things in life.
More info about Area 31 rooftop bar.
Juvia is a hip and modern place, located on 1111 Lincoln Rd. Its simplicity, great atmosphere and eclectic menu options make it a major hub for young creatives and foodie enthusiasts on a busy day.
Reservation is required, as it gets busy and it is quite popular rooftop restaurant in Miami.
More info about Juvia rooftop bar.
The best piece of the cake includes great coffee and a breathtaking view. So if you're wondering around 1020 Ocean Dr while in Miami, stop by the Cleveland South Beach Hotel & Bar. The bar is located, obviously, on the top of the hotel. It's wonderful and welcoming all year round.
The great thing about this bar is that is accessible for people with special needs. Often visited during sports season.
More info about Clevelander South Beach Hotel & Bar rooftop bar.
4. Sugar
This place, just like its name, is indeed sugary. This chick cocktail bar is situated on the top of EAST Miami hotel and sure will make your life sweeter. It features a great menu of craft drinks. The tropical rooftop brings an Amazon rain forest feeling, while the cocktails mixture quickly brings you back to the heart of the city.
Bare in mind Sugar does not take reservations, so come a little earlier to get a free seat.
5. Watr at The 1 Rooftop
Loving Hawaii? If your answer is yes, than all we have to say is - put Watr at the 1 Rooftop bar in your bucket list while in Miami. For all of you foodies, keep in mind the pricelist is a bit higher, but it's worth every penny.
While having a relaxing rooftop brunch in Miami at Watr, be sure to try the ice cream with chocolate chips.
6. HIGHBAR Rooftop Bar & Pool
Located atop of the hotel, this rooftop bar has a pool and an endless sky in front of it. Grab your swimsuit and a cup of coffee, while spending some quality and quiet time under the sun. The pool is allowed for guests of the hotel only.
7. Soccer Rooftop
And something slightly different than everything else… Soccer Rooftop! This amazing open space playground enables you to enjoy your favourite game with a bunch of friends while sipping on a bottle of beer.
Collaboration
More from The Rooftop Guide
You may also like