Located on Miami Beach, just east of Miami city, South Beach have some amazing rooftops. Many of them with both refreshing swimming pools and stylish bars.
South Beach is well-known for a great and glamorous party- and nightlife. The rooftops here though, tends to be a little bit more on the relaxed side. Mostly because they are located at hotels. But, you can also find some South Beach rooftops perfect for a night out or a day party.
Here is our list of the 5 best rooftop bars and pools in South Beach.
If you are looking for elevated venues beyond South Beach, check out our guide to all the best Miami rooftop bars.
1.

C-LEVEL Rooftop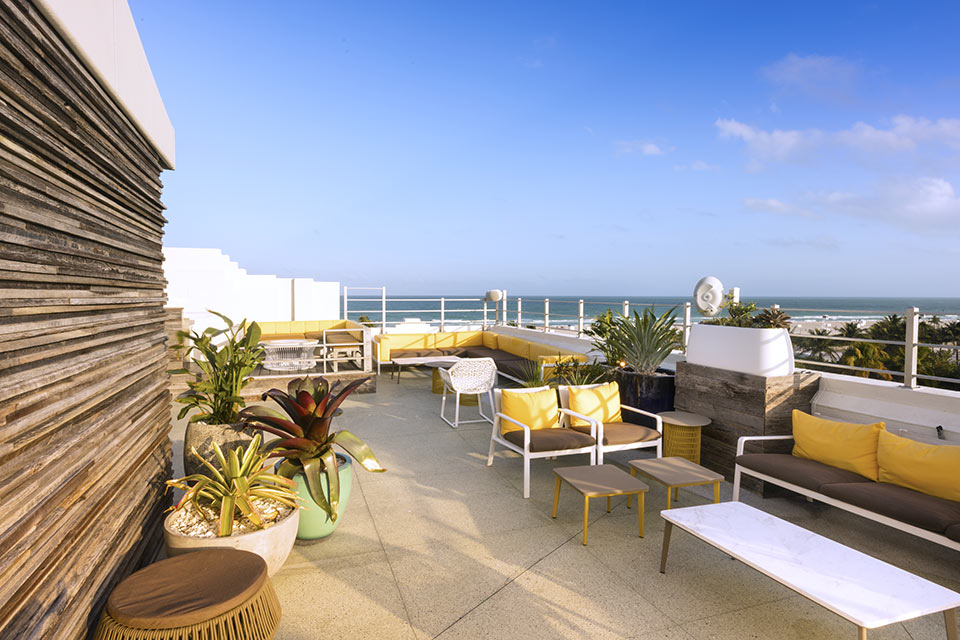 C-LEVEL Rooftop - Photo: www.clevelander.com
Perched on top of the eventful and fun Clevelander Hotel in South Beach, C-LEVEL Rooftop is both a fantastic event venue, and one of the prime spots for elevated weekend fun in Miami.
Completely isolated from the nightly party on Clevelander's iconic POOL + PATIO, it caters as a more formal-style event space, with capacity of up to 200 guests.
Weekend nights, the rooftop is more public, when everyone are welcome to dance the night away at the C-LEVEL ROOFTOP PARTY.
Overlooking the ocean and the Miami skyline, the vibrant Friday and Saturday nights include a 3 Hour Open Bar special with spirits, beer and wine (starting at $75), and a full cash bar with premium liquor and specialty cocktails.
As the byline of the C-LEVEL Rooftop says: 'Up here, every moment is magic'.
C-LEVEL ROOFTOP
Clevelander Hotel, 1020 Ocean Drive, Miami Beach
2.

Juvia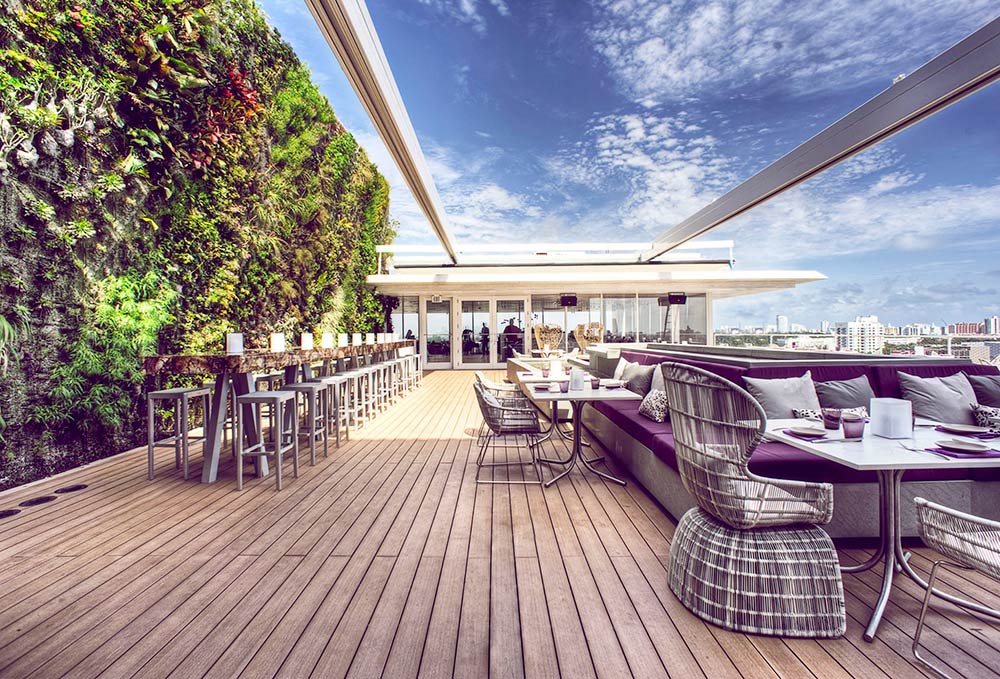 Juvia - Photo: www.juviamiami.com/
This stunning venue works both as a restaurant and a bar, featuring delicious fusion food and jaw-dropping views that will make any visit one to remember.
Juvia offers both indoor and outdoor seating, with a large wooden rooftop terrace and a modern indoor sky restaurant with floor-to-ceiling windows, both offering panoramic views of the Miami Harbor and the city's skyline.
Open nightly, and for brunch during the weekends, Juvia has a lively and vibrant lounge-like atmosphere, as well as live music and a charming staff.
The rooftop bar features classic drinks and cocktails, as well as a fantastic collection of beers, but what really stands out are the innovative signature cocktails, which we can't recommend enough.
Food-wise, the restaurant mixes French, Japanese, and Peruvian ingredients and techniques, resulting in genuinely unique dishes with innovative flavors and Instagram worthy looks.
Walk-ins are welcome, but Juvia is a popular venue, so scoring a table isn't guaranteed without a reservation.
JUVIA
1111 Lincoln Road, Miami Beach
3.

Watr at the 1 Rooftop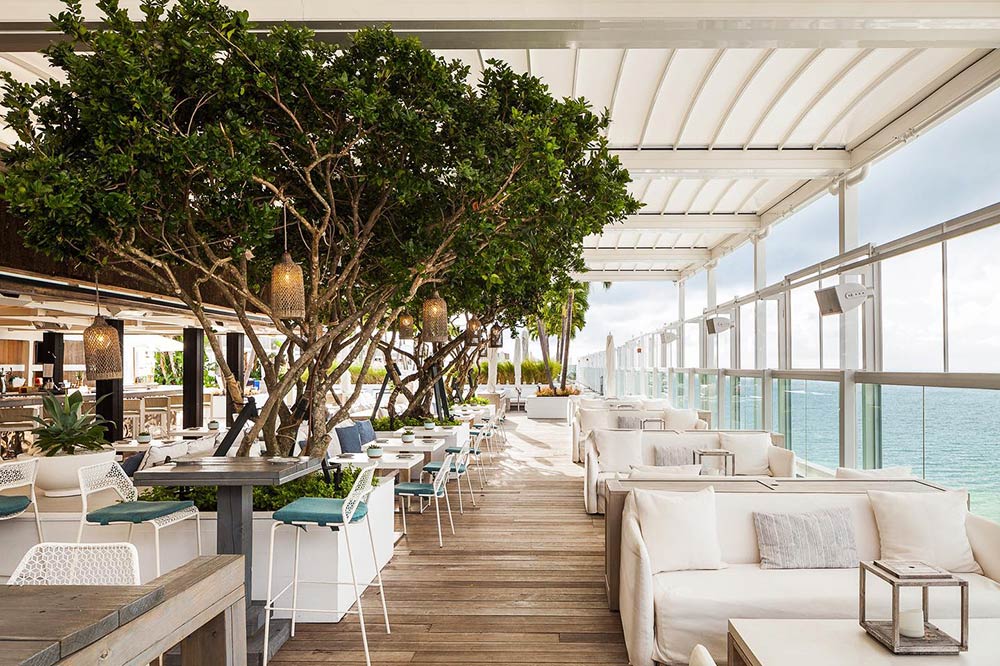 Watr at the 1 Rooftop - Photo: www.1hotels.com
Easily one of Miami's most impressive rooftop terraces, this modern venue offers jaw-dropping views of the ocean, a wonderful rooftop pool, comfortable furniture, delicious food, and a laid-back atmosphere.
Inspired by the ocean, this rooftop venue focuses on Peruvian and Japanese inspired dishes, like Charred Octopus and freshly made Sushi rolls.
This same inspiration carries to the bar's drinks, with expertly-mixed cocktails, frozen drinks, sake, draft beers, wines, and more.
Open only to guests staying at 1 Hotel South Beach throughout most of the day; up here, you can enjoy a relaxed and laid-back atmosphere, perfect for lunch or afternoon cocktails that taste even better when you're enjoying the sunset.
After 6pm, though, Watr opens to the public and takes on a more club-like atmosphere, with live DJs shows, a trendy crowd, happy hour specials, and even pool parties, transforming an oasis into one of Miami's hottest rooftop venues.
WATR
2341 Collins Ave, Miami Beach
4.

HIGHBAR at Dream South Beach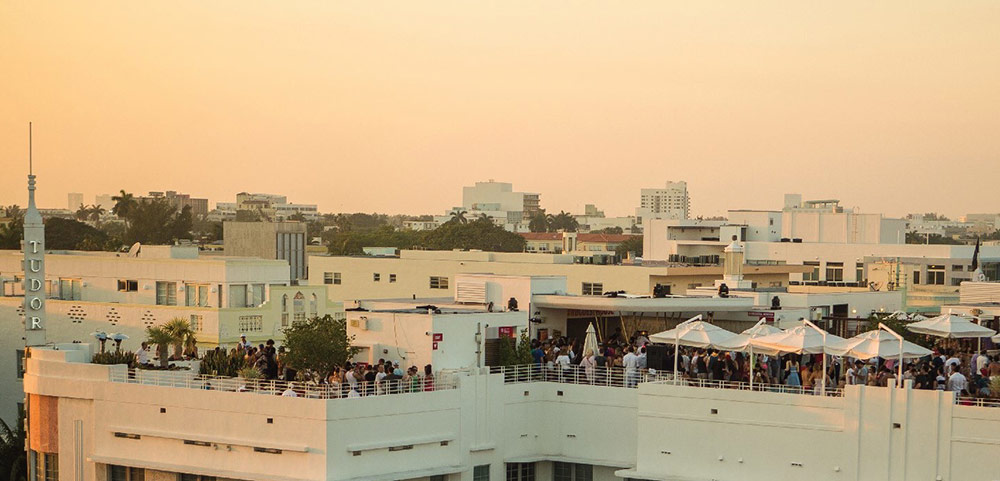 HIGHBAR at Dream South Beach - Photo: www.facebook.com/highbar305/
The quintessential rooftop party destination, HIGHBAR has everything you could think of, including a swimming pool, a fun atmosphere, and beautiful views of the ocean.
HIGHBAR is a pool bar by day, and a cocktail lounge by night, which means it can entertain a large variety of people throughout the day.
The rooftop pool is surrounded by comfortable sunbeds and lounge sofas, as well as shaded areas to protect you from the sun.
The rooftop bar serves a large selection of Margaritas, fresh signature cocktails, delicious food, and has a 4 to 7 happy hour with fantastic prices.
Though it's located in a hotel, HIGHBAR is open to all, offering a vibrant atmosphere, live DJ music, and both excellent drinks and food.
HIGHBAR
1111 Collins Ave, Miami Beach
5.

TH Rooftop Lounge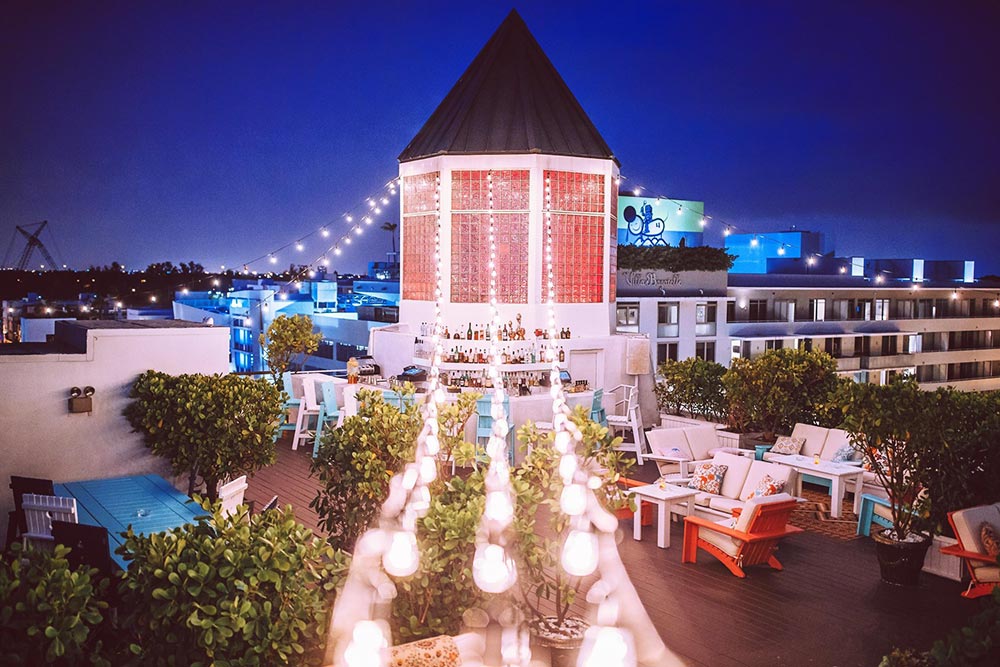 TH Rooftop Lounge - Photo: www.townhousehotel.com/
A unique venue in South Beach, where all the bottle service and party vibes are replaced with handcrafted cocktails, craft beers and a more low-key vibe.
Called TH Rooftop Lounge, this beach bungalow inspired venue is found on top of the Townhouse Hotel, and it is blessed with panoramic views over South Beach.
The decoration is about as impressive as the views, taking inspiration from the iconic Cape Florida Lighthouse. Here you find a lighthouse working as cocktail bar, comfy lounge sofas, charming hanging lanterns and a very Instagram-friendly and glowing 'YO' sign.
The TH rooftop bar serves a menu filled with both curated mixology cocktails and local and American craft beers. For the hungry ones, bites are available from the K. Ramen. Burger restaurant found below.
TH ROOFTOP LOUNGE
150 20th Street, Miami Beach