Miami and swimming pools are words that really go hand in hand, a lot thanks to the lovely Florida climate. Add the third tallest skyline in the U.S, and it's easy to understand there are plenty of rooftop pools available in Miami and in South Beach.
Like with other major cities around the globe, the rooftop pools Miami are often located at luxurious hotels, and in most cases you need to be a guest at the hotel to be able to use the pool area. But it is well worth it to swim in an infinity pool Miami, and really feel on top of the world.
The Rooftop Guide have assembled the ultimate list of the 6 best rooftop pools in Miami. Enjoy!
1.

1 Hotel South Beach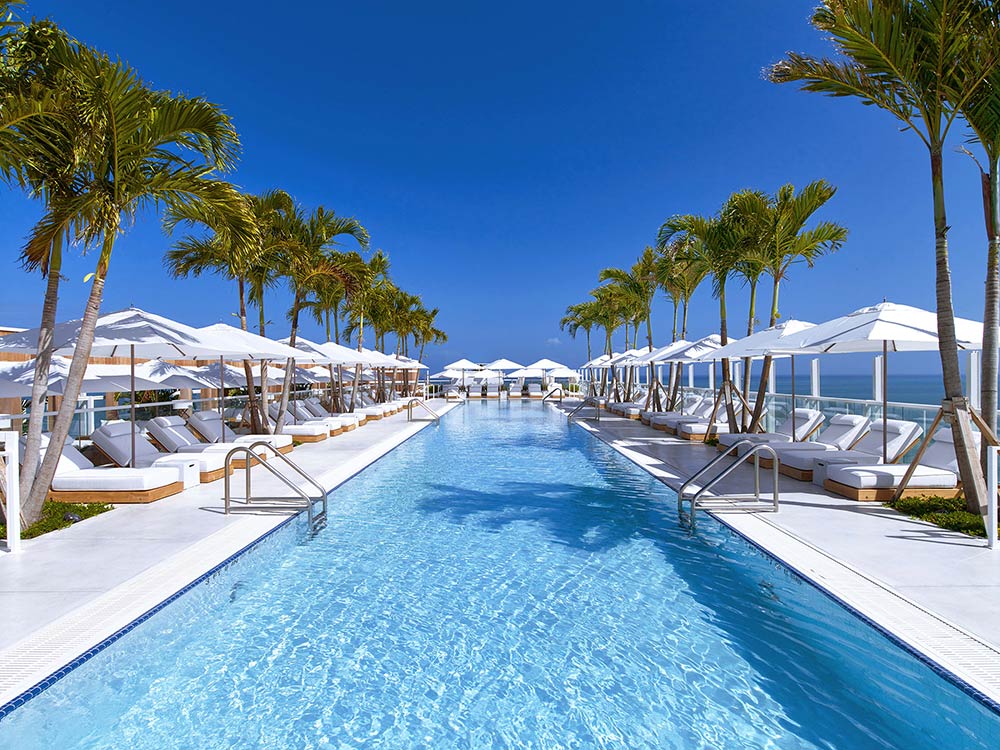 Rooftop pool Miami at 1 Hotel South Beach | Photo: www.1hotels.com/
Boasting what's probably the best rooftop terrace in South Beach and Miami, 1 Hotel South Beach is the kind of destination you visit when you want to pamper yourself in style.
Offering stunning ocean views, a grand Miami rooftop pool and luxurious cabanas, the 18th floor rooftop is open from sunrise to sunset for hotel guest to enjoy the most exclusive type of oceanfront swimming.
With several pools found around the hotel, 1 Hotel South Beach really has a swimming-destination for anyone, but the rooftop pool area is 21+, so it is very much a grown-up oasis.
Next door to the pool area you also find Watr at the Rooftop, a bar and restaurant open to all, serving Japanese and Peruvian fusion cuisine, as well as a wide collection of signature cocktails, and Californian beers and wines. As a guest at the hotel, you can enjoy the full menu while relaxing in the sun.
During the daytime, the rooftop terrace offers a laid-back, relaxing atmosphere, with long lunch hours and afternoon specials. Come nighttime, and the rooftop becomes a nightclub sort of scenario, with live DJ shows, large crowds, and a trendy party atmosphere.
2.

Boulan South Beach
Rooftop pool Miami at Boulan South Beach | Photo: www.boulanmiami.com/
Located in the exclusive Collins Park neighborhood, just a block off the ocean, Boulan South Beach promises a relaxing atmosphere, wonderful installations, beautiful views and delicious drinks.
Up on the 6th floor of the hotel you can enjoy one of Miami's best rooftop pools, complete with sun loungers, poolside cabanas, palm trees, and a grass-covered sun-deck that adds to the oasis-like atmosphere of this beautiful venue.
You can also take in the jaw-dropping views of the ocean and Miami Beach while enjoying local beers, world-spirits, Californian wines, and a creative collection of signature cocktails that will help you stay fresh throughout the day. Or have some fun with the lawn games vailable.
The rooftop pool area is exclusive to hotel guests, though you can use it if you reserve one of the poolside cabanas ahead of time.
3.

W Miami
Rooftop pool Miami at W Miami | Photo: www.marriott.com/
Known as the WET Deck, this is for sure one of Miami's most impressive pool decks, as well as one of the most luxurious.
Set 15 floors above the city, the spacious WET terrace offers stunning views of the Biscayne Bay and the Miami skyline, alongside a 90 meters long rooftop infinity pool, a lounge area, and a rooftop café.
Available only to hotel guests, WET offers the perfect blend of relaxation and fun, where you can enjoy a quiet afternoon on a sun-bed, or start a night out early with draft beers, local wines, frozen beverages, expertly-shaken cocktails, world-spirits and tasty bites.
And while the W rooftop pool is exclusive to guest staying at the hotel, next door you find the ADDiKT rooftop bar and restaurant, which is open and available to all.
4.

SLS LUX Brickell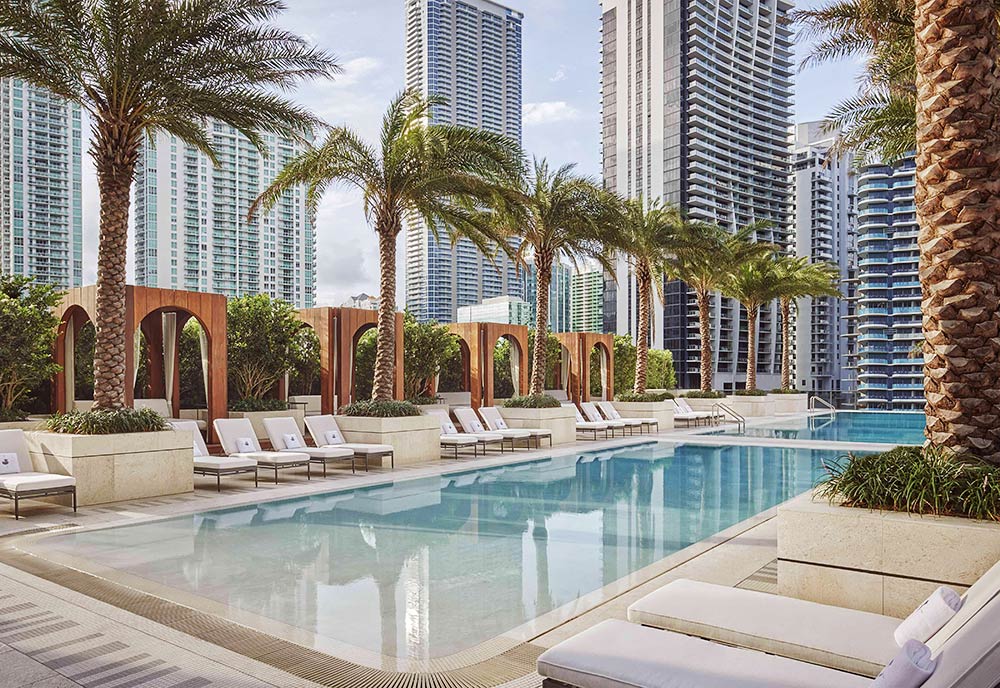 Rooftop pool Miami at SLS LUX Brickell | Photo: www.sbe.com
Found in the heart of Miami, the SLS LUX Brickell comes with a 9th floor rooftop terrace, where amazing views over the Brickell skyline is complemented with a fantastic 75-foot lap rooftop pool.
Called Altitude LUX Brickell, the rooftop terrace really breathes elevated and tropical luxury, surrounded with palm trees, comfy sun loungers and stylish cabanas. There is also a poolside bar with TV.
Exclusive to those staying at the hotel, and apart from relaxing by the pool, guest can also enjoy entertainment and al fresco dining, from a menu including everything from tasty snacks and burgers to specialty cocktails.
5.

Gale South Beach
Rooftop pool Miami at Gale South Beach | Photo: www.galehotel.com/
Located just a block away from the sea, this spacious rooftop offers 5,000 square feet of tastefully furnished terrace, ready to welcome you day and night.
The Gale South Beach offers hotel guests a lovely pool area, with one of Miami's best rooftop pools, comfy sun loungers, private cabanas, and a well-stocked bar in which you can find all kinds of delicious drinks. You can also enjoy Italian bites from the ground floor restaurant.
Framed by black marble and heated, the rooftop pool offers a setting really suiting the terrace, which is filled with a comy and harmonius atmosphere. A true oasis from the busy streets below.
From time to time, the Gale South Beach rooftop is also available to the public, when the fantastic ground floor cocktail bar The Regent Cocktail Club host open-air rooftop events.
6.

EAST Miami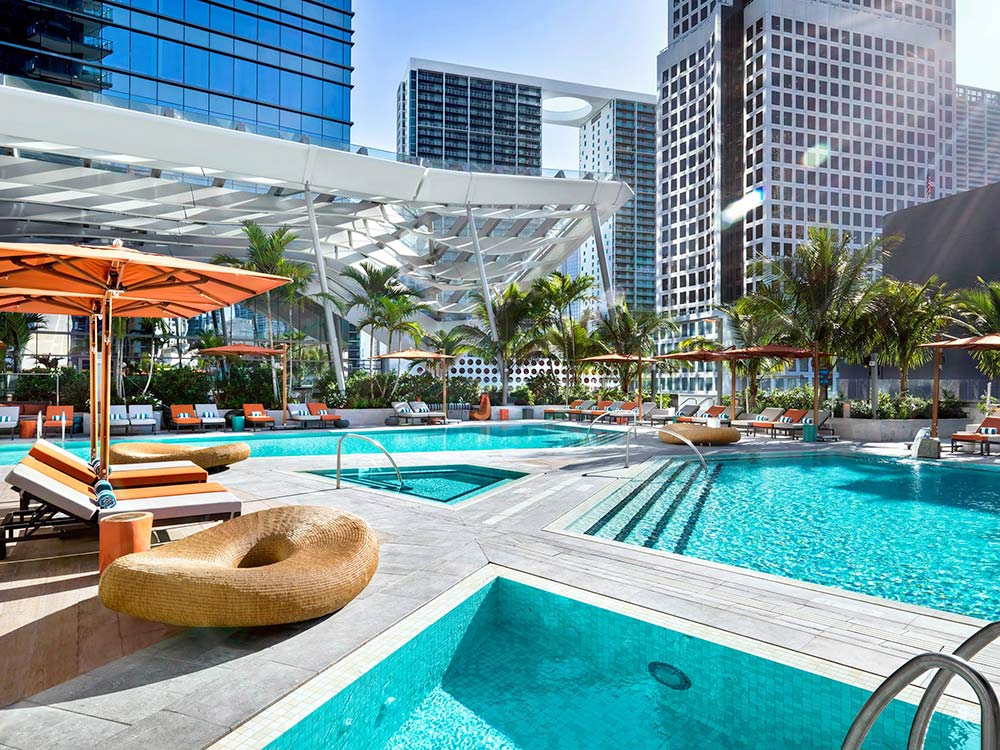 Rooftop pool Miami at EAST Miami | Photo: www.easthotels.com
On the top and 40th floor of EAST Miami you find the highest rooftop bar in the city, called Sugar. And while the hotel's rooftop pool is not as high, it still offers an impressive setting.
Found on the 5th floor, the Pool & Deck is a tropical oasis for guests staying at the hotel from sunrise to sunset. Equipped with several small pools and one larger, comfy sunbeds and orange umbrellas, the terrace is a perfect spot to enjoy relaxing Miami days.
Apart from getting some well-deserved rest under a palm tree, you can also indulge in a menu filled with refreshing beverages and tantalizing snacks from the signature eatery Quinto La Huella.