Miami – the number one party city on the east coast of the US. And blessed with a lovely climate, so you can also find a lot of great Miami rooftop restaurants.
Some of the elevated dining spots come with a great party vibe, and some with a bit more relaxed atmosphere. Many of the restaurants are also perfect for a long and relaxing lunch, enjoying the Miami sun. The warm and pleasant weather means all the open-air venues can stay open year-round.
Enjoy our list of the 6 best rooftop restaurants in Miami. Made by The Rooftop Guide – the world's leading experts on rooftops.
1.

Sugar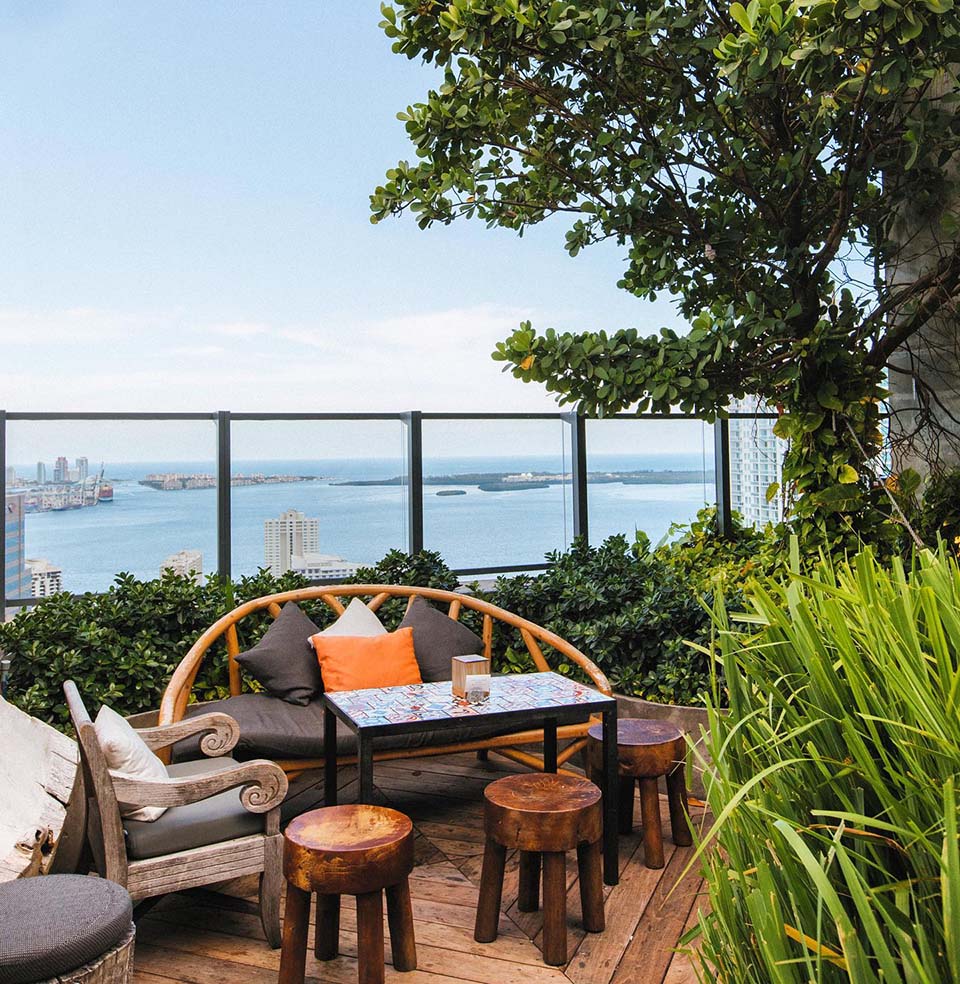 Rooftop restaurants Miami - Sugar | Photocredit: www.easthotels.com/

Intimately nested 40 floors up at the top of the fantastic EAST Miami, right in the heart of Brickell, you find Sugar, an award-winning rooftop and lounge.

As one of the most elevated venues in Miami, Sugar comes with a large slice of luxurious Balinese flair, and the lush and tropical-elegant rooftop terrace houses a hand-carved wooden bar, tiki-style lounges, and rustic dining tables

.

High above it all, here you are surrounded with fantastic 360-views over Biscayne Bay and the Miami skyline. Amazing at sunset, and equally cool over the city lights at night.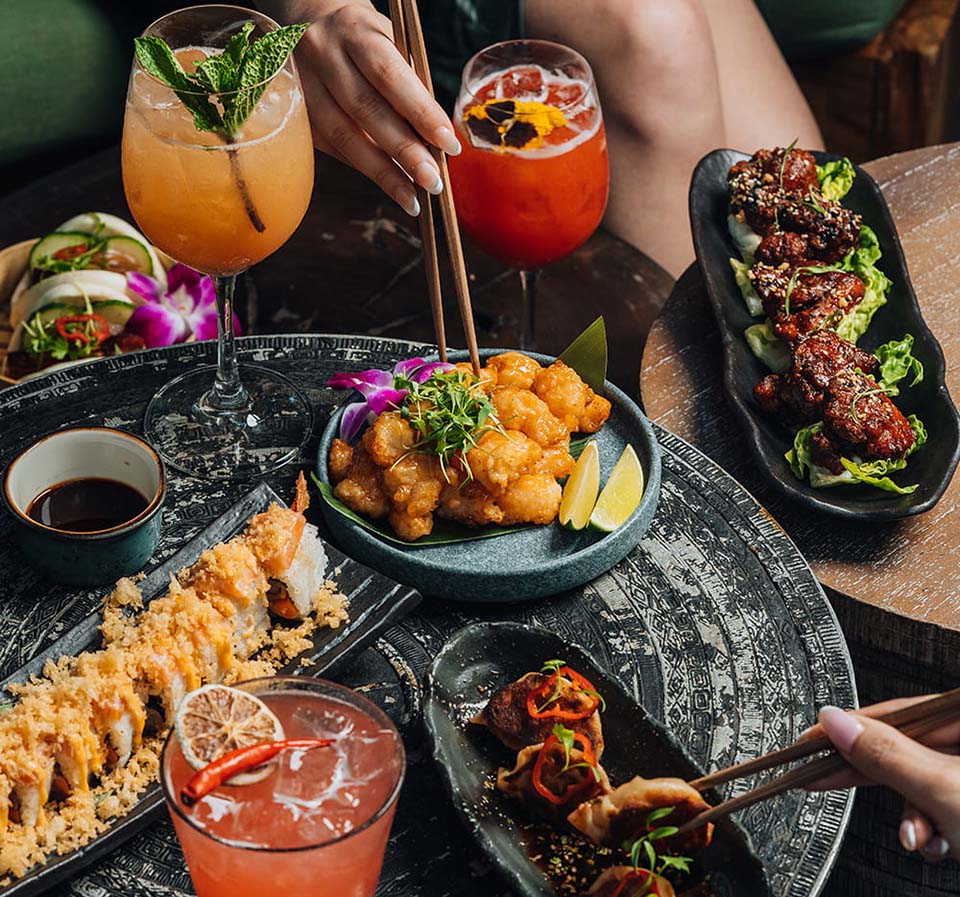 Rooftop restaurants Miami - Sugar | Photocredit: www.easthotels.com/
The rooftop bar offers a very impressive cocktail program, but there is also a kitchen serving fresh and Asian inspired dishes. From small plates, like 'Brisket Bao Buns' and 'Korean Short Rib', to signature sushi rolls, poke bowls and satay.
Sophisticated and urban-trendy in atmosphere, Sugar is a prime spot for stylish dinner and drinks with a view around sunset. Then you can stick around as the night turns vibrant, with DJ sets and a happening crowd.
SUGAR
788 Brickell Plaza, Miami, FL 33131
Daily: Dinner
Asian
Small plates: ~$20
2.

Area 31 at the Epic Hotel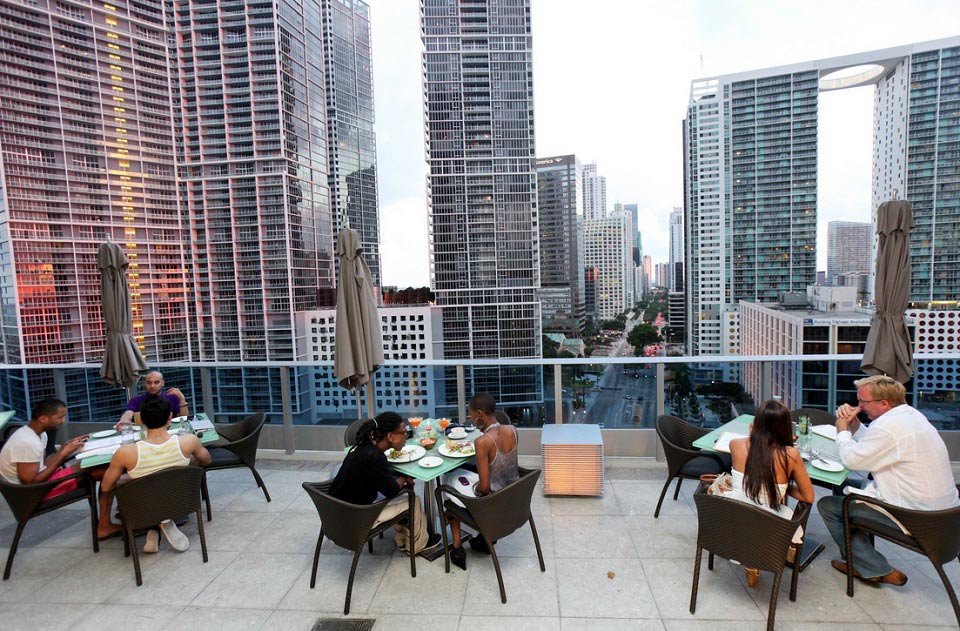 Rooftop restaurants Miami - Area 31 at the Epic Hotel | Photocredit: www.area31restaurant.com
Area 31 offers both fantastic views of Miami and delicious sustainable dishes, making it one of Miami's most innovative options.
Located on the 16th floor of the Kimpton EPIC Hotel, Area 31 is open for breakfast through dinner and serves seafood and meat dishes, all sourced locally from sustainable meals and crafted by Executive Chef Wolfgang Birk.
There's also a delicious weekend brunch that's worth at least a couple of visits.
Drink-wise, you can choose from an extensive list of wines and bubbles, as well as Area 31's expertly mixed signature cocktails, which follow the "local and sustainable" trend set by the food menu.
Area 31 offers both indoor and outdoor seating, modern decor, and a vibrant but sophisticated ambiance that you're sure to enjoy, making it a popular spot for romantic dinners and special nights out.
AREA 31 MIAMI
270 Biscayne Boulevard Way, Miami, FL 33131-2123
Daily: Breakfast / Lunch / Dinner
Seafood / American
Main: $20-50
3.

Editor Rooftop at Urbanica Fifth Hotel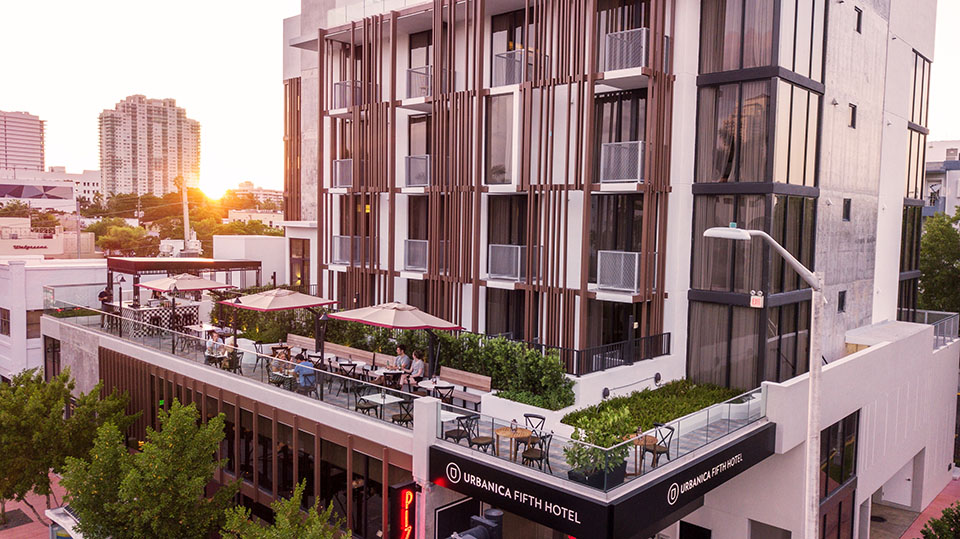 Rooftop restaurants Miami - Editor Rooftop | Photocredit: https://www.editorpizza.com/
Found on the 2nd floor of the lovely Urbanica Fifth Hotel in Miami Beach's main drag, Editor Rooftop is a rooftop bar & restaurant offering thin, light, crispy pizzas and cocktails.
Overlooking 5th St and the lush green canopy of South of Fifth neighborhood, the modern and beautiful terrace is a prime spot for dining and drinks al fresco, complemented with views of the city by sunset.
Apart from the great selection of cocktails and mentioned pizza's, Editor Rooftop also serves a varied selection of empanadas, salads, pastas, desserts and more.
Open to the public during weekend evenings, the rooftop is available daily for events. With only $50 per person including unlimited pizza and unlimited beer & wine with a unique setting to enjoy food, drinks, music, and the sunset overlooking 5th street, Editor's special season package is all you need whether you're hosting a corporative event, intimate dinner, gathering, or celebrating a special occasion.
EDITOR ROOFTOP
803 5th St, Miami Beach, FL 33139
Dinner weekends / Daily for events
Pizza / Pasta / Salads / Empanadas
Pizza: ~$25
4.

Juvia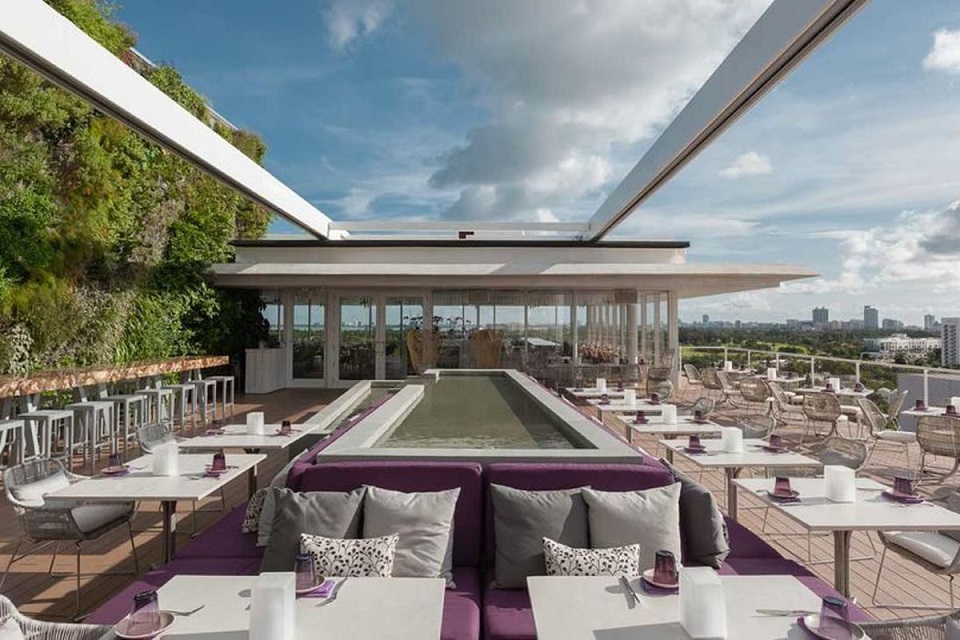 Rooftop restaurants Miami - Juvia | Photocredit: www.juviamiami.com
This stunning rooftop restaurant/bar offers gorgeous views of Central Miami, as well as delicious and creative fusion dishes that you're sure to enjoy.
Furnished with comfort and style in mind, Juvia offers both indoor and outdoor seating, with the wooden-deck outdoor terrace being the perfect spot for drinks, and the indoor area, with its floor to ceiling windows, the ideal place for eating.
Food-wise, expect an innovative approach to French, Japanese, and Peruvian cuisine, cooked and decorated to be a pleasure both for the eyes and the mouth.
Drink-wise, you can find refreshing signature cocktails, and an impressive collection of wines, as well as beers and world-spirits.
Juvia is a popular restaurant in the area, so reservations are encouraged, especially during the weekend, where live music and a lively atmosphere takes on a whole new level.
JUVIA
1111 Lincoln Road, Miami Beach, FL 33139
Dinner weekdays, Lunch / Dinner weekends
Asian / French / South American
Main: ~$40
5.

Watr at the 1 Rooftop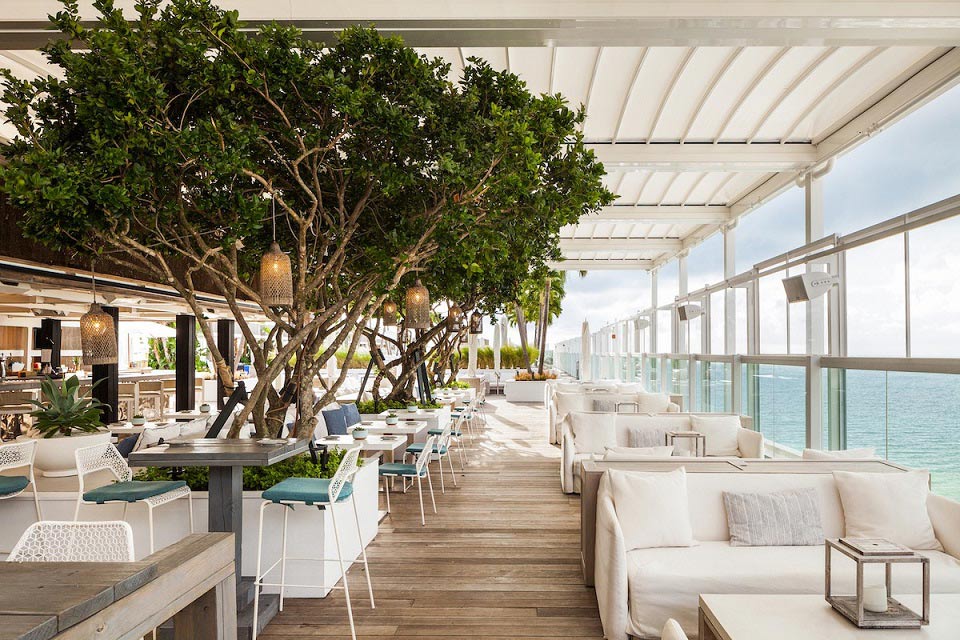 Rooftop restaurants Miami - Watr at the 1 Rooftop | Photocredit: www.1hotels.com
Located on top of the luxurious 1 Hotel South Beach, Watr offers stunning ocean views, Miami's best rooftop pool, and a delicious fusion restaurant with dishes you can't find anywhere else.
Taking inspiration from the ocean and various cultures, Watr features organic Polynesian decor, comfortable lounge areas, large dining tables, and a great atmosphere no matter the time of the day.
The food served here can better be described as "Peruvian influenced Japanese cuisine," with offerings such as sushi rolls, charred octopus, and the famous Watr Burger.
Drink-wise, you can find a variety of signature cocktails, frozen drinks, draft beers, and wines.
While Watr is open only to guests during lunch and the early afternoon, it opens to the public during the evening, where live DJs and a large, trendy crowd transform Watr into the place to be for a fun night out.
WATR AT THE 1 ROOFTOP
2341 Collins Ave, Miami Beach, FL 33139
Daily: Lunch / Dinner
Japanese / Peruvian
6.

Dolores But You Can Call Me Lolita
Rooftop restaurants Miami - Dolores But You Can Call Me Lolita | Photocredit: www.doloreslolita.com
While Dolores isn't the tallest rooftop restaurant in this list, it sure is one of the most creative, as well as the one we recommend for when you're going out with a large party.
Located on what used to be a firehouse building, and boasting a casual atmosphere and a unique and cozy decor, Dolores has plenty of old charm with modern sensitivities.
Sit on one of the plush couches under a palm tree and enjoy an Argentinean grilled churrasco or a Hawaiian tuna poke bow, accompanied by one of the wines in Dolores' impressive wine menu.
If tacos and beer are more your style, you can also find both in abundance, which makes Dolores one of the most versatile choices in this list.
Open from lunch to late at night, Dolores But You Can Call Me Lolita boasts a fun and vibrant South American vibe, perfect for a night out in Miami.
DOLORES BUT YOU CAN CALL ME LOLITA
1000 South Miami Avenue, Miami, FL 33130
Daily: Lunch/ Dinner
International fusion
Main: $23-34