Lisbon, the capital of Portugal, is one of the best rooftop cities in Europe. The pleasant year-round climate and the lovely city-vibes are two main reasons for this.
Here you can find a lot of rooftop bars, but many of the terraces also serve as a Lisbon rooftop restaurants. So, you can have your Bacalhau with a side of amazing views.
Most of the rooftop restaurants in Lisbon are open all year round. Part beacuese the weather usually allows, but also because many offer both indoor and outdoor seating.
Heading up to the top restuarants in Lisbon means you can have a romantic and charming dinner while overlooking the city, and then stick around as the terrace vibes turn higher.
Here's the The Rooftop Guide´s 5 favorite rooftop restaurants in Lisbon. Enjoy!
1.

SkyBar and SEEN Lisboa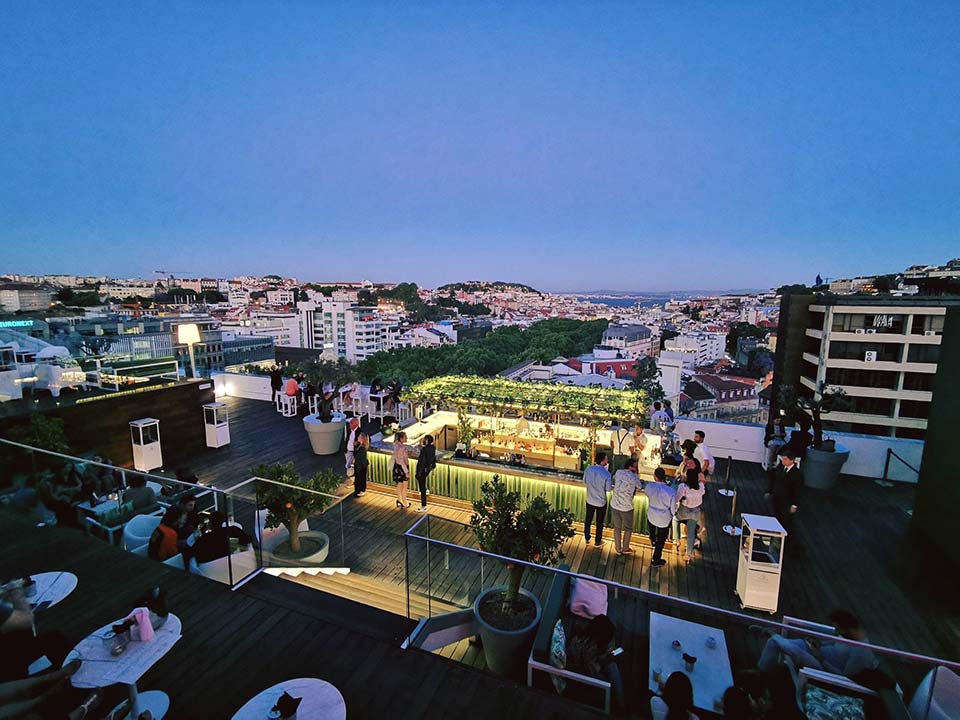 Rooftop restaurant Lisbon - SkyBar and SEEN Lisboa | Photo: www.skybarrooftop.com/
Located on top of the famous Tivoli Avenida Liberdade Lisboa, right in the heart of Lisbon, the Sky Bar and SEEN Lisbon is a modern and luxurious rooftop bar and restaurant that's sure to charm you.
Offering both inside and outside seating, as well as fantastic panoramic views of the city, this multi-level and multi-space venue is the perfect place for a rooftop dinner, refreshing cocktails and night time vibes.
At the open-air Sky Bar you'll be able to find champagne, a fantastic delicious of wines, expertly-crafted cocktails, artisanal beers and tasty bites. All served with fantastic views over the Lisbon skyline.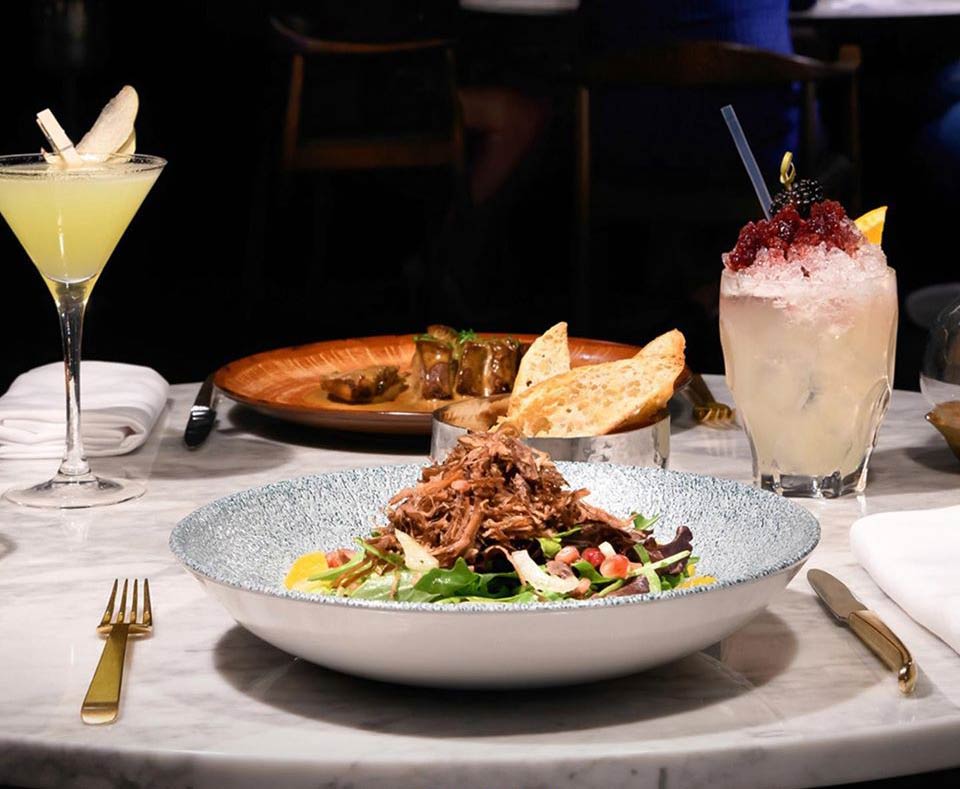 Rooftop restaurant Lisbon - SkyBar and SEEN Lisboa | Photo: www.skybarrooftop.com/
The indoor rooftop restaurant and bar SEEN is located one floor up, offering authentic, fresh and high-quality dishes with inspiration from both Portugal and Brazil. There is also a Sushi Bar for anyone craving more Japanese tastes.
The atmosphere at this beautiful restaurant and bar is relaxed, trendy and vibrant, all at once. With a mixed crowd and live DJs and other performers livening up the place nightly, the Sky Bar and SEEN Lisbon is a fantastic choice whenever you're in the city.
SKY BAR & SEEN
Hotel Tivoli Lisboa, Av. da Liberdade 185, Lisbon
SkyBar: 5pm-1am / SEEN: 18.30pm-1am
Portugese / Brazilian / Asian
Main: ~€25
2.

Silk Club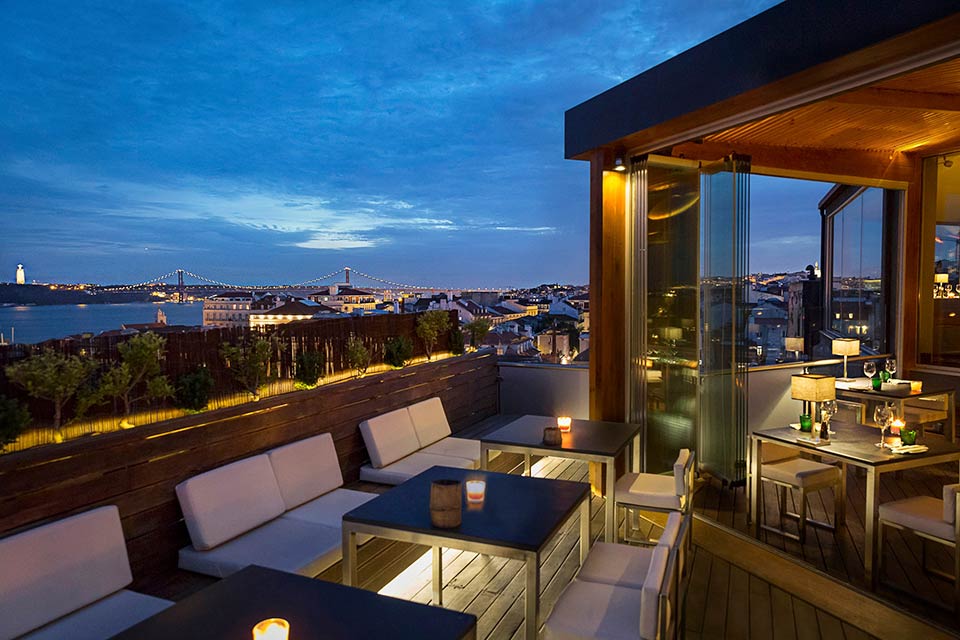 Rooftop restaurant Lisbon - Silk Club | Photo: https://silk-club.com/
A versatile and exciting rooftop, the Silk Club offers both a delicious restaurant and an enjoyable clubbing experience.
Offering fantastic views over Lisbon and the ocean, a variety of comfy lounge furniture, and the kind of style only old historic buildings are known for, the Silk Club is the kind of destination one visits to celebrate special events or to impress.
The rooftop restaurant, which offers only indoor seating options, boasts large floor to ceiling windows that lets you peer down at the Bairro Alto and a fantastic, high-end menu that features Wagyu Beef and fresh sushi.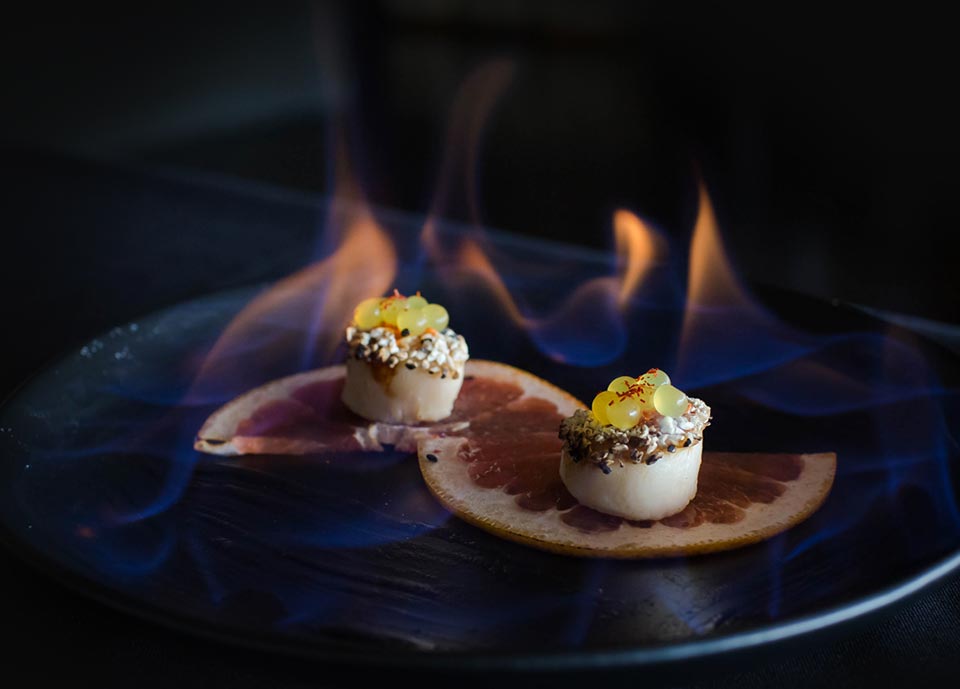 Rooftop restaurant Lisbon - Silk Club | Photo: https://silk-club.com/
For drinks, you can move over to the bar, which offers not only fantastically crafted cocktails, a large selection of wine and champagnes, but also the best spirits.
In both locales, the atmosphere tends towards luxurious ad sophisticated, though it does tend to change as the night goes on.
Early evenings, the open-air terrace is the ideal spot for relaxing after-work cocktails, and the rooftop restaurant perfect for enjoying a delicious dinner.
Once midnight hits, however, the Silk Club livens up with the clubbing audience, and the entire terrace becomes a party, where you ca dance side to side with some of Lisbon's finest.
SILK CLUB
14 Rua da Misericordia, Chiado, Lisbon
Tue-Thu: 7pm-1.30am / Fri-Sat: 7pm-4am / Sun-Mon: closed
Japanese / Mediterranean
Main: ~€30
3.

Limão Rooftop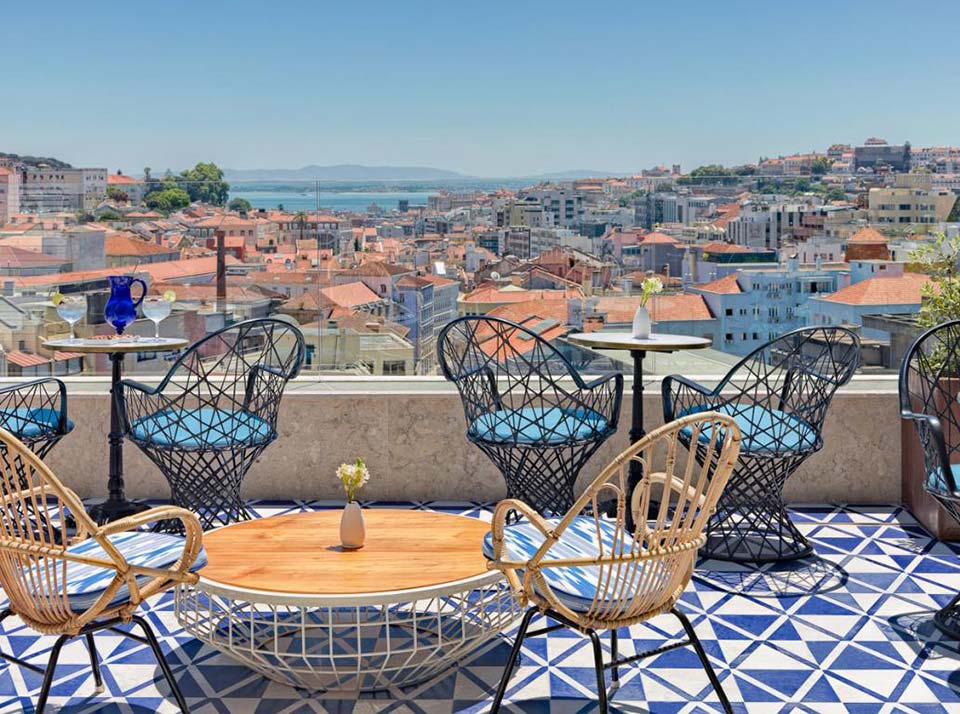 Rooftop restaurant Lisbon - Limão Rooftop | Photo: www.h10hotels.com/
If what you're looking for is a fantastic rooftop destination filled with Mediterranean vibes, then look no further, as the Limão Rooftop Bar can give you exactly that.
Located on the 10th floor of the H10 Duque de Louléis hotel, this rooftop boasts modern lounge furniture, a small and cozy outdoor terrace, fantastic service, and jaw-dropping views of Lisbon and the sea.
Offering both indoor and outdoor seating, a nice selection of both drinks and bites, this is the kind of venue you want to visit to close your visit to Lisbon with style.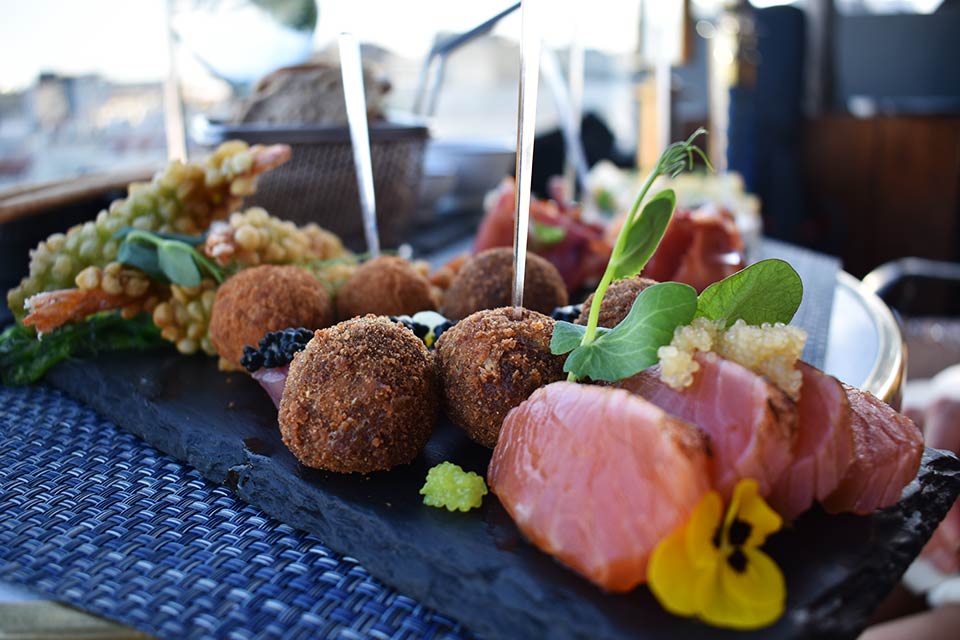 Rooftop restaurant Lisbon - Limão Rooftop | Photo: www.h10hotels.com/
While foremost a rooftop bar, offering champagne, a fantastic selection of Gin & Tonics, wines, classic cocktails, and spirits from around the world, Limão also offers a delicious menu of Portuguese tapas. Perfect for sharing and filling enough for a lighter rooftop dinner.
Charming in setting, Limão Rooftop is a fantastic spot for casual outings with friends, or a romantic evening with a loved one.
Though both the atmosphere and the clientele are casual, reservations are encouraged, as the seating is limited, particularly in the outdoor terrace.
LIMÃO ROOFTOP
Avenida Duque de Loulé 81-83, Lisbon
Daily: 12.30pm-midnight
Tapas
Sharing plate: ~€10
Collaboration
4.

Rossio Gastrobar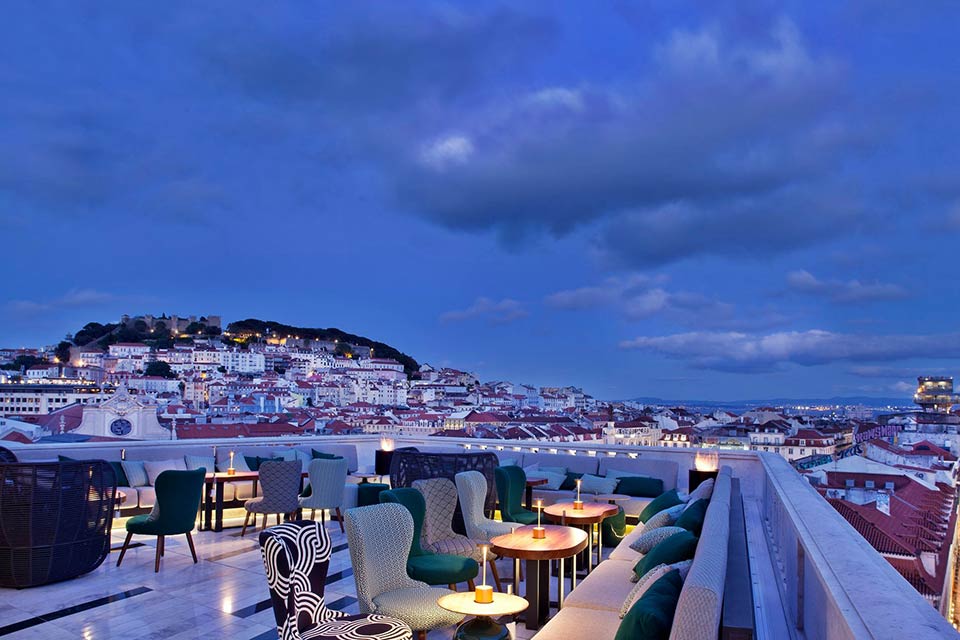 Rooftop restaurant Lisbon - Rossio Gastrobar | Photo: www.altishotels.com/
Crowning the 5-star hotel Altis Avenida, and overlooking the Rossio Square, stands the Rossio Gastrobar, a fantastic rooftop that aims to mix food with drinks to deliver a unique experience.
Rossio Gastrobar offers both indoor and outdoor seating, with plenty of space on the exterior terrace.
Boasting Art Deco style, comfortable and luxurious lounge furniture, and a unique style throughout the entire place, Rossio is the perfect locale for those looking for a beautiful destination both inside and out.
Up here, you'll be able to choose from a long and delicious list of signature seasonal cocktails, all made fresh with local ingredients, a great wine list carefully selected by André Figuinba, world-spirits, and other drinks.
Rooftop restaurant Lisbon - Rossio Gastrobar | Photo: www.altishotels.com/
There's also a fantastic food menu, also made with seasonal ingredients ad changing according to the time of the year.
The food in the rooftop restaurant is meant to share and go fantastically well with some of the drinks of the house, so next time you're visiting, make sure to ask your waiter for help pairing up your drinks and your food.
Though Rossio enjoys a relaxed and mellow crowd most of the week, come the weekend, and thanks in no small to the presence of local DJs, Rossio takes a more energetic appearance, with dancing crowds and live music shows.
ROSSIO GASTROBAR
Altis Avenida Hotel, 120 Rua 1º Dezembro, Lisbon
Summer: daily 12.30pm-1am / Winter: Tue-Sat 5pm-1am
Mediterranean / European
Sharing plate: ~€15
5.

BAHR - Barrio Alto Hotel Restaurant
Rooftop restaurant Lisbon - BAHR | Photo: www.bahr.pt/
This newly renovated Lisbon rooftop restaurant and bar offers fantastic views of the Atlantic Ocean, Lisbon's famous Bairro Alto, and the city's skyline.
Set five floors up, BAHR is a modern and bohemian indoor / outdoor venue where you can enjoy some of Lisbon's best cuisine.
Created by Michelin Star Chef Nuno Mendes, the rooftop restaurant serves top Portuguese dishes, uniquely presented and with influences from all over the world, along with seasonal light dishes on the outdoor terrace.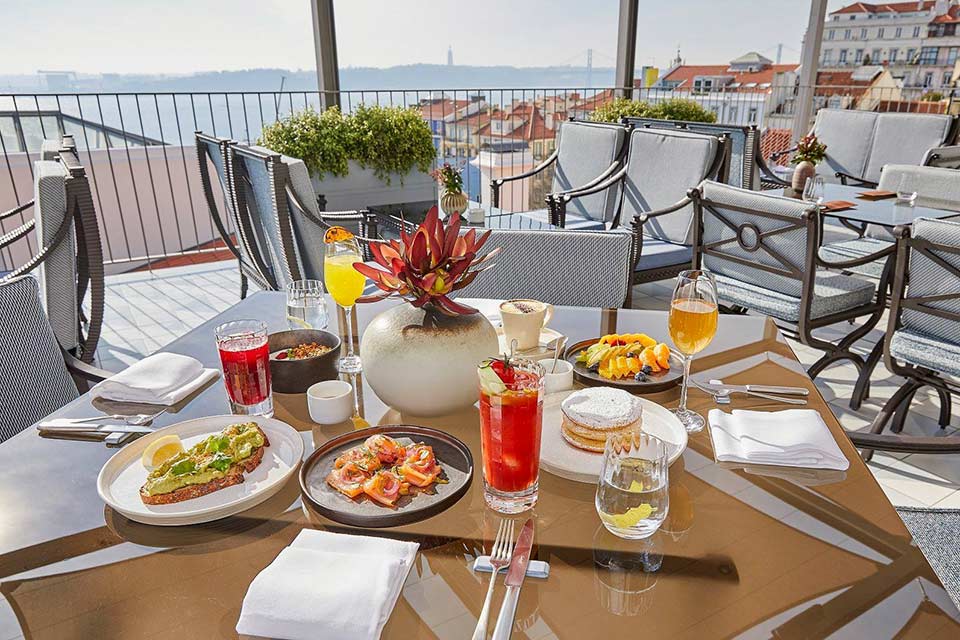 Rooftop restaurant Lisbon - BAHR | Photo: www.bahr.pt/
Open from early morning to midnight, you can visit the rooftop for anything from a weekend brunch to a fine dinner. Or just some drinks and bites in between.
If you're looking for a luxurious and exclusive atmosphere that nevertheless appears to a more casual and worldly crowd, a visit to the Bairro Alto Hotel is a must.
BAHR
Bairro Alto Hotel, 8 Praca Luis de Camoes, Lisbon
Daily: 7am-midnight
Portugese
Main: ~€30
Collaboration