Best rooftop pools in Lisbon
Best rooftop pools in Lisbon
Published: January 9, 2020
7 amazing spots to enjoy the mix of a refreshing swim with fantastic views over Lisbon
Being on a rooftop, the feeling of being higher than your surroundings and having an excellent view is insightful. Now imagine being in a Lisbon swimming pool on top of a rooftop! Pools offer a unique atmosphere and rooftops provide you with a spectacular view as well. You can find the best rooftop bars Lisbon has to offer here.
Rooftop pools are very luxurious and give you a sense of privacy at the same time. No need to worry about the next door neighbors peeking over the fence and seeing you in your bathing suit, you can relax in privacy. Rooftop pools also add a special feature to your home, making use of space while your backyard stays open for other possibilities.
Whether you are planning a rooftop pool for your own home, a pool party or planning your next vacation in some luxurious hotel, here are some of the great pools located on rooftops on hotels in Lisbon that will give you some inspiration or excitement.
Enjoy the ultimate list of the best rooftop pools Lisbon has to offer!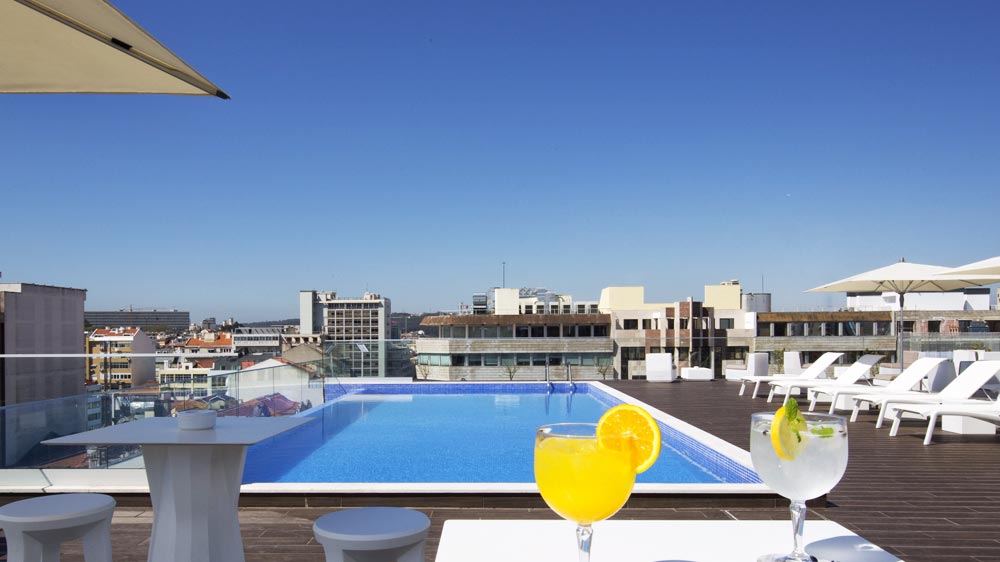 Photo: www.jupiterlisboahotel.com
The modern and trendy Jupiter Lisboa Hotel comes with a fantastic rooftop pool. And not only rooftop pool, as the stylish 8th floor terrace also holds a rooftop bar. Complemented with fantastic and sweeping 360-views over the city, this is really one of Lisbon's top spots.
While the rooftop bar is open to the general public (daily 10am - 10pm), the rooftop swimming pool and comfy sun loungers are for hotel guests only. As a guest you can both take your lapse in the larger rooftop pool, or just chill out under the waterfall in the smaller plunge pool. The lush and wooden decked terrace is perfect for loooooong hours of pure relaxation.
Website: https://www.jupiterlisboahotel.com
Photo: www.hfhotels.com
Located in Marques de Pomba, in the heart of Lisbon, HF Fénix Music hotel offers you a great sensorial experience while having a drink at the bar on the rooftop or a swim in the pool looking over a panoramic view of the city.
This is a very trendy hotel which celebrates music, and all rooms have their own musical theme. This is also visible at the lounge-style terrace, with a cool painting of a singer watching over you as you take your dips. Large and comfy daybeds right by the azul rooftop pool means you can spend more than a couple of hours on the terrace.
Website: www.hfhotels.com
Photo: www.memmohotels.com
Memmo Alfama is a big and beautiful design hotel with 42 rooms, and it allows you to enjoy one of the best views of the water from Alfama. The sleek, first floor terrace is equipped with lounge chairs, perfect to indulge in vistas over River Tejo while ordering something from the wine bar. But the terrace also has a lovely rooftop pool.
While it is maybe not the largest or highest rooftop pool in the city, it has one unique and very cool feature: its red color. Perfectly integrating with the red tiles of the rooftops of the neighborhood, it's both beautiful and refreshing.
Website: www.memmohotels.com
Collaboration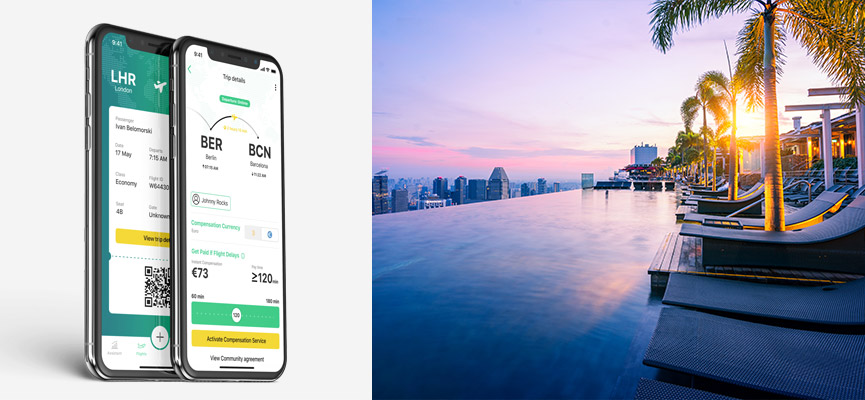 Smart travel
Colibra is a new app that gives you compensation EVERY time.
Photo: www.nh-collection.com
You can stay in the heart of Lisbon by the NH Collection Lisboa Liberdade. Here you can enjoy the rooftop area with a drink at the bar Ático by NH and check out the panoramic view over the historic Lisbon, the river, and the São Jorge's Castle.
Or even better, take a swim in the seasonal rooftop pool. Eleven floors up, it is for sure a swim with a view. Surrounded by green astroturf and comfy sun beds, this is a rooftop where it's easy to feel at home.
Website: www.nh-collection.com
Photo: www.altishotels.com
On the banks of the Tagus River you can find the Altis Belém Hotel & Spa, which has a small but very stylish swimming pool on the rooftop. What makes it so unique is the great view of the river flow, the 25 de Abril Bridge, and the minimalist design spa.
While the indoor spa with sauna and turkish bath is fantastic, it is something special being out on the open-air terrace. A dip in the Altis Belém Hotel rooftop pool might the closest you get to the feeling of swimming in the Tagus River.
Website: www.altishotels.com
Photo: www.memmohotels.com
The Memmo Príncipe Real is a hotel designed by architect Samual Torres de Carvalho, located in the elegant Príncipe Real district. It has a long and thin rooftop pool, featuring a beautiful green mosaics, set on the outside terrace of a roof.
Lush and stylish lounge-terrace, where you can enjoy Café Colonia with the view over the pool and the city center, blended with contemporary and classic design. Lux and relaxation in a perfect combination.
Website: www.memmohotels.com
Collaboration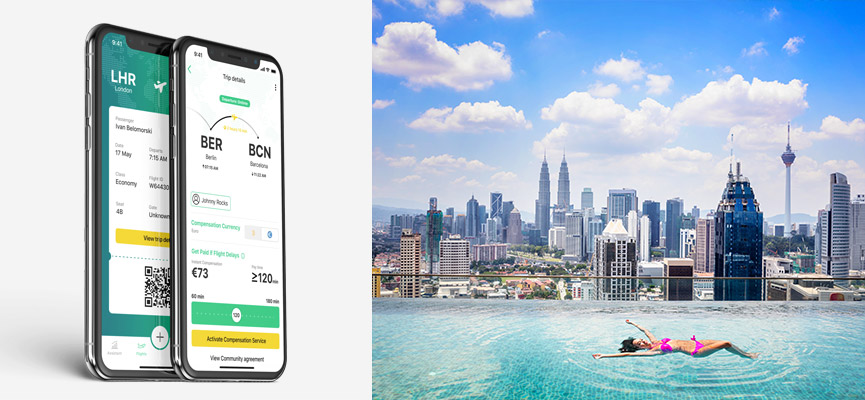 Smart travel
This app offers instant and 100% guaranteed compensation on flight delays
Colibra is a new app that gives you compensation EVERY time.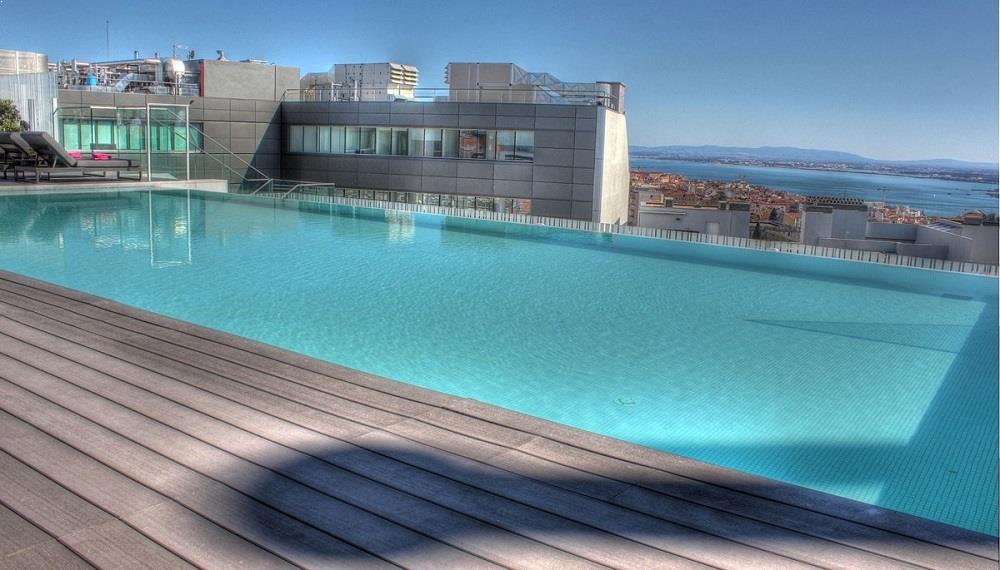 Photo: www.lisboa.epic.sanahotels.com
The Epic Sana hotel is very modern, with a roof terrace on the ninth floor that contains a fantastic and heated infinity swimming pool. This allows you to have a relaxing swim with a great view of the sunset over the Tagus River. On this very rooftop you can also enjoy the bar and restaurant.
The poolside is equipped with lounge beds and white restaurant tables that look like they are from the future. No need to overnight at the hotel to become a guest as you are welcome for the day at €50 and you get to stay to see the amazing star view to end your romantic evening.
Is it the best rooftop pool Lisbon? It might very well just be.
Website: www.lisboa.epic.sanahotels.com
Other fun things to do in Lisbon
Summer in the city can become tremendously hot and just because you are not along the beach does not mean you need to withstand the heat and not make the most out of it. The heat is the best excuse for reaching out to your local hotels with swimming pools. Grab some friends, go for a drink and enjoy cooling off in a rooftop swimming pool with an amazing view!
Many hotels offer swimming for non-hotels guests and some hotel swimming pools feature innovation like heating or underwater sound systems if the stunning rooftop view is not good enough.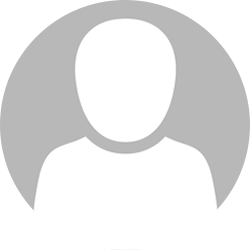 Written by:
Matt, for The Rooftop Guide