Paris is well known for its amazing summer rooftops. But there are many winter open rooftop bars here as well. And the view of Paris during wintertime is something extra. If you're looking for more photo-worthy places in Paris, check out this list.
The heated terraces are a perfect place to have a drink while gazing out over the famous monuments of the Paris skyline. Perfect during lunch when it's still light outside.
After visiting over 800 rooftop bars worldwide, The Rooftop Guide have assembled the ultimate list to the best winter open rooftop bars in Paris, right here. Enjoy!
1.

Café de l'Homme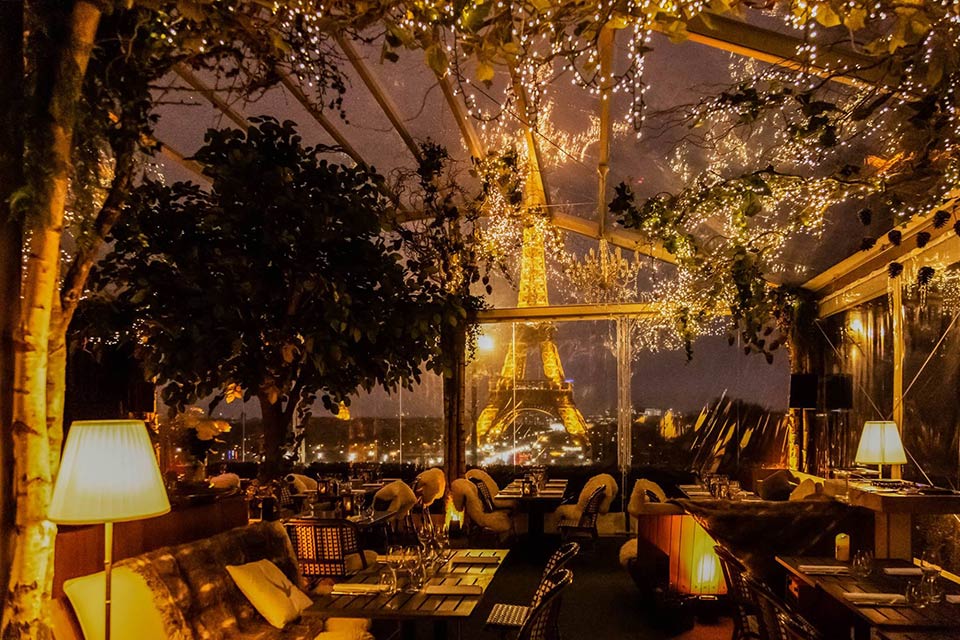 Café de l'Homme | Photo: www.cafedelhomme.com/
Stylish, elegant, and with a view of the Eiffel Tower to die for, the Café de l'Homme is an obligated visit for anyone passing through Paris.
Located on a second floor, this restaurant/bar isn't as high up as other rooftop bars, but its proximity to Paris' top landmark more than makes up for that.
With both indoor and outdoor seating options, this beautiful locale can be visited even during the coldest days of winter.
The views of the Eiffel Tower and the Trocadéro Gardens aren't the only thing Café de l'Homme has going for it, as this restaurant takes food as seriously as it takes drinks.
Food-wise, the Café offers both traditional French recipes and Asian inspired dishes, as well as a delectable offering of desserts.
Drink-wise, you can expect an extensive collection of wines, as well as creative cocktails made with dedication and fresh ingredients.
This place is trendy, so we highly encourage you to make reservations before visiting!
CAFÈ DE L'HOMME
17 Place du Trocadéro et du 11 Novembre, 75116 Paris
2.

L'Oiseau Blanc & The Rooftop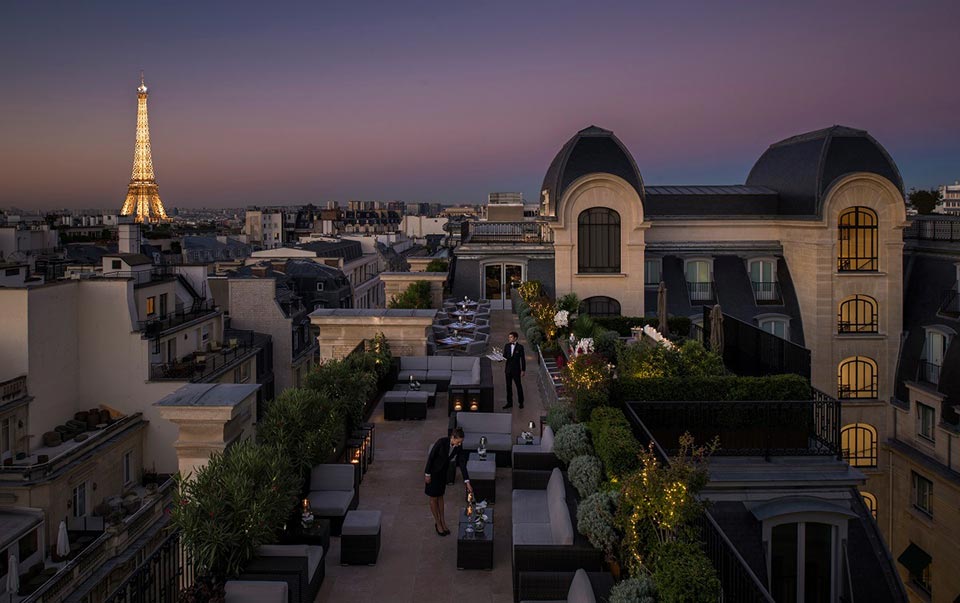 L'Oiseau Blanc & The Rooftop | Photo: www.peninsula.com
Located on top of The Penisula Paris, one of the city's finest hotels, this restaurant and bar duo offers amazing views and delicious drinks and food.
L'Oiseau, the restaurant, is known as one of the best eateries in town, offering traditional French cuisine and a seasonal menu that changes with the weeks.
Reservations are a must. You won't be seated otherwise.
Besides the food, L'Oiseau offers beautiful sights of Paris, but they pale in comparison to the views you can get at the bar.
The Rooftop, the bar, offers outdoor seating and jaw-dropping 360-degree views of Paris, including the Eiffel Tower.
Equipped with comfortable lounge areas, The Rooftop is the kind of place that invites you to stay for a while; Order a fine wine or a signature cocktail and admire the views while enjoying your drink. You won't regret it.
Unlike the restaurant, the bar works on a first-come, first-served basis, so it pays to come in early. Otherwise, you'll have to wait for a while.
As you can imagine, both the bar and the restaurant are expensive, but the food, drinks, and views more than make up for the price.
L'OISEAU BLANC & THE ROOFTOP
19 Avenue Kléber, 75116 Paris
3.

Terrass" Restaurant & Bar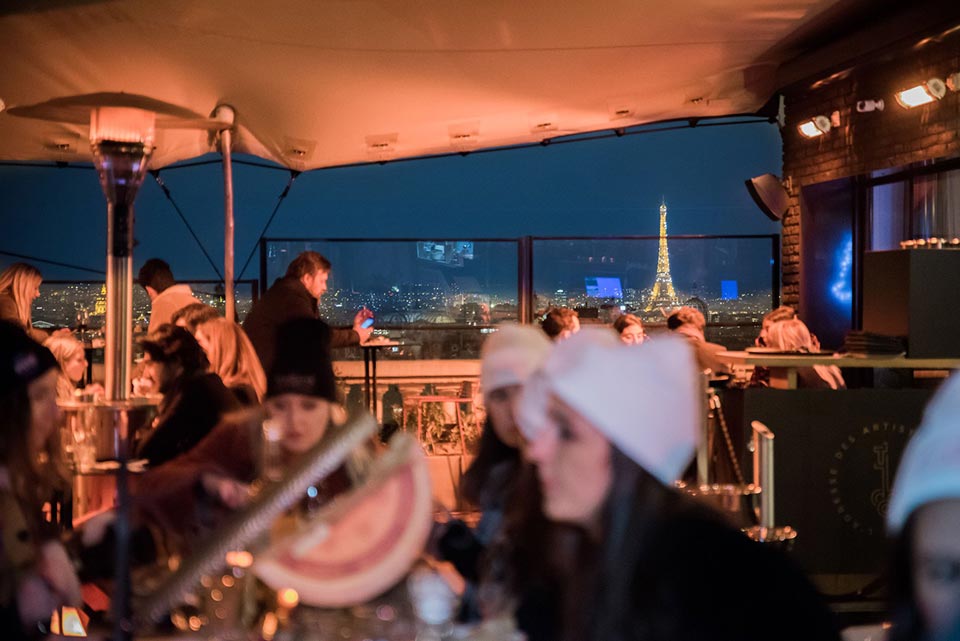 Terrass" Restaurant & Bar | Photo: www.terrass-hotel.com
Cozy, sophisticated, and elegant, this rooftop restaurant & bar is located on the Terras" Hôtel Montmartre and offers enchanting panoramic views of the entirety of Paris.
Offering both indoor and outdoor seating, this is the kind of place you can visit year-round.
Yes, even during winter!
It's subdued, intimate style makes it the perfect place for those looking to catch up and enjoy a conversation away from the crowds of tourists.
Terrass" offers traditional cuisine with a modern twist available both for hotel guests and visitors, as well as special brunches during the weekends.
Drink-wise, expect fine wine, beers from all over the world, and 16 different signature cocktails made only with the best ingredients.
Reservations are available for the indoor area of the restaurant, but the terrace works on a first-come, first-served basis, so either come in early or wait for a spot to open.
If you're visiting Paris during winter, don't worry about the cold. Both the indoor and outdoor areas are heated, to ensure you get to enjoy the views no matter the weather.
TERRASS" RESTAURANT & BAR
14 Rue Joseph de Maistre, 75018 Paris
4.

Le Georges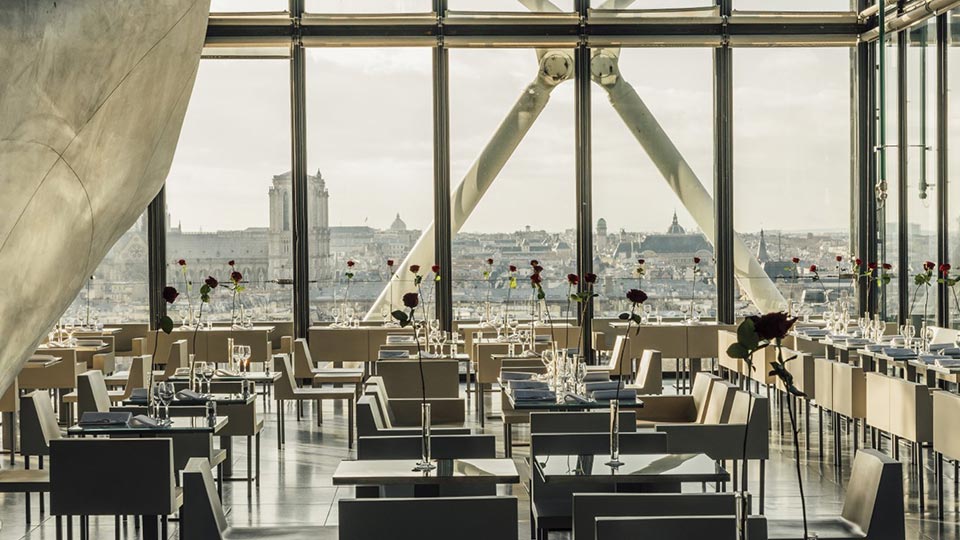 Le Georges | Photo: https://restaurantgeorgesparis.com
Nothing tops off a busy day of museum crawling like a delicious wine, and what better place to do that in a bar on top of a museum?
Located at the Musée National d'ArtModerne, Les Georges offers both an extensive collection of spirits and a large menu that's sure to please even the most demanding food lovers.
The restaurant/bar has both indoor and outdoor seating, with the outdoor offering the best views of the city.
Don't worry about not getting a coveted outdoor seat, though; the indoor seating area has panoramic windows to ensure you get to admire all the city has to offer.
The restaurant is open for both lunch and dinner, and as the night progresses, it transforms into a cocktail lounge.
This is a pricey and popular spot, so reservations are a must, at least during the weekends.
LE GEORGES
Centre Pompidou, 4e Arrondissement, Paris