France is a top country to visit for tourists from every corner of the world. Paris, the French Riviera, Bordeaux, are all some fantastic places for a great weekend or longer vacation.
While in the land of wine and love, make sure to visit one of the many great rooftop bars France has to offer. There's a great variety of rooftops in France, everything from luxury and grand city views to charming and beautiful ocean views along the coastline.
Jump in and discover the 10 best rooftop bars available in France. A list made by rooftop experts who have visited over 800 rooftops worldwide.
10.

Les Baigneuses

/ Biarritz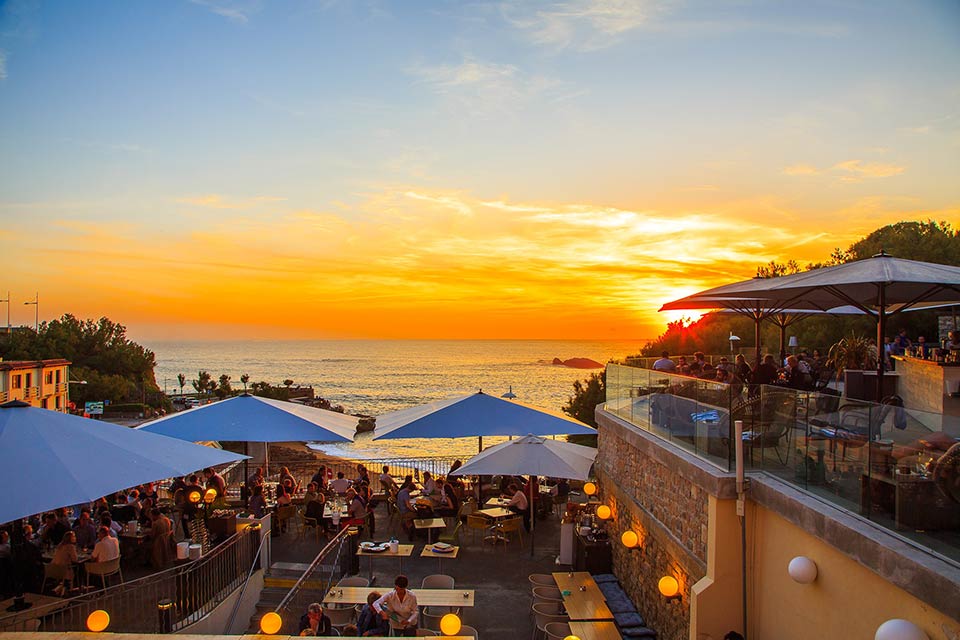 Les Baigneuses - Photo: www.lesbaigneusesdebiarritz.com/
With an idyllic window over the ocean, Les Baigneuses opens its doors for a summer evening rendezvous, served with a classic cocktail and a tasty local cuisine.
The rooftop bar has a pretty off-beat atmosphere, comprising a top-notch 3-star hotel, a fantastic restaurant with a fine menu of local dishes, a bar and a rooftop garden.
On the rooftop terrace you can sit back and enjoy the panoramic view over Port Vieux beach at sunset, and enjoy live music and DJs later at night.
To top that up, the terrace has a bowling ground for a classic game of pétanque (French-style bowling).
LES BAIGNEUSES
14 Rue du Port-Vieux, 64200 Biarritz
9.

Horizon Rooftop

/ Monaco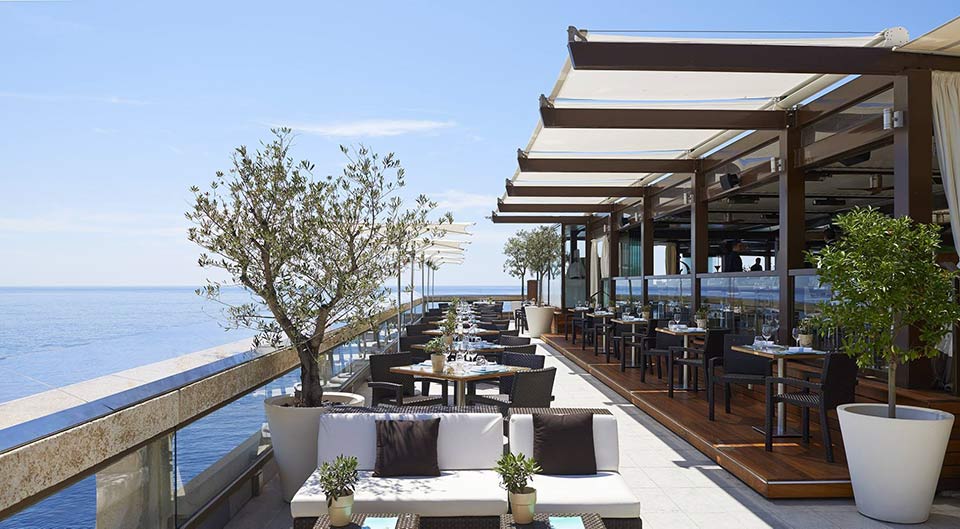 Horizon Rooftop - Photo: www.fairmont.com/
If you're wondering the streets of Monaco, you must add L'Horizon Deck to your "must visit" list of places.
Hosted at Fairmont Monte Carlo, the restaurant and champagne bar will become your favorite spot when visiting the Monaco Grand Prix. Or whenever you visit Monaco.
With a unique 360-degree of the Casino, the Opera House, the Prince's Palace and the Mediterranean, the luxurious terrace restaurant will leave you without a breath.
Modern, trendy, with stylish interior, the restaurant offers a fine list of selected wines and a French menu with local products and seafood.
Open from early morning until very late at night, you can enjoy a fantastic breakfast with a view, or have a romantic dinner under the stars.
L'Horizon Deck, Restaurant & Champagne Bar is open full-time during the summer season, but only for breakfast and lunch during the colder months. Should you decide to stop by and enjoy a meal, be sure to make a reservation prior.
HORIZON ROOFTOP
12 Avenue des Spélugues, 98000 Monaco
8.

Laho Rooftop

/ Paris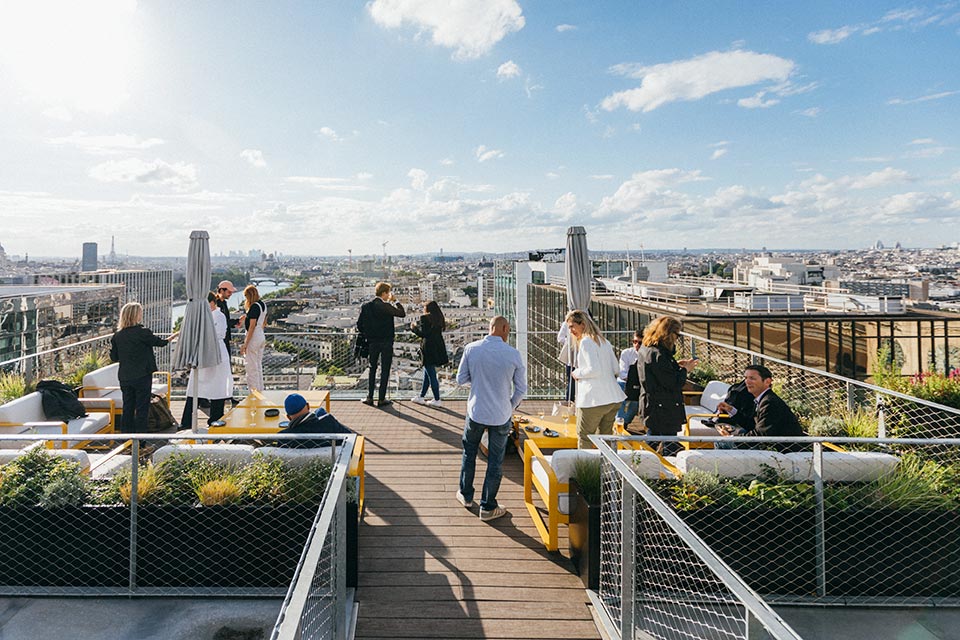 Laho Rooftop - Photo: www.laho-rooftop.fr/
Set 60 meters above the hustle and bustle of the Paris streets, Laho Rooftop offers some breathtaking views over the French capital.
Opened during 2020, this is an exotic and unique summertime rooftop terrace, serving a great lounge atmosphere most nights of the week.
Located just a stone's throw from Gare de Lyon railway station, the rooftop menu includes beautiful plates with seasonal products created by chef Julie Basset, as well as afine selection of wines and classic crafted cocktails.
Open during the summer months, Laho Rooftop is an elevated venue to enjoy DJ beats and fantastic Paris sunsets.
LAHO ROOFTOP
5-9 Rue Van Gogh 75012, Paris
7.

Cloud Nine by Bâoli Cannes

/ Cannes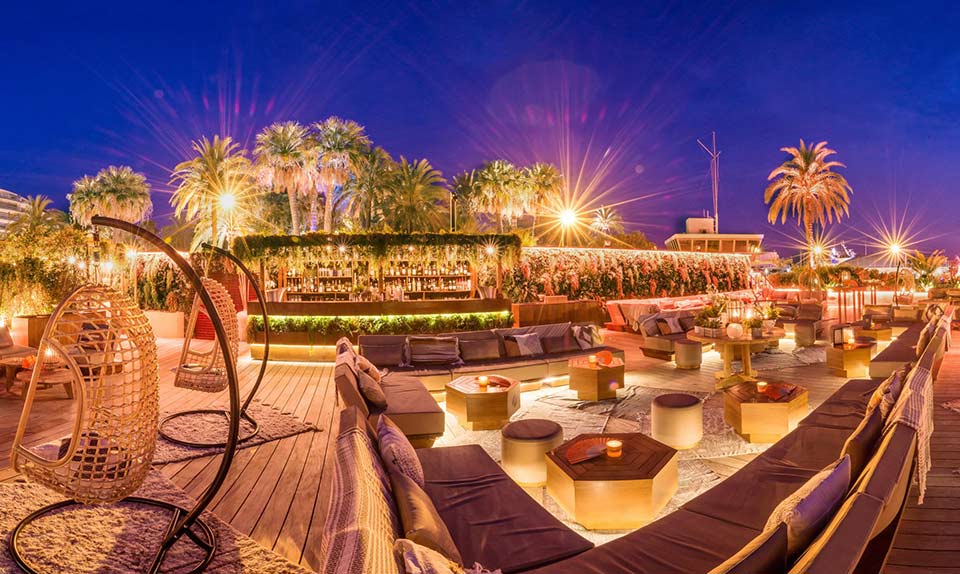 Cloud Nine - Photo: https://baolicannes.com/
Cloud Nine is yet another gem on the French Riviera. The new sky bar has a terrace overlooking the breathtaking Cannes Bay. Enjoy the perfect mix of drinks and a panoramic 360-degree view.
The terraces setting whispers luxury through the exotic and elegant interior design, enabling guests to rediscover the city of festivals seen from above.
First known as a restaurant, Bâoli Cannes opened up the doors to the glamorous Cloud Nine, creating a fantastic standalone venue inspired by the original one in Port Canto.
The roof bar offers mixology cocktails, home maid dishes and lounge music. All to the view of the Mediterranean Sea, and every day you can relax and enjoy the trendy vibe and beautiful sunset from 7pm.
The terrace is only open during the warmer summer months (June – September), and during this time period you can expect lots of amazing parties a little closer to the stars.
CLOUD NINE
Port Pierre Canto, Boulevard de la Croisette, 06400 Cannes
6.

Les Toits at Hotel de Paris

/ St Tropez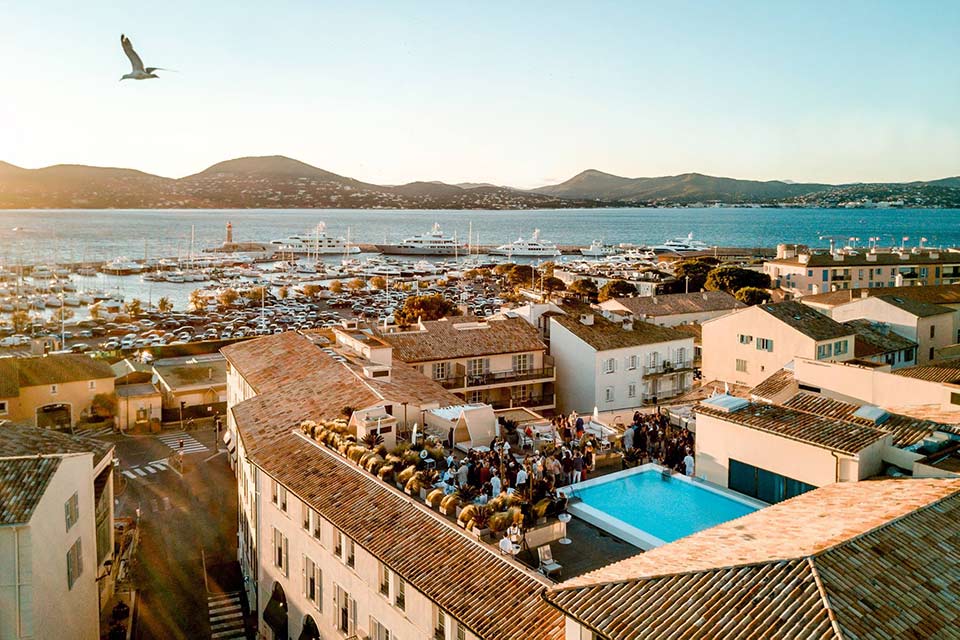 Les Toits - Photo: www.hoteldeparis-sainttropez.com/
Les Toits is a trendy rooftop bar atop the fabulous Hôtel de Paris Saint-Tropez.
The terrace welcomes visitors all day long for a fine drink, delicious juice made out of local goods, and last, but not least, the barman's signature cocktail choice.
The rooftop has one of the most beautiful perspectives on the gulf of Saint Tropez, served at 180°. The venue opens up as soon the weather warms up.
With a signature menu by Chef Pierre-Alain Garnier, the rooftop bar serves a selection of fresh and light dishes, made out of local products. Between the salad, ceviche's and carpaccio's, be sure to check the afternoon lounge or live music sets for a promising early evening rendezvous.
Open daily, this venue combines restaurant and lounge bar with an open-air pool under the stars.
Visit for a sunny lunch with a light selection of salads and grilled meat or seafood. Or begin the evening sipping a glass of Champagne, an exceptional wine, a signature cocktail while enjoying flavors and relaxing lounge music, accompanied by the stars of Saint-Tropez.
LES TOITS
1 Traverse de la Gendarmerie, 83990 Saint-Tropez,
5.

La Terrasse at Hôtel Raphael

/ Paris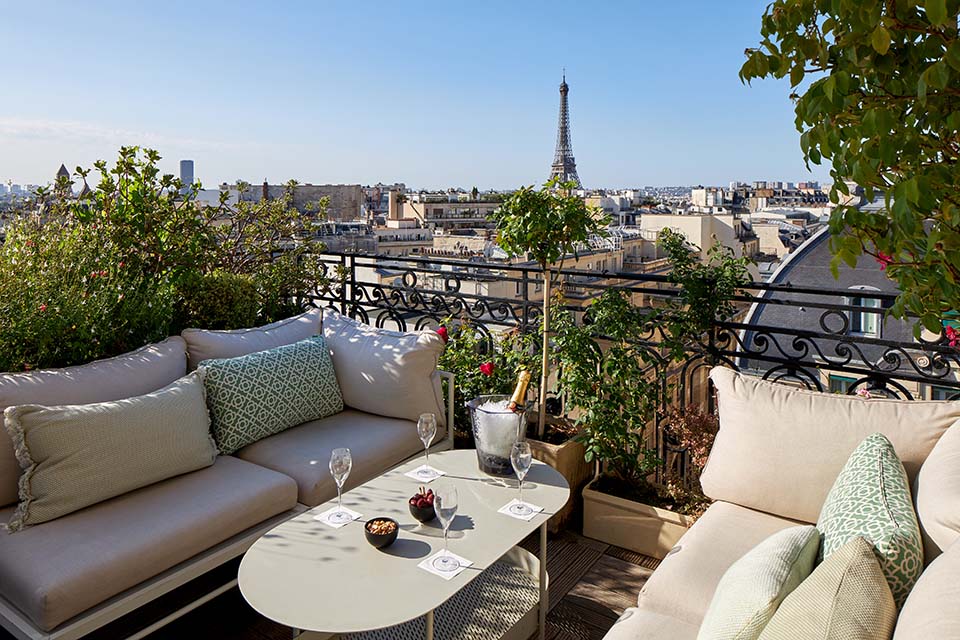 La Terrasse at Hôtel Raphael - Photo: www.raphael-hotel.com/
Paris is home to some of the world's most precious art. The city of love has thought about all the romantic getaways busy people need in their daily routine. This is where La Terrasse enters the picture.
Located atop the five-star Hotel Raphael, the rooftop is both a luxurious champagne rooftop bar, and a classic French restaurant.
With an exquisite view of the Arc de Triomphe and Champs-Élysées, visitors can also enjoy France's most famous landmark– the Eiffel Tower itself. All while sipping on a fine cocktail.
Divided into two sections, the upscale restaurant comes with a luxurious and stylish interior, serving classic French cuisine as dinner and lunch.
The more lush and green rooftop bar, with bright red and white chairs and umbrellas, has a bit more casual feel, offering a list of delicious cocktails and a fine selection of champagne. Visitors can also enjoy a "build-your-own Bento" menu, if visiting for lunch.
As the location suggests, the Hôtel Raphael rooftop restaurant and bar offers a superb experience at a corresponding price. Being on the more expensive side, you will be well taken care of.
LA TERRASSE AT HOTEL RAPHAEL
75016 Rue Kléber, La Rochelle, 17, Paris
4.

The Rooftop at InterContinental

/ Bordeaux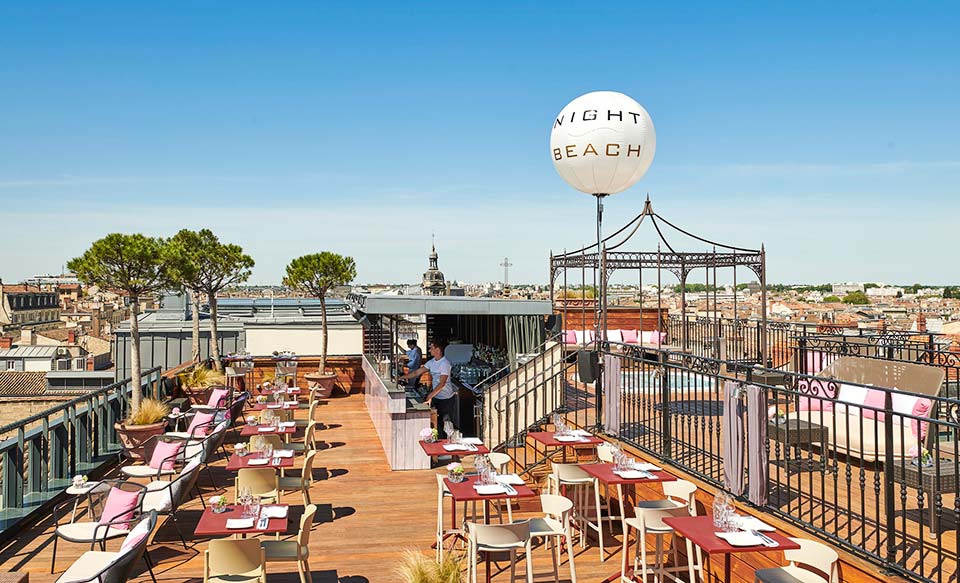 The Rooftop at InterContinental - Photo: https://bordeaux.intercontinental.com/
Located in the very heart of Bordeaux, The Rooftop welcome visitors at the roof of hotel InterContinental Bordeaux – Le Grand Hotel.
The beautiful summer terrace entices you with its 360-degree vista embracing the city of Bordeaux and the Garonne River.
Adorned with parasol pines, plants and sofas, the ambient lightning of the The Rooftop terrace takes on seaside air in the heart of the town, serving as one of Bordeaux's top viewpoints to Grand-Théâtre and Place de la Comédie.
Trendy and elegant, yet relaxed in atmosphere, The Rooftop at Grand Hotel guarantees a laid-back experience and unforgettable memories, complemeted with tasty cocktails and live DJs.
Open from March to October, the rooftop is available from noon for a sunny lunch, all the way through late dinner and drinks.
Apart from Night Beach, as the summer version of the rooftop is called, the InterContinental Bordeaux is from time to time also open for winter pop-ups, like the chic 'In The Mood For Wine'. A dream for wine-lovers, with a glass terrace offering a panoramic view of the city.
THE ROOFTOP
2-5 Place De La Comédie, Centre de Bordeaux, 33000 Bordeaux
3.

Farago on the Roof

/ Nice
Farago on the Roof - Photo: www.faragoontheroof.com
Perched on top of the modern AC Hotel by Marriott Nice, Farago on the Roof offers a unique rooftop setting filled with a feel-good atmosphere.
Elegant, intimate, cosy and natural, the rooftop comes surrounded with magical 360° views, of the sea and the entire city, from the airport to Saint Jean Cap Ferrat.
An elevated hot-spot to celebrate summer, here you can enjoy refreshing and brightly colored cocktails and creative dishes, served as both lunch, dinner and Sunday brunch.
Relaxing and vibrant at the same time, the music line-up at the rooftop features local artists, solo and duo performers along with DJ sets, with sounds of jazz, pop, soul and funk in the spotlight.
The rooftop bar is set next to AC Hotel's glittering rooftop pool, which only adds to the summerich French Riviera feel.
FARAGO ON THE ROOF
59 Prom. des Anglais, 06000 Nice
2.

Sequoia Rooftop Bar

/ Paris
Sequoia Rooftop Bar - Photo: https://sequoiabar.com/
Perched on top of the fabulous Kimpton St Honoré, right in the heart of Paris, Sequoia Rooftop Bar is the perfect spot to enjoy the French capital from above.
Filled with greenery, the elegant rooftop terrace is truly an elevated garden escape, dotted with stylish lounge sofas and dining tables.
The rooftop bar serves a fine selection of wine and champagne, as well as crafted signature cocktails, which you can enjoy with the iconic 360° views over central Paris and its famous monuments.
Open during the warmer season, Sequoia Rooftop Bar invites to sunny sessions with a refreshing drink, or to wine, dine and enjoy the sunset in an intimate and glamorous atmosphere.
SEQUIA ROOFTOP BAR
27-29 Bd des Capucines, 75002 Paris
1.

Dantés Skylounge at Hotel Sofitel Vieux Port

/ Marseille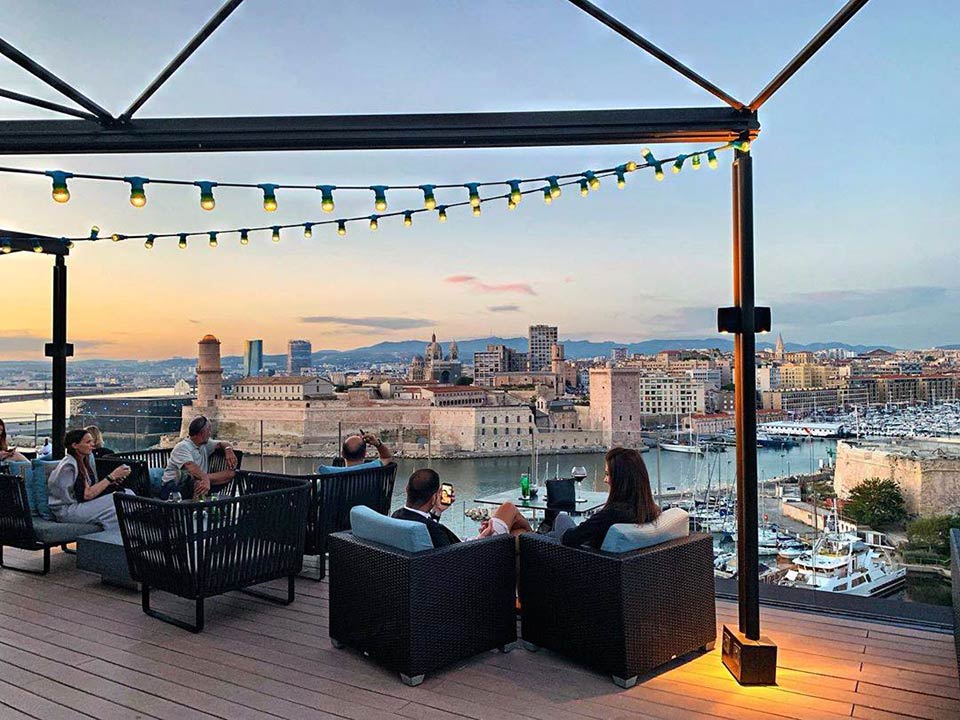 Dantés Skylounge - Photo: www.sofitel-marseille-vieuxport.com/
When wondering where to stay during a visit in Marseille, consider reserving a room at the Hotel Sofitel Marseille Vieux Port.
With a fantastic mixture of modern interior and a first-class service, the hotel also has a fantastic rooftop bar, called Le Dantés Skylounge, along two other rooftop venues overlooking the old harbor.
If you're on the hunt for a cocktail extravaganza, be sure to stop at the comfy lounge and enjoy a crafted signature cocktail. Visitors can choose from a robust of delicious cocktail excellence, including some classic recipes, champagne cocktails and last, but not least, a signature selection of fine wines and bar bites.
Le Dantés Skylounge is the perfect choice for a sophisticated cocktail meetup, suitable both for a casual date and a business meeting.
If you're wondering when to visit, stop by after having dinner at fine dining restaurant called Les Trois Forts, which shares the same rooftop space. The restaurant opens up for breakfast, lunch and dinner, serving gourmet flavors from both sea and land, prepped under the sharp eye of Chef Dominique Frérard.
DANTÉS SKYLOUNGE
36 Boulevard Charles Livon, 13007 Marseille