We have prepared a great list of must-visit rooftop restaurants Paris, that will make your visit a real romance. Here you can mix top class food with amazing views over the famous landmarks.
Here you find restaurant rooftop Paris with views over the Eiffel Tower, luxurious and elegant dining venues for those special occasions, as well as a vibrant and vegetarian rooftop with panoramic views. As you can tell, there is pretty much a rooftop restaurant Paris for everyone.
For elevated drinks in the capital of France, check out our complete guide to the best rooftop bars Paris has to offer.
1.

L'Oiseau Blanc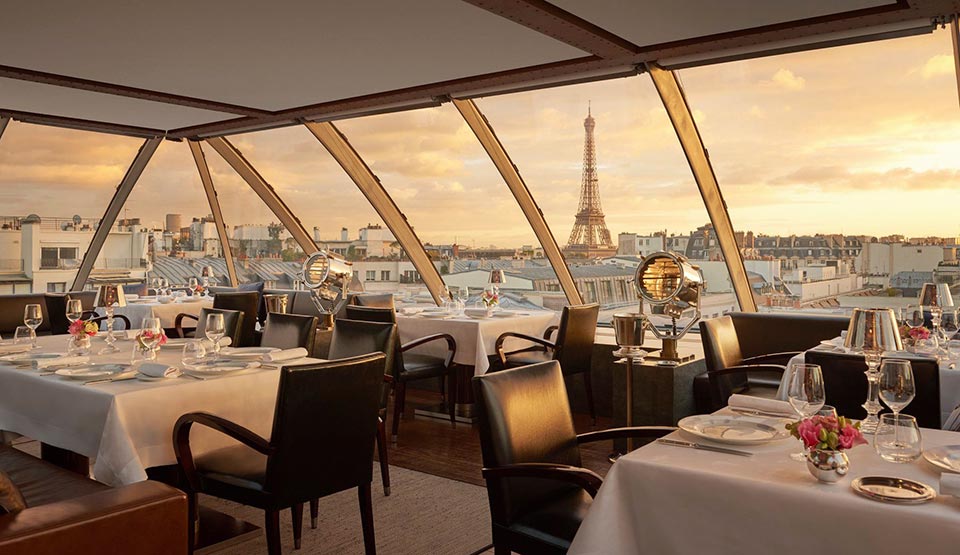 L'Oiseau Blanc - Restaurant Rooftop Paris | Photo: www.peninsula.com/
L'Oiseau Blanc rooftop restaurant is the crowning glory of the Hotel The Peninsula Paris, offering a fabolous mix of fantastic food and fantastic views.
Awarded with one star in the 2020 Michelin Guide, this restaurant invites you on a 'first-class culinary journey', all while overlooking the majestic Eiffel Tower and the Paris rooftops.
Open for a two or three course lunch, as well as a 6 stops gourmet dinner, filled with Chef David Bizet's signature dishes, this chic and elegant Paris rooftop restaurant promises an experience out of the ordinary. Expensive yes, but most likely also unforgettable.
Next door to L'Oiseau Blanc you also find Le Rooftop, and while the restaurant is all indoors, this beautiful rooftop garden and cocktail lounge is a great spot to enjoy some pre- or post alfresco drinks in combination with a smashing meal at L'Oiseau Blanc.
L'OISEAU BLANC
19 Avenue Kléber, 75116 Paris
Lunch: Mon-Sun: 12.30pm-2.30pm | Dinner: Mon-Sun 7pm-10.30pm
French Gastronomic
2.

Edmond at Terrass" Hotel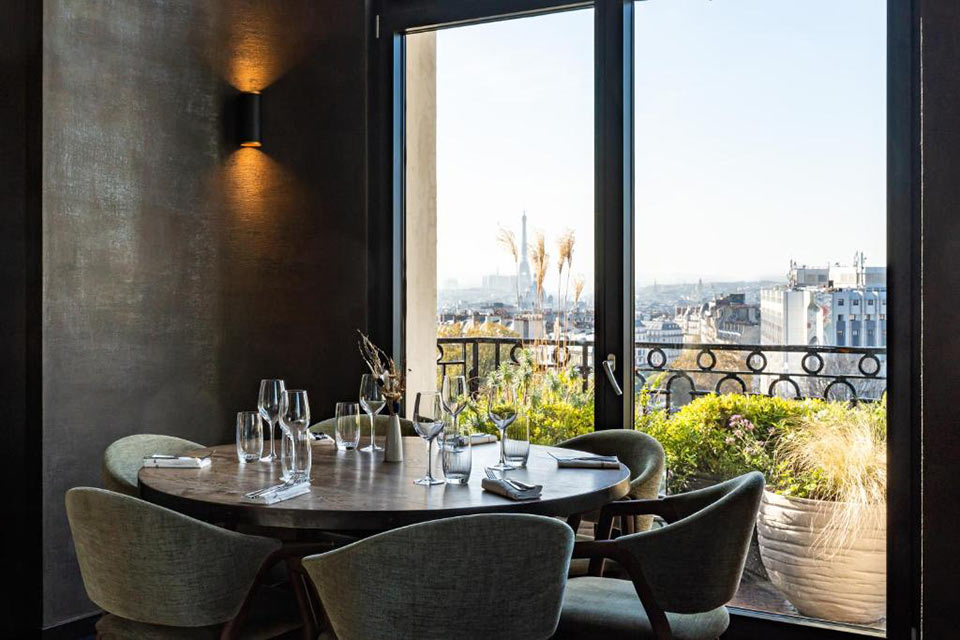 Edmond at Terrass" Hotel - Restaurant Rooftop Paris | Photo: www.terrass-hotel.com/en/edmond
Edmond restaurant is found on top of the fantastic Terrass" Hôtel Montmartre, sharing floor with the lovely Terrass" Rooftop Bar.
With both a stylish indoor dining room with panoramic windows and a lush and intimate outdoor terrace, Edmond offers some magical and panoramic views over the Paris skyline.
Up here you can start your day with a breakfast with views, along with brunch during weekends. Later on, the rooftop restaurant serves a modern take on traditional French recipes as both lunch and dinner, with inventive and instinctive cuisine created by Chef Julien Goriot.
Sophisticated yet relaxing in atmosphere, reservations are recommended for the Edmond restaurant, while the terrace and bar works on a first-come, first-served basis.
EDMOND
14 Rue Joseph de Maistre, 75018 Paris
Breakfast: Mon-Sun 7am-10.30am | Lunch: Mon-Sat 12pm-2.30pm | Dinner: Tue-Sat 7pm-10.30pm
Modern French
3.

Mūn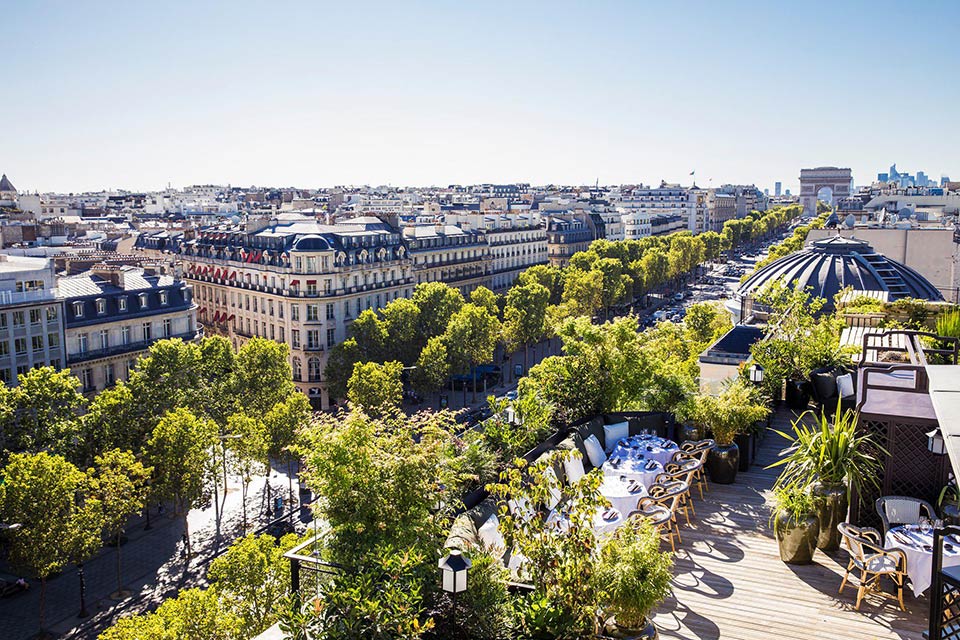 Mūn - Restaurant Rooftop Paris | Photo: https://restaurant-mun.com/
Perched above Champs Élysée, Mūn brings a large slice of Asian flare to the heart of the French capital.
Dressed in a sleek and quite dark suit on the inside, with varnished wooden panels and velvet chairs, the outdoor terrace is a completely different story.
Bright and lush, here you get some of the most impressive views Paris has to offer, including Champs-Elysées, the Arc de Triomphe, the Eiffel Tower and the Basilica of the Sacred Heart.
Open daily for lunch, dinner and late nights, the rooftop restaurant menu is a journey through Asia, with sushi, sashimi, tataki, shabu-shabu and barbecued yakitori all available.
There is also a bar offering crafted (and Asian-inspired) cocktails, along with premium wine, champagne and spirits.
Visit for a sunny lunch overlooking Paris, or come for dinner that turns into a chic and late night of fun, cause even if food service stops at 11pm, the venue is open until 2am.
MUN
52 Av. des Champs-Élysées, 75008 Paris
Lunch: Mon-Fri 12pm-2.30pm, Sat-Sun 12pm-4pm | Dinner: Mon-Sun 7pm-2am
Asian fusion
4.

Créatures Paris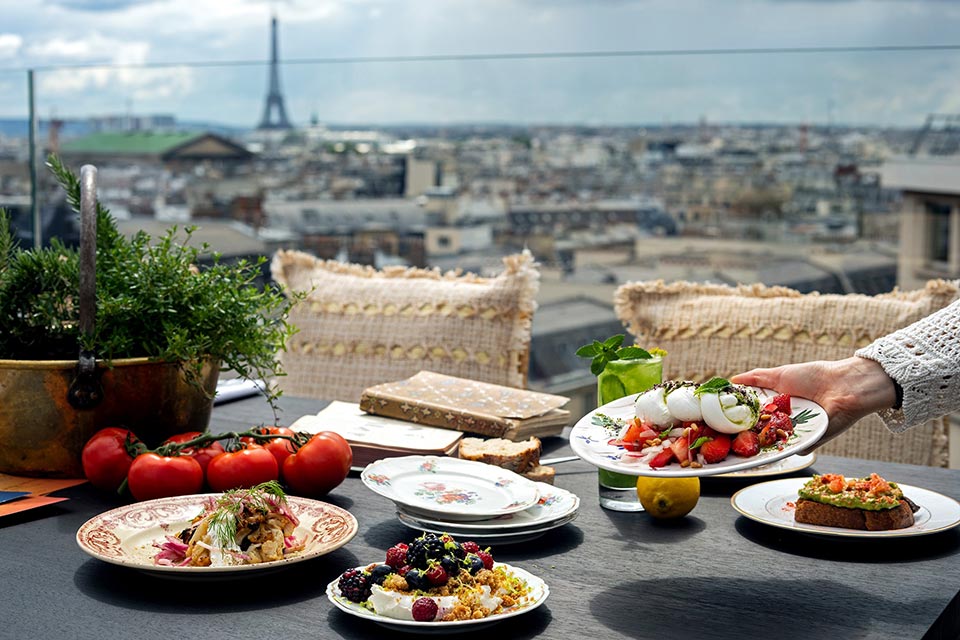 Créatures Paris - Restaurant Rooftop Paris | Photo: http://creatures-paris.com/
On top of the Galeries Lafayette department store you find a rooftop restaurant and bar that does not only offer a really impressive 360° view over Paris, but also quite a unique rooftop menu.
Run by Chef Julien Sebbag, the Créatures rooftop restaurant offers a seasonal and 100% vegetarian menu, packed with colorful salads and other creative sensations, combining Mediterranean flavours with Tel-Aviv influences.
The aim is to make fruits and vegetables 'sexy and exciting', and Créatures definitely succeed with the mission. Try the 'Stain Boy' with crumbled broccoli, thigurt and sumac sunflower seed, and you will probably agree.
Open from mid-June to mid-October, this Paris rooftop restaurant mixes a relaxing Mediterranean vibe with a large hint of Parisian trendiness. Food is served daily as lunch and dinner, and in between and after you can also enjoy some refreshing drinks from the cocktail bar.
CREATURES
25 Rue de la Chaussée d'Antin, 75009 Paris
Daily: 12pm-1am
Vegetarian
5.

Le Tout-Paris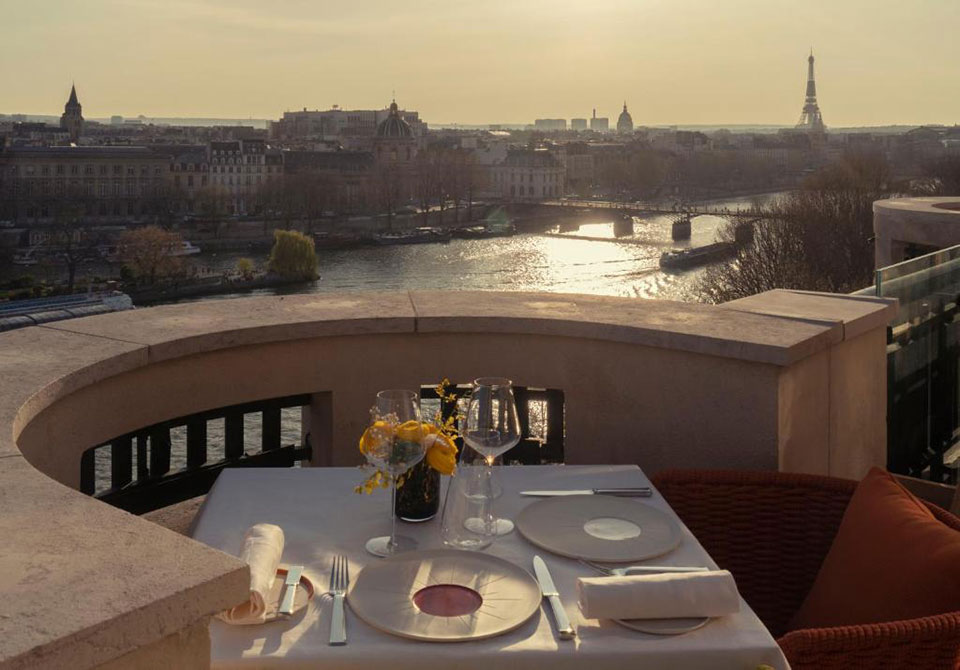 Le Tout-Paris - Restaurant Rooftop Paris | Photo: www.letoutparis.com/
Seven floors above the Pont-Neuf, on top of the Cheval Blanc Paris luxury hotel, Le Tout-Paris offers an elevated morning-to-night experience of dining and drinking.
Mixing contemporary brasserie with cocktail bar, the bright and stylish venue alos mixes indoor and outdoor seating. Most of the spots on the lush terrace is quite covere, but a few are perfect for an open-air lunch or an intimate dinner overlooking the Seine and the Paris skyline.
Here you can enjoy authentic Parisian brasserie dishes and desserts with a modern twist, or head over to the large marble bar and order signature cocktails or classics with a twist.
Cosmopolitan and colorful, anytime is truly a great time to visit Le Tout-Paris.
LE TOUT
8 Quai du Louvre, 75001 Paris
Daily: 7am-1am
French
6.

La Suite Girafe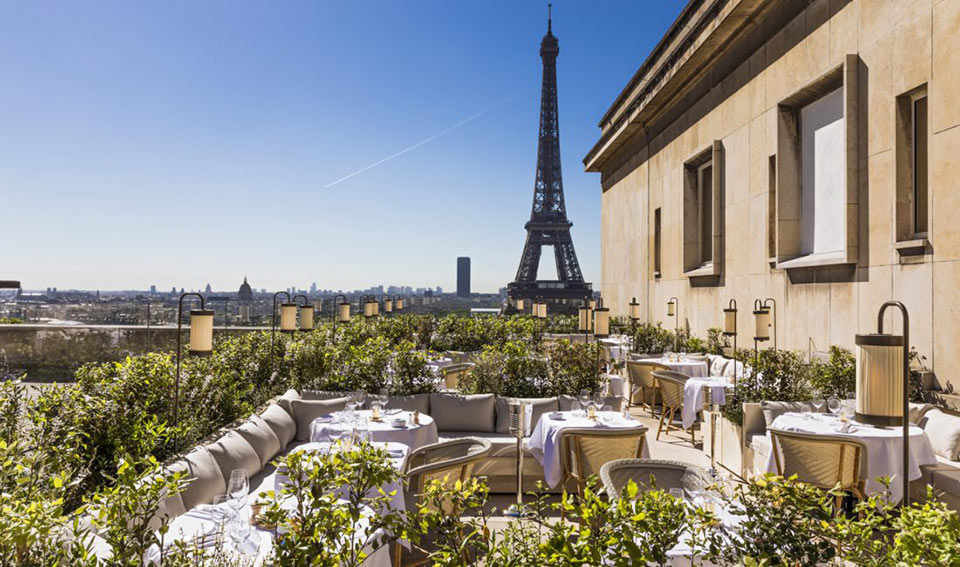 La Suite Girafe - Restaurant Rooftop Paris | Photo: www.letoutparis.com/
Nestled in the heart of the Cité de l'Architecture, Girafe Paris offers a stylish 1930s spirit, fantastic seafood and amazing Eiffel Tower views from its ground floor terrace.
But really elevating the experience is the addition of the 9th floor La Suite Girafe, one of the best-kept secret in the city, offering even more impressive panoramic over Paris.
Open for lunch and dinner, the lush and bright terrace seats 100, serving seafood with a contemporary Japanese twist.
Book your spot well in advance and enjoy a dining experience that is hard to match.
LA SUITE GIRAFE
1 Pl. du Trocadéro et du 11 Novembre, 75016 Paris
Lunch: Mon-Fri 12pm-2.30pm, Sat-Sun: 12pm-4pm | Dinner: Mon-Sun 7pm-2am
Seafood
7.

Hôtel Raphael Rooftop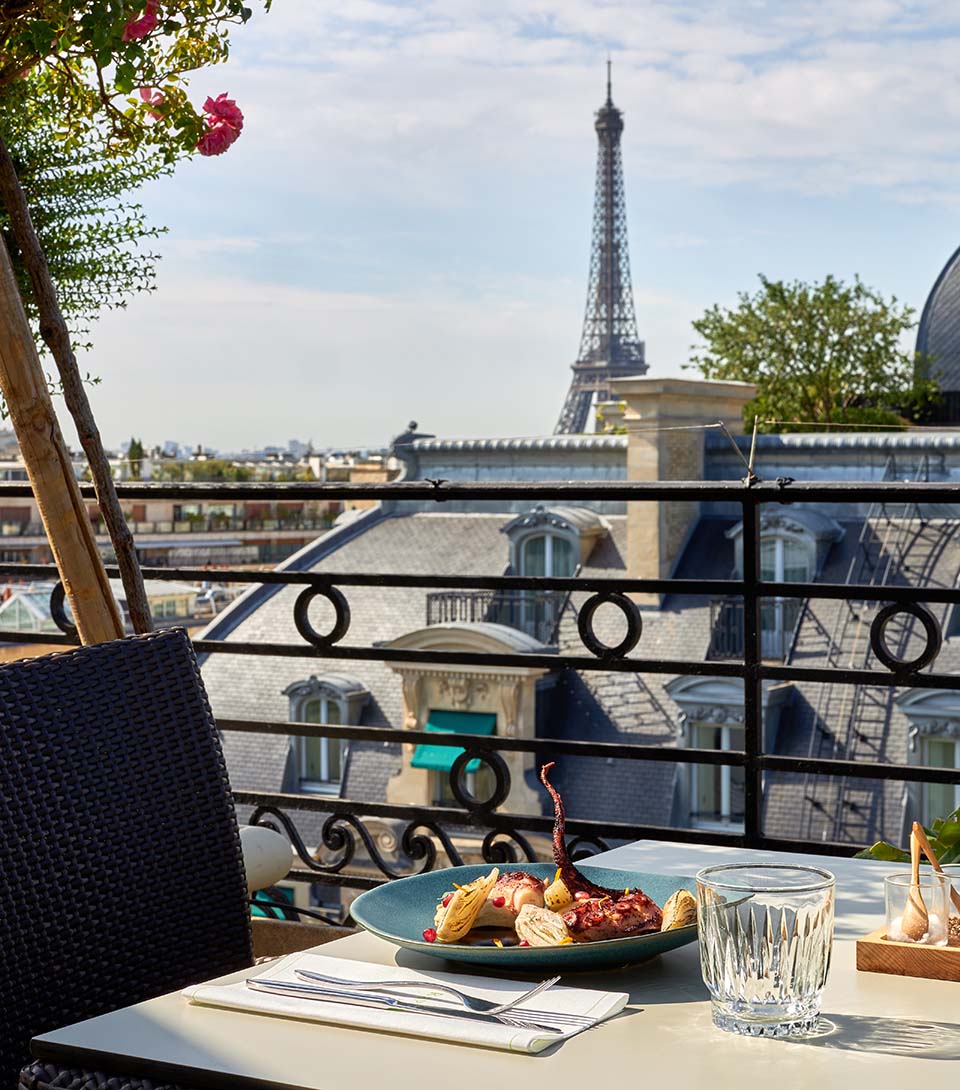 Hôtel Raphael Rooftop - Restaurant Rooftop Paris | Photo: www.raphael-hotel.com
On top of the five-star Hotel Raphael you find one of the most luxurious rooftops Paris has to offer.
With a location right by the Arc de Triomphe and Champs-Élysées, the terrace offers some majestic views over these to landmarks, but also continues to the Eiffel Tower and over most of the Paris skyline.
The Hôtel Raphael rooftop restaurant is open daily during the warmer months, serving an elevated selection of shareables. From Caviar and Lobster Rillette, to Matured Cheese and Beef Carpaccio.
Upscale and stylish in setting, and on the pricey side, the rooftop restaurant is a great spot for some fine and sunny afternoon drinks and bites, but maybe even better for a special and romantic dinner.
Reservations are recommended to secure a dining spot on the open-air terrace, and in case of bad weather, you will be able to maintain your reservation at the restaurant located on the ground floor.
HOTEL RAPHAEL
75016 Rue Kléber, La Rochelle, 17, Paris
Daily: 3pm-11pm
Elevated shareables
8.

Les Ombres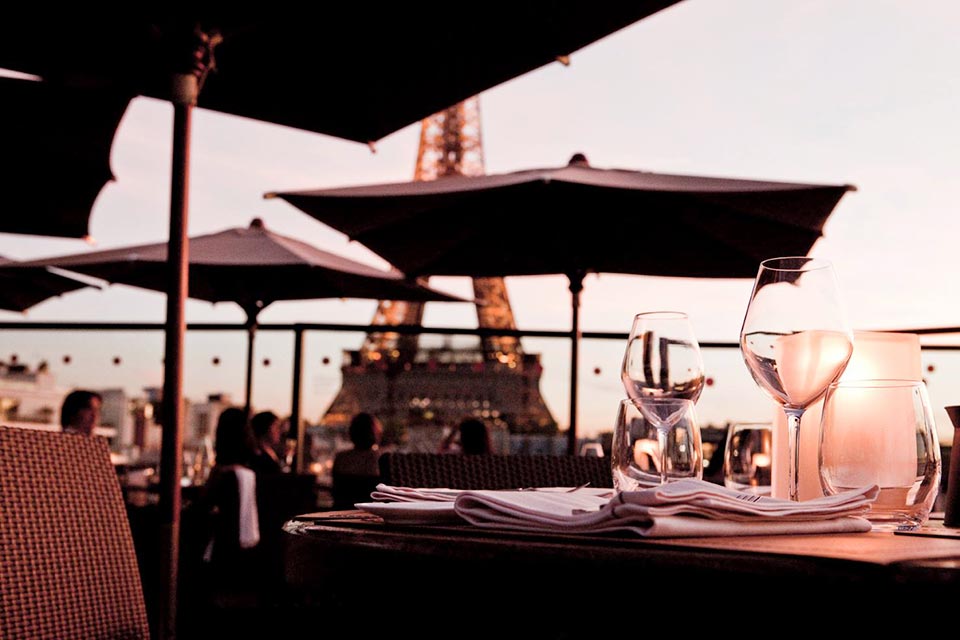 Les Ombres - Restaurant Rooftop Paris | Photo: www.lesombres-restaurant.com/
Perched on the roof of the Musée du quai Branly, Les Ombres is a very classy and luxurious rooftop restaurant, with a beautiful view over Paris, and especially over the very famous neighbor.
Located just a stones throw from the majestic Eiffel Tower, the name Les Ombres actually means 'the shadows', coming from the shadows that the tower cast on the terrace.
With a totally glazed indoor dining room leading out to a lush panoramic terrace, Les Ombres offers views all around.
Open daily for lunch and dinner, the restaurant serves contemporary and creative French cuisine, reinterpreting the great classics, along with both fine wines and some very tasty cocktails.
LES OMBRES
27 Quai Branly, 75007 Paris
Lunch: Tue-Sat: 12pm-2.30pm | Dinner: Tue-Sat 7pm-10.30pm
French