We have prepared a great list of must-visit rooftop restaurants Paris, that will make your visit a real romance. Here you can mix top class food with amazing views over the famous landmarks.
Here you find restaurant rooftop Paris with views over the Eiffel Tower, luxurious and elegant dining venues for those special occasions, as well as a vibrant and vegetarian rooftop with panoramic views. As you can tell, there is pretty much a rooftop restaurant Paris for everyone.
For elevated drinks in the capital of France, check out our complete guide to the best rooftop bars Paris has to offer.
1.

L'Oiseau Blanc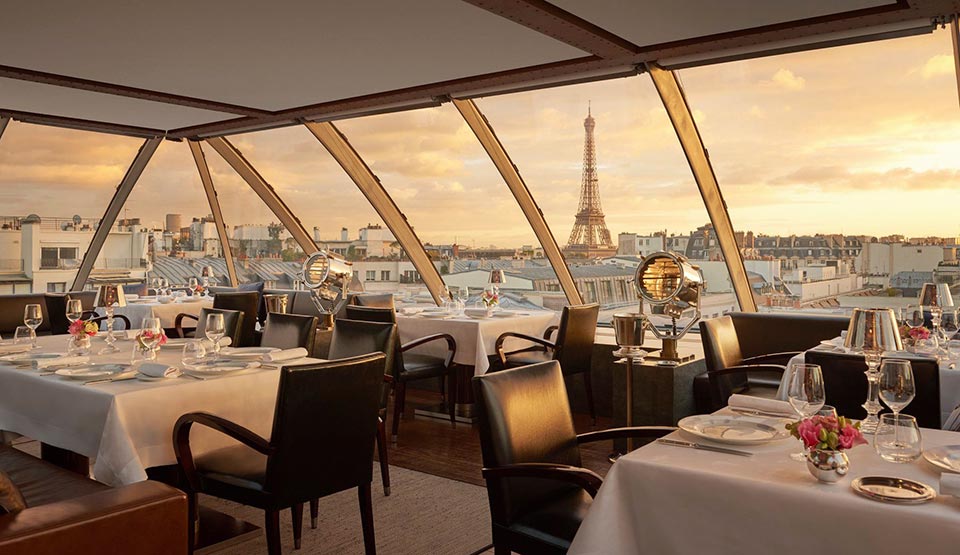 L'Oiseau Blanc - Restaurant Rooftop Paris | Photo: www.peninsula.com/
L'Oiseau Blanc rooftop restaurant is the crowning glory of the Hotel The Peninsula Paris, offering a fabolous mix of fantastic food and fantastic views.
Awarded with one star in the 2020 Michelin Guide, this restaurant invites you on a 'first-class culinary journey', all while overlooking the majestic Eiffel Tower and the Paris rooftops.
Open for a two or three course lunch, as well as a 6 stops gourmet dinner, filled with Chef David Bizet's signature dishes, this chic and elegant Paris rooftop restaurant promises an experience out of the ordinary. Expensive yes, but most likely also unforgettable.
Next door to L'Oiseau Blanc you also find Le Rooftop, and while the restaurant is all indoors, this beautiful rooftop garden and cocktail lounge is a great spot to enjoy some pre- or post alfresco drinks in combination with a smashing meal at L'Oiseau Blanc.
L'OISEAU BLANC
19 Avenue Kléber, 75116 Paris
Lunch: Mon-Sun: 12.30pm-2.30pm / Dinner: Mon-Sun 7pm-10.30pm
French Gastronomic
2.

Terrass'' Restaurant & Bar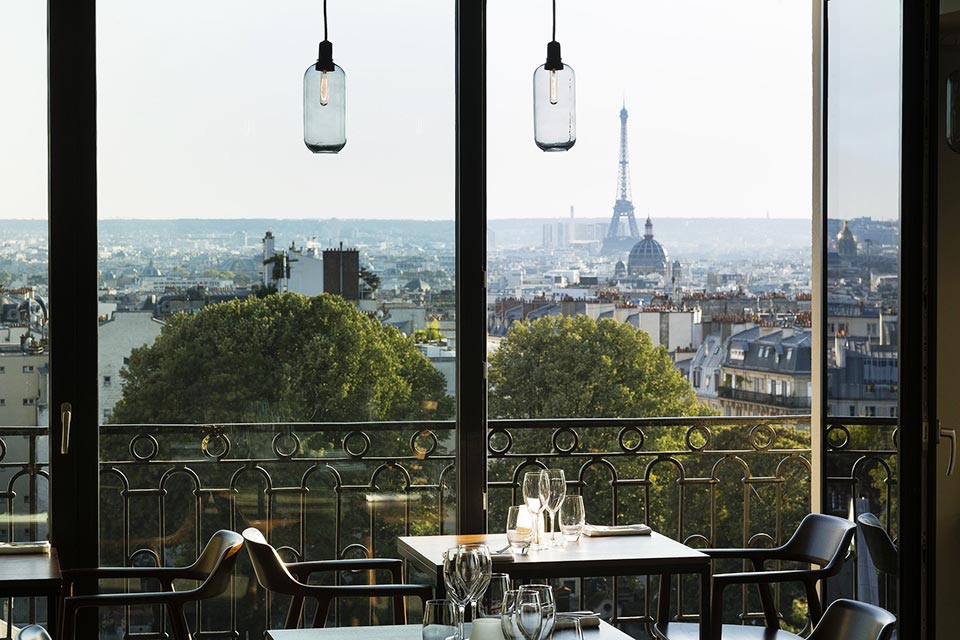 Terrass'' Restaurant & Bar - Restaurant Rooftop Paris | Photo: http://creatures-paris.com/
Terrass'' Restaurant & Bar, found on top of the fantastic Terrass'' Hôtel Montmartre, is as the name hints both a rooftop restaurant and bar.
With both a stylish indoor dining room with panoramic windows and a lush and intimate outdoor terrace, Terrass'' offers some magical and panoramic views over the Paris skyline.
Up here you can start your day with a breakfast with views, along with brunch during weekends. Later on, the rooftop restaurant serves a modern take on traditional French recipes as both lunch and dinner.
Sophisticated yet relaxing in atmosphere, reservations are recommended for the Terrass'' indoor restaurant, while the terrace and bar works on a first-come, first-served basis.
TERRASS''
14 Rue Joseph de Maistre, 75018 Paris
Breakfast: Mon-Sun 7am-10.30am, Lunch: Wed-Sun 12pm-2.30pm, Dinner: Wed-Sat 7pm-10pm
Modern French
3.

Hôtel Raphael
Hôtel Raphael - Restaurant Rooftop Paris | Photo: www.raphael-hotel.com
On top of the five-star Hotel Raphael you find a dual rooftop setting: one part is a luxurious champagne rooftop bar, and the other a classy rooftop restaurant.
With a location right by the Arc de Triomphe and Champs-Élysées, the terrace offers some majestic views over these to landmarks, but also continues to the Eiffel Tower and over most of the Paris skyline.
The Hôtel Raphael rooftop restaurant is open daily for lunch and dinner during the warmer months (except Sunday), and here you can indulge in fine-dining French cusine made by chef Francisco Merino, as well as fancy desserts created by Romain Marti.
Upscale and stylish in setting, and on the pricey side, the Hôtel Raphael rooftop restaurant is a great spot for a fine and sunny lunch, but maybe even better for a special and romantic dinner.
Reservations are recommended to secure a dining spot on the open-air terrace, and in case of bad weather, you will be able to maintain your reservation at the restaurant located on the ground floor.
HOTEL RAPHAEL
75016 Rue Kléber, La Rochelle, 17, Paris
Mon-Sat: 12.30pm-2pm & 7pm-10.30pm
French
Collaboration
4.

Créatures Paris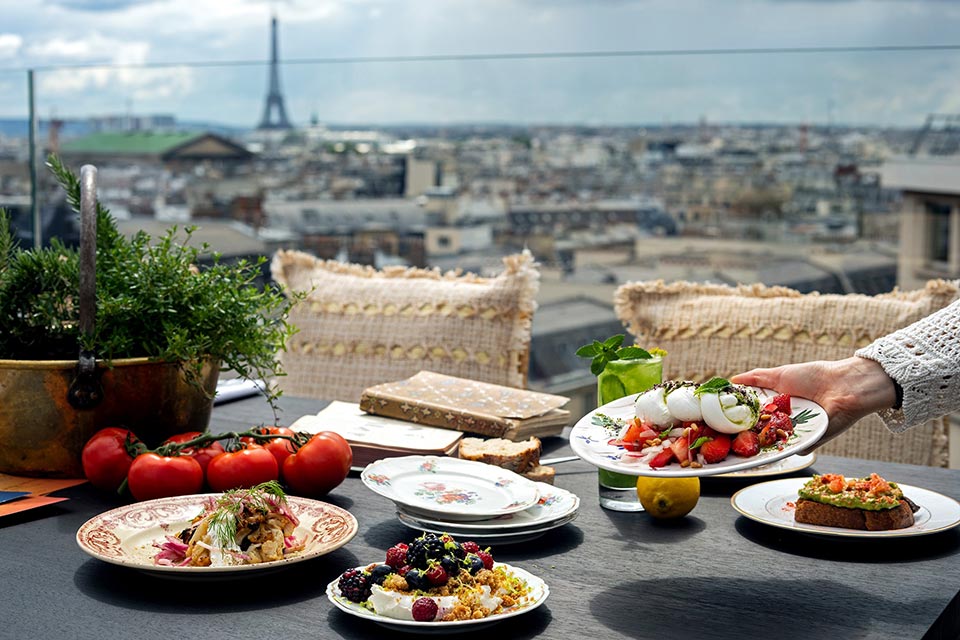 Créatures Paris - Restaurant Rooftop Paris | Photo: http://creatures-paris.com/
On top of the Galeries Lafayette department store you find a rooftop restaurant and bar that does not only offer a really impressive 360° view over Paris, but also quite a unique rooftop menu.
Run by Chef Julien Sebbag, the Créatures rooftop restaurant offers a seasonal and 100% vegetarian menu, packed with colorful salads and other creative sensations, combining Mediterranean flavours with Tel-Aviv influences.
The aim is to make fruits and vegetables 'sexy and exciting', and Créatures definitely succeed with the mission. Try the 'Stain Boy' with crumbled broccoli, thigurt and sumac sunflower seed, and you will probably agree.
Open from mid-June to mid-October, this Paris rooftop restaurant mixes a relaxing Mediterranean vibe with a large hint of Parisian trendiness. Food is served daily as lunch and dinner, and in between and after you can also enjoy some refreshing drinks from the cocktail bar.
CREATURES
25 Rue de la Chaussée d'Antin, 75009 Paris
Mon-Sun: 12pm-1am
Vegetarian
5.

Mama Shelter Paris East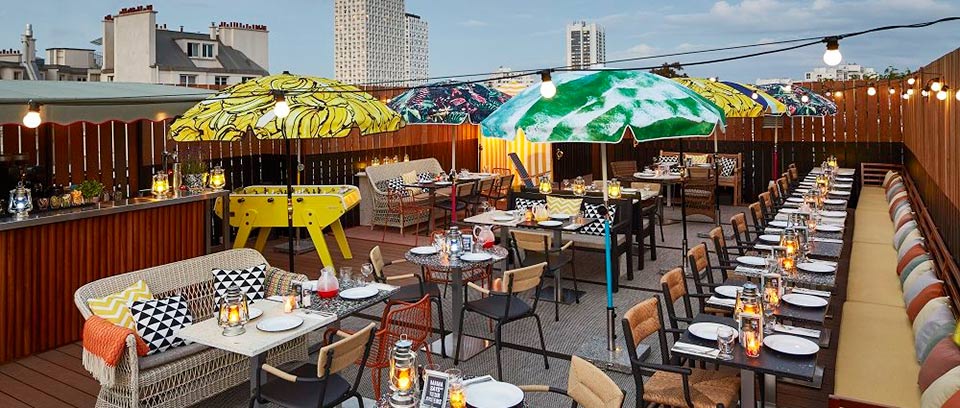 Mama Shelter Paris East - Restaurant Rooftop Paris | Photo: https://mamashelter.com/
Located in the 20th arrondissement of Paris, the Mama Shelter Paris East comes with a rooftop that is as vibrant as it is charming.
Up here you find colorful dining tables and comfy lounge sofas, as well as both ping-pong and fossball table, perfect to keep any lunch or dinner filled with fun.
Relaxing and welcoming to all, the rooftop restaurant serves a menu that has a dinner offer at 49€, which includes a mezze to share, a main course and a dessert (also available as 39€ lunch on Saturdays).
While you can just pop-up for drinks and fun at the rooftop bar, reservations are needed for lunch and dinner at the restaurant.
MAMA SHELTER PARIS EAST
109 Rue de Bagnolet, 75020 Paris
Mon-Sat: 12pm-11.30pm / Sun: 4pm-10pm
Modern fusion
6.

Maison Blanche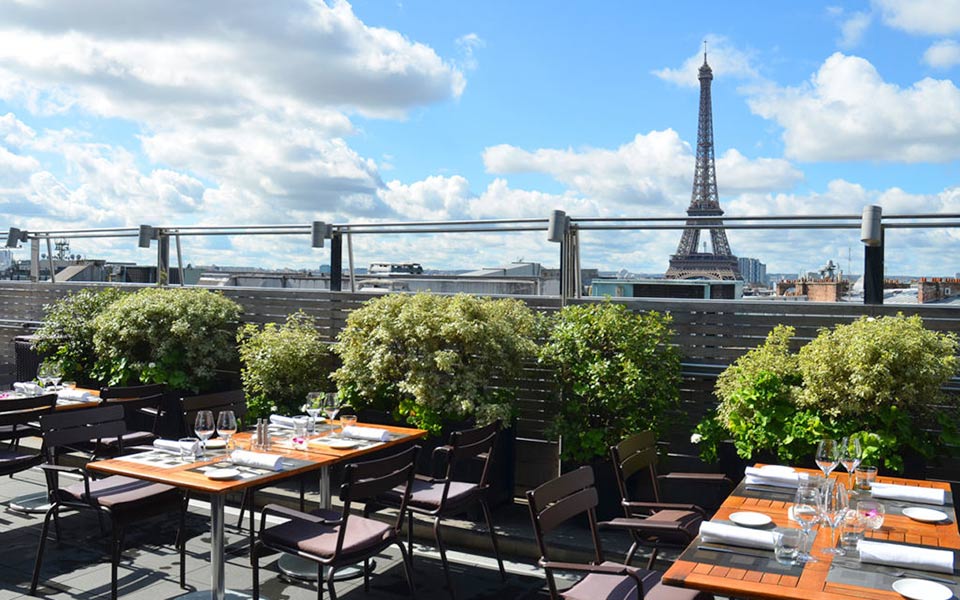 Maison Blanche - Restaurant Rooftop Paris | Photo: www.maison-blanche.fr/
Found at the Théâtre des Champs-Élysées roof, Maison Blanche lives up to being a panoramic restaurant, both inside and out.
Here you find an indoor dining room with a very cool and large 'Bay Window' and glass roof, offering panoramic views over Paris. These panoramics continue on the two outdoor terraces, called 'George V Terrace' and 'Montaigne Terrace', with magical views of the most famous buildings in Paris, including the Eiffel Tower.
At Maison Blanche you can indulge in French cuisine of the highest class as both lunch and dinner, complemented with a long and very impressive wine list.
The setting at this rooftop restaurant Paris is towards minimalist and elegant. Quite pricey, but ideal for anything from business lunches to candlelit dinners or family celebrations, all with fantastic views.
MAISON BLANCHE
15 Avenue Montaigne, 75008 Paris
Lunch: Mon-Fri: 12pm-2pm / Dinner: Mon-Sun 7pm-11pm
French
7.

Les Ombres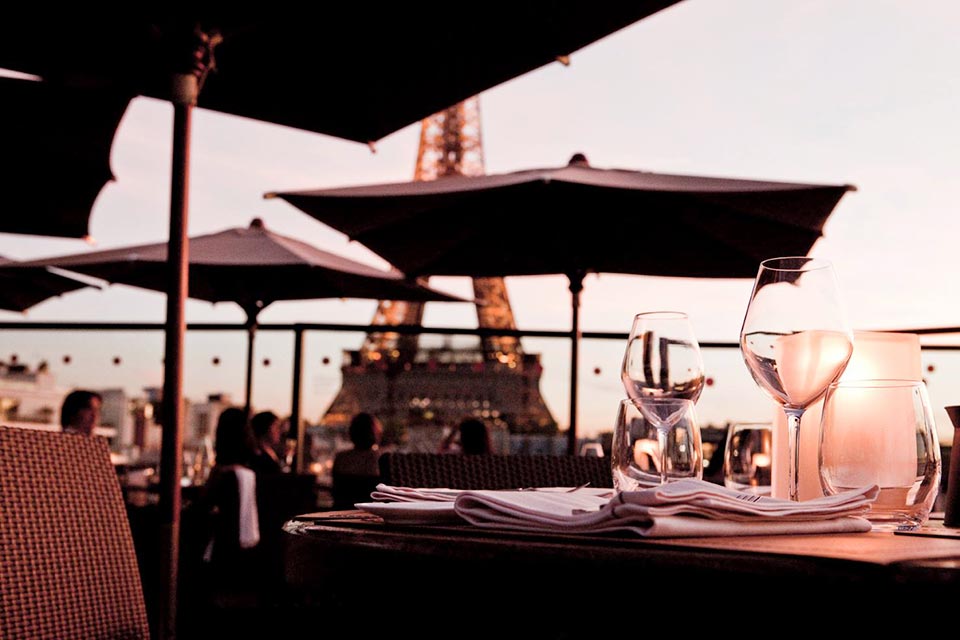 Les Ombres - Restaurant Rooftop Paris | Photo: www.lesombres-restaurant.com/
Perched on the roof of the Musée du quai Branly, Les Ombres is a very classy and luxurious rooftop restaurant, with a beautiful view over Paris, and especially over the very famous neighbor.
Located just a stones throw from the majestic Eiffel Tower, the name Les Ombres actually means 'the shadows', coming from the shadows that the tower cast on the terrace.
With a totally glazed indoor dining room leading out to a lush panoramic terrace, Les Ombres offers views all around.
Open daily for lunch and dinner, the restaurant serves contemporary and creative French cuisine, reinterpreting the great classics, along with both fine wines and some very tasty cocktails.
LES OMBRES
27 Quai Branly, 75007 Paris
Lunch: Mon-Sun: 12pm-2.15pm / Dinner: Mon-Sun 7pm-10.15pm
French
Collaboration