Lisbon is a beautiful city in Portugal, located right by the Atlantic Ocean. Despite the nice Mediterranean climate, it can become quite chilly here during winter. And that's the reason some rooftop bars in Lisbon are closed during a couple of months every year. But there are also some that you can visit all 12 months of the year.
Winter open rooftop bars in Lisbon has become a big trend, and you can expect to see more winter terraces to open up in the future.
Here's our list of the 5 best winter open rooftop bars in Lisbon.
1.

Sky Bar / SEEN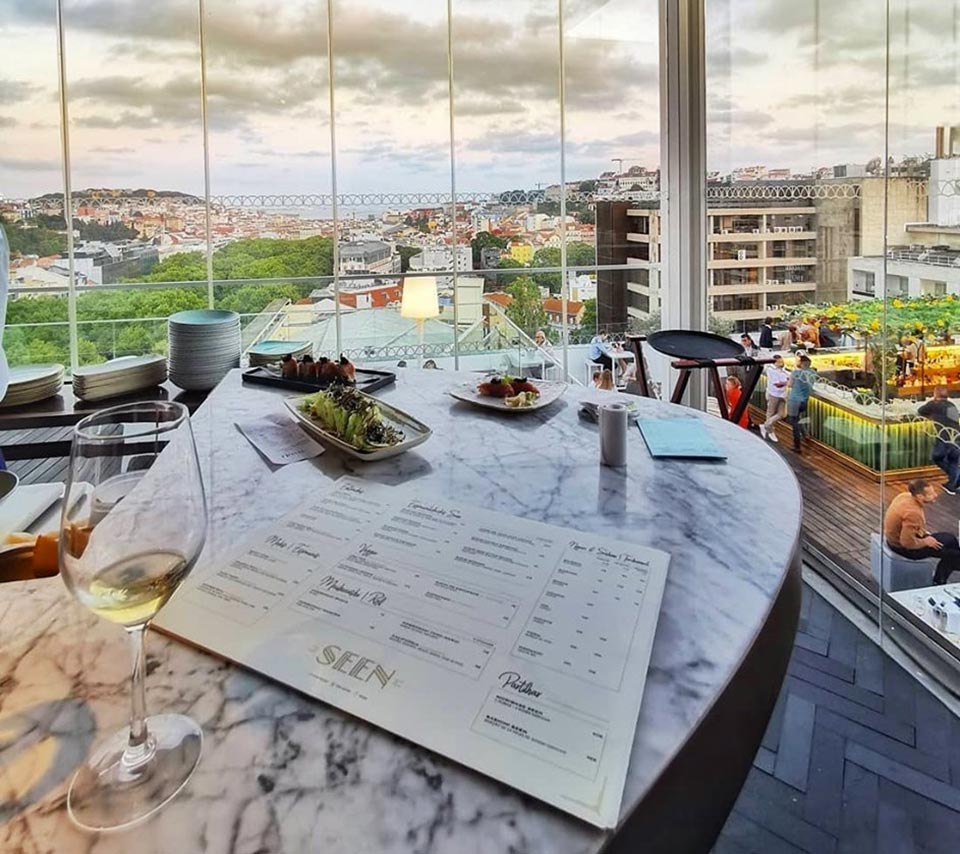 Sky Bar / SEEN | Photo: https://seenlx.com/
Located at the famous Tivoli Avenida Liberdade Lisboa, right in the heart of Lisbon, you can find a modern and fashionable rooftop bar with views to die for.
Climb up to the 9th floor and enjoy the Sky Bar's open terrace while enjoying the panoramic sights of the city this bar offers.
Recently refurbished, and now a natural extension of the Restaurant SEEN Lisboa one floor above, this is a multi-level rooftop bar and restaurant venue, offering both indoor and outdoor seating.
The Sky Bar has a large collection of beers, including draught beers, champagnes, and even hot chocolate!
The most popular thing in this trendy bar, though, are the cocktails, be them classic or signature.
Made with fresh ingredients, both the cocktails and the bar bites offered will keep you coming for more, particularly when it comes to the tapas and sushi.
This is a rather sophisticated place, though the crowd is varied; at the start of the night, you'll find a casual and relaxed atmosphere, while as the night progresses, it morphs into something more high-end.
Live music, DJs, and other sorts of acts are common. And thanks to the covered SEEN, this a place to visit even during the harshest winters.
Truly a mainstay in Lisbon's night scene.
SKY BAR / SEEN
Av. da Liberdade 185 1269-050 Lisboa
2.

Silk Club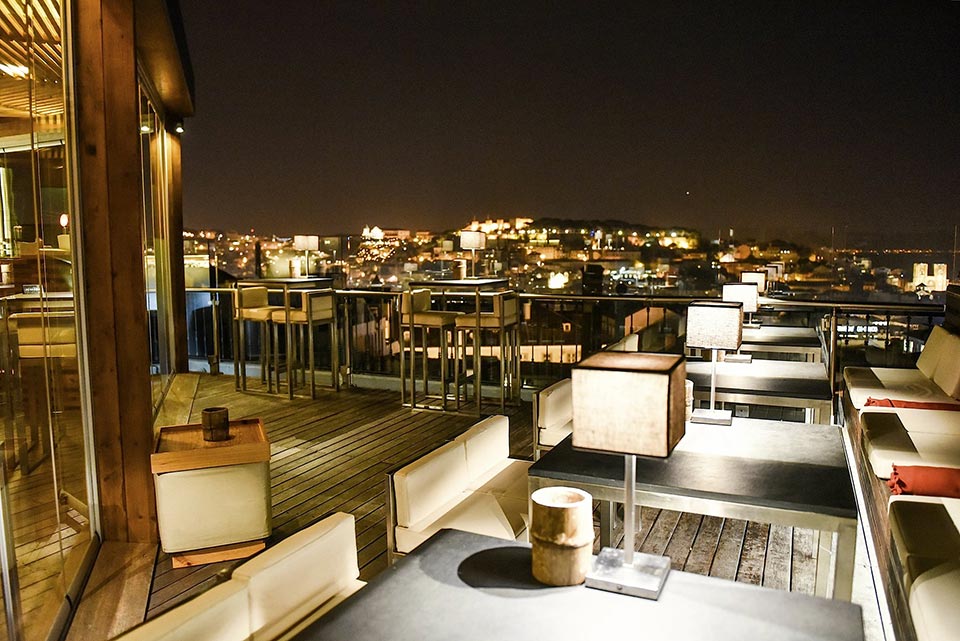 Silk Club | Photo: https://silk-club.com/
This versatile rooftop bar is in the business of offering fun clubbing and delicious dining experiences.
With 360 views over Lisbon and the sea, this terrace is in the middle of Chiado, right next to Lisbon's famous Bairro Alto.
This trendy and stylish open-air terrace is a call-back to classic lounge bars, with comfortable seating available in both indoor and outdoor areas.
The restaurant, located indoors, follows the same relaxed yet luxurious decoration style and offers a wide selection of Japanese dishes, including the acclaimed Wagyu Beef. And panoramic windows to the view.
Wine, champagne, world-spirits, and cocktails are readily available, though we highly suggest trying a bit of sake alongside your drink.
With a rather high-end clientele in mind, dressing to impress isn't an obligation, but it's certainly recommended.
The same applies for reservations, as this is a very popular spot.
The rooftop opens at 7 pm, and as the night progresses, the atmosphere turns from one of fine dining to one of clubbing, particularly when it comes to the weekend.
While reservations for the restaurants are encouraged, the terrace works on a first-come, first-served basis, so just make sure to arrive early.
SILK CLUB
14 Rua da Misericordia, Chiado, Lisbon
3.

Madame Petisca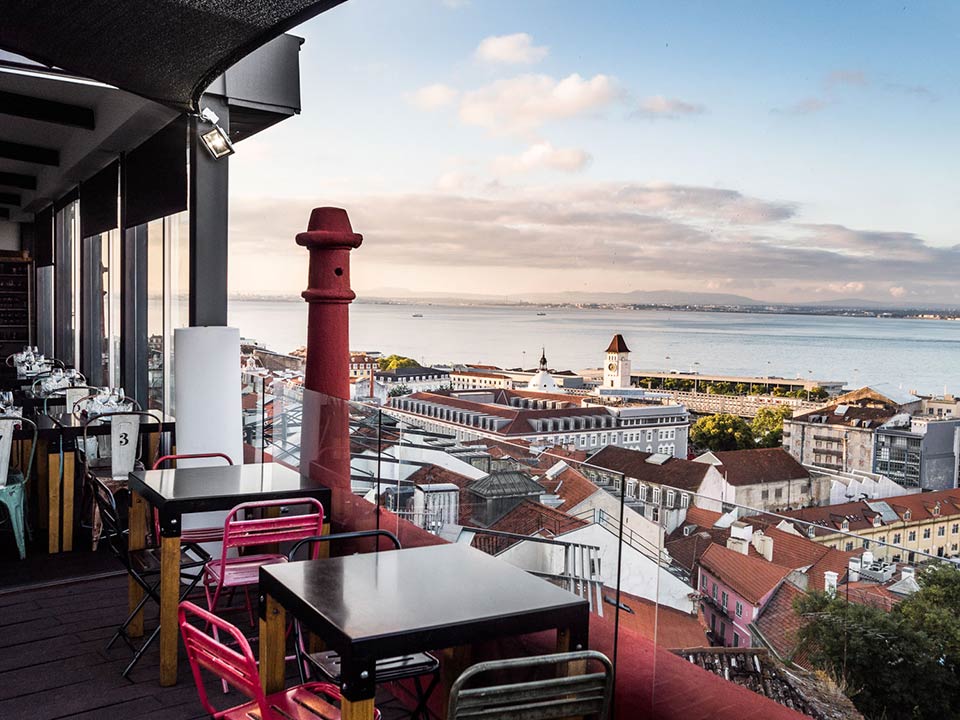 Madame Petisca | Photo: www.madamepetisca.pt
A relatively new addition to Lisbon's night scene, this rooftop bar is located in the Santa Catarina Street and offers stunning views of the ocean.
Open year-round, including during the winter, this bar offers a large roofed area and a small open terrace.
Offering only local drinks, including Portuguese petiscos, this place is ideal for taking a break while enjoying what the local culture has to offer.
Food-wise, Madame Petisca offers a small menu of tapas and local delicacies.
This is a casual place, both in decor and atmosphere, making it a great choice if you're just dropping by for a quick drink or bite.
MADAME PETISCA
Rua de Santa Catarina, nº 17, Lisbon
4.

Rossio Gastrobar
Rossio Gastrobar | Photo: www.altishotels.com
Located in the luxurious hotel Altis Avenida, this stylish rooftop restaurant/bar offers both indoor and outdoor seating, making it a great choice for the winter.
Its Art Deco style, comfortable seating, large lounge furniture translates into a rooftop bar almost as pretty as its views, and with the Rossio Plaza at your feet, that's saying something.
The Rossio Gastrobar is known for its unique signature cocktails, all seasonal and created with fresh local ingredients.
The Rossio's wine selection is also noteworthy, as it's been curated by André Figuinha and features wines from all over the world.
As a gastrobar, the food offered is also quite the experience, and its made-to-share dishes are a 'can't-miss'.
The atmosphere is vibrant, fun, and relaxed, making it a rather popular and expensive location.
Reservations aren't needed, but you should be prepared to maybe wait a while before getting served.
ROSSIO GASTROBAR
120 Rua 1º Dezembro, Lisbon
5.

ROOFTOP Bar Mundial
ROOFTOP Bar Mundial | Photo: www.hotel-mundial.pt
Located on the 9th floor of the popular Hotel Mundial, this is a local favorite, so make sure to get here in time.
Offering first-row views to the Castelo de São Jorge and the Tejo River, this rooftop's bar modern and trendy atmosphere mixes the old with the new in amazing ways.
With comfortable lounge chairs set to invite conversation while leaving plenty of room to dance, this is the kind of rooftop bar to visit when you simply want to have fun.
This rooftop bar is open year-round and has a small roofed area, which makes it a good choice for the winter. Extra good on a sunny winters day, as the spacious and multi-level terrace is amazing.
If the rooftop should be closed, you can always head to the Varanda de Lisboa restaurant one floor below. All indoors, here you can enjoy some of the most classic portuguese dishes, made with contemporary trends and methods, all to panoramic views over Lisbon.
ROOFTOP BAR MUNDIAL
2 Praça Martim Moniz, 1100-341 Lisboa