Chicago is one of the best cities in the United States when speaking of rooftop bars. But the rather cold winter climate makes it hard to visit rooftops here all year round. However, there are some rooftops that posses great winter terraces as well.
Winter terraces has become very popular, and it's just seems fair that all tourists and locals can enjoy the beautiful view of Chicago even during the cold and rainy days.
Here's our list of the best winter rooftop bars in Chicago, that are open the whole year. Enjoy!
1.

I|O Godfrey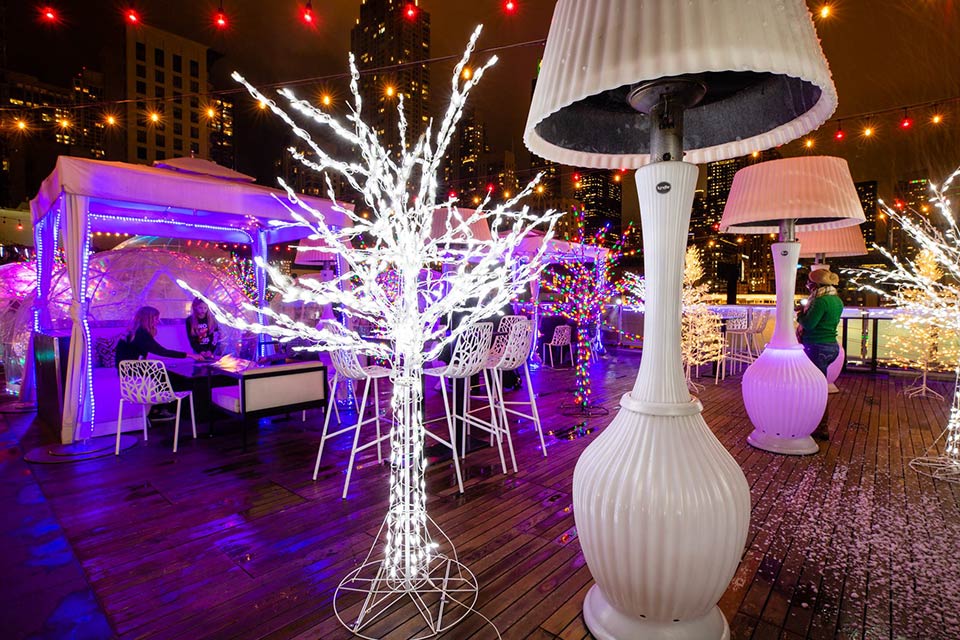 I|O Godfrey | Photo: http://iogodfrey.com
Open year-round, this rooftop bar atop the popular hotel The Godfrey, is known for its "Winter Wonderland," an event that sees the entire area transformed into a magical winter landscape.
Equipped with heated, transparent igloos, guests can enjoy stunning views of the Windy City while staying warm and comfy.
The terrace also has a handful of firepits where you can roast marshmallows and enjoy some of the I|O Godfrey's signature warm drinks.
Igloos need to be reserved in advance, but blankets and robes are available for those who couldn't or didn't want to get a reservation.
The seasonal fun doesn't limit itself to the decor, as the Godfrey offers different seasonal drinks, such as the Snowflake Sangria and the Godfrey Toddy, which we highly recommend.
The Godfrey's retractable rooftop and outdoor heaters allow this bar to operate year-round, but the Winter Wonderland experience is only available through the end of February.
With just over 10,000 square feet of total space, the I|O Godfrey has both indoor and outdoor spaces, plenty of room for visitors, and its kitchen, which delivers delicious New American food for breakfast, lunch, and dinner.
Whether you're visiting the I|O Godfrey for the drinks, the food, or just the fantastic views, you're sure to enjoy your stay in this amazing rooftop lounge.
I|O GODFREY
127 W Huron St, Chicago
2.

ROOF on the Wit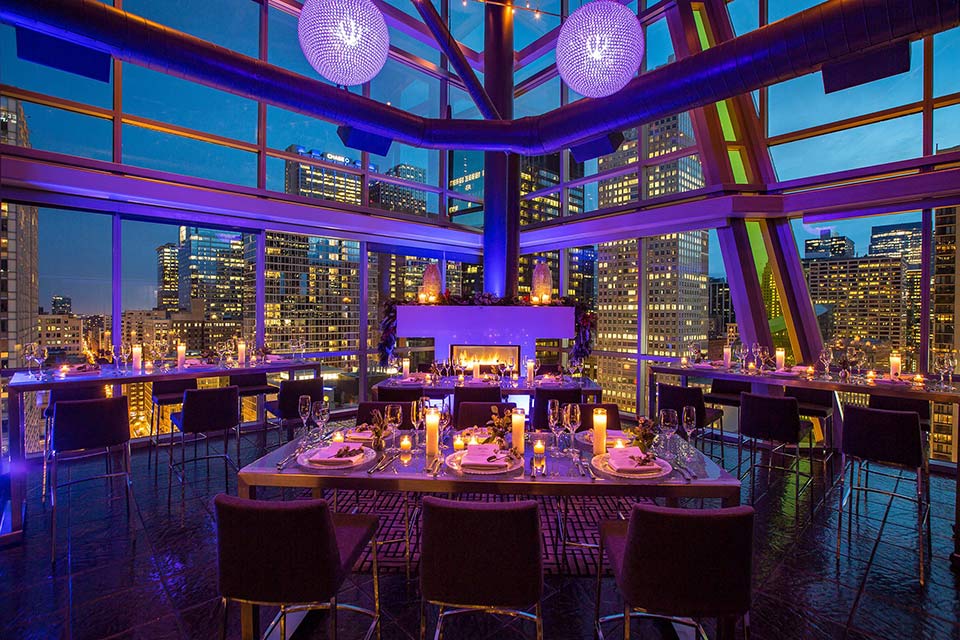 ROOF on the Wit | Photo: https://roofonthewit.com/
Widely considered as one of the best rooftop bars Chicago has to offer, this sky bar is set 27 floors above ground and offers sweeping views of the city.
A hot spot amongst celebrities, such as Bon Jovi and Pete Wentz, the ROOF enjoys an upscale and modern atmosphere and stylish decorations.
With both indoor and outdoor seating available and a retractable roof for rainy days, the ROOF is open year-round and offers excellent views of the Chicago skyline, including some of its better-known landmarks, like The Bean and the Chicago River.
Are you visiting Chicago during the winter? Not a problem! Equipped with infrared heaters both indoors and outdoors, you're sure to stay toasty while enjoying your time at the ROOF.
Though the ROOF is better known as a bar, it also operates as a restaurant, with a modest but delicious Mediterranean-influenced menu that you're sure to love.
Drink-wise, the ROOF offers a sizeable collection of beers, wines, and spirits, alongside a long list of carefully crafted cocktails.
Come night, the ROOF transforms into one of Chicago's most popular nightclubs, with world-class DJs entertaining the upscale crowd.
If you decide to visit, reservations in advance are recommended, and it wouldn't hurt to dress your best.
ROOF ON THE WIT
201 N State St, Chicago
3.

Upstairs at The Gwen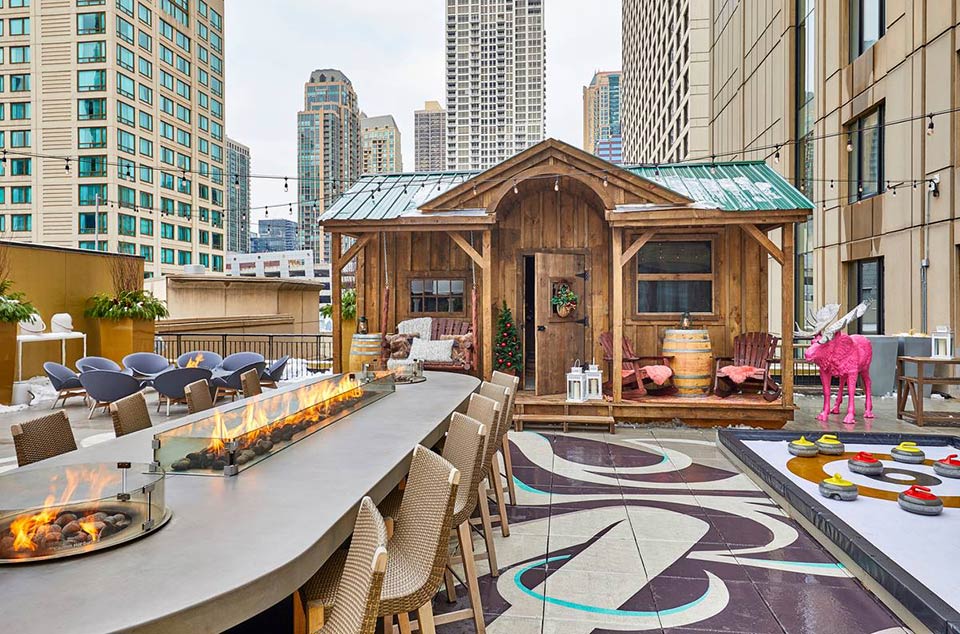 Upstairs at The Gwen | Photo: www.thegwenchicago.com
If what you're looking for is winter fun, then head out to Upstairs at The Gwen, because that's precisely what they offer.
With its own curling rink and a cosy cabin, the rooftop at The Gwen is as much of a winter wonderland as you can find in Chicago.
Adirondack chairs, swing seats, a cabin-like atmosphere complete with fireplace, and an Alpine-inspired menu make Upstairs the spot to visit if you want to immerse yourself in the festivities.
If that wasn't enough, The Gwen has recently unveiled two different areas for your enjoyment; a 1930's inspired cocktail bar, complete with drink carts, and a brand new restaurant.
UPSTAIRS AT THE GWEN
521 North Rush Street, River North, Chicago
4.

The J. Parker Rooftop Bar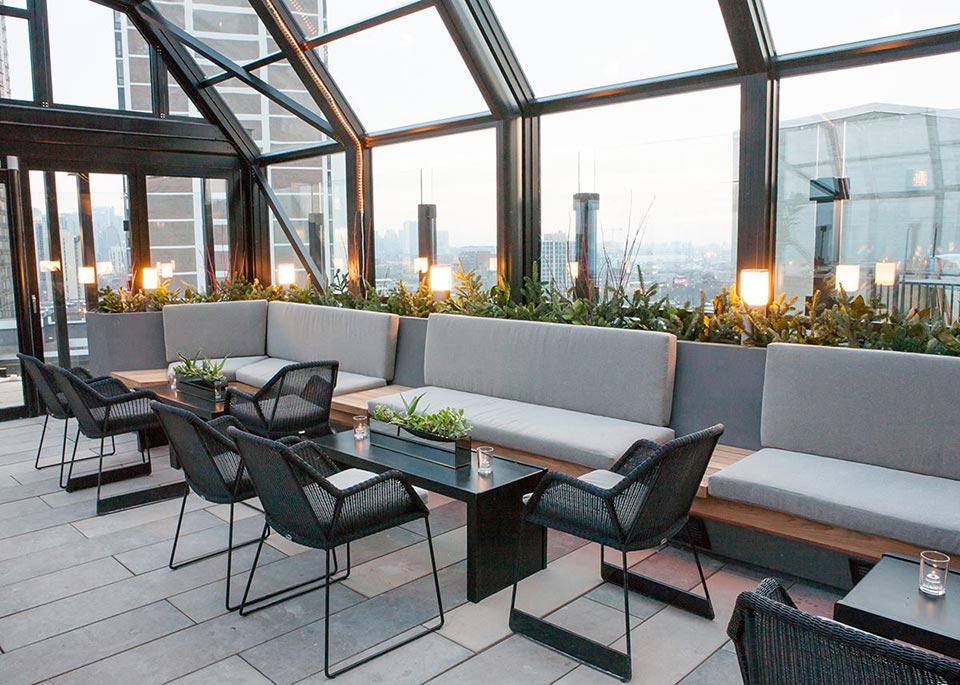 The J. Parker | Photo: www.jparkerchicago.com/
Located in one of Chicago's most famous hotels (Hotel Lincoln), the J. Parker offers stunning 360-degree views of the city and first-row seats to the Lincoln Park and its beautiful winter landscapes.
This terrace has both indoor and outdoor seating –as well as a retractable roof– and can accommodate up to 195 people at the same time, making it a safe bet for small and large parties alike.
The J. Parker Rooftop Bar has a small but enjoyable menu composed mainly of bar-bites, and a much larger drink menu full of seasonal offerings.
Created by the in-house mixologist, the Parker offers an extensive collection of world-inspired signature cocktails fit for every taste.
The Zanzibar and Tortuga cocktails are house favorites, but if you're cold or just looking to enjoy something wintery, make sure to order some of the house's hot cocktails.
This bar operates on a first-come, first-served basis, so make sure to arrive early!
THE J. PARKER
1816 N Clark St, Chicago
5.

VU Rooftop Bar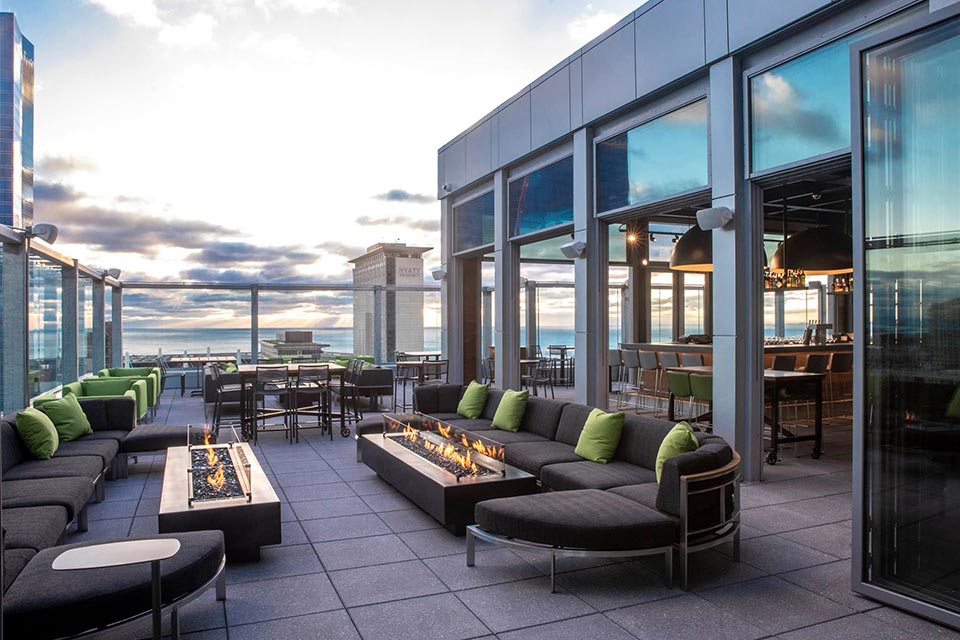 VU Rooftop Bar | Photo: www.vurooftop.com/
With over 13,000 square feet, this solarium is well equipped to entertain its guests year-round.
Karaoke areas, large fire pits and comfortable seating both indoor and al-fresco make the VU a favorite amongst the city's crowd, and its views of the Museum Campus don't hurt either!
Created by a James Beard-nominated group, the VU boasts not one, but three different bars, as well as delicious locally driven drinking and eating options.
The famous chef Nolan Narut is in charge of the food, and he has created a series of meant-to-share dishes that will be the highlight of your visit!
Note that this in an upscale venue, and the VU Rooftop Bar dress code is business / business casual.
VU ROOFTOP BAR
133 East Cermak Road, Chicago