Article
Rooftop brunch in Hong Kong
Fantastic venues
Published: January 12, 2017
Fantastic places for a nice rooftop brunch Hong Kong.
China is an adventure everyone should take at least once in his life. With its amazing and incredible culture, beautiful architecture and diversity of people, China is among the fastest growing economies and definitely has its own unique trademark of unity in a world full of differences.
If you are in Hong Kong on a work trip, or you want to explore the other side of the city – full of amazing cuisine and a never-ending party, we have prepared the best list for you when it comes to a rooftop brunch in Hong Kong. And you can also find the best rooftop pools in Hong Kong and some of the best rooftop restaurants in Hong Kong here.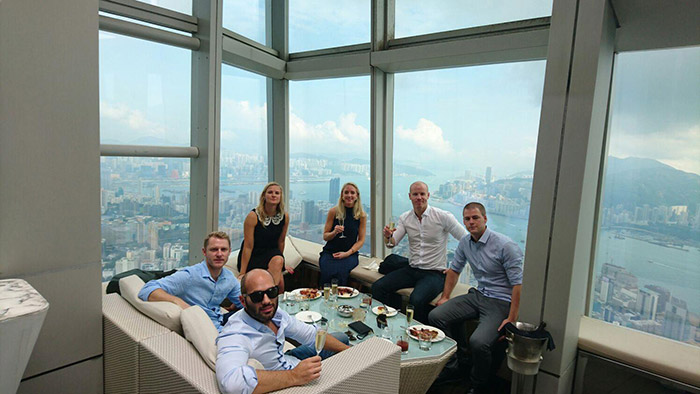 The fantastic Sunday Brunch at Ozone at The Ritz Carlton Hong Kong
1. OZONE Bar
Prepare a nice outfit and your brightest smile, as OZONE Bar is a home to many worldwide known DJ artists, as well as some of the best cocktail craftsmen in town. The panoramic view ranks OZONE amongst the best rooftop bars in Hong Kong, while their cocktails make you want to order more. It only makes sense, when the drinks are that good!
More info about Ozone rooftop bar.
2. ARMANI / PRIVE
The heart of the Chinese capital can't get more modern than that. The amazing surrounding of this particular rooftop bar in Hong Kong makes it perfect for the urban explorer who likes a good drink and a good view. ARMANI / PRIVE has a large beautiful terrace, where you can lounge, while the friendly staff takes care of your cravings.
More info about Armani/Privé rooftop bar.
3. Felix
If you are curious whether it's possible to take fine dining to a next level, than Felix is possibly the best place to challenge your taste for good food. The modern European twist that combines the best of Japanese cuisine accompanied by quality drinks is what we call "that close to perfection". Be sure to make a reservation ahead, as it is a main attraction in the world of fine dining.
4. Club @28
As many might think, club @28 is not your typical night club. This quite rooftop bar makes the perfect afternoon or evening escape from the busy streets of Hong Kong. Order one of their signature cocktails and rest your back on the comfortable furniture, while enjoying the great atmosphere and wonderful music playlist.
5. Fu Lu Shou
If you are on the hunt for something quiet and laid back, than Fu Lu Shou will probably suit your needs. The underground place, which is actually way higher above the ground, is great, because not a lot of people know it. Or even if they do, not all of them are able to get inside.
Fu Lu Shou has an ever changing password, so be sure to ask at the gate what the combination is, so that you can get in. The password changes every Thursday. The entrance of Fu Lu Shou is situated on the 31 Hollywood Road. While at the bar, give their signature dim sum cocktails a go.
Collaboration
More from The Rooftop Guide
You may also like