Hong Kong is an adventure everyone should enjoy at least once in their life. Filled with culture, beautiful architecture and diversity of people, this vibrant metropol usually don't do small. Home to one of the most iconic skylines and the world's highest rooftop bar, so it's no real surprize that there are several options to enjoy a Hong Kong rooftop brunch that is something out of the ordinary.
Come weekend and you can head high above the streets for a wide range of top class food and free-flowing drinks. All served with a slice of amazing views, and just what you need to get the day started in style. After a filling brunch, get some realaxation at the best rooftop pools in Hong Kong.
Here's our list for the best rooftop brunch Hong Kong
1.

Ozone
Rooftop brunch Hong Kong at Ozone - Photo: The Rooftop Guide
Perched on top of the 5-star Ritz-Carlton Hong Kong you find Ozone, which is not only the world's highest rooftop bar, but also where you can enjoy one of the best (and most famous) rooftop brunches.
Known as the Dom Perignon Sunday Brunch, you can finish the week with hours of free flow Dom Perignon, delicious food in all varieties, and sweeping views of Hong Kong from 480 meters altitude.
Food is served buffet-style, and there is everything from sushi, sashimi, fresh seafood, Iberico ham and cheese in all forms, to burgers, BBQ, ribs, lobster, salmon, sausages, eggs benedict, and an impressive dessert table as well.
Apart from all the mouthwatering goodies, Ozone also offers a great service in a fantastic setting, and this is a Hong Kong rooftop brunch everyone should try, at least once.
2.

Popinjays
Rooftop brunch Hong Kong at Popinjays - Photo: www.niccolohotels.com/
Equipped with a bright and stylish indoor restaurant with floor-to-ceiling windows, wrapped with a 420 square meter outdoor terrace and amazing views over the impressive Hong Kong skyline, Popinjays takes its name from the resident cockatoos that live in the neighbouring Zoological and Botanical Gardens and Hong Kong Park. And just as the cockatoos enjoy being part of a flock, you are invited to enjoy Popinjays sociable spirit.
Set on top of the amazing hotel The Murray on Cotton Tree Drive, Popinjays offers a sophisticated and quite fantastic Hong Kong rooftop experience all week, including during weekends when you can visit for the seafood brunch.
Indulge in a display of fruits de mer, smoked and cured fish, sashimi and chevice, cured meats and cheese, as well as a filling main course and a selection of homemade pastry and desserts. To make the brunch more fun, you can also add an unlimited pour of prosecco or champagne.
3.

SKYE
Rooftop brunch Hong Kong at SKYE - Photo: www.parklane.com.hk/
Located on the 27th floor of Hotel de Park Lane, right opposite to Victoria Park, SKYE is a rooftop venue offering some really magical views, not only over the park, but panoramic vistas of the city skyline and waterfront.
Divided into SKYE Dining, SKYE Roofbar and SKYE Gastrobar and covering more than 8 000 sq ft, there is plenty of room for both interior dining room, three private rooms and an outside rooftopdeck with an illuminated bar.
A popular spot for creative and well crafted cocktails, but every weekend also means both Afternoon Tea and brunch with a view at SKYE, where you can enjoy a 4-course menu and free-flow of La Moscheta Prosecco for HKD550. Focusing on contemporary French cuisine, the rooftop brunch menu includes 'Truffle Scrambled Organic Eggs', 'Fresh French Coastal Oysters', 'Tempura Boston Lobster' and unlimited choices from the dessert trolley.
4.

La Rambla By Catalunya
Rooftop brunch Hong Kong at La Rambla - Photo: https://larambla.hk/
To enjoy Spain in the heart of Hong Kong, head to La Rambla By Catalunya, found on the third floor of the IFC mall. Named after the famous boulevard in Barcelona, La Rambla is both spacious and vibrant, with an energetic indoor dining room with Velvet green booths and rattan chairs, leading out to a sleek outdoor terrace with amazing views of the iconic Victoria Harbour.
Serving modern interpretations of regional Catalan cuisine and crowd-pleasing Spanish favorites all week, the rooftop is also open for 'El Mercado Sunday Brunch'. Here you can enjoy a generous menu packed with Spanish delights, from tapas, ibérica ham, cheese and paella, to 'Whole Grille Seabass' and 'Black Angus Striplion' perfect to share.
You can also put a golden touch to the rooftop brunch with different free flow options, including signature sangria, Bloody Mary and champagne.
5.

Duddell's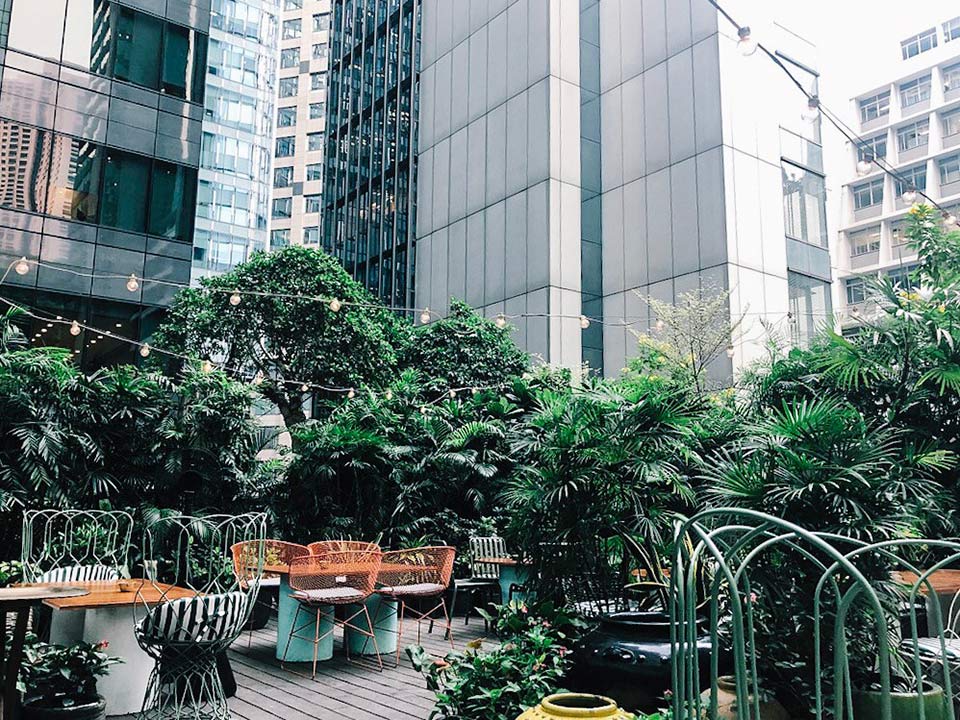 Rooftop brunch Hong Kong at Duddell's - Photo: www.duddells.co/
Located in the heart of Central, occupying the third and fourth floor of Shanghai Tang Mansion, Duddel's is a venue made to mix the appreciation of art with the appreciation of eating, drinking and relaxing.
On the third floor you find a Michelin Star restaurants serving authentic Cantonese cuisine, while the fourth floor holds both a chic salon and a lovely garden terrace. While it does not hold the best views in town, the lush 2200 sq. ft. timber-decked rooftop garden is still a fantastic spot to enjoy great some sunshine in the middle of all the skyscrapers. And during weekends, also a Hong Kong rooftop brunch.
Called 'Weekend Salon Brunch, the menu includes a wide and unlimited selection of dim sum favourites, alongside mains like Peking Duck, Sautéed Beef Tenderloin and Tamago Tofu. Drink-wise there are different packages available, from free-flow soft drinks to the premium package with free-flow Champagne, Bellini, Mimosa, beer, Aperol Spritz, Espresso Martini and more.