It would not be wrong to name Asia as 'the home of rooftop bars'. The warm climate, the big cities with an abundance of skyscrapers, the skyline and ocean views, make Asia the best continent in the world for rooftop venues.
Many rooftops here are equipped with both bar, restaurant and swimming pool, giving a complete rooftop experience. And not only that, many of the highest rooftop bars in the world can also be found in Asia.
The Rooftop Guide have visited more than 150 rooftop bars in Asia and from this experience we have created a list of the top 10 to visit in 2023. A hard task in a big continent with many great cities and even more great rooftops, but here you find both classic venues and new and hot rooftops that will not disappoint. Enjoy!
1.

Vertigo at Banyan Tree

/ Kuala Lumpur
Vertigo - Photo: https://www.banyantree.com/
On top of the fantastic Banyan Tree Kuala Lumpur (opened in 2018), this modern and stylish rooftop bar offers breathtaking 360-degree views of Kuala Lumpur, alongside delicious drinks and a great vibe.
Crawling around the building, Vertigo has space aplenty, and it utilizes it with comfortable lounge areas and standing tables, in a lounge where indoor blends together with outdoor.
Open nightly, the rooftop bar offers a nice lounge vibe to the fantastic sunset, turning livelier as the night wears on, with DJs playing live and people mingling around.
For a more quiet (and filling) experience, the rooftop restaurant Horizon Grill one floor below is ideal. Here you can enjoy steaks and seafood in a fine dining setting, served with fantastic views over the Petronas Towers.
There has also been an addition of Vertigo TOO, located above the original Vertigo and offering an extra level of breathtaking 360-degree views.
VERTIGO
2 Jalan Conlay, 50450 Kuala Lumpur
2.

KITA Bar

/ Jakarta
KITA Bar - Photo: www.parkhyattjakartarestaurants.com/
KITA Bar is not only one of the highest rooftop bars in Jakarta, it is also one of the best for a modern and carefree rooftop experience.
Perched on the 36th floor of the 5-star Park Hyatt Jakarta, the rooftop holds an elegant interior lounge, complemented with a lush and stylish outdoor terrace. Settle down in one of the comfy lounge sofas, or in the bar stools by the edge, and you are face to face with some absolutely amazing views over Jakarta.
The perfect spot for some sunset drinks or a late-night getaway (with live DJs from Tuesday to Saturday), here you can indulge in light and refreshing cocktails created with premium ingredients, a premium selection of Japanese and international spirits, as well as a selection of Izakaya-inspired small bites.
Guests staying at the Park Hyatt Jakarta can also swim with a view at the fantastic rooftop pool found next to the bar.
KITA BAR
14, Jl. Kebon Sirih No.17-19, RW.2, Kecamatan Gambir, Kota Jakarta Pusat, Jakarta
3.

CÈ LA VI at Marina Bay Sands

/ Singapore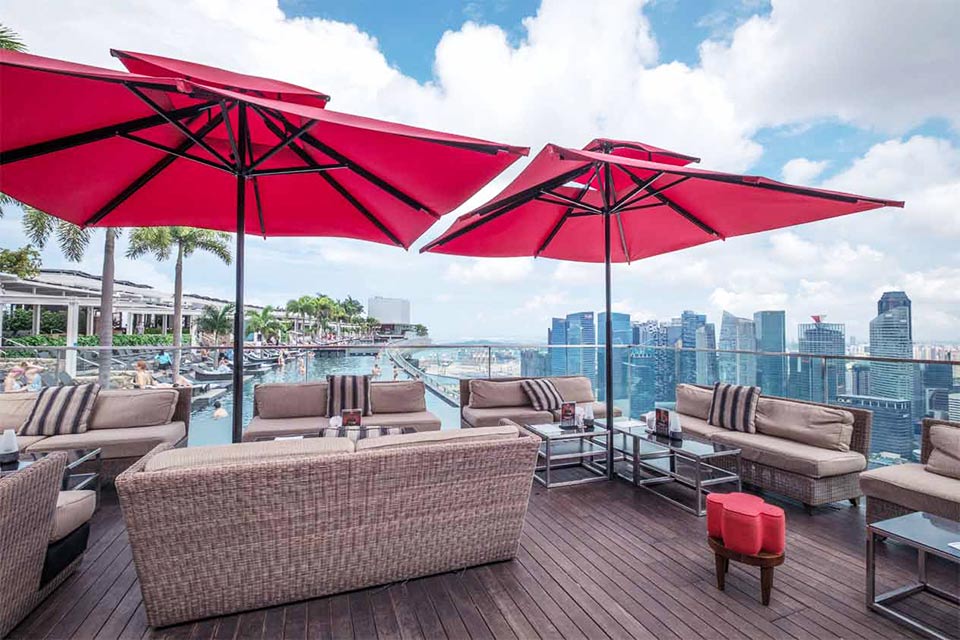 CÈ LA VI - Photo: www.marinabaysands.com/
Located on top of one of Singapore's most expensive and famous buildings, this bar rises over 200 meters above sea level, and, as such, it has some of the most jaw-dropping views you can get in the continent.
This enormous, disc-shaped bar is impressive for more than its architecture and the scenery, as the furnishings and decorations transform it into a modern and exclusive destination.
Split into two different areas, one more for dining and one more for drinking, CÈ LA VI offers both indoor and outdoor seating, dining tables, lounge sofas, and large red umbrellas to protect you from the sun.
Serving modern Asian cuisine for lunch and dinner, this is an excellent destination for starting, or finishing, any trip to Singapore.
The sky bar offers small bar bites, but their real talent lies in their signature cocktails, which are made with fine spirits and local ingredients.
An excellent setting for a romantic dinner, a night out with friends, or even just for a single person looking for fun, the CÈ LA VI on top of Marina Bay Sands Hotel is a must-see whenever visiting Singapore.
CÈ LA VI
1 Bayfront Ave, Singapore 018971
4.

Sky Beach Bangkok

/ Bangkok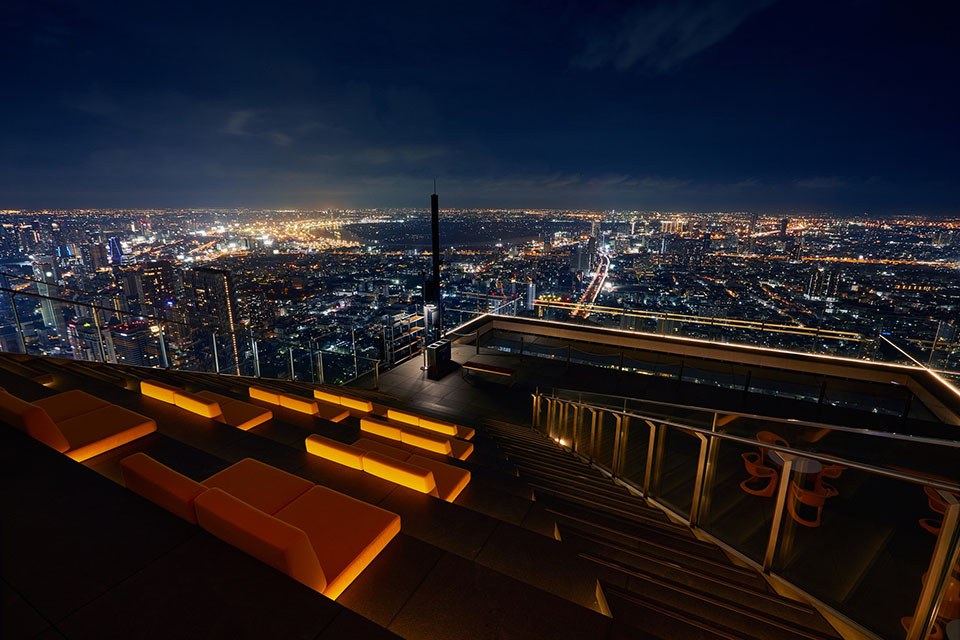 Sky Beach Bangkok - Photo: www.standardhotels.com/
The top floor of King Power Mahanakhon, Bangkok's latest iconic landmark, has gotten a new tenant, with the sky-high and impressive Sky Beach Bangkok.
Part of the suberb The Standard, Bangkok Mahanakhon, this 78th floor is the highest rooftop bar in Bangkok, and it should come as no surprise that the 360° views over the city are simply breathtaking.
Retro-chic and tropical in decor, the rooftop terrace is an open and airy playground, where a very cool bar and a scary glass-floor section is complemented with a yellow phone booth. Because, why not...
The rooftop bar offers a selection of American-style bites, along with creative cocktails from one of Bangkok's most celebrated mixologists.
Sky Beach Bangkok is open for vibes and views every day and every night, where the evenings usually include live DJ sessions.
SKY BEACH
114 Naradhiwat Rajanagarindra Rd, Khwaeng Silom, 10500 Bangkok
5.

Level 43 Sky Lounge

/ Dubai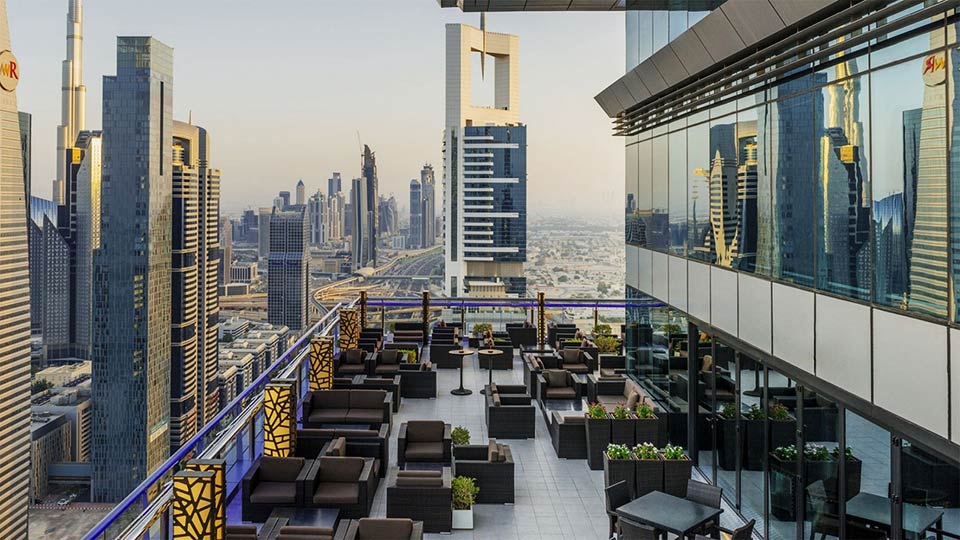 Level 43 Sky Lounge - Photo: www.level43lounge.com/
This amazing open-air terrace is located 155 meters above the ground, on top of the Four Points by Sheraton, giving guests jaw-dropping views of the Dubai skyline.
Settle down in the comfortable lounge furniture and gaze upon the Burk Khalifa and Burj Al Arab, while enjoying expertly crafted cocktails and top-notch service.
This terrace is large, modern, and stylish, blending with the surrounding skyscrapers while still providing a unique experience.
Level 43 offers a large selection of food and drinks, as well as both indoor and outdoor seating.
Food options include sushi, lobster sliders, and rib-eye steaks, while the drink menu includes all the classics like champagne, wine, and beer, as well as a creative selection of cocktails, both classic and signature.
This is one of Dubai's most popular bars, so crowds are to be expected. However, the size of the rooftop ensures that you can find a quiet spot even on busy nights.
LEVEL 43
Four Points by Sheraton, Sheikh Zayed Road, Dubai
6.

Octave Rooftop Bar

/ Bangkok
Octave - Photo: www.marriott.com/
The Octave boasts gorgeous 360-degree views of the Bangkok skyline, as well as plenty of seating options and fantastic food and drink menus.
Split into three different floors, this isn't only one of Bangkok's highest bars, but it's also one of the largest.
Drink wise; Octave rooftop bar is known for its refreshing signature cocktails, like the Thai Mojito, which gives a local touch to an international drink.
The food isn't far behind, as Octave serves some heavily Asian-inspired bar bites, as well as some great seafood.
If you're visiting, make sure to book a table, and since the Octave is one of Bangkok's most popular bars, make sure to dress to impress.
OCTAVE
Marriott Hotel Sukhumvit, 2 Sukhumvit Soi 57, Bangkok
7.

SKYE at Hotel Park Lane

/ Hong Kong
SKYE at Hotel Park Lane - Photo: www.parklane.com.hk/
Right in front of Victoria Park, this rooftop offers stunning views of the city skyline, the waterfront, and the neighboring park.
Operating both as a restaurant and a bar, SKYE serves contemporary French cuisine and a modern atmosphere; The terrace bar takes modernity to the next level. It looks downright futuristic with its sleek furniture and illuminated round bar.
At the bar, you can enjoy a small menu of bar bites and a more varied list of drinks. Beers and spirits are available, but what really stands out are the bar's impressive wine list and creative signature cocktails.
Open from noon until late at night, SKYE is an ideal spot for relaxing during the early afternoon, watching the sunset while enjoying some drinks or partying up with locals and tourists alike, while local DJs kick the atmosphere up a notch.
SKYE HK
310 Gloucester Road, Causeway Bay, Hong Kong
8.

Blank Lounge

/ Ho Chi Minh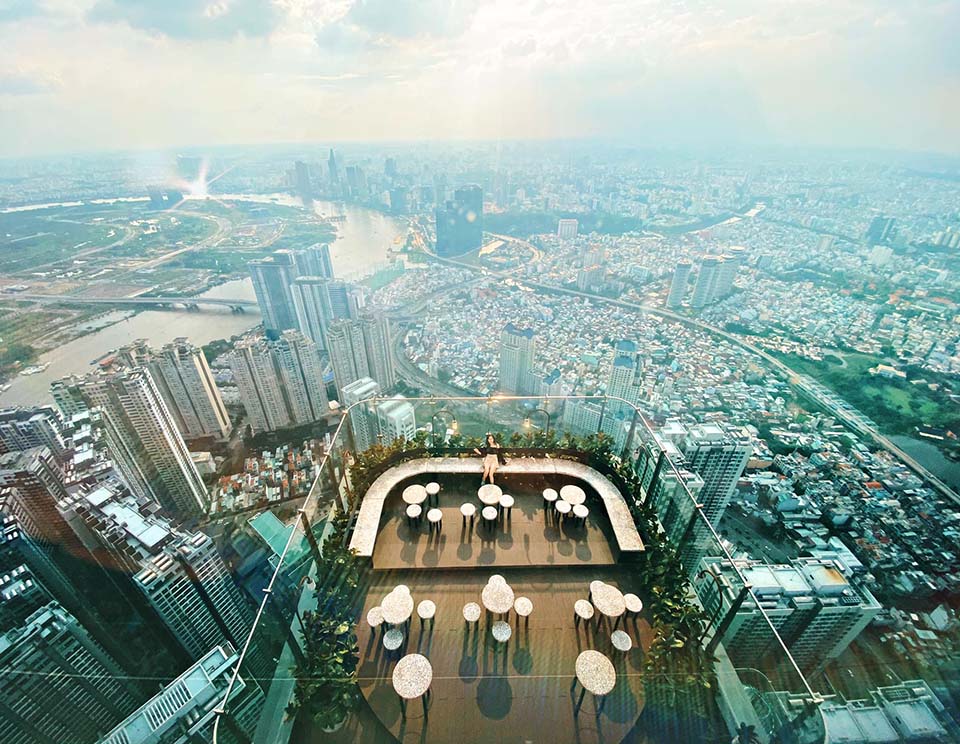 Blank Lounge - Photo: https://blank-lounge.com/
Blank Lounge is one of the highest rooftops in the world, located on the 75th and 76th floor of the impressive and 472 metres tall Landmark 81 skyscraper in Ho Chi Minh City.
Not one venue, but instead a beautiful and thoughtful collection of lounges and refreshment bars, most of the seating is inside, but there is also a smaller outside terrace, which is one of the more dramatic in the world.
With the breeze in your face, here you are surrounded by truly breathtaking and panoramic views over Saigon.
Open from morning to late night, the Blank Lounge outlets offer everything from local coffee and tea, to crafted cocktails and beer, wine, canapés, and pastries. All made with homemade and locally sourced ingredients.
BLANK LOUNGE
208 Nguyen Huu Canh, Ward 22, Binh Thanh District, Landmark 81, Ho Chi Minh City
9.

Horizon Rooftop Restaurant & Bar

/ Pattaya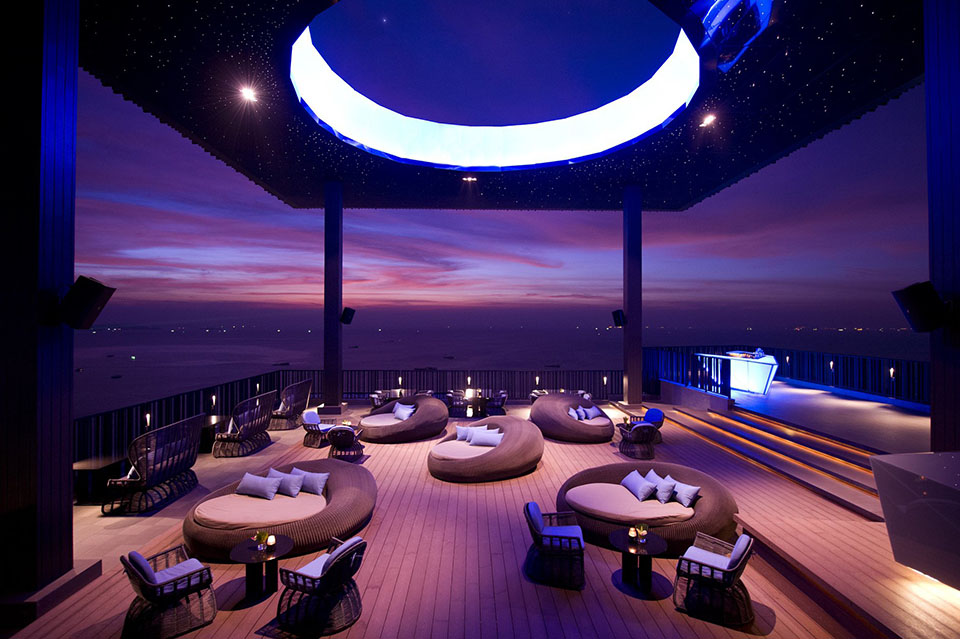 Horizon Rooftop Restaurant & Bar - Photo: www.hilton.com/
For stunning views over Pattaya and the bay, there is really only one given place to visit: Horizon Rooftop Restaurant & Bar on top of the the excellent Hilton Pattaya.
Perched on the 34th floor, this awarded and stylish venue is both a rooftop bar and a fine restaurant.
Order from a fusion menu of meats, seafood and grills, or grab a spot on the chic outdoor terrace and sip crafted signature cocktails.
With comfortable furniture and a relaxed yet sophisticated ambiance, this beautiful bar is a fantastic spot for relaxing in style.
Expect professional service, a buzzing vibe and DJ beats keeping the atmosphere on top.
HORIZON
333/101 Bang Lamung District, Chon Buri 20260, Pattaya
10.

SKYE

/ Jakarta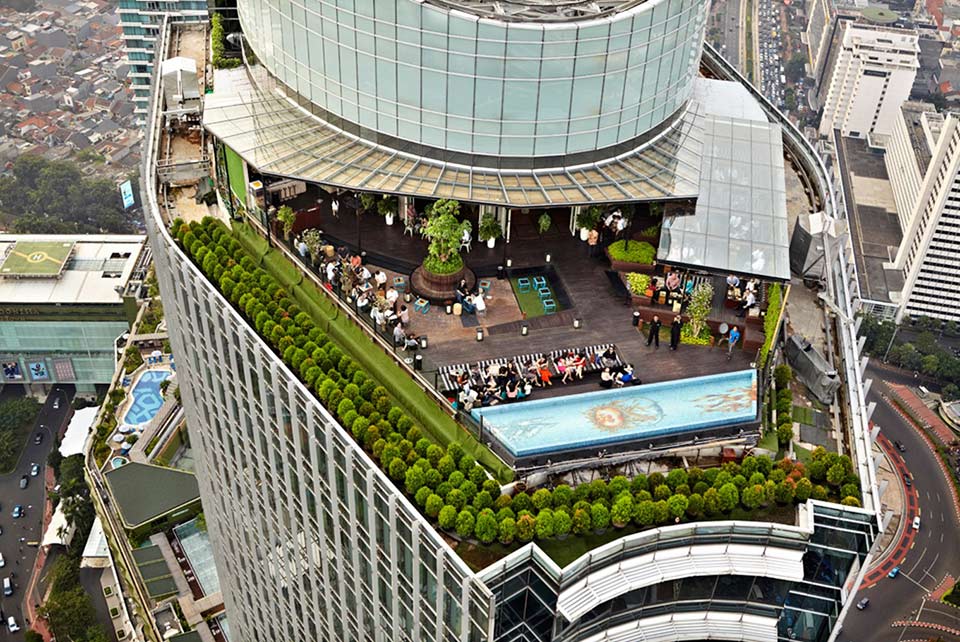 SKYE - Photo: www.ismaya.com/
Located in the heart of Jakarta, SKYE sits at 230 meters above the ground and offers the best views the city has to offer.
Furnished with stylish and comfortable seating options and equipped with a large infinity pool, SKYE is bound to impress you one way or another.
If the view and the decor don't make your jaw drop, then wait till you try the food menu, focusing on fire, smoke and freshness, including prime cuts of fresh and dry-aged meats, grilled and smoked to perfection.
Drink-wise, expect premium spirits, artisanal and commercial beers, smoothies, and a vast cocktail menu, which includes old-time classics and signature cocktails infused with local flavors.
As one of Jakarta's trendiest rooftop bars, SKYE is often crowded, particularly during the weekends and around sundown, so if you'd like to visit, reservations are encouraged.
SKYE JAKARTA
Jl. M.H. Thamrin No. 1, BCA Tower lt. 56, Jakarta Pusat, DKI Jakarta