Showcasing one of the most iconic skylines in the world, Hong Kong is a dream destination to mix fantastic food with fantastic views. And luckily there are a bunch of amazing rooftop restaurants Hong Kong where you can make dreams come true.
To help you find the best rooftop restaurant Hong Kong, we have gathered this complete list of the top places for some elevated dining. Most of the venues offer a dual setting of indoor/outdoor, where the interior usually is a dinig room for more hearty meals, while the outdoor terraces focus more on drinks and bites.
While you have your head above the clouds, also check out the best places to swim with a view at the best rooftop pools Hong Kong, and the best spots to get a day started in style with a rooftop brunch Hong Kong.
Here is The Rooftop Guide's listing of the 8 best rooftop restaurants Hong Kong
1.

Zuma
Zuma | Photo: https://zumarestaurant.com/
Found all across the glode, ZUMA also brings its internationally acclaimed style of modern Japanese cuisine to Hong Kong.
Located on the 5th and 6th at the Landmark shopping mall in the heart of Central, the venue includes a stylish dining room, a bar and lounge, as well as lush garden terrace.
Featuring modern Japanese cuisine that is authentic but not traditional, here you can discover a twist on izakaya dining. Share robata dishes and tempura, sushi and sashimi, or try one of the signature dishes.
Open daily for lunch and dinner, and during weekends also for brunch, Zuma Hong Kong is a swanky venue, great for both stylish after work drinks and special dinners.
ZUMA
Landmark Atrium, 15 Queen's Road Central, Central, Hong Kong
Daily: Lunch & Dinner / Weekend brunch
Japanese
Signature dish: ~$350
2.

KABOOM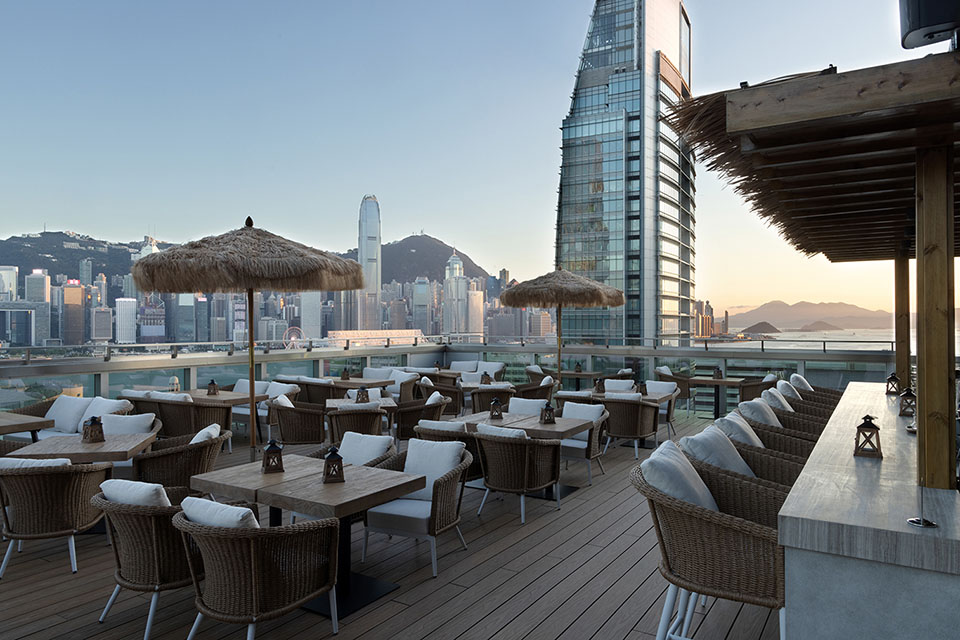 KABOOM | Photo: Courtesy Kaboom
Set over two floors at the Prince Tower in Tsim Sha Tsui, KABOOM is a modern and urban rooftop lounge and restaurant, made for elevated food and drinks.
Dressed with natural bamboo, rattan chairs and wooden tables, the rooftop comes with a cool beachside vibe, both at the indoor lounge and out on the alfresco terrace.
20 floors above the buzzing streets below, here you get some amazing views over Victoria Harbour and the Hong Kong Island.
The KABOOM menu is filled with creative South East Asian Fusion cuisine, including both small bites for sharing and more filling mains. Try some 'Deep Sea Tacos', a 'Tom Yum Gong Carbonara', or the 'Pan Seared Fresh Salmon Fillet'.
Open daily for both lunch and dinner, you can also visit KABOOM to just chill and enjoy some creative signature cocktails or sisha.
KABOOM
20/F, Prince Tower, 12A Peking Rd, Tsim Sha Tsui, Hong Kong
Daily: Lunch & Dinner
South East Asian Fusion
Signature dish: ~$250
3.

Harbourside Grill
Harbourside Grill rooftop restaurant Hong Kong | Photo: www.sandshospitality.com/
Found at the very tip of Ocean Terminal, the extension of Harbour City in Tsim Sha Tsui, Harbourside Grill serves a fantastic mix of prime cuts and the finest cross-harbour views.
Equipped with both a stylish indoor dining room with panoramic windows, and a lovely outdoor terrace (called Le Deck), Harbourside Grill lets you indulge in sweeping 180-degree views, from Wan Chai across IFC mall and over Victoria Harbour, all the way to ICC in West Kowloon.
The rooftop menu includes a selection of sizzling grilled specialties with a touch French finesse, cocked over the Josper oven and sourced from around the world. Apart from meats, there is alos a fine selectiong of seafood, complemented with global wines and crafted cocktails.
Waterside dining at its finest, Harbourside Grill is a fantastic rooftop restaurant Hong Kong for a sunny lunch or a special occasion dinner.
HARBOURSIDE GRILL
Shop OTE401, Level 4, Ocean Terminal Harbour City, Tsim Sha Tsui, Hong Kong
Daily: Lunch & Dinner
Steakhouse
Main: ~$300
4.

Popinjays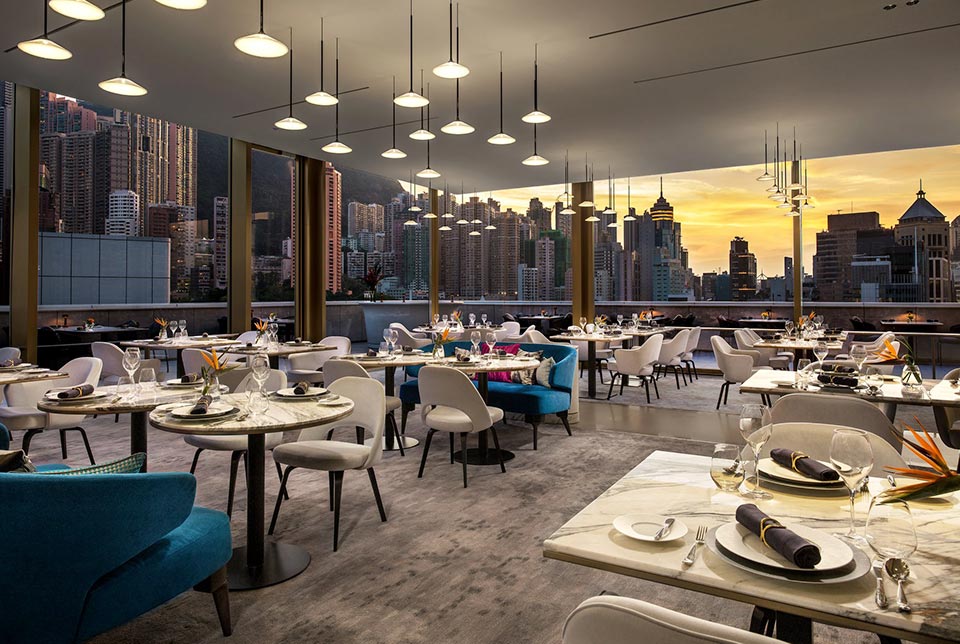 Popinjays rooftop restaurant Hong Kong | Photo: www.niccolohotels.com
Popinjays is a contemporary European rooftop restaurant, taking its name from the resident cockatoos that live in the neighbouring Garden Road, Zoological and Botanical Gardens and Hong Kong Park. And just as the cockatoos enjoy being part of a flock, you are invited to enjoy Popinjays sociable spirit.
Perched on top of the fantastic hotel The Murray on Cotton Tree Drive, Popinjays is divided into a bright and stylish indoor restaurant with floor-to-ceiling windows, wrapped with a 420 square meter outdoor terrace, surrounded with amazing views over the impressive Hong Kong skyline.
This Hong Kong rooftop restaurant focuses on European gastronomy created by Chef Alexandre. The food is served as semi-buffet lunch on weekdays, as an exotic afternoon tea, as exquisite dinner in the evenings, and as seafood brunch on weekends. Short story: it is pretty much always a great idea to visit Popinjays.
POPINJAYS
The Murray, 22 Cotton Tree Dr, Central, Hongkong
Daily: Lunch & Dinner
European
Main: ~$400
5.

La Rambla
La Rambla rooftop restaurant Hong Kong | Photo: www.larambla.hk
Perched on top of the IFC mall, La Rambla brings a large slice of Barcelona to the heart of Hong Kong. Or more precise, a large slice of the bustling namesake boulevard in Barcelona.
Covering 5,000 square feet, the venue is both spacious and vibrant, with an energetic indoor dining room with Velvet green booths and rattan chairs, leading out to a sleek outdoor terrace with amazing views of the iconic Victoria Harbour.
Not surprising at all, the rooftop restaurant serves modern interpretations of regional Catalan cuisine and crowd-pleasing Spanish favorites. Created by Executive Chef Ferran Tadeo, there is everything from traditional tapas and signature paellas to seasonal seafood, served as lunch, dinner and a Sunday market brunch.
LA RAMBLA
8 Finance St. 3071-73 Level 3, IFC mall, Central, Hong Kong
Daily: Lunch & Dinner
Spanish
Tapas: $120-200, Main: ~$350
6.

Cruise
Cruise rooftop restaurant Hong Kong | Photo: www.hyatt.com/
Cruise is set 23 floors above the busy streets of Hong Kong, on top of the lovely Hyatt Centric Victoria Harbour in North Point, and it is both a stylish indoor rooftop restaurant and a chill outdoor rooftop bar.
Both inside and out, the rooftop offers amazing views over Victoria Harbour and the Kowloon skyline. Grab a seat in a comfy lounge sofa or by the stylish dining tables, and you will have Hong Kong at your feet.
Cruise invites you to 'expect the unexpected', serving a menu filled with Modern Asian small and large plates made perfect to share. Visit for laidback and casual lunches with a view, or more sophisticated evenings of food, wine and Asian-inspired cocktails.
CRUISE
23/F, West Tower, Hyatt Centric Victoria Harbour, 1 North Point Estate Ln, North Point, Hongkong
Daily: Lunch & Dinner
Asian
Plates: $160
7.

SKYE
SKYE rooftop restaurant Hong Kong | Photo: www.parklane.com.hk/
Located on the 27th floor of the five star Hotel de Park Lane, right opposite to Victoria Park, SKYE is divided into SKYE Dining, SKYE Roofbar and SKYE Gastrobar. Covering more than 8 000 sq ft, there is plenty of room for both interior dining room, three private rooms and an outside rooftopdeck with an illuminated bar.
While the outside bar is a fantastic spot for alfresco cocktails, the stylish SKYE Dining with panoramic windows is the place to go for more filling meals. Here you can indulge in contemporary French cuisine created by Chef Lee Adams, with some ingredients grown in the hotel's own rooftop garden.
Open daily, SKYE serves set lunch on weekdays, brunch and afternoon tea on weekends, and dinner nightly. Reservations for the rooftop restaurant is recommended, while drinks at the rooftop bar is offered on a first come, first served basis.
SKYE
310 Gloucester Road, Causeway Bay, Hong Kong
Daily: Lunch & Dinner
French
Set lunch: $350
8.

Wooloomooloo
Wooloomooloo rooftop restaurant Hong Kong | Photo: www.facebook.com/WooloomoolooSteakhouseHK/
Located right in the heart of Wan Chai, the Wooloomooloo Steakhouse and bar offers a magical view of the entire city, including Wan Chai, Happy Valley and Victoria Harbour.
While the alfresco rooftop bar and lounge on top of the steakhouse has closed, the stylish dining room is still a prime spot for meals and a view, with panoramic floor-to-ceiling windows all around.
Here you can indulge in meat and seafood of the highest class, along with a fine selection of wines. Served daily as both lunch and dinner, you can go for á la carte or one of the great value set-menu's.
WOOLOOMOOLOO
31/F & Rooftop, The Hennessy, 256 Hennessy Road, Wan Chai, Hong Kong
Daily: Lunch & Dinner
Steakhouse
Main: ~$400