Having a free night while in town? Although New York is not a city for one to be bored at, it does have an endless list of places to choose from. And at a certain point, that might overwhelm a person.
So if you are looking for a place to have some fun, grab an awesome drink and feel that so-called New York vibe, there is one amazing rooftop bar worth checking out. Brunch 230 Fifth avenue are three common words when looking for a perfect rooftop brunch in NYC.
230 Fifth Rooftop Bar (or 230 rooftop as it's called by many) is situated on 230 Fifth Avenue in the heart of the big apple. It is considered to be the largest outdoor rooftop deck in town. It is also known to be among the places with a breathtaking view.
230 Fifth Rooftop Bar works 7 days a week, starting at 4pm up until early morning.
This social hub of busy bees wondering around town is a wonderful place to have a relaxed night out or enjoy a great drink after a hectic day of running around. While it's an awesome spot to chill during summer months, the owners of the 230th Fifth Rooftop Bar have utilized the best of few cultures, making the weather conditions work the best.
During cold and chilly autumn and winter nights, you can grab a spot into one of their igloos. You can also bring up to 10 people with you and enjoy some time together with the 230 Fifth brunch.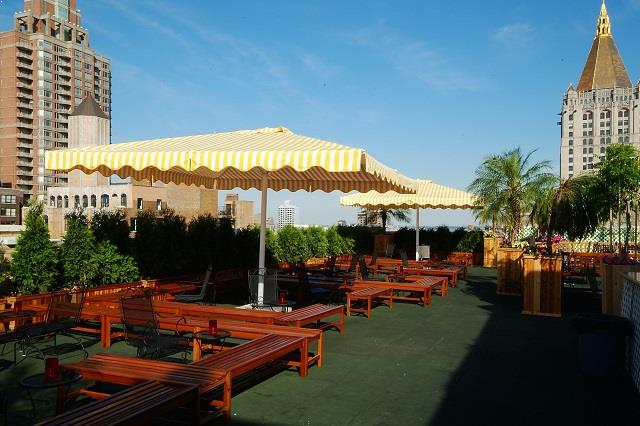 Photo: www.230-fifth.com
This pretty and bright place is also a preferred choice for a rooftop brunch in New York. Many people searches for "230 Fifth Brunch" when trying to find this place. Their menu variety offers standard food menu with delicious dishes to choose from.
If you feel like challenging your gastronomical explorer, give their hummus plate, spinach artichoke dip and calamari a go. And if you happen to find yourself a little hungry, but not as much as a regular dinner might feel like, you can still enjoy a yummy bite from the 230 rooftop brunch buffet. This wonderful menu is usually being served on weekend days between 10 am and 4 pm.
An adult gets to choose from a fairly long list of standard breakfast dishes, salads and a summer grill station. This costs $29, without additional beverages included. Children can still enjoy the delicious edibles for about $15. You can find the whole 230 Fifth brunch menu at their website.
Another great menu list is the excellent prepaid platter list of large dishes that serve about 12-15 people at once. Prices vary between $52 for a dish of fresh French fries and go up to $125 for a large cheddar cheese classic cheeseburger sliders with a side dips of ketchup and mayo. Perfect food when having the 230 Fifth rooftop brunch.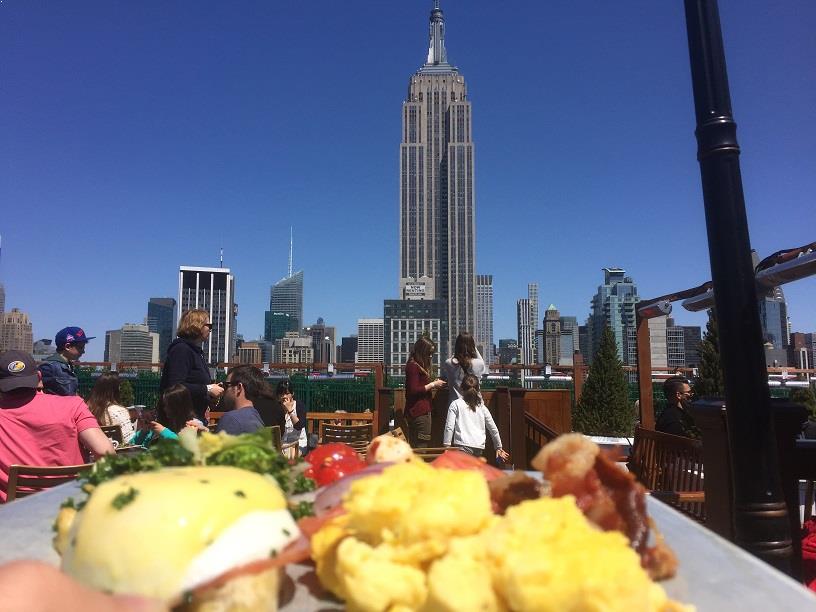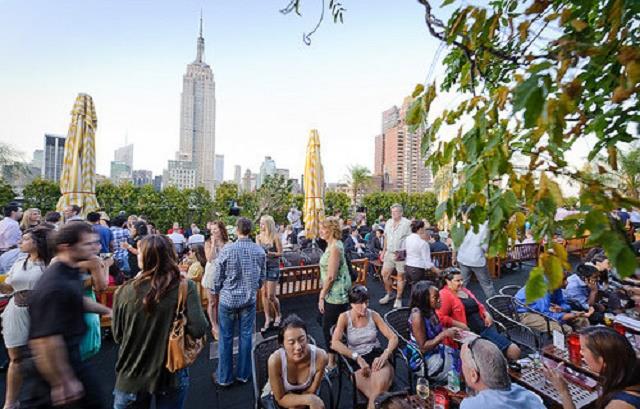 Photo: www.230-fifth.com
While you might initially get to the Brunch 230 Fifth Rooftop Bar New York for the view and the great choice of food and beverages, you can still explore the rest of the spaces. Their indoor penthouse serves as a great and chilled space for a business meeting, and their Fifth Ave Empire Room has held many balls and private events. Remember the address, 230 5th Avenue NYC.
The bar doesn't take reservations for their outdoor igloos, however you can still have a table just to yourself and your friends by calling-in and ordering a dish of prepaid food or a bottle of alcohol.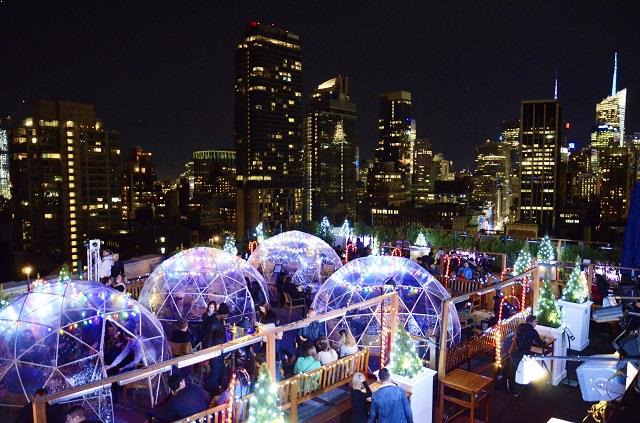 Photo: www.230-fifth.com
Dont miss all this after your 230 Fifth Rooftop Brunch:
NYC rooftop bars
Best rooftop restaurants in New York
Best rooftop pools in New York
Best rooftop party in New York
Dress code on rooftop bars in New York
Best rooftop brunches in New York
Rooftop yoga in New York
Rooftop cinema in New York