New York is a city of many cultures. The fast-paced environment and the cultural diversity brings the best out into a decent collection of rooftop places to visit. And yoga doesn't fall out of the list.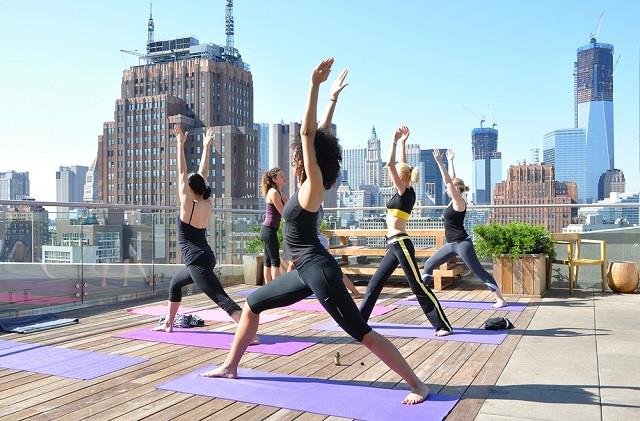 Photo: www.yogajournal.com/
The typical New Yorker does have a very busy life, and while some focus on business, others dare to take a break and indulge on a relaxing afternoon, accompanied by great drinks with a marvelous view.
Here's a list of the best rooftop yoga NYC:
1. Yo Yoga!
Yo Yoga! Is probably the most popular rooftop yoga in New York City. Located on 344 E 59th St., it does take reservations for visitors until 9pm. You can rely on great staff and qualified instructors and take your New York yoga class on a next level.
Website: http://www.yoyoganyc.com/
2. The Laughing Lotus Yoga Center
The address of this wonderful and carefree place is 636 6th Ave. The solid size of the space and the multiple levels enables the staff to provide multiple classes throughout the day. Reservation ahead is required, as it gets packed, especially during the evening classes. A perfect place for som NYC rooftop yoga.
Website: http://nyc.laughinglotus.com/
3. CLAY Health Club + Spa
When talking about rooftop yoga NYC, CLAY is the new hot spot in town. With two locations – in Manhattan and in Greenwich, it does have what it takes to become a leader in the spa industry. CLAY Health Club + Spa provides multiple and diverse classes.
You can choose from yoga, Zumba, pop cycle and intense core workout sessions. You can rest assured that your workout will go seamlessly, under the guidance of a qualified instructor. And while you enjoy your morning yoga class on the club's sundeck, definitely give their great nutrition drinks a go.
Website: https://www.insideclay.com/
4. The Bahkti Center
Originally a cultural arts center, the Bahkti Center does host a regular yoga classes. In between exploring the traditional art of yoga, you can both take a class or learn more about the sacred texts and practices.
Website: http://bhakticenter.org/
5. Brooklyn Grange
Brooklyn Grange is one of these places that you are looking forward to visiting again and again and again. It has all much needed ingredients to enjoy and relax, while taking care of body, mind and soul. A typical and very much New York gateway fro those busy bees, whose lives are in a constant rush.
Website: http://www.brooklyngrangefarm.com/