Dress code on rooftop bars in New York
Published: December 19, 2016
Different vibes and different attire
If you've found yourself wondering around the city of New York, then be sure to visit at least one museum, one Brodway show and one rooftop bar. Although there is no written rule for a specific NYC dress code for all the bars around town, each place has its own vibe and attire regarding the rooftops NYC clothing. The bar attire is mostly smart casual or casual.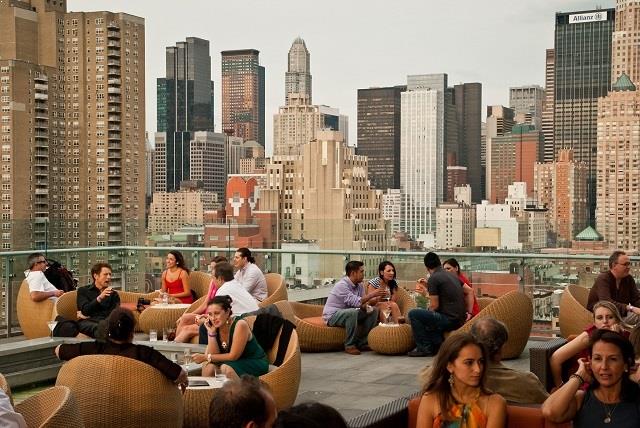 Smart casual dress code at The Press Lounge | Photo credit: http://www.innewyork.com
Check out the best rooftop bars NYC and which dress code each rooftop aquire. You'll find all info under each rooftop.
1. Smart Casual
Smart casual always works fine. Unless we talk about something either very formal, like a wedding reception, or something quite more sassy - like a fetish party, per say. There are a bunch of places, where no specific attire is required, but ladies are welcome to put their best shoes on. Such examples are the Refinery rooftop bar in Midtown West and RARE View in Midtown East.
2. Formal
Get up. Dress up. Show up. This is what people say about success in life. It's considered to be applicable for showing up at a rooftop bar in the middle of NYC. After all, New York is one of the best places to have a good party at. Even if it's formal.
Expensive rooftop bars often have requirements in regards of the way their guests are dressed up when they visit. Be sure to check out the rooftop bar you'll visit, here at The Rooftop Guide for the most suitable dress code.
3. Festive attire
On rooftop New York bars you can meet all kinds of people - rich businessmen, artists or enchanting travellers with great personalities. A festive attire is a great way to escape the greyness of everyday life, putting up a nice sequin dress and a little makeup on. Guys are welcome to wear their favorite jackets, with t-shirt under or spicing things up with a nice and bright neck tie.
Festive attire works fine for most places where a casual dress code on rooftop bars in New York is desireable.
4. Swimming attire
This type of dress code on rooftop bars in New York is probably the easiest one to carry. Get your favorite swimsuit, a pair of flip flops and some sunscreen to protect yourself from the hot New York sun. To enjoy a nice day on the roof of a hotel with a swimming pool is easy.
Have a look at our guide for more details about the best rooftop pools in New York.